Blue Origin
blueorigin
From the beginning, New Shepard was designed to fly above the Kármán line so none of our astronauts have an asterisk next to their name. For 96% of the world's population, space begins 100 km up at the internationally recognized Kármán line. pic.twitter.com/QRoufBIrUJ
Richard Branson
richardbranson
I've always been a dreamer. My mum taught me to never give up and to reach for the stars. On July 11, it's time to turn that dream into a reality aboard the next @VirginGalactic spaceflight virg.in/4wiq #Unity22 pic.twitter.com/GWskcMSXyA
Virgin Galactic
virgingalactic
Welcome Sirisha Bandla, Colin Bennett, and Beth Moses — our expert crew members joining @richardbranson on our #Unity22 test flight. Watch LIVE this Sunday at www.virgingalactic.com. @SirishaBandla @VGChiefTrainer pic.twitter.com/F4ZrGnH3vo
Virgin Galactic
virgingalactic
Join us July 11th for our first fully crewed rocket powered test flight, and the beginning of a new space age. The countdown begins. #Unity22 www.virgingalactic.com. @RichardBranson pic.twitter.com/ZL9xbCeWQX
What time does Richard Branson take off?
Branson will be joined by two company pilots and three Virgin Galactic crewmates. They will take wing from Spaceport America, a hub near Truth or Consequences, New Mexico. The flight is expected to last at least an hour, with lift-off is set for 9 AM ET on Sunday, and will be broadcast on ABC and CBS. DeadlineHow To Watch Richard Branson's Historic Virgin Galactic Space Launch On Sunday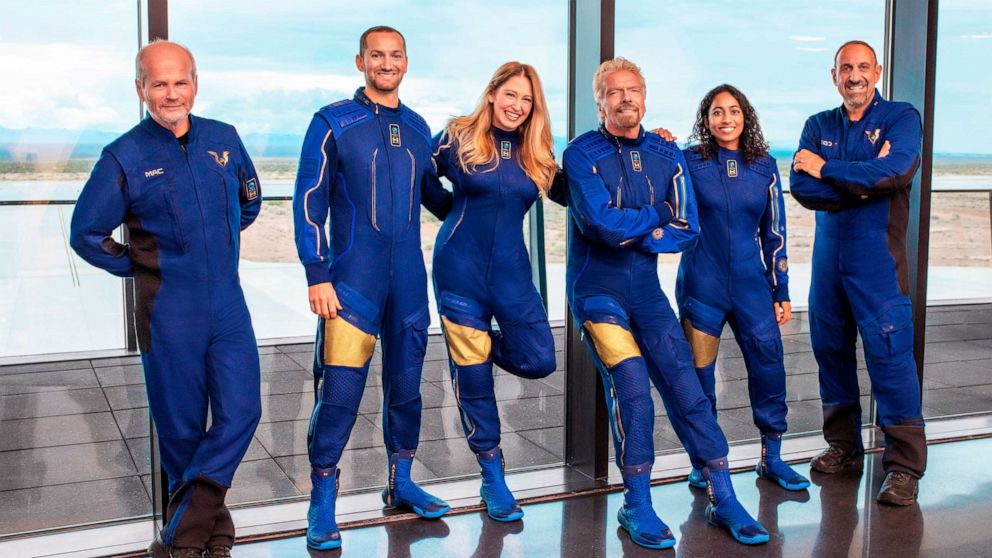 The billionaire joined the first fully crewed flight of his space tourism firm.
Billionaire Sir Richard Branson is set to launch to the edge of space Sunday in the first fully crewed flight from his private space tourism firm Virgin Galactic.
Branson, 70, will serve as a mission specialist on what is being called the Unity 22 mission, the fourth crewed spaceflight for Virgin Galactic's VSS Unity spacecraft. Unity is launched from a separate "mothership" aircraft called VMS Eve that takes off from a conventional runway before releasing the spaceship at an altitude of approximately 50,000 feet.
The launch will take place from New Mexico's Spaceport America, and live coverage will commence at 9 a.m. ET on Sunday on Virgin Galactic's website and social media pages.
Pilots Dave Mackay and Michael Masucci will fly the spaceship, with C.J. Sturckow and Kelly Latimer flying the aircraft from which the spaceship will dispatch.
Branson's role is to evaluate the private astronaut experience to prepare for future customers, which Virgin Galactic expects to do beginning in 2022.
"I truly believe that space belongs to all of us," Branson said in a statement earlier this month announcing his spaceflight. "After 17 years of research, engineering and innovation, the new commercial space industry is poised to open the universe to humankind and change the world for good."
Branson's spaceflight comes just nine days ahead of when Amazon founder Jeff Bezos said he will launch into space via his own firm, Blue Origin.
24/7 coverage of breaking news and live events
Read full article at ABC News
FRANCE 24 English 11 July, 2021 - 07:12am