When is Bezos going into space?
The news came just hours after Bezos' Blue Origin said Bezos would be accompanied into space on July 20 by a female aerospace pioneer who's waited 60 years to rocket away. Bezos chose July 20 as his West Texas launch date — the 52nd anniversary of the Apollo 11 moon landing. Associated PressRichard Branson announces trip to space, ahead of Jeff Bezos
CAPE CANAVERAL, Fla. — Virgin Galactic's Richard Branson is aiming to beat fellow billionaire Jeff Bezos into space by nine days.
Branson's company announced Thursday evening that its next test flight will be July 11 and that its founder will be among the six people on board. The winged rocket ship will soar from New Mexico — the first carrying a full crew of company employees. It will be only the fourth trip to space for Virgin Galactic.
The news came just hours after Bezos' Blue Origin said Bezos would be accompanied into space on July 20 by a female aerospace pioneer who's waited 60 years to rocket away.
Amazon's founder will be on Blue Origin's debut launch with people on board, accompanied by his brother, the winner of a $28 million charity auction and Wally Funk, one of the last surviving members of the Mercury 13, who was chosen as his "honored guest." The 13 female pilots passed the same tests as NASA's original Mercury 7 astronauts back in the early 1960s, but were barred from the corps — and spaceflight — because they were women.
As late as Wednesday, Branson declined to say when he would ride into space because of restrictions placed on him by his publicly traded company. But he stressed he was "fit and healthy" to fly as soon as his engineers give him the go.
"I've always been a dreamer. My mum taught me to never give up and to reach for the stars. On July 11, it's time to turn that dream into a reality aboard the next @VirginGalactic," he said via Twitter.
Virgin Galactic launches its rocket ship from an aircraft, reaching an altitude of roughly 55 miles (88 kilometers). Blue Origin launches its New Shepard rocket from the ground, with its capsule soaring to about 66 miles (106 kilometers). Both those heights are considered the edge of space. By comparison, Elon Musk's SpaceX launches its capsules — both crew and cargo — into orbit around Earth.
All three private space companies plan to take paying customers into space. SpaceX will be the first with a private flight coming up in September.
Flights by Virgin Galactic and Blue Origin last about 10 minutes, with three or so minutes of weightlessness. But the returns are quite different: Virgin Galactic's rocket plane glides to a landing on a runway, like NASA's old space shuttles did, with a pair of pilots in charge. Blue Origin's automated capsules parachute to the desert floor, similar to how NASA's Mercury, Gemini and Apollo capsules made ocean splashdowns. Their spaceports are just 200 miles (320 kilometers) apart.
Funk, at age 82, will become the oldest person to launch into space when Blue Origin takes its turn.
"I'll love every second of it. Whoooo! Ha-ha. I can hardly wait," Funk said in an Instagram video posted by Bezos.
"Nothing has ever gotten in my way," she added. "They said, 'Well, you're a girl, you can't do that.' I said, 'Guess what, doesn't matter what you are. You can still do it if you want to do it and I like to do things that nobody has ever done."
She'll beat the late John Glenn, who set a record at age 77 when flying aboard space shuttle Discovery in 1998. Glenn pooh-poohed the idea of women flying in space, shortly after he became the first American to orbit the world in 1962.
"No one has waited longer," Bezos said via Instagram. "It's time. Welcome to the crew, Wally."
Bezos is stepping down as Amazon's CEO on Monday.
Virgin Galactic has more than 600 reservations in the pipeline; these original tickets went for $250,000. The company will start accepting more following the upcoming flight with Branson. Keen to get to space, Funk reserved a seat years ago.
Virgin Galactic plans three more test flights before taking up customers, Branson was initially supposed to be on the second demo coming up, but moved it up in an apparent bid to outdo Bezos. He said Wednesday, after his other company Virgin Orbit launched a batch of satellites, that it's important for his customers to see him ride his rocket ship first, before they climb on board.
Read full article at NPR
Gizmodo 02 July, 2021 - 08:04am
"I've always been a dreamer," Branson said on Twitter. "My mum taught me to never give up and to reach for the stars. On July 11, it's time to turn that dream into a reality aboard the next Virgin Galactic spaceflight."
Two pilots and four missions specialists will travel aboard the VSS Unity with Branson, who will be "testing the private astronaut experience," Virgin Galactic said in an announcement Thursday. The so-called Unity 22 mission will be the space tourism firm's fourth crewed test flight of its spaceplane and marks an important milestone in the race to commercialize travel beyond Earth's atmosphere.
"I truly believe that space belongs to all of us," Branson said in a statement alongside the company's announcement. "After 17 years of research, engineering and innovation, Virgin Galactic stands at the vanguard of a new commercial space industry poised to open the universe to humankind and change the world for good."
Meanwhile, Blue Origin announced last month that Bezos, the company's founder, will travel to space aboard its first crewed flight of its New Shepard suborbital vehicle on July 20. Alongside several crewmembers, he'll be joined by his brother, Mark, and a mysterious bidder who dropped $28 million for the honor of tagging along.
Reuters recently reported that Branson was considering fast-tracking his own mission to beat out Bezos' planned trip. Virgin Galactic made a significant step toward making that a reality last week when it obtained an upgraded license from the Federal Aviation Administration to include paying customers on its space flights.
To date, the VSS Unity, which is designed to carry up to six passengers and two pilots, has completed 21 test flights. Following Branson's trip, two additional test flights are still on the schedule before Virgin Galactic expects to begin commercial service in 2022, the company said Thursday. It has some 600 reservations for seats on future flights, each ticket going for between $200,000 and $250,000.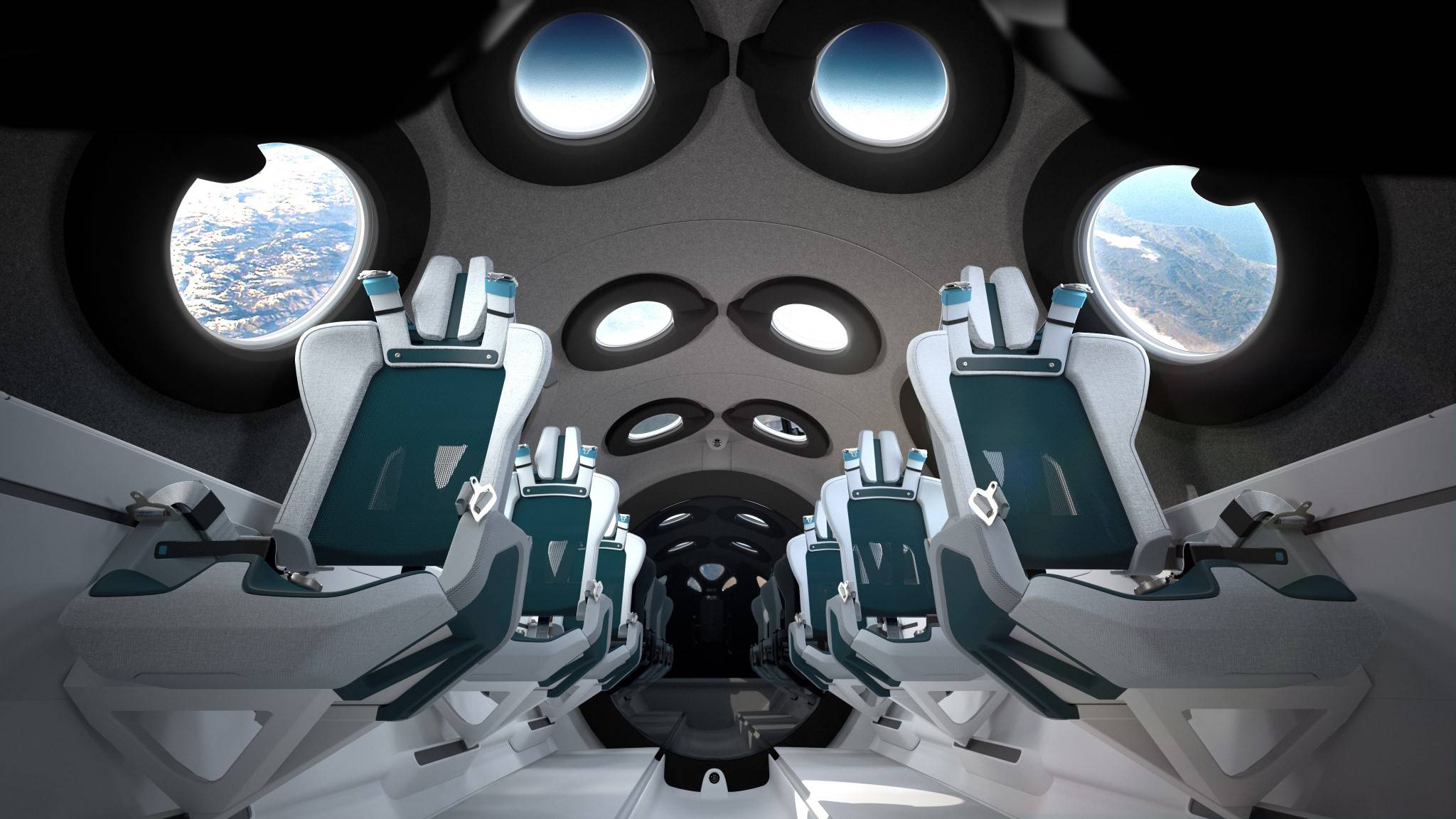 The Register 02 July, 2021 - 06:29am
Virgin Galactic founder Richard Branson is set to take his first jaunt to the edge of space ahead of commercial spaceflight rival Jeff Bezos, with an 11 July trip aboard VSS Unity.
Last night's announcement listed Branson among the four passengers aboard the flight, the 22nd flight test for the rocket-powered glider, although, if successful, only the fourth to reach the edge of space (depending on one's definition of where space starts).
Yesterday was also notable for the confirmation by Bezos' Blue Origin of the intention to fly Mercury 13 member Wally Funk with the Bezos brothers on the first crewed flight of the New Shepard. That flight is scheduled for 20 July.
Unashamed showman Branson has tried to trump that, even if VSS Unity will not soar as high as the New Shepard. Its last test flight reached just over 89km while the New Shepard went comfortably beyond 100km.
The difference is significant, depending on where you think the line between the atmosphere and space lies. Known as the Kármán line, NASA, the FAA and the US Air Force put it at 80km above Earth. However, the Federation Aeronautique Internationale (FAI) has it at 100km. And the latter is responsible for records in astronautics.
Other measures put it at 122km, meaning that both Bezos and Branson will both fall short. Both will however get their astronaut wings from the US Air Force, so that's alright then.
Should all go to plan (Virgin Galactic has coyly only said that the window opens on 11 July), Branson will be the first of the duo to take a flight. As the namesake of Bezos' New Shepard - Alan Sheperd - understood only too well, being first carries its own significance.
Branson's fellow passengers will be made up of chief astronaut instructor Beth Moses, who took a suborbital flight aboard VSS Unity in 2019, and lead operations engineers Colin Bennett and Virgin Galactic veep of Government Affairs and Research Operations Sirisha Bandla.
VSS Unity itself will be flown by Dave Mackay and Michael Masucci. Former Space Shuttle astronaut CJ Sturckow and Kelly Latimer will fly carrier mothership VMS Eve.
Branson had been expected to jump the queue and steal a march on Bezos after the Federal Aviation Administration (FAA) gave the company the nod to start flying passengers. He was originally pencilled in to be on the flight after this, ahead of a final test flight before operations were expected to begin.
The bearded one underlined the lengthy journey it had taken to get to this point, beset by accidents and technical issues, and said: "After more than 16 years of research, engineering, and testing, Virgin Galactic stands at the vanguard of a new commercial space industry, which is set to open space to humankind and change the world for good."
An IT manager who defrauded an Essex hospital trust out of more than £800,000 using two fake companies set up to commit his crimes has been jailed – after a court heard that he had previous convictions for dishonesty.
Barry Stannard, a 53-year-old IT manager from Chelmsford, will spend at least two years and eight months in prison after pleading guilty to two fraud charges and two counts of cheating the public revenue.
Stannard's crimes began in 2011, two years after he joined Mid-Essex Hospital Trust (MEHT), now part of Mid and South Essex NHS Foundation Trust. As a band 8B senior manager, he was authorised to sign off invoices of up to £7,500 without further checks. Having bought a house with his (now ex) wife, who gave up work when their daughter was born, Stannard turned to fraud to refurbish the property.
Rocky Linux 8.4, which was made generally available early last week, attracted 80,000 downloads within 72 hours, but disaffected CentOS users are wondering whether Rocky, rival AlmaLinux, or some other OS, is the right next move.
Both Rocky Linux and AlmaLinux are designed to be binary-compatible with Red Hat Enterprise Linux (RHEL), while also being free software, for those who can manage without Red Hat's support. Red Hat's CentOS used to fulfil this role, until the company declared that in future it would be only CentOS Stream that previews rather than follows what will be in RHEL.
AlmaLinux, sponsored by CloudLinux, was first out of the gate with a stable release at the end of March. Rocky Linux, a project led by CentOS co-founder Greg Kurtzer, took a little longer to reach general availability, perhaps because it was built from scratch, whereas the CentOS-based CloudLinux OS already existed.
Review Xiaomi's Mi Smart Band 6 fitness wearable is a pleasant device but is too small and finicky to satisfy those who take athletic performance seriously.
I strapped on the Xiaomi band after signing up for a cycling event that will require me to climb more hills than I've ever tackled in a single day, with the most sustained and savage ascents placed sadistically close to the finish line.
Recognising that I'll need to train somewhat seriously, I asked cycling pals for their tips. They suggested a wearable device could help by gathering data to demonstrate progress and showing things I need to work on.
Something for the Weekend, Sir? "Sign with the devil here." Do what? "Church of Satan. Jot your name on the form and we'll email you details."
That's nice, I say, being able to register for demonic influence sent straight to your inbox.
A Leeds-based claims management firm has been fined £200,000 for making more than 11 million unwanted PPI calls, the UK's data watchdog announced today.
The investigation, prompted by complaints to the Information Comissioner's Office (ICO) and the Telephone Preference Service (TPS), found that Brazier Consulting Services Ltd (BCS) had made repeated nuisance calls to people about the misselling of payment protection insurance (PPI).
Following an investigation, the ICO said that 21,436,331 connected calls were made by BCS between 1 February 2019 and 31 July 2019.
On Call We round out the week with a spiritual On Call from a reader who was on the receiving end of a higher calling. By phone.
Our tale takes us to the 1980s, when computer users had to give their hardware the correct time and date on startup – no internet time synchronisation services here.
"Martin", for that was certainly not his name, was cursed with being the one in his family who "knew a bit about computers" and so was frequently called upon to provide the occasional bit of support.
The latest Apple fondleslab is thin, sure, but it could be thinner – like what boffins at Tel Aviv University have hailed as "the world's tiniest technology," measuring just two atoms thick.
"Our research stems from curiosity about the behavior of atoms and electrons in solid materials," explained Moshe Ben Shalom, PhD, responsible for building Tel Aviv University's lab for layered two-dimensional materials, "which has generated many of the technologies supporting our modern way of life."
Granted, describing what Ben Shalom and colleagues have created as "technology" puts it in the same space as an Apple iPad in only the broadest of ways. Far from being something you might slip into – or through – your pocket for a cheeky browse of El Reg on the go, it's an example of the most basic of technologies: a binary switch.
Microsoft's Universal Windows Platform (UWP), once touted as the future of Windows development, will not be getting updated for WinUI 3 according to current plans, software giant said in a community call.
The WinUI Community Call yesterday was conducted on Google's YouTube platform "because Teams wasn't always accessible/allowed in some work environments," said WinUI Program Manager Ryan Demopoulos in the chat. The session began with a quick definition of terms – sorely needed in the confusing world of Microsoft's user interface frameworks for Windows.
"WinUI is the native UI platform for Windows 10 and Windows 11," said Microsoft program manager Ana Wishnoff. She explained that "WinUI 2 is the 2nd generation of the native UX stack in Windows. It's built for UWP apps. WinUI 3 is a new 3rd generation of the native UX stack in Windows. It consolidates the UX technologies previously built into Windows into a single decoupled framework that ships as part of the Windows App SDK, previously known as Project Reunion."
As Perseverance begins to roll its way around Mars, NASA engineers are gradually allowing the rover to drive autonomously, to a degree, using computer algorithms running on a navigation computer.
The six-wheeled, SUV-sized science lab primarily relies on humans to tell it where to go and how to get there. Scientists on Earth don VR goggles to study the Martian landscape snapped by the rover's cameras, and decide which path the machine should take. These navigation instructions are then beamed to Perseverance to carry out; the communications delay between the two planets rules out interactive real-time control, so the rover is left to move as ordered and report back.
That said, Perseverance is able to more and more use its own electronic initiative. It has an AutoNav system – a suite of software tools – that as NASA put it "makes 3D maps of the terrain ahead, identifies hazards, and plans a route around any obstacles without additional direction from controllers back on Earth."
Android will soon have the ability to store and display proof of Covid-19 vaccination, Google has said.
The ad search giant has confirmed that an update to its Passes API will allow authorised public health bodies and medical organisations to create a digital vaccination record, which can then be stored on a user's smartphone.
Google said it planned to introduce the feature in the US initially, before rolling it out to other territories. It did not offer any clarity about which countries are next in line, so it probably isn't a good idea to rip up your paper vaccination card just yet.
Another potential mitigation has emerged for the PrintNightmare zero-day vuln, which lets low-privileged users execute code as SYSTEM on Windows domain controllers: remove those people from a backwards-compatibility group.
The zero-day hole came to light earlier this week after an infosec research firm mistakenly published proof-of-concept exploit code for a remote-code execution (RCE) vuln it had nicknamed PrintNightmare. Sangfor Technologies published the exploit for the vulnerability after wrongly believing Microsoft had patched it this month, having read the June Patch Tuesday notes for a remote-code execution vuln in Windows Print Spooler tracked as CVE-2021-1675.
While the patch for CVE-2021-1675 also protects against PrintNightmare on most Windows devices, it didn't do so for domain controllers, which caused some puzzlement among security researchers. Until today, when Yunhai Zhang of Tianji Lab discovered a potential cause:
The Register - Independent news and views for the tech community. Part of Situation Publishing
Biting the hand that feeds IT © 1998–2021
KVIA El Paso 01 July, 2021 - 05:46pm
The announcement puts Branson, rather than Bezos, in position to become the first billionaire to travel to space aboard a spacecraft he helped fund.
Virgin Galactic had planned to start flying customers years ago, but its development program was set back by several mishaps, including a 2014 test fight accident that resulted in the death of a co-pilot.
But in interviews, Branson has frequently said he's not interested in "racing" to space.
"People have turned it into a race," he told CNN during a recent interview. "It would be very dangerous to say turn it into a race. And the moment we have every boxed ticked, I will go up and then we will invite some of the people who have signed up to go with us — but we honestly don't see it as a race."
Since the early 2000s, Branson and Bezos have been vying to develop, test and launch suborbital rockets that can take wealthy thrillseekers on brief, 2,300-mile-per-hour rides a few dozen miles above Earth. And their efforts have long been framed as a "billionaire space race."
SpaceX CEO Elon Musk's name is also often thrown around in the "space race" game, but the rockets SpaceX builds are far more powerful than the suborbital tourism rockets built by Branson and Bezos, and Musk has said little about his personal space ambitions beyond that he'd "like to die on Mars — just not on impact."
You must be logged in to post a comment.
Terms of Service | Privacy Policy |