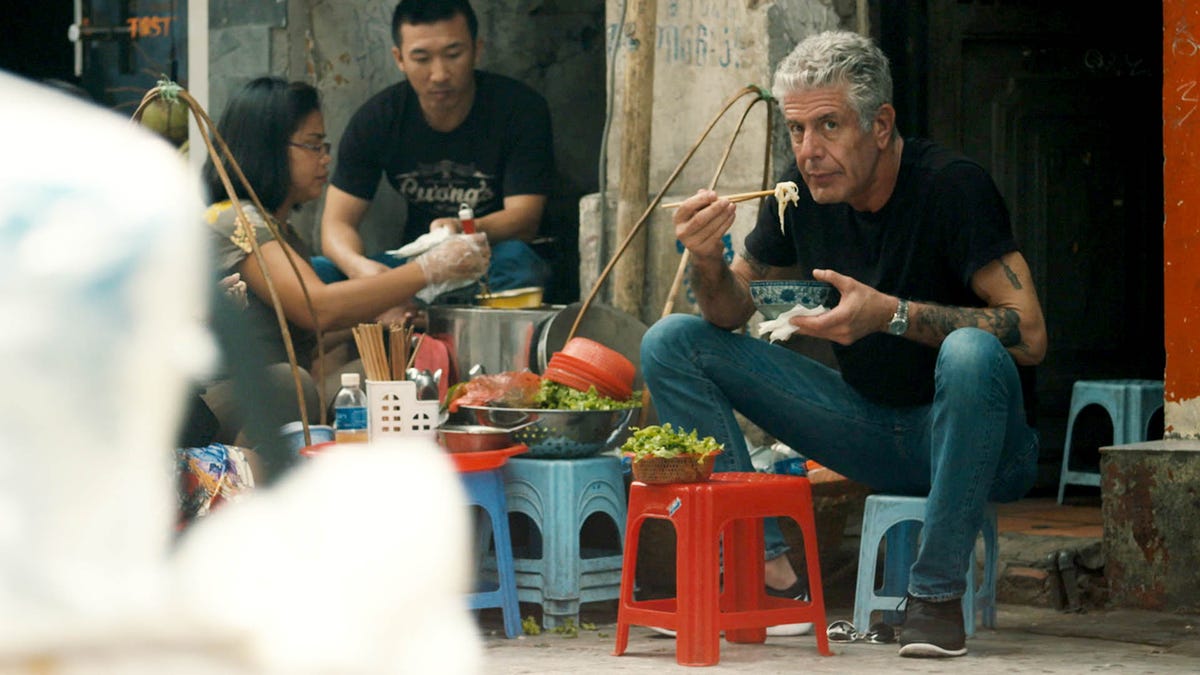 The Takeout 15 July, 2021 - 08:50am
But they both demonstrated the values of curiosity, of listening, and of kindness and compassion. Bourdain, however, seemed incapable of showing any of that kindness and compassion to himself. (What would Mister Rogers have said to him?) His story, as just about everyone who will watch the new film already knows, was a tragedy—and if you don't already know that, Bourdain will tell you so in the introduction. Neville isn't interested in exhuming all the gory details, though: he wants to, as he tells one of his interview subjects, find out what made Bourdain the way that he was through, yes, curiosity, listening, kindness, and compassion.
Anthony Bourdain is a great subject for a documentary. Not only did he have a great screen presence—he was always fascinating to watch, even when he was just sitting quietly in repose, gazing off at the ocean or the desert or the Antarctic snow—but much of the last third of his life, from about 2000 on, when Kitchen Confidential became a bestseller and he began filming A Cook's Tour, was captured on video. In an interview with IndieWire, Neville said that he and his crew combed through more than 10,000 hours of footage, both the stuff that made it onscreen and outtakes, and didn't come close to exhausting the Bourdain archive. But all that material really comes in handy: it's really quite something to hear a story from one of the talking head interviewees—longtime members of Bourdain's production crew, his ex-wife Ottavia Busia-Bourdain, and the chefs, artists, and musicians who were among his closest friends—and then see it exactly as it happened.
Before he set off, two young newlywed producers, Lydia Tenaglia and Christopher Collins, impressed by Kitchen Confidential and what they'd seen of Bourdain in TV interviews, contacted him and asked if they and their cameras could tag along on his travels. And thus was born the Food Network show A Cook's Tour and Bourdain's career as a TV star.
Part of Bourdain's appeal was how appeared so natural on camera: "your realest, smartest friend, who wandered outside after beers at the local one night and ended up in front of some TV cameras and decided to stay there," as Helen Rosner put it in her New Yorker obituary. But that did not come naturally. The first stop on A Cook's Tour was Tokyo, and it was an awkward and miserable experience for everyone involved. Tenaglia and Collins were still relatively inexperienced at making TV, and Bourdain had never hosted anything before; he seemed to think he should be explaining, like other, more conventional travel show hosts, and it was painful to watch. Bourdain would occasionally wander away from the camera in disgust.
But they all learned quickly. In Vietnam, Collins and Tenaglia discovered the winning formula of letting Bourdain loose to ask people questions and fulfill his own curiosity about the soul of a place instead of blathering out guidebook facts about a country he'd just literally landed in. Ah! you think, watching Roadrunner, there he is! (Perhaps for this reason, Vietnam remained one of Bourdain's favorite places, as you can see in the Hanoi episode of Parts Unknown.)
The high, of course, didn't last. In his 20s, Bourdain had been a heroin addict and even after he got clean—cold turkey—he still had the addict's personality, bouncing from one obsession to another: friends, lovers, his daughter, countries, songs, jujitsu. The travel began to wear on him—not just the demands of life on the road, but the things that he saw: the bombing that disrupted the No Reservations shoot in Lebanon, the starving people in Haiti who fought each other for leftovers after an interview, the Vietnam War refugees he met in Southeast Asia, the violent, bloody heart of darkness of the Republic of Congo. After every shoot, Bourdain and his crew would go home. Their work would be shown on TV. It would win awards. They would all make lots of money. Bourdain would become a celebrity, unable to walk around his Manhattan neighborhood undisturbed. But what about the people who he talked to, who made up the heart of the show? He toyed with the idea of disappearing from Parts Unknown entirely, becoming an invisible eyeball.
In one lengthy scene with a psychotherapist, parts of which appeared in the Buenos Aires episode of Parts Unknown, Bourdain confesses that he cycles through moods rapidly and unpredictably, from "everything is okay" to wanting to harm someone, or maybe himself. He wanted to be happy. He wanted to be able to look out the window and say, "Hey, life is good," the way he appears to do in so many episodes of his TV shows. "Do you want to change?" the therapist asks. Bourdain stops, considers for a few moments, and then looks very sad. "I suspect it's too late."
As time went on, the darkness came closer to the surface and became impossible to hide, even on TV. (During the shooting of what would be the final episode of Parts Unknown in Alsace, France, director Tom Vitale tells Neville he could see the genuine despair in Bourdain's eyes.) David Chang, the Momofuku chef and one of Bourdain's close friends, claims that Bourdain's favorite song was the Brian Jonestown Massacre dirge "Anemone."
In the final year of his life, he was obsessed with both his new girlfriend, the Italian actress and filmmaker Asia Argento, and supporting her work in the #MeToo movement, to the detriment of his relationships with his friends and longtime production crew. After a disagreement between Argento and his longtime director of photography, Zach Zamboni, during the filming of the Hong Kong episode of the final season of Parts Unknown, which Argento directed, Bourdain fired Zamboni.
And then he became unkind, not just to the crew, which were used to him being difficult, but to the people he interviewed: During that same episode, he interrupts a young refugee who is trying to explain, quite earnestly, how he has lost hope in the world so that the table they're sitting at can be repositioned. The young man, cut off mid-sentence and told to "hold that thought," looks bewildered and close to tears.
(Neville did not interview Argento for Roadrunner; he told IndieWire that he was afraid that speaking with her would alienate the rest of Bourdain's collaborators. I can't judge him for this. When you're telling a story that depends on the cooperation and trust of other people, sometimes their wishes supercede yours.)
When the relationship with Argento began to fall apart, Bourdain's despair, his friends say, was palpable. Tenaglia and Collins offered to put Parts Unknown on hiatus so he could stop traveling for a while and rest and spend time with his daughter. They and the rest of his friends tried to let him know he was loved; they knew how much it cost him to admit he was not okay. But that's the thing about depression: no matter how much and how often and how many people tell you they love you, you will never believe them.
This story could have been told in a way that's maudlin and sentimental. Bourdain, of course, would have hated that. He was a romantic, but he also took great pains to see things as they were. (And that, his friends say, may have been part of his trouble: nothing ever measured up to how he imagined it would be.) Neville pays his subject the great honor of forgoing all the St. Anthony bullshit that sprang up after his death. This is an honest portrait, not hagiography.
Someone asked me if this movie would make them cry. Maybe? If you're prone to crying at movies, or to sympathetic tears when you see other people cry, you will cry. But there's plenty of joy in Roadrunner as well—a lot of it just from the pure pleasure of getting to see Bourdain again.
TwinCities.com-Pioneer Press 14 July, 2021 - 11:32am
GET BREAKING NEWS IN YOUR BROWSER. CLICK HERE TO TURN ON NOTIFICATIONS.
"Road Runner," the new documentary about celebrity chef, author and world-traveling CNN host Anthony Bourdain, "stops just short" of blaming his girlfriend Asia Argento for his 2018 suicide, according to previews of the film.
But the film suggests that Bourdain became "addicted" to Argento, an Italian actress and filmmaker, in the same way "he was hooked on heroin earlier in his life," said Daily Beast writer Matt Wilstein. The implication from "Road Runner" is that "he would do anything for her," including in ways that potentially hurt him personally and professionally, according to Wilstein.
Bourdain, 61, died by suicide on June 8, 2018 in France, where he was filming an episode of his beloved, Emmy-winning CNN series "Parts Unknown." The series made Bourdain a global icon for the way he engagingly and thoughtfully explored the cultures and cuisines of lesser-known parts of the world.
Bourdain and Argento, then 42, had begun dating two years earlier. Their relationship made headlines after she joined Rose McGowan in becoming one of the first actresses in October 2017 to come forward and publicly accuse producer Harvey Weinstein of sexual assault.
Argento's disclosure inspired Bourdain to join her activism on behalf of sexual assault survivors and to become one of the leading male voices supporting the #MeToo movement.
The "Kitchen Confidential" author called out stars and industry figures who collaborated with Weinstein over the years but who had yet to speak out about his alleged misconduct. He also publicly turned his attention to sexual misconduct in his own restaurant industry, and reflected on his own "macho" bad-boy chef's personal life, as he told Slate at the time.
But it later emerged that both Bourdain and Argento were apparently hiding their own #MeToo-related secret. Two months after Bourdain's death, the New York Times reported that Argento had been accused of sexually assaulting a 17-year-old boy in a hotel room in California in 2013. She was 37 at the time, and the boy was actor Jimmy Bennett, whom Argento had cast at age 7 in a 2004 film she directed.
Following the Times report, Argento issued a statement, denying she ever had an inappropriate sexual relationship with Bennett. But she also admitted that Bourdain, afraid of "negative publicity," personally paid out $380,000 to Bennett, whom she described as "this dangerous" person to make him leave them alone.
It's not clear from the previews of "Road Runner" how much the film deals with the sexual assault allegations against Argento. She also wasn't interviewed for the film. "Road Runner" opens in theaters this Friday.
The film's director Morgan Neville told the Wall Street Journal: 'I'm not saying (Argento) caused his suicide. Suicide is a private and I think selfish act."
Neville said he was trying to "paint a picture" of the the different factors in Bourdain's life at the time of his death. "There were many of them," he explained, including in the way he had become "much more manic and much more depressive."
But the film also addresses Argento as one of those "factors," according to the Daily Beast. Bourdain's musician friend Josh Homme said that Bourdain was actively searching for something "feral and wild" when he began dating Argento. The chef's close friend Alison Mosshart, who fronts the band The Kills, revealed that Bourdain told her in an email that he knew his relationship with Argento would "end very, very badly."
"The people in his life could see that he was falling in love and developing what seemed to be a singular focus on the Italian actress," Wilstein added.
One way Bourdain was apparently burning those bridges was by involving Argento in the production of "Parts Unknown." He hired her to direct the show's Hong Kong episode, which upset his long-time crew and "upended" a process for the show that "they had been perfecting for years," Wilstein wrote.
Five days before his death, Bourdain was in France filming another episode. That's when he became "furious" over tabloid photos that implied Argento was cheating on him with a French reporter, according to the documentary.
Bourdain didn't leave a note when he died, but his "Parts Unknown" producer mentioned in the documentary that his final Instagram story made reference to a 1970 Italian crime thriller, "Violent City." The film opens with paparazzi photos of a woman cheating on her husband, according to Wilstein. "I mean, it's all there," the producer, Helen Cho, said.
Days after Bourdain's death, Argento's sister in #MeToo activism, Rose McGowan, defended Argento and rebuked speculation that she and Bourdain were having relationship troubles prior to his suicide. In a letter released to the media with Argento's permission, McGowan claimed that Argento and Bourdain served as each other's rocks during their individual struggles with depression and suicidal thinking.
"And through a lot of this last year, Asia did want the pain to stop," McGowan continued. "Thankfully, she did the work to get help, so she could stay alive and live another day for her and her children. Anthony's depression didn't let him, he put down his armor, and that was very much his choice. His decision, not hers. His depression won."
McGowan also addressed the tabloid photos that suggested that Argento was cheating on Bourdain with a French journalist. "Anthony and Asia had a free relationship, they loved without borders of traditional relationships, and they established the parameters of their relationship early on. Asia is a free bird, and so was Anthony," McGowan said.
But two months later, McGowan and Argento had a falling out over Jimmy Bennett's allegations. Argento's attorney subsequently admitted that there had been a sexual encounter but claimed that Bennett was the aggressor who assaulted Argento, CNN reported. 
Sign up for Newsletters and Alerts
As you comment, please be respectful of other commenters and other viewpoints. Our goal with article comments is to provide a space for civil, informative and constructive conversations. We reserve the right to remove any comment we deem to be defamatory, rude, insulting to others, hateful, off-topic or reckless to the community. See our full terms of use here.