"Road Runner," the new documentary about celebrity chef, author and world-traveling CNN host Anthony Bourdain, "stops just short" of blaming his girlfriend Asia Argento for his 2018 suicide, according to previews of the film.
But the film suggests that Bourdain became "addicted" to Argento, an Italian actress and filmmaker, in the same way "he was hooked on heroin earlier in his life," said Daily Beast writer Matt Wilstein. The implication from "Road Runner" is that "he would do anything for her," including in ways that potentially hurt him personally and professionally, according to Wilstein.
Bourdain, 61, died by suicide on June 8, 2018 in France, where he was filming an episode of his beloved, Emmy-winning CNN series "Parts Unknown." The series made Bourdain a global icon for the way he engagingly and thoughtfully explored the cultures and cuisines of lesser-known parts of the world.
Bourdain and Argento, then 42, had begun dating two years earlier. Their relationship made headlines after she joined Rose McGowan in becoming one of the first actresses in October 2017 to come forward and publicly accuse producer Harvey Weinstein of sexual assault.
Argento's disclosure inspired Bourdain to join her activism on behalf of sexual assault survivors and to become one of the leading male voices supporting the #MeToo movement.
The "Kitchen Confidential" author called out stars and industry figures who collaborated with Weinstein over the years but who had yet to speak out about his alleged misconduct. He also publicly turned his attention to sexual misconduct in his own restaurant industry, and reflected on his own "macho" bad-boy chef's personal life, as he told Slate at the time.
But it later emerged that both Bourdain and Argento were apparently hiding their own #MeToo-related secret. Two months after Bourdain's death, the New York Times reported that Argento had been accused of sexually assaulting a 17-year-old boy in a hotel room in California in 2013. She was 37 at the time, and the boy was actor Jimmy Bennett, whom Argento had cast at age 7 in a 2004 film she directed.
Following the Times report, Argento issued a statement, denying she ever had an inappropriate sexual relationship with Bennett. But she also admitted that Bourdain, afraid of "negative publicity," personally paid out $380,000 to Bennett, whom she described as "this dangerous" person to make him leave them alone.
It's not clear from the previews of "Road Runner" how much the film deals with the sexual assault allegations against Argento. She also wasn't interviewed for the film. "Road Runner" opens in theaters this Friday.
The film's director Morgan Neville told the Wall Street Journal: 'I'm not saying (Argento) caused his suicide. Suicide is a private and I think selfish act."
Neville said he was trying to "paint a picture" of the the different factors in Bourdain's life at the time of his death. "There were many of them," he explained, including in the way he had become "much more manic and much more depressive."
But the film also addresses Argento as one of those "factors," according to the Daily Beast. Bourdain's musician friend Josh Homme said that Bourdain was actively searching for something "feral and wild" when he began dating Argento. The chef's close friend Alison Mosshart, who fronts the band The Kills, revealed that Bourdain told her in an email that he knew his relationship with Argento would "end very, very badly."
"The people in his life could see that he was falling in love and developing what seemed to be a singular focus on the Italian actress," Wilstein added.
"Road Runner" shows that Bourdain believed that he had destroyed his relationship with his ex-wife and daughter. He also started talking about wanting to quit "Parts Unknown." "It seems Bourdain was burning bridges left and right during this time," Wilstein wrote.
One way Bourdain was apparently burning those bridges was by involving Argento in the production of "Parts Unknown." He hired her to direct the show's Hong Kong episode, which upset his long-time crew and "upended" a process for the show that "they had been perfecting for years," Wilstein wrote.
Five days before his death, Bourdain was in France filming another episode. That's when he became "furious" over tabloid photos that implied Argento was cheating on him with a French reporter, according to the documentary.
Bourdain didn't leave a note when he died, but his "Parts Unknown" producer mentioned in the documentary that his final Instagram story made reference to a 1970 Italian crime thriller, "Violent City." The film opens with paparazzi photos of a woman cheating on her husband, according to Wilstein. "I mean, it's all there," the producer, Helen Cho, said.
Days after Bourdain's death, Argento's sister in #MeToo activism, Rose McGowan, defended Argento and rebuked speculation that she and Bourdain were having relationship troubles prior to his suicide. In a letter released to the media with Argento's permission, McGowan claimed that Argento and Bourdain served as each other's rocks during their individual struggles with depression and suicidal thinking.
"And through a lot of this last year, Asia did want the pain to stop," McGowan continued. "Thankfully, she did the work to get help, so she could stay alive and live another day for her and her children. Anthony's depression didn't let him, he put down his armor, and that was very much his choice. His decision, not hers. His depression won."
But two months later, McGowan and Argento had a falling out over Jimmy Bennett's allegations. Argento's attorney subsequently admitted that there had been a sexual encounter but claimed that Bennett was the aggressor who assaulted Argento, CNN reported. 
In January, Argento made news again by alleging that "Fast and Furious" director Rob Cohen drugged and raped her during the filming of the 2002 film "xXx," Variety reported. A representative of Cohen denied Argento's assault accusation as "absolutely false."
Get Morning Report and other email newsletters
Read full article at Rolling Stone
Associated Press 14 July, 2021 - 04:39pm
Here's just one that sticks out: a quick scene with a therapist, in Argentina. As Bourdain lies on her couch, cameras rolling for an episode of his show, he describes some frightening psychological urges he has. She asks him if he wants to change, and to feel differently. He replies: "I suspect it's too late."
We never learn here why Bourdain wanted to film what seems a genuine therapy session. But it fits in perfectly with the portrait Neville paints of a man who couldn't resist being anything but painfully honest, and painfully public, even when it took him down some dark paths.
It's also an example of just how much material Neville had to work with. Between Bourdain's own recordings and voiceovers, copious footage — much never seen — from production of his TV travelogues, and countless home movies and photos, it comes to feel like Bourdain himself is narrating his life story. And it's hard to shake the feeling he already knows what happens, especially when he quips early on: "Here's a little pre-emptive truth-telling: there's no happy ending."
Neville dispenses quickly with the early stuff — Bourdain dropping out of college, washing dishes in Cape Cod — even his years as chef at Manhattan's Brasserie Les Halles. It really starts at age 44, when "Kitchen Confidential," his wickedly funny memoir about the underbelly of the restaurant world, catapults him into stardom and a life as a globetrotting raconteur bold enough to swallow a still-beating cobra heart or a sheep's testicle.
The transformation is dizzying: People are shouting to Bourdain in the streets. He's sitting down with Letterman, and with Oprah. They're saying Brad Pitt wants to play him. "It was like he died and was reborn," says his brother, Chris Bourdain.
In footage from his various shows, which culminated with "Parts Unknown" on CNN, we accompany Bourdain to an idyllic lunch in Provence with chef-buddy Eric Ripert, or to Vietnam, where he guzzles that cobra heart. Or to Haiti, where an episode on local cuisine leads to a chaotic scene of hungry youths seeking food. In a 2006 episode of "No Reservations" shot in Beirut, violence flares up between Israel and Hezbollah, and the crew is left to lounge by a pool for days while conflict rages. "I had begun to believe the dinner table was the great leveler," Bourdain says. "Now I'm not so sure."
A casualty of Bourdain's outsized fame is his first marriage. Nancy Putkoski doesn't speak to Neville, but Bourdain's second wife does -- Ottavia Busia, with whom he shared a daughter. Her tearful regret at not having kept a closer eye on him once their marriage was over is one of the more moving moments of the film, as is the frank commentary -- loving, sad and angry all at once -- from celebrity chef David Chang. The tears flow copiously in this film, a credit to Neville's vibrant filmmaking. Chang also has one of the catchiest lines about his friend: "It was almost never about food. It was about Tony learning to be a better person."
The first two-thirds are fittingly exhilarating. It's hard not to be jealous of a man who freely admitted he had the best job in the world: "If I'm not happy, it's a failure of imagination," he once told The New Yorker magazine.
But if imagination was all it took to be happy, this film makes clear, Bourdain would likely be with us today.
The final act of "Roadrunner" is infused with a feeling of dread. Bourdain had become involved with Italian actor Asia Argento, a key accuser of Harvey Weinstein. She directed an episode of his "Parts Unknown" in Hong Kong, and we literally watch Bourdain falling in love. We also hear how devastated he was when a tabloid published pictures of her with another man, shortly before his death during filming in eastern France.
It's clear that some of Bourdain's co-workers felt the relationship with Argento sent Bourdain into a tailspin that led to his death — even though one of them points out, rightly of course, that "Tony did this." It's unfortunate that the film does not include Argento's own voice here.
But one cannot fault "Roadrunner" for not coming up with clear answers. There rarely are clear answers, anyway, and this film seems to want to be about a life, not a death. A fascinating life, parts of which will forever remain unknown.
"Roadrunner," a Focus Features release, has been rated R by the Motion Picture Association of America "for language throughout." Running time: 118 minutes. Three stars out of four.
MPAA definition of R: Restricted. Under 17 requires parent or adult guardian.
Thrillist 14 July, 2021 - 04:38pm
Published on 7/14/2021 at 5:38 PM
The first part of Roadrunner offers up a biography that will be familiar to many fans of Bourdain's work, but as it goes on, it starts to attempt to address the more difficult, more unanswerable questions of why his life ended when it did. While fundamentally understanding that what those who loved Bourdain are seeking is unknowable, it offers an upsetting account of a tragedy as told by the people who were closest to it. Neville, best known for his Oscar-winning 20 Feet from Stardom and his Mister Rogers' documentary Won't You Be My Neighbor?, spoke with Thrillist about the grief he encountered while making his movie about Anthony Bourdain.
His agent told me a story that, shortly after he died, some suicide prevention society asked to use his name and likeness, and she said, "No, Tony would've hated that," and turned it down. And about a year and a half later, they came back and asked to use his name for something, she started to say no and then she stopped and said, "You know what, Tony doesn't get to say anymore." And I thought that that was revealing of everybody in Tony's life, giving themselves permission to not feel like Tony's over their shoulder at every minute. That's kind of how I felt making the film. I like to think that some of the brutal honesty in the film, as uncomfortable as it would have made Tony, Tony was nothing if not brutally honest, and so I think in that way he should appreciate it.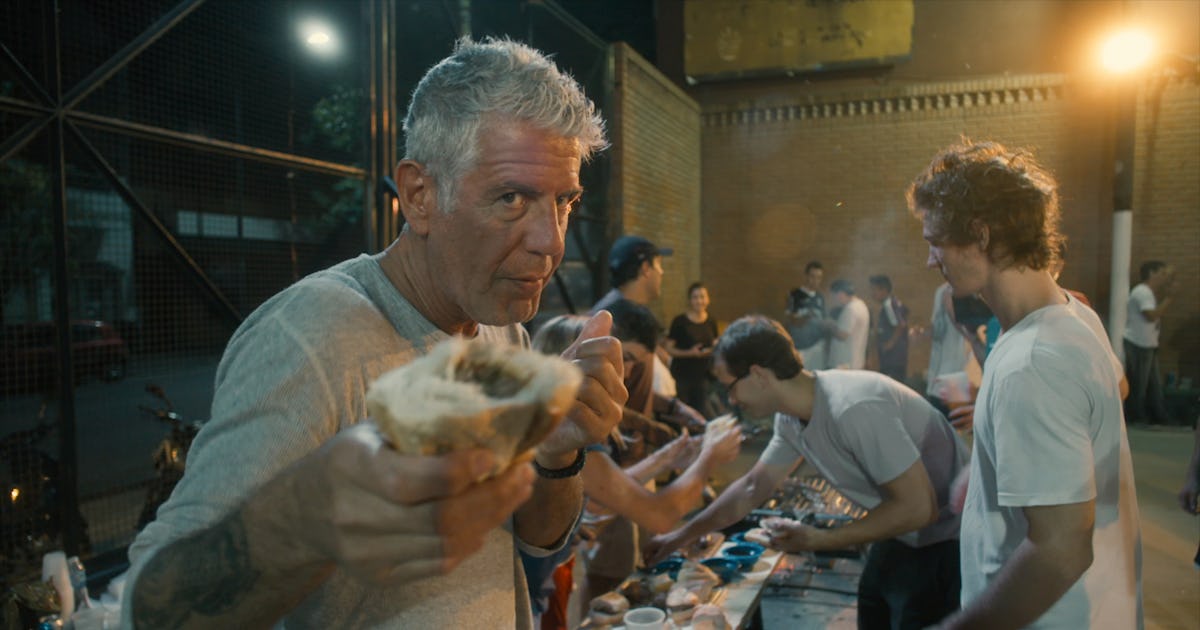 Mic 14 July, 2021 - 12:26pm
In the loneliest caverns of quarantine my fantasies were about ordinary things. Stale bowling alley pretzels that feel like chewing on a futon cushion. The shared exhaustion of subway platforms. The way a precise jukebox selection can clip jumper cables onto the waning energy of a filthy bar. The low hum anywhere you go of people having feisty conversations — with themselves, with you, with everyone in the universe — about the Mets bullpen. The diner at 3 AM, a few tables away from a guy who is hovering over a Philly cheesesteak like a feral dog, clavicles shining with semi-dried post-club sweat while a muted TV behind the counter displays the 7-day forecast.
I thought about these scenes constantly and I believe that I was not alone, that all of us felt this vague ache and even cried out for it, on Twitter in the middle of the night or in text messages or standing next to kitchen sinks. I am talking partly about intimacy but not specifically that; I am talking about the atmospherics of Out There, anywhere, the familiar drumbeat of a minor but undeniably very-decent night coalescing. I am talking, I guess, about a communion with vibes.
There were Twitter accounts that emerged last spring dedicated to basically this. One that posts submitted pictures of dive bars. Another of bizarre McDonald's found across the world. There is Old Roadside Pics, a collage of mini golf places in South Carolina, ice cream parlors in Utah with big cartoon bears on the sign. The Liminal Spaces bot. Each of these projects cracked up through the concrete last year, in the middle of a horrible time that is only now just marginally less horrible and only in select ways, and I do not think that was a coincidence. In our rooms deprived of stimuli and interpersonal friction of any kind we dreamt not of indulgence or Santorini, but of simply wading waist-deep back into the battered sanctuaries we've known all our lives.
There is a scene early in Morgan Neville's Roadrunner: A Film About Anthony Bourdain (July 16) in which Bourdain has just arrived in Asia for a six-week trip to film his first ever TV episodes. It's 2000, a few months after the seismic arrival of Kitchen Confidential. In the beginning, the trip is a disaster. Bourdain is uncomfortable on camera. He rolls around in bed taking pictures of his hotel ceiling. He doesn't make eye contact. His jokes don't land. Served dinner by his proud hosts in an ornate room in Japan, he might as well be eating it alone in a parked car. It is not until Vietnam, smoking hand-rolled cigarettes, wandering side streets sweaty and unbridled, sitting in the dirt eating noodles, getting drunk beneath a sky that looks, in the minutes before sunset, like blue Gatorade, that he seems to finally be a participant in his own life.
Roadrunner is a fine and even occasionally moving piece of work. The film mostly skips his aimless and destructive early years, when he spent his days getting fired from restaurants, doing heroin, watching The Simpsons and ordering takeout with his first wife, and joins him right as he's trampolined from pretty good chef to Valuable Media Property. It takes a few steps in a bunch of directions — his attempts to be Barbecue Dad; the shame of addiction; borderline inappropriate hypotheses about his suicide. But that narrative never feels as valuable as the stray clips of him sleeping at airports, chain smoking on dirty couches, eating ramen on little plastic stools, riffing about the moods of different architecture.
Later in the film, in footage from 2018, Bourdain is at the Manhattan apartment of his friend, the artist and musician John Lurie. They are filming a scene for an episode of Parts Unknown about the Lower East Side, the stadium for renegade excess and wild ideas that raised both of them in the '80s. They don't have much planned, they're in their 60s now, it takes them a while to get across a room. Punk rock is dead; in 2018 the East Village sells pulled pork sliders on a brioche bun. Lurie lumbers around like a groggy bear, then gets lunch from the stove and puts it down in front of Bourdain, sitting there lean and tan like an old cowboy. Lunch is just a pot with four hardboiled eggs in it. In the scene that would later air on Parts Unknown, Lurie says, "I'm not eating this shit" and Bourdain says, "Eggs. The perfect food." Bourdain dents the egg shell on the wooden table and then peels it and takes a bite. The two of them glance out the window, the '80s somewhere far beyond the horizon.
Rewatching old episodes of the series in the days after seeing Roadrunner, I realized how mesmerized he was by these moments with people. They were his atlas. Scenes under an awning in Brighton Beach, staring out at the ocean and eating khachapuri while it rains. Using empty beer cans as party decorations in Borneo. Men in Havana playing dominos and using cardboard inserts from soda boxes to shade themselves. Sitting at a slot machine in a gas station in the Nevada desert eating hot dogs under a holographic framed Miller Lite sign. On the sand in New Jersey with his brother, setting off fireworks, feeling weird about their dad, tearing into cold cut sandwiches on thick bread. Tweeting 10 years ago "The steering wheel is all greasy with In 'n' Out Burger." The brilliant simplicity of folding chairs and paper plates, the rope-ladder-thrown-down-from-a-helicopter of a cigarette and a midnight pork and cheese sandwich in the Dominican Republic.
Describing New Jersey, in a 2015 entry on his personal tumblr, he wrote, "The smell of dune grass. Vanilla salt water taffy. Fried clam strips. These things should be eternal. They are eternal."
In most of his scenes, there is a tenderness but also melancholy, not quite doom but a recognition that we are powerless to life's tectonic shifts. In the meantime, this is what we have. These are our purest, most honest ambitions. His shows could have existential themes, they could be sly political inquisitions, there were cinematic presentations of haute cuisine, but he knew it is not our sermons and grand gestures that define us.
Talking once in 2016 about refusing to do retakes, he said, "What if you are a Vietnamese rice farmer and I am coming into your house to eat dinner and we do a scene where I am shaking your hand and say 'I am very happy to see you' and then the camera guy says we missed the shot? And I do it again, just as sincerely. What do you think of me now? You think I'm an insincere asshole, of course."
He was constantly interrogating himself. He could sense bullshit, a sort of spiritual fraud, the way a horse recognizes an approaching storm. Roadrunner tracks him from the sleeveless menace he was in his restaurant days, to his mid-career phase as ruthless critic of bourgeois fascinations, and then through his nearly two decades on television, where he was worshiped as a kind of symbol of backstreet dignity.
Through it all, almost inexplicably, he had become even less righteous. Earnest without being rude, affectionate without being saccharine, fervent but without the homilies. He managed to reconcile fame and integrity. He was all of his impulses and compulsions laid bare, all of his rotten edges, always reminding us of his need when he was younger to be cool, and what a fool's game he realized that was. Wanting to seem defiant, but in the way of a strung out front man and not defiant like "hedge fund manager who just beat the trial on a technicality." Telling us the things he did for love. The times he cared too much, the times he didn't care at all. He was working on it. Somewhere across the world, drinking a heroically mediocre beer.
Days before Bourdain died, he purchased a painting from Lurie. At the center of the piece is a slender man, painted shiny copper-orange, like a new penny. The man is at the bottom of a deep blue sea. Above his head is a knotted forest of seaweed. The man's shoulders are slumped, he's looking off the canvas, almost like he's trying to figure something out. The title of the painting is, "The Sky Is Falling, I am Learning to Live With It."
TODAY 14 July, 2021 - 07:11am
23 summer basics you need in your wardrobe — starting at $12!
The documentary, directed by Morgan Neville, traces Bourdain's path from his early career in New York City to his time as an author and adventurer traveling the world before he died by suicide in France in 2018. It will open in theaters Friday, July 16.
"He was always about trying to understand how other people, unlike himself, thought, and that is something that we don't get enough of and something that I think his death leaves a massive vacuum," explained Neville to TODAY's Carson Daly.
Neville said he thinks people felt so much affection for Bourdain because of his authenticity and the sense that "everybody felt like they knew him." While Bourdain might have been a public figure, he often kept his home life private. He had one daughter, Ariane, born in 2007 to ex-wife Ottavia Busia.
"He loved being a father so much," Neville said. "When he was home and with his family, he was there 100%, and he loved devoting everything he could, but at the same time, you know, he travels 250 days a year and I think there was something about that that made him feel like he couldn't be the dad that he expected was the perfect, you know, the romantic ideal of a dad, which is what Tony was always wanting everything to be.
"And I think when he couldn't do that, that was something that just really ate at him in a major way."
The documentary also provides a look at Bourdain's dark sense of humor. Carson pointed out that Bourdain made many jokes about taking his own life, including dying by hanging.
"Tony had a pitch-black sense of humor, and we have a couple examples in the film about him joking about suicide," Neville said. "There were many, many more examples, and he wrote about it too. But I think people decide, 'Oh, that's just Tony,' but obviously, there was something underneath all that, too. I think there was also a sense of Tony was always dancing on the edge, and I think that's where he got his creative juice, but it's also where the darkness lay."
Neville said the film also incorporates interviews from Bourdain's collaborators and confidants, bringing together friends who are keeping the chef's memory alive more than three years after his death.
"I can't think of anyone who's shown more of the world to the rest of the world on television than Anthony Bourdain, and that is so valuable," said Neville. "He was an ambassador for curiosity, you know? If there's anything we need more of it's to be curious about other people in other parts of the world. He was, you know, absolutely a one-of-a-kind person."