What is a meme stock?
Meme stocks are the shares of companies that have seen a recent surge in viral activity, which is usually fuelled by online social media platforms such as Reddit and Twitter. The buzz over a particular stock prompts retail traders to buy the stock with the knowledge that its share price will likely rise. CMC Markets5 Booming Meme Stocks to Watch in 2021
Yahoo Finance 05 August, 2021 - 09:50pm
Shares were halted for volatility in the first few minutes of the trading session on Wednesday. The stock soared more than 80% at one point. The upward move comes a day after the stock spiked 24%. The stock price blew past its IPO price of $38 on Tuesday in stark contrast to its public debut last week.
Retail interest could be a contributing factor for the upward move. Robinhood is one of the most mentioned stocks on Reddit's WallStreetBets, according to SwaggyStocks. The stock's comment volume has spiked over the last two days.
On Wednesday Fidelity's real time order data was showing Robinhood as a top traded stock, behind Advanced Micro Devices (AMD) and AMC (AMC), two stocks followed by WSB members.
While short squeezes have often initially driven up "meme" stocks in the past, Robinhood's move is not driven because of a short covering. "While there is some short side activity in HOOD, it is the long side which is main driver of its stock price volatility," Ihor Dusaniwsky of S3 Partners told Yahoo Finance.
"The upward stock price pressure in HOOD is not a short squeeze for the simple reason that there has not been enough time for a large short position in HOOD to be accumulated," he added.
High profile investments in Robinhood may also be driving the price higher. Last week Cathie Wood's Ark Innovation ETF (ARKK) scooped up about 4.9 million shares of Robinhood, according to Bloomberg data.
Investors are keeping a close eye on the stock following Robinhood's public debut last Thursday.
The stock sank as much as 12% below its IPO price during its first day of trading on the Nasdaq. Shares closed down 8% that day. Some questioned whether its lackluster performance had anything to do with Robinhood's hybrid auction-style debut, a lack of lock-up period for 15% of shares held by employees and others, or concerns over regulatory headwinds.
Robinhood has been a key player in the retail trading boom involving GameStop (GME) and other stocks over the past year-and-a-half. In an unusual move, the company allocated about 35% of its shares to retail investors for its IPO.
The options market shows some investors are betting against an upward movement in the stock. Puts expiring August 20th outnumbered calls during the first day of options trading on Robinhood, according to Bloomberg data.
Ines is a markets reporter covering stocks from the floor of the New York Stock Exchange. Follow her on Twitter at @ines_ferre
Follow Yahoo Finance on Twitter, Facebook, Instagram, Flipboard, LinkedIn, YouTube, and reddit
Roku and Etsy beat earnings, but sold off late. In a mixed market, AMD and Robinhood soared, signaling a meme stock shift.
Robinhood (HOOD) soared to new highs on Tuesday, a stark contrast from its public debut last week.
There's an old saying in the markets that you should 'sell in May and go away.' It's a reference to long-noticed trend of summertime swoons, when market trading slows, or even dips, especially in August. Recent statistical research by CFRA research has quantified the phenomenon. Since 1945, they say, August is the year's third-worst month for returns on the S&P 500, on average. The trend is particularly marked in years when the index set record high levels in July. A report from LPL Financial ad
"Robinhood," he says. After jumping 24% on Tuesday, Robinhood was up another 46% on Wednesday, to a recent $68.27. Robinhood has several things in common with other stocks that have shot higher in 2021, including strong interest from retail investors and substantial options activity.
(HOOD) stock rocketed higher again on Wednesday, leaping as high as $85, an 82% jump on the day. There was no apparent news to explain the rise, though there was clearly interest among retail traders. Nearly 10,000 buy orders had been entered on Fidelity by retail investors early Wednesday, three times as many as the next most-bought stock, (GM) (ticker: GM).
What happened Shares of BioNTech (NASDAQ: BNTX) had jumped 11.8% higher at 11:42 a.m. EDT on Wednesday. The gain came after The New York Times reported that the U.S. Food and Drug Administration will likely approve the Pfizer-BioNTech COVID-19 vaccine by early September.
Advanced Micro Devices Inc. shares closed at a sixth consecutive record high on Wednesday following continued indications that the chip maker is taking market share away from larger rival Intel Corp.
Robinhood stock jumped again Wednesday, helped by retail traders and fund manager Cathie Wood's continued purchases.
The goal of an investment — whether you place your money in stocks, a business or real estate — is generally to end up with more money than you started with. When you earn enough money from investments, you'll have … Continue reading → The post Florida Capital Gains Tax appeared first on SmartAsset Blog.
(Bloomberg) -- Hedge fund Alphadyne Asset Management is one of the biggest casualties from a short squeeze in the global bond market, with its $12 billion macro trading strategy snared in a series of bad bets on rising interest rates.The investment firm is staring down losses of about $1.5 billion after its hedge funds plunged through July, according to people familiar with the matter. Its flagship Alphadyne International Fund lost about 10%. It also manages a leveraged version with about the sa
After seeing trading in Robinhood get halted for volatility, thanks it part to a massive surge in social media interest, Robinhood has become beholden to its own product, but cynicism remains high.
In the past year and a half, options trading has hit record highs as retail investors plow money into calls and puts. Now, Robinhood (ticker: HOOD) itself is in the midst of an options frenzy, which may help cause the stock to be volatile for an extended period. Just five days after its market debut, options activity around Robinhood has been spiking, and is extremely high even compared with other hot new stocks, according to Susquehanna International Group's Christopher Jacobson.
What happened Shares of Advanced Micro Devices (NASDAQ: AMD) climbed as high as $122.48 on Wednesday, marking a new record. As of 2:35 p.m. EDT, the popular tech stock was up more than 5%. So what AMD debuted its Radeon PRO W6000X series graphics processing units (GPUs) for Apple's Mac Pro desktop computers on Tuesday.
Shares of meme stocks AMC Entertainment Holdings (NYSE: AMC), GameStop (NYSE: GME), and Sundial Growers (NASDAQ: SNDL) were all heading lower in morning trading Wednesday, with the theater operator down 4%, the video game retailer off over 1%, and the marijuana company falling 3.5%. The three companies have failed to maintain any sort of momentum from their earlier bull runs, and calls for retail investors to stand strong are not resonating as much as they did previously during the share-buying frenzy of January.
Shares of Zoom Video Communications (NASDAQ: ZM) were rising today on seemingly no company-related news. The maker of the popular video-calling app, Zoom, saw its share price jump today, likely because some investors are concerned that rising COVID-19 cases caused by the delta variant are bringing more restrictions. Zoom's app became the go-to service for communicating with friends, family, and colleagues during strict lockdowns and social distancing last year, and that helped drive up Zoom's share price in 2020.
Bloomberg Technology 05 August, 2021 - 09:50pm
CNBC Television 05 August, 2021 - 09:22am
An additional month is needed to 'smash bugs, improve stability, and polish the game.'
Amazon was expected to launch its New World massively-multiplayer online (MMO) game on Aug. 31, but that date has now been pushed back to Sept. 28.
This is by no means the first delay the game has suffered. It was meant to launch in May last year, but the release got pushed back due to the pandemic and the New World development team shifting to remote work. The closed beta highlighted a number of bugs, but the most unexpected involved bricking GeForce GTX 3090 graphics cards, which are expensive and hard to find.
New World can be pre-ordered and there are three editions of the game. The Standard Edition is $39.99, the Deluxe Edition is $49.99, and the Steelbook Edition is unfortunately already unavailable due to its popularity. The main difference between the three is the amount of bonus content and in-game items they contain.
Enter your email now to receive the best bargains around delivered right to your inbox.
This newsletter may contain advertising, deals, or affiliate links. Subscribing to a newsletter indicates your consent to our Terms of Use and Privacy Policy. You may unsubscribe at any time.
This browser does not support the video element.
PCMag.com is a leading authority on technology, delivering Labs-based, independent reviews of the latest products and services. Our expert industry analysis and practical solutions help you make better buying decisions and get more from technology.
© 1996-2021 Ziff Davis, LLC. PCMag Digital Group
PCMag, PCMag.com and PC Magazine are among the federally registered trademarks of Ziff Davis, LLC and may not be used by third parties without explicit permission. The display of third-party trademarks and trade names on this site does not necessarily indicate any affiliation or the endorsement of PCMag. If you click an affiliate link and buy a product or service, we may be paid a fee by that merchant.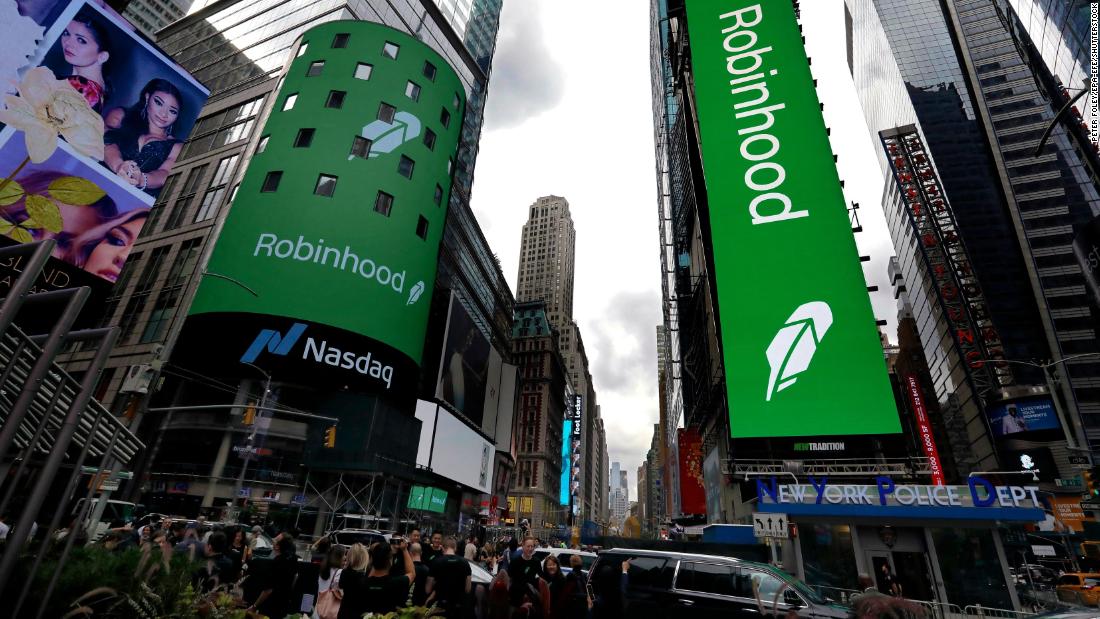 CNN 05 August, 2021 - 08:05am
Now, Robinhood isn't just minting so-called "meme" stocks. It's become one itself.
What's happening: The company's stock got off to a rocky start when it made its Wall Street debut last week, finishing its first day of trading down 8% from its initial public offering price. Then, this week, shares took off, skyrocketing 24% on Tuesday and an eye-popping 50% on Wednesday.
According to data from researchers at VandaTrack, Robinhood was the third most-bought stock on retail platforms Wednesday, securing $50.5 million in net purchases.
Some context: VandaTrack notes that Robinhood's gains are still dwarfed by the original meme stocks, GameStop and AMC Entertainment. At the peak, retail investors bought $352 million worth of shares of the struggling video game retailer and $600 million of stock in the movie theater chain.
Still, Robinhood has been benefiting from a host of factors. Options trading for the stock started Wednesday, and prominent fund manager Cathie Wood has revealed sizable purchases in recent days. Robinhood has also actively courted everyday investors who may be interested in buying shares.
There could still be "room for the move to continue," VandaTrack analyst Ben Onatibia said. He noted that the jump is unusual, however, which makes the trajectory hard to predict.
"After a poor listing, retail demand is surging, something extremely rare with IPOs," he said.
On Thursday, the stock tumbled in premarket trading after Robinhood said in a filing that investors including venture capital firm Andreessen Horowitz were selling nearly 98 million shares.
On the radar: Meme stock or otherwise, Robinhood could eventually run into trouble purely based on its business model.
Robinhood earned 81% of its first quarter revenue through what's known as "payment for order flow," which is increasingly coming under regulatory scrutiny.
Breaking it down: The reason Robinhood doesn't need to charge commission is because it makes money in a different part of the trading process. When an investor places an order to buy a stock on its app, Robinhood routes the order to a market maker like Citadel Securities, which then handles execution — and pays Robinhood for that privilege.
Scrutiny of this process has increased since the GameStop frenzy. While the company argues it's a crucial part of its efforts to democratize trading, Securities and Exchange Commission Chair Gary Gensler said in June that payment for order flow raises "questions about whether investors are getting best execution," and noted that directing huge swaths of trades to a few select market makers could "increase potential system-wide risks."
Should regulators take action, Robinhood's business could be in jeopardy.
"An outright ban on payment for order flow would immediately and severely impact Robinhood's revenue," research firm New Constructs said last month. "We don't believe Robinhood could continue offering commission-free trading, which would put the company at a significant disadvantage to rivals Fidelity and Charles Schwab."
Riders are flocking back to Uber as vaccines give people fresh confidence to leave their homes and travel around. But the company has had to spend a ton of money to get enough drivers on its platform, hurting its bottom line.
The latest: Uber (UBER) said Thursday that it lost an adjusted $509 million in the April-to-June period. That's down from $837 million a year ago, but worse than the $359 million loss it posted during the first quarter of 2021.
A big problem for the ride-hailing company was the amount it had to spend on incentives for its drivers.
"The marketplace was not at a place that we considered healthy and we wanted to lean in to get wait times down, to get surge levels down," CEO Dara Khosrowshahi said on a call with analysts.
Khosrowshahi said the company is making good progress, increasing monthly active drivers and couriers in the United States by nearly 420,000 from February to July, and has started pulling back short-term perks.
But he acknowledged that in cities like New York, San Francisco and Los Angeles, "demand continues to outplay supply and prices and wait times remain above our comfort levels." Shares are down 4% in premarket trading.
Not just Uber: Lyft (LYFT) also had to make "significant investments in driver supply throughout the quarter," leading average hourly earnings for drivers to reach an all-time high in the spring.
Finding enough workers to meet demand has been a problem across industries, with food service, logistics and food processing also reporting concerns. Executives at companies like McDonald's (MCD), which have raised wages, say the situation is improving, but they're not out of the woods yet.
Nintendo's pandemic boom may be coming to an end.
The Japanese company said Thursday that sales fell nearly 10% in the quarter ending in June, a sign that fewer people stayed at home to play video games as some countries around the world began to reopen, my CNN Business colleague Michelle Toh reports.
Operating profit dropped more than 17% to 119,752 billion yen (about $1 billion) compared to the same time a year ago, as sales of its Switch consoles slumped.
Logging off: During the quarter, 4.5 million units of Switch hardware were sold — down about 22% from the 5.7 million recorded the previous year.
The company blamed "factors such as logistics delays caused by Covid-19 and the impact of the semiconductor shortage on production."
But the times are also changing. "Animal Crossing: New Horizons" — the Switch title that was a breakout sensation of the pandemic — sold just 1.3 million copies last quarter, compared to 10 million in 2020.
Investor insight: The company has consistently posted one blowout quarter after another during the pandemic. But it's also been dogged by concerns about how long it can keep its hot streak going. Those worries may be coming to pass.
Cars.com (CARS), Datadog (DDOG), Dine Brands (DIN), Kellogg (K), Moderna (MRNA), Papa John's (PZZA) and ViacomCBS (VIACA) report results before US markets open. Beyond Meat (BYND), Cloudflare (NET), Dropbox (DBX), GoPro (GPRO), Monster Beverage (MNST), Shake Shack (SHAK), Yelp (YELP) and Zillow (Z) follow after the close.
Coming tomorrow: The US jobs report for July arrives after private payroll gains came in much smaller than expected.
© 2021 Cable News Network. A Warner Media Company. All Rights Reserved.
Terms of Use | Privacy Policy | AdChoices | Do not Sell my Personal Information | Manage cookies+
CNBC 05 August, 2021 - 05:48am
Robinhood said Thursday that existing shareholders will sell up to 97.9 million shares over time. The news knocked shares of the trading app that have surged this week.
In a filing, the commission-free broker said it will not receive any of the proceeds from the stock sale of 97,876,033 shares of its Class A common stock. The offering is through an automatic conversion of certain convertible notes held by the selling stockholders in connection with last week's initial public offering.
The stockholders were among those who came to Robinbood's rescue during the historic trading mania earlier this year. Faced with unprecedented volatility and increased deposit requirements, the broker was forced to tap credit lines and raised new debt to ensure it had enough cash to clear trades. It also briefly restricted trading in a number of short-squeeze names.
The selling shareholders include a number of venture capital firms that invested in Robinhood early on. For instance, New Enterprise Associates, which owns more than 10% of Robinhood shares, is among the list of sellers in this offering. Andreessen Horowitz, Iconiq Capital, Institutional Venture Partners and Ribbit Capital were also among the selling stockholders.
After this filing, the shareholders are now allowed to sell their stocks when they see fit. They can sell through public or private transactions and at whatever price they want.
The stock dropped more than 27% to $50.97 per share on Thursday following the news.
After a lackluster IPO last Thursday, Robinhood shares spiked this week as retail investors bid up the shares, reminiscent of the meme stock rallies the company helped perpetuate in names like AMC and GameStop earlier in the year.
The shares jumped 50% on Wednesday and had doubled for the week until Thursday's decline. Buying by ARK Invest's Cathie Wood and the start of options trading were also credited with helping to boost the shares.
Robinhood, which experienced massive growth thanks to the rise of retail investors, went public on the Nasdaq under the ticker HOOD. The stock priced at $38 per share, the low end of its offering range.
Data is a real time snapshot *Data is delayed at least 15 minutes. Global Business and Financial News, Stocks, Quotes, and Market Data, and Analysis.