ɪᴀɴ ᴍ. ᴍᴀᴄᴋᴀʏ, ᴘʜᴅ 🦠🤧🧬🥼🦟🧻🧙‍♂️
MackayIM
FDA scientists strike skeptical tone on need for Covid-19 vaccine booster at this time, likely... www.statnews.com/2021/09/15/fda-scientists-strike-skeptical-tone-on-need-for-covid-19-vaccine-booster-at-this-time-fueling-debate/ via @statnews
Mike Bird
Birdyword
This quote on booster vaccines perfectly encapsulates the maddening pit HK is in with regards to Covid: "If we know when the border will reopen, perhaps we will need to start doing work two months before the reopening" www.scmp.com/news/hong-kong/health-environment/article/3148893/coronavirus-hong-kong-experts-recommend

Helen Branswell
HelenBranswell
Friday's meeting of @US_FDA's expert vaccine panel, #VRBPAC, on Covid vaccine boosters is going to be really interesting. @matthewherper & I will be live-blogging. www.statnews.com/2021/09/15/fda-scientists-strike-skeptical-tone-on-need-for-covid-19-vaccine-booster-at-this-time-fueling-debate/

Apoorva Mandavilli
apoorva_nyc
BREAKING: Wading into an acrimonious debate over booster doses, Israeli researchers report that a third dose of the Pfizer-BioNTech coronavirus vaccine can prevent infections and severe illness in adults older than 60 for at least 12 days. www.nytimes.com/2021/09/15/health/covid-booster-shot-data.html
MedPage Today 16 September, 2021 - 08:11am
by Garth W. Strohbehn, MD, MPhil, William F. Parker, MD, PhD, and Alex Tabarrok, PhD September 14, 2021
The Biden administration says booster shots are coming, but the FDA hasn't decided on the dose. Moderna wants a half-shot booster. Pfizer a full shot. But could the best dose for Americans and for the world be even less?
COVID-19 vaccines are the first successful use of mRNA vaccine technology, so a lot remains unknown. But identifying the smallest dose needed to provide effective boosting is critical to protect Americans from adverse effects, increase confidence in vaccines, and mitigate global vaccine inequity.
We've known since earlier this year that a half-dose of the Moderna vaccine produces antibody levels similar to the standard-dose and newer information suggests that even a quarter-dose vaccine may do the same. If a half or quarter dose is nearly as effective as a standard dose for first and second shots then a full dose booster may well be an overdose. The essential task of a booster is to "jog" the immune system's memory of what it's supposed to fight. Data from the world of hepatitis B suggest that the "reminder" need not be as intense as the initial "lesson." And in the cases of tuberculosis, meningitis, and yellow fever vaccines, lower doses have been as good or better than the originals.
Lower doses could also reduce risks of adverse effects. Concerns about vaccine-associated inflammation of heart muscle, called myocarditis, in adolescents and young adults were validated in a large observational study out of Israel. Compared to lower doses of vaccine, boosting with the full dose may increase the risk of myocarditis. Presumably, this is why the FDA mandated Pfizer to study lower vaccine doses as a condition of granting full approval to the two-shot series.
The FDA demanding a similarly thorough process from boosters may bring added benefits. The majority of unvaccinated people cite side effects and safety concerns as major reasons for remaining unprotected. Reducing the booster dose to the smallest amount needed to generate an immune response might even help restore confidence in the regulatory process among the mildly skeptical unvaccinated.
The chosen booster dose also has profound implications for global vaccine equity. Producing boosters for developed countries will reduce the supply of first and second doses available to countries where most people haven't received a first dose. A slower vaccine rollout in the developing world isn't just unfair -- it increases the death toll and likely facilitates the emergence of more variants. After all, it was from unvaccinated populations beyond America's shores that the Delta variant first emerged.
The Biden administration says it wants 100 million boosters in 2021 alone. If we can boost 100 million Americans with the equivalent of only 25 million "full doses," then the remaining 75 million doses that were budgeted for can be donated abroad to low-income countries who need the protection of first and second shots, potentially saving tens of thousands of lives while simultaneously enhancing our own safety. Vaccinating the world ought to remain a top priority both scientifically and diplomatically.
Both Moderna and Pfizer/BioNTech have ongoing trials with low-dose boosters using antibodies as their key endpoint. Consistent with the backbone the FDA has thus far shown in the booster debate, the agency should demand this data before approving a booster shot, or at the very least make full approval conditional upon its emergence. Preventing booster "over-dosing" is a straightforward but critical step to ensure that Americans are protected from adverse effects and also that the precious global vaccine supply is used optimally.
There is still time to avoid conspicuous vaccine consumption and reduce potential risks of rare adverse side effects by demanding that lower dose boosters be appropriately vetted and considered. Many lives and America's global image depend on it.
Strohbehn is an inventor of a patent held by the University of Chicago covering the use of low-dose tocilizumab in the treatment of viral infections.
NBC News 16 September, 2021 - 08:11am
CityNews 16 September, 2021 - 08:11am
WCPO 9 16 September, 2021 - 08:11am
WCVB Channel 5 Boston 16 September, 2021 - 08:11am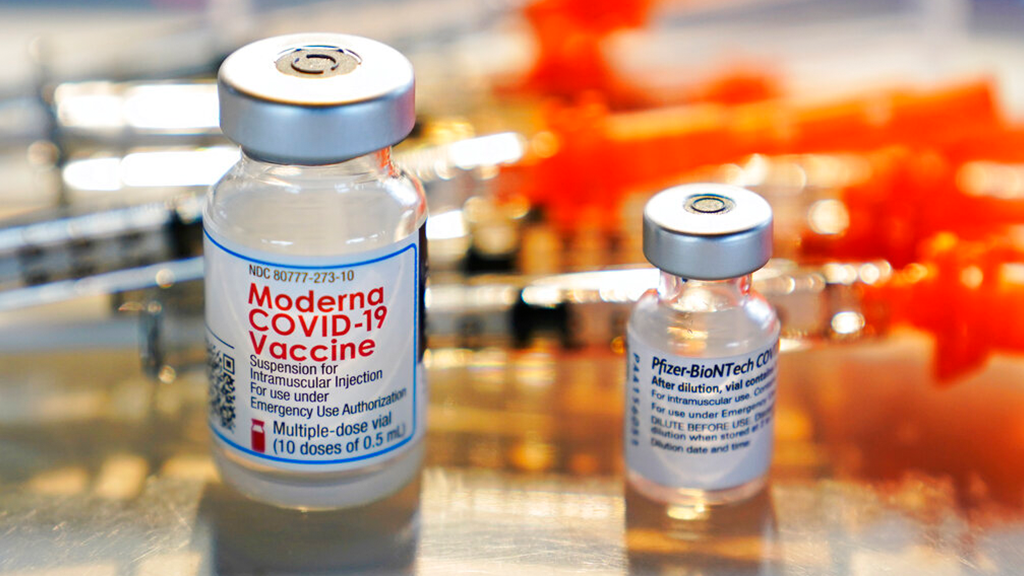 Fox News 15 September, 2021 - 05:31pm
This material may not be published, broadcast, rewritten, or redistributed. ©2021 FOX News Network, LLC. All rights reserved. Quotes displayed in real-time or delayed by at least 15 minutes. Market data provided by Factset. Powered and implemented by FactSet Digital Solutions. Legal Statement. Mutual Fund and ETF data provided by Refinitiv Lipper.
Dr. Jeffrey Jahre joins 'Fox & Friends' to explain why the hospital made the decision, says the hospital is following the science
Moderna Inc. has released a set of data which suggested its COVID-19 vaccine is effective in preventing serious health issues or death from "variants of concern" but admitting that efficacy decreases over time, such that those who received the vaccine last year were twice more likely to contract a breakthrough case of the coronavirus disease.
According to the data, which Moderna released Wednesday, a "study shows lower risk of breakthrough infection in participants vaccinated more recently (median 8 months after first dose) than participants vaccinated last year (median 13 months after first dose)."
A Moderna trial conducted over the summer, labeled Phase 3 COVE Study, revealed that "88 breakthrough cases of COVID-19 occurred in the more recently vaccinated group (49.0 cases per 1000 person-years) compared to 162 cases in the group vaccinated last year (77.1 cases per 1000 person-years)."
Across both groups, Moderna highlighted that "only 19 severe cases were observed." While there was a "numerical trend toward a lower rate of severe cases in the groups vaccinated more recently." Moderna insisted that the number of cases was low enough that the trend was "not significant."
The research found that those who were vaccinated earlier on had a 50% higher rate of symptomatic breakthrough cases during the months of July and August compared to those who had received the vaccination later.
In a statement issued along with the data, Moderna CEO Stéphane Bancel insisted that the data "supports the need for a booster" shot.
"It is promising to see clinical and real-world evidence adding to the growing body of data on the effectiveness of the Moderna COVID-19 vaccine," Bancel said of the unpublished analysis. "The increased risk of breakthrough infections in COVE study participants who were vaccinated last year compared to more recently illustrates the impact of waning immunity and supports the need for a booster to maintain high levels of protection.
Moderna has also requested authorization from the U.S. Food and Drug Administration for a third-dose booster shot, which will be one-half the dose of its existing vaccine.
Kyle Morris covers politics for Fox News and is a graduate of the University of Alabama. Follow him on Twitter: @RealKyleMorris
Stay up-to-date on the biggest health and wellness news with our weekly recap.
You've successfully subscribed to this newsletter!
This material may not be published, broadcast, rewritten, or redistributed. ©2021 FOX News Network, LLC. All rights reserved. Quotes displayed in real-time or delayed by at least 15 minutes. Market data provided by Factset. Powered and implemented by FactSet Digital Solutions. Legal Statement. Mutual Fund and ETF data provided by Refinitiv Lipper.