Max Weinbach
MaxWinebach
Galaxy Watch4. BIA sensor.
We may earn a commission for purchases using our links. Learn more.
During its MWC 2021 showcase, Samsung provided a sneak peek into the upcoming unified Wear OS platform that it's developing alongside Google. Samsung is dubbing its new smartwatch experience One UI Watch.
The name and platform follow the One UI experience found on devices like the Samsung Galaxy S21. This is because Wear OS will allow OEMs to customize aspects of the UI to provide a seamless experience between the watch and the best Android phones.
Samsung highlights how aspects of One UI Watch will closely reflect the layout of Galaxy smartphones, such as the settings app. The experience will also work seamlessly between devices. For example, if the clock is set to display different time zones on your smartphone, that will reflect on your smartwatch. Blocked contacts from your smartwatch will also automatically translate onto your smartphone.
Users will also be able to automatically download watch-compatible apps from their smartphones, something that was discussed during Google I/O. Google previously revealed that the Play Store would give users an easier way to download apps to their smartwatches straight from the app page.
Samsung teases new features and integrations coming to apps like Strava, Adidas Running, and even Spotify, the latter of which unveiled that it will bring an updated experience to Wear OS with offline playback. We also got a glimpse of what looked like a new Google Messages experience on Wear OS.
An improved watch face design tool will also be available to developers, which Samsung says will allow developers "to unleash their creativity and release fun, new designs."
Sameer Samat, the vice president of Product Management for Android and Wear, says that Google is excited to partner with Samsung on the new Wear OS experience, which will debut first on the next Galaxy Watch.
In collaboration with Samsung, we're thrilled to bring longer battery life, faster performance, and a wide range of apps, including many from Google to a whole new wearable experience.
The changes coming to Wear OS are highly anticipated among Galaxy smartphone owners and those already using Wear OS. The platform seemed to languish for some time, even as new chipsets were announced for smartwatches. The new effort from Google is expected to give Wear OS a much-needed boost thanks to improved performance and better customization.
While Samsung's reveal provided a better idea of what to expect, there are still plenty of unknowns, such as which of the best Wear OS watches will receive the update.
Samsung's next Unpacked event is planned for later this summer where the company will unveil its new smartwatch.
We may earn a commission for purchases using our links. Learn more.
Samsung is ready to unveil the next big thing in wearables, and it's using MWC 2021 to do it.
A new leak gives us our first proper look at the design of Samsung's next pair of true wireless earbuds. The Galaxy Buds 2 are expected to be introduced at the company's next Galaxy Unpacked event.
The OnePlus Nord N200 5G may be the best Android phone under $250, but it's by no means perfect. It features a gorgeous 90Hz display and a really nice looking and feeling matte plastic body, but its camera and software updates hold it back from true greatness.
Ready to start paying for your coffee with just your watch? Here are all the Wear OS devices that support Google Pay!
Sign up now to get the latest news, deals & more from Android Central!
I would like to receive news and offers from other Future brands.
I would like to receive mail from Future partners.
No spam, we promise. You can unsubscribe at any time and we'll never share your details without your permission.
Read full article at Android Central
CNET 28 June, 2021 - 04:32pm
CNET Highlights 28 June, 2021 - 04:32pm
Samsung 28 June, 2021 - 04:32pm
Engadget 28 June, 2021 - 04:32pm
Pocketnow 28 June, 2021 - 04:32pm
HT Tech 28 June, 2021 - 04:32pm
Engadget 28 June, 2021 - 12:15pm
When Google announced the latest wearable platform was made in collaboration with Samsung, it shared how it learned from the Korean company how to optimize certain processes for better responsiveness and battery performance. We also saw some changes to navigation, like a double click of a physical button to switch between running apps. But we have yet to get a full breakdown of the updated OS.
Today, Samsung showed a few more details on how things will work. For example, when you install compatible apps on your phone, they'll also be downloaded onto your smartwatch. Settings from your phone will also port over to your wrist — the various clocks for different cities you've picked will show up, while the numbers you've blocked will remain blocked. This also works the other way around, so if you block a person from your watch, they'll also get blacklisted on your Galaxy phones. According to a video of the new UI, the layout of the watch's Settings menu will also "closely reflect" that on your phone.
One of Tizen's shortcomings was a lack of third-party app support, and with the new Wear OS that opens up a whole new library of titles you can install. One UI Watch will offer the Google Play Store so you can get apps directly from your wearable. Some of the apps this brings include Couch25K, Facer, Adidas, GolfBuddy, Calm, as well as Google's apps like Maps, Messages, YouTube Music and more.
Samsung and Google both also said there will be a new watch face design tool for Android developers to create more useful options that better display the data their users want at a glance.
While this is by no means an exhaustive look at the new Wear OS or One UI Watch, it gives us a better idea of what to expect. To fully experience the software, though, we'll have to wait till it rolls out to the public (or when devices ship with it) to not only see what it's like but also if it truly delivers the performance benefits that both companies have promised.
Please enter a valid email address
The Verge 28 June, 2021 - 12:15pm
Coming to a new Galaxy Watch device later this summer
To be clear: what Samsung is showing of One UI Watch won't be what all smartwatches built on the new unified Google / Samsung platform look like — it's an added layer on top specifically for Samsung devices. It's similar to what Samsung's One UI does for Samsung's smartphones. The goal is a consistent look and experience across all of Samsung's hardware and software, and so far it looks lovely.
The Settings menu has been redesigned to look more like the phone's menu, and things sync from the phone: if you have additional time zones set in your clock app, they'll be there on the watch, and blocked callers on the phone will be blocked on watches, too. Samsung also showed off a new watchface design tool, which will be available for Android developers later this year to easily create new watchfaces for the platform. It's unclear yet if current Tizen or Wear OS watchfaces will work with the new OS or One UI Watch, but the current options have also been seriously lacking, so any new choices — even ones largely reliant on developers — are welcome.
The new One UI Watch experience is expected to first appear on Samsung wearables at a Samsung Unpacked event later this year. Given other recent Samsung hardware rumors, it sounds like this Unpacked should be a big flipping deal.
Subscribe to get the best Verge-approved tech deals of the week.
Check your inbox for a welcome email.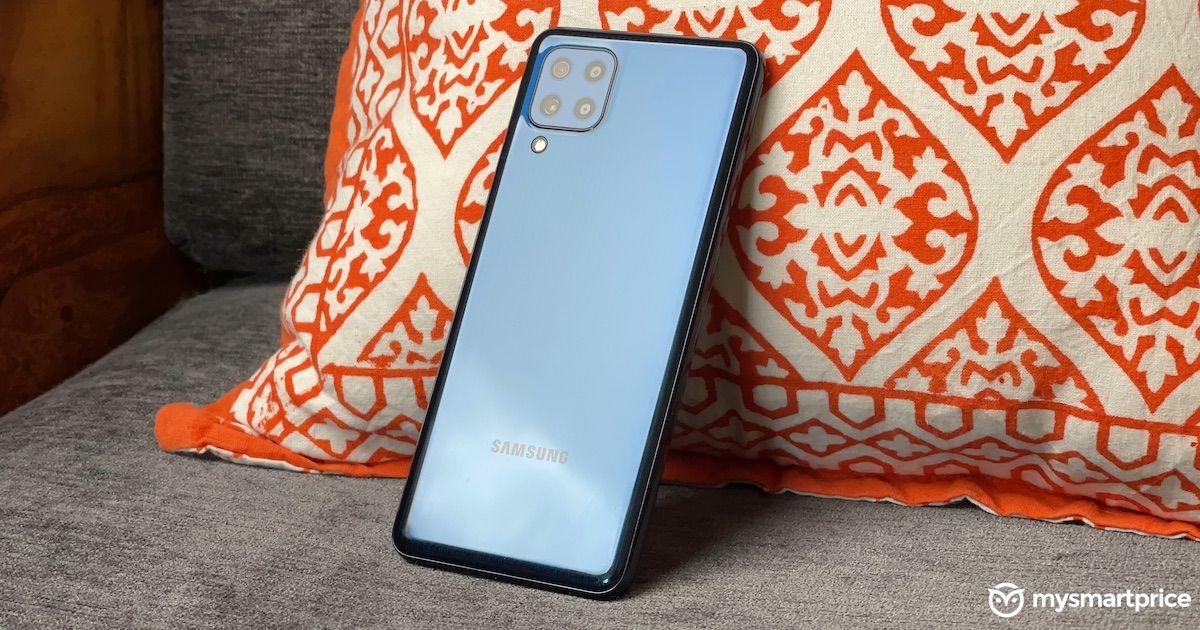 MySmartPrice 28 June, 2021 - 02:53am
The Samsung Galaxy M32 is one of the most well balanced smartphones to have launched in the mid-range smartphone market