Pokemon Go players in the USA and New Zealand can now enjoy playing their favorite augmented reality game like they did before the pandemic, for better or for worse. Niantic — the developer of Pokemon Go — has released a new update for the popular mobile game; an update that reverts some of the changes made when the COVID pandemic started.
Pokemon Go is an augmented reality game that uses the map of the real world as its game world, inviting players to go outside, hunt for Pokemon, and do battle with other players. To make the game playable during lockdowns, Niantic had previously tuned the game's mechanics in a way that would allow Pokemon Go players to enjoy the game from the comfort of their homes.
Niantic is now rolling out a new Pokemon Go update in the USA and New Zealand. The update will revert PokeStop and Gym interaction distances to normal (40 meters instead of 80 meters), and the frequency of buddy Pokemon Gifts has been reduced to make up for the fact that players will now be collecting more items from outside PokeStops. Additionally, after the new update, Incense effectiveness will be boosted only while moving.
These changes to Pokemon Go are bringing the game back to its normal state pre-pandemic, at least in the USA and New Zealand, though more regions could follow soon. But, oddly enough, not every Pokemon Go player is happy with these latest changes, as it was more convenient playing the game from their homes, even if this kind of defeats the purpose of Pokemon Go — one of the most social mobile games in existence.
Read full article at SamMobile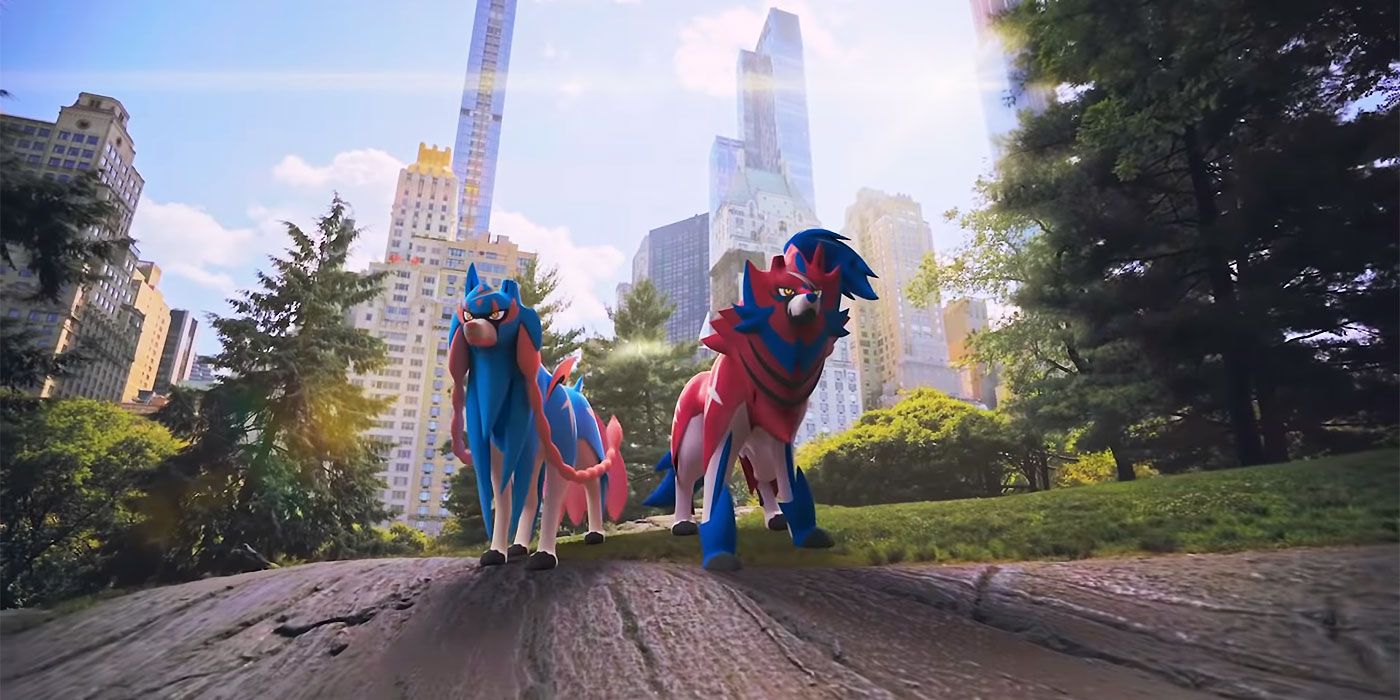 Screen Rant 03 August, 2021 - 07:23pm
Pokémon GO developer Niantic has announced that Zacian and Zamazenta along with other Sword & Shield Pokémon will be debuting in the game.
The latest Pokémon GO in-game event is finally debuting the game's first Legendaries from Pokémon Sword & Shield. Developer Niantic has been regularly adding Pokémon from the Galar region since June of last year. Most recently, the studio debuted Galarian Slowpoke, Galarian Slowbro, and Mega Slowbro during the game's A Very Slow Discovery event that also showcased other lazy or slow-moving Pokémon such as the aforementioned Galarian Pokémon's Kanto counterparts, Snorlax, Psyduck, Shelder, and more.
Last week, Niantic announced all of the events that will be hosted in Pokémon GO throughout the month of August and one of the most interesting events is the three-part Ultra Unlock event, the first part of which is set to finish in just a few days and will be followed by part two from August 6 to 20, 2021. Part 1 of the Ultra Unlock event was themed around time and saw the return of Dialga, one of three Legendary Pokémon that also represent the members of the creation trio of the Sinnoh region. Expectedly, Ultra Unlock Part 2 will be space-themed and will feature the return of Palkia.
As for Part 3 of the event, Niantic announced in a new blog post on the Pokémon GO website that instead of continuing the ongoing theme of the Ultra Unlock event and featuring the antimatter-themed Legendary, Giratina, it will instead switch gears. Part 3 of the Ultra Unlock event will now focus on Pokémon Sword & Shield and will debut several Pokémon from the Galar region, most importantly the game's Hero duo of Legendaries Zacian and Zamazenta, both of which will be available in their Hero of Many Battles form through the game's raids. Zacian will show up in five-star raids from August 20 to 26 while Zamazenta will appear in five-star raids from August 26 to September 1, 2021.
The other Galar region Pokémon that will also be making their debut in Pokémon GO when Ultra Unlock Part 3 begins include Skwovet, Greedent, Wooloo, Dubwool, and Falinks. Shiny Galarian Meowth, Shiny Galarian Farfetch'd, Shiny Galarian Weezing, and Shiny Galarian Stunfisk will also appear in raids during the event.
It's possible that some players may feel disappointed that Niantic cut off the ongoing theme of the Ultra Unlock event by switching themes from the trio of Legendaries of the Sinnoh region to the duo from Sword and Shield. But since all three of the Sinnoh Legendaries have been released in the game before, it's arguably more exciting for Niantic to debut new Legendaries in Pokémon GO and Zacian and Zamazenta are good choices given the recency of the release of their origin titles.
Pokémon GO is available on iOS and Android.
Source: Niantic
Dexerto 03 August, 2021 - 05:39pm
The Ultra Unlock event was announced after Go Fest 2021 in Pokemon Go after players completed enough Global Challenges. Running from July 23 to August 31, it consists of three parts, each with different rare 'mon appearing in the wild and raids.
Parts one and two were Time and Space-themed, focusing on Gen V, and on August 3, Niantic revealed that part three is going to center around the Galar region. Some players are frustrated, though, as they expected Alola to be added instead.
What do Skwovet, Wooloo, Falinks, Zacian, and Zamazenta have in common?
They were all originally discovered in the Galar region and will soon be making their Pokémon GO debuts during the Ultra Unlock Part 3: Sword and Shield event!https://t.co/k5EPs0pOMQ pic.twitter.com/01E54hnidV
— Pokémon GO (@PokemonGoApp) August 3, 2021
While some Alolan Pokemon are in Go, it's only the regional forms. The starters and Legendaries still haven't been added to the Pokedex, despite demand being there for years now, and Litten, Popplio, and Rowlet were even featured in the fifth-anniversary promo art. So it was expected, then, that the third part of the Ultra Unlock event would be based around Gen VII – and not Sword & Shield.
Some players are unhappy with this announcement, confused as to why Niantic has "skipped" Alola entirely, and instead added in Gen 8 Legendary mascots, Zacian and Zamazenta. "LMAO THEY JUST SKIPPED ALOLA," one fan tweeted, alongside a screenshot of the Niantic blog post. "What was the purpose of teasing the Alola starters if they are skipping ahead to Galar," another wrote.
These are just two complaints among many, with "Alola" even trending worldwide on Twitter at the time of writing.
Serebii's Joe Merrick also weighed in. "I do wonder if GO skipped Alola temporarily because they didn't want to figure out how to deal with the fact there are 22 Legendary Pokémon not counting alternate forms," he said. "Or they just wanted to throw a curveball."
I do wonder if GO skipped Alola temporarily because they didn't want to figure out how to deal with the fact there are 22 Legendary Pokémon not counting alternate forms.
Or they just wanted to throw a curveball
— Joe Merrick (@JoeMerrick) August 3, 2021
It is currently unclear whether Niantic does actually have a plan to include more of the Gen VII Pokedex and whether it'll have its own event later on in the year, but one thing is for certain either way – the demand is most definitely there.
Part three of the Pokemon Go Ultra Unlock event starts on August 20 and runs all the way until August 31. Unfortunately for Shiny hunters, Zacian and Zamazenta will be Shiny-locked, which is common for new additions.