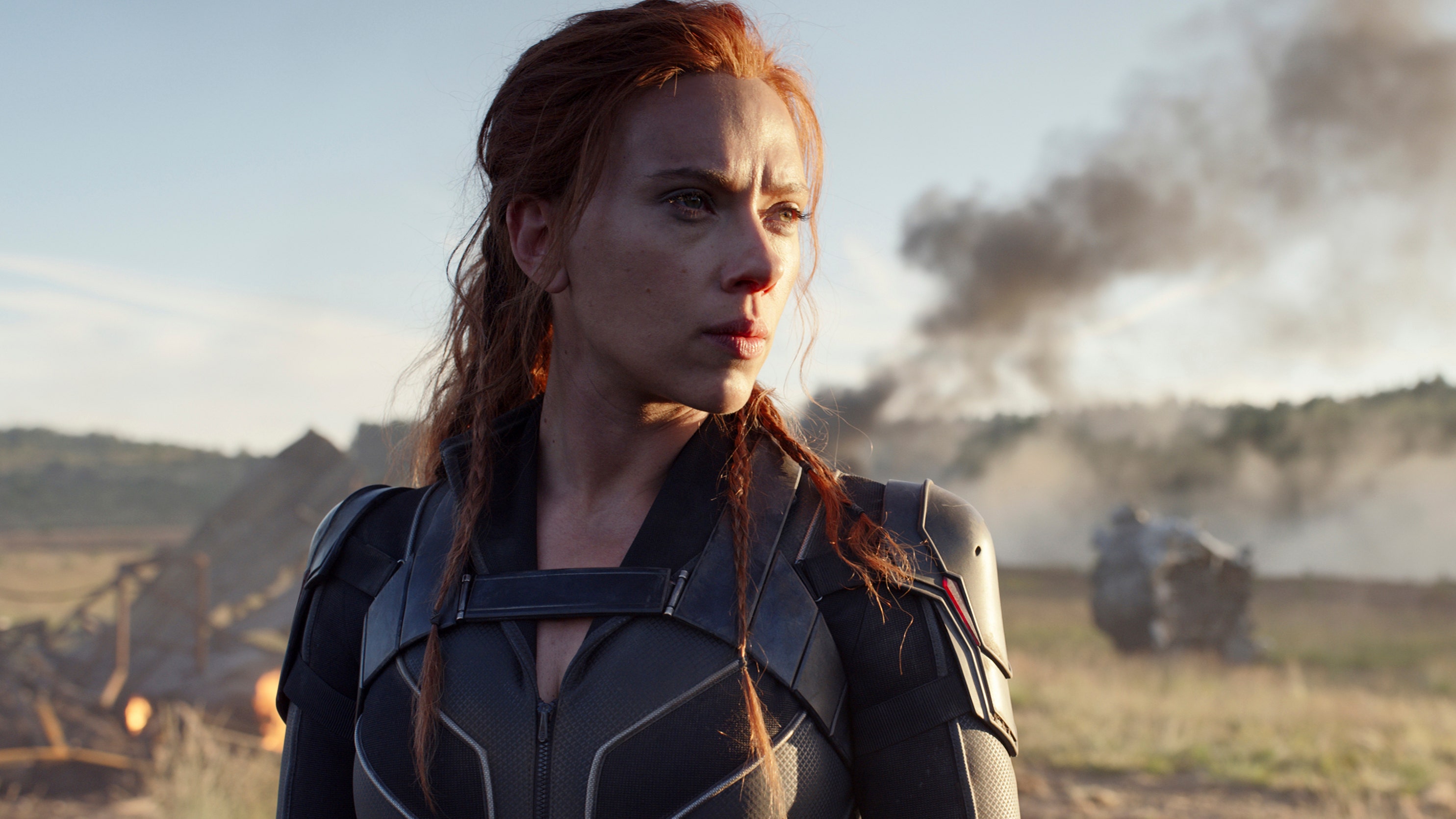 This material may not be published, broadcast, rewritten, or redistributed. ©2021 FOX News Network, LLC. All rights reserved. Quotes displayed in real-time or delayed by at least 15 minutes. Market data provided by Factset. Powered and implemented by FactSet Digital Solutions. Legal Statement. Mutual Fund and ETF data provided by Refinitiv Lipper.
Fox News Flash top entertainment and celebrity headlines are here. Check out what's clicking today in entertainment.
Scarlett Johansson has likely taken her final bow in the Marvel Cinematic Universe.
On Friday, the long-awaited "Black Widow" hit theaters featuring the 36-year-old actress as Natasha Romanoff AKA Black Widow, a super-spy known for teaming up with the Avengers.
The star appeared as the character in nine films, including "Black Widow" and an uncredited cameo in "Captain Marvel."
With the movie now in theaters – with hopes of becoming the most successful pandemic era box office hit – Johansson said she's ready to hang up her hat in the franchise.
"I have no plans to return as Natasha," she told Fatherly in a recent interview.
"I feel really satisfied with this film," the Oscar nominee continued. "It feels like a great way to go out for this chapter of my Marvel identity."
Johansson's departure makes sense, as her character famously perished in 2019's "Avengers: Endgame." "Black Widow" is set a few years in the past as an on-the-run Natasha returns home to confront her past and a brand new enemy.
While she's finished with on-screen appearances, the star is open to continue to work with Marvel Studios in other ways.
"I would love to be able to continue to collaborate with Marvel in other ways because I think there's just an incredible wealth of stories there," Johansson said. "Re-imagining this genre is something that I find very interesting."
She added: "I think there's a lot of opportunities to tell these stories in different ways than audiences have come to expect."
"Black Widow" is the first Marvel film to be released in two years due to the coronavirus pandemic. It was originally slated for release in the first half of 2020 but was pushed back multiple times.
The studio has plans to release several other films this year, including "Shang-Chi and the Legend of the Ten Rings," "Eternals" and "Spider-Man: No Way Home."
Johansson isn't the only actor to recently reveal that she's wrapping up her time with Marvel, as "Guardians of the Galaxy" star Dave Bautista recently announced that the franchise's upcoming third film will be his last time playing Drax the Destroyer.
This material may not be published, broadcast, rewritten, or redistributed. ©2021 FOX News Network, LLC. All rights reserved. Quotes displayed in real-time or delayed by at least 15 minutes. Market data provided by Factset. Powered and implemented by FactSet Digital Solutions. Legal Statement. Mutual Fund and ETF data provided by Refinitiv Lipper.
Read full article at Fox News
CinemaBlend 09 July, 2021 - 09:10pm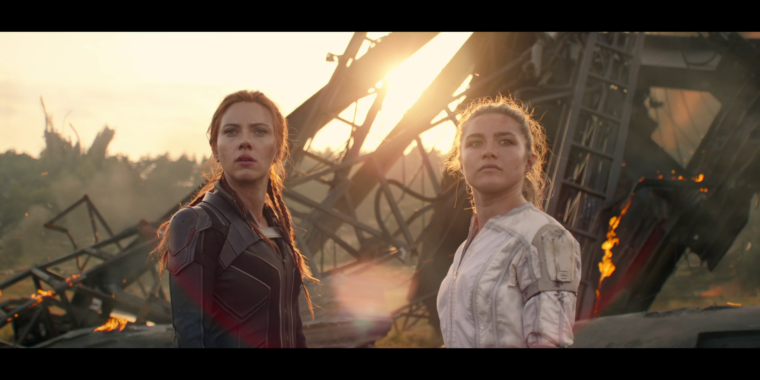 Ars Technica 09 July, 2021 - 09:10pm
Sign up or login to join the discussions!
This week's Black Widow may have put a new hit Marvel franchise in motion.
It is intimate, aggressive, funny, and brutal in every PG-13 sense possible. It's an Eastern European Marvel superhero tale that gives hearts to heartless characters without falling into the typical Marvel trap of ending with a neatly tied bow. And the entire cast nails this balancing act.
Perhaps best of all, star Scarlett Johansson (playing the titular character) finally gets to deliver on her Marvel hero status instead of serving as a crutch for a randomly selected male Avenger. She doesn't waste this opportunity, yet she still proves generous as a co-star, so much so that she helps launch Florence Pugh (Midsommar, Little Women) as the Marvel universe's most compelling new hero in years.
Black Widow fits into an existing, wide-open gap in the MCU: that time after Captain America: Civil War when Johansson's character, Natasha Romanoff, went dark for a while. She had family business to attend to, you see, and in Black Widow she gets to handle it without any previous films' cast members or plot points getting in the way.
This week's standalone film opens with a flashback to mid-'90s American suburbia, where childhood versions of Natasha and her younger sister Yelena alternate between play and acrimony. This pastoral scene, unsurprisingly, is interrupted by the kind of holy-cow action sequence you might expect from the first 15 minutes of a Marvel tentpole film. Among other things, the sequence explains how little Natasha eventually became a solo Russian assassin, and a mile-a-minute montage fast-forwards from that origin story to her post-Civil War escape from the grid.
Turns out, one important person has a line on Romanoff's location even though she carefully covered her tracks. Natasha receives a mysterious package with a childhood photo of Yelena and herself tucked inside. Time for a reunion.
"Family" in Black Widow is as complicated as it is in real life. The opening sequence reveals that mom (Rachel Weisz, The Constant Gardener) and dad (David Harbour, Stranger Things) are far more than mere suburban parents, in terms of secrets and firepower. While they step aside for much of the film, their return complicates the already-strained relationship that Romanoff and Yelena must reckon with upon their grown-up reunion.
As actors, Johansson and Pugh are so good as sparring sisters that I put down my usual film-review notebook and relished their repartee whenever they shared a scene. Their dynamic immediately feels fully formed and three-dimensional, as sealed with a kick, not a kiss. Yelena's adult version arrives in the film just as battle-hardened as her better-known MCU sibling, only with more Eastern European grit and dark humor. The character shines once she salts her wounds (both the literal and figurative ones) with vodka.
Meanwhile, Johansson bounces off of her co-stars with sarcasm, laughs, and dry humor, particularly a new, hapless assistant (O-T Fagbenle, The Handmaid's Tale). But she's at her best when she makes room for Pugh's quips before delivering her own brutal rejoinders. "You left me for dead, but eff you, I couldn't care less" isn't the easiest relationship to sell, but Johansson and Pugh bring the receipts.
Black Widow's eventual "nuclear family" reunion proves even more prickly and emotionally volatile. Each family member leaves at least one encounter not only without resolution but arguably worse than if the family had never met again. It's among the ballsiest broken-family dynamic I've ever seen play out in a Disney-produced "tentpole" film, and maybe this is my own dysfunctional family bias talking, but I adored the film's willingness to commit to unease—which all four lead actors clearly relish. In particular, we watch mom and dad's hubris and cognitive dissonance collide with decades of childhood resentment, and the results are a far cry from the bold-word cheese of an average comic book panel.
As is typical in a Marvel film, Black Widow's characters vent their emotional extremes by way of wild action sequences. But unlike most Marvel films, this film lands somewhere between John Wick and the Bourne trilogy in terms of framing and brutality.
"Intimate" may seem like a strange descriptor for a Marvel film's butt-kickings, but Black Widow's cinematography and directing team nail the careful balance between tight zooms, handheld cameras, and enough space to let a fight's impact breathe. Romanoff's first nighttime fight against the mysterious, masked Taskmaster is a highlight: all fists, kicks, and leaps, as framed in a beautifully lit scene while both characters try to wrest control over a mysterious package. Shortly afterward, another hand-to-hand battle revels in the smashing and destruction of whatever doors, cabinets, and items anyone can reach, all exploding in dust and agonized screams. (At its most intense, I'd rate the film as "PG-14" and would advise parents to think twice about bringing their youngest to the theater.)
Also, honestly, I wanted Black Widow to be a bit longer. It's the rare MCU film that left me wondering how much dialogue was left on the cutting-room floor, particularly among Romanoff's family members, and I wouldn't have minded more opportunities to see Weisz and Harbour reconcile their past selves with their present ones. Even so, Black Widow is careful to focus on that core family unit while providing just enough breadcrumbs about the film's big bads to avoid feeling unwieldy. I like how easily the movie's plot can be summed up and connected to emotional conversations, as opposed to the usual MCU issue of drawing a massive spreadsheet of which superhero had which connection to which organization and which double-cross.
Marvel keeps getting better at this standalone film thing. Black Panther is a fantastic execution of a full fictional universe, as connected to our modern world. Ant Man needed two tries to nail its goofy '80s-allegiant action formula. And perhaps most comparable here, Captain Marvel offers a deft, fist-pumping origin story that specifically targets families without necessarily feeling childish. But Black Widow is easily the MCU's most confident and palpable shot at the concept yet, and not just because it zigs where Captain Marvel zagged (as far as pushing a PG-13 rating to extremes). Rather, it successfully reckons with the tiring expectation that everything in a Marvel movie is going to turn out fine, and it shows how fantastic such a film can be when things don't wrap up tidily for all involved.
I hope that Black Widow is just the first of many expectation-subverting experiments from the Marvel powers that be. Thankfully, Black Widow makes clear that Pugh's scene-stealing performance isn't her last for Marvel.
Black Widow is now playing in theaters and via Disney+ with Premier Access for an additional fee of $30.
You must login or create an account to comment.
Join the Ars Orbital Transmission mailing list to get weekly updates delivered to your inbox.
Insider 09 July, 2021 - 09:10pm
Johansson has played the role of Black Widow in eight movies, the last of which — the eponymous "Black Widow" — is being released in theatres and on Disney+ today. In the lead-up to the film's premiere, the Oscar winner spoke to Fatherly about her journey so far with the Black Widow character and the evolution of her look.
The 36-year-old actress shared a costume proposed by male writers for "Captain America: Winter Soldier" that was rejected.
She said: "When we were doing 'Captain America: The Winter Soldier' — this is a really funny thing — the look is fantastic and utilitarian. She first drives up in this beautiful car and picks up Cap, and initially, in the script, it was like, she arrives in her tennis whites, with a blonde wig. It was very quickly killed."
Johansson explained that this was due to a "cultural shift" towards female characters. She said: "You work with a lot of male writers. Things were shifting. You have to be a part of the change. Audiences are also demanding stuff and there's a cultural shift and it feeds everything into a more progressive direction. It's been a process, it's been a process.
"After 'Iron Man' to going into 'Avengers,' there's been an evolution of her look. I think part of that is just gaining the trust of the executives at Marvel and kind of sitting in the character and just being able to make decisions for her. That really happened fairly early on."
In June, Johansson spoke about the sexualization of her character in a roundtable interview with multiple journalists. She said, "I mean, you look back at 'Iron Man 2' and while it was really fun and had a lot of great moments in it, the character is so sexualized, you know? Really talked about like she's a piece of something, like a possession or a thing or whatever — like a piece of ass, really."
In the interview published by Hello Beautiful, the "Black Widow" star also explained how she has changed a lot since she first took the role. She added, "I'll be 35 years old and I'm a mom and my life is different. Obviously, 10 years have passed and things have happened and I have a much different, more evolved understanding of myself. As a woman, I'm in a different place in my life, you know?"
Due to her character's death in "Avengers: Endgame," it is likely that "Black Widow" will be Johansson last film to play the character. However, Marvel Studios chief did not rule out Johansson's return telling The Hollywood Reporter, "Maybe there will be more down the road' — (is the answer) comics have taught us."
CNBC Television 09 July, 2021 - 09:10pm