Tom Pelissero
TomPelissero
#Rams RB Cam Akers suffered a torn Achilles while training, per source. Brutal blow for L.A., which loses its leading rusher from last season a week before camp begins.
Cam akers
thereal_cam3
I just want to thank any and every person sending prayers my way and wishing me well. I hate this happened but I'm in great spirits and I understand God makes no mistakes. I'll be back better than ever in no time I'm a soldier. Again, thank you 🙏🏾.

Ian Rapoport
RapSheet
The torn Achilles for #Rams RB Cam Akers that @TomPelissero reported happened yesterday. It's always bad, but just a week before camp is extra brutal. He'll miss 2021, but have plenty of time for 2022.
ESPN Los Angeles
ESPNLosAngeles
McVay: "We've got some young backs on our roster that I'm intrigued about seeing how they handle this opportunity. I don't know that the veteran route is something that we'd rule out but it's not something we're immediately looking to address right now." 📻:@maxkellerman on 710AM pic.twitter.com/qAelcUic2v
Several big-name, veteran running backs remain on the market. (They also remain on the market for a reason or reasons.) The Rams, though, aren't looking that direction, at least not yet, after losing Cam Akers to a torn Achilles.
The Rams will give Darrell Henderson, Xavier Jones, Jake Funk, Raymond Calais and Otis Anderson the opportunity to replace Akers before looking at veteran running backs, coach Sean McVay said Tuesday.
"We've got some young backs on our roster that I'm intrigued about seeing how they handle this opportunity," McVay said on ESPN 710. "I don't know that the veteran route is something that we'd rule out, but it's not something we're immediately looking to address right now."
Akers, 21, will miss the season after leading the Rams with 145 carries for 625 yards last season.
LeSean McCoy, Adrian Peterson, Devonta Freeman, Le'Veon Bell, Frank Gore and former Rams running back Todd Gurley remain free agents.
This is what you can't predict when you make the off-season Super Bowl odds.
If they do sign a veteran, barring an injury to Henderson, it will be after week 1 so the contract isnt guaranteed.
Darrell Henderson can carry the load.
You must be logged in to leave a comment. Not a member? Register now!
This site uses Akismet to reduce spam. Learn how your comment data is processed.
Read full article at NBC Sports
CBS Sports HQ 20 July, 2021 - 04:02pm
CBS Los Angeles 20 July, 2021 - 04:02pm
NBC Sports 20 July, 2021 - 04:02pm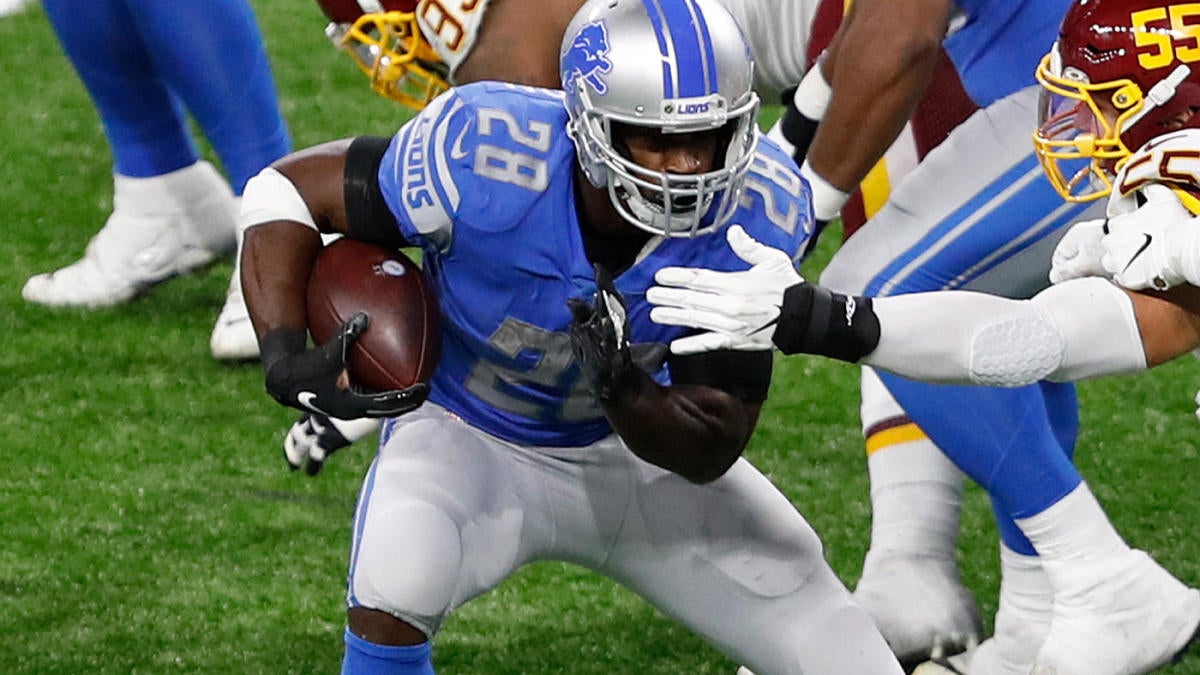 CBS Sports 20 July, 2021 - 04:02pm
Losing Cam Akers is a significant blow to the Los Angeles Rams running game. Set to be the No. 1 running back in an offense that was was going to utilize his talents in the passing game, Akers was set up for a breakout season and a key contributor for the Rams Super Bowl title hopes. 
"I think he can come alive in the pass game," Rams head coach Sean McVay said back in March. "I think he can continue to play at a high level. Really, I think he's an every-down back. I think he's a special player."
The Rams had high hopes for McVay heading into year two, but Los Angeles must figure out how to utilize its running game with him lost for the season. Darrell Henderson should get the first opportunity as the No. 1 running back, but there isn't much insurance behind him. Xavier Jones and Raymond Calais have never taken a carry in an NFL regular season game, while Otis Anderson is an undrafted free agent rookie. 
Clearly the Rams could use a veteran running back to help out Henderson and emerge as the No. 2 option. Here are a few free agents the Rams should consider signing in the coming weeks:  
The 36-year old Peterson has been patiently waiting for the right opportunity to come along in free agency. At this stage in his career, Peterson wants an opportunity to contribute to a Super Bowl championship roster. The Rams check off all those boxes, especially since there isn't a power back on their roster since they allowed Malcolm Brown to depart in free agency. 
Peterson has 14,820 career rushing yards, just 450 yards short of passing Barry Sanders for fourth on the all-time list. His 118 rushing touchdowns are fourth on the all-time list, just six away from passing Marcus Allen for third (123). He has the most 50-yard touchdown runs (16) and 60-yard touchdown runs (15) in NFL history. He's tied with Chris Johnson for the most 70-yard touchdown runs in NFL history (seven). Peterson rushed for 604 yards on 156 carries and seven touchdowns in 16 games for the Detroit Lions at age 35 last year.
There's still some gas left in the tank for Peterson, who would be an ideal fit to spell Henderson as the No. 2 option. Peterson isn't a pass-catching back that fits what McVay wants out of his running backs, but plans change with little depth on the roster after the Akers injury. 
Gore is in the same situation as Peterson -- although he's two years older than him. The 38-year-old Gore wants an opportunity to compete for a championship and earn carries on a contending team, leaving the Rams as the best option available. No running back has ever recorded a carry at the age of 38, so the Rams would be taking a big risk here -- even though Gore recorded 187 carries for the New York Jets last year. 
Gore wouldn't have been expected to carry the load much in 2021, but would play a significant role with the Rams. If Henderson suffers an injury, he would emerge as the top option. Again, Los Angeles would take a huge gamble if the Rams wanted to bring Gore back to California. 
If Los Angeles wanted to go with a veteran back that fit what McVay wants in his offense, Johnson is the ideal No. 2 option. The 27-year-old Johnson had a career-low 28 catches for 249 yards with the Houston Texans last season, the first season he failed to have 60-plus targets and 40-plus receptions. Playing a career-low 36% of the snaps didn't help matters either, as Johnson was behind David Johnson in the running back rotation.  
Johnson still remains without a team, but is the best free agent running back available. He'll get an opportunity to significantly contribute with the Rams, particularly in the passing game. His 307 receptions since 2015 are the fourth-most in the league amongst running backs.
There's plenty of familiarity with Sean McVay here, as Thompson played under McVay for three seasons when he was the offensive coordinator for the Washington Football Team. Thompson finished with 84 catches for 589 yards in his final two seasons under McVay as a backup option for Robert Kelley and Alfred Morris. 
McVay could reunite the 30-year-old Thompson in his offense as a No. 2 option, even if Thompson was an afterthought with the Jacksonville Jaguars last year. Thompson is still an excellent pass-catching back that could provide another option in the passing game. 
© 2004-2021 CBS Interactive. All Rights Reserved.
CBS Sports is a registered trademark of CBS Broadcasting Inc. Commissioner.com is a registered trademark of CBS Interactive Inc.
Images by Getty Images and US Presswire
Sports Illustrated 20 July, 2021 - 01:52pm
Unfortunately for quarterback Matthew Stafford and the Rams' offense, running back Cam Akers will miss the 2021 NFL season with a torn Achilles. 
Detroit Lions general manager Brad Holmes and his former boss, Rams general manager Les Snead, have already successfully completed a couple of transactions this offseason. 
The Rams and Lions pulled off one of the blockbuster trades of the offseason when Stafford was traded to the Rams for quarterback Jared Goff, two first round draft picks, along with a third round pick.
Detroit also traded a 2023 seventh round pick to Los Angeles in exchange for defensive lineman Michael Brockers.
Should the two organizations consider one more prior to the start of training camp?
On Tuesdays edition of "Karsch and Anderson" on 97.1 FM, an interesting trade discussion occurred: How should the Lions address if Snead called looking for Akers replacement?
The Lions signed running back Jamaal Williams to backup D'Andre Swift in Motown. 
In fact, Williams was one of the rare Lions free agents who was able to secure a multi-year contract, as many are playing in Detroit on one-year deals. 
If Snead offered a second or third-round selection, should Detroit part ways with Williams?
There are reasonable arguments to be made on both sides. 
If Williams aids the Rams' offense significantly, Detroit could be harming their own draft position, as the Lions possess the Rams 2022 first round pick. 
But, Williams has been mostly utilized in a backup role throughout the duration of his four-year NFL career, so his impact may not be as significant as many would assume. 
Detroit also is desperately in search of a solid run game and reliable threats in the passing game out of the backfield. Williams and Swift are expected to contribute right away in Anthony Lynn's offense. Taking that out of the equation would make it increasingly difficult to rely on a rookie in Jermar Jefferson to backup Swift. 
For those dismissing anything that occurs in 2021 for the Lions, securing additional draft capital could aid in the Lions rebuild if Holmes and Co. turn out to be effective evaluators of college draft prospects.
In the end, it is not likely Williams will be shipped off that quickly, but a reasonable offer should be entertained seriously if Snead wants to be aggressive in turning around the Rams fortune after some sudden and unexpected bad news.
Become a premium AllLions member, which grants you access to all of our premium content and gets you a FREE subscription to Sports Illustrated! Click on the link below for more
Turf Show Times 20 July, 2021 - 10:06am
Which match-ups are you the most excited for?
Will the Rams be there? First, they'll need to win their most important games of 2021. Here are six to watch for with the season fast approaching:
If you want to be the best, you got to beat the best first. Last season, LA squeaked out a 27-24 win in Tampa before the Bucs heated up en route to a breathtaking Super Bowl title run. The Buccaneers boast one of the league's most complete rosters after returning every major contributor this offseason. As long as Tom Brady isn't throwing two passes on the same play the entire game, we'll be fine. Next February, let's pray that Rams players will be the ones recklessly tossing the Lombardi Trophy around.
Cornerback Jalen Ramsey regarded new Titans' wideout Julio Jones as one of the toughest receivers to guard. Ramsey even tried recruiting Jones whom he deemed would make the passing attack "unstoppable". Be careful what you wish for Jalen, as he will be picking his poison between Julio or Tennessee's other stud pass-catcher, A.J. Brown all afternoon. Aaron Donald and company will have their hands full against last season's 2,000-yard rushing king, Derrick Henry. This game will be a fun litmus test to see how LA competes against one of the best teams in the AFC.
Not to conjure up any bitter memories, but did you know the Rams haven't beaten the 49ers since a 48-32 win in 2018? 2018! To add even more fuel to the fire, Niners safety Jimmie Ward criticized Stafford by citing, "He's the same quarterback who was on the Detroit Lions and they still didn't go to the playoffs". Actually Jimmie, Matthew led the Lions to the playoffs three times and who knows what he could have accomplished with a competent organization? Anyways, San Francisco always plays hard for head coach Kyle Shanahan no matter their record so it's wise not to discount them.
This playoff rematch should be quite the spectacle as long as a certain someone is playing. (Mr. Rodgers, at least report back to the Packers to play this one. You can go back to sitting out or whatever you're doing once it's over.) LA's top-ranked defense has this game circled on their calendars after Green Bay torched them for nearly 500 yards of offense. Aaron Donald is especially chomping at the bit as he was hampered by a significant rib injury the first go-around. Again, the quality of this game hinges on Aaron Rodgers so for the love of all things holy, figure your situation out already, buddy!
Los Angeles opens the 2021 NFL season on September 12, hosting the Chicago Bears on Sunday Night Football.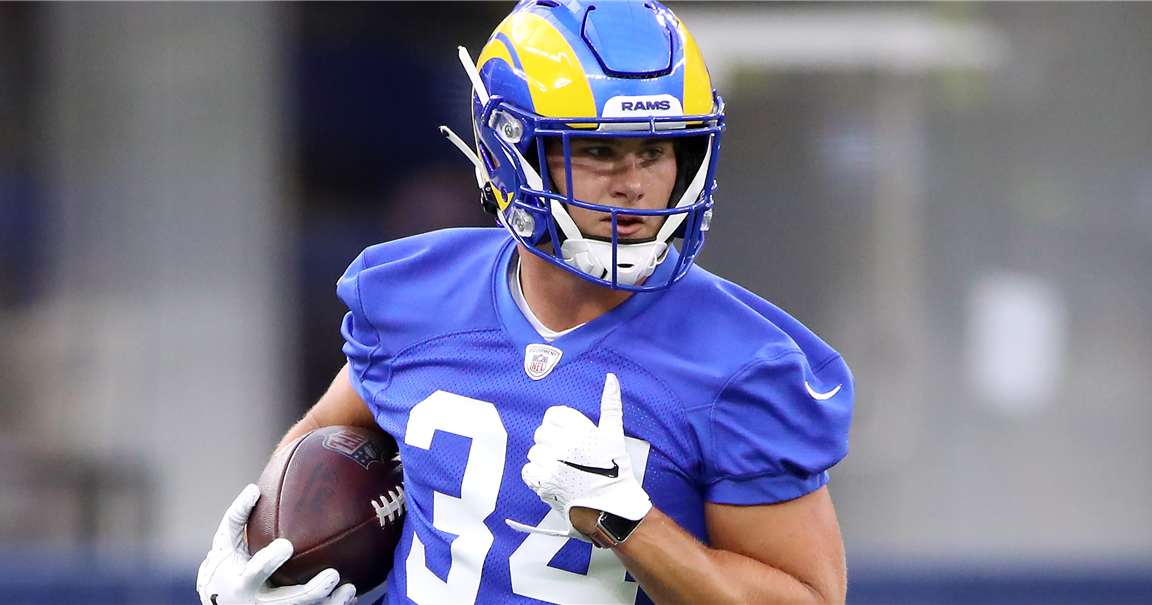 247Sports 20 July, 2021 - 09:45am
Go VIP - One Month for Only $1
There aren't a lot of proven commodities in the Rams backfield going forward. Akers figured to get the majority of carries after playing well down the stretch last season, and he was a clear candidate to break out in a big way thanks to natural improvement from his rookie to sophomore seasons."
Earlier in the day, before the Akers news had broken NFL Network's Nate Burleson picked Funk as his preseason player to watch
"I have a guy that's a little off the radar, but it's someone that we fell in love with, and he's playing with the Los Angeles Rams ... We want the Funk," he said. "He said he's gonna do it all. And that's the thing about preseason. You have to do it all. You have to be a guy that can play running back and then of course special teams."
He didn't know at that point that Akers, the Rams second-round pick last year, won't be playing at all.
"Here's the thing about preseason. Some of the starters might play a little bit. Some might not even touch the field. But the guys who were drafted late, those are gonna be the guys that play four quarters, that will be running around, flying around, and if you listen to anything that Jake Funk said on this show, he is gonna give everything that he's got. If we do a fantasy draft this year where we pick a guy who's gonna do his thing through course of the preseason, I'm going with Jake Funk, 100 percent. Watch out for this guy. He's gonna have an impact not just during the preseason, I will predict on special teams, but also a little bit for running back, during the season."
Funk, an unheralded veteran who suffered two torn ACLs and wasn't on the NFL radar before last year, broke out as a senior. After a strong pro day and impressive interviews, the Rams picked him in the seventh round, punctuating a Cinderella story. Despite setting the single-season state record with 57 touchdowns as a senior at Damascus High (Md.), he was rated the No. 90 running back and No. 1,421 player -- and the No. 35 player in Maryland -- in the 2016 class.
After being overshadowed by future NFL backs Ty Johnson. Anthony McFarland and Javon Leake, he took the starting job as a senior and sprinted with it, ranking second in the country with 8.6 yards per carry and scoring four touchdowns in five games. His 221-yard performance against Minnesota caught the Rams' attention. Via the Rams official site:
The buzz began to build about him as a versatile back and special teams ace as the Draft neared, and the Rams staff has praised him since his arrival. With Akers out, he's got a chance to make more noise.
Go VIP - One Month for Only $1
USA TODAY 20 July, 2021 - 09:42am
Cam Akers was poised to be a central figure for the Rams' offense, but Los Angeles now will have to make new plans for its ground game.
A link has been sent to your friend's email address.
A link has been posted to your Facebook feed.
Sports Seriously: Mackenzie Salmon connected with Jags head coach Urban Meyer to get his perspective on Jacksonville and if he thinks he can revitalize the fanbase. Meyer also supported the Jaguars efforts to play games annually in London. USA TODAY
The Los Angeles Rams' offensive outlook took a major hit just days before training camp.
Running back Cam Akers suffered a torn Achilles, the team confirmed Tuesday, and is expected to miss the entire 2021 season.
"I just want to thank any and every person sending prayers my way and wishing me well," Akers wrote on Twitter. "I hate this happened but I'm in great spirits and I understand God makes no mistakes. I'll be back better than ever in no time I'm a soldier. Again, thank you"
Despite serving as part of a three-man rotation with Darrell Henderson and Malcolm Brown, Akers led the Rams with 625 rushing yards in his rookie campaign as a second-round pick out of Florida State.
In 2021, however, he was expected to seize the lead role in the backfield and take on an expanded workload in the passing game.
"You could see he's always had a real and authentic confidence, but then as he's getting more and more comfortable for the different ways that we were able to utilize him, I think he can come alive in the pass game," Rams coach Sean McVay said during a February news conference. "I think he can continue to play at a high level. Really, I think he's an every-down back. I think he's a special player."
Henderson now is poised to take over as the Rams' starting running back. Brown signed with the Miami Dolphins in the offseason.
McVay said on ESPN Radio in Los Angeles that signing a veteran is not "something we'll rule out, but it's not something we're looking at right now."
Rams veterans are scheduled to report to training camp on July 27.
A link has been posted to your Facebook feed.
© 2021 USA TODAY, a division of Gannett Satellite Information Network, LLC.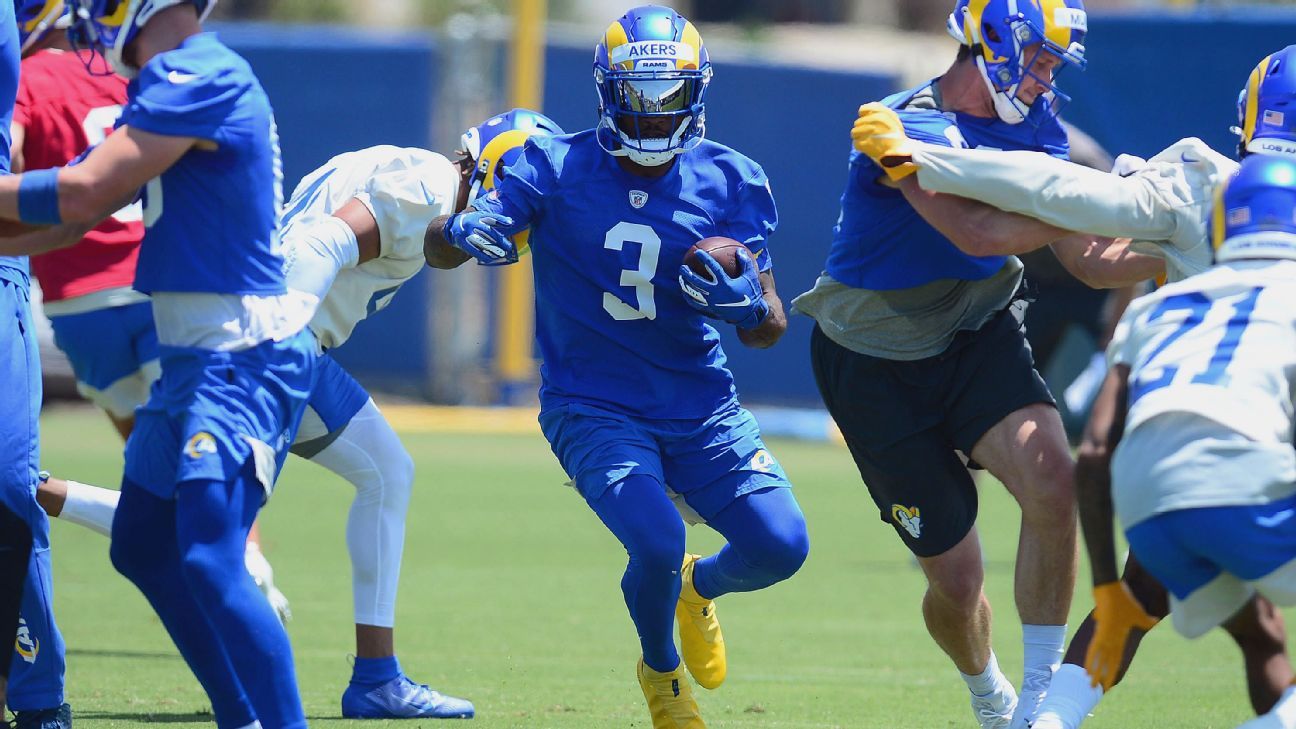 ESPN 20 July, 2021 - 09:38am
Los Angeles Rams running back Cam Akers has a torn Achilles, and a source tells ESPN's Adam Schefter that the second-year star is expected to miss the entire 2021 season.
Akers suffered the injury while working out and underwent testing to confirm the diagnosis, the source told Schefter.
The Rams announced Akers' injury Tuesday morning but did not disclose an official timeline for how long he will be out.
Akers was expected to be the focal point of the Rams' running game this season after his breakout rookie campaign, when he averaged 113.1 yards from scrimmage over the final seven games, including the postseason.
Rams coach Sean McVay said later Tuesday, during an interview with 710 ESPN in Los Angeles, that he feels "so bad" for Akers because "he's doing everything right" and "working hard."
McVay also indicated that the Rams initially would look in-house to replace Akers. Los Angeles' running backs entering training camp next week will be Darrell Henderson Jr., 2020 undrafted free agent Xavier Jones, rookie Jake Funk, Raymond Calais and undrafted rookie Otis Anderson.
McVay said he was "intrigued" by the younger running backs, although he did not rule out Los Angeles eventually considering a veteran addition. Among the veteran running backs currently available as free agents are Adrian Peterson, Le'Veon Bell, LeSean McCoy, Devonta Freeman and former Rams star Todd Gurley.
"We've got some young backs on our roster that I'm intrigued about seeing how they handle this opportunity," McVay told 710 ESPN. "I don't know that the veteran route is something that we'd rule out, but it's not something we're immediately looking to address right now."
In 13 regular-season games total, Akers was the Rams' leading rusher with 625 yards and two touchdowns on 145 carries. He also caught 11 passes for 123 yards and a touchdown.
I just want to thank any and every person sending prayers my way and wishing me well. I hate this happened but I'm in great spirits and I understand God makes no mistakes. I'll be back better than ever in no time I'm a soldier. Again, thank you 🙏🏾.
"I just want to thank any and every person sending prayers my way and wishing me well," Akers tweeted. "I hate this happened but I'm in great spirits and I understand God makes no mistakes. I'll be back better than ever in no time I'm a soldier. Again, thank you."
The 5-foot-10, 217-pound Akers also had 272 yards from scrimmage and scored two touchdowns in the Rams' two postseason games.
Akers, 22, spent two games sidelined after suffering a rib injury in Week 2 when he awkwardly fell on the football. He also played through a high ankle sprain later in the season.
Selected in the second round (No. 52 overall) of the 2020 draft from Florida State, Akers shared time last season with Henderson and Malcolm Brown.
Rams Wire 20 July, 2021 - 07:23am
Training camps are set to get underway around the NFL, which means it is time to keep close tabs on certain players and how they perform in practices. For the Los Angeles Rams, there are a variety of positions that are expected to have heated battles or guys simply competing for a roster spot.
It goes without saying that fans of the Rams are chomping at the bit to get a preview of what Matthew Stafford brings to the offense. We'll all get an opportunity — at least from afar — to get a sneak peek of what Los Angeles is going to look like before meaningful games are played. With the team slated to begin training camp near the end of July, there are a handful of players on the Rams who must stand out.
During free agency, the Rams lost both John Johnson III and Troy Hill to the Cleveland Browns. Losing Johnson leaves a massive void in the secondary, but his leadership is going to be tough to replace. However, Johnson's exit was expected due to Los Angeles drafting guys like Taylor Rapp, Terrell Burgess, and Jordan Fuller in recent years. As for Hill, his departure leaves the Rams looking for a replacement at the nickel cornerback spot. Of course, Jalen Ramsey and Darious Williams are one of the premier cornerback duos in the NFL.
But for Raheem Morris' defense to repeat what they did a season ago under Brandon Staley, they'll need someone to step up at nickel, and it appears that David Long Jr. could get the first crack at it. In his first two seasons with the Rams, Long has seen a minimal role on the defense, logging 11 percent or fewer defensive snaps in each season. If Long wants to earn a starting job in Los Angeles, he'll need to outperform Donte Deayon and rookie Robert Rochell — among others — during training camp.
You could definitely make the argument that the weakest position on the Rams resides at inside linebacker. Ever since Cory Littleton left in free agency before the 2020 season, Los Angeles has shown no interest in adding a notable name to the middle of the defense. Entering training camp, the Rams will have guys like Micah Kiser, Troy Reeder, Kenny Young, rookie Ernest Jones, and Travin Howard duking it out to see who will start at either inside linebacker spot.
Given the lack of consistency that each of them has shown, Howard has a legitimate chance to emerge as a starter in camp. Howard unfortunately suffered a season-ending knee injury in training camp last year, preventing him from seeing any playing time. This time around, he's healthy and his athletic profile could give him a leg up on the rest of the interior linebackers on the Rams. It will be interesting to see if the former seventh-round pick out of TCU can carve out a prominent role in his fourth year with the organization.
When the Rams were on the clock in the 2021 NFL draft at pick No. 57, the team had a choice of popular prospects like Creed Humphrey, Dyami Brown, or Terrace Marshall Jr. Instead of naming one of the guys above, Los Angeles surprisingly took Tutu Atwell, an undersized wideout from Lousiville. Once the pick was official, it was evident that Sean McVay wanted his guy with the first pick that the Rams had in the draft.
Since the draft concluded, fans of the Rams and other analysts have criticized the choice of Atwell, especially with the other options that were still on the board. Humphrey could have replaced Austin Blythe at center or if Los Angeles was keen on addressing wide receiver, they could have gotten more well-rounded options in Brown or Marshall. To begin his career, Atwell is expected to spend most of his time as a returner on special teams. But for Atwell to justify his selection in the draft, he'll need to show he can contribute in a variety of ways in training camp.
Besides the departures of Johnson and Hill in free agency, one of the notable moves the Rams made was re-signing Leonard Floyd. Floyd had a career year with Los Angeles in 2020, racking up 10.5 sacks, 11 tackles for loss, and 19 quarterback hits in 16 games. Outside of Floyd, though, the Rams lack a consistent edge rusher on the roster, which means there could be a few guys who rotate on the opposite side of Floyd. One noteworthy name to watch is Terrell Lewis.
Lewis was an intriguing prospect ahead of the 2020 NFL Draft and despite his injury concerns, the Rams took him in the third round out of Alabama. His injury issues would instantly be a problem in his rookie season as he began last year on the non-football injury list. However, the first-year edge rusher would show why he could be a viable option in Week 10 versus the Seattle Seahawks by recording two sacks on Russell Wilson. If Lewis can remain healthy throughout training camp, we could hear great things about his role on the defense.
As previously mentioned, aside from Floyd, the Rams don't have an edge rusher they can confidently lean on right now. That means that the team is going to take a long look at each of the possible candidates during training camp. While it's not a particularly productive group yet, Los Angeles is seemingly crowded at edge rusher with Lewis, Justin Hollins, Justin Lawler, rookie Chris Garrett, and Ogbonnia Okoronkwo expected to get a chance to prove what they can bring to the defense.
For the time being, Okoronkwo seems like the favorite to start on the opposite side of Floyd off of the edge. Whether it be due to injuries or the team's decision, Okoronkwo has yet to have an expanded workload on the Rams. But with a shortage of reliable options, Okoronkwo can certainly make his case to be the starting WILL in Morris' defense. The Oklahoma product definitely has some of the tools to be a formidable edge defender, but he'll need to display consistency in training camp.
Once it was apparent that the Rams weren't going to bring back Blythe this offseason, most assumed that the team had a plan to replace him in free agency or through the draft. On the contrary, Los Angeles didn't take a single offensive lineman in the 2021 NFL Draft, surprising many. Instead of getting a new face to snap the ball to Stafford, the Rams are confident in Austin Corbett sliding to the center position.
Corbett was acquired via trade from the Cleveland Browns in 2019, where he would start in seven games at the left guard spot. This past season, Corbett moved to right guard where he started in all 16 games, allowing just one sack and committing four penalties, according to PFF. With the Rams relying on Corbett to be the point guard on the offensive line, he'll need to show he's capable of making the switch from guard to center during training camp.
Sign up for the Rams Wire newsletter to get our top stories in your inbox every morning
The Rams have waived WR/PR Nsimba Webster ahead of training camp.
Start every day with our most popular content waiting in your inbox.
Please re-enter your email address.
You'll now receive the top Rams Wire stories each day directly in your inbox.
Please enter an email address.
Please check your email for a confirmation.