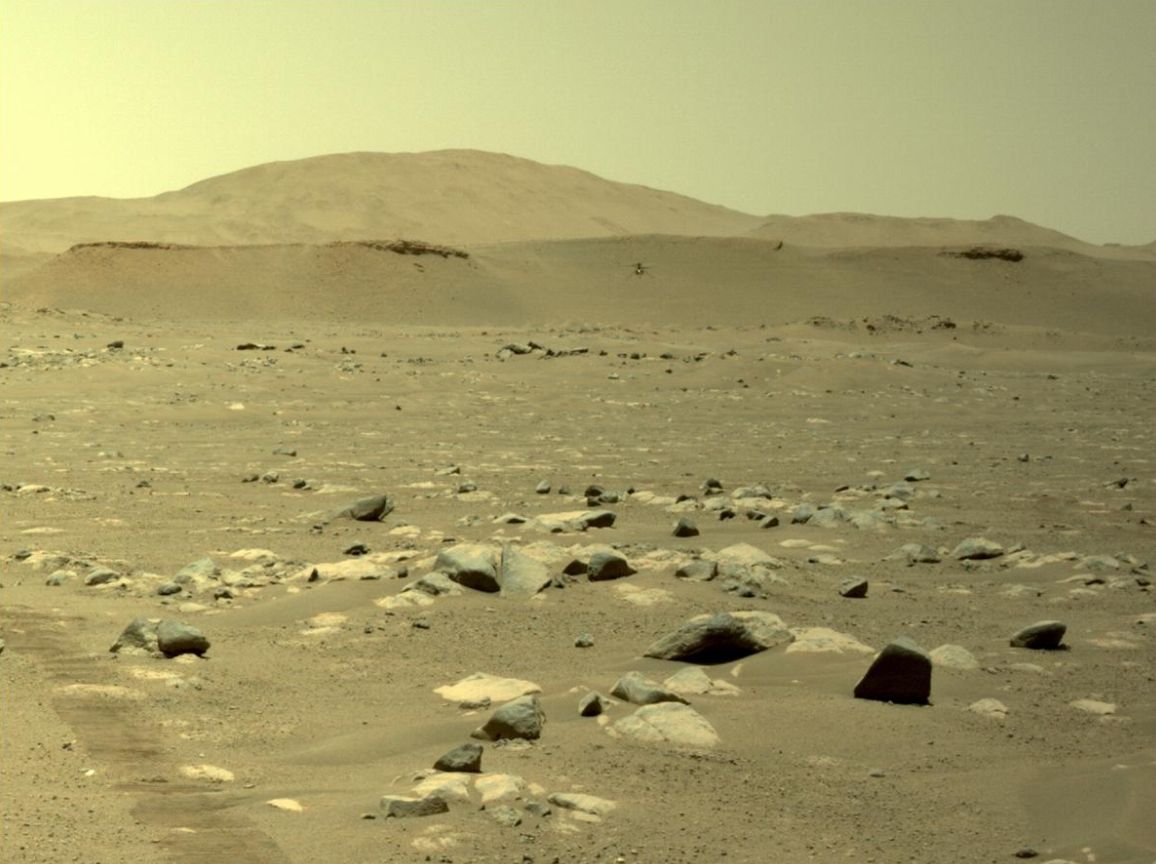 Ingenuity does some exploring on this hop.
Perseverance and Ingenuity landed together on the floor of Jezero Crater on Feb. 18. The technology-demonstrating rotorcraft deployed from the rover's belly on April 3, starting the clock on Ingenuity's month-long flight campaign.
That campaign will include two more flights, if all goes according to plan. And flight number three could be just a warm-up act for what's to come: Ingenuity team members have said they intend to really push the helicopter's limits on the final two hops.
The #MarsHelicopter is really "spreading its wings" now – even pushing beyond my camera's field of view. Watch my view of Flight #3, as Ingenuity takes off on a long run (164 ft/50 m) down its flight zone and back. https://t.co/ESQu9PIL9S pic.twitter.com/PzEoD3XoHAApril 25, 2021
Thank you for signing up to Space. You will receive a verification email shortly.
There was a problem. Please refresh the page and try again.
© Future US, Inc. 11 West 42nd Street, 15th Floor, New York, NY 10036.
Read full article at Space.com
The Hill 26 April, 2021 - 09:01am
NASA's successful flight of its Mars helicopter — aptly named Ingenuity — is a reminder that America can still get things done. In truth, we've never stopped being a "can-do" country, even if the ideas of American exceptionalism and American optimism have (in some circles) fallen out of favor. 
And yet if we are to successfully confront the challenges we face — from China, climate change and to the fraying of our social fabric — we will need a national can-do spirit. It's a spirit that transcends divisions. 
I've seen that can-do spirit, up close. Back in November 2019, as director of the President's Commission on White House Fellowships, I took the fellows to the Jet Propulsion Laboratory (JPL) near Pasadena, Calif. The first thing we saw when we walked in the door were the words, "Dare Mighty Things." And then we met with MiMi Aung, the project manager of the Ingenuity helicopter effort; at the time, the successful flight was a year-and-a-half away, and yet she brimmed with optimism.  
From the glassed-in observation area, we could look into the Clean Room, where technicians were working on the Ingenuity, as well as the Perseverance Rover. Meanwhile, Aung explained to us some of the details of the effort. Ingenuity would weigh only about four pounds, she said, although, of course, that was its weight on Earth; on Mars, with 60 percent less gravity, the micro-chopper would weigh only about a pound-and-a-half. Moreover, since the atmosphere on Mars is less than one percent that of Earth's, the rotors would have to rotate fast; in other words, tiny Ingenuity was JPL's extraterrestrial hummingbird.  
Aung was fully aware, even then, that the whole world would one day be watching to see if Ingenuity would work. And while she was confident it would, she wasn't leaving anything to chance. "We track each detail" she said, pointing admiringly to her team.  
The result of all that effort, which many of us watched on April 19, speaks for itself. As Aung said at the time, "We, together, have our Wright Brothers moment." Indeed. Ingenuity flew only about 10 feet, for a total of just 30 seconds, and yet the Wright Brothers' first flight, back in 1903, travelled a mere 120 feet, staying aloft for just 12 seconds. As we all know, that brief jaunt proved to be an inflection point in human history. Not only did we learn to fly in the 20th century, but in addition, in that same century — 1969, to be exact — we flew men to the Moon.   
So now, in the 21st century, we are likely to accomplish something just as epochal: sending people to Mars.
And speaking of people, we should give thought to the human capital — the human treasure — that brought us this far. 
Aung, a Burmese-American, is the first woman to hold such a position; as CBS News correspondent Jonathan Vigliotti said of her success, "She's breaking glass ceilings, nearly 180 million miles away." And to see her diverse team, as we did during our visit to JPL, was to see America itself. And of course, we shouldn't forget all of those who helped get JPL and NASA to this point, including Katherine Johnson, a Black mathematician; she and her colleagues were ably remembered in the 2016 movie "Hidden Figures." 
Progress on Ingenuity stayed steady through all these political changes, which is a tribute to the power of a good idea, such that even sometimes sulfurous partisan politics can't waylay it. But then, of course, there's no such thing as a Democratic Mars helicopter, or a Republican Mars helicopter. There's only what flies.  
And yes, too, there's vision; what President Richard Nixon — who was in office when Americans landed on the moon — called "The lift of a driving dream."  
It's that dreaming — daring to do mighty things — that has brought us to the point where a woman of color could lead the team that sent an aircraft hovering above the fourth rock from the sun. So now, as we continue to strengthen our can-do skills, humans will soon enough be landing on the Red Planet. And that will be an inflection point for the ages.  
The Hill 1625 K Street, NW Suite 900 Washington DC 20006 | 202-628-8500 tel | 202-628-8503 fax
The contents of this site are ©2021 Capitol Hill Publishing Corp., a subsidiary of News Communications, Inc.