Lights, camera, romance! Sarah Shahi and boyfriend Adam Demos fell in love after meeting on the set of Netflix's Sex/Life — and their real-life relationship is equally as steamy.
The duo filmed the series together in the fall of 2020 in Canada, playing sexy former lovers who get caught in a love triangle. In the show, Shahi's character, Billie, is married to Cooper (Mike Vogel) but yearns for her wilder days when she hooked up with Demos' Brad.
Offscreen, the L Word alum was going through a divorce when the risqué role came into her life — and not necessarily thinking about finding love again.
Us Weekly exclusively confirmed in June 2020 that Shahi and Steve Howey had separated two months prior after 11 years of marriage. The former spouses, who share three children, son William and twins Violet and Knox, finalized their divorce in January 2021.
Shahi wrapped Sex/Life one month prior to her divorce being finalized. At the time, she reflected on how much her life had changed over the past few months.
"And it's a wrap on Billie Mann. @sexlife. My alter ego," she captioned a series of photos of her on-camera persona in December 2020. "The layered, wildly complex, hurricane of a character I had the honor of portraying. The saint and the sinner wrapped up in a messy pink bow."
The Texas native then got a little more personal, adding, "This show was more than just another gig. It changed the direction of my life. It unleashed parts of my heart I had hidden for so long. It helped me find my truth. I was broken open. Finally."
When celebrating her birthday in January 2021, the Person of Interest alum again reflected on her good fortune, noting that her relationship with Demos is one of the many "privileges" she's been afforded as she's grown older.
"It's a privilege to wake up every day with excitement as to what the day COULD bring, to look at Christmas lights and Halloween decorations with more astonishment than my kids," she wrote via Instagram at the time. "To get giddy at the smell of pages of a freshly opened book. To have found my love @adam_demos, to laugh until the sun comes up (sleep is boring), to dance when there's no music."
Four months later, Shahi gushed over her man when celebrating his birthday, admiring how two very different people could be a perfect match.
"Not exactly sure how two people on opposite sides of the world could have more in common, were meant to meet, were meant to be together," she wrote via Instagram in May 2021. "But I do know I met my soulmate."
The UnREAL alum replied: "My forever and more.. I love you so f–king much my baby ."
Shahi later commented on Demos' own birthday post, writing, "My baby … you're worth everything and more. Gonna celebrate you forever."
Scroll down to relive Shahi and Demos' most romantic moments as a couple:
The pair giggled on the set of Netflix's Sex/Life in September 2020 while filming in Canada.
The actors both praised their Sex/Life costars and coworkers after the project wrapped in December 2021. "That's a wrap on the greatest job and experience of my life!!" Demos captioned a solo shot on set.
Shahi, for her part, shared behind-the-scenes moments from the show, captioning them, "This show was more than just another gig. It changed the direction of my life. It unleashed parts of my heart I had hidden for so long. It helped me find my truth."
The lovebirds got cozy on New Year's Eve in December 2020, sharing their first official photo as a couple on social media.
Demos paid tribute to his girlfriend in January 2021 on her 41st birthday, sharing photos of the pair apple picking. "Happy bday my baby, I f*#kin love you. You're everything," he gushed.
The Falling Inn Love actor shared a throwback set photo in February 2021 of the duo cuddling up in honor of their first Valentine's Day together.
"My forever squeeze … happy Valentine's baby @adam_demos #happyvalentinesday ," the Bad Therapy actress wrote via Instagram in February 2021.
"My forever ," Shahi captioned a sweet snap with her man on a romantic getaway in March 2021.
The duo enjoyed the great outdoors in Georgia in May 2021 while Shahi was on location for the upcoming DC Comics film Black Adam.
The twosome donned matching leather jackets in May 2021 that read, "The Rats" with a rose design on the back.
"The most magical birthday thanks to my angel @sarahshahi I'm truly blown away," the Janet King alum wrote via Instagram in May 2020, alongside photos from his romantic and adventurous celebration in Georgia.
The Chicago Fire alum gushed about her man on his 36th birthday in May 2021, taking a look back at their romance via Instagram. "I do know I found my forever. I do know I've never loved deeper, harder, more ferociously," she wrote. "I do know I'm overly grateful for him. I do know I've loved him for a thousand lifetimes before and will love him for a thousand lifetimes more. Happy birthday my baby ."
The couple stood in awe of their show's success while looking at a billboard in New York City's Times Square in June 2021. "Just f*#ckin wow," Demos captioned a series of photos. "Absolutely rattled and Beyond grateful! I'm a lucky lucky man!!!" Shahi commented, "Full on magic Iu."
The duo fully embraced their Sex/Life alter egos in a behind-the-scenes show photo posted by Shahi in July 2021.
Like us on Facebook to see similar stories
Please give an overall site rating:
Read full article at msnNOW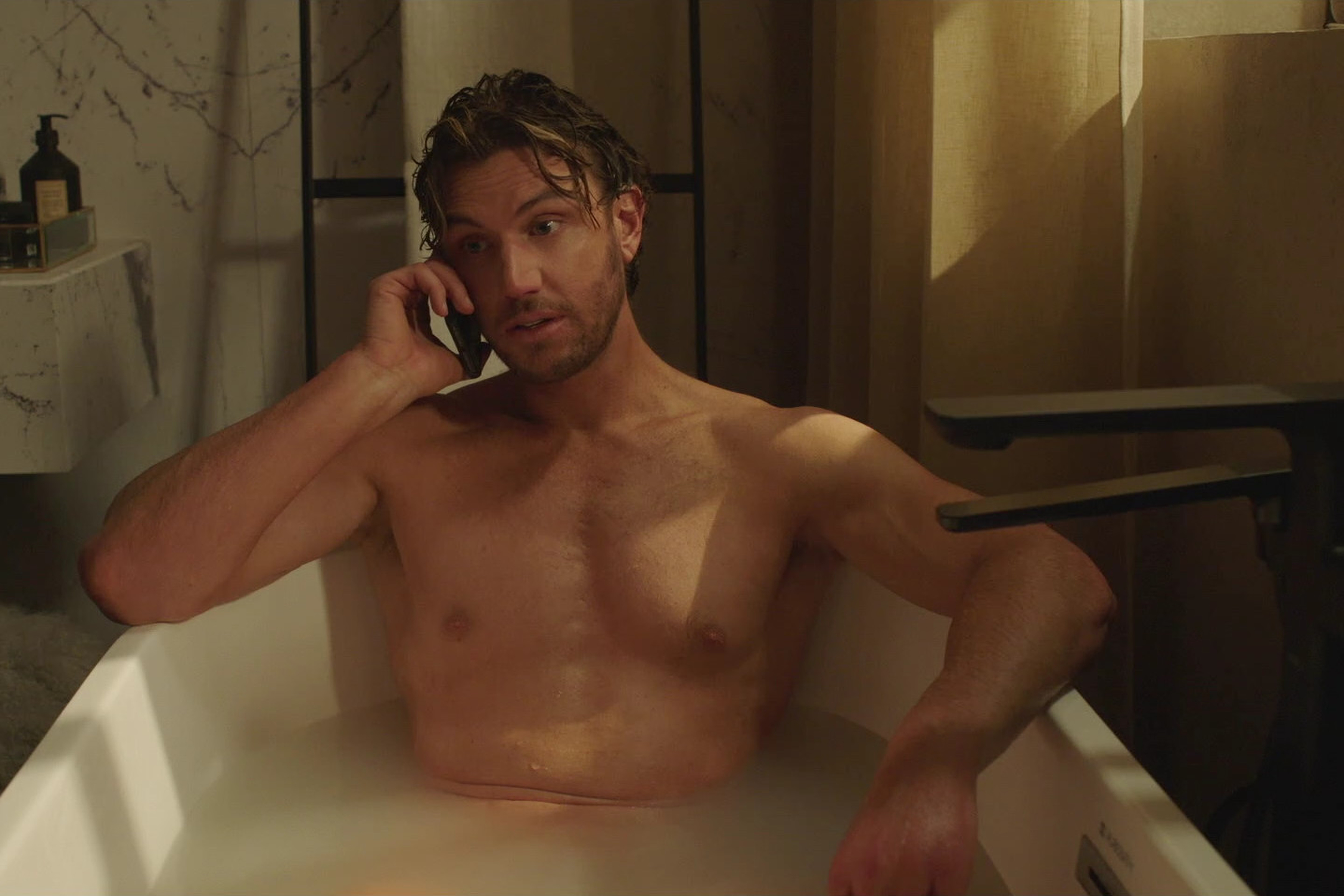 Newsweek 12 July, 2021 - 12:16pm
Across eight episodes, viewers watched Billie embark on a journey of self-discovery, jeopardizing her relationship with her husband Cooper (Mike Vogel) and risking falling into bad habits with her ex-boyfriend Brad.
In the end, Billie decided to choose both men. Opting for a relationship with her husband Cooper, Billie changed her mind at the last minute and ran into the arms of her ex-boyfriend Brad, proclaiming she wanted a relationship with him and her husband.
The series features plenty of racy sex scenes, nudity, and laugh-out-loud moments and one thing is for sure, Billie's story is far from over.
Unfortunately, there has been no news regarding a second season of the hit romantic drama. As fans await news on the show's future, there a plenty of other dramas to get into. Newsweek has listed the top five for Sex/Life fans below.
Elite is the Spanish drama on Netflix following the lives of students at a prestigious Spanish private school called Las Encinas.
However, this is no ordinary teenage drama. Elite's storyline is fueled with murder, sex, and love alongside touching on issues of sexuality, social class, sexual abuse, and drug addiction.
Season 4 of Elite recently dropped on Netflix at the end of May and just like Sex/Life has been holding on to its spot in the Netflix Top 10 since. The show's fifth outing is currently in the works and is expected to drop on Netflix in mid-2022.
If you like a good crime drama with a sexy twist, you will not want to miss Elite.
What/If may have a much darker tone than Sex/Life but the concepts of both shows are pretty similar.
What/If is an anthology thriller series that follows the effects of what happens when people begin to break the rules and do an unacceptable thing.
Just like Sex/Life, What/If calls into question the impact of our decisions on those around us and, most importantly, ourselves.
The first series stars Jane Levy, Keith Powers, Blake Jenner, and Renée Zellweger to name a few famous faces in the cast.
What/If is streaming on Netflix now.
If you fancy a break from watching serious dramas and prefer some lighthearted viewing with sex at its core, Too Hot to Handle is what you are looking for.
The reality series following a group of sexually driven singletons who believe they are taking part in a show called "Parties in Paradise."
In reality, they are taking part in Too Hot to Handle, a game show where no sex is allowed—no kissing, no sexual contact, and no self-gratification.
With every rule break—overseen by a robot called Lana—the prize fund of $100,000 decreases.
Along the way, couples are thrown out of the Too Hot to Handle villa for rule violations and for failing to make "real connections."
With that being said, the rules are sometimes eased and most definitely always broken, making for some entertaining viewing.
The first two seasons of Too Hot to Handle are streaming on Netflix now.
The Affair, starring Dominic West, Ruth Wilson, Maura Tierney, and Joshua Jackson, aired on Showtime for five seasons between 2014 and 2019.
The series explored the emotional effects of an extramarital affair between Noah Solloway (Dominic West) and Alison Bailey (Ruth Wilson) and their respective partners Helen (Maura Tierney) and Cole (Joshua Jackson).
The story is told from a different perspective of those involved and across different timelines throughout the show's five seasons.
The Affair won the Golden Globe Award for Best Television Series and Ruth Wilson took home the Golden Globe for Best Actress at the 72nd Golden Globe Awards in 2015.
Maura Tierney won the Golden Globe for Best Supporting Actress at the 73rd Golden Globe Awards in 2016.
The Affair is streaming on Hulu now in the U.S. and Amazon Prime Video in the U.K.
Normal People took the world by storm when it premiered on Hulu and BBC iPlayer in April 2020.
At the height of lockdowns across the world, people fell in love with Daisy Edgar-Jones and Paul Mescal who played the lead characters in the series.
Based on Sally Rooney's 2018 bestselling novel of the same name, Normal People follows the relationship between Marianne Sheridan (Daisy Edgar-Jones) and Connell Waldron (Paul Mescal) as they make their way through their final months of high school to their university years at Trinity College, Dublin.
Connell and Marianne come from entirely different worlds but the romantic and sexual connection between them is undeniable.
If you want to laugh, cry and feel hot and bothered all at the same time, Normal People is the show for you.
Normal People is streaming on Hulu now in the U.S. and BBC iPlayer in the U.K.
Sex/Life is streaming on Netflix now.
Sign-up to our daily newsletter for more articles like this + access to 5 extra articles
Daily news headlines & detailed briefings enjoyed by half a million readers.
Radio X 12 July, 2021 - 09:23am
12 July 2021, 15:23 | Updated: 12 July 2021, 15:53
Sex/Life is a steamy new series on Netflix, starring Shahi and Demos - but did you know they're together in real life?
For anyone who has seen the show, it will come as no surprise that the chemistry between Sarah Shahi (who plays Billie Connelly) and Adam Demos (Brad) goes beyond great acting skills. That's right: they are actually a real-life couple.
Confirming they were an item back in January, Shahi posted a snap of the two of them on her Instagram account on her birthday, with the caption: "Time to celebrate. Thank you to my love @adam_demos for making it so very special."
Demos also shared a post, writing: "Happy bday my baby. I f*#kin love you You're everything."
Speaking to People, Shahi said of their romance: "When I first met Adam, I was really blown away with him.
"We met in the makeup trailer and we just got on instantly. We had the exact same taste in music. We had the same taste in whiskey and tequilas and I was really blown away by him just as a person and all I knew was that I wanted more."
She added: "And then I got an opportunity to act with him, and I will say, sitting across the other side of the camera with him was just a privilege.
"You're only as good as your scene partner. He's amazing in the show."
Previously, Sarah was married to actor Steve Howey. They got married in February 2009 and share three children: twins Violet and Knox, who were born in 2015, and William, who was born in 2009.
Last year, however, the pair announced their split. In a joint statement shared with Us Weekly, they revealed: "As we enter into this new phase of our lives, our priority will remain co-parenting our children with so much love, mutual respect and friendship.
"And though our relationship is changing, we are committed to continuing our lives as a loving family."
The Hindu 12 July, 2021 - 05:49am
There are different kinds of comfort watches. You could channel your standard-issue '90s blockbuster sans Jeff Goldblum (sigh) into The Tomorrow War , or you could have some zombie fun with a Snyder-style extended music video with Army of the Dead... or you could watch beautiful people swap spit and other body fluids over eight episodes of Sex/Life.
Also Read | Get 'First Day First Show', our weekly newsletter from the world of cinema, in your inbox. You can subscribe for free here
Sex/Life is pretty awful — and not in the "so bad it is good" kind of awful. It is just truly terrible, with embarrassingly bad acting, a wafer-thin storyline and toe-curling writing. Okay, even if you are not looking at the Netflix show to better your mind, the sex scenes do not really work. They are vaguely monotonous, and while Billie's (Sarah Shahi) moans would surely wake up the dead, they do not generate much heat. 
Inspired by BB Easton's novel (really?), 44 Chapters About 4 Men, Sex/Life tells the story of Billie who has given up her wild child days to play happy families with her perfect husband, Cooper (Mike Vogel). She lives in a perfect house in the suburbs with her two perfect children, Hudson (slightly creepy) and Ellery. 
Feeling neglected by Cooper, Billie starts writing a diary remembering hot sex with her ex-boyfriend, Brad (Adam Demos). Cooper reads Billie's diary and gets full on jealous and goes to checks out the competition in that infamous shower scene (it definitely HAS to be a prosthetic). Sasha (Margaret Odette) is Billie's best friend and Brad's part-time lover. There is Cooper's boss, Francesca (Li Jun Li) who has feelings for him. Meanwhile, Cooper's friend Devon (Jonathan Sadowski) and his wife Trina (Amber Goldfarb) suggest an orgy as a way to spice things up — that can never go wrong.
While that other famous diarist of pop culture, Bridget Jones, lent an entire lexicon to a generation from singletons to commitment-phobes and a whole lot of unprintables in between, Billie's excursions into purple prose are excruciating to put it mildly. This is a show that goes nowhere. Billie, from episode one to episode eight, has not moved an inch forward or backward. She and the characters around her are all stuck in the same circle of hell where all bad writing goes to die.
There isn't a great reveal for Brad's reason to break it off with Billie. It was not a drug deal gone bad, nor is Brad abducted by aliens; he is just a jerk and continues to be a jerk albeit with good hair and an odd gait — maybe said prosthetic is to blame . 
Even the jobs are such a cliché. Brad owns a record label (is that even a thing these days) and drives a mean bike. Billie and Sasha studied psychology in university. Sasha is now a hotshot psychologist while Billie gave up her PhD to be a Stepford wife. Cooper wears a suit and carries a briefcase and does some obscure job in the city. How cool it would have been if Cooper was a super spy like Harry Tasker (Schwarzenegger) in True Lies. Cooper could have terrified the living daylights out of Brad just like Harry does to Bill Paxton's Simon. 
As none of that will ever happen in this over-heated show, all you can do is marvel at the beautiful house and Billie's lovely, white nightdresses, while she has a cupcake meltdown in front of an erstwhile tattoo parlour.
Printable version | Jul 12, 2021 11:37:10 PM | https://www.thehindu.com/entertainment/movies/sex-life-is-pretty-awful-and-not-in-the-so-bad-its-good-way/article35278953.ece
© THG PUBLISHING PVT LTD.
For Prime Day 2021, the streaming platform will also release the second season of 'Hostel Daze,' and the digital premiere of the 'Tom & Jerry' movie
The fourth season of 'Atypical,' coming-of-age teen drama 'Young Royals' and documentary series 'Heist' are some of the other highlights coming to the platform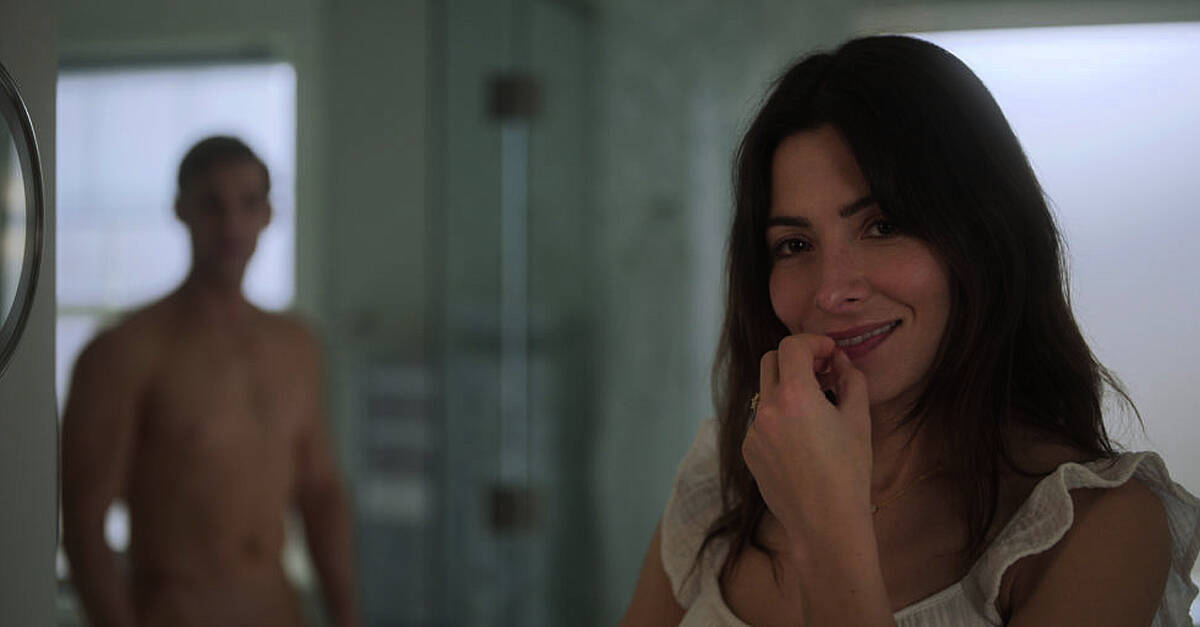 BreakingNews.ie 12 July, 2021 - 01:24am
Sex/Life star Sarah Shahi has said she has her "fingers crossed" that the raunchy drama will return for a second series.
The Netflix hit follows her character Billie Connelly as she becomes dissatisfied in her marriage to the loving and reliable Cooper (Mike Vogel) and begins to fantasise about her past relationship with ex-boyfriend Brad, played by her real-life boyfriend Adam Demos.
The series flashes back to her free-spirited youth living in New York with her best friend and the passionate exploits she shared with her former lover.
Asked about the potential for a second series as she answered questions on her Instagram story, she wrote: "Fingers crossed! We've been in the top ten for over a week in 86 countries, including the US and that's bananas!
"But Netflix also really cares how many people watch the whole thing in the first 28 days so encourage your friends to finish if they haven't yet!"
The series has been featured on Celebrity Gogglebox in the UK, as the famous viewers were left open-mouthed at one explicit scene featuring a nude Brad in the shower.
The show has also been a hit on TikTok, where users have shared videos of their friends' reaction as they watched the same scene.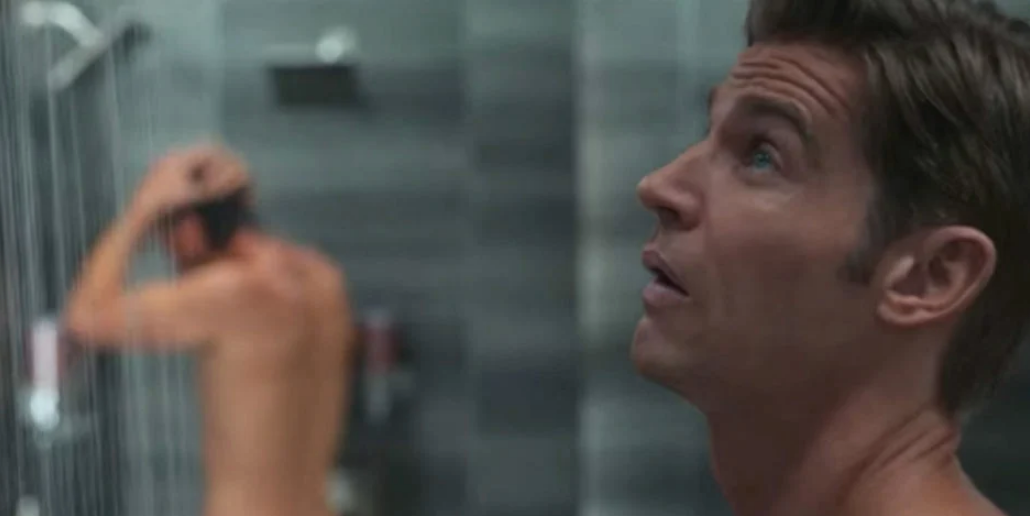 menshealth.com 11 July, 2021 - 09:00am
Here's what Adam Demos and Mike Vogel thought when they first read the script.
The steamy drama Sex/Life has been causing quite a stir since it started streaming on Netflix, with viewers engrossed by the increasingly complicated and messy love triangle between housewife Billie, her husband, and her ex-boyfriend. And one scene in particular has caught the internet's attention: in episode three, Billie's husband Cooper stalks her ex, Brad, to a gym, even following him into a shower, where he openly stares at the other man's (very large) penis.
It's a moment that showrunner Stacy Rukeyser has described as being a necessary storytelling choice, claiming it illustrates the way Cooper is becoming obsessed with Brad. Mike Vogel, who plays Cooper, recently opened up about his experience of reading the script for that episode, and then shooting the scene.
"I think you read it and you film it and you have a laugh about it," he told E! News this week. "And you don't realize the life of its own that it's going to take on. So, yeah, we've had a lot of fun with it, and others are as well. So, there you go... I think in the best way possible, the way that these sort of things are set up nowadays, especially with an intimacy coordinator, everything has to be planned out, rehearsed, so there's not a hand out of place... You don't see everything happening on the other side of the camera, and that it's set up to literally be the least turn on that it possibly could be."
Adam Demos, who portrays Cooper's love rival and the object of Billie's desires, has previously spoken about the scene, and had a similarly professional approach to filming it: "I was okay with it because you read the script and know what you're getting yourself into from the start, so I don't think you would sign on to a show after reading the scripts and then say no last minute," he said.
Demos went on to explain that the fact that Sex/Life had an intimacy coordinator on set for all scenes involving sex and nudity ensured that the actors always felt safe and comfortable. "We would rehearse it so much that by the time you did it, it was a lot more comfortable than you'd assume," he said. "You discuss everything: hand movements, everything down to the breath. In sex scenes, the breathing is an emotional thing, so you're discussing that journey, but then you're also discussing each individual's comfort level."