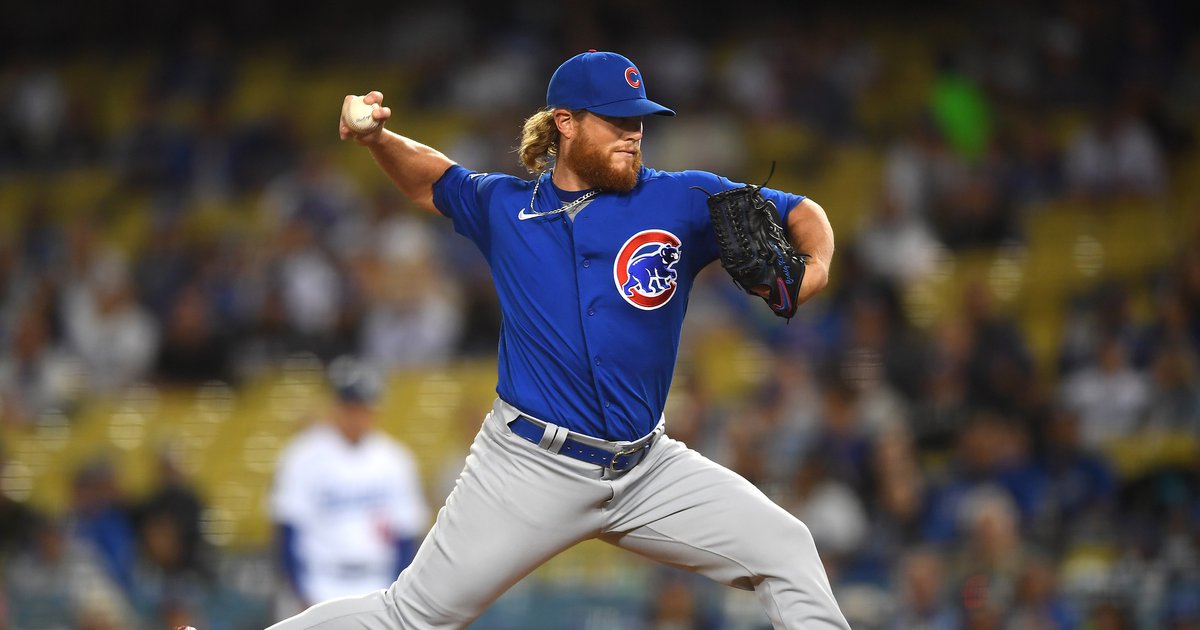 © 2021 WWB Holdings, LLC. All rights reserved
Chicago Cubs closer Craig Kimbrel.
The Phillies might be riding a bit of a heater at the moment, winning 10 of their last 14 dating back to before the All-Star break, but if you ask anyone who's watched this club throughout the past two seasons what their biggest need is right now, it's almost certainly going to be bullpen help.
Coming off an historically bad season of relief pitching, the Phillies backed it up, improbably, with something that was even worse — blown save after blown save after blown save. A few wins in the last couple weeks have calmed some of those fears, but if the Phillies truly intend on making their first postseason in a decade, let alone making a legit run, they're going to need to shore up the back end of their bullpen in addition to making a few other small upgrades. 
Luckily for Dave Dombrowski, who recently told NBC Sports Philadelphia's John Clark that the team won't be selling ahead of this month's trade deadline and will instead be looking to improve the club, there appears to be a perfect option available in the form of Cubs closer Craig Kimbrel. Moreover, there's a history between Kimbrel and Dombrowski, as Dombrowski traded for Kimbrel in 2016 with the Red Sox and the closer was a key part of Boston's World Series title two years later. 
Kimbrel has spent the three seasons since in Chicago. With the Cubs in free fall, all signs point to them being one of baseball's biggest sellers at the July 30 deadline, and the veteran closer is expected to be one of their more sought-after players. And according to one well-known baseball writer, the Phillies wouldn't be a surprising landing spot, given their need. 
Over the weekend, Bob Nightengale mentioned the Giants and Phillies as possible suitors for the 33-year-old Kimbrel. And on Monday, he doubled down on that, while also offering a bit more inside info.  
"I had a GM tell me the other day, 'Watch Craig Kimbrel end up on the Phillies or Giants,'" Nightengale said on BetQL Daily with Joe Giglio. 
Sure, that sounds a lot like what he wrote in his column, but the distinction here is that it's not just Nightengale who is saying it, it's an actual GM. 
Unfortunately for the Phillies, they might not have the pieces they need to land Kimbrel, especially if they're competing with multiple other teams (however the general belief is that overall there will be more sellers than buyers this time around). Additionally, they might need to save some of their few pieces to use in other deals if they believe it will take multiple upgrades to make them a true contender. 
Currently, the Phillies have a 45.5% chance of making the playoffs, according to baseball-reference.com. That's the fifth best of any NL team and nearly 20 points better than the next closest team, the Braves. That's a dramatic increase from the single-digit chances they had just a couple of weeks ago. A big splash at the deadline could put them even closer. 
As Kevin Cooney wrote last week right here on PhillyVoice, the Phillies landing Kimbrel is great in theory, but in practice, it's more of a pipe dream than anything else. Here's what he had to say in the bullpen portion of his look at what Phillies fans want vs. what might realistically happen at the deadline. 
Like Kimbrel, Kennedy is going to be a free agent at the end of the year. And like Kimbrel, he's had a remarkable year so far for a team now out of the race — 15 saves, 2.67 ERA for a Rangers team that is 35-55 at the break. But his price should be cheaper because of his age (36, three years older than Kimbrel) and not having as long of a track record. Again, it's about finding value on the edges when you have a depleted system. This would be the definition of that.  [MORE]
Still, that doesn't seem like it's going to stop the Phillies from trying, especially now that they have a front office head in Dombrowski who is well known for being aggressive when it comes to trades and free agents. And while they may have to get creative to do it given their lack of prospects, it seems like Dombrowski has his sights set on buying. But whether that's a major upgrade or some smaller pieces will likely be determined by what happens in the Phillies' 11 games between now and the deadline.
"We're not selling," Dombrowski told Clark on the latter's "Takeoff" podcast. "We're not in a position where we're looking to move players off our team," he continued. "Anything can happen in 10 days or two weeks. I mean, if all of a sudden — and I don't like to take this scenario — if you lose 10 games in a row, well that might be one thing that's a little bit different. Or if you win 10 games in a row, it's a little bit different. But we're in a position where we're in this and we're gonna try to make our club better here over the next time period."
Adding Kimbrel, who has a 0.53 ERA in 33 2/3 innings, would certainly make the Phillies better down the stretch. Whether or not they can actually pull it off is another matter entirely. 
© 2021 WWB Holdings, LLC. All rights reserved
Read full article at The Philadelphia Inquirer
The Good Phight 20 July, 2021 - 11:00am
NBC Sports 20 July, 2021 - 11:00am
These last two weeks in the NL East have changed that conversation.
The 47-45 Phils have won four straight series, beating the Padres, Cubs, Red Sox and Marlins. They are 10-4 in July and closer to first place than they've been in exactly two months.
"We've got to prove that we can win. It's as simple as that," Zack Wheeler said after Sunday's win over the Marlins. "They're not going to buy if we're not consistent. To be able to go out there and win some games and show that we're serious and show the front office that we're serious, that definitely helps."
Over the last two weeks, the Braves have lost Ronald Acuña Jr. for the season to a torn ACL, the Mets have lost Jacob deGrom (forearm) and Francisco Lindor (oblique) and the Nationals have struggled without Kyle Schwarber (hamstring). The Mets needed a seven-run comeback Sunday to avoid being swept by a Pirates team that's 21 games under .500. They dropped two of three to Pittsburgh right before the All-Star break. They've been in first place for 69 of the season's 90 days but are vulnerable right now.
"We're in this and we're going to try to make our club better over this time period," Phillies president of baseball operations Dave Dombrowski said on Monday's Takeoff With John Clark podcast.
"I think we're better than a .500 team and we've played much better here recently. We are contending, we have a chance to win. We legitimately have a chance to win. We have to do the little things right, we have to advance runners, get runners in from third base, cut down on our strikeouts, make the routine plays from a defensive perspective.
"We're not selling. We're not looking to move players off of our team. Anything can happen in 10 days or two weeks -- if you lose 10 games in a row, then maybe things are different, or if you win 10 games in a row, it's a little bit different. But we're in a position where we're in this."
The trade deadline is July 30, less than two weeks away. The Phillies' clear need is pitching. In a perfect world, they'd add to the back of their rotation and to the back of their bullpen. Vince Velasquez and Matt Moore currently occupy the Nos. 4 and 5 spots in the rotation, and the Phils' bullpen leads the majors with 23 blown saves.
The biggest ticket item among relievers would be Cubs closer Craig Kimbrel, who is having the best season of his storied career with a 0.53 ERA and 58 strikeouts in 33⅔ innings. Kimbrel is owed about $5.3 million after the deadline this season and has a club option for $16 million next year.
It will take an attractive package of prospects to pry Kimbrel away from the reeling Cubs, but he's not the only reliever worth pursuing. 
Pirates closer Richard Rodriguez has been very good the last four seasons and could be an option. He has a 2.67 ERA and 0.82 WHIP since the start of 2020.
Rangers closer Ian Kennedy is another option, one that would cost far less. Kennedy is sort of similar to Ranger Suarez in that he's a non-traditional closer with a deep mix of pitches who gets it done with command. He's saved 15 games in 16 chances for Texas. Mariners closer Kendall Graveman fits a similar description, though the sample size of his success is much smaller.
Rockies closer Daniel Bard is a right-hander who can touch triple digits but can also struggle with command. 
Those are just the closers. There are also plenty of setup men available, perhaps every single reliever on the 10 teams completely out of contention: the Orioles, Royals, Twins, Tigers, Rangers, Diamondbacks, Rockies, Pirates, Cubs and Marlins.
"I think that we can close internally. Ranger Suarez has been outstanding for us," Dombrowski said. "If you acquired somebody with the numbers Ranger Suarez has put up so far, you'd be ecstatic. There are very few closers out there who would be a tremendous upgrade over what we had. 
"We upgraded (the bullpen), but it still hasn't performed at as high a level as we had hoped and it's an area you're always looking to upgrade as you're in a pennant race."
The Phillies would not be in the race in any other division in baseball. They have nine fewer wins than every division leader outside the NL East. Some look at that and the best-case scenario of an NLDS meeting with the Dodgers or Padres and ask, "What's the point in buying?"
But there is a point in this organization doing all it can to make the playoffs after nine consecutive non-winning seasons. And if you get there, who knows what can happen. More often than not, the best regular-season team does not win the World Series.
"I've been to the postseason many times with clubs," Dombrowski said. "Once you make it, anything can happen. And if you're in a position with our club, in any short series where you go in with Zack Wheeler, Aaron Nola and Zach Eflin throwing well, you could beat anybody. 
"If you make the postseason, it's extremely important. I've been on clubs where we've had a much better record than the club that beat us in the postseason. So the first thing is you try to get there.
"But you have to be reasonable. You want to get there, but I'll use an example: Our number one draft choice from last year, Mick Abel, we're not looking to trade and are probably never looking to trade him. He's got that kind of value and ability that he can be a No. 1 starting pitcher down the road."
Abel, right now, is the jewel of a Phillies farm system that is not highly regarded. But Dombrowski is confident the Phillies have prospects other teams are interested in.
"We can make a deal with prospects," he said. "I know people say, 'Oh, they don't have any prospects.' But no, we can make deals if we needed to, there's no question about that. We have a lot of players that are highly regarded by other organizations so that would not be the hold-up in this case."
The Philadelphia Inquirer 20 July, 2021 - 11:00am
But now, 11 days until the trade deadline, these are the relevant questions: Does ownership believe in the Phillies? How much? Enough to exceed the luxury-tax threshold for the first time in franchise history?
"We'd like to have played a little better earlier in the season," catcher J.T. Realmuto said after hitting a walk-off homer to end the suspended game that preceded a regularly scheduled 7-4 victory Sunday. "But now that we've got everybody back on the field and playing well, we're doing all we can to convince them to go out and get what we need and we're here to compete and get to the postseason. We just have to keep playing well and keep winning series and put the pressure on them to get us some help."
You're signed up to get this newsletter in your inbox every weekday during the season. If you like what you're reading, tell your friends it's free to sign up here. I want to know what you think, what we should add, and what you want to read, so send me feedback by email or on Twitter @ScottLauber. Thank you for reading.
Dave Dombrowski knows the Phillies are more than one player away from winning the World Series. But he's also aware that they haven't made the playoffs since 2011 and are two games out of first place in a weak NL East that is being led by the New York Mets, who placed star shortstop Francisco Lindor and all-world ace Jacob deGrom on the injured list over the weekend.
That's the push-pull facing Dombrowski as the July 30 trade deadline approaches.
It's clear the Phillies are worth helping. Like most playoff contenders, they could use another late-inning reliever. A back-end starting pitcher (Cole Hamels?) would come in handy. The Marlins are reportedly bracing to trade Starling Marte, who would look good in center field and atop the Phillies' batting order.
But getting any of those things means giving up something, and the Phillies don't have much trade capital. Last month, Bryce Harper accurately described the farm system as "kind of depleted," and the payroll is only about $7 million shy of the $210 million luxury-tax threshold.
Dombrowski earned a reputation in Detroit and Boston for thinning the farm system to get short-term help for the major-league roster. With the Red Sox, in particular, he traded outfielder Manuel Margot, infielders Mauricio Dubon, Travis Shaw, and Yoán Moncada, and pitchers Anderson Espinoza and Michael Kopech in various deals for Craig Kimbrel, Drew Pomeranz, Tyler Thornburg, and Chris Sale.
But Dombrowski's allies often note that he held on to Eduardo Rodríguez, Andrew Benintendi, and Rafael Devers, notable contributors to Boston's 2018 World Series-championship roster. As former Atlanta Braves general manager and Dombrowski deputy Frank Wren said a few months ago, his longtime boss' skill is "knowing who to trade and who not to trade."
Wren also noted that Dombrowski tends to deal from a surplus. To wit: In acquiring Kimbrel in the 2015-16 offseason, he dealt Margot and infield prospect Javy Guerra, who were blocked in Boston by Mookie Betts and Xander Bogaerts.
Dombrowski isn't about to move young right-hander Mick Abel or shortstop Bryson Stott. But for a player whom the Phillies could control beyond this season — Pittsburgh Pirates center fielder Bryan Reynolds, for instance — it would fit Dombrowski's style to move catching prospect Rafael Marchan. The Phillies are high on Marchan's defense, especially his blocking, but Realmuto is signed through 2025 and backup Andrew Knapp is under control through next year.
Hamels, a Phillies icon, would cost only money. And for a contract that would be prorated over two months, it's doubtful he'd put the Phillies over the luxury tax. But the 2008 World Series MVP is 37 and has made one start since the end of the 2019 season. The Phillies attended his showcase Friday in Texas. Now they must decide if he would be an upgrade over Vince Velasquez or Matt Moore.
As a two-month rental, Marte wouldn't likely fetch a prospect haul for the Marlins. But he's also owed about $5 million for the remainder of the season, which would leave the Phillies with little room under the luxury tax to add a pitcher to the bullpen or the rotation.
Then again, Dombrowski was known in Detroit and Boston for driving owners Mike Ilitch and John Henry, respectively, to be open-minded to moves about which they were previously uncertain. He compelled Phillies ownership to re-sign Realmuto to a five-year, $115.5 million deal last winter.
If anyone has the power to persuade managing partner John Middleton to push past the luxury-tax threshold — a move he has previously said he would make for more than a chance at a wild-card berth — it might be Dombrowski.
Within this story about a renewed center-field competition with a new leader, Bob Brookover has news of Scott Kingery undergoing season-ending shoulder surgery.
The Phillies signed their first 11 picks in the draft, including first-rounder Andrew Painter.
If you missed it, Aaron Nola discussed his decision to not get a COVID-19 vaccine. "It's a personal choice," he said.
As always, the great Yong Kim got some terrific photos from yesterday's action.
Today: The Phillies are off for the last time until Aug. 9.
Tomorrow: Nola's first start in two weeks comes at Yankee Stadium, 7:05 p.m.
Wednesday: Phillies and Yankees complete a two-game series, 7:05 p.m.
Thursday: The Braves visit Citizens Bank Park, 7:05 p.m.
When the history of the 2021 season is written, June 3 will stand as a notable demarcation. That day, word spread from the owners' meetings that MLB would empower umpires to enforce the rules that forbid pitchers from using illegal foreign substances. Two weeks later, the enforcement went into effect.
Since June 3, the Phillies are batting .247 with a .741 OPS, a 3.3% home-run rate, and 21% strikeout rate. Before that, they batted .237 with a .699 OPS, a 2.9% homer rate, and 27.1% strikeout rate.
Offense is up leaguewide, albeit more modestly. Before June 3: .241 average, .719 OPS, 3.2% homer rate, 23.7% strikeout rate. And since: .247 average, .738 OPS, 3.4% homer rate, 23.1% strikeout rate.
Send questions by email or on Twitter @ScottLauber.
Question: The Phillies definitely need another bullpen piece and another starter. Why would the ownership risk losing prospects and/or a substantial sum of money to upgrade this team when the players continue to put the team at a competitive disadvantage by refusing to get the COVID vaccine? — Bob S., via email
Answer: Hi, Bob. Thanks for the question. I understand your point, but I think you're conflating two issues.
If you're asking whether Phillies ownership and management could have done more to encourage players and staff to get vaccinated, I would tell you yes. But they chose to accept the potential competitive disadvantage of not pushing to reach MLB's 85% vaccination threshold while also continuing to try to make the playoffs for the first time since 2011. Apparently, they believe the risk of the former won't stop them from achieving the latter.
My sense is the Phillies won't make a trade-deadline splash but rather will make a few ripples designed to improve the bullpen and perhaps add rotation depth. If that happens, it won't be because of their vaccination rate. It will be because that's what Dombrowski deems to be enough to win a flawed NL East.
Philly Sports Network 20 July, 2021 - 11:00am
During the month of June, the Phillies recorded 12 wins and 12 losses. As Thanos would say, "Perfectly balanced, as all things should be." Thanos would be a terrible baseball fan.
The Phillies hit a pair of major low points in the month of June. On June 26th, the Phillies faced their largest deficit in games back from the division-leading Mets (6 games back). On June 30th, the Phillies fell to 4 games under .500 after blowing a 5-2 lead against the Marlins.
We've come full circle folks. Welcome to July, where the Phillies just did the following: Won 2/3 in Philly against the Padres, won 3/4 in Chicago against the Cubs, won 2/3 in Boston against the Red Sox, and won 3/4 in Philly against the Marlins.
This current 10-4 stretch has pulled the Phillies' playoff hopes straight out of the gutter.
Utilizing the remote start function on the bandwagon pic.twitter.com/dgcmjamNka
The Phillies are now listed at 44.9% favorites to win the NL East. The Braves have the second-highest odds at 25.7% and the Mets are 3rd with a 17.9% chance.
Optimism is starting to creep into the minds of Phillies fans. Maybe we can finally put Ryan Howard's Achilles in the back of our minds and make new playoff memories.
But it begs to question, who has been fueling the Phillies recently.
Let's start with the man who carried his hot bat in the All-Star Game in Colorado.
JAWN. TORCHED.#AllStarGame | #RingTheBell pic.twitter.com/n9k7VbfROq
J.T. Realmuto hit the first home run as a Phillie in the All-Star Game since Michael Jack Schmidt in 1981, which was the longest active homerless streak in the majors. Since July 2nd, Realmuto has slashed .349/.429/.581 for the Phillies. On Sunday, the Best Catcher in Baseball finished off a big win for the Phillies.
.@JTRealmuto walks it off in Game 1 for the @Phillies. 🔥 pic.twitter.com/Sn8VUNczIz
Local Phillies' fan, Travis Jankowski, has also been a huge part of the Phillies' success. The Lancaster native has hit .375 for the Phillies. He's stolen 4 bags and hit 4 extra-base hits for the Fightin's in limited action. His .974 OPS is .327 higher than his career average.
On the other side of the ball, Matt Moore has been doing infinitely better than he was at the beginning of the season. Since reentering the rotation, Moore has a surprisingly wonderful 3.06 ERA. While not pitching deep into games, Moore has been quietly providing quality innings for the Phillies.
In the bullpen, it's been Archie Bradley and Ranger Suarez leading the charge.
Archie Bradley had a dreadful start to his Phillies career. At the end of May, he had a 6.75 ERA. Since the start of July, he hasn't allowed a single earned run. His ERA is now at 3.28. The improvement has no-doubtedly been because of his velocity. To start the season, Bradley was averaging around 93 MPH on his fastball. Recently, he's been averaging closer to around 95 MPH, a huge difference.
Ranger Suarez has pitched his way into the closer's role with the Phillies. After having a 20.25 ERA in 2020 (ahead of his time really), he's posted a glorious 1.22 ERA in 2021. Already with 3 saves, Ranger isn't blowing anyone away with high velocity. He averages 93-94 MPH on his fastball, but it's been the elite control that has granted him success.
The Phillies will try to keep the momentum going as they head to the Bronx to meet the Yankees for a quick 2-game set on Tuesday and Wednesday.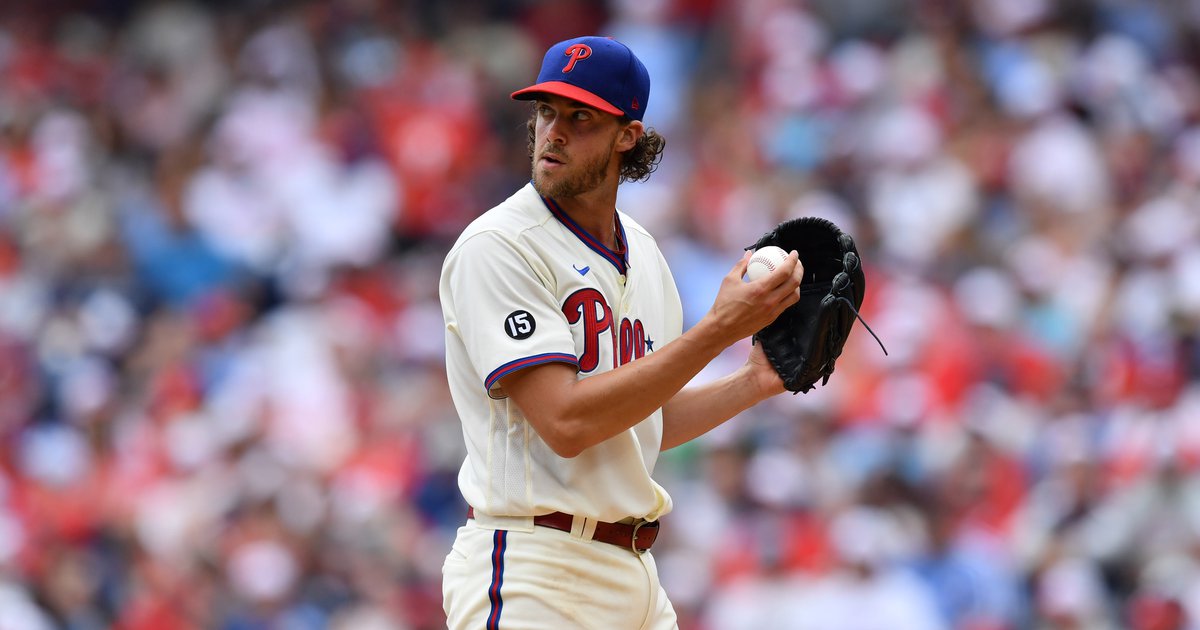 PhillyVoice.com 20 July, 2021 - 11:00am
© 2021 WWB Holdings, LLC. All rights reserved
Starting pitcher Aaron Nola is one of several Phillies players who remains unvaccinated against COVID-19.
Believe it or not, the Phillies currently find themselves with a golden opportunity to snap their decade-long postseason drought this year.
With exactly 70 games remaining over the next two-plus months, the Phillies are in second place and just 2.5 games behind the banged-up New York Mets for first place in the National League East. The Phillies haven't won the division since 2011, and they seem poised to be aggressive at the July 30 trade deadline in order to improve the roster.
But in classic Phillies fashion, the team seems to always find ways to make things more difficult for themselves than they need to be. And it appears that the team's hesitancy to get vaccinated against COVID-19 could end up derailing a late-season playoff push.
Nearly half of the Phillies' 26-man active roster has refused to get vaccinated against COVID-19, according to the Inquirer, leaving ownership and the front office reportedly "terrified" and "exasperated" that another coronavirus outbreak could keep the Phillies from playing October baseball.
The news that so many players remain unvaccinated against COVID-19 comes as the highly-contagious Delta variant continues to spread across the country, leading to rising infections, hospitalizations and deaths among those who are not vaccinated.
COVID-19 vaccinations are not mandatory for players and coaches in MLB. However, if 85% of a team's players, coaches and clubhouse staff is fully vaccinated, they are eligible to enjoy relaxed COVID-19 health and safety protocols.
Fully vaccinated players wouldn't have to undergo contact tracing. Players and coaches wouldn't have to wear devices that track close contacts.
But the Phillies are one of seven MLB teams that remain below the 85% threshold. They seem unlikely to reach that number this year, a stance that was all-but signaled earlier this month by manager Joe Girardi.
"I don't think you can demand that players do it," Girardi said. "I think it's a personal choice. And you have to deal with it. That's all. I mean, you're going to have little things like this pop up probably more often than teams that are vaccinated. You just pray that they're either false positive, or the guys that are nearby don't get it. I mean, that's your prayer. But, in the meantime, sometimes you have to lose players that don't necessarily have it. And that's the frustrating part."
With so many players choosing not to get vaccinated against COVID-19, the Phillies are left at a competitive disadvantage. If another COVID-19 outbreak occurs again within the clubhouse, it could easily derail a pennant race or playoff series. And MLB will not slow down or stop for a team that has an outbreak at this point with COVID-19 vaccines widely available to players.
That competitive disadvantage has already been felt this season by the Phillies, albeit not to its fullest extent.
Third basemen Alec Bohm tested positive earlier this month while the Phillies were in Boston facing the Red Sox, prompting three other players — starter Aaron Nola and relievers Connor Brogdon and Bailey Falter — to go into quarantine and onto the COVID-19 list as close contacts.
All four players were not vaccinated. Falter and Brogdon returned to the team this past weekend. Nola had to miss two starts and will be on the mound Tuesday night in the Bronx when the Phillies open a two-game set against the Yankees. Bohm is expected to return Wednesday night at Yankee Stadium.
Given the timing of the outbreak around the All-Star break, the Phillies somewhat dodged a bullet. But if something similar were to occur later this year, it could throw a total wrench into the playoff race.
Nevertheless, some Phillies have no plans to get vaccinated anytime soon, leaving ownership and the front office reportedly "distraught" that the clubhouse has shown "such meager" leadership on the matter.
"I don't think it motivates anybody. It's a personal choice," Nola, who now hasn't pitched in two weeks, said Friday, adding that despite this recent scare he still doesn't plan on getting vaccinated. "I'll leave it at that. I don't know what other guys are doing. I think you just have to be careful."
Opposition by many in the Phillies clubhouse to getting vaccinated has been motivated by a number of "influential" players, according to The Athletic. Some have cited achieving herd immunity through already having contracted COVID-19 and developing antibodies as enough protection against the virus.
Veterans like relievers Brandon Kintzler and Archie Bradley, as well as shortstop Didi Gregorius, have blamed injuries on COVID-19 vaccine side effects.
The Phillies weathered an outbreak at their spring training facility in Clearwater, Florida last summer. They had eight players and coaches sidelined in April due to the league's COVID-19 health and safety protocols. 
Having four players sidelined due to COVID-19 this month hasn't cut into the Phillies' recent momentum. But another outbreak could prove costly to a team that has its sights set on hosting playoff games at Citizens Bank Park this fall.
© 2021 WWB Holdings, LLC. All rights reserved
The Philadelphia Inquirer 19 July, 2021 - 04:26pm
"It sucked," said Nola, who was scratched from pitching earlier this month in Boston because he is unvaccinated against COVID-19 and came into contact with a teammate who had contracted the virus.
For Nola, it was a frustrating finish to a frustrating 15 weeks. He spent the previous three seasons as one of the National League's premier pitchers, yet his ERA through 18 starts (4.53) is 12% worse than the league average.
He pitched a shutout in April, was inconsistent in May, lasted less than three innings in a June start, and was placed on the COVID-19 injured list hours before what was scheduled to be his final start of the first half.
The Phillies did not get what they expected from Nola during the first half, yet they will still be in striking distance of first place when he pitches Tuesday night at Yankee Stadium in his first start of the second half.
Their No. 1 starter has pitched at times like a middle-of-the-rotation arm, but the Phillies are two games above .500 for the first time in two months. And their route to October becomes much clearer if Nola can right his season.
"I can point to underlying statistics and say he hasn't had the best luck," pitching coach Caleb Cotham said. "I know luck is part of this game. He would even say he wants to pitch better, but I don't think he's pitched as bad as, say, his ERA says he has. If he just sticks with it and keeps working, we'll look up at the end of the year, and he'll have had a really, really nice season."
There is some truth to Nola's bad luck as his batting average on balls in play (. 331) is at a career-high rate and 48 points higher than last season. Nola's contact rate (73.3%) and average exit velocity (88.8 mph) are on par with his career-best numbers. But more hits are falling against Nola than ever before.
His xFIP — an advanced stat similar to ERA but accounts only for events a pitcher can control such as strikeouts, walks, hit by pitches, and fly balls — is a half run higher than last season but close to where it was in 2018, when Nola was a Cy Young finalist. A low xFIP is usually an indicator that a low ERA could be coming once everything evens out.
But Nola's ground-ball rate (40%) is at a career low, and his fly-ball rate (38.5%) is at a career high. Nola, like most pitchers, is at his best when he's racking up strikeouts and keeping the ball on the ground. Nola's ground-ball rate from 2018-2020 (50.1%) is the seventh-best among all starters. He's still generating strikeouts (11.19 strikeouts per nine innings), but his struggles to get ground balls have been hard to overcome.
Nola battled in the first half with the command of his fastball, a pitch he usually controls with great precision. Hitters are batting .261 this season against the fastball with a .460 slugging percentage after batting .154 last season with a .365 slugging.
Nola is throwing his fastball just as much as previous seasons, but it has been less effective.
"There's been some delivery changes in the last month," Cotham said. "He did some homework. We did some homework, and we saw some things. I don't think they were big things, but small things do create big things in the delivery. I can tell you that he's in a great spot. It's as good as I've seen him move, and it's really similar to years past. I think it does flow through the delivery for him. If you feel good about the delivery and feel good about what you're doing to deliver the ball, the ball is more apt to listen."
Nola spent four days away from the team last week, keeping his arm loose by throwing against a fence at a city park. He said he felt fine on Friday when he rejoined the team in South Philly, and his time on the COVID-19 injured list cost him just one start.
He has pitched his best over his career in July and August as he has a 2.84 ERA in 52 starts over those two months. The Louisiana native likes to pitch when the heat rises, and it will be near 90 degrees when he throws his first pitch Tuesday night.
He won't be listening on the radio. Instead, he'll be trying to right his season after a frustrating first half. And if Nola does, it will allow the Phillies a clearer path to the postseason for the first time in a decade.
"There's context clues," Cotham said when asked if he can tell if the low-key Nola is frustrated. "But that's him. Any pitcher who has pitched as well as he has for as long as he has, you have to have that demeanor. He's very even-keeled. You have to search for like, 'Is he frustrated?' I know he wants to be the best. I think that's what I'll hang my hat on, and I'll keep working for him and with him. When you have that mindset that you don't get too frustrated, you don't get too high or too low, it will come."
MLB.com 19 July, 2021 - 02:32pm
They have the best record in baseball in July at 10-4. They trail the Mets by only two games in the National League East, and New York is vulnerable with Jacob deGrom and Francisco Lindor sidelined indefinitely because of injuries. Also, the Braves will play the rest of the season without superstar Ronald Acuña Jr., the Nationals are in a freefall and the Marlins no longer look like a thorn in the Phillies' side.
Expect the Phillies to be connected to nearly every available closer and starter before July 30. They scouted Cole Hamels' showcase on Friday in Texas. He is about a month away from joining a big league rotation, but word from Texas is that he could help a team. Is he the Hamels from 2008? No. But Hall of Fame general manager Pat Gillick loved to say that a marginal upgrade is still an upgrade. The Phillies could use a marginal upgrade to the rotation.
The biggest upgrade would be getting Aaron Nola right. He starts Tuesday night against the Yankees at Yankee Stadium. Nola missed his last turn in the rotation because he was placed on the COVID-19 injured list. But before that, he posted a 6.00 ERA in his previous seven starts. His 4.53 ERA this season ranks 56th out of 63 qualified starters.
The Phillies have been trying to figure out what's wrong.
"He did some homework, we did some homework, we kind of got together and saw some things," Phillies pitching coach Caleb Cotham said Saturday. "I don't think they're big things. But small things do create big things in the delivery. I can tell you that he's in a great spot. It's as good as I've seen him move, and it's really similar to years past. I think it flows through the delivery with him. If you feel good with your delivery, if you feel good with what you're doing to deliver the ball -- the ball is more apt to listen, because there's belief there.
"He's a very unique mover. It's a very unique delivery. There's a lot of tempo, a lot of rhythm to it. There's a lot of pieces. But there's subtle differences. There's also an element of that guy [from] three, four years ago, he doesn't really exist anymore, right? So, you're always adapting. Your body's different. So, it's kind of acknowledging what he was when he was running his best. And does that make sense now, relative to how he moves -- whether it's mobility, strength -- there's a lot of components. But that's where the training staff, the athletic staff really help kind of collaborate. Yeah, and I think we're onto something."
The Phillies believe Nola has been a bit unlucky, too.
Certain numbers align with that assessment. The differential between his 4.53 ERA and 3.86 xERA is the 43rd highest out of 284 qualified pitchers, according to Statcast. The differential between his .314 wOBA and .303 xwOBA ranks 73rd.
"He would say that he wants to pitch better," Cotham said. "But I don't think he's pitched as bad as his ERA says he has. If he just sticks with it and keeps working, we'll look up at the end of the year and he'll have had a really, really nice season. But I feel really good with the work. He feels really good with the work. And I'm expecting a lot of good things to come."
Nola will make two starts before July 30, including Tuesday's against the Yankees. Two strong starts could narrow the Phillies' focus as they try to figure out how to best spend their limited resources, both in prospects and in payroll flexibility as they approach the Competitive Balance Tax threshold.
Section 215 19 July, 2021 - 02:25pm
Jul 16, 2021; Phoenix, Arizona, USA; Chicago Cubs relief pitcher Craig Kimbrel (46) pitches against the Arizona Diamondbacks during the ninth inning at Chase Field. Mandatory Credit: Joe Camporeale-USA TODAY Sports
One of the biggest names set to be available at this year's trade deadline, the Philadelphia Phillies have been connected to the likes of closer Craig Kimbrel quite frequently over the past few weeks. After all, the team's biggest need is undoubtedly relief pitching, and current Phillies president Dave Dombrowski has already traded for the current Cubs right-hander once before.
Thus far, however, the smoke surrounding the Phillies interest in Kimbrel has been just that — smoke. There's been little indication that owner John Middleton would be willing to go over the luxury tax to afford someone like Kimbrel (he's on a $16 million salary), and the expectation is that Chicago is going to be asking for a rather impressive prospect package in return.
Kimbrel is having the best year of his career (0.53 ERA, 21 saves), and is under contract through 2022 via a team option. You could make the argument that the rebuilding Cubs would rather not carry his salary past this year, but there's still little pressure to deal him in the immediate future. Hanging onto him until the offseason is still a possibility should they fail to receive an offer that suits their liking.
With all of that said, at least one current MLB general manager thinks the Phillies are actually one of the more likely landing spots for the 8x All-Star.
In a recent radio interview with SportsRadio 94WIP's Joe Giglio, MLB insider Bob Nightengale communicated that a GM had recently told him to "watch Craig Kimbrel end up on the Phillies or Giants."
"I had a GM tell me the other day, 'watch Craig Kimbrel end up on the Phillies or Giants.'"
–@BNightengale on @BetQLDaily https://t.co/NSFoUp7DrP
— Joe Giglio (@JoeGiglioSports) July 19, 2021
It's already been communicated by Dave Dombrowski himself (in a recent interview with NBC Sports' John Clark) that the Philadelphia Phillies are in fact looking to buy at this year's trade deadline due to their recent run of good form, and one can only assume that he will be heavily gauging the closing pitcher market. Ranger Suarez is the latest Phillies pitcher to assume closer duties, but he's in all honesty better suited to be a long-reliever.
Having an established veteran in that ninth inning role should have a positive "trickle down" effect on the rest of the team's 'pen.
When it comes to potentially landing Kimbrel, it's simply going to come down to what other teams are offering for him, and how willing the Cubs are to part ways with their All-Star closer. The Phillies don't have a lot to offer in terms of physical prospects (they have the 23rd ranked farm system), but they do have the potential to offer salary relief. A recent report suggested that ownership would in fact be willing to exceed the luxury tax this year if it meant acquiring a serious difference-maker.
Taking on the entirety of Kimbrel's remaining salary would allow Dombrowski to offer lesser rated prospects in return.
The trade deadline is in 11 days, and I would definitely expect more noise to pop up in regards to Kimbrel and Philadelphia.
Build your custom FanSided Daily email newsletter with news and analysis on All Philly Sports and all your favorite sports teams, TV shows, and more.
Your favorite teams, topics, and players all on your favorite mobile devices.
Powered by Minute Media © 2021 All Rights Reserved.