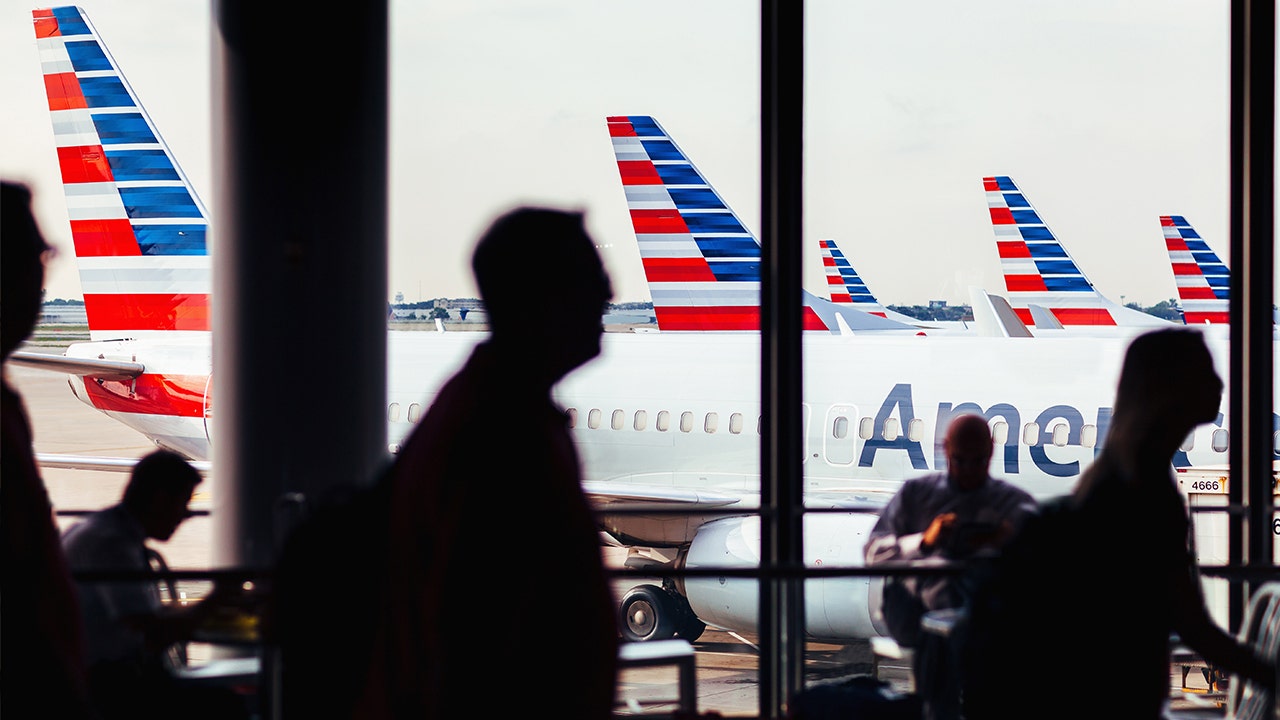 Quotes delayed at least 15 minutes. Real-time quotes provided by BATS BZX Real-Time Price. Market Data provided by Interactive Data (Terms & Conditions). Powered and Implemented by Interactive Data Managed Solutions. Company fundamental data provided by Morningstar. Earnings estimates data provided by Zacks. Mutual fund and ETF data provided by Lipper. Economic data provided by Econoday. Dow Jones & Company Terms & Conditions.
This material may not be published, broadcast, rewritten, or redistributed. ©2021 FOX News Network, LLC. All rights reserved. FAQ - New Privacy Policy
Check out what's clicking on FoxBusiness.com.
A passenger stuck on a canceled American Airlines flight out of Charlotte was arrested Thursday after fleeing the plane through the exit window. 
Flight 2396 traveling from Charlotte to Thurgood Marshall Baltimore-Washington International Airport in Maryland was canceled due to severe weather conditions, which restricted air traffic throughout the mid-Atlantic and Northeast, an American Airlines spokesperson told FOX Business.  
CLICK HERE TO READ MORE ON FOX BUSINESS 
However, the cancelation came after 172 passengers and six crew members had already boarded the plane, according to the spokesperson. 
One of the passengers, Brandon Goldner, who is a reporter with WCNC, tweeted that everyone was stuck on the plane for at least half an hour after the flight was canceled because there was no one to operate the jet bridge and pleaded for help. 
GET FOX BUSINESS ON THE GO BY CLICKING HERE  
Instead, while "waiting for the jet bridge to be repositioned" they "opened the over-wing emergency exit and jumped onto the ramp," the spokesperson said. 
In a follow-up tweet, Goldner shared an image of the open exit door. 
"So a passenger had enough and crawled over us in the exit row and let himself out. They got him by the jet bridge," Goldner tweeted. 
American confirmed that the passenger was "immediately detained" by airline team members and was placed into custody by Charlotte-Mecklenburg police. The passenger was also placed on American's internal refuse list pending further investigation.
The rest of the passengers deplaned after waiting roughly 40 minutes on board. Each customer was rebooked on alternate flights, the airline confirmed. 
"We thank our team members for their professionalism and apologize to our customers for the inconvenience," the spokesperson added. 
This is just one of many flights impacted by a shift in the carrier's operations. 
At the end of June, the airline disclosed that it was being forced to cancel upward of 80 flights per day and had to adjust a "fraction" of its flight schedules in July. 
Despite ramping up operations to meet the recent surge in demand for travel over the peak summer season, the carrier faced unprecedented weather at its largest hubs, ultimately disrupting operations throughout the month. Many airlines have also been hit with staffing shortages as well.
This material may not be published, broadcast, rewritten, or redistributed. ©2021 FOX News Network, LLC. All rights reserved. FAQ - New Privacy Policy
Read full article at ABC News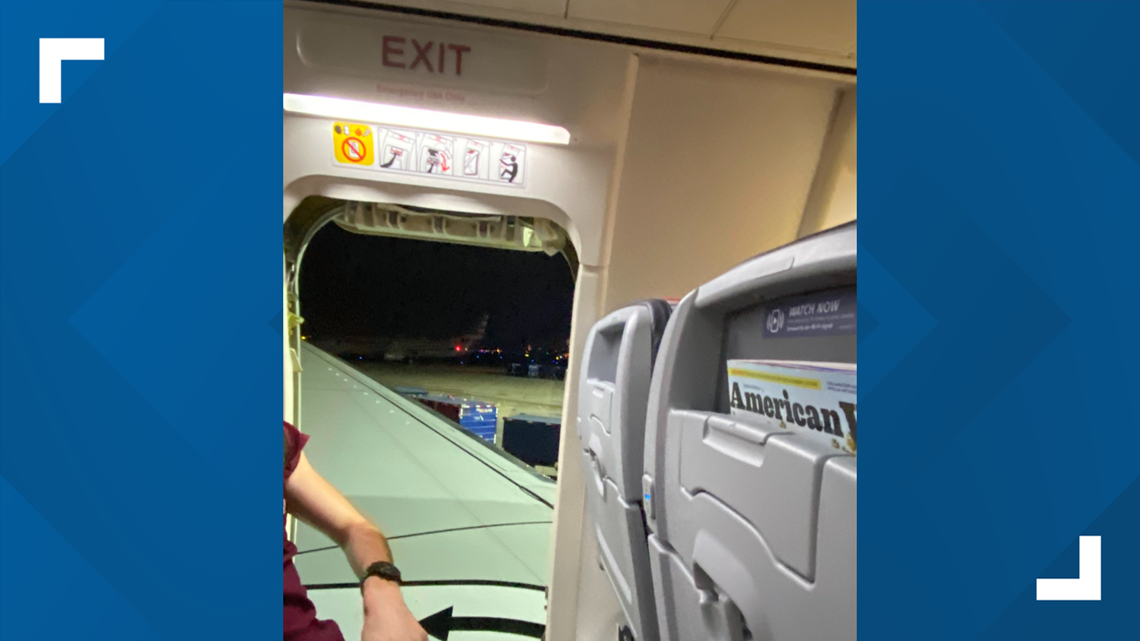 WCNC.com 02 July, 2021 - 06:32pm
CHARLOTTE, N.C. — A passenger on a flight out of Charlotte Douglas International Airport was arrested after opening the exit door of a plane while it was on the tarmac, then climbing out of the plane.
WCNC Charlotte's Brandon Goldner was on that flight and captured images of the incident. The flight was heading from Charlotte to Baltimore, but had been delayed two hours, then eventually canceled. The plane then sat on the tarmac for another 45 minutes while waiting for a gate agent, according to Goldner.
The passenger seemed to be frustrated and tired of waiting, then climbed over other passengers to get to the emergency exit.
The flight had 172 customers and six crew members on board, according to American Airlines. The jet bridge was pulled from the aircraft at roughly 8:55 p.m., and passengers were able to exit the plane from the boarding door around 9:35 p.m.
Once off the flight, Goldner saw as the passenger was led out of the airport in handcuffs. The customer has also been placed on American Airlines's internal refuse list pending further investigation.
American Airlines has provided the following statement to WCNC Charlotte:
As I'm rushing to grab a rental car, the passenger is bring led out of the airport in handcuffs. pic.twitter.com/YoKwEB9zXX
Notifications can be turned off anytime in the browser settings.
News On 6 02 July, 2021 - 06:32pm
American Airlines continues to grow its flight network from Tulsa. The airline has announced new non-stop flights to Washington D.C. and Miami starting in November.
"In order to be a globally competitive city and grow the world's best employers in Tulsa, we must have direct flights to cities like our nation's capital," said Tulsa Mayor G.T. Bynum. "That is why adding more direct flights has been a focus of my Administration, and I am thankful for American Airlines adding this connection to D.C.'s Reagan National Airport. We will continue to work with the leadership team at Tulsa International Airport to evaluate further opportunities for expanding direct flight offerings from Tulsa."
Starting November 2, American will offer daily service between Tulsa and Washington D.C., excluding Saturdays.
Outbound flights will depart from Tulsa at 6 a.m. and arrive in D.C. at 9:29 a.m.
Inbound flights will depart from D.C. at 8:40 p.m. and arrive in Tulsa at 10:35 p.m.
Starting on November 6, American will offer service between Tulsa and Miami on Saturdays.
Outbound flights will depart from Tulsa at 7 a.m. and arrive in Miami at 11:05 a.m.
Inbound flights will depart from Miami at 7:30 p.m. and arrive in Tulsa at 9:45 p.m.
The airline now flys to eight cities out of Tulsa, the largest number at Tulsa International Airport.
Paddle Your Own Kanoo 02 July, 2021 - 06:32pm
A man onboard a cancelled American Airlines flight from Charlotte to Baltimore opened an emergency exit on the Boeing 737 aircraft on Thursday night, climbed onto the wing and then jumped onto the tarmac before he was eventually apprehended by local law enforcement and led away in handcuffs.
The bizarre scenes took place after thousands of American Airlines passengers faced a night of disruption at Charlotte International Airport because of severe summer weather and an ongoing staff shortage. Dozens of flights were cancelled and passengers reported tarmac delays stretching three or four hours.
So a passenger had enough and crawled over us in the exit row and let himself out. They got him by the jet bridge …@wcnc https://t.co/tddHxHvINN pic.twitter.com/NkxCEHS8qc
American Airlines flight AA2396 to Baltimore was due to depart Charlotte at 8:55 pm on Thursday but the flight was eventually cancelled only after passengers had already boarded and the plane had left the gate.
By the time the plane managed to return to the gate, however, there was no American Airlines employee available to attach the jetbridge and let the passengers off. A reporter on board the plane said passengers soon got annoyed and "chaos ensued".
Brandon Goldner, a passenger on the flight and a reporter for WCNC, was sat in one of the overwing emergency exit rows when another passenger crawled over him and activated the emergency exit.
"So a passenger had enough and crawled over us in the exit row and let himself out. They got him by the jet bridge," Goldner wrote in a Twitter post on Thursday night.
He eventually saw the man being led out of the airport in handcuffs although it wasn't immediately clear what the man had been arrested for.
In another Tweet, Goldner said of the delay and subsequent flight cancellation: "Horrible cluster. Waited on tarmac for 2 hrs until they finally canceled due to weather in Baltimore. Then another 45 mins while they waited for a gate agent. People lost their cool. Chaos ensued."
Almost midnight at the Charlotte airport, where we and many others have been waiting three hours for our bags after our connection was canceled. No information or help from @AmericanAir. pic.twitter.com/0GOehouglL
Other passengers also took to Twitter to complain of flight cancellations out of Charlotte, with some saying they had been waiting for three hours just for their baggage to be returned after their flight was cancelled.
Last month, American admitted that it would pre-emptively axe around 1 per cent of its schedule through mid-July because of the airline's pre-agreed maintenance schedule, staff shortages and other issues. The planned cuts account for nearly 1,000 cancelled flights.
In a statement, a spokesperson for American told us: "After boarding was complete, American Airlines flight 2396, with service from Charlotte Douglas International Airport (CLT) to Thurgood Marshall Baltimore-Washington International Airport (BWI), canceled due to severe weather restricting air traffic throughout the mid-Atlantic and Northeast."
"While waiting for the jet bridge to be repositioned, a passenger opened the over-wing emergency exit and jumped onto the ramp. The customer was immediately detained by American team members before being placed into custody by Charlotte Mecklenburg Police. All other customers deplaned normally via jet bridge once the forward boarding door was reopened.
"We thank our team members for their professionalism and apologize to our customers for the inconvenience."
Mateusz Maszczynski is a serving international flight attendant with experience at a major Middle East and European airline. Mateusz is passionate about the aviation industry and helping aspiring flight attendants achieve their dreams. Cabin crew recruitment can be tough, ultra-competitive and just a little bit confusing - Mateusz has been there and done that. He's got the low down on what really works.
Your email address will not be published.
This site uses Akismet to reduce spam. Learn how your comment data is processed.
FOX 46 Charlotte 02 July, 2021 - 06:32pm
The Denver Post 02 July, 2021 - 05:35pm
The extremely busy Independence Day travel weekend got off to a bumpy start Friday at the Denver International Airport with 127 canceled flights and 413 delayed flights by late-afternoon Friday.
The majority of canceled and delayed flights at DIA were by Southwest Airlines, according to Flight Aware. Southwest canceled 75 flights, or 14% of its DIA traffic. The airline had 159 delayed flights, as of about 4 p.m., about 30% percent of its Denver traffic.
Stormy weather on Thursday temporarily halted inbound flights from landing at DIA late in the morning, and Friday weather forecast once again called for thunderstorms with possible heavy rains.
There's a 40% chance of showers and thunderstorms in Denver through 9 p.m. Friday, according to the National Weather Service in Boulder.
"Scattered slow moving thunderstorms with heavy rainfall are expected again this afternoon and evening," the weather service said. "The strongest storms will produce rainfall of 1 to 2 inches in an hour or two."
Locally heavy rainfall is possible through the weekend, with isolated to scattered afternoon thunderstorms, according to the weather service.
"We've been experiencing relentless summer storms across many parts of our country, including some of our busier airports, which has introduced a greater amount of delay than we traditionally see this time of year," said Alan Kasher, executive vice president of daily operations, in a statement. "We want you to have as much confidence in your travel plans as we can possibly give you, and we are working to ensure we deliver the experience you expect from Southwest."
Delta and United airlines had no cancelations at DIA on Friday as of 4 p.m., according to Flight Aware. Delta had five flights delayed, or 8%; United had 79 delays, or 19%.
About 2.5 million travelers are expected to pass through DIA over the Independence Day weekend, and through Tuesday,
Over 2.5 million passengers will travel through DEN this July 4 holiday (July 1-6). Please check https://t.co/gncdWFp6vP for parking availability and other news. #4thofJuly
— Denver Int'l Airport (@DENAirport) July 2, 2021
Sign up for Newsletters and Alerts
WBTV 01 July, 2021 - 10:40pm
According to a press release from the airport, the largest crowds are expected to arrive at the airport on Thursday, July 1, Friday, July 2 and Monday, July 5. Officials estimate 27,000 to 28,000 daily local travelers will pass through the airport on those days.
WBTV spoke with several travelers passing through the airport Thursday evening.
Charlotte resident Chris Grainger said he was flying to Fort Lauderdale for a golf trip. He said he arrived at the airport three hours before his departure time after receiving a warning email from American Airlines.
"I've never gotten an email like that from American like that saying 'get here three hours before departure' so I took it serious but it looks like it won't be too bad," said Grainger.
AAA anticipates more than 47.7 million people will be traveling on the roads and in the air this holiday weekend. The association expects travel volume to nearly return to pre-pandemic levels.
Michelle Sadler, a Yadkinville resident, said she was flying to see her brother in Oregon. She said she was looking forward to the trip.
"I'm actually looking forward to it just because I'm getting away from my kids and my husband for the weekend," said Sadler.
Angel Salinas, a Charlotte resident, said he was heading to Miami to hang out with friends.
"15 months of COVID so we're trying to enjoy the beach," explained Salinas.
He explained that he still felt a little uneasy about traveling again.
"It's still kind of one of those weird feelings, you know coming from a big pandemic, you don't know what to expect, but at the end of the day everyone's getting back to their normal lives so it's a good sight to see," said Salinas.
Officials from the airport remind travelers to get to their security gates three hours prior to a flight. Masks are still required to be worn by travelers while in the airport.