Belinda Post
Belinda_Post
Severe weather wreaking havoc 🌧 in the Midwest. Two changed flights later, finally taking off. Thankful for safety and the hard-working crews. @KCIAirport @SouthwestAir pic.twitter.com/5hTuJquDId
Chris Reece
ChrisReeceWX
We're live from the LAST ROW of the plane with a quick reminder that the nearest emergency exit may be behind you. Our @SouthwestAir Pilot's name is Joe. When we land I'm gonna hit him with "We did it, Joe!" #HoustonBound See y'all back on TV in 10 days. pic.twitter.com/4STxRVjDr0
Dawn Gilbertson
DawnGilbertson
The number of @SouthwestAir delays today has doubled since I wrote this story a few hours ago and today's cancellations now stand at 225. www.usatoday.com/story/travel/airline-news/2021/06/25/southwest-airlines-flights-canceled-summer-storms/5347651001/
Don Wettrick
DonWettrick
So @SouthwestAir just cancelled a flight for a small thunderstorm over Denver? It's already clear & they decided to strand 16 high school students and chaperones! #help pic.twitter.com/wmrf5uAdAK
"No Rules Rules: Netflix and the Culture of Reinvention"
Get it now on Libro.fm using the button below.
"Southwest continually works to attract and retain the best candidates for open positions," a company spokesperson said in a statement to Insider. "As part of this ongoing effort, Southwest is increasing minimum pay rates so that all hourly employees will make at least $15 per hour."
More than 7,000 current employees will see bigger paychecks as a result of the wage hike, Southwest said. The airline added that it will aim for the boost to take effect by August 1 but that some of its work groups will need to negotiate to implement the change.
The wage bump will affect reservations agents, baggage and cargo handlers, and customer service employees, among others, according to Bloomberg, which was first to report the news. The change will spell out an additional $1.30 an hour on average, Bloomberg reports.
The announcement comes in the midst of renewed interest in travel, thanks to reduced coronavirus restrictions and the reopening of the economy. It also closely follows a prediction from Southwest CEO Gary Kelly that the carrier likely doesn't have enough planes to keep up with demand in 2022 and 2023. The airline has enough staff to carry it through the summer, Southwest's vice president of labor relations, Russell McCrady, told Bloomberg.
Southwest is the latest company to struggle finding workers to fill open jobs at existing wage levels. Big names like Amazon, McDonald's and JBS are among those trying to draw new employees with promises of signup bonuses, increased pay and other incentives. Costco boosted its minimum wage to $16 an hour in February. In the same month, Walmart announced it would raise wages for 425,000 workers, although its minimum starting wage would remain $11 an hour.
Read full article at Business Insider
msnNOW 26 June, 2021 - 12:05am
Southwest Airlines plans to raise minimum pay to $15 an hour for about 7,000 employees, citing the need to attract and keep workers as the airline industry continues to recover from the pandemic.
Southwest said Friday that it intends for the raises to take effect on Aug. 1. The airline said that raises for some of the workers will require negotiations with labor unions.
"Southwest continually works to attract and retain the best candidates for open positions," said spokesman Brad Hawkins. "As part of this ongoing effort, Southwest is increasing minimum pay rates so that all hourly employees will make at least $15 per hour."
Southwest's announcement comes as air travel picks up at the beginning of the summer vacation season after the pandemic turned last year's peak season into a disaster. The number of people going through security checkpoints at U.S. airports has topped 2 million seven times in the past two weeks, hitting levels not seen since early March 2020.
However, domestic travel this month is still running 27% below June 2019, according to figures from the Transportation Security Administration.
How you can save $1 million for retirement
How much the most populous states pay mail carriers
Creepy ways your company can spy on you while you work from home
Major companies suspend social media advertising over online hate speech
This bookshop survived earthquakes and recessions. But not this
Jim Cramer on Chesapeake Energy filing for bankruptcy
Should you save for retirement or pay down debt?
Ford just unveiled its 2021 tech-savvy pickup — here's what's new
Amazon looking to get into the self-driving car business buys startup for $1B
Economic outlook as more Americans file for unemployment
5 items you can sell for additional income
5 practical reasons to put purchases on credit
Disney World workers petition to delay reopening of theme park
500 Delta staff have tested positive for COVID-19 and 10 have died
12-Year-Old Boy Shot In Strawberry Mansion
Dallas-based Southwest carries more passengers within the United States than any other airline and is less dependent than rivals American, Delta and United on business travel, which is still in a deep slump. Those factors have helped Southwest fare better than other airlines this year — it turned a small profit in the first quarter, thanks to federal pandemic relief, after losing $3 billion in 2020.
News of the pay raises was reported earlier by Bloomberg.
Southwest has about 56,000 employees, down from about 61,000 a year earlier, according to a regulatory filing. The company announced Wednesday that longtime CEO Gary Kelly will step down next February and be succeeded by Robert Jordan, the airline's executive vice president of corporate services.
Other large companies have recently lifted their wages as employers compete to hire workers. Chipotle Mexican Grill in May hiked its average hourly pay to $15 for its 100,000 workers in 2,800 restaurants.
Currently, 29 states and Washington, D.C., have minimum wages above the federal minimum. The federal minimum wage has stayed at $7.25 an hour for more than a decade, but some large employers also have have raised their pay in recent years amid the Fight for $15 campaign that began with protests by fast-food workers in 2012. 
Like us on Facebook to see similar stories
Please give an overall site rating:
8 News NOW Las Vegas 26 June, 2021 - 12:05am
CBSDFW 26 June, 2021 - 12:05am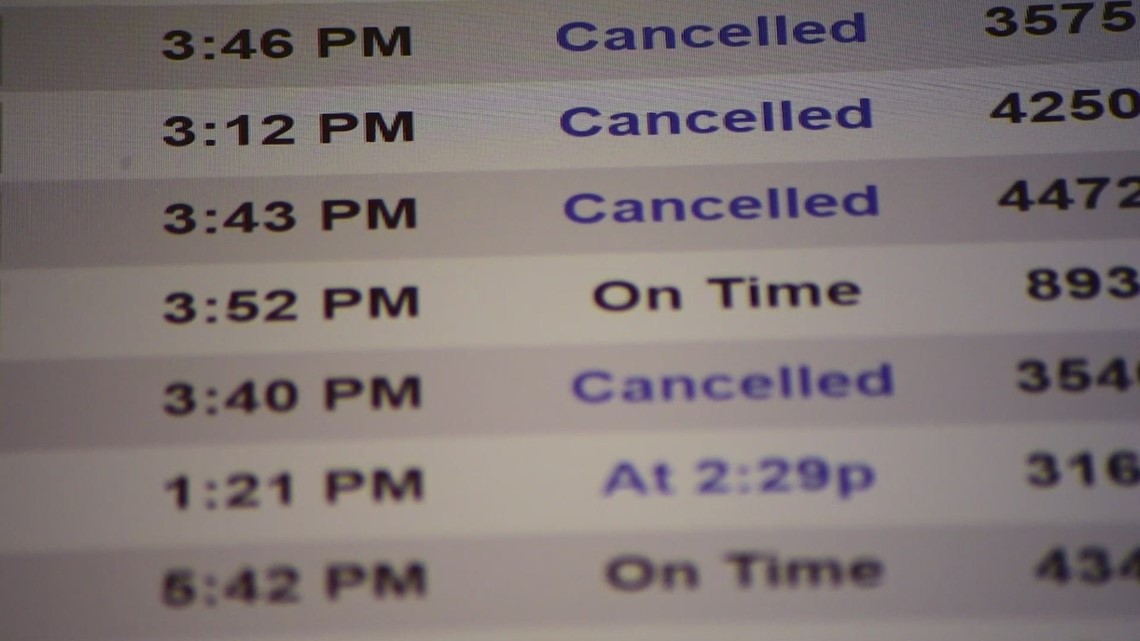 WFAA.com 25 June, 2021 - 04:36pm
DALLAS — Editor's note: This story has been updated to include more information from Southwest.
It could be a messy night of travel for passengers Friday, as flight delays stack up, according to flight tracking website, Flight Aware.
Already, Flight Aware is reporting that more than a quarter (1030 flights, or 27%) of Dallas-based Southwest Airlines' scheduled flights are delayed Friday, with another 161 flights canceled. American Airlines, another Dallas-based carrier, is reporting 348 delays and 65 flights canceled.
On Friday, as delays increased, a spokesperson for Southwest emphasized the carrier was not having any unusual problems. While the spokesperson could not comment specifically on why Southwest had a disproportionately higher number of cancellations and delays than other domestic carriers, he said weather at some of their major hubs - like Denver, Chicago and Orland - was a major factor.
"More summer storms are on the way across much of the country," the spokesperson said in a statement. "To proactively manage our operation, we implemented a scheduled reduction ahead of expected storms and probable air traffic control initiatives."
According to Flight Aware, Dallas Love Field is currently experiencing departure delays between 16 to 30 minutes (and increasing) due to runway in use. Meanwhile, delays at Denver International are currently running an average of 59 minutes because of thunderstorms. All inbound flights to the airport were being held at their origin until Friday at 4:30 p.m. CT.
So far today, Flight Aware has reported more than 3,100 total flight delays within, into, or out of the United States.
Airlines have experienced a sputtered restart to travel, as more and more vaccinated Americans book flights after a year of staying home during the coronavirus pandemic.
On June 12, more than 2 million people streamed through U.S. airport security checkpoints for the first time since early March 2020. Airline bookings have been picking up since around February.
Though air travel has picked up steam, airlines have struggled to keep up, amid computer glitches and a lack of resources.
American Airlines had to cut flights to protect its network from getting overloaded as summer travel season arrives. American previously said cancellations will average 50 to 60 flights a day the rest of June and between 50 and 80 a day in the first half of July - a little more than 1% of its schedule. American has fewer employees than before the pandemic, and the airline said bad weather at key airports, like Dallas-Fort Worth, can make it hard to get reserve crews where they're needed.
Southwest fliers also had to deal with headaches earlier in June as recovered from technology glitches.
What should you do if your flight gets delayed or canceled? Check here for our guide.
Notifications can be turned off anytime in the browser settings.
The Dallas Morning News 25 June, 2021 - 03:00pm
3:00 PM on Jun 25, 2021 CDT
The flight from Wisconsin to Corpus Christi was pleasant and the weekend visit with a friend along the Texas Gulf Coast and San Antonio was a joy. But the night before his return flight, Vohen began getting text messages from American Airlines.
First his 6:29 p.m. flight to DFW International Airport was delayed. Then it was canceled. He made it to Dallas on a late-night flight, but then he had to spend the night and didn't return to Milwaukee until a day after he was originally scheduled to arrive, forcing him to miss work.
Little did Vohen know that both of Texas' major airlines, Fort Worth-based American and Dallas-based Southwest, were in the midst of a seven-day stretch where thousands of flights would be canceled due to technical malfunctions, staffing issues and a basic struggle to ramp back up for a greater-than-expected surge in summer travelers.
"I loved my trip enough that I will probably do it again. In fact, I might even do it with American Airlines again," said Vohen, a 26-year-old who works for a security firm. "The flight attendants and everything else has been great with their service. This is something they can't control and I can't control. I can't blame it on them."
Airline leaders hoping for a swift return to summer travel may be getting more than they bargained for after a year of persuading passengers that it's safe to fly. Since summer travel season kicked off during Memorial Day weekend, the flying experience has been plagued by technical issues, staffing shortages at airlines and in airports, and heightened tensions in the air that have led to a record number of unruly-passenger complaints.
Not only have American and Southwest had their troubles — so have smaller airlines such as Allegiant.
The travel pain continued Friday with Southwest canceling another 155 flights and delaying 682 more, nearly a quarter of all the flights on the company's schedule.
There have been fights in airports, fights on airplanes, long lines, closed airport restaurants and a host of other growing pains right when the airline industry needs passengers the most.
It hasn't deterred passengers, who have returned to air travel in the greatest numbers since the COVID-19 pandemic began. More than 2 million have passed through Transportation Security Administration checkpoints on seven days since June 11. While the number of airline passengers is still 23% below pre-COVID levels, planes for U.S. airlines were about 87% full on average for the week ending June 20, according to industry trade organization Airlines 4 America.
On June 13, some 220,000 passengers came through DFW International Airport, which has been the nation's second-busiest airport this year.
The weekend of Vohen's trip, American canceled hundreds of flights. The carrier blamed it on staffing backups from bad weather in much of the country in late May and June.
Dennis Tajer, a spokesman for the Allied Pilots Association, said the airline "may have bitten off more than they could chew" when it set a summer schedule 20% bigger than its competitors.
American's unions for reservations agents and fleet workers, the employees who prep planes between flights, have complained about being understaffed and mandatory overtime.
To fix the problems, American said it was planning to reduce its schedule by 1% for the first half of July. It also agreed to a deal for limits on mandatory overtime with reservation agents.
"Our focus this summer — and always — is on delivering for our customers no matter the circumstance," American Airlines spokeswoman Shannon Gilson said in a statement. "We never want to disappoint and feel these schedule adjustments will help ensure we can take good care of our customers and team members and minimize surprises at the airport."
Casey Murray, president of the Southwest Airlines Pilots Association, said all of the work groups at his airline are experiencing worker shortages and mandatory overtime.
"The aggressive network plan for June and July was concerning because we're seeing shortages from top to bottom," he said.
Southwest's problems came from a pair of technical issues. First, the carrier's weather data provider failed and the airline deemed it unsafe to fly for about two hours. Then, the next day, June 15, reservation software issues again sidelined flights. On the worst day, Southwest canceled more than 500 flights and more than 42% of its total operations were either canceled or delayed, according to aviation tracking website Flightaware.com.
Kelly Burns of Savannah, Ga., was one such air traveler who ran into problems in May connecting on American Airlines through DFW on a flight to Harlingen to visit family. Her connecting flight to El Paso sat on the runway for 30 minutes before having to return to the gate with engine trouble. With no more flights from DFW to Harlingen that evening, she had to book a flight to Corpus Christi — more than three hours away by car — and ask her dad to pick her up.
Then came the text messages with delays. First, it was two hours, then four. Her flight, originally scheduled to leave DFW for Corpus Christi at 3 p.m., didn't leave until 11.
"We asked for our luggage [in Corpus Christi] and the guy said it's buried under five hours of luggage and they couldn't get it for us," Burns said. "The return trip was delays and undisclosed gate changes that had us running with only one minute to spare to get on the plane."
During the pandemic, airlines were historically reliable. Delays and cancellations fell, and there were fewer flights and less-crowded airplanes. Even weather issues during busy holiday periods went relatively smoothly.
Airlines, particularly American, were hoping for a smoother summer this year after operational difficulties in 2018 from a dispute with mechanics and strains in 2019 from the grounding of the Boeing 737 Max.
And with vaccine distribution ramping up this spring, travel industry officials eagerly awaited passengers to return during the summer peak, even if some segments such as business and international flying were still subdued.
But airports have struggled to get enough workers to staff restaurants and push wheelchairs. American blamed some of its delays on issues with contractors.
The Chick-fil-A at Dallas Love Field has been closing at 2:30 p.m. in recent weeks because the operator can't get enough workers to staff the restaurant, said airport director of operations Mark Duebner.
Canceled flights and closed concessions are inconvenient, but passengers being unruly can be dangerous. Federal aviation and security regulators are seeing an abnormally high number of "misbehavior" complaints. The FAA has received more than 3,100 complaints about unruly passengers so far this year, with about 2,350 of those stemming from passengers refusing to wear face masks.
TSA said Thursday that it would restart self-defense training for flight attendants and pilots, an optional program that was put on hold during the pandemic.
"With unruly passenger incidents on the rise, TSA remains committed to equip flight crews with another tool to keep our skies safe," the agency said in a release.
TSA said passengers going through checkpoints in Louisville, Ky., and Denver assaulted security agents this month. The passenger in Denver allegedly bit two agents, and the incident is under investigation.
Passengers are struggling to readjust to the norms of flying after a year away or with near-empty airports, said Steve Karoly, a former assistant TSA administrator who now works for airport security contractor K2 Security in Bethesda, Md.
"Everybody gets stressed out with flying, that's just the way it is," Karoly said. "But a lot of people haven't flown in a long time or been in crowded places like an airport."
And passengers have adjusted to security changes before, from the security lines installed after the Sept. 11, 2001, terrorist attacks to taking off shoes at checkpoints.
"This will all peter out eventually," Karoly said. "A lot of the problems would be fixed if passengers showed up earlier to give themselves more time to get through the process without any stress."
Despite the rash of delays, cancellations and planes being turned around because of unruly passengers, the travel experience is returning to normal, said travel blogger Brett Snyder of Crankyflier.com.
"All the problems with bad behavior and cancellations, it's still a very tiny fraction of the overall flights," Snyder said. "In general it's getting back to normal, and if you remember, normal is sometimes good and sometimes bad."
Stand with us in our mission to discover and uncover the story of North Texas
The New York Times 25 June, 2021 - 02:58pm
Southwest Airlines plans to raise its minimum wage to $15 an hour to retain and attract employees as the economy and aviation industry rebound. More than 7,000 existing employees stand to benefit from the move, the airline said on Friday.
The airline said it expects the pay increases to take effect on Aug. 1, though the timing for some employees will depend on negotiations with unions. The bump will benefit a wide variety of employees, including ramp agents, cargo handlers and call center representatives
Pay scales vary by function and by union agreements, but the raise will lift wages by an average of $1.30 per hour. For some workers at the lower end of their pay scales, that could equate to a boost of 3 to 10 percent, the airline said.
The news, which was earlier reported by Bloomberg, comes as demand for flights recovers in the United States, fueled by widespread vaccinations and the gradual reopening of businesses and tourist destinations.
On Sunday, the Transportation Security Administration screened 2.1 million people at airports, though that number was still about 25 percent below 2019 levels.
Southwest, based in Dallas, employs more than 56,000 people and is known for having an unusual and relatively casual corporate culture. The company has long encouraged cooperative work, and its management has tended to have better relationships with labor unions representing its pilots and flight attendants than the leadership of other large airlines. All Southwest employees participate in a profit-sharing program, subject to eligibility requirements.
The low-cost airline entered the pandemic with the best balance sheet of any large U.S. carrier, was the first to report a quarterly profit this year, and has added flights to and from more than a dozen airports since the pandemic began. Southwest, which offers few international flights, is also well positioned to benefit from the recovery, which has mainly been driven by a return of travel within the United States.
This week, the airline said its longtime chief executive, Gary C. Kelly, would step down next year and be replaced by Robert E. Jordan, who, like Mr. Kelly, has worked at the airline since the 1980s.
WKRC TV Cincinnati 25 June, 2021 - 01:49pm
USA TODAY 25 June, 2021 - 01:22pm
The airline said it proactively canceled flights ahead of expected summer storms.
A link has been sent to your friend's email address.
A link has been posted to your Facebook feed.
American Airlines just canceled 1,000 flights. Here's everything you need to know about airports, flight cancellations, refunds, restrictions. USA TODAY
Southwest Airlines has canceled nearly 300 weekend flights and delayed more than 1,000 others, the continuation of a rough month for the nation's largest domestic carrier and its passengers.
Southwest canceled 225 Friday flights – far more than any U.S. carrier – and has already canceled 67 Saturday flights, according to flight tracker FlightAware. 
Tardy flights are a big issue, too: Southwest has delayed 1,100  Friday flights, or 30% of its flights, according to FlightAware.
The issues come a week after Southwest canceled or delayed hundreds of flights due to two separate technology issues and a week after American Airlines struggled with operational woes during the busy Father's Day travel weekend and said it would proactively cancel nearly 1,000 July flights to give it more breathing room when weather and other issues crop up.  
Southwest spokesman Dan Landson said the airline canceled flights ahead of summer storms. 
"To proactively manage our operation, we implemented a scheduled reduction ahead of expected storms and probable air traffic control initiatives,'' he said in a statement.
He did not specify any storms, but the airline's representatives on Twitter have been telling frustrated passengers the issues include residual effects of Thursday storms in Chicago and Denver, for example.
Landon said travelers are being rebooked on other flights. But some travelers are finding the next flight isn't always the same day given the busy summer travel season.
Furious @SouthwestAir. Woke up to a text that my flight today (in 4 hours) was cancelled and I was rebooked on a flight 2 days from now. Would mean missing the reason for my trip- my only nephew's 1st birthday.
And plenty of travelers are finding it hard to reach the airline, a universal problem for passengers this summer.
Passengers whose flights are canceled or significantly delayed are eligible for a refund per U.S. Department of Transportation rules, even if the airline has already rebooked them.    
The problem with opting for a refund during peak travel times if your trip is a must and you're on a budget: Finding a last-minute flight on another airline won't be easy or cheap. 
A link has been posted to your Facebook feed.
© 2021 USA TODAY, a division of Gannett Satellite Information Network, LLC.