Can you watch Space Jam on HBO Max?
While there's no way to watch Space Jam: A New Legacy online free, you can watch the sequel on HBO Max. An HBO Max subscription costs just $14.99 a month right now, and you can sign up here. With an HBO Max subscription, you can get instant access to stream the 2021 Space Jam as many times as you'd like for free. BillboardHow to Watch 'Space Jam: A New Legacy' Online
Saturday AM Update: Warner Bros.' long awaited sequel to the 25-year old family classic Space Jam —Space Jam: A New Legacy—had a four point shot at the box office yesterday, with $13.1M at 3,965 theaters, for what will be a $32M opening weekend.
The results squash the second Friday and anticipated weekend of Disney/Marvel's Black Widow, which did $8M yesterday, one of the worst Friday-to-Friday drops for a recent standalone origin MCU title at -80%, on its way to a $25.6M second weekend, a -68% drop, no thanks to the film's availability in homes on Disney+ Premier for $29.99. If you think it's unfair to comp Black Widow to pre-pandemic MCU origin films, well, then, know that her drop is even steeper than the second Fridays of F9 (-72%) and A Quiet Place Part II (-68%). By the end of the weekend, Black Widow will count $131.3M at the domestic B.O.
The total weekend B.O. looks to come in around $93M, off 22% from last weekend's pandemic weekend high of $118.46M. While a notable take for the pandemic, we're still behind 65% when compared to weekend 29 of 2019 (which overall grossed $263.8M; that's when Disney reboot of The Lion King opened). With Canada's Ontario reopening 70% of its theaters (with capacity restrictions) yesterday, the number of 5,88K domestic cinemas in operation currently resides at 83%.
Space Jam: A New Legacy's opening reps the biggest for Warner Bros. during the pandemic, besting Godzilla vs. Kong's 3-day of $28.2M and the best opening for a family movie. The pic is also available day-and-date in homes on HBO Max. It also reps the biggest opening for director Malcolm D. Lee outstripping the $31M debut of Girls Trip and also the filmmaker's third film to open at No. 1. The sequel's opening easily beats the $27.5M opening of Space Jam, not accounting for inflation, which ended its domestic run at $90.4M.
Space Jam: A New Legacy received an A- CinemaScore, the same grade as the first 1996 movie, and saw a bulk of walk-up business last night, especially from teens, indicative of moviegoing for the first Lego movie, which played beyond its family demo. Huge turnout by African Americans at 36%, Latino 23%, Caucasian 32%, and Asian/other 9% in Comscore/Screen Engine PostTrak exits. Space Jam: A New Legacy overperformed in the East and South, but the West was the most dominant territory. Premium Large Format screens drove 4% of the business, I understand.
On CinemaScore exits, those under 18 gave Space Jam: A New Legacy a solid A, while those under 35 gave it an A-, along with the under-25 demo. Males (53%) and females (47%) gave the Lee-directed sequel an A-. PostTrak exits were less brighter than CinemaScore, showing 78% in the top two boxes and 58% recommend, though kids under 12 gave it a 84% positive with a 70% recommend. PostTrak make-up showed 58% guys, 60% under 25 with 48% under 17. Critics aren't so hot on Space Jam: A New Legacy at 31% Rotten, but that's not impacting the box office.
Sony's Escape Room: Tournament of Champions did $3.8M yesterday, including $1.2M Thursday previews, for a 3-day of $8.66M, which is what Sony was expecting on this $15M horror movie. Escape Room 2 received a B CinemaScore, just like its first installment. PostTrack audience exits were at a low 69% with a 44% recommend. The film had a similar diversity make-up as Space Jam 2, 29% African American, 27% Latino, 32% Caucasian, and 12% Asian/other.
Remember it's a PG-13 film, and teens were also heading out to see Space Jam 2, which makes one wonder if this particular Sony sequel was losing business to the animated-live-action hybrid title. An even split between males and females, with 53% under 25, 62% between 18-34. Best business was on the coasts and in the south for this Adam Robitel-directed movie. Critics were so-so on the first movie back in 2019 at 51% Rotten, and their opinions in the horror pic haven't improved at 42% Rotten.
In a sign that that the arthouse biz is coming back slowly: Focus Features' documentary about Anthony Bourdain, Roadrunner from director Morgan Neville, did $760K yesterday (estimated $250K from Thursday previews) on its way to a $1.66M debut in 8th place at 927 theaters for a $1,791 per theater average in 189 markets.
Pic is 95% certified fresh on Rotten Tomatoes and has a 21-day window. Great PostTrak exits here at 94% positive and a 61% recommend. Pic played best on the coasts, with four of its top ten runs coming out of NYC. Females shows up at 52%, with 91% over 25 and 53% between 25-44. Diversity breakdown was 66% Caucasian, 19% Latino, 3% African American and 12% Asian/other.
NEON's truffle hunter-bent-on-revenge feature Pig, starring Nicolas Cage and Alex Wolff, posted an estimated $372K yesterday, on its way to a $1M 3-day in the top 10 from 550 theaters for a $1,818 per theater average. Pic is on a traditional 42-day window, and I hear it posted good results in NY, LA, Chicago, San Francisco and Portland Oregon.
Subscribe to Deadline Breaking News Alerts and keep your inbox happy.
New and returning series on broadcast, cable and streaming
Series that made it or didn't make it in 2020-21
Schedule of shows from the broadcast networks
Get our latest storiesin the feed of your favorite networks
We want to hear from you! Send us a tip using our annonymous form.
Sign up for our breaking news alerts
Copyright © 2021 Penske Business Media, LLC. All Rights reserved.
Read full article at Collider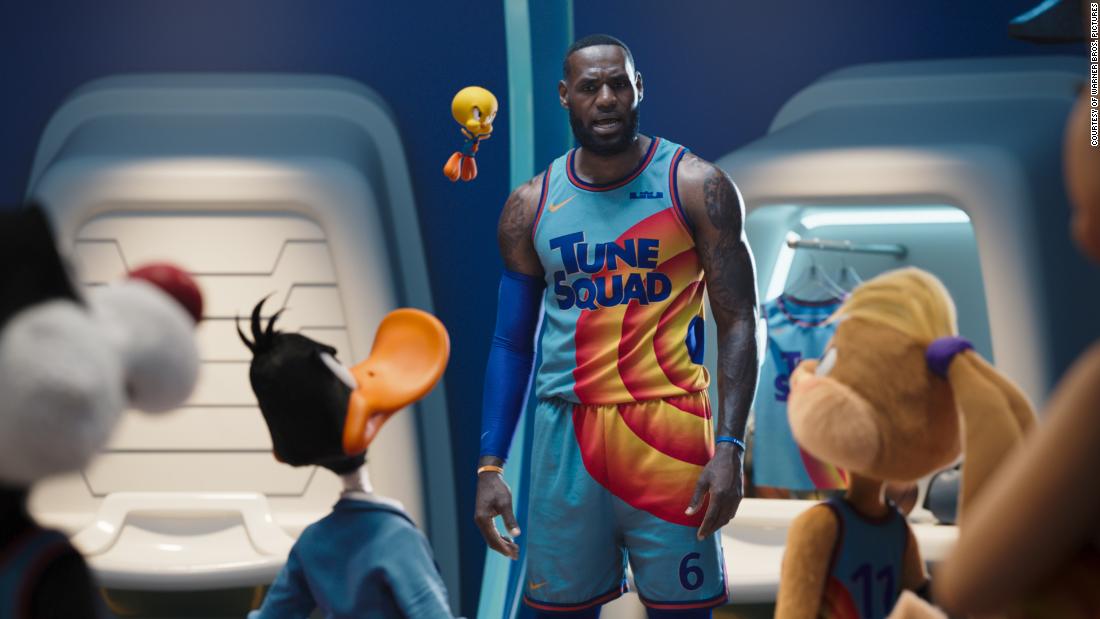 CNN 18 July, 2021 - 03:01am
Updated 11:46 AM ET, Sat July 17, 2021
FilmSpot Trailer 18 July, 2021 - 03:01am
Sporting News AU 18 July, 2021 - 03:01am
The two-hour film featuring the all-time great LeBron James, among other NBA and WNBA superstars, and the classic Looney Tunes from the first "Space Jam" was, in my opinion, perfectly done. It was just the right amount of entertaining, funny and corny with a bit of a real-life twist and some great little references for the basketball junkies that went to enjoy the newest version of an older classic.
Let me be clear right away: I am far from any sort of a movie critic. In fact, walking into the theater, I couldn't even think of the last movie I watched in general, never mind in theaters. I'm no sort of a movie buff, just a hoop head that thoroughly enjoyed the first "Space Jam" and couldn't wait for the remake with the superstar I grew up watching.
With that being said, this "review" contains some spoilers, but I promise to keep it all very surface level for the people that haven't yet watched.
Here are some thoughts on "Space Jam: A New Legacy."
I'm not joking when I say this: the intro video before the movie begins is worth the price of admission alone for NBA diehards.
To set the stage for a full-length movie with LeBron James as the main character, what better way to brace the crowd than a thorough career highlight reel of arguably the greatest player of all-time?
Dating all the way back to his high school days at St. Vincent St. Mary's, the intro video goes through all of the tentpole events over the course of LeBron's illustrious basketball journey. The best part? There's a slight comic-book spin to his in-game highlights to really get you in the "Space Jam" mood.
It honestly left me speechless and I can't wait until the video makes its way to the internet and social media to see it again.
Again, I'm not a movie critic and am in no place to be judging someone on their acting skills.
There are probably professionals out there that will give James an unfair hard time for his performance, but I thought it was enjoyable (and no different from Michael Jordan in the original, to draw an inevitable comparison).
LeBron was authentic to himself and just the right amount of serious but funny, but also corny, and kind of cringey, but in all the right ways. He poked fun at himself, his career and he also had some signature LeBron moments and sayings.
It was a blast to watch him as the main character. 
It's a joyful trip for basketball fans and listen, if you're viewing this movie for the acting, your head is in the wrong place to begin with.
NBA fans love to joke about LeBron handpicking his teammates in real life, so it was only right we got to watch it unfold for the "Tune Squad."
Without going too in-depth, it was great to watch him go from realm-to-realm to land teammates to go up against the "Goon Squad." There were plenty of jokes about his former teams and teammates in the process that NBA fans will appreciate.
The cast of Damian Lillard (Chronos), Anthony Davis (The Brow), Klay Thompson (Wet-Fire), Diana Taurasi (White Mamba) and Nneka Ogwumike (Arachnekka) was great and they all served their purpose in the movie, but I could've used more of their real-life personas in it, just because I enjoy all five of them as players and people and would've liked to see that shine through on the big screen.
Lillard got some real superstar treatment with his signature "Dame Time" moments, which was cool. And they all had moments in the game that paid tribute to their actual on-court skills, which was cool, too.
Again, I don't want to spoil anything, so I'll keep this tree-tops.
If you're an NBA junkie watching this movie, keep those eyes and ears peeled. I picked up on a ton of little hits and references to moments in LeBron's career – even moreso than what was plainly presented on the surface.
From the aforementioned quips toward former teams and teammates to some poking and prodding at some things LeBron has said in the past, they did a great job sprinkling in "nuggets" for the diehard NBA fans.
From the start, they hit you with some nostalgia with a GameBoy Color and they don't look back. Of course, the Looney Tunes are nostalgic in their own right, but it goes beyond that. The big game between the Tune Squad and Goon Squad essentially being NBA Jam is a clear tribute to the long trip down memory lane.
As a Harry Potter and Game of Thrones nerd, I was hyped to see how many references there were to those two cult classics.
But in general, being a Warner Bros. product that was featured on HBO's streaming service, the film was able to touch on so many different realms of famous shows and movies from those two massive production companies.
For stuff that may go right over the heads of younger children watching, it added a nice touch to tailor to the older crowd.
The plot itself was very relevant to parents and children today, making it perfect for a kids' movie.
I don't have kids, but how many parents are probably dealing with a similar situation, trying to push their kids away from video games to play real sports? With the growing prominence of eSports in today's world, it's important to realize the opportunities that electronics, gaming, coding, etc. can bring.
The movie did a solid job of seeing both sides of the argument.
Go see it if you haven't already. It's a perfect family movie and if you're a basketball fan, you won't be disappointed, no matter the age.