NASA Commercial Crew
Commercial_Crew
Launch Update 🚀 @NASA and @SpaceX now are targeting Friday, April 23 at 5:49 a.m. ET for the launch of the Crew-2 mission to the @Space_Station due to unfavorable weather conditions along the flight path on Thursday. Learn more: go.nasa.gov/3tC8IXO pic.twitter.com/ylfQx0u2qT
Thomas Pesquet
Thom_astro
It seems the weather is cooperating, so looks like we will try to launch tomorrow!!! Our friends on the @Space_Station are expecting us to show up and we don't want to be late. They even installed my bedroom recently and literally made my bed 🛏. Such nice hosts! 🙏 #MissionAlpha pic.twitter.com/52X2bhPoTX
Marcos Pontes
Astro_Pontes
AO VIVO - Lançamento @NASA @SpaceX Crew-2 www.pscp.tv/w/c1ExdTF4TlFhYVhxeXh3UWJ8MXlvSk1BanZWZ05KUX0bVISODy547y94ga_FHz9ALjTqTb_FEW7gIS2FIvHb
Christian Davenport
wapodavenport
Inside one hour til the NASA/SpaceX #Crew2 launch and everything GO. The call for propellant loading coming up.
When is the launch?
Rocket Launch: April 23, 2021 5:49 AM ET | SpaceX Falcon 9 Crew-2. In the second crew launch, four astronauts will launch aboard a Crew Dragon spacecraft on a Falcon 9 rocket to the International Space Station from Kennedy Space Center. kennedyspacecenter.comRocket Launch Schedule
The launch is scheduled for Friday at 5:49 a.m. Eastern time from the Kennedy Space Center in Florida. Both NASA and SpaceX are offering marathon live video coverage of the mission from the astronauts' suiting up through the moment they launch. Or you can watch it in the video player above.
This is the latest mission for NASA by SpaceX, the rocket company started and run by Elon Musk. It will be carrying two American, one Japanese and one French astronaut to the International Space Station. That will be a continuation of a successful effort by the space agency to turn over to the private sector the business of taking people to low-Earth orbit.
SpaceX conducted a demonstration mission with two NASA astronauts, Bob Behnken and Doug Hurley, a year ago. The two men then splashed down in the Atlantic Ocean in August. They traveled in the same capsule, named Endeavour, that will fly on Friday.
Months later, SpaceX conducted what NASA called the first routine operational missions for the Crew Dragon spacecraft with four astronauts onboard. That mission, Crew-1, launched in November, and the astronauts are still aboard the station.
Now comes the second operational mission, known as Crew-2.
The weather report for Friday morning foresees a 95 percent chance of favorable conditions at the Kennedy Space Center. Conditions in the Atlantic are predicted to be better than on Thursday.
Should Friday's launch be postponed, SpaceX can try again on Monday.
Once the astronauts completed suiting up, they were seen off by Elon Musk, the founder of SpaceX, and Steve Jurczyk, the acting administrator of NASA.
John Insprucker, a SpaceX engineer said "things were looking good" with the spacecraft and the weather ahead of the launch.
About three hours and 15 minutes before liftoff, the four astronauts and other crew sat down in Tesla Model X SUVs with license plates that read "REDUCE," "RECYCLE" and "REUSE." Before the cars drove toward the launchpad, they said socially distanced goodbyes to their families.
The four crewmates arrived at the launch site and were soon on board the Crew Dragon capsule with about two hours and 30 minutes to go before launch. Shane Kimbrough, the mission commander, and Megan McArthur, the pilot, boarded first, and were followed by Thomas Pesquet, Crew-2's specialist and Akihiko Hoshide, the flight's engineer.
The night before the launch, the astronauts shared some of the last meals they'd enjoy on Earth. "6 months of space food after this!" Shane Kimbrough of NASA said on Twitter.
6 months of space food after this! Thank you to the @NASA_Johnson and @NASAKennedy food lab and food services staff that have been keeping us healthy and well-fed during quarantine. The next time I post about food it will be floating! pic.twitter.com/GOvU2u8Xwy
The astronauts also posted the playlists of music they said they planned to listen to during their drives to the launchpad.
After they arrive at the launchpad, the astronauts board the capsule and spend hours working with mission control to confirm that its systems are ready for flight.
The launch is timed to when the space station's orbit passes over Florida. When the capsule reaches orbit, it will be directly behind the space station but traveling faster in a lower orbit. That allows the Crew Dragon to catch up for docking at 5:10 a.m. on Saturday.
During their 23-some hours in flight, the astronauts will change out of their spacesuits, eat a meal or two, rest and provide updates to mission control.
Once the capsule docks with the station — an automated process — it then takes a couple of hours of checking to make sure there are no air leaks before the hatches open and the Crew-2 astronauts disembark.
Akihiko Hoshide of JAXA, the Japanese space agency. Mr. Hoshide, 52, has made two previous trips to space. He was a member of the crew of the space shuttle Discovery in 2008, and in 2012 he spent four months on the space station.
Shane Kimbrough of NASA. Mr. Kimbrough, 53, is the commander of Crew-2. He has made two previous trips to space, once on the space shuttle Endeavour in 2008 and then spending more than six months on the space station from October 2016 to April 2017.
K. Megan McArthur of NASA. Dr. McArthur, 49, is the mission's pilot and previously flew on the space shuttle Atlantis in May 2009 on the last mission to refurbish and upgrade the Hubble Space Telescope. During that mission, Dr. McArthur, an oceanographer by training, operated the shuttle's robotic arm to grab the telescope and place it in the cargo bay.
Dr. McArthur is married to Bob Behnken, one of the astronauts who traveled on the first astronaut flight of the same SpaceX capsule last year. She will sit in the seat he occupied during that flight.
Thomas Pesquet of the European Space Agency. Mr. Pesquet, 43, previously spent six months on the space station from November 2016 to June 2017, overlapping with Mr. Kimbrough for most of his stay. He is from France.
But that was expensive. And since the space shuttles stopped flying in 2011, NASA has had to pay Russia for pricey rides to orbit using the country's Soyuz rockets.
By choosing a commercial provider, NASA hopes to save money and to spur development of new space businesses, as SpaceX can also sell seats on its Dragon capsule to non-NASA customers.
NASA also selected a second company, Boeing, but Boeing's offering, the CST-100 Starliner, suffered serious software glitches during an uncrewed test flight in December 2019. A redo of that uncrewed test is to occur later this year, and the first trip with astronauts may not occur until next year.
The Crew Dragon is a gumdrop-shaped capsule — an upgraded version of SpaceX's original Dragon capsule, which was used to carry cargo to the space station. This particular capsule, named Endeavour, was used in the first demonstration trip with two astronauts aboard last May.
The Crew Dragon launched successfully on Saturday.
The spacecraft is roughly comparable in size to the Apollo capsule that took NASA astronauts to the moon in the 1960s and 1970s. SpaceX says the Crew Dragon can be configured with seating for seven people. But for the NASA trips, there will be just four astronauts at a time.
The four astronauts who launched to orbit in November during the Crew-1 mission are still at the space station. Those four astronauts and the Crew-1 capsule are scheduled to return to Earth on April 28.
The Crew Dragon is far more advanced than what NASA astronauts sat in 50 years ago and even sleeker than the space shuttles. Fancy touch screens replace the buttons and joysticks that were used in earlier spacecraft.
If you think you're able to fly a Crew Dragon yourself, SpaceX provided a web version of the system that the NASA astronauts would use if they needed to override the spacecraft's automated systems. Some YouTube users have helpfully explained how to actually complete the docking.
Indeed, Thomas Pesquet, the French astronaut on Crew-2, will have some fine dining options prepared by renowned French chefs awaiting him in space. Here are some of the foods that Mr. Pesquet and his fellow astronauts will enjoy during his six-month stay in orbit: lobster, beef bourguignon, cod with black rice, potato cakes with wild mushrooms and almond tarts with caramelized pears.
Alain Ducasse, a chef who operates renowned restaurants around the world including Benoit in Manhattan, and Thierry Marx, another Michelin-starred chef, are among the masters of gastronomy on Earth who have worked with space agencies to produce these meals.
That's part of efforts to have meals available that astronauts can share with their colleagues to celebrate special occasions. But even everyday space cuisine that NASA now provides for astronauts these days is "pretty fantastic," said Shane Kimbrough, the NASA astronaut who commands Friday's SpaceX mission.
Ryan Dowdy, who just left NASA after managing food on the space station for more than two years, says there are some 200 items on the menu to ward off monotony. "There's no grocery store," he said. "You can't DoorDash anything. You got to make do with what's there."
He says the pulled beef brisket and the macaroni and cheese are particularly scrumptious.
But American officials are looking to extend the station's life to 2028 or maybe 2030. They so far do not seem concerned. The Russian news agency TASS reported that Dmitry Rogozin, the head of the Russian space agency, said that the exit would be gradual.
The officials said they would work toward building a new Russian space station, although they did not say how the country's underfunded space program could sustain one. With the Crew Dragon becoming operational, the Russian space program lost one of its main sources of revenue: NASA buying seats on the Soyuz rockets.
NASA is negotiating an agreement with Russia in which NASA astronauts would continue to ride on the Soyuz in exchange for Russian astronauts going to space in SpaceX and Boeing capsules. In that arrangement, no money would be exchanged, but it would help ensure that astronauts would be familiar with all of the equipment.
The announcement has also come as bilateral tensions have grown between the United States and Russia. Last week, President Biden formally blamed Moscow for hacking operations and placed sanctions on Russian entities. Russia has also entered into an agreement with China to work toward a lunar base in the coming decade.
Still, cooperation between the two countries in space goes back decades before the Soviet Union fell apart. Even in 1975, during the Cold War, NASA and Soviet spacecraft docked in orbit, and the astronauts greeted each other. Later, American space shuttles flew to the Russian Mir space station, and several NASA astronauts lived aboard Mir.
A Covid-19 superspreader event at the space station would disrupt operations.
The interior of the space station has a volume equivalent to a Boeing 747 jetliner, so there would be space for infected crew members to isolate themselves. But space station managers certainly would not want to worry about the virus spreading in the station's perpetually filtered and recycled air.
During a news conference last week, Shane Kimbrough, the NASA astronaut who is the commander of Crew-2, said all four astronauts had received Covid vaccinations. "I guess it went fine," he said. "We all have a little bit different reactions, just like most people do. So we're no different in that regard. But we're thankful that we have the vaccines."
The three astronauts who launched in a Soyuz rocket to the station earlier this month — Oleg Novitskiy and Pyotr Dubrov of the Russian space agency and Mark Vande Hei of NASA — were also vaccinated.
The four astronauts of the Crew-1 mission are not, because no vaccines were available when they launched last November. When they return to Earth, every human not on the planet will be vaccinated against Covid-19.
Read full article at The New York Times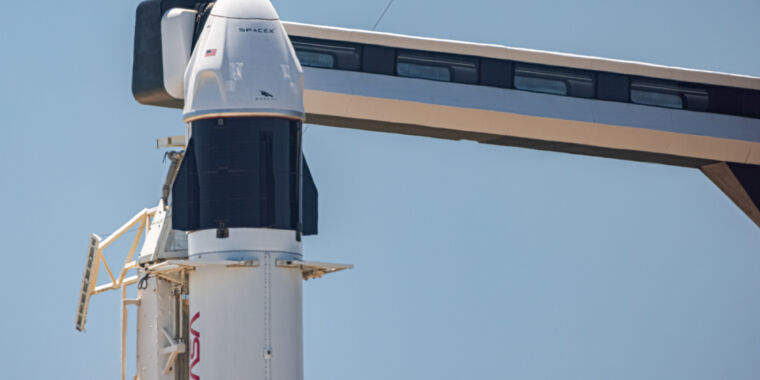 Ars Technica 23 April, 2021 - 04:00am
Sign up or login to join the discussions!
SpaceX and NASA say they are ready for the launch of four astronauts to the International Space Station early on Friday morning.
This Crew-2 mission—comprising NASA astronauts Shane Kimbrough and Megan McArthur, Japanese astronaut Akihiko Hoshide, and European astronaut Thomas Pesquet—is scheduled to launch from Kennedy Space Center at 5:49 am EDT (09:49 UTC) on Friday. Weather conditions appear favorable, but if there is an issue SpaceX has a backup opportunity on Monday at 4:48 am EDT (08:48 UTC).
With this mission, SpaceX will be seeking to fly astronauts into orbit for the third time, following the Demo-2 mission in May 2020 and the Crew-1 mission in November. Notably, this launch will seek to reuse the Falcon 9 rocket first stage (from the Crew-1 launch) and the Crew Dragon spacecraft (from Demo-2).
This flight will therefore bring SpaceX closer to its goal of fully reusable orbital spaceflight.
After the Crew-1 launch in November, NASA officials performed detailed inspections of the booster. None of the rocket's nine Merlin engines needed to be replaced, but the turbine wheels inside two of the engines were swapped out. These are fast-spinning parts inside the engine prone to wear-and-tear and potentially cracking. NASA has been working with SpaceX on its design for about five years, said Tom Simon, NASA's certification manager for SpaceX Crewed System, in an interview.
"We've been fairly stable on the design but we needed to look at exactly how it's used, and then when cracks might start to show up," Simon said of the turbine wheels. "We needed to convince ourselves that, especially with crew, we would not put one in that is at that point where it could start having cracks. Because it's very unpredictable if that crack will stay just a small crack or lead to something catastrophic."
Given these concerns, even before the launch of the Crew-1 mission, NASA and SpaceX planned to replace these two specific turbine wheels before the next launch. The wheels are inside the engines that relight for the landing burns used during the return of the rocket. NASA was pleased to find that none of the turbine wheels in the other engines needed to be replaced, Simon said.
SpaceX also replaced one of the Falcon 9 rocket's landing legs, which had a slightly harder impact than is nominal. Simon said the partnership worked well and NASA has now certified crew missions to fly on Falcon 9 rockets that have flown once. Further certification will be needed before NASA signs off on flying crew on more experienced boosters.
Assuming favorable weather on Friday morning, and if the Falcon 9 rocket and Crew Dragon spacecraft are in good condition, the SpaceX launch director will give the go for propellant loading 45 minutes before the launch. By this time, the crew will already have been on board the vehicle for nearly two hours, getting situated inside Dragon.
If the rocket launches, Dragon will reach orbit about 9 minutes after liftoff. The vehicle will then spend nearly a full day matching its orbit to that of the International Space Station, with docking scheduled for 5:10 am EDT (09:10 UTC) on Saturday.
The new arrivals will then spend four days getting acclimated board the space station before the four members of the Crew-1 mission—NASA astronauts Michael Hopkins, Victor Glover, and Shannon Walker, along with Japanese astronaut Sôichi Noguchi—undock on April 28 and return to Earth. This departure date is dependent on good weather in the splashdown area for the Crew Dragon vehicle, off the coast of Florida. This crew will have spent 164 days in space, setting a record for a long-duration mission by a US spacecraft.
The joint NASA-SpaceX webcast will begin at 1:30 am EDT on Friday (05:30 UTC).
You must login or create an account to comment.
Join the Ars Orbital Transmission mailing list to get weekly updates delivered to your inbox.
AP Archive 23 April, 2021 - 04:00am
FRANCE 24 English 23 April, 2021 - 04:00am
Phys.org 23 April, 2021 - 03:10am
SpaceX aimed for a split-second liftoff at 5:49 a.m., an hour before sunrise. Good weather was forecast, not only at NASA's Kennedy Space Center but all the way up the East Coast in the event of a launch abort and emergency splashdown. Poor offshore weather prompted SpaceX to skip Thursday's attempt.
For the first time, SpaceX was using a recycled Falcon rocket and Dragon capsule for a crew launch. The capsule soared on the company's first astronaut launch last May, and the rocket hoisted the second crew in November.
Spacecraft commander Shane Kimbrough and his crew will replace that second set of astronauts, who will return to Earth next Wednesday in their own SpaceX capsule.
Joining Kimbrough for a six-month space station mission: NASA's Megan McArthur, France's Thomas Pesquet and Japan's Akihiko Hoshide. All have flown in space before.
McArthur had the same seat in the same capsule as her husband, Bob Behnken, did for SpaceX's debut crew flight. This time, he was the one huddling outside the Teslas with their 7-year-old son, saying goodbye. McArthur blew kisses and offered virtual hugs from a safe social distance.
The other astronauts' spouses and children also gathered alongside the Teslas for photos and "love you's," as Musk and NASA's acting administrator, Steve Jurzcyk, watched from afar. The crowd was kept to a minimum because of the pandemic.
SpaceX picked up the station slack for NASA after the agency's shuttles retired in 2011. SpaceX began supply runs the following year.
© 2021 The Associated Press. All rights reserved. This material may not be published, broadcast, rewritten or redistributed without permission.
More from Astronomy and Astrophysics
Your feedback will go directly to Science X editors.
Get weekly and/or daily updates delivered to your inbox. You can unsubscribe at any time and we'll never share your details to third parties.
Medical research advances and health news
The latest engineering, electronics and technology advances
The most comprehensive sci-tech news coverage on the web
This site uses cookies to assist with navigation, analyse your use of our services, and provide content from third parties. By using our site, you acknowledge that you have read and understand our Privacy Policy and Terms of Use.