SpaceX
SpaceX
Falcon 9's first stage has landed on the Of Course I Still Love You droneship – the 9th landing of this booster pic.twitter.com/wzPjMsu2z3
Michael Sheetz
thesheetztweetz
News – SpaceX says it has received more than 500,000 orders for Starlink satellite internet to date, but the $99 deposits are fully refundable and do not guarantee service. www.cnbc.com/2021/05/04/spacex-over-500000-orders-for-starlink-satellite-internet-service.html
Jonathan McDowell
planet4589
The 60 Starlink satellites have been deployed from the upper stage. The Falcon 9 upper stage will now perform a deorbit burn and break up in the atmosphere over the ocean southwest of Australia
Christian Davenport
wapodavenport
Well at least we got one launch today. SpaceX Falcon 9 lifts off from pad 39A with another batch of Starlink satellites. pic.twitter.com/IzRSyZHh7J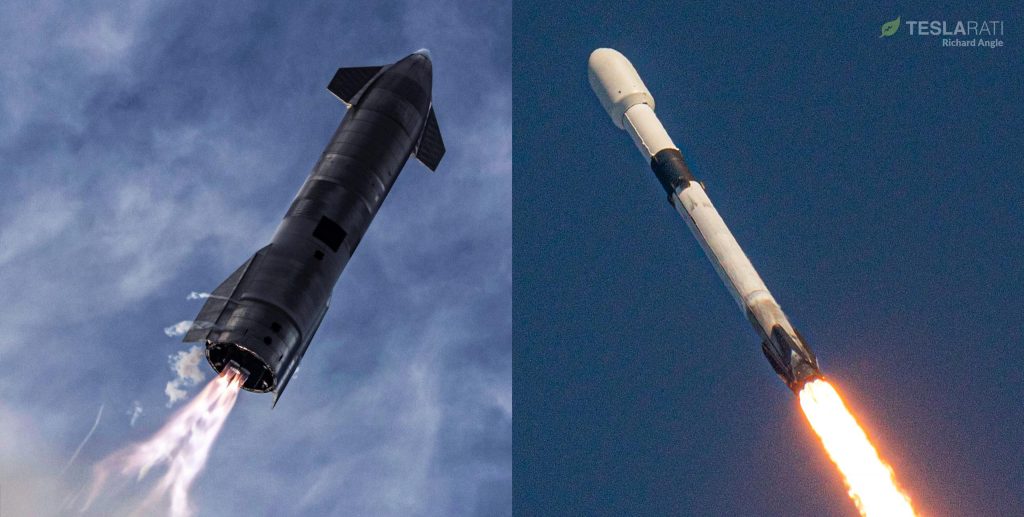 Barring delays, SpaceX appears to be on track to launch a batch of 60 Starlink satellites and perform a fifth high-altitude Starship flight test mere hours apart on Tuesday, May 4th.
Around 1am on May 3rd, SpaceX completed a successful wet dress rehearsal (WDR) and static fire test with Falcon 9 booster B1049, an expendable upper stage, and the latest stack of Starlink satellites. Around eight hours later, as per usual, SpaceX confirmed via social media that the test was a success and that its 25th operational Starlink mission is scheduled to launch no earlier than 3:01 pm EDT (19:01 UTC) on Tuesday, May 4th.
Simultaneously, after a handful of delays, SpaceX also appears to be on track to attempt the first launch of a Starship with "hundreds of improvements" sometime between ~1pm and ~8pm CDT (18:00-01:00 UTC) on the same Tuesday.
Targeting Tuesday, May 4 at 3:01 p.m. EDT for Falcon 9 launch of 60 Starlink satellites from LC-39A in Florida, but team is keeping an eye on weather in the recovery area
F9/Starlink L25: SpaceX test fired a Falcon 9 first stage at KSC pad 39A at 1am EDT Monday; test appeared normal; we'll await an update from SpaceX on test results and plans to launch another 60 Starlink internet satellites Tuesday pic.twitter.com/R1ZHPLZjZA
Starlink-25 will be SpaceX's second daylight Falcon 9 launch in months – rare as of late due to arcane specifics of the constellation's orbital mechanics. Aside from generally offering a much better view of the launch, Starlink-25's 3:01 pm EDT launch target means that Falcon 9 and Starship SN15 could technically launch at the exact same time in Florida and Texas.
While it's unlikely if SpaceX would actually allow truly simultaneous launches and unclear if such a thing is even possible, it is possible that SpaceX could launch Starship SN15 at some point in the ~50 minutes Starlink-25 will be quietly coasting in orbit. More likely, though, SpaceX will use Starship SN15's eight-hour window and wait until Starlink-25 is complete unless some kind of encroaching weather system shrinks that window to a few hours.
That still means that Starlink-25 and Starship SN15 could launch less than six hours apart, though it's far more likely that the experimental rocket prototype will suffer minor delays and grow that gap to a day or two. Additionally, SpaceX itself cautions that it's "keeping an eye on weather in the [Starlink-25] recovery area," meaning that conditions at sea could also delay the Starlink launch a day or two.
Ultimately, it looks likely that both rockets will launch before the week is out. Stay tuned to find out just how 'back to back' they'll actually be.
Miami Mayor Francis Suarez showed his support for Tesla's Robotaxi fleet via Twitter recently....
Update: For unknown reasons, possibly including technical issues or subpar weather, SpaceX has scrubbed...
Elon Musk has remarked in the past that the Tesla Cybertruck looks like a...
UPDATE: The manufacturer of the device, TapTes, removed the device from its online store...
Fresh off the successful flight of SpaceX's Crew Dragon to the International Space Station,...
Copyright © TESLARATI. All rights reserved.
Read full article at CNBC
Yahoo Finance 04 May, 2021 - 05:00pm
Florida Today 04 May, 2021 - 12:35pm
Watch live as SpaceX targets 3:01 p.m. ET Tuesday for the launch of 60 Starlink satellites from Kennedy Space Center in Florida.
A link has been sent to your friend's email address.
A link has been posted to your Facebook feed.
To find out more about Facebook commenting please read the Conversation Guidelines and FAQs
Welcome to our new and improved comments, which are for subscribers only. This is a test to see whether we can improve the experience for you. You do not need a Facebook profile to participate.
You will need to register before adding a comment. Typed comments will be lost if you are not logged in.
Please be polite. It's OK to disagree with someone's ideas, but personal attacks, insults, threats, hate speech, advocating violence and other violations can result in a ban. If you see comments in violation of our community guidelines, please report them.
A link has been posted to your Facebook feed.
Watch live as SpaceX targets 3:01 p.m. ET Tuesday for the launch of 60 Starlink satellites from Kennedy Space Center in Florida. This afternoon's mission will include a drone ship landing in the Atlantic Ocean and marks the 26th to date for the internet constellation.
© 2021 www.floridatoday.com. All rights reserved.