Frank Thelen
frank_thelen
Woohoo 🛰 Our shared satellite service startup @EnduroSat is sending their first shared mission into orbit. SPARTAN carries 7 units and is riding to space with the SpaceX Falcon 9 tonight! You can stream the Space X launch here: www.youtube.com/watch?v=8ojGQNPKxqk pic.twitter.com/k9nxGxvuqS
Ed Ludlow
EdLudlow
Who's hitching a ride on @SpaceX #Transporter2 later today? Any interesting startups or payload peeps out there? #SpaceX #RideShare
Emre Kelly
EmreKelly
SpaceX launch director is GO to start fueling Falcon 9 ahead of 1456 ET liftoff of Transporter-2.

Greg Pallone
gpallone13
LETS, LAUNCH THEN LAND: @SpaceX #Falcon9 #Transporter2 mission lifting off at 2:58 pm from Cape Canaveral SFS. Booster coming back for landing less than 10 min after, expect a sonic boom! 🚀 @MyNews13 #News13Brevard pic.twitter.com/T3VweHKnH0
SpaceX is preparing to launch the Transporter 2 mission on Tuesday, June 29 at 14:56 EDT (18:56 UTC) from Space Launch Complex 40 (SLC-40) at Cape Canaveral Space Force Station. This is the second dedicated rideshare flight organized by SpaceX and will carry 88 spacecraft to an approximately 525 km altitude sun synchronous orbit (SSO). That total includes 85 spacecraft from external customers (including orbital transfer vehicles) and three Starlink satellites.
The launch weather forecast shows an 80% chance of acceptable weather with the primary concerns being violation of launch criteria due to cumulus clouds and anvil clouds.
The first stage of the Falcon 9 launch vehicle for this flight is booster B1060, making its eighth flight. This booster began its career almost exactly one year ago with the launch of a GPS III satellite on June 30, 2020. Since then it has lofted five Starlink missions and the Türksat 5A communications satellite. One half of the payload fairing supported Transporter-1 and a Starlink mission, the other half flying on SAOCOM 1B and a Starlink mission.
After launching on a southerly path along the Florida coast and separating from the second stage, the booster will perform a boostback burn that sets it on a course back to Cape Canaveral, where it will touch down on land at SpaceX's Landing Zone 1. This is the first RTLS (return to launch site) landing since December 2020.
The second stage of the rocket will perform a "dogleg" maneuver to turn its course slightly west of south, skirting the West Palm Beach area and keeping its path just off the coast to reach the desired orbital inclination of 97.6 degrees. The fairing halves will be retrieved from the water north of Cuba by recovery ship HOS Briarwood.
After releasing all of the payloads, the second stage of the rocket will perform a deorbit burn on its second orbit a bit more than two hours after launch, reentering over open water in the southern Indian Ocean.
This flight will close out a very productive first half of the year for SpaceX with 20 orbital launches of Falcon 9 rockets, giving them 35 flights over the past 12 months. SpaceX is on a pace to smash their record of 26 launches in a calendar year. Upcoming flights in the second half of 2021 include Starlink launches from both Cape Canaveral and Vandenberg, as well as two crewed Dragon flights, two ISS resupply missions, two NASA science missions, the next Falcon Heavy launch for the US Space Force, three commercial flights of communications and earth observation satellites, and the next Transporter rideshare in December.
The SpaceX rideshare program is set up to provide low prices and routine access to popular orbits such as SSO or orbits that SpaceX will be going to anyway, such as the orbits for their Starlink deployments.  The price of $1 million for 200 kilograms (with additional charges for higher mass) is very inexpensive compared to other launch providers.
On the dedicated Transporter rideshare missions, SpaceX makes a payload stack of several rings that each contain circular attachment points, or ports, with a defined volume around them that can be filled with one or many satellites depending on customer needs.  This allows rideshare launch service providers such as Spaceflight Inc., Exolaunch, D-Orbit, ISILaunch, Nanoracks, and others to purchase one or more ports which can then be used to serve multiple customers.
Exolaunch, a launch services company based in Germany, has four ports holding 10 microsatellites and 19 cubesats massing close to 1 ton for their Fingerspitzengefühl mission. "Fingerspitzengefühl" is a German term, literally translated as "finger tips feeling", meaning intuitive flair/instinct. While the company hasn't released a complete payload manifest, many of the spacecraft on their ports are known.
Transporter-2's crazy RTLS trajectory down the Florida coast this week 🤯 Falcon 9 is truly a beast of a vehicle#SpaceX #Transporter2 #SSO pic.twitter.com/6bIGYM5OrN
— Flight Club (@flightclubio) June 21, 2021
Spaceflight Inc., a launch service provider based in Seattle, Washington, has three ports for their SXRS-5 mission holding two of their Sherpa deployers and customer payloads totaling 7 microsatellites and 29 cubesats, along with one hosted payload. One port will host the Sherpa-FX2 free-floating deployer with 21 cubesats, three microsats, and the TagSat-2 hosted payload. Another port will have Loft Orbital's YAM-2 satellite.
The last Spaceflight Inc. port will host their first OTV (orbital transfer vehicle), Sherpa-LTE1, with an electric propulsion system to allow orbit changes. The Sherpa-LTE and Sherpa-LTC variants add solar panels, a propulsion system, and an avionics/attitude control box to the Sherpa-FX framework. As seems to be both usual and prudent with the first test flight of an OTV, Spaceflight will release all of the customer payloads from the Sherpa-LTE before exercising the new propulsion, power generation, communications, and attitude control systems. At the end of the year, the company is scheduled to fly their first Sherpa with a chemical propulsion system, Sherpa-LTC1.
D-Orbit, an Italian launch service provider, has named their mission "Wild Ride". They are flying their third OTV, ION SCV-003 "Dauntless David". The vehicle carries six cubesats and three hosted payloads. Several of the payloads are in a deployer from another launch service provider, Netherlands based ISILaunch. After deploying the customer satellites, D-Orbit will test payloads dealing with optical communications (LaserCube), on-orbit computing for artificial intelligence and machine learning applications (Nebula), and using machine learning for flood detection (Worldfloods). At the end of the mission they will test a small (1U size) deorbit sail.
Maverick Space Systems again has a deployer mounted to the aft end of the Falcon 9 second stage, as they did on the earlier Transporter 1 mission. The identity of their payloads has not been released.
Another launch service provider, Momentus, had planned to have two of their OTVs and approximately 30 more spacecraft on the flight. Momentus ran into launch licensing issues having to do with their ownership structure and ended up delaying their participation to a later flight.
The launch integrators for a number of other satellites are not currently known.
Some of payloads that will be deployed on the mission include three of SpaceX's Starlink communication satellites.
Orbit Fab's Tenzing microsat provides an on-orbit refueling capability for Benchmark Space Systems hydrogen peroxide fueled propulsions systems using a fueling interface called RAFTI that Orbit Fab developed. The satellite will also test Accion's TILE thrusters.
Several companies have satellites designed to host payloads from multiple customers. Loft Orbital's first two YAM (Yet Another Mission) small satellites, YAM-2 and YAM-3, are on this flight with a variety of imaging sensors for several customers, IoT payloads for Eutelsat, and an on-orbit computing payload for the Space Development Agency.
Several 6U cubesats on the flight are also hosting a variety of customer payloads. In-Space has their Faraday Phoenix satellite with six payloads for various customers. D2/AtlaCom-1 from NanoAvionics hosts a hyperspectral imager as well as X-band communications devices. EnduroSat's SPARTAN has seven payloads.
Our launch team just finished integration of the @nanoavionics #D2Atlacom1 satellite on the #Falcon9 #Transporter2 mission.
— Exolaunch (@EXOLAUNCH) June 11, 2021
Earth sensing applications are also well represented. Satellogic has four of their ÑuSat optical observation satellites with both high resolution and hyperspectral imagers on the flight. Orbital Sidekick's Aurora hyperspectral imaging satellite is a precursor to their upcoming GHOSt constellation. TU Berlin has their TUBIN satellite with a thermal infrared imager. NAPA II for the Royal Thai Air Force is an optical imaging cubesat with two cameras. Aerospacelab's Arthur-1 is a tech demo for a future optical imaging constellation while PAINANI-II from CICESE is a demo imaging cubesat.
For synthetic aperature radar (SAR) enthusiasts, the first satellite from SAR provider Umbra is onboard, as is another Capella constellation satellite and four more satellites for the ICEye constellation.
For the signals intelligence market, Kleos will launch four more of their 6U cubesats that fly in formation to locate Radio Frequency sources, and Hawkeye 360 will launch three more of their Hawk microsats that perform a similar function. The Neptuno test satellite from Deimos also has a similar purpose.
Spire has six more of their LEMUR satellites that perform radio occultation measurements to aid weather forecasting as well as having receivers for maritime AIS and aviation ADS-B signals to track ships and planes. PlanetIQ has their GNOMES-2 radio occultation satellite on board.
There are a number of satellites on the flight for IoT (internet of things) applications. Echostar is hoping to secure their spectrum rights with a successful deployment of the EG-3 cubesat. OQTech has the Tiger-2 cubesat. Expansions of existing IoT networks include Fleet (Centauri 4), Astrocast (five more cubesats), and Swarm (with two dozen or more of their tiny .25U SpaceBEE cubesats).
HawkEye 360's Launch Integration Team with the unpacked #HawkEyeCluster3 spacecraft as they prepare for launch aboard @SpaceflightInc's #SXRS5 mission. pic.twitter.com/ql3Maoe1Ql
— HawkEye 360 (@hawkeye360) June 10, 2021
One of two companies seeking to connect satellites directly to cell phones, Lynk, has their Lynk-06 "Shannon" microsat on the flight. W-Cube from Reaktor Space will test W-band communications.
Two pairs of satellites for the Space Development Agency (along with DARPA and AFRL) will test optical communications links. Mandrake 2A and 2B from Astro Digital were originally scheduled to fly on Transporter 1 but were damaged during payload processing and delayed to this flight. LINCS A & B were manufactured by General Atomics EMS and also have an infrared payload.
The UAE's Ghalib cubesat will allow tracking of falcon migrations. University of Toronto's HERON MKII will host a biological experiment to study the effects of microgravity on a yeast found in human gut flora. QMR-KWT, Kuwait's first cubesat, will allow students to upload code to be run on the satellite.
Read full article at NASASpaceflight.com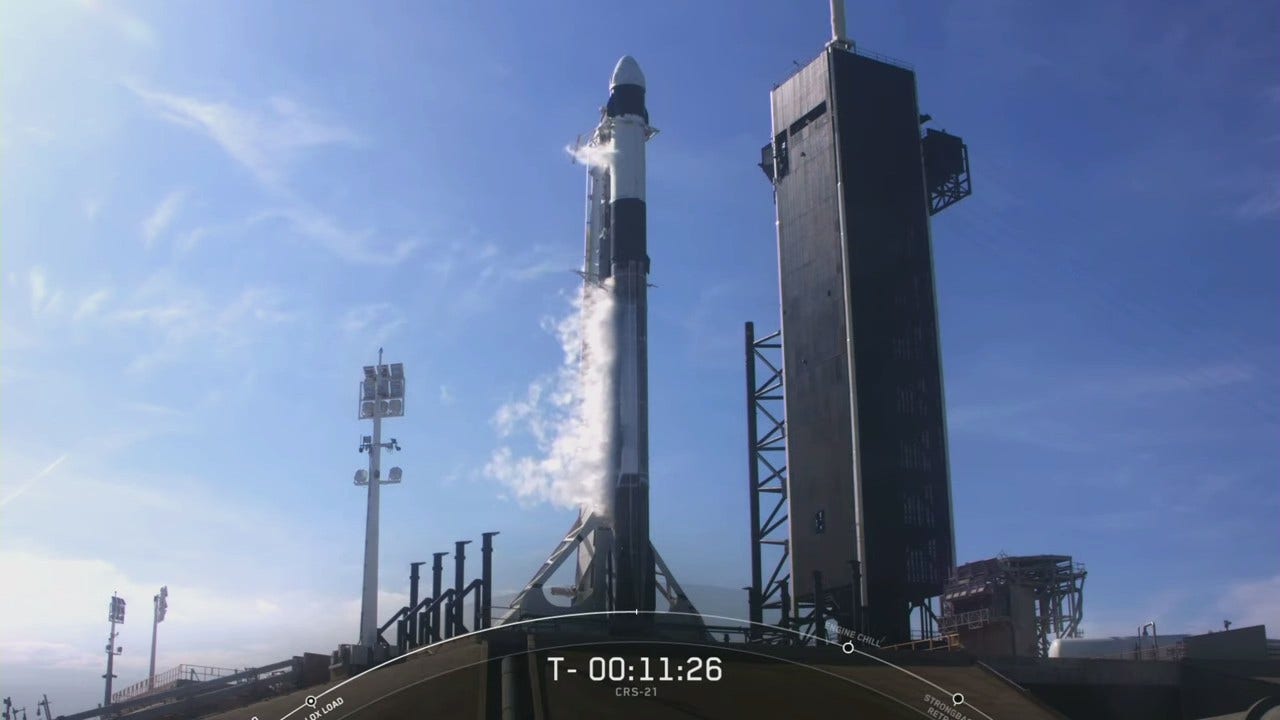 FOX 35 Orlando 29 June, 2021 - 02:43pm
CAPE CANAVERAL, Fla. - You may not just see a rocket launch on Tuesday: you could also feel it.
SpaceX is trying to launch a Falcon 9 rocket from Cape Canaveral on Tuesday afternoon.
The launch is set for 2:56 p.m. and officials say the boom will happen about 8 minutes after.
The Transporter 2 mission is expected to carry 88 small satellites into orbit.
When the launch happens, you can watch it live by downloading the FOX 35 News App. Download for iOS or Android. 
Watch FOX 35 News for the latest space updates. 
This material may not be published, broadcast, rewritten, or redistributed. ©2021 FOX Television Stations