News 13 Orlando 29 June, 2021 - 03:36pm
CAPE CANAVERAL, Fla. — SpaceX's attempt to launch and deploy dozens of small satellites for several customers was called off on Tuesday afternoon after the range issued a "no-go."
Hold called due to Range being no-go; teams are setting up for tomorrow's backup opportunity
SpaceX Chief Executive Officer and Chief Technical Officer Elon Musk indicated on Twitter that "an aircraft entered the 'keep out zone'."
The launch of the Falcon 9 rocket for the Transporter-2 mission, in what SpaceX calls a "rideshare" flight, could be attempted again Wednesday, from Launch Complex 40 at Cape Canaveral Space Force Station.
The mission aims to deliver 88 small satellites into sun-synchronous orbit — including the first of those from the Space Development Agency, tasked with developing new technologies for the country's communications and military space defense, like infrared missile detection.
That tech will mean U.S. troops will be able to send and receive data much faster than typical radio communications systems.
Companies such as Lockheed Martin and Melbourne, Fla.-based L3Harris are involved in the effort.
SpaceX delayed the rocket's first launch attempt Friday for more prep time.
Residents in most Central Florida counties, as well as along the coast, may hear one or more sonic booms — SpaceX plans to return the first-stage booster on land this time instead of at sea. The booster should land less than 10 minutes after liftoff at Landing Zone 1 at Cape Canaveral Space Force Station.
Additionally, the Falcon 9 rocket will travel along Florida's east coast over the ocean and may be visible from the ground.
Also Tuesday, Northrop Grumman's uncrewed Cygnus spacecraft is scheduled to depart the International Space Station, more than four months after delivering almost 8,000 pounds of supplies, scientific investigations, commercial products, hardware, and other cargo to station.
Florida Today 29 June, 2021 - 03:36pm
"Unfortunately, launch is called off for today as an aircraft entered the 'keep out zone,' which is unreasonably gigantic," Elon Musk said via Twitter after the 2:56 p.m. liftoff was scrubbed. "There is simply no way that humanity can become a spacefaring civilization without major regulatory reform."
"The current system is broken," he said.
Falcon 9's next window to launch Transporter-2, a mission packed with 88 different payloads for a variety of organizations, opens at the same time – 2:56 p.m. Wednesday. Weather for that attempt is 70% "go," according to the Space Force's latest forecast.
SpaceX did have a nearly hour-long window, but because Falcon 9 was already fueled, it would have taken too long to unload the rapidly warming propellants, then reload freshly chilled kerosene and liquid oxygen. The process always takes 35 minutes from the moment fueling is initiated.
Neither SpaceX nor the Space Force-managed Eastern Range had details to share about the type of aircraft or where it entered the exclusion zone. The zones, also referred to as temporary flight restrictions by the Federal Aviation Administration, are issued for every launch as a way to protect aircraft from potentially catastrophic run-ins with rockets or, in the event of a mishap, their debris.
At the time, SpaceX told the federal agency its software was "a source of frustration" and "shown to be inaccurate at times or overly conservative," according to the report.
Transporter-2 is a unique mission for Florida. Not only will the rocket's 162-foot booster return to the Cape's Landing Zone 1 instead of a drone ship, but the trajectory actually takes it southbound towards a sun-synchronous polar orbit. Spectators should be prepared for loud sonic booms just as Falcon 9 approaches the Cape about eight minutes after liftoff.
For the latest, visit floridatoday.com/launchcalendar.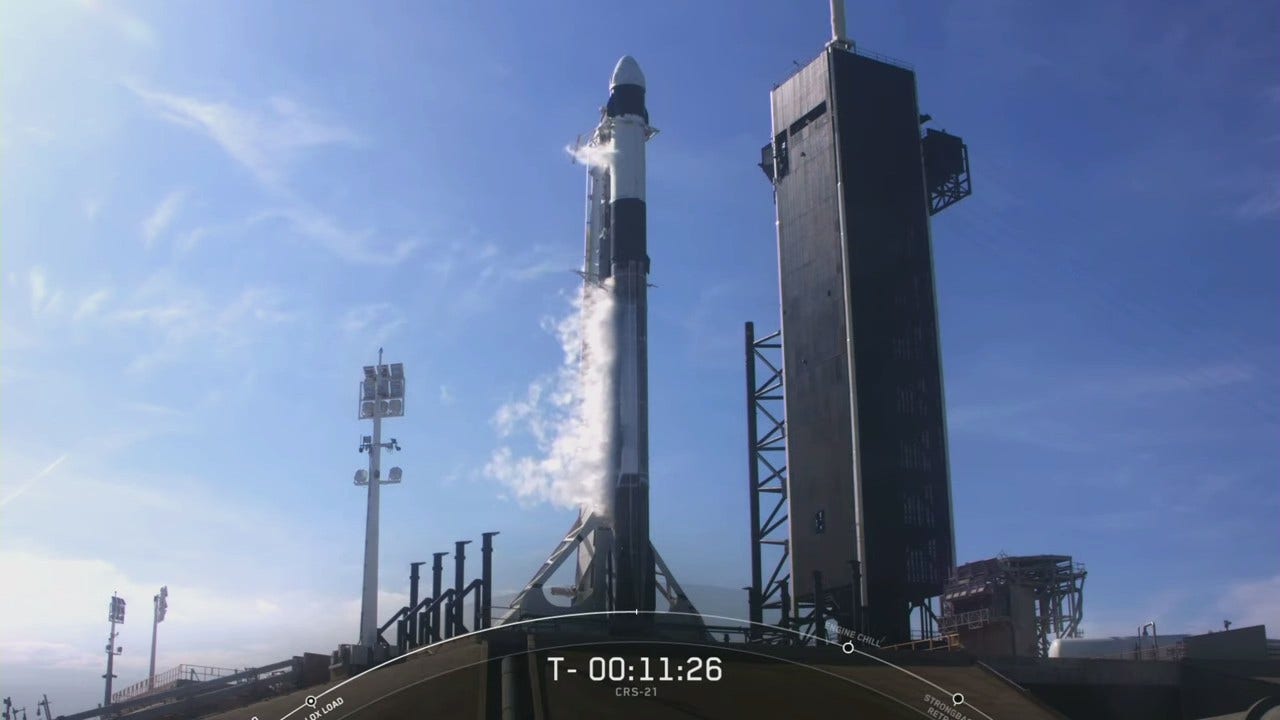 FOX 35 Orlando 29 June, 2021 - 03:36pm
CAPE CANAVERAL, Fla. - It was a no-go for launch Tuesday afternoon for SpaceX. 
With just 11 seconds on the clock, the launch was scrubbed. 
The announcer on SpaceX's livestream said a plane may have been in the vicinity of the Falcon 9 rocket. 
SpaceX tweeted, "Hold called due to Range being no-go; teams are setting up for tomorrow's backup opportunity [sic]"
Elon Musk confirmed that a plane was in the no-fly zone.
SpaceX will try again on Wednesday at around the same time for launch, which was supposed to be 2:56 p.m.
If it does, the rocket's booster will land back at the Cape, not on a barge, which is more common.
The landing will cause a sonic boom, which you may hear and feel in Central Florida.
The Transporter 2 mission is expected to carry 88 small satellites into orbit.
When the launch happens, you can watch it live by downloading the FOX 35 News App. Download for iOS or Android. 
Watch FOX 35 News for the latest space updates.
This material may not be published, broadcast, rewritten, or redistributed. ©2021 FOX Television Stations