Christine Corbett Moran
corbett
Spotted some @SpaceX Starships in Texas 🚀🚀🚀 pic.twitter.com/DGzBoUMPuK
Garrett Reisman
astro_g_dogg
A triple sonic boom could be heard today in 2016 as the @SpaceX Falcon 9 first stage booster touched down at LZ1. This was only the 2nd time a Falcon 9 first stage landed on the ground after boosting a payload to orbit... pic.twitter.com/YzjzEHj4L7

Shane Kimbrough
astro_kimbrough
Happy Saturday from the cupola window on our orbiting spaceship! This is one of my favorite spots to soak up Earth views and take photos. Here @Astro_Megan and I were preparing for the arrival of the @SpaceX cargo spacecraft SpX-22. pic.twitter.com/evKZSI85fm
Kathy Lueders
KathyLueders
Astronauts on the @Space_Station will relocate the @SpaceX Crew Dragon Endeavour spacecraft on July 21, setting the stage for a historic first when two different U.S. commercial spacecraft will be docked to the orbiting lab at the same time. go.nasa.gov/36AUuN8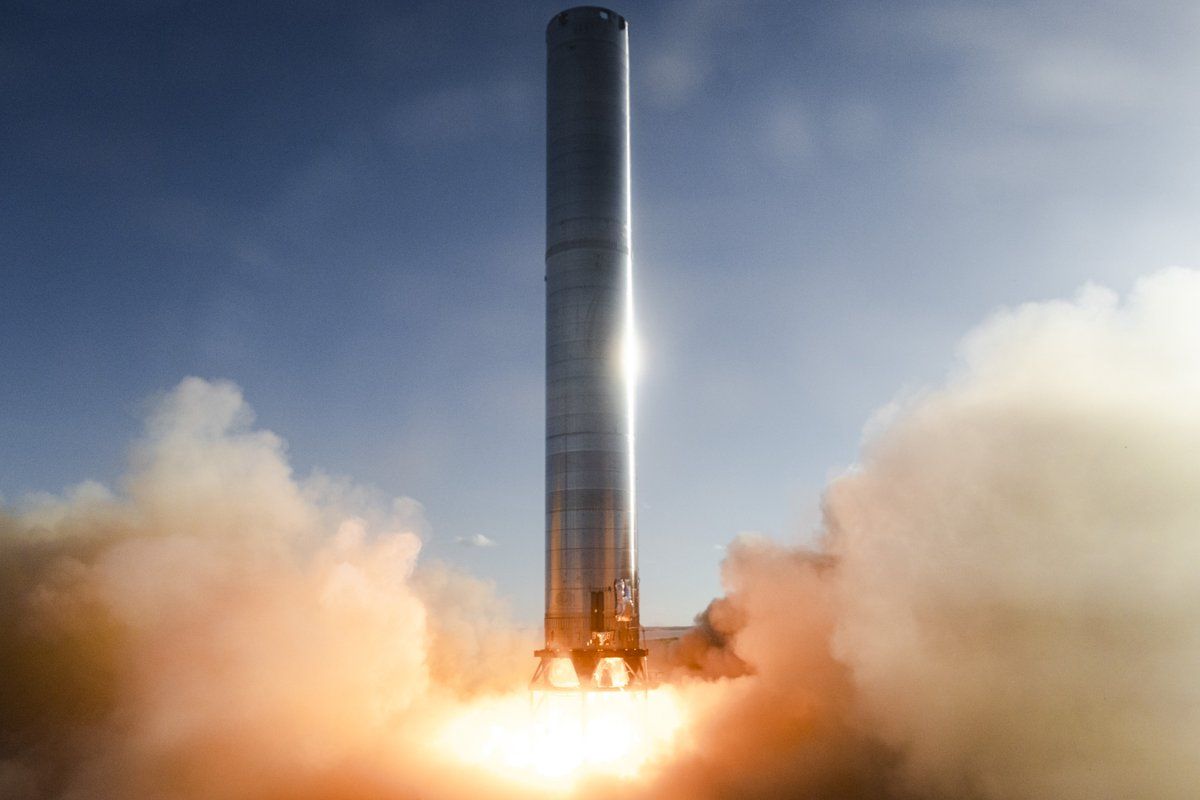 The towering stainless-steel booster, called Super Heavy, ignited three Raptor engines in a brief "static fire" test on a pad at SpaceX's Starbase facility in southern Texas, near the village of Boca Chica. Booster 3, as this particularly Super Heavy is known, is the latest in a series of prototypes for SpaceX's Starship program, which aims to develop a fully reusable launch system for trips to the moon, Mars and beyond. 
"Full duration firing of 3 Raptors on Super Heavy Booster," SpaceX CEO Elon Musk wrote Monday night on Twitter. When asked about the chances of more tests with the rocket, Musk added: "Depending on progress with Booster 4, we might try a 9 engine firing on Booster 3."
Related: SpaceX's Starship and Super Heavy rocket in pictures
If nine engines sounds like a lot, that's already the amount SpaceX uses on every Falcon 9 rocket's first stage. The company's Falcon Heavy rocket, which consists of three boosters and an upper stage, ignites 27 engines together during liftoff. Starship's Super Heavy booster, meanwhile, is expected to use over 30 engines during launch. 
SpaceX's Super Heavy rocket is designed to be a reusable first stage booster to carry the company's massive Starship spacecraft into orbit. It stands 230 feet (70 meters) tall and will eventually carry a 165-foot (50 m) Starship spacecraft on top when SpaceX attempts that vehicle's first orbital flight. 
In May, SpaceX successfully launched and landed a Starship vehicle in a test flight that reached an altitude of 6.2 miles (10 kilometers). The company has said it aims to launch the first orbital flight with Starship as early as this summer, pending booster tests. 
Musk has said that the Booster 3 Super Heavy rocket likely won't fly in space, but will instead be used for ground tests. Its successor, Booster 4, would be the first to launch a Starship. That test flight would launch a Starship prototype from SpaceX's Starbase facility in Texas to a target zone near the island of Kauai, Hawaii, while the Super Heavy booster splashes down in the Gulf of Mexico. Eventually, SpaceX hopes to recover both its Super Heavy and Starship vehicles for later reflight as it does regularly with its Falcon 9 boosters.
SpaceX's Starship and Super Heavy rockets form the core of the company's plans for its future missions to deep space. NASA has picked SpaceX's Starship to land astronauts on the moon as part of the agency's Artemis program, and SpaceX has already sold another Starship flight around the moon to Japanese entrepreneur Yusaku Maezawa. 
Musk wants to use Starship vehicles to help send astronauts to Mars and has said the spacecraft could be fully up and running by 2023, if testing goes well.
Thank you for signing up to Space. You will receive a verification email shortly.
There was a problem. Please refresh the page and try again.
© Future US, Inc. 11 West 42nd Street, 15th Floor, New York, NY 10036.
Read full article at Space.com
India Today 19 July, 2021 - 10:00pm
An FAA spokesman said on Wednesday that the agency's environmental review underway of SpaceX's proposed rocket assembly "integration tower" is "underway," and added that "the company is building the tower at its own risk."
A May 6 letter from the FAA to SpaceX seen by Reuters said recent construction activity on one of the two proposed towers "may complicate the ongoing environmental review process for the Starship/Super Heavy Launch Vehicle Program." The FAA letter said the tower could be as high as 480 feet.
Based on the environmental review, the FAA could order SpaceX to take down the tower. "It is possible that changes would have to be made at the launch site, including to the integration towers to mitigate significant impacts," the May 6 letter said, adding the FAA learned of the tower's construction "based on publicly available video footage."
SpaceX did not respond to a request for comment but Musk has repeatedly criticized the FAA and the U.S. regulatory system.
SpaceX told the FAA in May that it did not believe the review was necessary because it only intends to use the "integration tower for production, research, and development purposes and not for FAA-licensed or -permitted launches," the FAA said.
But the agency said description in documents "indicates otherwise."
The FAA cited a SpaceX document that the towers would be used to integrate the Starship/Super Heavy launch vehicle. "Super Heavy would be mated to the launch mount, followed by Starship mated to Super Heavy," the FAA letter said quoting SpaceX's May 5 submission.
The FAA and Musk have clashed on several occasions.
On June 29, Musk lamented the delay of the launch of Transporter-2 mission in Florida. He tweeted "an aircraft entered the 'keep out zone', which is unreasonably gigantic. There is simply no way that humanity can become a spacefaring civilization without major regulatory reform."
Earlier this year, the FAA said SpaceX's December launch of Starship SN8 violated its license requirements. Effective March 12, the FAA began requiring an agency safety inspector at all SpaceX launches to "ensure compliance with federal regulations to protect public safety."
FAA Administrator Steve Dickson spoke with Musk on March 12 for 30 minutes to stress "the FAA's role in protecting public safety by ensuring regulatory compliance. He made it clear that the administration expected SpaceX to develop and foster a robust safety culture that stresses adherence to FAA rules," the agency said in April.
Copyright © 2021 Living Media India Limited. For reprint rights: Syndications Today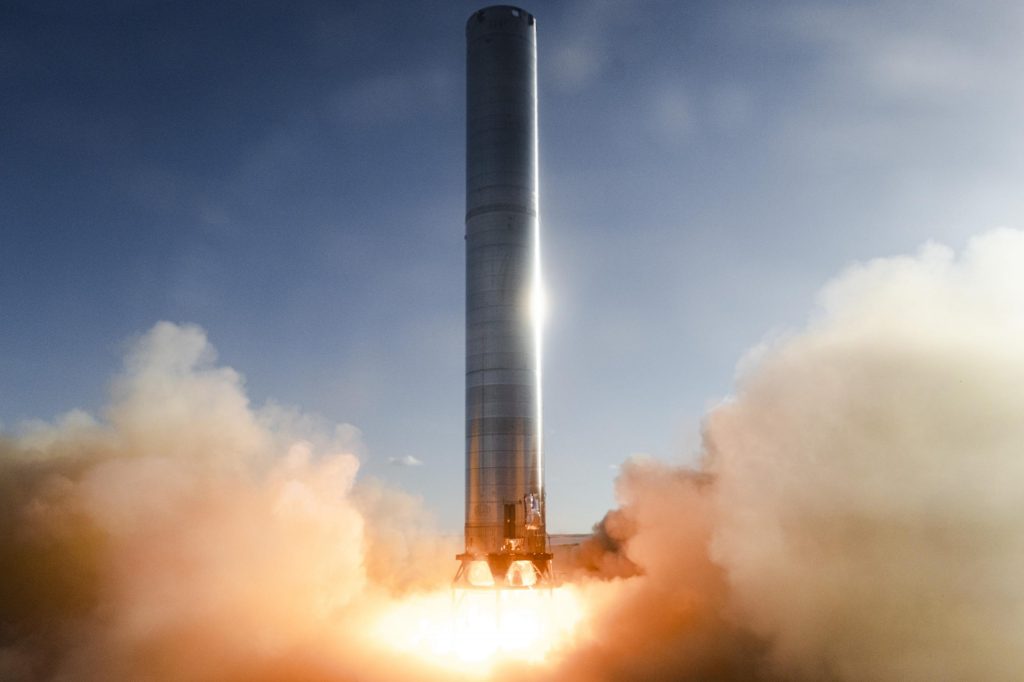 Teslarati 19 July, 2021 - 08:33pm
CEO Elon Musk says that SpaceX has successfully fired up Super Heavy – the largest rocket booster in the world – on the first try, potentially opening the door for a significantly more ambitious 'static fire.'
Known as Booster 3 (B3), SpaceX completed Starship's first functional Super Heavy prototype around July 1st and rapidly rolled the rocket out and installed it on a customized mount previously used for testing and launching Starship prototypes. After a bit less than two more weeks spent finishing up Booster 3's avionics and plumbing and installing one Raptor engine, Super Heavy sailed through its first cryogenic proof test attempt on July 12th.
Rather than flammable liquid methane and oxygen propellant, Super Heavy was loaded with liquid nitrogen – providing roughly the same extremely cold temperature and mass without risking a massive explosion. In the week after that success, technicians rapidly installed two more Raptor engines and completed final closeout work on the building-sized rocket. On July 19th, Super Heavy B3 came alive for the second time.
Full test duration firing of 3 Raptors on Super Heavy Booster!
First static fire test of Super Heavy booster pic.twitter.com/JtvGMfTgPj
After a delay to this week, SpaceX closed the road, cleared the launch pad, and began fueling Super Heavy for the first time ever around 6:20 pm CDT (UTC-5) – six hours into Monday's ten-hour window. Almost exactly mirroring a routine Starship wet dress rehearsal or static fire, the pad and rocket followed a well-documented choreography of tank farm activity, vents, and frost formation, culminating in Booster 3 successfully igniting three Raptor engines around 7:05 pm.
Unlike virtually all Starship prototypes ever tested, including the first fully-assembled ships' first multi-Raptor static fires, Super Heavy Booster 3 – the first functional prototype of its kind – completed its first static fire ever on the first try. In the history of Starship testing, initial prototypes have never smoothly sailed through cryogenic proof or static fire tests on the first attempt. Almost without fail, minor to major issues have arisen either before or during initial test attempts as SpaceX worked through the basics of operating Starship tests.
Super Heavy, Super Venter. pic.twitter.com/tfct9NkLm4
Instead, despite the fact that B3 is quite literally the largest rocket booster prototype ever built in the history of spaceflight and the first of its kind, Super Heavy appeared to run into no obvious issues at all after it was properly prepared for its first two major tests. Put simply, Super Heavy's smooth testing makes it abundantly clear that SpaceX's Starship launch vehicle design, production, and operations are rapidly maturing as the company speeds towards its first orbital launch attempt.
Depending on progress with Booster 4, we might try a 9 engine firing on Booster 3
Meanwhile, Elon Musk says that SpaceX "might try a 9 engine firing on Booster 3" depending on how Booster 4 production progresses – presumably over the next week or two. By all appearances, SpaceX began stacking Super Heavy B4 – the booster tasked with supporting Starship's first orbital launch attempt around July 16th. Based on B3 assembly, Booster 4 could be complete by mid to late August.
With nine Raptors installed, Super Heavy B3 could produce up to 1800 tons (~4 million lbf) of thrust during a brief static fire – just ~20% less than Falcon Heavy. Stay tuned for updates on Booster 3 and Booster 4!
Italian tire maker Pirelli is launching its new "high load" tire specific for Hybrid...
Tesla (NASDAQ:TSLA) has announced that it would be posting its financial results for Q2...
Tesla is closing its first-ever Supercharger to the public. The Supercharger is located at...
Tesla's Standard Range Model Y has finally been approved for sales and production in...
Elon Musk's trial regarding Tesla's 2018 acquisition of SolarCity in Wilmington, Delaware, took an...
Copyright © TESLARATI. All rights reserved.
NASASpaceflight.com 19 July, 2021 - 04:25pm
Following a rigorous test campaign with the Starship prototype vehicles, SpaceX has turned its immediate attention to the booster that will loft its interplanetary spacecraft to new heights.
Following a July 1 rollout down Highway 4 for installation on suborbital Pad A, Super Heavy's pad flow has already included all the preparations required ahead of a Static Fire test.
This ranged from an ambient proof test with nitrogen gas on July 8 ahead of cryoproofing with LN2 on July 12. The latter provided some stunning first-time views of the huge booster's controlled venting.
The installation of the Raptors was staggered, with one installed ahead of the cryoproofing, followed by the other two after the test. The three Raptors are RC57, 59, and 62.
With the pre-firing tests proving successful, there was a slight delay to the expected Static Fire test initially expected last week based on alert notices to local residents such as NSF's Mary (@bocachicagal).
With Elon Musk noting "Probably Monday," the latest alert notice received by Mary aligns, with a test window ranging from noon through to 10 pm, local time.
Booster 3 provides a first-time operation for fueling the huge booster with Liquid Oxygen (LOX) and Liquid Methane (CH4) during the test. How much propellant will be loaded, and the schedule for the sequence was unknown. However, NSF's Adrian Beil wrote a feature on the expectations based on previous experiences with Starship being applied to Super Heavy.
Based on those evaluations, it was expected that Super Heavy would also undergo a Starship-like countdown of 45-60 minutes, with fueling beginning in the 30-40 minute range. Engine chill would then follow at T-12 minutes, ahead of the firing.
As with previous Static Fires, the T-10 minute siren sounded, as per the alert notice to local residents. However, as with Starship, mini-holds can be expected, pushing the ignition time to the right. This proved to be the case on Monday.
The booster fired up all three engines for the expected duration, confirmed by Musk before he noted that "depending on progress with Booster 4, we might try a 9 engine firing on Booster 3."
Once SpaceX completes Booster 3 testing to its satisfaction, its fate is not yet clear. After that, it will be removed from Pad A and rolled back to the Production Site, potentially joining Ship 15 and 16, with the tantalizing potential of the display vehicles being used as a backdrop to Musk's long-awaited update presentation.
Ship 15 and 16 hanging out – via Mary (@bocachicagal) for NSF
The focus will have already moved to Booster 4, which is currently set to launch the orbital test mission.
However, while that launch is still at least a few months away, stacking of the B4 sections has already begun in the High Bay.
Additional sections have already been staged outside the production tents, including BN4 AFT 4 and 5, while the impressive Thrust Puck for Booster 5 has already arrived at SpaceX Starbase.
The staging of hardware has aided the notable production cadence at the Boca Chica site well before assembly. This continues to be the situation for the booster side of production.
The key element for launching missions with the integrated Super Heavy and Starship stack is the Orbital Launch Site (OLS), which remains a hive of activity.
The focus over recent weeks has been raising the sections to complete the Launch Integration Tower, which received its eighth and final major section element on Sunday.
Interestingly, there remain some pieces of the launch tower back at the Production Site that may yet be used to give shape to the top of the tower and house some technical equipment.
Work on the Tank Farm for the OLS has mostly been focused on rolling cryo shells out to the site, ahead of the installation on the GSE (Ground Support Equipment) tanks.
The OLS will host the first integrated Super Heavy and Starship stack, with Ship 20 currently set to be the first to be mated with a booster.
Starbase Production Diagram – 17th July 2021 pic.twitter.com/eip9JnFR5K
— Brendan (@_brendan_lewis) July 16, 2021
The vehicle is undergoing stacking operations inside the Mid Bay, following the usual path for Starship production flow, ahead of receiving its nosecone inside the High Bay.
As expected, the sections are covered in TPS (Thermal Protection System) tiles on the windward side, tasked with protecting the vehicle during re-entry.
While the installation of TPS tile patches has been observed on numerous prototypes, the full array of tiles will be debuted with Ship 20.
This includes the area of the aero surfaces, with a curved installation of TPS observed on an aft flap at the Production Site.
Again following the impressive production cadence routine of SpaceX Starbase, sections for Starship Ship 21 have already been spotted by Mary (@bocachicagal), as the lack of hops has not resulted in a slow down in shipbuilding.
All these future vehicles require engines, lots of them. While Raptors have been arriving into Starbase with increasing frequency, supplying the opening salvo of orbital Super Heavy and Starships will require hundreds of flight engines.
The bulk will be for the boosters, with Super Heavy's opening 29-engine configuration eventually evolving to a 33-engines on the aft.
According to Musk, the final thrust will be around 230 tons per engine, with the outer ring being non-gimbal engines and the inner ones providing the steering for launch and landing. This engine setup will mean that the final thrust of the booster will be 74.4MN, which is more than double that of the Saturn V's thrust of 35.1MN.
Musk appraised a "very accurate" render by artist Erc X, notably showing the increased-Raptor config would have three central Raptors, with ten in the middle ring, accompanied by a default twenty on the outer ring.
— Elon Musk (@elonmusk) July 16, 2021
Further confirmation was received in the differences between sea-level Raptors, with the outer ring Raptor Boost (RB) being without Thrust Vector Control infrastructure compared to the Raptor Center (RC) of the middle and inner-ring, along with no differences in thrust between RB and RC variants as originally anticipated.
The current supply line for Raptors involves production at SpaceX HQ in Hawthorne, California – before being test-fired at SpaceX's test site in McGregor, Texas. They then make a short road trip in the "RaptorVan" to Starbase.
However, Musk noted a new Raptor factory would be built at the McGregor site to cater to the increasing demand for Raptors.
It appears groundbreaking may have already begun, with a new large patch of ground being cleared, as spotted by NSF's Gary Blair in photos provided to L2 McGregor.
Work over the space of a week at a potential Raptor Factory construction spot at SpaceX McGregor via NSF's Gary Blair.
With the recent competition of two extra test bays for Raptor, taking the total to five, having Raptors built and tested at the same Texas site, just a few hours drive from Boca Chica will greatly increase the supply of engines required for SpaceX's ambitious launch schedule for its Starship program.
With a production goal of 2-4 engines per day, the new McGregor factory will focus on the updated version of Raptor called "Raptor 2." In addition, Hawthorne would focus on building Raptor Vacuum (RVac) and "new, experimental designs."
Photos and videos provided by Mary (@bocachicagal) and Gary Blair. Additional information and article assistance was provided by: Adrian Beil, Evan Packer, Ryan Weber, Justin Davenport, and Alexandre Haas.
For live updates, follow NASASpaceFlight's Twitter account and the NSF Starship Forum Sections.
**Support NSF's youtube channel by subscribing and/or joining here**
Inverse 19 July, 2021 - 01:48pm
SpaceX is gearing up to launch the Starship into orbit, the biggest test yet for the ship designed to send humans to Mars and beyond.
Elon Musk's spaceflight firm is expected to launch a prototype model of its vessel, the first full flight of the ship and its booster, sometime in the second half of this year. The firm may complete the first static fire of the Super Heavy booster, the necessary addition to reaching orbit, as early as Monday.
It could prove a big step forward for SpaceX's ship. First unveiled in 2017 under the name "BFR," the Starship is a fully reusable vessel designed to send over 100 tons or 100 people into space at a time. It can replace the firm's existing rockets like the Falcon 9 and Falcon Heavy, while also taking on more ambitious goals like sending humans to Mars and beyond.
SpaceX is not waiting around to start these missions. The firm is aiming to send the first humans to Mars by the mid-2020s, before establishing a self-sustaining city on Mars as early as 2050.
It could all start with the Starship — and at around 400 feet when paired with the Super Heavy booster that lifts it away from the Earth, this thing is huge.
In May 2021, a document from the Federal Communications Commission revealed the plan for the first flight.
The ship will take off from the firm's Starbase, Texas, launch facility. Around two minutes after liftoff, at 171 seconds, the Super Heavy booster will separate from the Starship. The ship will continue to complete a targeted landing around 60 miles northwest of the coast of Hawaii. The whole flight will last around 90 minutes.
SpaceX will not land the booster or the ship on land. The booster will land in the Gulf of Mexico, around 20 miles offshore, at 495 seconds or eight minutes after launch. The ship will complete a targeted powered landing in the sea.
It's unclear. The firm's application to the FCC requested a launch window of June to December 2021.
In June 2021, company president Gwynne Shotwell claimed the firm was "shooting for July" for its first orbital flight. Shotwell told the National Space Society's International Space Development Conference that "I'm hoping we make it, but we all know that this is difficult."
That month, CNN also reported that the firm had yet to receive clearance from the Federal Aviation Administration for the flight. The firm has faced off with the organization ahead of the flight, most recently over a launch tower that the organization claims does not have government approval.
On June 29, Musk claimed at the Mobile World Congress that "we are going to do our best to do an orbital [Starship] launch attempt in the next few months."
Musk later followed up on Twitter:
SpaceX will use the SN20 prototype of the ship for its launch, NASASpaceflight reporter Chris Bergin reported in March.
The firm will send Starship to orbit using a prototype Super Heavy booster dubbed Booster 4. Its predecessor, Booster 3, will be used for ground tests ahead of the launch.
On Friday, Musk posted on Twitter that Booster 3 would "probably" host a static test fire on Monday. This test, a standard for any launch, fires the rocket's engines without letting the vehicle move. It's important to note that SpaceX does not plan to launch Booster 3.
"We're changing much of design from 3 to 4," Musk wrote on Twitter on June 30. "Booster 3 was very hard to build. Expect especially rapid evolution in first ~10 boosters & first ~30 ships."
Fans have noted that the first orbital flight could contain some Musk-style in-jokes. The test is expected to use the SN20 ship and Booster 4 prototypes, a possible allusion to 4/20. The Booster 3 model currently stood on the pad measures 69 meters, another possible joke.
However, Musk claimed on Twitter that these were all "pure coincidence" — although he has made those jokes before.