SpaceX
SpaceX
Falcon 9's first stage has landed on the Of Course I Still Love You droneship – the 9th landing of this booster pic.twitter.com/wzPjMsu2z3
Rick Wilson
TheRickWilson
Best wishes for a successful launch and landing for @SpaceX #SN15 today!
Michael Sheetz
thesheetztweetz
News – SpaceX says it has received more than 500,000 orders for Starlink satellite internet to date, but the $99 deposits are fully refundable and do not guarantee service. www.cnbc.com/2021/05/04/spacex-over-500000-orders-for-starlink-satellite-internet-service.html
Jonathan McDowell
planet4589
The 60 Starlink satellites have been deployed from the upper stage. The Falcon 9 upper stage will now perform a deorbit burn and break up in the atmosphere over the ocean southwest of Australia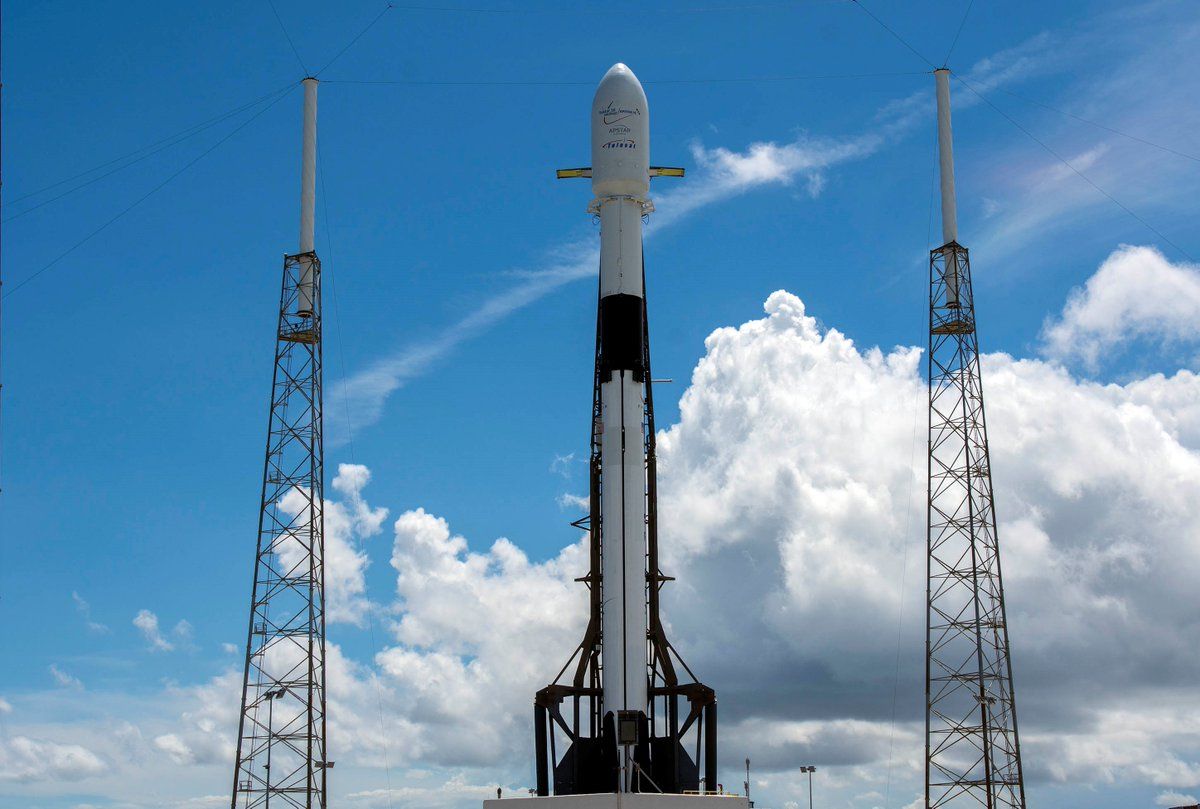 Space.com 04 May, 2021 - 06:20pm
Liftoff is at 3:01 p.m. EDT (1901 GMT).
And here's a fun SpaceX fact for Star Wars Day: The company's founder and CEO Elon Musk named the its Falcon rocket family after the Millennium Falcon from Star Wars. (Its Dragon spacecraft are named for Puff the Magic Dragon.)
Join the Space.com forums here to discuss SpaceX and space travel. Let the community know what you're thinking!
Tuesday's flight, called Starlink 25, is the 13th mission so far for SpaceX in 2021. The company has been continuing a rapid launch pace, leaning on its fleet of flight proven rockets. So far every mission this year has flown on a reused booster.
SpaceX created Starlink with an overarching goal to provide high-speed internet access to users around the world. The service is targeted to users in rural or remote areas that have little-to-no connectivity, although anyone can use it.
Ever since the first Starlink satellites got off the ground, SpaceX has planned for its initial constellation to be 1,440 satellites strong. The company has surpassed that number with its flights so far.
Now that this first big milestone has been achieved, SpaceX is looking to officially rolling out the service.
Prospective users can pay a small deposit sign up for the service now, via the company's website. However, it could be a few months before the actual service becomes available.
This launch marks the 117th flight overall for SpaceX's 229-foot-tall (70 meters) Falcon 9 booster. The star of the mission is one of SpaceX's flight leaders: a eight-time veteran Falcon 9 first stage, designated B1049. 
This frequent flyer made its debut in 2018, carrying the Telstar 18V satellite into orbit from Cape Canaveral before trekking across the country to launch 10 Iridium NEXT satellites from SpaceX's pad at Vandenberg Air Force Base in California. The launcher then switched to Starlink duty, ferrying six different Starlink payloads so far.
If all goes as planned, approximately nine minutes after liftoff B1049 will touch down on one of SpaceX's two drone ships — "Of Course I Still Love You." If successful, it will mark the 84th recovery of a first stage booster since the company landed its first one in December 2015.
The weather outlook looks good for Wednesday's early morning liftoff, with forecasters at the 45th Weather Squadron predicting a 80% chance of favorable launch conditions. The only issue of concern is potential cumulus clouds and liftoff winds. (There is a backup day if necessary on Thursday and the weather looks just as favorable.) However, officials say that the recovery weather is moderate, which may prove tricky.
SpaceX's main goal is to deliver its payload to space, with booster recovery being an added bonus. Since the company is relying so heavily on its fleet of veteran launchers, they don't want to take any chances with rough seas at the landing site. If all goes as planned, this booster will be the second to launch and land nine times.
SpaceX will continue its tradition of recovering the Falcon 9's payload fairing, or nose cone, on today's mission, scooping up the fairings after they fall back to Earth in two pieces.
A pink and blue painted boat, named Shelia Bordelon, is SpaceX's current fairing recovery boat. The vessel will use its on board crane to hoist the fairing pieces out of the water after landing.
Thank you for signing up to Space. You will receive a verification email shortly.
There was a problem. Please refresh the page and try again.
© Future US, Inc. 11 West 42nd Street, 15th Floor, New York, NY 10036.
Daily Mail 04 May, 2021 - 06:20pm
By Stacy Liberatore For Dailymail.com
SpaceX launched a new batch of Starlinks Tuesday using a recycled Falcon 9 rocket to ferry the internet satellites to space.
The rocket took off at 3:01pm ET from NASA's Kennedy Space Center in Cape Canaveral, Florida in blue skies.
Ascent weather at the launch pad and recovery weather over the drone ship were 'fantastic' for take-off and landing, the SpaceX host of the livestream said minutes before the rocket launched.
The flight, called Starlink 25, is the 13th mission of 2021 for the Elon Musk-owned firm and the third time this Falcon 9 rocket has ventured into space.
SpaceX launched a new batch of Starlinks Tuesday using a recycled Falcon 9 rocket to ferry the internet satellites to space. The rocket took off at 3:01pm ET from Pad 39A at NASA's Kennedy Space Center in Cape Canaveral, Florida as blue skies covered the area
The Falcon 9 rocket ignited its nine Merlin engines just before take-off, sending a massive white cloud blowing from the base, and then it headed off to space.
After delivering the 60 Starlinks, the rocket's first stage made a safe landing on the 'Of Course I Still Love You' droneship in the Atlantic Ocean.
Musk, a Star Wars fan, named SpaceX's Falcon 9 after the Millennium Falcon from the popular film. 
SpaceX has launched a number of Starlinks each month this year, as part of Musk's masterplan to have 1,500 of the devices orbiting Earth by the end of 2021.
This will allow SpaceX to provide better, faster internet to its more than 10,000 current paying customers. 
SpaceX CEO Gwynne Shotwell said during a recent interview: 'The total addressable market for launch, with a conservative outlook on commercial human passengers, is probably about $6 billion, but the addressable market for global broadband is $1 trillion.'
The flight, called Starlink 25, is the 13th mission of 2021 for the Elon Musk-owned firm and the third time the Falcon 9 rocket has ventured into space
Atop the Falcon 9 rocket is the fairing carrying the new batch of 60 Starlinks
'The total addressable market for launch, with a conservative outlook on commercial human passengers, is probably about $6 billion,' she said, 'but the addressable market for global broadband is $1 trillion.'
Musk, a Star Wars fan, named SpaceX's Falcon 9 after the Millennium Falcon from the popular film
According to Tesmanian, if SpaceX obtains 25 million Starlink subscribers, it would generate about $30 billion every year.
This is 10 times more than what the company earns as a launch provider, it added.
More than 10,000 users are connected to the Starlink satellite internet, according to a SpaceX filing with the Federal Communications Commission (FCC) from February.
The document said the service is 'meeting and exceeding 100/20 megabits per second (Mbps) throughout individual users' and many are seeing latency 'at or below 31 milliseconds.' 
The Falcon 9 rocket ignited its nine Merlin engines just before take-off that sent a massive white cloud blowing from the base, and then it headed off to space
After delivery the batch of 60 Starlinks into orbit, the rocket's first stage made a safe landing on the 'Of Course I Still Love You' droneship in the Atlantic Ocean
There are some drawbacks for users, however – as well as the hefty cost, there are planned outages due to the limited number of satellites and the fact that Starlink is still in early testing.
The Starlink website reads: 'There will also be brief periods of no connectivity at all.
'As we launch more satellites, install more ground stations and improve our networking software, data speed, latency and uptime will improve dramatically.'
Elon Musk's SpaceX has launched the fifth batch of its 'Starlink' space internet satellites - taking the total to 300.
They form a constellation of thousands of satellites, designed to provide low-cost broadband internet service from low Earth orbit.
The constellation, informally known as Starlink, and under development at SpaceX's facilities in Redmond, Washington.
Its goal is to beam superfast internet into your home from space.
While satellite internet has been around for a while, it has suffered from high latency and unreliable connections.
Starlink is different. SpaceX says putting a 'constellation' of satellites in low earth orbit would provide high-speed, cable-like internet all over the world.
The billionaire's company wants to create the global system to help it generate more cash.
Musk has previously said the venture could give three billion people who currently do not have access to the internet a cheap way of getting online.
It could also help fund a future city on Mars.
Helping humanity reach the red planet is one of Musk's long-stated aims and was what inspired him to start SpaceX.
The company recently filed plans with the Federal Communications Commission (FCC) to launch 4,425 satellites into orbit above the Earth - three times as many that are currently in operation.
'Once fully deployed, the SpaceX system will pass over virtually all parts of the Earth's surface and therefore, in principle, have the ability to provide ubiquitous global service,' the firm said.
'Every point on the Earth's surface will see, at all times, a SpaceX satellite.'
The network will provide internet access to the US and the rest of the world, it added.
It is expected to take more than five years and $9.8 billion (£7.1bn) of investment, although satellite internet has proved an expensive market in the past and analysts expect the final bill will be higher.
Musk compared the project to 'rebuilding the internet in space', as it would reduce reliance on the existing network of undersea fibre-optic cables which criss-cross the planet.
In the US, the FCC welcomed the scheme as a way to provide internet connections to more people.
No comments have so far been submitted. Why not be the first to send us your thoughts, or debate this issue live on our message boards.
By posting your comment you agree to our house rules.
Do you want to automatically post your MailOnline comments to your Facebook Timeline?
Your comment will be posted to MailOnline as usual.
Do you want to automatically post your MailOnline comments to your Facebook Timeline?
Your comment will be posted to MailOnline as usual
We will automatically post your comment and a link to the news story to your Facebook timeline at the same time it is posted on MailOnline. To do this we will link your MailOnline account with your Facebook account. We'll ask you to confirm this for your first post to Facebook.
You can choose on each post whether you would like it to be posted to Facebook. Your details from Facebook will be used to provide you with tailored content, marketing and ads in line with our Privacy Policy.
Part of the Daily Mail, The Mail on Sunday & Metro Media Group
CNET Highlights 04 May, 2021 - 06:20pm
Yahoo Tech 04 May, 2021 - 02:32pm
This launch took off from Cape Canaveral in Florida at 3:01 PM ET (12:01 PM PT), and used a re-used Falcon 9 booster that has flown eight times previously. That booster also landed back on SpaceX's floating drone ship in the Atlantic Ocean, tying the record for SpaceX's reusable flight program in terms of flying resumed boosters, which it just set in March. This is the company's 115th Falcon 9 launch so far.
SpaceX also shared updated figures around its Starlink consumer hardware, which is used to transmit and receive signals from the constellation for broadband service. The company has received "over half a million" pre-order reservations for its service so far, which includes advance deposits on the hardware.
That strong demand helps explain why there appears to be such a significant backlog in terms of fulfilling orders for Starlink. Customers looking to use the service can sign up via SpaceX's Starlink website, and place a preorder for the kit, which induces the Starlink receiver, a router, power supplies and mounting hardware for your home.
The service is available to beta customers in six countries thus far, including Australia, New Zealand, the U.K., Mexico, the U.S. and Canada, but the goal is to continue to expand coverage to achieve near-global reach by the end of 2021 in terms of service availability, with a number of additional launches planned throughout the rest of the year.
A Chinese rocket that successfully blasted off a building block for a space station is set to make an uncontrolled re-entry back to Earth, and its debris could crash into an inhabited area, according to reports. The Long March 5B Y2 lifted off on Thursday from China's southern Hainan island carrying the main module for China's first permanent space station. While the module separated from the launcher to continue its journey as planned, the launch vehicle's core section also reached orbit and is now slowly and unpredictably heading back to Earth. On Tuesday, the 21-tonne Long March 5B was in orbit travelling at around 28,000 kilometres per hour, or 7 kilometres per second.
WASHINGTON (Reuters) -U.S. President Joe Biden, in a phone call on Tuesday with Abu Dhabi Crown Prince Mohammed bin Zayed al-Nahyan, underlined the strategic importance of the normalization of relations between the United Arab Emirates and Israel, the White House said in a statement. Israel established formal relations with the UAE in September as part of a U.S.-brokered agreement.
The U.S. Army has awarded Northrop Grumman a nearly $1 billion contract to produce the Common Infrared Countermeasure system for its aviation fleet.
Island hit by biggest economic crisis since the collapse of the Soviet Union has two vaccines in phase three clinical trials Cubans queue to buy food in Havana. Photograph: Yamil Lage/AFP/Getty Images Hit by the double whammy of US sanctions and a pandemic, Cuba is going through its gravest economic crisis since the collapse of the Soviet Union. Pharmacy shelves are barren. People queue for hours to buy chicken. It's hard to find bread. And yet this island under siege could become the smallest country in the world to develop its own coronavirus vaccines. Of the 27 coronavirus vaccines in final stage testing around the world, two are Cuban. "To have our sovereignty we need our own vaccines," said Dr Vicente Vérez, director of the Finlay Institute, which has developed Sovereign 2, the most advanced of the country's five vaccine candidates. "In nine months we have gone from an idea to a vaccine in phase three clinical trials." About 44,000 volunteers in Havana are currently participating in phase three trials for Sovereign 2. A similar number in the eastern city of Santiago are volunteering for phase three for Abdala, a vaccine named after a poem by José Martí, the island's official "national hero". A medical worker administers a dose of Sovereign 2 to a volunteer in Havana. Photograph: Xinhua/Rex/Shutterstock Running alongside the clinical studies is an "interventional study" in which 150,000 health workers in Havana are now being vaccinated. Cuba's "biological front" was established in 1981 – just five years after the incorporation of the world's first biotech company, Genentech. At the heart of today's drive for a vaccine are the island's top scientists, many of whom were trained in the former Soviet Union. These internationally mobile polyglots have every opportunity to emigrate (and many do); those who chose to work on the island are almost invariably old school believers. At a recent press conference Dr Vérez explained what drives him by quoting Ernesto "Ché" Guevara. "The true revolutionary," he said, "is guided by a great feeling of love". Volunteers wait with nurses to have their blood pressure measured after being injected with the Sovereign 2 vaccine Photograph: Ramón Espinosa/AP Dr Gerardo Guillén, who heads up development of two vaccines at the Center for Genetic Engineering and Biotechnology, is a chocoholic who has had to do without his favourite fix for over a year (there is none in the shops). His £200 a month salary is a hundred times less what he could earn abroad. "We do have offers," said Dr Mitchell Valdés-Sosa, a Chicago-born neurologist who sits on the country's coronavirus taskforce. "But we prefer to stay because we feel a commitment to the development of our country. We're not working to make some chief executive obscenely rich; we're working to make people healthier." Such idealism is no protection from bitter geopolitical realities. The US embargo on Cuba restricts the medical equipment the island can import. The different Cuban research teams working on the vaccines share just one spectrometer – a machine essential for quality control – powerful enough to analyse a vaccine's chemical structure. But since the spectrometer's British manufacturer, Micromass, was bought out by an American firm, Waters, they haven't been able to buy spare parts directly. A scientist works on the development of Abdala at the Center for Genetic Engineering and Biotechnology in Havana. Photograph: Ramón Espinosa/AP While UN human rights rapporteurs called on the US to lift sanctions on the island during the pandemic, over the past 12 months the embargo has been ramped up. And since the outgoing Trump administration put Cuba on the US list of state sponsors of terrorism in January, just finding a bank willing to process payments has become a major problem. "The US is trying to starve Cuba into submission," said Valdés-Sosa. "It's not only that it's difficult to buy things directly from the US. It's also that all these sanctions that the Trump administration put in place have dried up many sources of revenue." Cuba reported 12,225 confirmed cases and 146 deaths last year – among the hemisphere's lowest case and mortality rates. But in November came a blunder. When commercial flights finally resumed after seven long months, for a few weeks the government did not require visitors to take PCR tests before boarding planes. The effect was lethal: thousands of Cuban Americans came from Covid hotspots like Florida to hug, kiss and dance with their families over the Christmas period, leading to a surge in cases. More cases were reported January alone than in the whole of 2020, and the island is now averaging 1,000 confirmed cases a day. People queue to buy food in Havana. Photograph: Yamil Lage/AFP/Getty Images With around 100,000 Cubans having received the jab so far, the island is behind the average Latin American vaccine rollout of 12% of people having received at least one dose. And with no vaccine yet fully approved for use by the island's regulator, critics say the Communist party's decision not to join Covax, the UN-backed mechanism to distribute Covid-19 doses fairly around the world, was arrogant and has left them needlessly exposed. Cuba aims to manufacture 100m doses of Sovereign 2 this year – enough for the population with a surplus to export. If and when production hurdles are cleared, the logistics of distribution should be a strong point: the island has a well-developed infrastructure of local community clinics, and the highest doctor-to-patient ratio in the world. Cuban scientists are confident the widespread vaccination will be attained this year, and say Cuba will be among the first countries in the hemisphere to achieve this. "When you have everything, you don't have to think so much." said Dr Guillén, "But when you have difficulties, you have to think up new ways to innovate."
(Bloomberg) -- Five years ago, Australia's defense chief dismissed worries over a Chinese company leasing a port used by U.S. Marines as "simply absurd." Now the government in Canberra is weighing whether to force a sale due to national security concerns.Defence Minister Peter Dutton confirmed over the weekend that his department will advise the government on what to do with the port. Asked whether the government would consider forced divestiture, he told the Sydney Morning Herald that officials would consider the national interest.The decision risks further hurting China-Australia ties, which have plummeted since Prime Minister Scott Morrison called for an independent investigation into the coronavirus origin and strengthened defense ties with the U.S., India and Japan. It will also have ramifications far beyond Australia as the U.S. pushes countries to avoid cutting deals with Chinese companies on strategic infrastructure investments, from ports to undersea cables to 5G networks.While Australia has cited national security in to block Chinese companies like Huawei Technologies Co., scrapping an existing deal would be unprecedented in the modern era, according to Hans Hendrischke, a professor of Chinese business and management at the University of Sydney. He noted that China is turning more toward venture capital in developed markets as direct investment becomes untenable."It's an escalation that's part of the decoupling process that's happening globally connected with Chinese companies -- and long-term, major infrastructure investments," Hendrischke said of Australia's decision. "There has been pressure on Australia to revoke that deal because it's seen to clash with U.S. interests."'Economic Coercion'Back in 2015, when the Northern Territory government sold a 99-year lease for the Port of Darwin to Chinese firm Landbridge Group for A$506 million ($391 million), Australian officials played down any criticism. Dennis Richardson, who was then secretary of the Defense Department, rejected concerns the People's Liberation Army could gain access to the port as "alarmist nonsense.""The notion that Landbridge is leasing Darwin somehow or other as part of a broader strategic play by China and this gives the PLA navy access to Darwin is simply absurd," Richardson told lawmakers in Canberra at the time. He said there was no chance of China spying on U.S.-Australian communications because naval vessels go silent in any commercial port.In a sign of how rapidly times have changed, Australia's Home Affairs Secretary Michael Pezzullo last week told his staff that "in a world of perpetual tension and dread, the drums of war beat." While he didn't directly mention China, he said free nations were watching "worryingly the militarization of issues that we had, until recent years, thought unlikely to be catalysts for war."China has sought to blame Australia for the downturn in ties while accusing Morrison's government of "economic coercion." Asked last week about speculation Australia would move to scrap the Darwin lease, Chinese Foreign Ministry spokesman Wang Wenbin said his government would "firmly safeguard the legitimate rights and interests of Chinese businesses investing and operating overseas.""We hope the Australian side will look at bilateral cooperation in an objective and rational light and stop disrupting normal exchange and cooperation with China," Wang told reporters in Beijing.Should Morrison's government decide to revoke the port deal, it will "most definitely" happen as it has a constitutional right to override laws made in the Northern Territory, as well as additional powers in relation to defense matters, said Donald Rothwell, a professor of international law at the Australian National University."The major issues if the Commonwealth seeks to revoke the arrangement would be the commercial legal consequences," including penalties or compensation, Rothwell said. While the Port of Darwin's commercial arrangements aren't in the public domain, the matter could be settled quickly depending on the position of the federal government, he said.Investment PlungesEconomic ties between the nations have taken a hit in recent years. China's trade reprisals at Australia have hit a range of commodities from coal to beef to barley and lobster, while Chinese investment Down Under plunged to about A$1 billion last year from a peak of A$16.5 billion in 2016, according to Australian National University research.Even so, the proportion of Australian exports to China climbed to 43% by the end of 2020 even as the relationship unraveled thanks to the relentless rise in iron ore prices as China's early emergence from Covid-19 spurred demand for the steelmaking ingredient. Major producers have struggled to keep pace with demand from Chinese steel mills, pushing the price to $193 a ton in April, just shy of its 2010 record.Although China was the top buyer of Australian wine before the tariffs, accounting for 40% of shipments, strong European sales have helped counter the slump. The key danger ahead relates to international education and tourism, which are currently in stasis due to closure of international borders: China accounts for more than a third of foreign students in Australia and Chinese tourists account for 15% of visitors.Despite the hit on some sectors of the economy, Australia's tough stance on China is likely to play well with voters, according to Natasha Kassam, a former Australian diplomat who is the director of the Lowy Institute's public opinion and foreign policy program."It would be very significant and send a strong message in terms of future Chinese investment," she said when asked about the ramifications of a forced sale of the Darwin port lease. "Australia was probably thinking a year ago it could reach a new settling point with China, but that's proven elusive."(Adds constitutional lawyer's comments in 11th, 12th paragraphs)For more articles like this, please visit us at bloomberg.comSubscribe now to stay ahead with the most trusted business news source.©2021 Bloomberg L.P.
Earthquakes along strike-slip faults can cause tsunamis in certain contexts, a new model shows — and such faults exist right off parts of California.
A cleaner for HSBC bank walked out after 35 years, leaving a note that has gone viral on Twitter.
A German news outlet reported that Tesla is going to need another six months to get its new German plant up and running. Shares of the electric-vehicle giant are down.
Pandemic recovery optimism is creating buzz that Boeing (NYSE: BA) stock is ready to pop. Boeing investors will tell you that it can be a bumpy ride. As a result, Boeing delivered only 157 aircraft in 2020.
The California Aqueduct, which carries water more than 400 miles south from the Sierra Nevada, splits as it enters Southern California at the border of Kern and Los Angeles counties. California DWRClimate change and water scarcity are front and center in the western U.S. The region's climate is warming, a severe multi-year drought is underway and groundwater supplies are being overpumped in many locations. Western states are pursuing many strategies to adapt to these stresses and prepare for the future. These include measures to promote renewable energy development, conserve water, and manage natural and working lands more sustainably. As engineers working on climate-smart solutions, we've found an easy win-win for both water and climate in California with what we call the "solar canal solution." About 4,000 miles of canals transport water to some 35 million Californians and 5.7 million acres of farmland across the state. Covering these canals with solar panels would reduce evaporation of precious water – one of California's most critical resources – and help meet the state's renewable energy goals, while also saving money. Conserving water and land California is prone to drought, and water is a constant concern. Now, the changing climate is bringing hotter, drier weather. Severe droughts over the past 10 to 30 years dried up wells, caused officials to implement water restrictions and fueled massive wildfires. As of mid-April 2021, the entire state was officially experiencing drought conditions. At the same time, California has ambitious conservation goals. The state has a mandate to reduce groundwater pumping while maintaining reliable supplies to farms, cities, wildlife and ecosystems. As part of a broad climate change initiative, in October 2020 Gov. Gavin Newsom directed the California Natural Resources Agency to spearhead efforts to conserve 30% of land and coastal waters by 2030. Most of California's rain and snow falls north of Sacramento during the winter, while 80% of its water use occurs in Southern California, mostly in summer. That's why canals snake across the state – it's the largest such system in the world. We estimate that about 1%-2% of the water they carry is lost to evaporation under the hot California sun. In a recent study, we showed that covering all 4,000 miles of California's canals with solar panels would save more than 65 billion gallons of water annually by reducing evaporation. That's enough to irrigate 50,000 acres of farmland or meet the residential water needs of more than 2 million people. By concentrating solar installations on land that is already being used, instead of building them on undeveloped land, this approach would help California meet its sustainable management goals for both water and land resources. Climate-friendly power Shading California's canals with solar panels would generate substantial amounts of electricity. Our estimates show that it could provide some 13 gigawatts of renewable energy capacity, which is about half of the new sources the state needs to add to meet its clean electricity goals: 60% from carbon-free sources by 2030 and 100% renewable by 2045. Installing solar panels over the canals makes both systems more efficient. The solar panels would reduce evaporation from the canals, especially during hot California summers. And because water heats up more slowly than land, the canal water flowing beneath the panels could cool them by 10 F, boosting production of electricity by up to 3%. These panels could also generate electricity locally in many parts of California, lowering both transmission losses and costs for consumers. Combining solar power with battery storage can help build microgrids in rural areas and underserved communities, making the power system more efficient and resilient. This would mitigate the risk of power losses due to extreme weather, human error and wildfires. We estimate that the cost to span canals with solar panels is higher than building ground-mounted systems. But when we added in some of the co-benefits, such as avoided land costs, water savings, aquatic weed mitigation and enhanced PV efficiency, we found that solar canals were a better investment and provided electricity that cost less over the life of the solar installations. Solar panels installed over canals increase the efficiency of both systems. Brandi McKuin, CC BY-ND Benefits to the land Solar canals are about much more than just generating renewable energy and saving water. Building these long, thin solar arrays could prevent more than 80,000 acres of farmland or natural habitat from being converted for solar farms. California grows food for an ever-increasing global population and produces more than 50% of the fruits, nuts and vegetables that U.S. consumers eat. However, up to 50% of new renewable energy capacity to meet decarbonization goals could be sited in agricultural areas, including large swaths of prime farmland. Solar canal installations will also protect wildlife, ecosystems and culturally important land. Large-scale solar developments can result in habitat loss, degradation and fragmentation, which can harm threatened species such as the Mojave Desert tortoise. They also can harm desert scrub plant communities, including plants that are culturally important to indigenous tribes. As an example, construction of the Genesis Solar Energy Center in the Sonoran and Mojave deserts in 2012-2014 destroyed trails and burial sites and damaged important cultural artifacts, spurring protracted legal conflict. [Get the best of The Conversation, every weekend. Sign up for our weekly newsletter.] Clearing the air By generating clean electricity, solar canals can improve air quality – a serious problem in central California, which has some of the dirtiest air in the U.S. Solar electricity could help retire particulate-spewing diesel engines that pump water through California's agricultural valleys. It also could help charge growing numbers of electric light- and heavy-duty vehicles that move people and goods around the state. Yet another benefit would be curbing aquatic weeds that choke canals. In India, where developers have been building solar canals since 2014, shade from the panels limits growth of weeds that block drains and restrict water flow. Fighting these weeds with herbicide and mechanical equipment is expensive, and herbicides threaten human health and the environment. For large, 100-foot-wide canals in California, we estimate that shading canals would save about US$40,000 per mile. Statewide, savings could reach $69 million per year. Artist rendering of a solar canal system for California. Solar Aquagrid LLC, CC BY-ND Bringing solar canals to California While India has built solar arrays over canals and the U.S. is developing floating solar projects, California lacks prototypes to study locally. Discussions are underway for both large and small demonstration projects in the Central Valley and Southern California. Building prototypes would help operators, developers and regulators refine designs, assess environmental impacts, measure project costs and benefits, and evaluate how these systems perform. With more data, planners can map out strategies for extending solar canals statewide, and potentially across the West. It will take a dozen or more partners to plan, fund and carry out a solar canal project in California. Public-private partnerships will likely include federal, state and local government agencies, project developers and university researchers. California's aging power infrastructure has contributed to catastrophic wildfires and multi-day outages. Building smart solar developments on canals and other disturbed land can make power and water infrastructure more resilient while saving water, reducing costs and helping to fight climate change. We believe it's a model that should be considered across the country – and the planet.This article is republished from The Conversation, a nonprofit news site dedicated to sharing ideas from academic experts. It was written by: Roger Bales, University of California, Merced and Brandi McKuin, University of California, Santa Cruz. Read more:Young California ranchers are finding new ways to raise livestock and improve the landThe US electric power sector is halfway to zero carbon emissions Nothing to disclose.Roger Bales does not work for, consult, own shares in or receive funding from any company or organization that would benefit from this article, and has disclosed no relevant affiliations beyond their academic appointment.
Russia is turning to multiple Chinese firms to manufacture the Sputnik V coronavirus vaccine in an effort to speed up production as demand soars for its shot. Russia has announced three deals totaling 260 million doses with Chinese vaccine companies in recent weeks. It's a decision that could mean quicker access to a shot for countries in Latin America, the Middle East, and Africa that have ordered Russia's vaccine, as the U.S. and the European Union focus mainly on domestic vaccination needs.
Manchester City reached their first Champions League final as Riyad Mahrez's double sealed a 2-0 win against Paris Saint-Germain in Tuesday's semi-final second leg.
"Lisa will be deeply missed here, and we all loved her."
"Seeing my photo as an example of beauty changed how I saw myself."
The new indexes, S&P Bitcoin Index, S&P Ethereum Index and S&P Crypto Mega Cap Index, will measure the performance of digital assets tied to them. The list will expand to include additional coins later this year, the division of financial data provider S&P Global said. "Traditional financial markets and digital assets are no longer mutually exclusive markets," said Peter Roffman, global head of innovation and strategy at S&P Dow Jones Indices.
When Elon Musk stood onstage at Tesla's Battery Day in September and promised to cut lithium-ion battery prices in half, he claimed some of the savings would come from reinventing the dirty and complex process of making their nickel metal cathodes. The simplest route appears to involve a small Canadian battery startup — or at least its patent applications. Two weeks before Battery Day, Tesla purchased a number of patent applications from Springpower International, a small company based just outside Toronto, for a grand total of $3, according to public records.
The Falcon and the Winter Soldier join forces in the opening credits for revolutionary MCU series that changed television forever, Marvel Vice. The post FALCON AND WINTER SOLDIER Travels to 1984 to Become MARVEL VICE appeared first on Nerdist.
JOCO, a new docked e-bike service in New York City, has launched and is already facing some headwinds. The city has exclusive rights with Citi Bike for docked bikeshares, which has somewhat stunted NYC's shared micromobility growth. The city has sent JOCO a cease and desist letter.