Is vulture in no way home?
Spider-Man: Homecoming, Spider-Man: Far From Home and Spider-Man: No Way Home were all co-produced by Sony and Disney. ... These villains do exist in Spider-Man's world: Keaton's Vulture, the main villain in Homecoming, appears in the Morbius trailer. TIMEEvery Detail of the Spider-Man: No Way Home Trailer, Explained
Read full article at Variety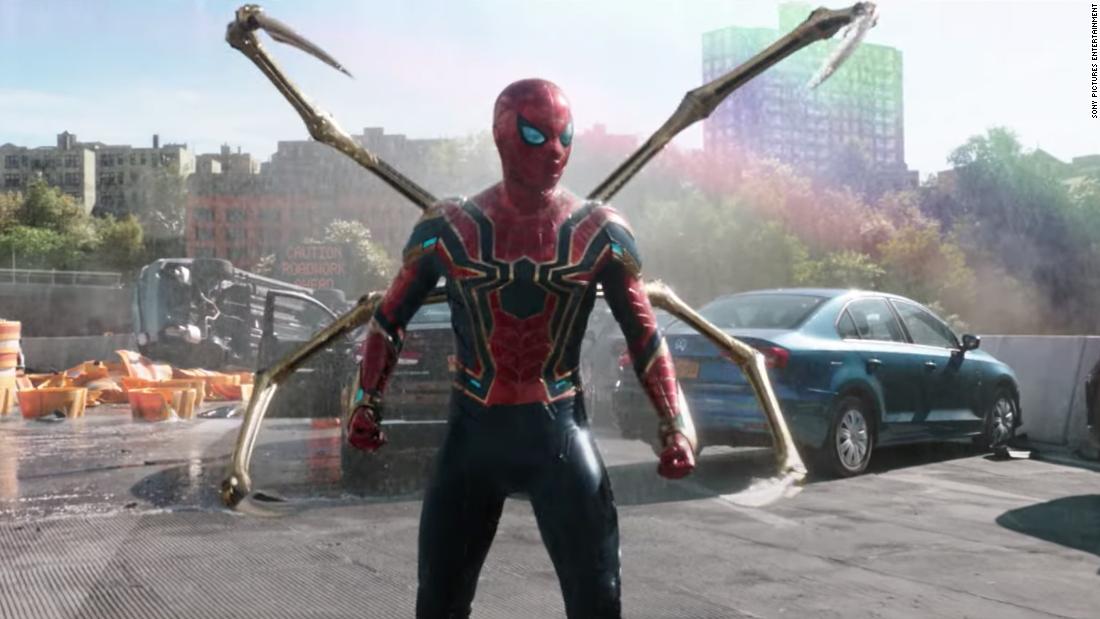 CNN 25 August, 2021 - 10:00pm
Updated 1:29 PM ET, Tue August 24, 2021
You can set your browser to block or alert you about these cookies, but some parts of the site will not work.
Comicbook.com 25 August, 2021 - 10:00pm
ET Canada 25 August, 2021 - 10:00pm
IGN 25 August, 2021 - 10:00pm
Fans Want Bruce Campbell to Bring His Mysterio to 'Spider-Man: No Way Home'
Reportedly set to appear in Sam Raimi's canceled Spider-Man 4, fans want Bruce Campbell to complete the Sinister Six line up.
Throughout the teaser trailer references are made in a quite obvious way to Doc Ock, the Green Goblin and Electro. There is also a strong suggestion that one quick scene involves the Sandman and after much debate and visual enhancing, some have come to the conclusion that the Lizard is hiding in the shadows on a blink and you miss it shot. The appearance of so many villains does in a way make sense, and may well fit in with Sony's previous comments that this movie would make a connection between the MCU and Sony's Marvel Universe, which has now been rebranded as Sony's Spider-Man Universe. It also pushes a hefty chunk of weight behind theories that Bruce Campbell could be about to bring the final member of the Six to screen as Mysterio.
On the surface, this does seem like just a while fan wish, but there is quite a bit of credit behind in when you consider some other evidence. Campbell is set to appear in Doctor Strange in the Multiverse of Madness, which is directed by old Spider-Man director Sam Raimi. While there has been no previous talk of Campbell joining the Spider-Man movie, there is genuine reason why fans want to see him appear in the movie as Mysterio - and it all comes back to Sam Raimi's Spider-Man movies...or at least one he never made.
With Doc Ock, the Green Goblin and potentially Sandman all being pulled from Raimi's Spider-Man Universe, if the director had been able to make his planned fourth installment, it would have reportedly featured Campbell as Mysterio. With the movie dealing with the multiverse and drawing from a series of other realities, it could easily be possibly to bring in a new version of Mysterio in the wake of Jake Gyllenhaal's version's death in Spider-Man: Far From Home.
One of the biggest stumbling blocks for this scenario happening could well be Campbell himself, as the Evil Dead star has previously said that he has no interest taking on a big superhero character. "That's Sam Raimi all the way," Campbell told ComicBook.com his reasons for appearing in the Spider-Man movies. "Big blockbuster movies, whenever I see an actor get cast in one of those, I wince, because I go, 'Oh, that poor son of a bitch is going to be in that suit for 10 years.' If shooting schedule's seven months of shooting, you get your one month in the Bahamas, and then you're promoting for three months, then you go right back to the next sequel, back in that same f-cking suit.'"
Whether this comes true or not, there are plenty of fans who will be disappointed if they don't get to see a little bit of what might have been in Campbell making an appearance in the movie. With hints having been given to five of the Sinister Six members, and industry insider adamant that a sixth member appears later in the movie, why would they hold back a tease of that sixth member if it wasn't something special? All will be revealed in time...probably about four months' time.
There is a 6th villain but he shows up later on in the film. https://t.co/bnL1RjoVtV
Can we please get Bruce Campbell to be an alternate universe Mysterio in No way Home? How you gonna bring the Raimi Spider-man villians and leave out the one person who defeated spidey? pic.twitter.com/uvFrjMuHsy
No Way Home is multiverse related. Imagine if Mysterio returns but it's not Jake Ghyllenhal, instead it's Raimi's Mysterio from his early plans and it's Bruce Campbell? pic.twitter.com/D6LXbke7Ee
Topics: Spider-Man: No Way Home, Spider-man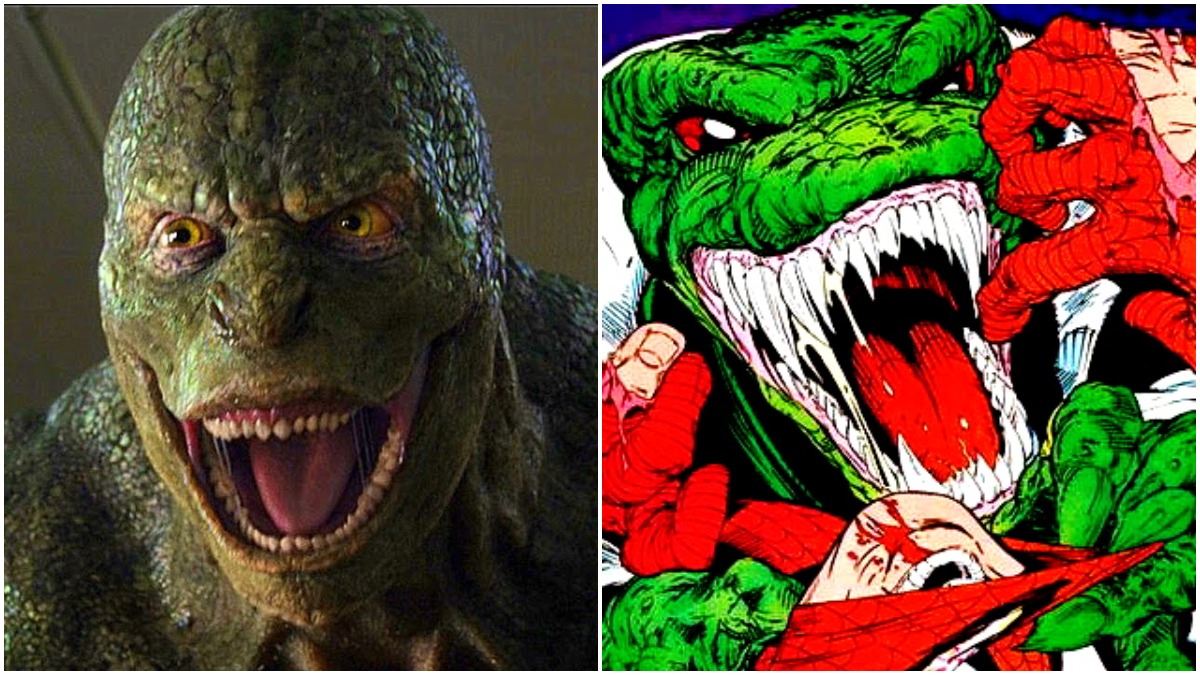 Den of Geek 25 August, 2021 - 02:13pm
As satisfying as it is to see Alfred Molina' Doc Ock again, the return of the Lizard will hopefully bring that character on screen redemption.
And while that instinct is understandable, it comes mostly from a place of love, as well as comfort in the knowledge that no matter what, Dafoe's Green Goblin will once again be spectacular. Perhaps that's why I can't help but wonder about the other Spider-Man villains who were teased; the ones who despite great comic book legacies left something to be desired the last time we saw them at the cinema. I'm thinking about the Lizard.
First appearing in The Amazing Spider-Man #6, the Lizard was only one in a long line of immediate home runs for Stan Lee and Steve Ditko during the early '60s. Genuinely, the bulk of the web-head's rogues gallery (which is only rivaled by Batman) was created in a handful of months during those early days, with Lizard's origin story being sandwiched in between our first introductions to Doctor Octopus and Sandman on one side, and Electro, the the Green Goblin, Mysterio, and Kraven the Hunter on the other.
Yet even in that first appearance, the Lizard was a special creation. Like many of Peter Parker's greatest foes, Lee and Ditko's scaly variation on Jekyll and Hyde was yet another authority figure whom the wall-crawler needed to defeat in generational combat. As the first youthful superhero created in the decade of youth, Spidey was originally presented as a kid sticking it to the man, and unhip authority figures like Doc Ock. But the Lizard? Unlike the others, he was a tragic figure with a tragic backstory: a war hero surgeon who lost his arm in combat and in an attempt to regrow it for his family turned into a six-foot dinosaur. It's ridiculous, yet at its heart it was the archetypal horror we've seen in every great werewolf story, complete with the emotional stakes of Dr. Curt Connors' wife and son being left behind as collateral damage if Spidey couldn't save the Lizard from himself.
All of those elements were there from the jump with the Lizard, which makes their absence in 2012's The Amazing Spider-Man all the more baffling. Despite the studio apparently championing the villain as being the next foe in their fourth Spider-Man movie—to the point where it became apparently one of many disagreements with director Sam Raimi who was fixated on doing a Vulture movie back in the late 2000s—the finished product showed a genuine lack of comprehension about what made the character one of Spider-Man's great foes.
Through no fault of actor Rhys Ifans, who plays Dr. Curt Connors as serviceably as possible from the thin screenplay he was provided, that film robs the Lizard of the character's tragedy or even a hint of pathos: gone are Connors' wife and son, as well as his tragic war backstory. In fact, Connors is a fairly shady individual in the film with vague connections to the deaths of Peter Parker's parents. In other words, he's a stock mad scientist, who neither Peter or the audience has much reason to sympathize with.
Additionally, the design of the character was nearly every bit as atrocious as the Power Rangers costume Dafoe got stuck with a decade earlier as the Green Goblin. While The Amazing Spider-Man filmmakers apparently chose to honor the flatter facial design of Ditko's initial concept of the Lizard, they nonetheless removed other key elements of Ditko's design which made the character so visually appealing: aspects like the shredded lab coat which belied the character's lost humanity, and created a striking visual contrast to the green scaly look. Which is to say, without the white cloak, he looks a bit like a shrunken Godzilla running around town, with the ugly face of those misbegotten Goomba designs from the Super Mario Bros. movie.
As with the unwise choice of redesigning Spider-Man's costume to better resemble a basketball in that movie, these poor choices made the Lizard look visually goofy and poorly thought out. When one contrasts this with how the character has been more or less drawn since the 1970s, including famously by Venom co-creator Todd McFarlane, who made the Lizard look like a demonic viper in human clothing, the ineptness of the cinematic Lizard becomes a failure on every level.
Admittedly, it's unlikely Curt Connors' motivations can be saved in Spider-Man: No Way Home. With One More Day fallout left to be resolved from Spider-Man: Far From Home's cliffhanger ending, the multiverse needing to be set-up for audiences who don't watch every Disney+ series, Doctor Strange fan service to squeeze in, and, oh yeah, the rest of the Sinister Six to reintroduce—including cinematic high points like Dafoe's Goblin and especially Alfred Molina's Doc Ock—there probably isn't a lot of room for the cinematic also-rans of Lizard, Jamie Foxx's Electro, and Thomas Hayden Church's Sandman.
However, at least two of those became "also-rans" because of poor choices made by other filmmakers. Marvel Studios has had much better luck in interpreting Spidey villains to the screen than The Amazing Spider-Man duology, if still not on the level of Molina or Dafoe's contributions. In the same way they turned a questionable concept like old man Adrian Toomes into a Michael Keaton showcase in Spider-Man: Homecoming, they could also reimagine the Lizard, and even Electro, into cooler characters that younger fans who never read the comics might actually care about this time. At the very least, they can give Lizzy his coat. And maybe just make him Dylan Baker's Dr. Connors, who despite only appearing as a supporting character in Sam Raimi's original Spider-Man trilogy, already had more gravitas and sympathy than whatever the hell The Amazing Spider-Man was up to.
If the Green Goblin can get a new look, so will hopefully the ones who are not remembered quite so fondly.
Get the best of Den of Geek delivered right to your inbox!
David Crow | @DCrowsNest
David Crow is the movies editor at Den of Geek. He has long been proud of his geek credentials. Raised on cinema classics that ranged from…