People ran into all kinds of issues with the process
The new handheld console was announced on Thursday, with pre-orders opening up on Friday afternoon Eastern time. Those trying to reserve a unit have run into a wide array of issues with the pre-ordering process, including false error messages. The problems impact both those trying to buy the Steam Deck on the Steam website and through the Steam app.
One such error is a notification that says, "Your account is too new to reserve early." Multiple Steam users said on social media that they got that message despite being a longtime customer of Steam.
This issue is likely connected to safeguards Valve put in place in an effort to prevent scalpers from snatching up Steam Deck reservation slots. Customers that wish to pre-order a unit within the first 48 hours of reservation availability must have made a Steam purchase before June 2021.
lol Valve, I've been on Steam since Half-Life 2 pic.twitter.com/ocOoVFh11z
Another error message says, "It looks like you've been attempting a lot of purchases in the last few hours. Please wait a while before trying again." It's possible that this results from customers having to repeatedly try going through the ordering process, refreshing their cart over and over again.
We've also seen at least one report of people running into an issue where their purchase "may have been completed" — leaving them wondering whether their order actually went through.
And then there's just the plain old "Something Went Wrong" error message:
This is just how things are anymore, huh? pic.twitter.com/ZMj3HGSFdU
However, if you're still trying to snag a Steam Deck pre-order, it looks like you can still get a reservation if you stick with it. At this point, more than an hour after pre-orders went live, more and more customers appear to have been successful.
Regardless of when you get through, there's going to be a lengthy wait for the actual product. The Steam website is now showing estimates for when the Steam Deck will be available. Valve said Thursday that units are scheduled to begin shipping in December, but that may apply only to early reservations of the cheapest model, which costs $399 for 64 GB of storage. At the time of publication, the approximate ship date for that one and the midtier model — which has 256 GB of storage for $529 — is the first quarter of 2022. As for the 512 GB model, which costs $649, it's now expected to ship in the second quarter of 2022.
If you've been able to secure a reservation, the next step of the process will involve following through on your $5 deposit, on a first-come, first-served basis. "Once inventory is available, you will receive an email in the order your reservation was made," says the confirmation email from Valve.
The problems are a bummer because Valve instituted the extra precautions in an attempt to prevent scalpers. The intent was to make it easier to help individuals get Steam Decks, not more difficult. However, securing new gaming hardware at launch is often messy and difficult, even in normal times, due to high demand. Buying hardware in the past year has been especially challenging, since manufacturing has been strained by the pandemic. Hunting down products like a PlayStation 5 has become so intense that it's transformed into its own subculture. So it's not a huge surprise that there would be some hiccups in the Steam Deck reservation process.
Polygon has reached out to Valve for comment, but did not hear back in time for publication. We will update this article with any information we receive.
Read full article at Polygon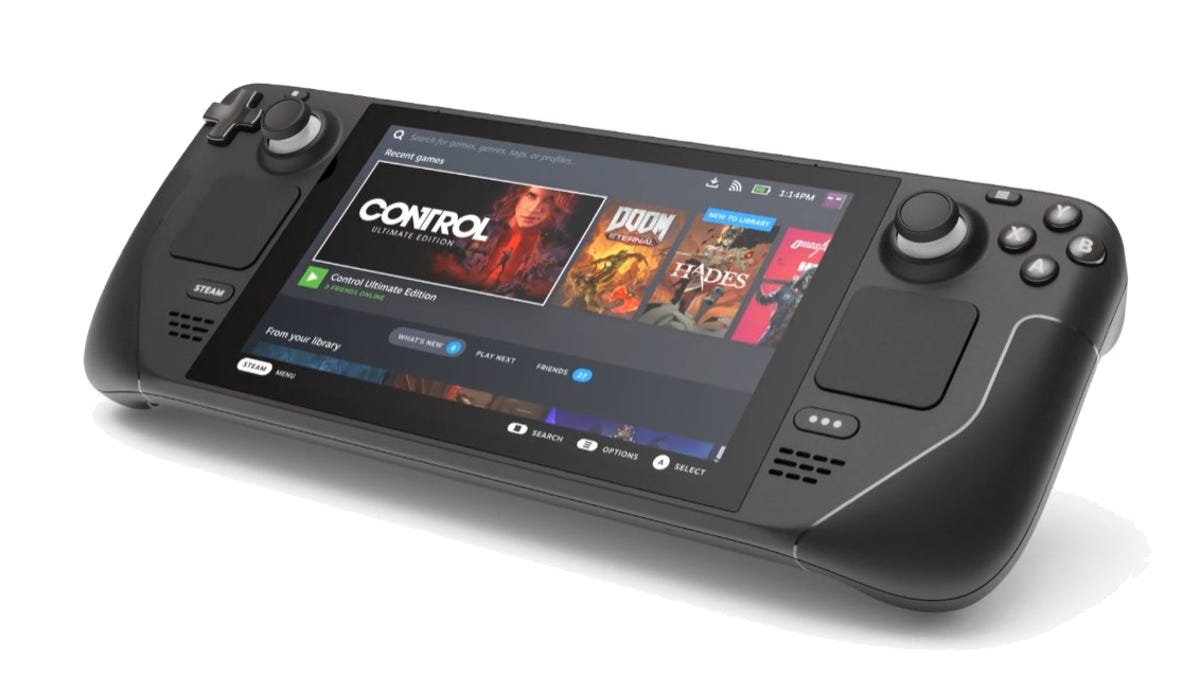 Kotaku 16 July, 2021 - 04:10pm
"We partnered with AMD to create Steam Deck's custom APU, optimized for handheld gaming. It is a Zen 2 + RDNA 2 powerhouse, delivering more than enough performance to run the latest AAA games in a very efficient power envelope," the company writes. The Steam Deck thumbsticks are designed for "extended play sessions," and the owner's entire Steam library will be available when they log on. There's even a dock (sold separately) to connect to TVs and computer monitors.
The device will sport a 7" screen, which puts it on par with Nintendo's recently announced OLED Switch, and just ahead of the existing Switch and Switch Lite in terms of size. The controllers don't appear to be detachable like the Joy-Cons, but maybe that means they won't have any drift either.
There's one catch, however. To have an actual shot at getting one of these things when it releases you'll need to pay Valve $5 to reserve a spot in line to pre-order. Reservations open Friday, July 16, at 1 p.m. ET.
"The main reason for reservations is to ensure an orderly and fair ordering process for customers when Steam Deck inventory becomes available," Valve writes in an FAQ. "The additional fee gives us a clearer signal of intent to purchase, which gives us better data to balance supply chain, inventory, and regional distribution leading up to launch."
The news that Valve was working on a Switch-like portable was first reported back in May by Ars Technica.
WTF is up with that button placement?
The Verge 16 July, 2021 - 04:10pm
While the Stream Deck MK. 2 does seem like a nice upgrade, it was announced on perhaps the worst possible day. Just a few hours ago, Valve made a huge splash by revealing its new handheld gaming console called the Steam Deck.
While they're entirely different products, there's sure to be some confusion about the names "Stream Deck" versus "Steam Deck."
amazing that @valvesoftware announced steam deck just hours before @elgato announced their new stream deck. i'm gettin eyestrain just THINKIN about these press releases pic.twitter.com/DJKSCxT6UM
Subscribe to get the best Verge-approved tech deals of the week.
Check your inbox for a welcome email.
IGN 16 July, 2021 - 11:00am
Speaking to Valve as part of a Steam Deck hardware deep-dive (coming later this month as part of IGN First), we made sure to ask about drift, and if it had been part of the thought process when designing the machine.
"We've done a ton of testing on reliability, on all fronts really – and all inputs and different environmental factors and all that kind of stuff," replied hardware engineer Yazan Aldehayyat. "I think we feel that this will perform really well. And I think people will be super happy with it. I think that it's going to be a great buy. I mean, obviously every part will fail at some point, but we think people will be very satisfied and happy with this."
Steam Deck designer John Ikeda added that the parts involved were part of that thought process: "We purposely picked something that we knew the performance of, right? We didn't want to take a risk on that, right? As I'm sure our customers don't want us to take a risk on that either."
Controller or Stick Drift is a technical issue – often caused by dust or degraded parts – which sees controllers register movement on a joystick when none is being applied. It's led to multiple lawsuits against game hardware creators, and has remained an issue for years on Nintendo Switch Joy-Cons. You can find out more about the issue (and potentially how it might be fixed) in our rundown of the science behind controller drift.