Plan B's stock-to-flow model is the closest it's ever been to being invalidated as Bitcoin stagnates in the $30,000 range.
The model was popularized by the Twitter pseudonym more than two years ago in March 2019 and amid a minor bull through Q1 2019. It's considered to be one of the leading quantitative valuations for the first-ever scarce digital currency to exist. The model presumes that scarcity of certain assets or commodities drives its price.
The S2F model is an attempt to price Bitcoin in a way similar to scarce commodities, such as gold, silver, etc. The essence of it is that assets like Bitcoin, gold and silver have only limited supply injections in a certain period of time when compared with commodities like oil, copper and steel, where the supply flow is higher and considered to be theoretically limitless. 
Since Bitcoin has a maximum supply limited to 21 million tokens and considering the time- and energy-intensive mining process, there is only a certain number of new Bitcoin that can come into circulation in a certain timeframe. The premium cryptocurrency had fit right into this model, until now. Johnny Lyu, CEO of KuCoin Global — a cryptocurrency exchange — told Cointelegraph:
He went on to say that models like these are usually built on historical data and that while some periodic trends can help identify the general direction of the market, specific trends can often be difficult to track in advance.
According to the S2F model, BTC's price is supposed to be at $88,531 on July 20, which is nearly three times the current price. In fact, earlier this year, PlanB suggested that Bitcoin could hit $450,000 before the end of this year in the best-case scenario, and $135,000 in the "worst-case scenario." Furthermore, the model predicts that Bitcoin is expected to have hit its much-awaited $1 million mark in July 2025.
However, in a PlanB Twitter poll on June 21, 41% of respondents thought that Bitcoin would remain under $100,000 this year.
This is compared to the 16% that believed the same back in March this year when Bitcoin was exchanging hands at $55,000. PlanB went on to say that Bitcoin prices deviating from the S2F model make even him feel "a bit uneasy."
The model, as the name would suggest, uses the stock-to-flow ratio to value Bitcoin. This ratio is defined by the current number of Bitcoin in circulation at a given time and the incoming flow of newly mined Bitcoin. As evident in the chart describing the model, historically, Bitcoin has traced the price estimates in a fairly accurate fashion at most times.
As pointed out by Lex Moskovski, chief investment officer of Moskovski Capital, the negative S2F deflection — the ratio between the market price of Bitcoin and the S2F ratio — is now the highest it has ever been in the history of the token. He went on to say that for believers in the S2F model, this is a great time to buy Bitcoin, as this price drop could be perceived as an unexpected dip.
Lennix Lai, director of financial markets at cryptocurrency exchange OKEx, spoke with Cointelegraph on the limitations of the S2F model, saying: 
One of the major changes in the past year for Bitcoin and the cryptocurrency markets as a whole is the high rates of institutional and retail adoption that have drastically increased since March 2019. Another important factor in this demand and adoption dynamic is the COVID-19 pandemic that has plagued the world for more than 19 months now. Lai elaborated more on this, saying:
The Musk effect, combined with various other factors, such as the mainstream popularity of nonfungible tokens (NFT), has played a large role in raising awareness about cryptocurrencies and blockchain technology in general. 
Lyu touched upon this changing scenario in the cryptocurrency market as well, saying, "The emerging projects and altcoins on the market with diversified application scenarios will distract investor attention and diversify their existing investment portfolios, thus continuously fluctuating the Bitcoin market." This change is evident in the fact that, since the beginning of this year, Bitcoin's dominance as the premier cryptocurrency has fallen from over 60% to its current 46.3%, signifying a growing altcoin sector.
In a recent example of the shift in demand and adoption dynamic since the inception of the S2F model, the Grayscale Bitcoin Trust Fund (GBTC) recently underwent several share unlockings across July, with the biggest on July 18. This expiry further increased the continual downward pressure on Bitcoin, causing it to drop further to trading around $30,500 on July 19, dropping from nearly $32,200 on July 18 before the expiry. In the past — when the S2F model initially became prevalent — there wasn't institutional demand that could heavily impact the market in a short amount of time.
While the S2F model is one of the most widely known quantitative models that predicts Bitcoin's price in the short term (less than five years), there are several other models that are often used to gauge its price potential. Daniele Bernardi, founder of the PHI Token project and CEO of Diaman Partners Ltd. — a fintech asset management company — explored some of these models in a recent paper. Bernardi evaluated the inadequacies of the S2F model, stating to Cointelegraph:
Instead, Bernardi prefers the rate of adoption model, which he explores in his paper. He stated that, according to this model, the "fair price" of Bitcoin can be around $60,000, but not more than that. This estimate is based on the "actual users of Bitcoin and the wallets created." 
He went on to explain the probability of PlanB's S2F model actually coming into fruition this year: "Of course, anything can happen, but from my point of view, there is less than 20% of probability, based on Monte-Carlo simulations, that the Bitcoin price will reach a value greater than $100,000 in 2021."
That said, it is important to remember that Bitcoin was exchanging hands at $18,000 for a few days in the March 2017 bull run and went straight to trading at $64,000 earlier in February this year. 
There are not many assets in financial markets that have witnessed gains at these levels within such a short timespan. Bernardi explained the impact of this growth:
Fair value or not, Bitcoin seems to be in a period of turmoil, more often than not facing downward pressure on the token since the flash crash on "Black Wednesday" earlier in May. However, positive institutional news keeps flooding in. Most recently, Grayscale CEO Michael Sonnenshein said that Grayscale is "100% committed" to turn GBTC into a Bitcoin exchange-traded fund.
Read full article at Cointelegraph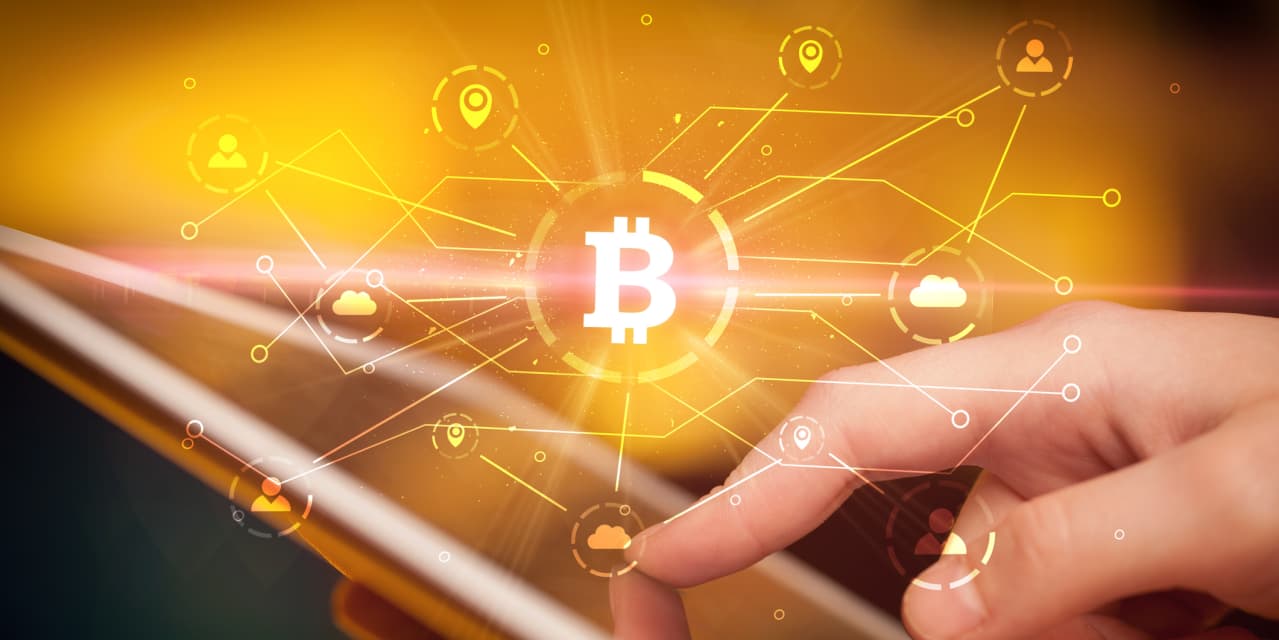 MarketWatch 20 July, 2021 - 10:01am
If you decide to buy Bitcoin, make sure it's the genuine article. One of the biggest mistakes new investors make is buying the wrong coin. Just because it has 'Bitcoin' in its name doesn't mean it's a Bitcoin. There's Bitcoin Cash, Bitcoin Gold, Bitcoin SV, Bitcoin Private and dozens of other direct offshoots of the original cryptocurrency that have the word "Bitcoin" in its name. That's not to say that these offshoots are bad or scams, it's just that they aren't the original Bitcoin that has become widely traded and quoted. But if you do buy the wrong coin, it isn't the end of the world. You can always sell it back and buy the right one, hopefully at a profit.  
Ready to get into crypto? You can buy Bitcoin, Ethereum and other cryptocurrencies via online brokers like Robinhood and SoFi Invest or crypto exchanges like Coinbase, Gemini or eToro.
You're going to need nerves of steel if you get into this space because the volatility is extreme. "Compared to the analog world or the traditional finance world, volatility is kind of off the charts," Theresa Morrison, a certified financial planner in Arizona, told Marketwatch.
Believe it or not, many new and veteran cryptocurrency traders have lost money sending their coins to the wrong place. Unlike a bank wire transfer that can be halted or a check that can be canceled, there's often no recourse if you make a fat-finger error. 
"I got a good buddy who was trading Stablecoins and he sent USDT to a USDC address and lost $4,000," Adam Blumberg, a financial planner in Houston, recounted. "He texted me saying that this transaction is two days old and he doesn't know what's going on. When he sent me the transaction I told him he had accidentally sent it to a USDC account and asked me if he could call them to fix it and I was like 'no, it's gone – you should have called me first before you did this.'"
Blumberg recommends putting the password in a flood-safe and fire-proof container or keeping it in a bank safety deposit box. As an alternative to writing it on paper, he has seen some clients get their passwords stamped on metal that can resist the elements.
About the author: Cyrus Sanati has been a financial journalist and columnist for nearly two decades, covering a wide variety of topics from the energy markets to digital currencies. His work can be seen in a variety of publications, including The Wall Street Journal, The New York Times, Fortune Magazine and Breakingviews. He is a graduate of UCLA and earned post-graduate degrees in journalism and business from Columbia University. 
Also see: What you need to know to start investing in cryptocurrency right now
Yahoo Finance 20 July, 2021 - 10:01am
Cryptocurrencies were broadly under pressure on Tuesday morning amid a market sell-off. Analysts said a strengthening dollar and a global move to de-risk investments was hitting the asset class.
Bitcoin (BTC-USD) was down about 5.6% to trade at $29,834 (£21,832) on Tuesday morning in London. Ethereum (ETH-USD), the second biggest crypto by market cap, fell 6.9% to trade at $1,763.
Naeem Aslam, chief market analyst at Ava Trade, said $30,000 was a "key support level" for bitcoin and "a significant breach could result in a massive technical selloff."
Read more: FTSE and European markets rebound after 'freedom day' selloff
"Having said that, crypto traders are well aware that the price action of cryptocurrencies is highly volatile, and the decline in prices should not come as a surprise given that similar price fluctuations have occurred in the past," he added.
The slump coincided with a global stock market sell-off on Monday, sparked by fears about the spread of the Delta variant of COVID-19.
A strengthening dollar hasn't helped cryptocurrencies.
"For bitcoin, a stronger dollar outlook, especially against a falling crypto market, means that more people will likely prefer to hold the buck, at least for the time being," said Mati Greenspan, founder at Quantum Economics.
High levels of inflation may force the US Federal Reserve to raise rates soon, which has been pushing the dollar higher.
Cryptocurrency companies also continue to come under pressure from authorities around the world, casting a shadow over the sector.
A cease and desist order was issued to US-based bitcoin financial services platform BlockFi by the New Jersey Office of the Attorney General and the Bureau of Securities, as reported by Forbes.
Elsewhere, US Treasury Secretary Janet Yellen said she wants financial watchdogs to act quickly on new rules to regulate stablecoins, which are cryptocurrencies pegged to other assets.
Meanwhile, recent reports suggest authorities in Malaysia steamrollered more than 1,000 bitcoin mining rigs as part of an investigation into "electricity theft".
Even as England hailed 'freedom day' and lifted restrictions, the US raised its travel warning for the UK to the highest level — from 'reconsider travel' to 'do not travel'.
The pound hasbeen on a winning streak over the last six months, following a well-regarded vaccine rollout programme across the UK. But optimism about future prospects has wained in recent weeks.
Aron Govil of Jacksonville is also being charged with scalping and insider trading in a related case.
Bitcoin trades under pressure Monday, with the world's No. 1 crypto trading near its lowest level since Jan. 1, according to data compiled by Dow Jones Market Data.
Netlflix analysts are locked and loaded on this one number when the streaming giant reports second quarter earnings this week.
VAN HORN, Texas (Reuters) -Jeff Bezos, the world's richest person, is set on Tuesday to blast off aboard his company Blue Origin's New Shepard https://graphics.reuters.com/SPACE-EXPLORATION/BLUEORIGIN/jbyprzzympe/blue-origin.jpg launch vehicle for a suborbital flight as part of a history-making crew - another milestone in ushering in a new era of private space travel. The American billionaire is due to fly from a desert site in West Texas on an 11-minute voyage to the edge of space, nine days after Briton Richard Branson was aboard his competing space tourism company Virgin Galactic's successful inaugural suborbital flight https://www.reuters.com/lifestyle/science/virgin-galactics-branson-ready-space-launch-aboard-rocket-plane-2021-07-11 from New Mexico.
Wall Street is seeing "too much froth" and current virus jitters are triggering widespread panic selling of every top performing asset, including bitcoin, said one analyst.
Plus: Correcting misconceptions about institutional interest in crypto, and why Circle going public may bring greater regulatory clarity in the U.S. for stablecoins.
BlockFi CEO Zac Prince said his platform remains "fully operational" for its existing client base in New Jersey.
Top news and what to watch in the markets on Tuesday, July 20, 2021.
Thomas Lee, founder of Fundstrat Global Advisors, has a word of advice for investors hoping to buy the dip after Monday's selloff.
Inflation has dominated financial news headlines of late - but one investor believes the attention given to rising prices should be spent elsewhere.
Wall Street's analysts know that buying low is part of a winning stock strategy, and they've been looking for stocks that are low – undervalued, and possibly hitting bottom. It's the first step in an old formula for success, with the next, of course, being to sell high. Some recent picks from the analyst corps, pulled up via the TipRanks platform, may raise eyebrows. These are stocks new to the public trading markets, but they already have two attributes that may endear them to risk-tolerant inv
The official body tasked with declaring recessions on Monday said that the pandemic-induced recession in the U.S. ended in April 2020.
(Bloomberg) -- A selloff in Bitcoin accelerated Tuesday, pushing it below $30,000 for the first time in about a month.The largest digital coin fell 3.6% to $29,667 as of 7 a.m. in New York. Other virtual currencies also retreated, including second-ranked Ether. The Bloomberg Galaxy Crypto Index was down about 4%.Some traders had viewed $30,000 as a key support that might open the way to more losses if breached. Further big declines from here could rattle the cryptocurrency market and even exacer
Veteran trader David Green pointed out the strength of NVIDIA Corporation (NASDAQ: NVDA) Monday morning. The stock opened $10 lower on Monday morning but quickly ripped higher by 6% in the first 90 minutes of trading. The stock will undergo a 4-for-1 stock split Tuesday morning. David Green, host of Live Trading With David Green on Benzinga, pointed out the strong trend in NVIDIA's stock on Monday's show. "I want to be long NVIDIA," Green said. "We will get a lot of action once we have earnings
Drops for Ethereum and dogecoin contributed to more than $200 billion of losses from the combined cryptocurrency market
Poland had sent 23 swimmers to Japan but the PZP was forced to cut the squad down to 17 based on world governing body FINA's qualifying rules. PZP President Pawel Slominski apologised and said he fully understood the anger of the swimmers who returned home over the weekend.
A 16-year-old student is charged with murder after a body is found in a bathroom and an axe seized.
Suddenly spiking COVID-19 infections among the unvaccinated have raised questions about the recovery.
Yahoo Finance 18 July, 2021 - 07:34pm
A bullish start to the day saw Bitcoin rally to an early morning intraday high $32,453.0 before hitting reverse.
Bitcoin broke through the first major resistance level at $31,970 and the second major resistance level at $32,380.
The reversal, however, saw Bitcoin slide to an early afternoon intraday low $31,111.0.
Bitcoin fell through the first major support level at $31,180 before briefly revisiting $31,900 levels.
Coming up against resistance at $32,000, Bitcoin eased back to end the day at $31,800 levels.
The near-term bullish trend remained intact, in spite of the latest return to $31,000 levels. For the bears, Bitcoin would need a sustained fall through the 62% FIB of $27,237 to form a near-term bearish trend.
Across the rest of the majors, it was a mixed day on Sunday.
Crypto.com Coin fell by 1.50% to lead the way down.
Litecoin (-0.76%) and Ethereum (-0.44%) also bucked the trend on the day.
It was a bullish day for the rest of the majors, however.
Bitcoin Cash SV rallied by 5.82% to lead the way, with Polkadot rising by 2.12%.
Binance Coin (+0.53%), Cardano's ADA (+0.76%), Chainlink (+0.97%), and Ripple's XRP (+0.73%) also found support.
It was a bearish week for the majors, however.
Chainlink (-15.58%) led the way down, with Cardano's ADA (-12.39%), Polkadot (-11.96%), Crypto.com Coin (-11.94%), Ethereum (-11.67%), and Litecoin (-11.27%) also seeing heavy losses.
Binance Coin (-6.14%), Bitcoin Cash SV (-4.39%), and Ripple's XRP (-7.49%) saw relatively modest losses, however.
In the week, the crypto total market rose to a Monday high $1,419bn before falling to a Friday low $1,248bn. At the time of writing, the total market cap stood at $1,285bn.
Bitcoin's dominance fell to a Thursday low 45.47% before rising to a Saturday high 46.86%. At the time of writing, Bitcoin's dominance stood at 46.38%.
At the time of writing, Bitcoin was down by 0.04% to $31,806.0. A mixed start to the day saw Bitcoin fall to an early morning low $31,720.0 before rising to a high $31,921.0.
Bitcoin left the major support and resistance levels untested early on.
Elsewhere, it was a mixed start to the day.
Cardano's ADA and Ripple's XRP saw early losses of 0.10% and 0.09% respectively to join Bitcoin in the red.
It was a bullish start for the rest of the majors, however.
At the time of writing, Ethereum was up by 0.40% to lead the pack.
Bitcoin would need to avoid a fall back through the $31,794 pivot to bring the first major resistance level at $32,478 into play.
Support from the broader market would be needed for Bitcoin to break back through to $32,400 levels.
Barring a broad-based crypto rally, the first major resistance level and Sunday's high $32,453.0 would likely cap any upside.
In the event of an extended crypto rally, Bitcoin could test resistance at $33,500 before any pullback. The second major resistance level sits at $33,137.
A fall back through the $31,795 pivot would bring the first major support level at $31,136 into play.
Barring another extended sell-off on the day, Bitcoin should steer clear of sub-$30,000 levels. The second major support level at $30,453 should limit the downside.
This article was originally posted on FX Empire
It's a bearish start to the day for Dogecoin. Failure to move through the day's pivot and back through to $0.19 levels would leave Dogecoin in the deep red on the day.
It's a bearish start to the week for the majors. A move through the week's pivot levels would bring resistance levels into play, however.
It's a bearish start to the week for the majors. Failure to move through the day's pivot levels would leave support levels in play.
Bitcoin (CRYPTO: BTC) may soon be accepted for property tax payments by a city in the United States. Scott Conger, mayor of Jackson, Tennessee, announced last week that the city has launched a study into methods of accepting payments in the cryptocurrency. The city has established a blockchain taskforce which will also look at ways for city employees to receive salary payments in bitcoin on a dollar cost average basis. Conger says he's been watching steps taken by Mayor Francis Suarez of Miami w
The new fund joins a growing number of offerings seeking to help investors easily bet on growth in decentralized finance (DeFi).
'I'm a crypto guy and I don't want to be known as a crypto person. I want to be known as a problem solver,' Anthony Di Iorio says
We can readily understand why investors are attracted to unprofitable companies. For example, although...
Game engines, virtual and augmented reality, and automation could be high-growth secular trends over the next decade.
If she continues to spread COVID-19 misinformation, the far-right congresswoman could be kicked off the social media platform permanently.
U.S. President Joe Biden took a softer tone when talking about Facebook Inc on Monday, after saying last week that the social media company was "killing people" by allowing the spread of misinformation about COVID-19 vaccines. Biden told reporters on Monday he meant to accuse a dozen users who spread the most amount of misinformation on the social media platform, but not the company itself. "Facebook isn't killing people," he said.
Biden poured gasoline on the incendiary criticism ahead of the weekend, insisting "They're killing people".
YouTube has acquired social commerce startup Simsim, the Google-owned firm said on Tuesday. Neither of the firms disclosed the terms of the deal, but two people with knowledge of the matter told TechCrunch the Indian startup was valued at over $70 million. Two-year-old Simsim had raised about $17 million prior to today's announcement and was valued at $50.1 million in its 2020 Series B financing round.
The Georgia Republican, who has touted conspiracy theories and has been an outspoken critic of COVID-19 vaccines, will be blocked from tweeting for 12 hours.
Twitter suspended Marjorie Taylor Greene from her account for twelve hours on Tuesday for two tweets that violated the company's COVID misinformation policy.
Twitter's 'enforcement action' comes after Greene violates its policy around Covid misinformation
Facebook has resisted President Biden's claims that the social network is 'killing people' with COVID-19 misinformation, suggesting that other factors are to blame.
BERLIN (Reuters) -Austria's Supreme Court has questioned the legal basis on which Facebook collects user data and referred key issues for a ruling by Europe's top court, after awarding symbolic damages to activist Max Schrems in his privacy case against the company. In a 34-page ruling, the Austrian court accepted the request from Schrems, who has waged a years-long campaign against what he views as Facebook's intrusive privacy practices, to refer key questions to the Court of Justice of the European Union. The civil case revolves around Schrems' assertion that Facebook deprives users of the rights and protections they enjoy under the EU's privacy law, the General Data Protection Regulation (GDPR), by treating consent as a contract that empowers it to use their data to deliver targeted ads.
The heated rhetoric between the White House and Facebook escalated over the weekend but comes after months of mounting private frustration inside the Biden administration over the social-media giant's handling of vaccine misinformation.
President Joe Biden on Monday walked back comments from last week that suggested social-media companies like Facebook were "killing people" through their role in spreading misinformation about COVID-19 vaccines. In response to a reporter's question, Biden said he'd read that a small number of the platform's users are spreading incorrect information. "Facebook isn't killing people," Biden said. But he added he hoped the company would do more to fight misinformation about vaccines "instead of taki
Phang said he was excited to "take on this new challenge" in his career, adding that he believed Galaxy Racer was "on the right path to be a market leader in this space".