When it comes to Overwatch's cast of colorful characters, there's no DPS quite as beloved as anti-hero Ashe.
The subject of the last in-game event, the Deadlock Gang's notorious leader has received quite a bit of love of late. From her Legendary Lunar New Year outfit to a whole collection of spectacular skin concepts, 2021 seems to be her year.
Turns out that she's even managed to score a Legendary Summer Games skin, too, and fans are obsessed with it.
Sporting an adorable bikini and some inflatable water wings (safety first, after all), Poolside Ashe is a far cry from the skeet-themed spray, but fans are loving it nonetheless.
"Ashe has been getting mad skins recently," writes one fan, referring to the Summer Games skin as "absolutely baller (perfect, for those unfamiliar with the lingo)"
absolutely baller. ashe has been getting mad skins lately pic.twitter.com/mY4FkPLE7o
— lofi 🌺 (@alolanwhip) July 18, 2021
Another laments that the shooting range Ashe didn't quite make it into the game, but calls the Poolside skin "beautiful," claiming that it is "so much better."
now that ashe's beautiful new summer skin has been confirmed, i think we should have a moment of silence for this skin concept 🧎but what we got was so much better pic.twitter.com/NaRhsttqJw
— ashe enthusiast 💞🐈💒 (@kiyonoodle) July 18, 2021
A final comment embodies Ashe mains everywhere when they saw this skin, because it's definitely worth "freaking out" over!
HI IM FREAKING OUT OVER THE NEW ASHE SKINNNNNN #overwatch #summergames pic.twitter.com/tbAWJHkraY
— Lacy✨ (@LacyWasTaken) July 19, 2021
As the Summer Games gets underway on July 20, get ready to grind if you want to add this summery Ashe skin to your collection.
She's joined by Symmetra, Mei and a mysterious collection of other characters that are yet to be unveiled. While leaks suggest that Sigma, Winston, Pharah and Orisa will be joining Ashe and B.O.B by the poolside, we'll need to wait and see!
Read full article at Nintendo Life
Dot Esports 20 July, 2021 - 09:00pm
The water is warm, the sun is out, and it's time to dive into all that gold you've been saving in Overwatch. This year's Summer Games event is now live, running from July 20 to Aug. 10. Players can unlock eight new skins along with dozens of other cosmetic assets.
As usual, this year's Summer Games skins focus on fun looks that represent the spirit of the season. There are also a lot of swimsuits and a few interesting surprises.
Each Summer Games Epic skin can be unlocked by completing a weekly challenge. Players will have to rack up 27 "points" per week by playing or winning games of Overwatch in arcade mode, quick play, or competitive mode.
Monkeys don't often traverse the deep seas, but scientists sure do. Land-loving Winston has been turned into a vision straight out of Atlantis in this Epic skin, available from July 20 to 26. His armor is now scaled instead of chrome and he's sporting a glittering crown that contrasts with his blue skin. Perhaps he's searching for an underwater peanut butter trove.
Not content with having only one fantastic Summer Games skin in Lifeguard Pharah, Overwatch designers decided that the aerial ace deserved another go-around. Available from July 27 to Aug. 2, Sunset Pharah adorns the DPS hero in what looks like a Hawaiian resort explosion. Pharah rocks a hibiscus flower in her hair, surfboard print over her armor, and straw roof accents on her shoulders.
In the years before Summer Games descended into ocean-themed shenanigans, the focus of the event was the Olympics and other summer sporting events. Heroes would often get skins that represented their heritage and Hanzo finally gets his own, available from Aug. 3 to 10. The white and red Nihon skin represents his home country of Japan and the cherry blossom print adds a nice festive touch.  
Legendary skins can be unlocked through Summer Games loot boxes or purchased for 3,000 gold.
The master of the "car wash" gets a new aquatic look for this year's Summer Games. Symmetra has been transformed into the mermaid we all wanted to be after watching The Little Mermaid a hundred times in a row as a child. She's rocking a borderline bikini, as is normal for the Summer Games event, but with a mermaid skirt and glowing blue eyes.
One of the game's newer heroes, Ashe, gets her swimsuit skin in this new Summer Games Legendary. She's rocking a red bikini with a decorated sarong, pink hair, and a very intimidating water gun. Most fans will be sidetracked by Ashe in a swimsuit, but don't overlook B.O.B. He has a flamingo float hat straight out of a Jimmy Buffet concert and he's rocking his own speedo for hot bot summer.
Some professional Overwatch players have referred to Mei as a "demon" in the past, but she's proving with this skin that she's really just trying to be sweet. The Sprinkles Mei skin gives her a look straight out of a retro ice cream parlor, complete with a blonde pin curl look and soda fountain worker hat. Her weapon has been turned into an ice cream machine and her loyal friend Snowball is now an adorable sundae.
If you thought you could get away with cheating in Lúcioball, think again. Referee Orisa is here to put a stop to those shenanigans. The safety-focused omnic gets a full referee outfit in this Legendary skin, which includes extremely cool futuristic cleats and a digital belt buckle. If no one else will point out your red flags, Orisa will.
The Overwatch Summer Games event always focuses on the attractiveness of the game's characters and presents that data straight to fans' eyes with bathing suits. Sigma, who's probably not in the top tiers of most people's Overwatch crush lists, has inexplicably been given a shredded set of abs this year. Not only that, he has a full head of hair, a well-groomed beard, and extremely low-rise swim leggings. We're not sure who asked for "hot Sigma" this year, but we hope they're happy somewhere.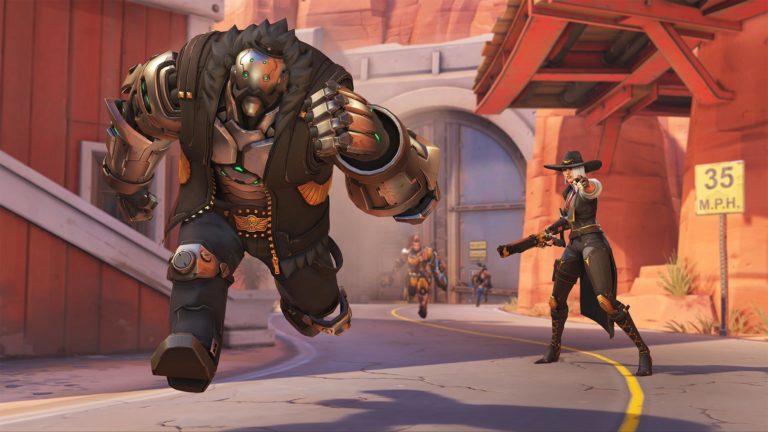 Dot Esports 20 July, 2021 - 09:00pm
Overwatch's Summer Games event will kick off on July 20—and, as usual, Ashe and B.O.B. are here to bring the heat. 
Poolside Ashe, a Legendary skin, is the newest skin to be revealed for the tropically-tinged event. As far as event skins go, this one is guaranteed to be an instant classic.
Ashe is typically buttoned up in her Deadlock Gang attire, but this Poolside skin allows her to kick back a little and have fun. She's decked out in a red bikini, tropical sarong, and a big floppy hat. Her long white hair has also been dyed pink for a little pizzazz. Interestingly, Ashe has pool floaties attached to her arms too. Is it an aesthetic choice or can Ashe really not swim? 
As is standard with Ashe's skins, her Big Omnic Butler ends up being the real star. B.O.B. is fully decked out for summer in the Poolside Ashe skin, sporting a flamingo float hat, part of a life vest, and stylish sunglasses. Not one to miss an opportunity to show off his toned robot physique, B.O.B. has also opted to wear a crop top and a Speedo bathing suit. "Hot girl summer" applies to everyone, folks.
This Legendary skin will only be available during the Overwatch Summer Games event, which begins on July 20 and runs through Aug. 10. The skin can be acquired in Summer Games loot boxes or purchased for 3,000 gold.
GameSpot 20 July, 2021 - 09:00pm
August's First PS Plus Game Confirmed As Hunter's Arena: Legends
Baldur's Gate 3 Patch 5 Coming July 13, And Here's What It Does
In the announcement posted to Twitter, we can see new skins featuring Symmetra as a mermaid, Ashe and Bob in casual beachwear, and Mei as a '50s-era ice cream parlor worker. A series of follow-up tweet showed off more of the skins and gave them names: Mermaid Symmetra, Poolside Ashe, and Sprinkles Mei. Each is a Legendary skin.
The annual event is also near-guaranteed to bring back Lucioball, the exclusive brawl that has been paired with the Summer Games event every year since it started in 2016. That 3v3 mode is loosely based on soccer, and the 2020 games introduced a variant called Lucioball Remix.
The original Overwatch Summer Games coincided with the 2016 Rio Olympics, and many of the cosmetics were the Overwatch crew representing their home countries. That raised questions of whether the event was specifically limited to the Olympic Games, but they've been running every year since, and the skins have transitioned to being themed after more general summertime activities.
Given that the Tokyo Summer Olympics were postponed last year due to the coronavirus pandemic, this will be the first year since the original in which the Overwatch Summer Games roughly coincides with the summer Olympics. The opening ceremonies in Tokyo will be held this Friday.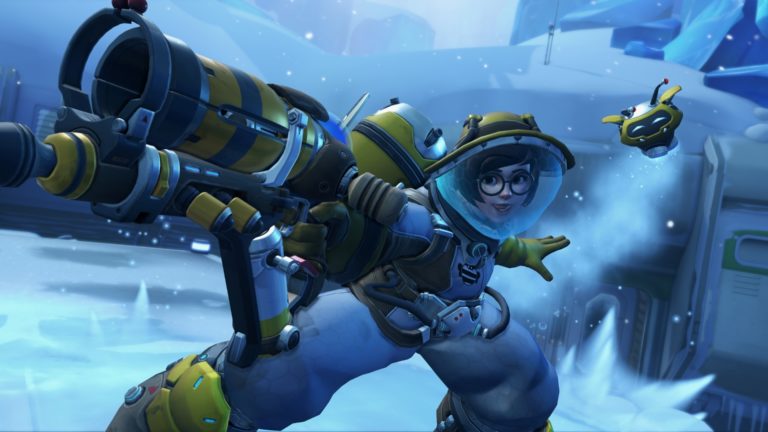 Dot Esports 20 July, 2021 - 09:00pm
While most of Overwatch's heroes are heating everything up during the Summer Games event, Mei is here to cool us down with a sweet new skin.
Overwatch's Summer Games event begins on July 20 and fans can unlock Sprinkles Mei, a Legendary skin that gives the freeze queen the look of a retro soda fountain worker. Don't let her adorable exterior fool you, though: That Blizzard still packs a punch. 
Mei is usually decked out in an artic-appropriate fur parka, but this Sprinkles skin focuses on fashion over function. She now has a bright red skirt complete with suspenders, a crisp white top, and a stunning bow tie. Mei's usual black hair has been swapped out for a retro blonde pin curl and the iconic soda fountain hat. 
The best part of Mei's Legendary skins is always the tiny details. Her leggings have sprinkles on them, really completing the ice cream motif, and her loyal friend Snowball has been made into a sundae. Even her weapon looks like a soft-serve ice cream machine with various flavors stored in the compartments. We have a feeling a vanilla-flavored Ice Wall is still going to taste like defeat. 
This Legendary skin will be available in Summer Games loot boxes when the event begins on July 20 and through its completion on Aug. 10. It can also be purchased for 3,000 gold once the event kicks off.
IGN 20 July, 2021 - 09:00pm
Xbox 20 July, 2021 - 09:00pm
InvenGlobal 20 July, 2021 - 02:42pm
The Overwatch Summer Games event has once again returned to Overwatch. Along with the temporary return of Lucioball and the ability to buy past summer games cosmetics, the developers added eight new skins. Five of the new skins are available in loot boxes or for purchase with in-game gold currency, the other three can be unlocked by playing games during the event.
The new skins are a mixed bag, a few of them are real gems, and some of them are debately the worst skins in the game. We put together our ranking for the new Summer Games 2021 Overwatch skins!
The Scuba Sigma skin is my favorite of the whole bunch. It is a very creative use of the Sigma's floating character model. The outfit combined with the bubbles really sell the illusion that Sigma is floating in water instead of the air. As an added bonus, we finally get to see Sigma's CHISELED abs and incredible quads, so that alone makes this an S-Tier skin for me.
Ocean King Winston presents Winston as the ruler of the seas, complete with a fish scale pattern on his armor, a gold crown inset with emeralds, and a silver main of head hair. When its all put together with his gold-inlaid jump pack, this ends up being a really dope-looking skin. It would be a great skin to run with a gold Telsa cannon, if you have that unlocked.
The Sunset Pharah skin is one of my favorites from the new batch, in part because I am a sucker for a good sunset gradient. This skin is simple, but its still doing a lot. It features a beautiful vertical sunset gradient on the armor, with wooden accents on her shoulders, head, and hips. There are also numerous tropical flower prints on various parts of the armor, her jetpack thruster, and behind her ear! This is a real gem of a skin that I would wear year round.
The Nihon Hanzo skin is simple and elegant in the most refreshing way possible. While many of the summer games skins are concerned with being as flashy and bright as possible, the Nihon Hanzo skin features a subdued off-white Japanese tree design with bright red accent colors. While this skin might not be the most summery one, it sure is pretty.
I am a little torn on the new Ashe skin. I think that Ashe's pool attire is a little underwhelming and I am not a fan of the water gun aesthetic that they chose to implement on this skin. Of course, Ashe still looks amazing in this skin. I also think the Bob design is fantastic. I love Bob's summertime shirt, his non-sensical robot floaties, and his hilarious sunglasses. Bob is 10/10.
I am a big fan of Symmetra, but I am not such a big fan of this skin. To me, it kind of looks like bad cosplay, with the weird fin jutting out from the front of her costume and another jutting out the back. I think this skin would not be fun to swim in due to its bulky design. The only saving grace of this skin is the headpiece, which actually looks pretty cool.
The Lucio balled-themed Orisa Referee skin is not my favorite of the bunch. it doesn't do a lot with its already pretty basic concept, beyond adding a couple of stripes, a referee hat with a microphone, and an LED screen belt that displays a number. I am underwhelmed by this concept, and think it is definitely one of the weakest of this year's skins.
I don't like the Sprinkles Mei costume, or any of the 1950's icecream inspired skins for that matter. The bows on the shoes are obnoxious, I am not a fan of the specific legging design they chose, and it looks like something weird is happening to the skirt in many of Mei's poses. Snowball is cute, but not cute enough to make up for the confusing execution of the Sprinkles Mei outfit.
Aaron is an esports reporter with a background in media, technology, and communication education.
Please log in or sign up to comment
Comments :0
Language select
Pokemon, plush, and plenty of food: The 626 Night Market experience
Valve's Steam Deck: A new handheld foe approaches the Switch
Overwatch: Animated Shorts soundtrack now available for download and streaming
[Cosplay Q&A] Wanderlustluca Cosplay: "I remember struggling so much when I just started."
Kinpatsu Cosplay — Kinpatsu to K/DA Akali transformation via Secret Lab!
League of Legends IG LeBlanc - Hansegin
Inven Global spoke to LCS pros during week 7 of the Summer Split to get their thoughts on Counter Logic Gaming's roster management and the potential impact Damonte's joining will have on the team.
It's been a good deal of time now that Metagame has been out. Obviously, there were some mixed reactions to the series when it first came out, but how do you look at it now? How do you compare it with
Another bikini and Mei hairstyle change.
Among the major regions, junglers in Europe rank last in kill share with 19.56%. Why is this? Inven Global discussed it with as many LEC junglers as we could.
Over the two days of the Pokemon GO Fest 2021, users caught many different Pokemon that weren't available before. During day 2 in particular, all of the legendary raids popped up one after another. Th
Dexerto 19 July, 2021 - 11:10am
Cosmetic rewards in Overwatch fall under several of categories: skins, sprays, voice lines, emotes, victory poses, and highlight intros. From there, there are some sub-categories such as sit and dance emotes, the latter of which being exclusive to the Anniversary event.
Now, it would seem like Overwatch 2 will be introducing new types of cosmetic unlocks that did not exist within the first game.
A job listing for "Game Producer, Character Cosmetics" on Blizzard's site states that the person selected for the role would "spend your days collaborating with the teams responsible for building amazing cosmetics for Overwatch 2's diverse cast of Heroes."
Unfortunately, it doesn't go into further detail about the types of new cosmetic rewards that Overwatch 2 will feature, but that doesn't mean we can't speculate.
Currently, the only weapon-specific cosmetics in the game are limited to golden guns, so that would be an incredibly obvious area where Blizzard could introduce new weapon skins separate from individual hero skins.
Of course, we still don't know what Blizzard's plans are for Overwatch 2 post launch, but it seems increasingly likely that some sort of Battle Pass is implemented and Loot Boxes are retired.
"Overwatch 2, in terms of business model, we're exploring different options that move us away from loot boxes, but I think that will be more for Overwatch 2 than the core game. I would never rule anything out," former Overwatch 2 Game Director Jeff Kaplan said back in 2020 when asked about changing the monetization of the game to something like a Battle Pass.
If Overwatch 2 does in fact feature a Battle Pass system then that could tie into new cosmetic types that will be available when the sequel finally launches, when that is, however, remains a mystery.
So far Overwatch 2 has no release date, but expect to learn more info in the coming months in the lead up to an open beta.