There is no question the New York Knicks will be aggressive this free agency, but how will they deal with some of their own players who are hitting the market and looking for new contracts? Depending on how President Leon Rose and the front office view some of their players from this most recent season, it will impact their salary space in a big way.
The players that are set to walk in for agency if not retained are Reggie Bullock, Taj Gibson, Nerlens Noel, Elfrid Payton, and Derrick Rose. If New York allows all five to leave, they will have $50+ million to work with, but it would be in their best interest to keep some of the more influential free agents.
According to Sam Quinn of CBS Sports, the Knicks will have the most cap space in the league this off-season:
The cap space kings of the 2021 offseason can create as much flexibility as they need. If they renounce all of their own free agents, they can get up to around $50 million in space. Don't be surprised if that amount winds up being a bit lower, though.
After Mitchell Robinson went down with a fractured foot during the second half of the season, the Knicks brought in veteran Taj Gibson to fill the void. He signed a one-year, $2.28 million deal with a $1.4 million cap hit. If New York elects to retain him, he will account for $1.7 million, a slight increase in earnings.
Evidently, Gibson was one of the more productive players in the postseason, especially on defense. Why he doesn't offer much offensive production, he is a high-intensity player that elevates those around him. If he's willing to stay on a cheaper contract, the Knicks will likely consider it.
Nerlens Noel was an impact player throughout the regular season, but an obvious injury hindered his quality during the playoffs. He finished with a career-high 2.2 blocks and posted 5.1 points and 6.4 rebounds per game. Again, another big man who lacks scoring efficiency but represents one of the best shot blockers in the league.
Noel signed a one-year, $5 million deal, and if retained, would count $6 million — he has non-Bird rights. They wouldn't have to dip into their cap space to pay him the additional funds, but other teams are intrigued by his skill set, including the Brooklyn Nets.
Bullock is a great candidate for retention, after connecting on 41% of his shots from three last season, averaging 6.1 attempts per game. He recorded 11 points per contest and proved to be sufficient on defense, signing a two-year, $8.2 million contract in 2019 with New York. If he is retained on a one-year extension, he will carry a $5.46 million salary hit for the 2021 season, an increase that wouldn't count against the Knicks' cap space.
Given his abilities as a three-point shooter, he is likely a far cheaper solution than targeting a player like Duncan Robinson out of Miami.
Another intriguing player to consider is Derrick Rose, who is one of the only reasons the Knicks made a late-season run and secured the 4th seed in the Eastern Conference. He averaged 15 points, 4.2 assists, and shot 48.7% from the field with New York this past season. He also hit on 41% of his shots from three, averaging 2.6 attempts per game. His three-point percentage during his 35 games with the Knicks was a career-high, proving he has plenty of gas left in the tank. While his defense is a bit spotty and he offers more as an offensive weapon, the team could extend him for one more year at $10 million, but he will likely be looking for a pay increase based on his production — deservedly so.
Of course, New York will allow Elfrid Payton to hit the free-agent market, based on his disappearance in the postseason and lack of offensive production. Leon will likely replace him via trade or draft a prospect.
Last season Payton was earning $4.7 million, so they will save a nice chunk of change to reallocate.
Overall, Bullock and Rose represent the two players with the highest probability of being kept in New York for next season, but there is reason to believe they can allow all five to walk, saving $50 million and going on a spending spree in FA. The Knicks have the flexibility to do so, so it is just a matter of deciding on their future and if any of these free agents are considered solutions moving forward.
Read full article at Empire Sports Media
SNY 20 July, 2021 - 01:10pm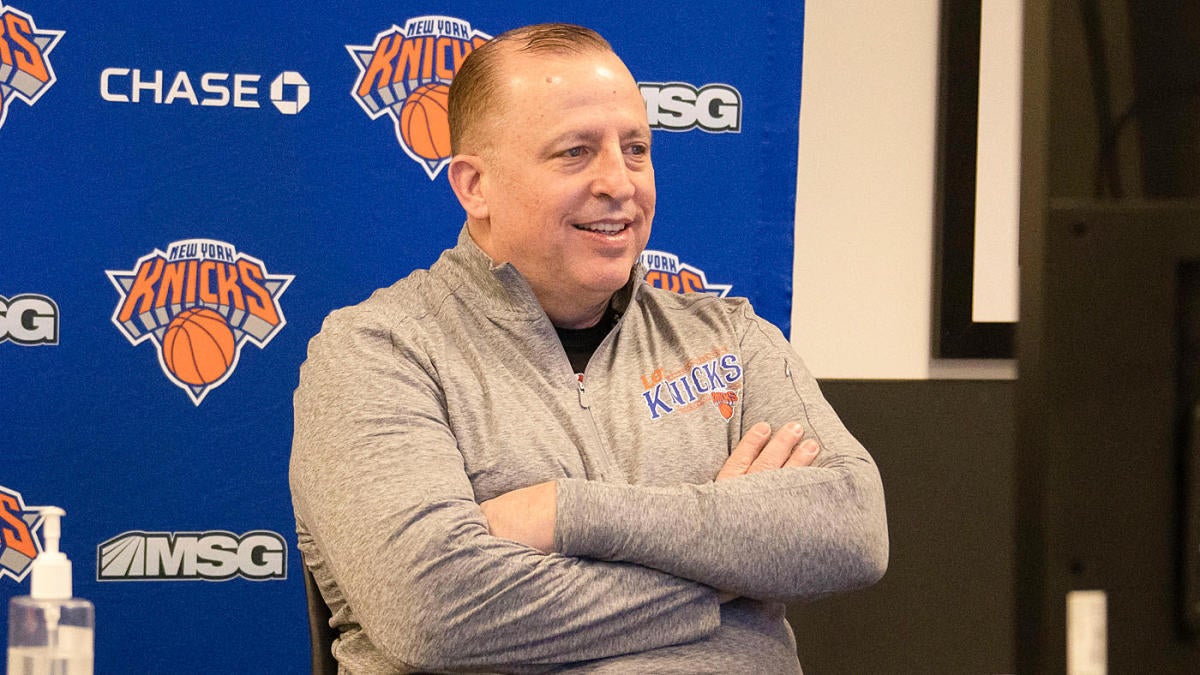 CBS Sports 20 July, 2021 - 01:10pm
Two teams are still playing in the NBA Finals. The remaining 28? They're gearing up for an offseason that is quickly approaching. The 2021 NBA Draft is only 10 days away. Free agency begins in two weeks. Trades will start pouring in well before that. Get ready for the NBA's annual summer pandemonium. 
But as always, certain teams are far better situated for it than others. Most of the teams we've seen deep into the postseason may be capped out, but the teams hoping to unseat them in the near future are not. So with the spending spree coming up, let's look at where all 30 teams stand in relation to the cap. Who has space? Who has which exceptions? Who's going to be active this summer, and who's going to sit things out? Before we figure that out, here are a couple of quick notes:
So, with that in mind, let's dive in. Here is an approximation of how much spending power each team will have this offseason. 
New York Knicks: The cap space kings of the 2021 offseason can create as much flexibility as they need. If they renounce all of their own free agents, they can get up to around $50 million in space. Don't be surprised if that amount winds up being a bit lower, though. The Knicks had a couple of bargain contracts last season that will have relatively low cap holds this offseason. Derrick Rose, for instance, has a cap hold of only around $10 million. Nerlens Noel is even lower at $6 million, and Reggie Bullock is the cheapest of the three at $5.5 million. All three are players the Knicks would theoretically like to retain. If that is indeed the plan, the Knicks could keep all three on their books, spend the remaining $29 million or so they'd have in space and then bring all three back on new deals. This might be difficult for Noel, whose non-Bird rights allow the Knicks to offer him only $6 million without dipping into cap space, but they have so much room to operate that doing so might not be a problem. New York can do essentially whatever it wants this offseason.
San Antonio Spurs: The Knicks have the most potential space of 2021, but San Antonio has the most practical cap room. Even if the Spurs want to retain their veteran free agents, cap holds on DeMar DeRozan, Rudy Gay and Patty Mills are so enormous that the only reason to operate above the cap would be if the Spurs planned to bring back all three. Realistically, they won't do so, and will therefore renounce their free agents and re-sign any they want to retain with space. They'll have plenty of it. With 10 players already signed and a lottery pick incoming, the Spurs are set to have around $48 million in space this offseason. 
Oklahoma City Thunder: The Thunder might have topped this list before acquiring Kemba Walker, but Oklahoma City is strategically using its space to acquire assets. It got the No. 16 overall pick from Boston to take on Walker, and will almost certainly use more of its space to solve other teams' financial woes. Fortunately, the Thunder will have plenty of space to do that with. Even accounting for their three first-round picks, the Thunder will hover around $38 million in space before making any more moves. 
Dallas Mavericks: There are two major stories for the Mavericks. First, there's Josh Richardson's $11.6 million option. If he declines it, Dallas starts the offseason with over $32 million in space. If he picks it up? The Mavericks fall closer to $21 million, though they can shave a bit more by declining the team option of Willie Cauley-Stein. At that point, Dallas needs to decide what it plans to do about Tim Hardaway Jr. and his $28.5 million cap hold. In all likelihood, Hardaway's next deal will be smaller than that, so even if they want to keep him, it would make more sense to renounce him and just sign him to a new deal. If, for whatever reason, they view retaining any other players as a priority, they could simply operate above the cap and keep Hardaway, Boban Marjanovic and perhaps even JJ Redick (as unlikely as that appears). Regardless of what Richardson does, though, Dallas will probably try to use cap space this offseason.
Miami Heat: Miami's situation is complicated for a variety of reasons. There is an argument against creating cap space at all for the Heat. Doing so would cost them Goran Dragic, Andre Iguodala, and unless he's willing to take a massive pay cut, Victor Oladipo. If Miami thinks its next major addition will come through trade, picking up its options on Dragic and Iguodala would give the team a ton of valuable expiring salary, but if the Heat want to make such an addition in free agency, they'll have to hope they can do so without true max space. The extension they signed Bam Adebayo to last offseason combined with the dead money they incurred by stretching Ryan Anderson in 2019 made that impossible. At most, they can create around $27 million in room, and even that requires a pretty bold gambit. Right now, restricted free agents Duncan Robinson and Kendrick Nunn have $4.7 million cap holds. Miami can lower those holds to $1.7 million by pulling its qualifying offers and making them unrestricted free agents, a trick that only works because of how underpaid Robinson and Nunn have been over the past few years as undrafted free agents. The danger in doing so would be some other team swooping in and out-bidding Miami. They don't have to pull their qualifying offers immediately, though, so the Heat could verbally agree to new contracts with them before taking such risks. Then, they would wait to actually sign both until after they've used their space on other players, thus maximizing those low cap holds. 
Toronto Raptors: Toronto's situation is similar to Miami's in many ways. If the Raptors want to keep Kyle Lowry, their best bet would be to operate above the cap and keep the salaries of Chris Boucher and Aron Baynes on the books (with Baynes likely serving as trade fodder). They can't quite get to the max in part because of the extension they signed OG Anunoby to last offseason, but they can still get to around $27 million if they use the same trick Miami might with Robinson and Nunn on their own restricted free agent, Gary Trent Jr. They'll likely do just that, but considering Boucher's value, expect the Raptors to retain him and clock in at around $21 million in space this offseason unless a truly special opportunity arises.
Charlotte Hornets: The Hornets are our third consecutive team with access to the "pull the qualifying offer" trick in the name of maximizing space. Their restricted free agent is Devonte' Graham, who will almost certainly be back. The same cannot be said for Malik Monk, who is also restricted, but has a $16 million cap hold that simply isn't worth retaining. If they want him back, their best bet is either signing him with space or hoping he'll take the cap room mid-level exception. Assuming they renounce Monk and make Graham unrestricted, they're looking at almost $25 million in space to pursue a new center. That figure should be substantially higher, but remember, the Hornets curiously chose to use the stretch provision on Nicolas Batum last offseason to create the space needed to sign Gordon Hayward. Had they found that space through trade, they'd have an extra $9 million to use this offseason. 
Memphis Grizzlies: Memphis has only one significant financial decision to make before free agency: Is it keeping Justise Winslow? His $13 million team option is the difference between $24 million in cap space and $11 million, but even if the Grizzlies decline that option, there's no guarantee that they spend their money this summer. Even if they extend Jaren Jackson Jr. this offseason, the expiring contracts of Jonas Valanciunas, Kyle Anderson and Tyus Jones could give the Grizzlies significantly more cap space in 2022 as long as they don't make any major commitments this offseason. The 2022 class is not only stronger at the top than 2021, but has far more of the two-way wings the Grizzlies will likely seek out with their eventual space, so don't be surprised if Memphis sits out the frenzy this year so it can evaluate the players it currently has under contract before reconstructing the roster a year from now. 
Phoenix Suns: Yes, you're reading this correctly. The Western Conference champion Phoenix Suns can technically get to around $28 million in space … but only if Chris Paul leaves. All signs suggest that he plans to stay, though, which creates some other questions. If Paul opts into the final year and $44.2 million on his deal, the Suns would have only around $10 million in room beneath the tax line before re-signing any of their own free agents. If he re-signs on a long-term deal, he might do so at a lower annual salary. That would give the Suns more room to potentially bring back key reserves like Cameron Payne and Torrey Craig or even use the non-taxpayer mid-level exception on an outsider. Don't expect the Suns to make many other long-term commitments this offseason, though. Deandre Ayton and Mikal Bridges are both extension-eligible, so those deals will kick in for the 2022-23 season and make the Suns one of the NBA's most expensive rosters. Their goal this offseason will be to keep as many players as possible without going above the tax line. They're going to be in tax territory for several years down the line, so delaying the repeater clock is critical.
Atlanta Hawks: Atlanta and Phoenix are in the same boat. The Hawks can get to around $16 million in space, but only if they lose John Collins. They likely don't want to do so, but just as Phoenix has to re-sign Bridges and Ayton, the Hawks know that Trae Young and Kevin Huerter are also extension-eligible this offseason. De'Andre Hunter and Cam Reddish are only a year behind, and eventually, the Hawks are going to have to decide which players they can afford to keep and who is going to get sacrificed for financial purposes. Assuming Collins is re-signed, though, Atlanta should still have enough room beneath the tax line to either keep Lou Williams and/or Tony Snell or perhaps use the non-taxpayer mid-level exception on a short-term addition. 
Chicago Bulls: The Bulls are stuck between a rock and a hard place. Yes, they have the ability to create cap space, but they might have to use it to renegotiate and extend the contract of Zach LaVine, who is making well below his max right now. If they don't, they risk losing LaVine for nothing in free agency next year. But if they do? They lose the flexibility to put a winning team around him. Let's say Chicago rolls the dice and doesn't extend LaVine this offseason. With the contracts currently on their books, the Bulls are looking at roughly $11 million in space. However, Thaddeus Young ($6 million out of $14.2 million) and Tomas Satoransky ($5 million out of $10 million) both have partially guaranteed deals. Ryan Arcidiacono is fully non-guaranteed at $3 million. Waiving all three would immediately create an extra $13 million or so in space once incomplete roster charges are factored in, and those savings would be even greater if the Bulls chose to stretch them over multiple years. Speaking of the stretch provision, the Bulls could also use it on Al-Farouq Aminu to create another $7 million or so in room. Ultimately, the Bulls are likely to either waive or waive-and-stretch several of these players, but not all of them. Who they choose to dump will determine how much space they have to find a point guard. If they're aggressive enough, perhaps they can even create the $14 million or so they'd need to extend LaVine at his max in addition to making such a move, though that would appear unlikely.
Cleveland Cavaliers: If Cleveland left its roster alone right now, it would have roughly $18 million in space. However, that wouldn't account for the No. 3 overall pick or restricted free agent Jarrett Allen. Together, they push Cleveland toward the non-taxpayer mid-level group. However, if the No. 3 overall pick is used on Evan Mobley, the Cavs' long-term center position is suddenly occupied. That might make them more amenable to a sign-and-trade involving Allen. If he's gone, Cleveland suddenly has roughly $10 million in room to work with. The Cavs could then start to carve out some extra room by releasing the four non-guaranteed players at the bottom of their roster, but the other big-ticket question involves Kevin Love. Might he and the Cavaliers consider a buyout? Depending on the amount he agrees to surrender and whether or not they stretch the remainder, buying out Love could create an enormous amount of space for Cleveland. At this stage, that appears unlikely. For now, expect Cleveland to keep Allen and eschew cap space.
Detroit Pistons: The Pistons are roughly $10 million below the cap at this moment, but the No. 1 pick wipes away that space. Detroit could create more of it by waiving Rodney McGruder, whose $5 million salary is non-guaranteed, and Cory Joseph, whose deal only guarantees him $2.4 million. They'd probably like to keep the tiny $2.1 million cap hold of restricted free agent Hamidou Diallo on the books after a strong season, but the Pistons have no other free agents they desperately need to keep (though Saben Lee has earned a minimum deal at the very least). All in all, these simple steps can get the Pistons to around $11 million in space if they want it.
New Orleans Pelicans: The Pelicans would have around $13 million in space if they let go of their own free agents. They likely won't do that, though, because it would mean renouncing Lonzo Ball and Josh Hart. At the very least, both could net assets back in a sign-and-trade. More likely, the Pelicans try to bring them back. It just isn't worth the assets it would take to move one of their bad contracts (Steven Adams, Eric Bledsoe) and make a run at max cap space considering the relatively weak class that is about to enter free agency.
Orlando Magic: The Magic are below the cap at this moment, but almost all of their space is going to get wiped out by the NBA Draft. Orlando has two top-10 picks at No. 5 and No. 8 overall. Those two will cost them over $11 million, so barring a surprise move, cap space is likely out of the question. That should suit the Magic just fine. They are rebuilding, so there's no guarantee they even bother to use the mid-level exception.
Sacramento Kings: When you factor in the No. 9 overall pick, the Kings are only around $4 million below the cap. That's a problem for Sacramento because free-agent center Richaun Holmes only has Early Bird rights. They can only pay him 105 percent of the non-taxpayer mid-level exception without creating the cap space to go higher. If they want to make a competitive bid, they are going to have to trade at least one of their more expensive veterans. Otherwise? They're using their mid-level exception to pursue a replacement.
Indiana Pacers: It's a bit unfair to put Indiana in this group. The Pacers could use the non-taxpayer mid-level exception, but realistically probably won't. They are roughly $12 million below the tax line right now, but that does not include free agents Doug McDermott and T.J. McConnell. Indiana's ownership is stingy in the best of times. It probably isn't paying the tax in the middle of a pandemic for a team that didn't make it past the play-in stage this season. Barring a trade, they'll likely be able to afford one of McDermott, McConnell and the mid-level exception. If they're able to get off a bigger contract like Jeremy Lamb's, they could perhaps go for two, but all three is almost certainly out of the question.
Denver Nuggets: Denver is hovering right around the cap after Will Barton reportedly opted out. JaMychal Green has a player option as well, and without him, the Nuggets would actually dip far enough below the cap to conceivably use space if they wanted to (which, given their internal free agents, they probably wouldn't). More realistically, they are accounting for Green's return through either his option or a new deal, and that puts all eyes on Barton. The Nuggets would probably prefer to re-sign him for multiple years at a salary close to his last deal (in the $13-15 million range), but if he leaves, they can try to replace him with the non-taxpayer mid-level exception. Paul Millsap will probably be retained with Bird rights, but expect the Nuggets to be stingy on long-term deals this offseason. Michael Porter Jr. is extension-eligible and Aaron Gordon's deal expires after next season. Throw in the supermax extension Nikola Jokic will likely receive next offseason and the Nuggets are about to get very, very expensive. With that in mind, paying the tax this season is probably out of the question. Denver needs to delay the repeater clock as long as possible because it's going to be paying the tax for years to come.
Houston Rockets: Houston is around $14 million below the cap at this moment, but its three first-round picks are going to cost roughly $11.5 million. That makes cap space somewhat unrealistic. Maybe the Rockets re-sign Kelly Olynyk. Maybe they use the mid-level exception. Otherwise? Expect a fairly quiet free agency period.
Washington Wizards: The Wizards are roughly $11 million below the projected tax line, but most of their roster from last season is intact. They have a few younger free agents they'd like to retain fairly cheaply (Garrison Mathews, Isaac Bonga), but ultimately, the decision will be whether they want to use their remaining space beneath the line to retain Robin Lopez or pursue someone else with part of the mid-level exception. The Wizards could choose to do both and pay the tax as a show of good faith to 2022 free agent Bradley Beal, but with a non-contending roster, that seems like a longshot.
Minnesota Timberwolves: Minnesota has one of the simplest cap sheets in basketball. They are roughly $5 million below the tax right now. The biggest expenditure the Wolves are likely to make before any trades would be signing last year's No. 23 overall pick, Leandro Bolmaro, to a rookie-scale deal. After that? They'll likely keep things cheap to stay below the tax line. If there's a big move here, it's probably coming on the trade market.
Boston Celtics: The Celtics took an important financial step when they turned Walker into Al Horford. That trade got them below the tax line, but staying below it won't be easy. They have only around $8 million in room beneath the tax to potentially re-sign Evan Fournier, who made more than twice that much last season. He is their only major internal free agent, but Boston may have to attach a pick to move Tristan Thompson just to be able to afford him below the tax. If the Celtics were to lose Fournier, they could use the non-taxpayer mid-level exception to try to replace him, but lingering over all of this is the potential for Boston to generate meaningful cap space next offseason. The Celtics have only two fully guaranteed contracts for the 2022-23 season: Jayson Tatum and Jaylen Brown. Horford is partially guaranteed for $14.5 million, a tradable figure with the right picks attached, and all of their other leftover players have team options on their rookie deals. Will the Celtics prioritize this season, or saving flexibility for 2022?
Portland Trail Blazers: Portland has around $21 million below the tax line, but that accounts for only eight players. Norman Powell isn't one of them, and the Blazers wouldn't have traded for him if they weren't comfortable with the idea of paying him. Throw in the almost non-existent bench and the Blazers are going to have to pay the tax to field a competitive team. A Damian Lillard trade could change the equation, but for now, it would be hard to imagine Portland keeping Powell and staying below the line without a trade. 
Los Angeles Lakers: If Montrezl Harrell opts in, the Lakers will have around $12 million beneath the tax line with only eight players accounted for (including the No. 22 overall pick). That does not include free agents Dennis Schroder, Alex Caruso, Talen Horton-Tucker or Andre Drummond. Some combination of those players will be back. There are only two feasible paths for the Lakers to avoid the tax: allow their free agents to walk for nothing, or some sort of unforeseen gambit to trade veterans that are already in place to create cap space. Neither scenario is going to happen. The Lakers are paying the tax.
Philadelphia 76ers: Philly has around $5 million in space beneath the tax line, but George Hill is only guaranteed around $1.3 million. Waiving him would create some breathing room if the 76ers want it, but they'd likely prefer to keep him as salary fodder for a possible trade. Ideally, they would re-sign Danny Green using his Early Bird rights, but they'll have competition on that front. It would take a surprising trade to avoid the tax, all things considered, but it's doable if ownership demands it.
Milwaukee Bucks: A fun subplot of the 2021 Finals involves Jrue Holiday's contract. The Bucks took significant steps to avoid the tax at the deadline (which partially explains their decision to trade Torrey Craig), but could only just squeak below the line. That hard work would be wiped away if they win the championship, because doing so would give Holiday a $1 million bonus that would take them back into the tax. Of course, ownership is likely happy to pay the tax for a championship team, but there are long-term ripple effects when it comes to the repeater clock. Milwaukee is more than $12 million above the tax line for next season. Donte DiVincenzo's possible rookie extension would kick in the year after that. Holiday, Khris Middleton and Giannis Antetokounmpo are all signed for at least three more years. That means, in all likelihood, three years of tax payments. Throw in this season and you get at least one year in the repeater tax. This title could wind up costing the Bucks millions of dollars. 
Los Angeles Clippers: Even if Kawhi Leonard, Reggie Jackson and Batum all left in free agency, the Clippers would still be above the salary cap next season. We assume Leonard will be back at the max, and Jackson and Batum will ideally join him at more modest prices as well. Add that up and the Clippers will be deep into the tax next season. 
Utah Jazz: The Jazz are less than $2 million below the tax line including the No. 30 overall pick … and that doesn't even include a new contract for All-Star point guard Mike Conley. Keeping this team together is going to be very, very expensive. New owner Ryan Smith's commitment to winning will be tested ahead of only his second season with the team.
Brooklyn Nets: Brooklyn has only eight players under contract for next season, but with the No. 27 pick factored in, the Nets are over $26 million above the tax line. Spencer Dinwiddie and Bruce Brown are likely to demand substantial deals, so keeping either would only push the Nets deeper into the tax. Brooklyn, at present, is the favorite to have the NBA's most expensive roster next season.
Golden State Warriors: The Nets are probably going to end up as the NBA's most expensive team, but Golden State has the edge right now. With two high first-round picks joining an already expensive roster, the Warriors are currently more than $30 million past the tax threshold. Re-signing or trading Kelly Oubre Jr. would just make things pricier. Every dollar counts for Golden State right now. The Warriors are going to cost Joe Lacob a fortune next season.
© 2004-2021 CBS Interactive. All Rights Reserved.
CBS Sports is a registered trademark of CBS Broadcasting Inc. Commissioner.com is a registered trademark of CBS Interactive Inc.
Images by Getty Images and US Presswire
New York Daily News 20 July, 2021 - 12:49pm
"I'll weigh it simply off how I can further my career and be best utilized in a system both offensively and defensively, and help that team get to the next step, and myself as well," Noel told Hoopshype's Michael Scotto in an interview published Tuesday. "Collectively, reaching the playoffs. My individual goal, which is more team orientated, is going deeper into the playoffs. I haven't been to the second round yet, so I want to crack through. Whether it's a team that has or hasn't been to the playoffs, I just want to help the team overall with my playing style and wreaking havoc defensively and catching lobs. It's about finding the right fit. Guard play that can help a big man excel. Small things like that I think will be an ideal fit."
Noel is one of eight Knicks free agents this summer, and he's undoubtedly looking for a raise from his $5 million salary of last season. He was Tom Thibodeau's defensive anchor and finished third in the NBA in blocks, behind only Myles Turner and Rudy Gobert.
Still, the Knicks have a younger center with more potential — Mitchell Robinson — who they've identified as a building block. Stylistically, Robinson and Noel are redundant and cannot play together. Robinson was slotted as the starter last season but was derailed by injuries. He underwent surgery on his broken right foot in March and was spotted in a social media video this week still wearing a boot.
He is guaranteed just $1.8 million next season on a team option, although the Knicks could also seek an extension.
Noel took advantage of the opportunity while starting 41 of the 70 games. But he also suffered a sprained ankle in the playoffs and struggled as New York fell in five games to the Hawks.
"I would describe my time in New York last year as a successful and great time," Noel said. "I feel like they gave me an opportunity that I seized. Coming into New York, I had a chip on my shoulder. We all know what this team and organization have been through. I definitely wanted to make it a focal point to be a part of something special and grasp the opportunity that was available here. I saw some of the moves they made, and I felt like they weren't too far off. At the right time, things came together with a guy like Julius (Randle) being a great leader for the team and guys like myself, Alec (Burks), and Reggie (Bullock), the right role players to make up a complete team. I think that's what that was. I feel like it was a great year and a great team."
Although Noel is entering his eighth NBA season as a former sixth overall pick out of Kentucky, he's still only 27 and inside his physical prime. He's looking to capitalize on the circumstances in free agency.
"I want to hit the best years of my career now in a situation like this where I can choose the right situation to go to and really apply myself to showcase things I haven't been able to and do," Noel said.
Yahoo Sports 20 July, 2021 - 10:19am
Dan Wetzel, Pat Forde, Pete Thamel
The Sacramento Kings and Toronto Raptors, as reported by HoopsHype, along with the Charlotte Hornets, Dallas Mavericks, and Brooklyn Nets, per SNY, are among those expected to have interest in Noel.
After making $5 million this past season with the Knicks, Noel could double that salary this summer. Noel helped anchor a Knicks defense that ranked 13th in opponent rim field goal percentage last season (63.2 percent) to the best in the league this year (60.5 percent). The Knicks also had a 25-16 record when Noel started and 16-15 when he did not.
With free agency at the start of August nearly upon us, Noel spoke with HoopsHype about his time playing for coach Tom Thibodeau, what he's looking for in free agency, and a look back at his career thus far, including his time with the 76ers during the "Trust the Process" era.
What was it like playing for NBA Coach of the Year, Tom Thibodeau?
Noel: It was great playing for coach Thibodeau. He's an overall great person to be around. He takes his work seriously. Most importantly, he holds guys accountable. On a young team like that, I was able to give my leadership to the team being a veteran. Coach Thibs was right at the top of the helm, gave all his type of experiences, his gritty type of style and attitude to the team. I think it really helped my playing style, especially defensively, to really break out and be as aggressive as I could and switch out onto screens and try to change the game on that side of the ball.
How would you describe your time in New York last season, and what did playing for the Knicks do for your game?
Noel: I would describe my time in New York last year as a successful and great time. I feel like they gave me an opportunity that I seized. Coming into New York, I had a chip on my shoulder. We all know what this team and organization have been through. I definitely wanted to make it a focal point to be a part of something special and grasp the opportunity that was available here. I saw some of the moves they made, and I felt like they weren't too far off. At the right time, things came together with a guy like Julius (Randle) being a great leader for the team and guys like myself, Alec (Burks), and Reggie (Bullock), the right role players to make up a complete team. I think that's what that was. I feel like it was a great year and a great team.
Not many people picked the Knicks as a playoff team. What were your expectations coming into the season?
Noel: I'd say it met my expectations. I'm a competitor, and I felt like we could've done better even if it didn't look like that at the beginning of the year. There was a point in the middle of the year where we were creeping on the fourth seed and feeling like we could be a real team and do some things. I think it met expectations, but I want to exceed them as much as possible to show how special that group really was. Guys tried to play the right way. It just didn't fall in our favor.
Did anything surprise you about coach Thibodeau?
Noel: He was pretty funny and cracked jokes. He knew how to keep the locker room light when he needed to, and he would know how to control and lead a room. I didn't know that side of his personality. He has a more opened up, laughing jokes side. It's more than some people would expect. It's good to see that side of him as well as the business side.
How do you weigh your time in New York when deciding your future with several other teams trying to sign you?
Noel: I'll weigh it simply off how I can further my career and be best utilized in a system both offensively and defensively, and help that team get to the next step, and myself as well. Collectively, reaching the playoffs. My individual goal, which is more team orientated, is going deeper into the playoffs. I haven't been to the second round yet, so I want to crack through. Whether it's a team that has or hasn't been to the playoffs, I just want to help the team overall with my playing style and wreaking havoc defensively and catching lobs. It's about finding the right fit. Guard play that can help a big man excel. Small things like that I think will be an ideal fit.
What are you looking for on your free agent checklist?
Noel: Simply just getting to the best situation, so I can continue to show my abilities and continue to play off the momentum I've been playing off of from OKC to here now (New York). Obviously, longevity is a thing as well. I'm just locked into playing a high level of basketball and going out there and having fun wherever that is.
You're entering your prime at 27. What goals do you have for the rest of your career?
Noel: I do feel like I'm one of the best big men defensively in this league. Whether it's been credited in the past, I think this year has been different. I want to continue that mark on my career to continue to be one of the best defensive players and most versatile, from steals to blocks to doing the little things defensively that actually help you win games. That'll continuously be on my checklist and be the Defensive Player of the Year, hopefully, before my career ends and to cap it off. I want to continue to get better, play at higher levels, and continue to shoot the ball a little bit. I feel like that's an aspect of my game I haven't been able to showcase as much to get that green light. That's a small aspect of my game that I can show a little bit that can really change some things to help how effective I am on both ends of the court. At the end of the day, I know my strengths, and I'll always rely on them.
What have you thought of your career so far during your seven seasons with Philly, Dallas, OKC, and New York?
Noel: I'd say my career took some ups and downs and twists and turns, but I feel like my resilience has shown what type of person and player I am and how much I love this game. Coming out of college having my ACL injury in the first year wasn't always the easiest start before you even play a basketball game in an NBA setting. I feel like I've definitely stayed the course and been able to find myself in the position I am in now by just staying true to the game. The basketball gods always come back around if you stay true to the game and respect it the right way. It's been up and down, but to be here right now is a great blessing to continue to get these opportunities to showcase who I am. I never believed the doubter that said I was this or that. I always knew I was the same player. Sometimes, perception is what it is, but you've got to stay the true course and show your true self.
How was it for you in Philadelphia during the start of the "Trust the Process" era?
Noel: Being in the process coming out of college definitely was a process in itself. I had to become more patient at a young age, starting from sitting out. I wanted to play towards the end of the year, and respectfully, it was determined that I shouldn't play. I was itching at the bit to get out there and showcase myself even if the team was losing. Then, year by year, they drafted Joel (Embiid), but he was hurt, so I was still able to showcase and in the year after that with Jahlil (Okafor). It started to get packed in (the frontcourt), and as a young player at 19, 20, and 21 years old, you want to continue to take steps forward to show your game and take the right steps forward to get better each year. I took it for what it was and continued to work on my game and body throughout the years and work on the things that were going to keep me in the league and keep me getting better. I took it all as a learning experience as a young player in this league with not as much veteran leadership to count on yourself, your coaches, and peers around the league.
What were those Philly practices like with that frontcourt with Joel Embiid, Jahlil Okafor, Richaun Holmes, and you?
Noel: Practices were pretty intense. Brett Brown, yeah, we definitely watched tape for 80-90 percent of your practice. We were young. I think we had a top-two or top-three fastest pace in the league. It showed in the games whether we were winning or not. We were competing and playing at as high a level as we could with what we had. We had the respect of the city.
You still keep in touch with Richaun Holmes. Do you ever pinch yourself thinking back to those Philly days that you'd both be in a position to cash out this summer?
Noel: Richaun (Holmes) was a second-round pick, and he had uncertainty behind so many guys. He was just waiting for an opportunity to grow his game. I knew how good he was. I knew his potential and athleticism with the floater he had and threes. You could always build on that. To look back and to see it come to fruition is a good moment. He's a really good dude and family man. I respect that about him.
You played with Chris Paul in OKC. He's going to be a future Hall of Famer. What are your thoughts on CP3's impact?
Noel: Damn right. CP is second to none when it comes to being a mentor and teacher of the game and someone to watch how they operate daily. He's a pro's pro. His approach to the game every day is just amazing to see. I like to consider myself a winning player that makes winning plays and plays the right way, but CP is a whole other level, especially when you're playing with him. He would add onto the things I see and put it in a different type of language that helps you make it happen. He's always giving you the right advice, whether it's aggressive or not. Obviously, this is a grown man's league, so you've got to be able to take some criticism or take it in an aggressive manner. I always respected that about him, and he truly wants you to be a better player. Out of all the players in my career -- and I've seen Deandre Ayton be able to take advantage of their relationship -- CP is the one player I can look back and be that much more appreciative that I got to play with him and see it from a pro's pro.
Why should a team sign you, and what's something else people don't know about you?
Noel: I think the proof is in the pudding. I think teams have seen that I go out there and play hard nightly. I've always had a winning mentality and go out and put it out there for the guys. I love this game. I've shown it year by year how much I appreciate and love this game. I want to hit the best years of my career now in a situation like this where I can choose the right situation to go to and really apply myself to showcase things I haven't been able to and do things I've been doing even better. You can follow Michael Scotto on Twitter: @MikeAScotto
Knicks center Mitchell Robinson's third season ended with more questions than answers.
Are Daryl Morey and the Sixers willing to be patient if it increases their chances of landing a superstar? By Noah Levick
When the Miami Dolphins made their change at quarterback last seasons to give Tua Tagovailoa the reins coming out of their bye last October, Ryan Fitzpatrick totally took a backseat in hopes of bolstering the team's rookie starter. In the ESPN Daily podcast with Pablo Torre, Fitzpatrick said he basically didn't take any reps in [more]
Patrick Chung and Bill Belichick developed a close relationship during their years together in New England, and that made it hard for Chung to tell Belichick their relationship was over. "I just went and talked to Bill," Chung said, via Mike Reiss of ESPN. "That was probably the hardest conversation I've had in a while. [more]
The Kings reportedly are one of the teams aggressively pursuing a trade for Damian Lillard.
Powell will have multiple suitors with the Trail Blazers making it a top priority at re-signing the high-flying guard, sources said.
He's expected back early next season.
One of the Patriots' biggest offseason signings should be good to go.
As Phoenix tries to force a Game 7, Devin Booker defends Chris Paul's playoff shortcoming while Paul defends Booker's solo scoring dominance.
Milwaukee is favored at home as it tries to close out the series.
The controversial song topped the Hot Country Songs chart last week.
With her new lawyer, Britney Spears can ask the judge to surcharge her father Jamie Spears for misspent money.
Olympics chief Thomas Bach revealed "doubts" and "sleepless nights" over the postponed Tokyo Games on Tuesday as the opening ceremony nears after a year's delay and coronavirus chaos that has made them deeply unpopular with the Japanese public.
Buffalo Bills receiver and SMU and Little Elm alumnus Cole Beasley has publicly resisted getting the COVID-19 vaccine.
Cannabis for anyone who wants it is inevitable, but existing laws are a tangle that will have to be untied. | Editorial
A new poll reveals that a staggering amount of the American public will not get vaccinated due to conspiracy theories […] The post 1 in 5 Americans believe government implanting microchips with vaccine appeared first on TheGrio.
Amid concerns about vaccine misinformation, here are biggest myths about the COVID-19 vaccine circulating on social media and why they're false.
Injuries and bad production have been the story of the Yankees outfield. They need a new player in the mix.
Yahoo Sports 20 July, 2021 - 09:15am
Dan Wetzel, Pat Forde, Pete Thamel
The seven-foot center was only able to play in 31 games thanks to a fractured right hand suffered in February and a fractured right foot suffered in March. Robinson's counting stats (8.3 points, 8.1 rebounds and 1.5 blocks) also took a slight dive, but he's shown signs of an improved game in meaningful ways.
Entering this offseason, Robinson and the team have reached the most important juncture of their partnership since the Knicks drafted him in the second round of the 2018 NBA Draft.
Just 31 games is a small sample size to evaluate Robinson's third season with the Knicks, but there were some encouraging moments that stood out. He drastically reduced his foul rate, which had become a concern.
After fouling out 15 times in his first two seasons, Robinson didn't foul out once in his third year. Robinson tried to block everything when he first came into the league. Many of his fouls came from wild gambles or pursuits of shots that he had no possibility of altering or blocking.
A result was that Robinson always found himself out of position, leaving the Knicks susceptible to drop-off passes or offensive rebounds. Robinson dialing back his aggression has led to good things. The Knicks allowed 106.6 points per 100 possessions in the 831 minutes Robinson was on the floor, according to NBA Stats. That result would've been the No. 1 defense in the NBA during the regular season. New York also rebounded better as a team when Robinson was on the floor.
He's a major aerial threat for the team in the pick and roll. Thanks to great hands, athleticism and a 7-foot-4 wingspan, Robinson is able to catch pretty much any type of lob pass thrown in the vicinity of the rim.
According to the NBA Stats page, Robinson converted on 41 alley oops this past season. That accounted for 41 percent of the team's completed lobs during the regular season. Robinson's backup, Nerlens Noel, finished fewer alley-oops (39) despite playing 694 more minutes.
Before the start of this past season season, it seemed likely that the Knicks could negotiate a new deal with Robinson, but his injury issues make that decision a lot more difficult.
It would make sense for an extension that is around three years and $30-$33 million. It's also a possibility that both parties would want to hold off for one more season and explore how Robinson looks returning from injury. That would also allow Robinson another chance to grow his value with a strong individual season. However, it does open up the risk for the Knicks of losing Robinson for nothing as an unrestricted free agent.
For Robinson, centers are not en vogue in the NBA. Teams are not paying a premium for big men who can't shoot from the perimeter or guard multiple positions. A comp for Robinson around the league in terms of skill would be Atlanta Hawks center Clint Capela.
The Hawks center has become a premier player on the defensive end, while doing enough as an offensive rebounder and pick and roll partner with All-Star Trae Young. Capela received a five-year, $90 million deal from the Houston Rockets. Capela's situation was different as he was a more productive pick and roll player and the linchpin of an all-switching Rockets defense.
Robinson isn't at that level, but it's a facsimile for what Robinson can become, especially if the Knicks can find ways to space the floor better and improve their ball movement on offense.
A spaced floor will allow Robinson more room to operate in the spread pick-and-roll and realize his value as a rim runner and finisher on offense while protecting the rim on defense.
With Noel and Taj Gibson both free agents, the Knicks don't have any other options at the center position. The Knicks at times did look good with Noel in the place of Robinson. Still, Robinson is just 23 years old and has room to grow on both ends of the floor.
Though they have the cap space available to pursue other starting caliber centers like Jarrett Allen or Richaun Holmes or keep Noel, it makes sense to hold on to Robinson and keep him long-term.
Knicks center Nerlens Noel discussed what he wants in NBA free agency, his time with the Knicks, 76ers, and Chris Paul with Michael Scotto.
The loudest voices championing Wizards head coach Wes Unseld Jr. for the job? The players he coached as an assistant.
Per reports, Oregon alum Edniesha Curry is named to Billups' coaching staff
Jets rookie wideout Elijah Moore made a big play off the field over the weekend, vowing to pay off all of his mother's debts.
Roko Prkacin, whose skill set seems to fit what Sam Presti and the Thunder look for in prospects, has withdrawn his name from the draft, according to ESPN.
He's expected back early next season.
The Yankees have reached a deal with their first-round MLB Draft pick SS Trey Sweeney.
President Joe Biden walked back criticism that Facebook was "killing" people en masse by allowing coronavirus falsehoods to spread online after both sides traded disinformation accusations.
The Patriots will face two NFC opponents in joint practices during this preseason.
Powell will have multiple suitors with the Trail Blazers making it a top priority at re-signing the high-flying guard, sources said.
Ten years ago, Republicans would have howled at the executive orders the president just issued. Now, there's little reaction at all.
The USA was back to being a physical and dominating defense, at least for 20 minutes.
The Kings reportedly are one of the teams aggressively pursuing a trade for Damian Lillard.
Philadelphia Eagles: What are the best nicknames in franchise history
Here are some pros and cons for the New York Knicks picking Duke's Jalen Johnson in the 2021 NBA Draft.
Yankees promote Estevan Florial, as outfield injuries continue to hurt the team.
GM will debut the 2023 Chevy Corvette Z06, teasing it will "never sound the same," leading to speculation it will be an EV, a first for a 'Vette.
The Pistons are reportedly likely to draft Cade Cunningham No. 1 overall.
The Knicks Wall 20 July, 2021 - 05:57am
Posted by Quentin Haynes, Nick Scolaro, Sam DiGiovanni and Eli Cohen | Jul 20, 2021
Usually, the NBA Draft is a clear-cut process for the New York Knicks. Thanks to the high draft positioning they're (usually) famous for having, there's a pretty good idea as to who they'll end up selecting. With picks as high as three and four, and even picks eight or nine, there is always a good idea as to who the players available for them will be.
The 2021 NBA Draft bucks the trend. The highest pick the Knicks have at the moment is no. 19, with the 21st, 32nd, and 58th overall picks in their possession as well. Last year's draft showed first-timer Leon Rose's affinity for wheeling and dealing, which could make his second draft night as a president of basketball operations an unpredictable one.
Four TKW writers have teamed up to offer a brief glimpse into how many different directions the Knicks could take. Each writer has a different collection of picks to draft players with. They'll be working with different draft simulations since no one knows what the draft will look like until it's happening live.
Here are four visions of an ideal 2021 draft class for the Knicks. Each image was made with Fanspo's mock draft simulator.
Cooper is perhaps the perfect fit for the Knicks out of all the mid-to-late-first-round prospects. Just missing him right here stings, but being able to select James Bouknight curbs those sad feelings. Bouknight, a 6-foot-4 guard from UConn, has the tools to be a scoring machine, primarily slick handles and explosive finishing near the hoop. The Brooklyn native has a nose for the basket and much more potential to tap into if he improves his deep-range shooting and decision making.
With pick 21, I think the Knicks would be wise to still look for a true point guard. One of Jared Butler or Jaden Springer would suffice but I would prefer Springer due to his age (he's not yet 19) and defensive talents. His physical playstyle would make him a perfect Thibs Guy at the point of attack defensively. He also shot 43.5% from deep in college, albeit on just 2.6 attempts per game. Springer is the rare ultra-youngster who could be impactful right away because of his defense, though he'll definitely need time to marinate the rest of his game.
At pick 58, it's damn near impossible to tell who will be available. If New York keeps this pick, whoever they use it on will likely be a draft-and-stash option, whether that be stashed overseas or in the G League. I wouldn't mind the Knicks rolling the dice on Sandro Mamukelashvili. The Seton Hall product has the mobility and passing abilities to run pick-and-rolls as a ball-handler and the size to run them as a big. He also showed some shooting ability, converting 33.6% of his triples and 71.4% of his free throws last season, each of which came on over four attempts per game.
Writer for The Knicks Wall. Word on road, is the clique about to blow.
Designed by Elegant Themes | Powered by WordPress
You must be logged in to post a comment.
Sir Charles In Charge 20 July, 2021 - 01:20am
Steven Adams (Adam Hunger/POOL PHOTOS-USA TODAY Sports)
With the 2021 NBA Draft coming on July 29, the New York Knicks have been rumored to be interested in moving up. As it stands, the Knicks pick at No. 19 and No. 21, via Dallas as a part of the Kristaps Porzingis trade, in the first round. In the second round, they have picks No. 32 and No. 58.
While it's great having all of that draft capital, it is not expected that they will use all of those picks. Instead, they will look to package some, if not all, of those picks to move up in the draft. But, which team is the most ideal trade partner?
The Pelicans currently have the No. 10 pick. However, they have a few reasons as to why they might trade back. They currently are over the cap and with Lonzo Ball reaching restricted free agency this summer, they have a major decision to make. While they would like to keep Ball on board, they are financially strapped and it's likely he moves on to another team if he gets a big-money offer. Unloading some of their big contracts might make it more palatable to matching any offer for him, though there's no guarantee.
If the Pelicans wanted to move a big-money contract to make room for Ball, one player that could be moveable is Steven Adams.
That's where the Knicks can possibly help.
New York was reportedly interested in Ball at the NBA Trade Deadline. Even though they didn't pull a trade for him at the deadline, it wouldn't be surprising if the team revisited that option during the offseason.
The Knicks, who are still building this roster into a long-term competitive team, would love to move into the top 10 of this loaded draft as well. In addition, with their league-leading $50 million-plus in cap space, they would be able to take on one of New Orleans' unwanted contracts.
What could a potential trade between the two teams look like? Let's take a look:
Not only does New Orleans get more draft capital to continue building around their franchise player Zion Williamson, but they also get a young, athletic center in Mitchell Robinson who played college ball in Louisiana. They also free up major cap space by trading Adams' $29 million expiring deal, which would allow them to go shopping this summer for free agents and/or possibly re-sign Ball.
For the Knicks, they move up nine spots and can get a more polished top-tier talent. Players such as James Bouknight, Davion Mitchell, or Corey Kispert most likely would be available for the Knicks at No. 10.
Adams is an established hard-nosed center that would fit perfectly into a Tom Thibodeau orchestrated defense. Also, by getting pick No. 34, they would have two picks at the top of the second round along with their No. 32 pick. When paired together, those picks might be able to get them back in the tail end of the first round.
Leon Rose and company no doubt has a plan laid out. But in terms of which teams to trade up with, New Orleans looks like the best possible option.
Build your custom FanSided Daily email newsletter with news and analysis on Sir Charles in Charge and all your favorite sports teams, TV shows, and more.
Your favorite teams, topics, and players all on your favorite mobile devices.
Powered by Minute Media © 2021 All Rights Reserved.
Empire Sports Media 19 July, 2021 - 04:16pm
The New York Knicks have the luxury of creating plenty of flexibility regarding salary space to sign free agents if that is what they desire. This upcoming class could end up being fantastic, but depending on what Kawhi Leonard and Chris Paul do with their player options, it could also end up being disappointing.
That is why a rumor is circulating that the front office is considering waiting until the 2022 off-season to allocate their available funds. However, they will have the most cap space this off-season out of any team, which should suggest they add a few quality players to help make a positive step forward after earning a postseason appearance during the 2020-21 season.
SNY's Ian Begley reported Monday the Knicks could shift to a patient approach to add a big name in 2022:
"As recently as last month, a source said the Knicks have talked internally about the possibility of holding enough cap space this summer for 2022 and keeping enough money around to be able to go after a max player in that 2022 class, which should include Zach LaVine and Bradley Beal."
Theoretically, this is a good idea for those that can remain patient. However, the Knicks are coming off their first playoff series in quite some time, and if they fail to take another step, the front office could regret sitting still and failing to add more talent. Realistically, based on the actions the front office has executed in the past, taking a more patient approach and thinking long-term is likely in the best interest of the team but certainly would hurt fans who are seeking instant gratification.
There is a reason to believe they can draft a few impact players and continue to grow RJ Barrett and last year's rookies, Immanuel Quickley and Obi Toppin.
Best case scenario, their young players become even more influential, creating hype around a big name joining the Knicks, especially with Zach LaVine and Bradley Beal hitting the open market in 2022.
ClutchPoints 19 July, 2021 - 09:12am
Following a productive season with the New York Knicks, Nerlens Noel is set to be a free agent this summer and will be looking to sign a new deal in the 2021 NBA offseason. With a rather dry market for centers, Noel definitely should be able to cash out on a new team that's in dire need of size and length.
Let's take a look at the four best landing spots for him in 2021 NBA free agency.
The Hornets just witnessed greatness with rookie sensation LaMelo Ball taking the league by storm. With Ball leading the way and Gordon Hayward set to return at full strength, Charlotte has a number of guards and wings who can play. What the Hornets need is an upgrade at center, making Nerlens Noel a perfect fit.
Noel would provide Ball with an ideal lob partner and would be the defensive anchor down low the team needs. A starting five of Ball, Terry Rozier, Hayward, Miles Bridges, and Noel could definitely make some noise in the Eastern Conference next season and potentially make them an exciting lower seed with great upset potential in the playoffs. The addition of Noel to their starting lineup would allow the Hornets to wreak all kinds of havoc while giving them a much-needed upgrade at the center spot.
With the Raptors going through a rough 2020-21 campaign, they'll look to bounce back huge in 2021-22. After losing Serge Ibaka and Marc Gasol last offseason, Toronto will try to upgrade at center after Aron Baynes flopped. Chris Boucher and Khem Birch (set to be a free agent) are solid players, but the Raptors need more help at the position.
This move would solidify Toronto's rotation and help put them right back in the playoff mix next season. Noel's coachability and willingness to grow would make him the perfect fit in Nick Nurse's system.
With the Nets having a title contender already put in place, a key area of weakness for them is size and length on the interior. The addition of Nerlens Noel would solve that problem and give them another athletic center in addition to Nicolas Claxton who could run the floor. He could also use his stellar rebounding to create more opportunities for them on offense while helping them make some critical stops on defense.
This signing could complete the Nets roster and give them a reliable center who could contribute to their future title runs as well. If Brooklyn wants to overtake the likes of Philly and Milwaukee next season, then adding some size and rebounding is exactly what they will need to get over the hump next postseason.
After a shakeup in the front office and a complete overhaul of their coaching staff, the Mavs' next order of business will be to build a stronger and more reliable supporting cast around franchise star Luka Doncic. A great start to this initiative would be signing Nerlens Noel to bulk up their frontcourt and give them a mobile center who thrives in the pick-and-roll game.
With Luka's court vision and stellar passing, he'd be able to create more opportunities for Noel on offense and help him improve his game immensely. Noel's rebounding and rim protection would also be a major upgrade for the Mavs and help improve their defense.
Copyright © ClutchPoints. Partner of iOne Digital / Cassius Network.