PewterReport
PewterReport
Jose Borregales attempts at 49-yard attempt and it gets blocked. #Texans recover and take it a couple of yards up the field. That's the second kick by Borregales that was blocked tonight. #Bucs

Deepi Sidhu
DeepSlant
DB Tavierre Thomas blocks the Bucs FG attempt. Terrence Brooks, who had an INT earlier, scoops it up and returns it 30 yards to the TB 30-yard line. #Texans

Greg Auman
gregauman
Borregales from 49 yards and kick is blocked, recovered by Texans and returned inside the Bucs' 30.

Bucs Nation
Bucs_Nation
Mills finds some room and fires an absolute bullet for a touchdown. Bucs lead 23-16, Texans going for 2
No teams in your favorites yet.
TAMPA, Fla. -- Tampa Bay Buccaneers defensive lineman Ndamukong Suh did not travel with the team to Houston and has been placed on the reserve/COVID-19 list, the team announced Saturday.
Starters were expected to play extensively in Saturday night's third and final preseason game at the Texans before playing in the NFL Kickoff Game on Thursday, Sept. 9.
Suh is the fourth Bucs player this week to be placed on the reserve/COVID-19 list, joining kicker Ryan Succop and offensive linemen Nick Leverett and Earl Watford. All four players are vaccinated, sources told ESPN.
This comes three days after Bucs coach Bruce Arians announced that he was implementing stricter rules for his team while traveling, including no restaurants and no family visits -- permissible activities for vaccinated individuals according to league protocols.
"There's league rules and then there's my rules. We ain't going anywhere. We're the same as last year," Arians said Wednesday. "I don't give a crap if they're vaccinated or not. They ain't going anywhere."
The state of Florida has some of the highest COVID-19 case numbers in the country. On Friday, the Florida Department of Health reported 151,760 new cases last week, with an average of 21,680 new infections per day. NFL rules allow for teams to implement protocols, such as mandatory masks indoors, in known hotspots.
Vaccination status does make a difference in how quickly a player can return to action, though. Unlike unvaccinated players, who are subject to a 10-day quarantine should they test positive for COVID-19, vaccinated players need to be asymptomatic and return two negative test results 24 hours apart in order to return.
Read full article at ESPN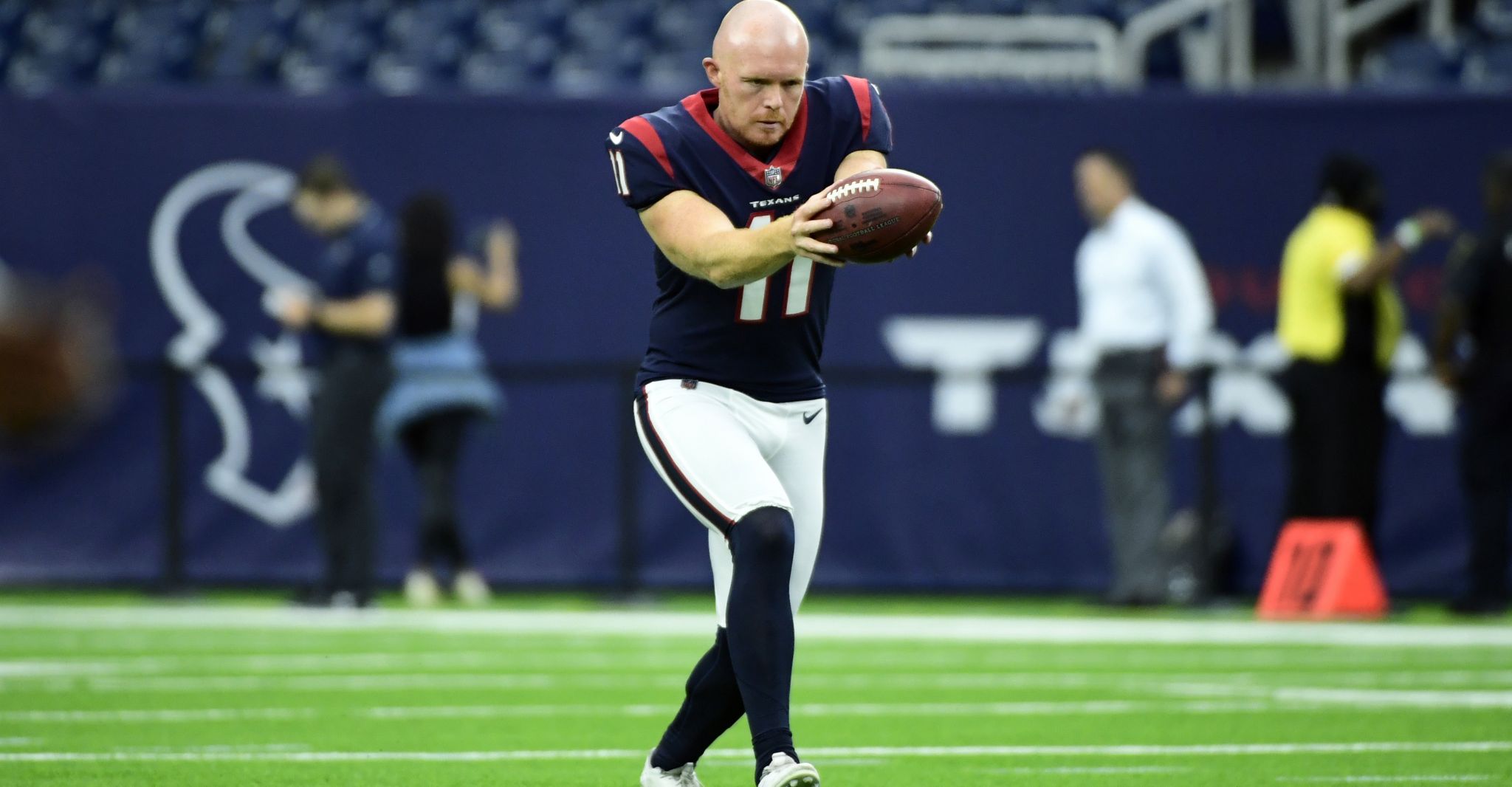 Houston Chronicle 28 August, 2021 - 08:36pm
Johnston signed a three-year, $8 million contract with the Texans after spending three seasons with the Eagles, and the former Australian rules football player is expected to provide a boost to the Houston special teams in 2021.
Johnston's three punts in the first half against Tampa Bay averaged 47.3 yards, and one traveled 61 yards. The 29-year-old out of Ohio State has averaged 47.4 yards on 12 punts so far in the preseason.
Johnston said he signed with the Texans partly to play for special teams coordinator Frank Ross.
"He's amazing," Johnston said last week. "What he was selling with the guys when he got down here, the speed on the outside. It's incredible to come down and be able to work with (long snapper) Jon (Weeks) and (kicker) Ka'imi (Fairbairn). It's a good time to be down here."
NBC Sports 28 August, 2021 - 08:04pm
Texans Wire 28 August, 2021 - 08:04pm
Buccaneers quarterback Tom Brady looks like he's ready to pick up this season where he left off last season.
Brady, the reigning Super Bowl MVP, played very well in limited action in tonight's preseason finale in Houston.
Leading the Buccaneers' first-string offense on two touchdown drives, Brady completed 11 of 14 passes for 154 yards, with a touchdown pass and no interceptions. He left the game after that and was replaced by Blaine Gabbert, who promptly threw an interception.
Now 44 and the oldest player in the NFL, Brady doesn't appear to be slowing down. His preseason play has been solid, his training camp has by all accounts gone well, and he looks ready to go when the regular season starts, in 12 days with the Buccaneers hosting the 2021 regular season opener against the Cowboys.
That guy can't get better after how many years of being a "professional"
Looks like the Texans have an excellent punter which should come in handy this season…
Brady better be healthy all season or Tampa is toast if this guy hits the field.
Sorry Bucs but us vet fans of NE must sadly inform you Brady only wins SBs every other year.
You have still never explained who declared the Colts' footballs and why Goodell refused to release the PSI data captured the following year. Care to take a crack at it?
This skinny Brady kid is never going to amount to anything.
Guys like Blaine Gabbert make me understand why teams break the piggy bank for just good to great quarterback play. That guy is gonna hang around the league for 10-15 years comfortably making QB2 money while stinking up the joint never actually becoming an ok player. Good work if you can get it.
We gon" Sizzler, we gon' Sizzler!……
GOAT- and there ain't nothing you can do about it.
"Brady started 111 consecutive regular-season games and 17 postseason games from 2001-08, before suffering the infamous torn knee. And since missing that 2008 season, from the age of 32 to 43 years old, Brady has missed zero games due to injury." So they have that going for them
First series was a lot of rust on the offense. But those next two series was like a machine kicking it into high gear. This is going to be a very hard offense to stop.
You must be logged in to leave a comment. Not a member? Register now!
This site uses Akismet to reduce spam. Learn how your comment data is processed.
State of The Texans 28 August, 2021 - 01:36pm
NFL sources tell TexansDaily.com that Houston is willing to listen to offers for the veteran pass-rusher, acquired from Miami by Texans general manager Nick Caserio in a trade exchange that sent Benardrick McKinney to the Dolphins. Lawson - who since 2018 ranks 17th among NFL defensive linemen in QB hits with 45 - was supposed to be a Day 1 starter.
That hasn't happened. And the restructuring of Lawson's original deal with Miami, which added two more years to contract, is probably something Houston wishes hadn't happened, either. Moving on from him now will be somewhat cap-costly.
But unlike the rumors about trading Lonnie Johnson Jr. (which are false) and unlike the "chatter'' that suggests Deshaun Watson is about to be dealt (also false), a fresh start for Lawson is logical.
The Texans will play their final preseason game Saturday at home against the Tampa Bay Buccaneers, after which time there will be decisions to be made for this rebuilding defense and this rebuilding franchise. Can Lawson help as a backup? That's not ideal. Can the previous transaction be salvaged by another trade that sends him elsewhere? All involved might prefer that, but NFL sources tell us that there is no deal pending.
The New York Jets, Seattle Seahawks and Detroit Lions are among the teams we're hearing might be shopping for pass-rush help before the start of the NFL regular season.
Could Lawson remain on the 53 even after Tuesday's NFL cutdown day? Yes. But that solidifies nothing here, as the Texans - who made enough moves to have added 45 new faces to the training-camp roster - will, we can guarantee you, spend the next two weeks examining a parade of more new faces ... at which time, Lawson could be moved off the roster, one way or another.
USA TODAY 28 August, 2021 - 12:00pm
The starters for the defending Super Bowl champion Buccaneers figure to see a lot of action in their preseason finale against the Texans.
A link has been sent to your friend's email address.
A link has been posted to your Facebook feed.
Mike Jones and Jori Epstein debate the NFL's vaccine efforts and how much of a disadvantage having non-vaccinated players could be during the season. USA TODAY
This should be the final tune-up for Tom Brady and the Tampa Bay Buccaneers before they start their title defense, in earnest.
Buccaneers coach Bruce Arians said that he would be playing his team's starters for the first half of Saturday's preseason game against the Houston Texans, the last before the start of the regular season.
The defending Super Bowl champion Buccaneers (0-2) are still searching for their first preseason victory and are coming off of a 34-3 loss against the Titans in which Tampa did not play its starters. Rookie quarterback Kyle Trask struggled, completing 13 of 26 passes for 131 yards with two interceptions, and the Buccaneers gained just 207 yards of total offense.
The Texans (2-0), meanwhile, are looking to stay perfect after they toppled the in-state rival Dallas Cowboys, 20-14, in their second preseason game last week. Houston gained just one more yard of total offense in its game than Tampa did in its loss against the Titans, but the Texans forced four turnovers, including a 53-yard interception that was returned for a touchdown by safety Lonnie Johnson Jr.
Texans coach David Culley said that the team's starters would play into the second half vs. the Bucs.
Here's everything you need to know for Saturday:
Tampa Bay and Houston kick off at 8 p.m. ET on Saturday, Aug. 28 at NRG Stadium in Houston.
The game will be broadcast on ABC13 in Houston and NBC WFLA-TV in Tampa.
Fans in the Houston area can watch on the HoustonTexans.com mobile website (Safari) and in the official Texans App (iOS & Android). Fans in the Tampa area can watch the game on WFLA.com. Out-of-market fans can watch on NFL GamePass.
A link has been posted to your Facebook feed.
© 2021 USA TODAY, a division of Gannett Satellite Information Network, LLC.
ESPN Australia 27 August, 2021 - 12:18pm
You have many choices when it comes to pre-ordering Halo Infinite for the Xbox Series X / Xbox One, but only one includes a free Mega Construx Halo helmet in green, blue, or red. That would be right here at Walmart, where you can pre-order the game with a SteelBook and the helmet for $59.99.
Of course, the most coveted Halo Infinte bundle involves a limited edition Xbox Series X console, but getting your hands on one of those isn't easy. You can keep tabs on retailers like Amazon, or bite the bullet and pay the markup on eBay. The Halo Infinite Limited Edition Bundle is officially set to launch on November 15th for $549.99. The game drops on December 8th. It will be arriving across Xbox Series X, Xbox One, and PC.
On a related note, Mega Construx released a character pack earlier this month to celebrate the 20th anniversary of the Halo franchise. Fittingly, it includes 20 figures, accessories, and a special range of figures in gold. There's Michael "Mickey" Crespo, Captain Veronica Dare, Spartan Jerome-092, Commander Carter-A259, Spartan Emile-A239, Miranda Keyes, and more. There's even a Mister Chief figure!
The Mega Construx 20th Anniversary Character Pack is an Amazon exclusive that was available to pre-order here for $49.99. It was sold out at the time of writing, but keep tabs on that link for a restock.
If you are unfamiliar, Mega Construx is a new sibling brand of Mattel's Mega Bloks toys that caters to older kids, adults, and collectors. They are very similar to LEGO, though one difference is that Mega Construx includes more realistic, articulated figures like the Halo ones featured here. In addition to the Halo line, Mega Contrux has popular Pokemon, Masters of the Universe, and Teenage Mutant Ninja Turtles licenses. You can check out more of the lineup here on Amazon.
Note: If you purchase one of the awesome, independently chosen products featured here, we may earn a small commission from the retailer. Thank you for your support.
Copyright 2021 ComicBook.com. All rights reserved.