The U.S. men's basketball team announced Thursday afternoon that Washington Wizards guard Bradley Beal will miss the Tokyo Olympics this summer as he's entered the health and safety protocols at Team USA training camp. Team USA is now in search for a player to replace Beal's spot on the roster.
"USA Basketball Men's National Team point guard Bradley Beal (Washington Wizards), who was placed under USA Basketball's health and safety protocols Wednesday, will remain in health and safety protocols and will be unable to participate in the July 23-August 8 Tokyo Olympic Games. A roster replacement will be named at a later time.
Out of an abundance of caution, USA Basketball Men's National Team member Jerami Grant has been placed under USA Basketball's health and safety protocols, USA Basketball announced Thursday afternoon."
It is unclear how exactly Team USA's protocols, or those that will be in place at the Olympics, differ from the protocols the NBA had in place during the season, but the Olympics are not taking many chances in the middle of this pandemic as the number of positive cases continue to spike in Japan. There will not be fans at the Olympics themselves, and now Beal will not be there either. Grant's status with the team hasn't been determined yet, but he could also miss the Olympics if Team USA deems it's necessary. 
Team USA still has two exhibition games remaining in Las Vegas. They will play against Australia on Friday and Spain on Sunday. The Olympic games themselves begin on Sunday, July 25 when Team USA takes on France. Games against Iran and the Czech Republic will follow, and then, assuming Team USA makes it that far, the single-elimination stage begins on Aug. 3. 
Beal is a first-time Olympian but was an obvious choice after a spectacular season in which he came up just short in the race for the scoring title against Stephen Curry. He is a three-time NBA All-Star that made his first All-NBA Team last season. He won gold medals playing for Team USA's U16 roster in the FIBA Americas Championship and its U17 squad in the World Championships. 
With Beal missing the Olympics, Team USA is in an even more precarious position. Devin Booker, Jrue Holiday and Khris Middleton are still playing in the NBA Finals, so they have not joined the team yet. That will put even more pressure on the Select Team members currently in Vegas to contribute, especially if a couple of them need to be promoted to the permanent roster for Tokyo. Saddiq Bey, Darius Garland and Keldon Johnson earned such promotions for the exhibition games, but it's unclear who would be in line to replace Beal and potentially Grant. 
© 2004-2021 CBS Interactive. All Rights Reserved.
CBS Sports is a registered trademark of CBS Broadcasting Inc. Commissioner.com is a registered trademark of CBS Interactive Inc.
Images by Getty Images and US Presswire
Read full article at CBS Sports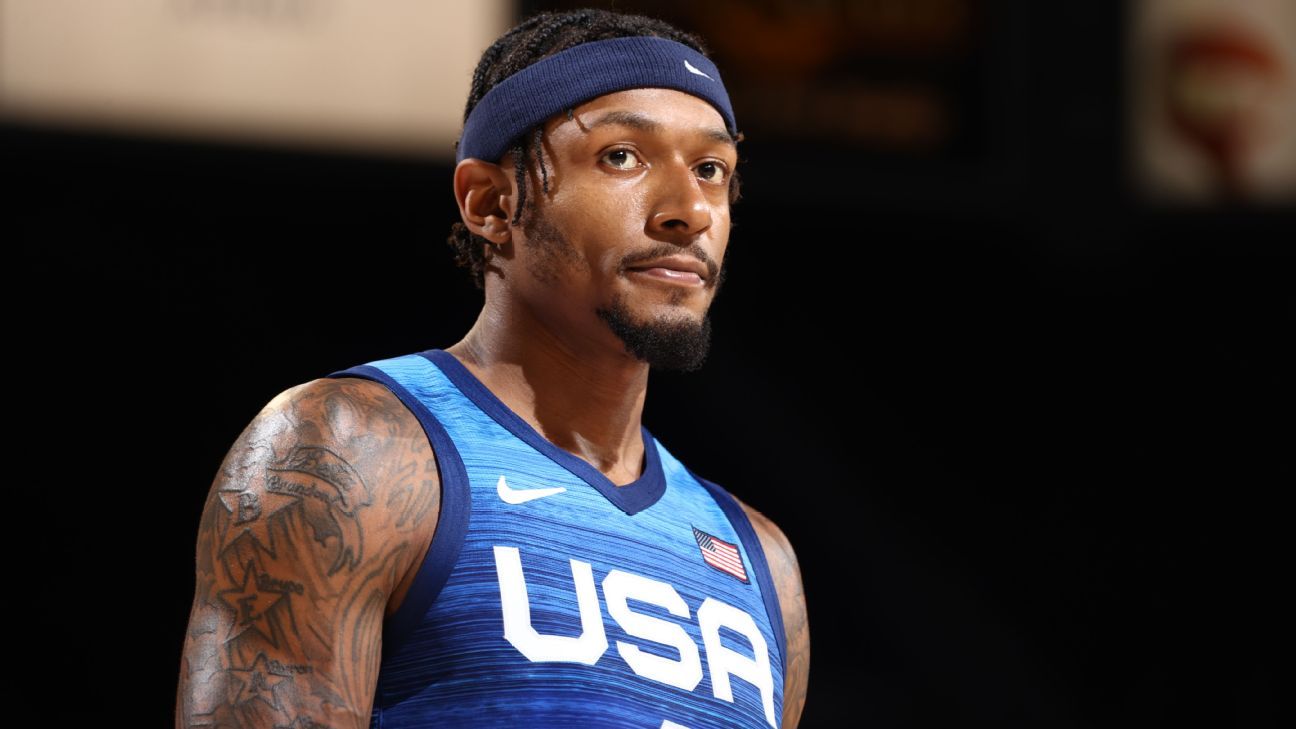 ESPN 15 July, 2021 - 04:27pm
USA Basketball announced that a player had entered the protocols but didn't name the player.
Beal, who played 30 minutes in Team USA's win over Argentina on Tuesday night, is expected to have more clarity on his status by Thursday, sources said.
There is a possibility that Beal's situation could leave him unable to play at the Tokyo Games, but that hasn't yet been confirmed. He played his best exhibition game of the pre-Olympic schedule Tuesday, scoring 17 points with six rebounds and three assists.
If Beal cannot play, Team USA has the option to replace him on the roster. Three members of the Select Team are playing in the exhibition games: Keldon Johnson of the San Antonio Spurs, Darius Garland of the Cleveland Cavaliers and Saddiq Bey of the Detroit Pistons.
Last week, three members of the USA Select roster left the team because of health and safety protocols. One player tested positive for COVID-19 and two left because of contract tracing measures, sources said.
Team USA was off Wednesday and is next scheduled to play Friday against Australia.
The Athletic first reported that Beal had entered health and safety protocols.
Detroit Bad Boys 15 July, 2021 - 01:30pm
The Pistons star has not tested positive for COVID-19, but could potentially miss the Tokyo Olympics
Jerami Grant's glue-guy-with-alpha-ability profile was a perfect fit for a team looking to win gold in Tokyo later this month. However, it's possible Grant and teammate Bradley Beal won't be with the team for the Tokyo Olympics.
Shams Charania and Joe Vardon of The Athletic reported Thursday that Grant has entered health and safety protocols at Team USA camp. He has not tested positive for COVID-19, but will join Beal in the protocols in Las Vegas.
It's good that Grant hasn't tested positive for the virus, but this, combined with the Beal news earlier this week, puts Team USA in a tough spot. The team has two more exhibitions — Friday against Australia and Sunday against Spain — before heading to Tokyo.
The Opening Ceremony is set for July 23 while the team will play its first official game on July 25 against France.
It's unknown whether Beal has tested positive, but the news that Grant did not is good. A positive test this late in the process would almost assuredly end either players' chances of heading to Tokyo. Saddiq Bey is one of three Select Team members on the Senior roster right now, but Vardon reported earlier this week that it's unlikely Team USA would select him, Darius Garland or Keldon Johnson to replace Beal or, presumably, Grant.
Hopefully, both are able to clear protocols and rejoin the team in time for the games.