Dan Wetzel, Pat Forde, Pete Thamel
USA Basketball announced its men's team would not face Australia for a second time Friday, citing "an abundance of caution." The exhibition between the USA women's team and Australia is still on.
Beal had started all three exhibition games in the USA backcourt alongside Damian Lillard. It remains unclear who will replace him on the roster — Trae Young seems interested — while his starting spot could go to Zach LaVine or one of Devin Booker or Jrue Holiday once they report to the team.
The development is the latest blow to a nightmare start for Team USA as it prepares for its trip to Tokyo.
The team's exhibition schedule began with a thud when it lost to Nigeria 90-87 in its opener. Things became even more dire after a 91-83 loss to Australia, reminiscent of the 2019 exhibition loss that prefaced the team's disastrous FIBA World Cup showing.
Team USA finally added a win against Argentina, but even two exhibition losses is basically post-Dream Team in modern USA basketball history. And now, the team is missing its fourth exhibition and a chance at a rematch against Australia after losing a player who averaged 31.3 points per game this season.
The Americans are still the overwhelming favorites to win gold in Tokyo at -400 with BetMGM, the team undeniably has some things to work through before tipping off against France on July 25.
Young shared a less-than-subtle social media message about his omission from the Team USA roster.
The Yankees and Red Sox will not open the second half of the 2021 MLB season as expected.
This could be the first of many trades for Chicago.
At a time when vaccinations have allowed sports to return to normalcy across much of the globe, Japan remains an exception. Why?
It wasn't a buzzer-beater, and it wasn't the final difference in the 109-103 series-tying Game 4 win for the Bucks. But it was the defining play for Antetokounmpo — for this series and perhaps for his career.
Add C.J. McCollum to the list of NBA players and coaches to come away impressed with LaMelo Ball after his rookie season.
Andy Fordham, who has died aged 59, was the British Darts Organisation Embassy world darts champion in 2004; a familiar figure on the international darts circuit from the mid-1990s, he enjoyed a devoted following wherever he played. He was as well-known for his physical appearance as his achievements at the oche, which were arguably modest by professional standards. But in a game inhabited by extroverts, his shyness and relaxed approach to life ensured that he was one of the most popular winners
Kirk Lacob says it's the Warriors' job to ask about the potential availability of other teams' star players.
Team USA may replace Beal with a big to help round out the roster.
Hunter Woodhall and Tara Davis first crossed paths at a high school track meet, and more than four years later, they're both competing in Tokyo.
TOKYO (Reuters) -Liz Cambage has withdrawn from the Olympic Games citing mental health concerns, dealing a massive blow to Australia's medal hopes after Basketball Australia launched an investigation into an altercation involving the 29-year-old on Thursday. The Las Vegas Aces centre played for the Opals against Nigeria in a closed-doors game in Las Vegas as the Australians continued their preparations ahead of their trip to Tokyo. But following reports of an incident during the tune-up encounter in Las Vegas, Cambage announced her intention to pull out of the Games.
Christian Wood could fill the U.S. roster spot that had belonged to Bradley Beal, according to Jonathan Feigen of the Houston Chronicle.
After being buried on the depth chart at Notre Dame and feeling as if his development stunted, Phil Jurkovec found the ideal situation for him on and off the field.
Golden State sounds very committed to finding a deal that involves the No. 7 and No. 14 overall picks.
Gen. Mark Milley feared Trump might take unconstitutional actions after losing the election, according to the new book "I Alone Can Fix It."
Australian Olympic basketball star Liz Cambage pulled out of the Tokyo Games Friday, citing a struggle with her mental health fuelled by the thought of "terrifying" isolation in the Olympic bubble.
With help from Khris Middleton and Giannis Antetokounmpo, the Bucks tied the NBA Finals at 2-2 with Game 5 coming up on Saturday.
WASHINGTON (Reuters) -The Federal Aviation Administration (FAA) on Thursday issued a directive to operators of all Boeing Co 737 series airplanes to conduct inspections to address possible failures of cabin altitude pressure switches. The directive requires operators to conduct repetitive tests of the switches and replace them if needed. It was prompted after an operator reported in September that both pressure switches failed the on-wing functional test on three different 737 models.
Read full article at Yahoo Sports
CBS Sports HQ 16 July, 2021 - 04:10am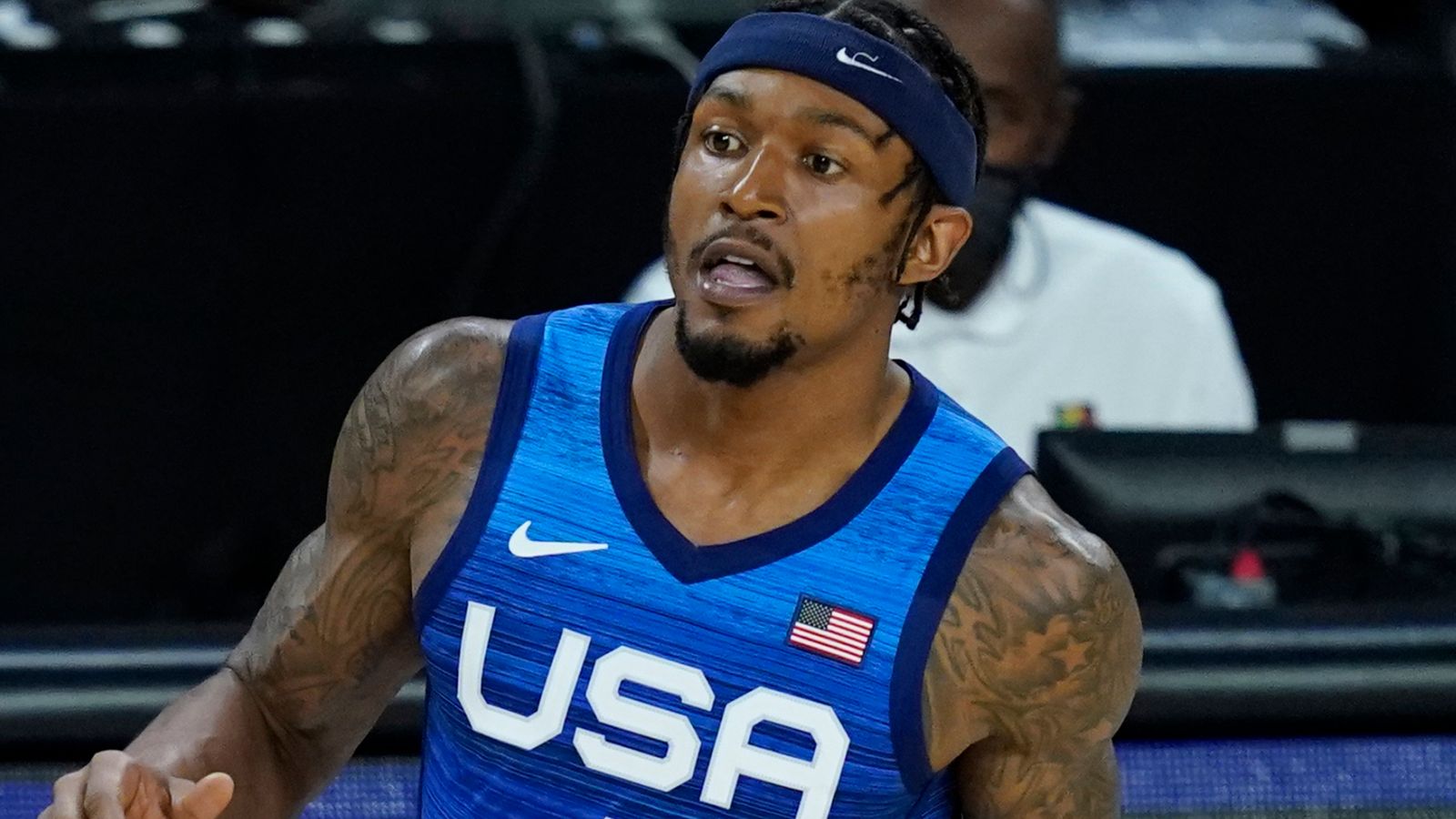 Sky Sports 16 July, 2021 - 01:26am
Later on Thursday evening, USA Basketball announced the men's exhibition scheduled for Friday against Australia was cancelled "out of an abundance of caution."
Beal was placed under Covid-19 protocols on Wednesday in Las Vegas, where Team USA has been practicing and scrimmaging in advance of the Games.
"I'm dying for him," coach Gregg Popovich said. "We all are."
Reports said Team USA is now working to replace Beal on the Olympic roster.
One option would be a guard from the Select Team that is practicing with the Olympic group in Las Vegas; candidates could include Darius Garland of the Cleveland Cavaliers, Keldon Johnson of the San Antonio Spurs and Saddiq Bey of the Detroit Pistons.
Beal started each of Team USA's first three exhibition games this month and scored 17 points in the win over Argentina on Tuesday.
The Wizards star is coming off a career scoring season in which he finished second in the NBA behind only Steph Curry with 31.3 points per game, along with 4.7 rebounds and 4.4 assists.
US forward Bam Adebayo said he had checked on Beal, who told him that he had no symptoms. Still, his news was a tough blow to the players who said they have been following safety recommendations and hoped for good health.
"It still definitely gives you PTSD, somebody catching COVID," Adebayo said. "I remember when I had it, just one of those things I wouldn't wish on anybody."
Beal was expected to play for the Americans two years ago in the Basketball World Cup in China, but had to withdraw from consideration before training camp for family reasons.
After scoring just two points in the Americans' loss to Nigeria in their opener, he followed with 12 points against Australia and then had 17 on Tuesday against Argentina in the first US victory.
"Bradley, there's no doubt, he's a huge loss. He was playing every well, understanding everything and fit in well with the group," Popovich said. "So there's no next Bradley Beal."
The Americans are still scheduled to play Spain on Sunday before heading to Tokyo, with their opening game against France set for July 25.
Yahoo Sport Australia 15 July, 2021 - 11:21pm
The Boomers were set for a rematch with the Olympic champions in Las Vegas on Saturday (AEST) after shocking the USA in their first warm-up match on Tuesday.
A decision to abandon the game came hours after the US confirmed Washington Wizards star Bradley Beal is out of the Olympics after being placed into health and safety protocols.
The team also said another player was under a COVID-19 cloud.
Australia haven't reported any COVID-19 concerns among players or officials since their 91-83 victory over the US.
They trained on Thursday while remaining under tight restrictions in their pre-Games camp.
But USA Basketball deemed the repeat match a risk.
"Out of an abundance of caution, the USA men's national team exhibition versus Australia on Friday has been cancelled," USA Basketball tweeted.
The women's clash between the two countries, also on Saturday AEST, will still go ahead.
While it hasn't been confirmed that Beal tested positive to COVID-19, Detroit's Jerami Grant has also "placed under COVID-19 health and safety protocols".
USA coach Gregg Popovich remained hopeful that Grant would be able to stay with the team.
Beal was a starter in the US Olympic team's first three exhibition games that included shock losses to Nigeria and Australia followed by a victory over Argentina.
They have yet to name a replacement for the guard.
The United States' final exhibition game is scheduled for Monday AEST against Spain, with a charter flight to Japan set for Tuesday.
The darts world is mourning the sudden death of former world champion Andy Fordham. He was just 59.
The NSW coach has continued his attack on State of Origin referee Gerard Sutton. Read all the details here.
The Australian Olympic team has been rocked after the withdrawal of tennis star Alex de Minaur from the Tokyo Olympics. Find out what happened here.
Conor McGregor has hit the UFC with a startling accusation about his leg injury. See what he had to say here.
Preparations for McLaren's home race have been thrown a curveball after team boss Zak Brown received some shattering news on the eve of the British GP. Read more here.
Novak Djokovic has confirmed his participation at the Tokyo Olympics. Read all the details here.
Lucas Herbert and Brad Kennedy very nearly missed their tee times at the British Open. Read all the details here.
NRL players are said to be fuming after the Queensland government backflipped on a promise about families. Read more here.
The Tokyo Olympics has once again been thrown into chaos just seven days before the opening ceremony. Read more here.
What looked to be an obvious foul at a crucial moment left NBA fans perplexed after the referees seemed to forget the rules of basketball. Watch what happened here.
USA TODAY 15 July, 2021 - 10:58pm
The U.S. men's basketball pre-Olympics tune-up game vs. Australia scheduled for Friday night has been canceled because of health and safety protocols.
A link has been sent to your friend's email address.
A link has been posted to your Facebook feed.
USA TODAY Sports' Tom Schad explains how the recent decision to bar spectators in Tokyo leads to the first Made-for-TV Olympic Games. USA TODAY
LAS VEGAS (AP) — The United States' men's basketball exhibition game against Australia scheduled for Friday night in Las Vegas has been canceled because of health and safety protocols.
USA Basketball cited "an abundance of caution" in making the decision Thursday night. The U.S. women's game against Australia will be played as scheduled Friday in Las Vegas.
The decision to cancel the game came hours after Washington Wizards star Bradley Beal was ruled out of the Olympics after being placed into health and safety protocols. The team also said Detroit Pistons forward Jerami Grant also was in health and safety protocols "out of an abundance of caution."
The Americans are still scheduled to play Spain on Sunday before heading to Tokyo, with their opening game against France set for July 25.
The U.S. lost its opening two exhibition games to Nigeria and Australia and beat Argentina in the third Tuesday night.
A link has been posted to your Facebook feed.
© 2021 USA TODAY, a division of Gannett Satellite Information Network, LLC.