Elon Musk
elonmusk
Fellowship of the Raptors pic.twitter.com/Xz3rOsfA2h
Elon Musk
elonmusk
Solar + Powerwall battery ensures that your home never loses power

Phil LeBeau
Lebeaucarnews
Tesla CEO Elon Musk goes to trial Monday to defend $2.6 billion SolarCity acquisition dlvr.it/S3RjgN pic.twitter.com/hmMRu38ea2
John Nosta
JohnNosta
Happy Birthday Nikola Tesla! The Style of Innovation: Elon Musk vs. Nikola Tesla www.psychologytoday.com/us/blog/the-digital-self/201707/the-style-innovation-elon-musk-vs-nikola-tesla @elonmusk #ElonMusk #tesla #NikolaTesla
As promised by Elon Musk, the software update (2021.4.18.12) began uploading after midnight on Friday, giving thousands of Tesla owners who have purchased the FSD option access to the feature, which enables drivers to use many of Autopilot's advanced driver-assist features on local, non-highway streets.
Musk has been promising v9 of the software for, well, a while now. He said in 2018 that the "long awaited" version of FSD would begin rolling out in August. He did it again in 2019, proclaiming that "a year from now" there would be "over a million cars with full self-driving, software, everything." Earlier this month, he claimed that "FSD 9 beta is shipping soon." So to say that Tesla fans have been anticipating this update for a while would be an understatement.
New Visualizations. #fsdbeta pic.twitter.com/DamYuSmlNf
The real question is whether it's ready for primetime. To that, Musk gave a typical muddled response, tweeting that "Beta 9 addresses most known issues, but there will be unknown issues, so please be paranoid." He added, "Safety is always top priority at Tesla." Release notes included with the update warn testers that "it may do the wrong thing at the worst time" and to avoid complacence. They also mention improvements to the cabin camera's driver monitoring to check for attentiveness, along with updated, larger visualizations on the in-car display (as shown above).
There's no question that Tesla is more willing than its competitors to test beta versions of its Autopilot driver assist feature on its customers in the interest of gathering data and working out any bugs in the system. And Tesla customers are mostly fine with this, routinely flooding Musk's mentions begging to be admitted into the company's Early Access Program for beta testers. This has helped contribute to Tesla's public reputation as a leader in autonomous driving, despite its vehicles continuously falling short of what most experts would agree defines a self-driving car.
Tesla warns that drivers need to keep their eyes on the road and hands on the wheel at all times, though the automaker famously refuses to include a more robust driver-monitoring system (like infrared eye tracking, for example) to ensure its customers are following safety protocols (although maybe that's changing). Autopilot is considered a Level 2 "partially automated" system by the Society of Automotive Engineers' standards (and by Tesla's lawyers), which requires that drivers keep their hands on the wheel and eyes on the road.
However, consumer advocates have proven that Tesla's system can easily be tricked into thinking there's someone in the driver seat, which gained renewed attention in the aftermath of a fatal crash in Texas involving a Tesla, in which authorities said there was no one behind the steering wheel.
But this hasn't stopped some Tesla owners from abusing Autopilot — sometimes going so far as to film and publicize the results. Drivers have been caught sleeping in the passenger seat or backseat of their Teslas while the vehicle speeds down a crowded highway. A Canadian man was charged with reckless driving last year after being pulled over for sleeping while traveling at speeds of 93mph.
Since Tesla introduced Autopilot in 2015, there have been at least 11 deaths in nine crashes in the US that involved the driver assistance system. Internationally, there have been at least another nine deaths in seven additional crashes.
Meanwhile, the US government is requiring that car companies report crashes involving autonomous vehicles or advanced driver assist systems, often within a day of the incident. It was a major change that signals a tougher stance on these partially automated systems by regulators.
Subscribe to get the best Verge-approved tech deals of the week.
Check your inbox for a welcome email.
Read full article at The Verge
Reuters 10 July, 2021 - 09:10am
More than $2 billion hinges on that question as a trial kicks off on Monday. Shareholders allege that Musk used his control of Tesla to force the company in 2016 to rescue SolarCity, saving the solar panel maker - and Musk's investment in the company - from bankruptcy.
The union pension funds and asset managers leading the case want Musk to repay to Tesla the cost of the $2.6 billion deal and to disgorge the profits on his SolarCity stock. If they win, it would be one of the largest judgments against an individual.
The two-week trial in the Court of Chancery in Wilmington, Delaware, will boil down to whether Musk, who owned about 22% of Tesla at the time of the deal, is that rare controlling stockholder who does not hold a majority stake.
"I think it's going to be very hard for the court to ignore the reality that Elon Musk is Elon Musk and his relationship with Tesla," said Ann Lipton, a professor at Tulane University Law School.
She said the case might present an unusual situation given Musk's celebrity status, his personal ties to Tesla board members and those board members' financial ties to SolarCity.
"Put it all together, and it might be enough to count as a controlling shareholder," she said.
Few executives dominate their company's image as much Musk, known for taunting regulators, battling naysayers and personally engaging with his 57 million Twitter followers.
"We are highly dependent on the services of Elon Musk, Technoking of Tesla and our Chief Executive Officer," said Tesla's 2020 annual report.
A higher price benefited Musk, who was the largest shareholder of SolarCity, with a stake of about 22%, as well as four members of Tesla's board, who directly or indirectly owned SolarCity stock, according to court records.
Board members settled allegations against them last year for $60 million and did not admit to any fault.
Plaintiffs also allege the deal benefited two of Musk's cousins who founded SolarCity, saving a company that was rapidly running low on cash.
Musk has said he was "fully recused" from board negotiations and that shareholders voted to approve the deal because it was central to his "Master Plan, Part Deux" that aims to integrate sustainable solar energy with electric self-driving cars.
He has said that what plaintiffs see as evidence of control is little more than strong management.
"Taken to its natural conclusion, virtually all 'hands-on' and 'inspirational' CEOs with minority stock ownership would be deemed controllers," Musk's lawyers wrote in a court filing.
If Vice Chancellor Joseph Slights determines Musk was a controlling shareholder, it will fall to Musk to prove the SolarCity deal met the high bar of the "entire fairness" standard, which examines process and price, said legal experts.
Musk has noted in court papers that the SolarCity deal has been a huge success for Tesla shareholders, demonstrating the deal was not only fair, but a boon. After Tesla split its stock 5-1 in 2020, it has risen to $652 on Thursday from near $37 a share when the deal closed in November 2016.
"If the vice chancellor thinks this deal was awful and was not effectively negotiated on behalf of the company, he'll strike it down," said Larry Hamermesh, a professor at Delaware Law School.
Our Standards: The Thomson Reuters Trust Principles.
Volkswagen (VOWG_p.DE) on Friday handed Chief Executive Herbert Diess a contract extension under which he will lead the carmaker until October 2025, the group said, a victory made possible by the recent departure of works council head Bernd Osterloh.
The most comprehensive solution to manage all your complex and ever-expanding tax and compliance needs.
The industry leader for online information for tax, accounting and finance professionals.
Information, analytics and exclusive news on financial markets - delivered in an intuitive desktop and mobile interface.
Access to real-time, reference, and non-real time data in the cloud to power your enterprise.
Screen for heightened risk individual and entities globally to help uncover hidden risks in business relationships and human networks.
All quotes delayed a minimum of 15 minutes. See here for a complete list of exchanges and delays.
© 2021 Reuters. All rights reserved
Electrek.co 10 July, 2021 - 09:10am
Tesla has applied for a new patent that is revealing the lithium extraction process that Elon Musk vaguely described as "using table salt to basically extract lithium from ore" during Tesla's Battery Day last year.
It could cut costs by more than 30%, according to the automaker.
During Tesla's Battery Day last year, the automaker unveiled a lot of new technologies that it couldn't spend a lot of time explaining.
One of those was that Tesla has developed a new lithium extraction process that Drew Baglino, SVP of engineering at Tesla, claimed would "result in a 33% reduction in lithium cost."
CEO Elon Musk described the process in a very simple way::
"What is the best way to take the ore and extract the lithium and do so in an environmentally-friendly way? We have been looking at from a first principle physic standpoint instead of just the way it has always been done. We found that we can actually use table salt, sodium chloride, to basically extract the lithium from the ore. Nobody has done this before to the best of my knowledge.
He didn't go into more details about the process, which raised quite a few eyebrows in the lithium industry.
But now we have obtained a new patent application for Tesla's new lithium extraction process, which comes with a lot more details about this mysterious "table salt" method.
In the patent application called "Selective extraction of lithium from clay minerals," Tesla describes the main problems with current extraction methods:
Lithium is a strategic metal for the lithium ion battery (LIB) and electric vehicle (EV) industry. Therefore, a means for economically extracting lithium from various lithium sources is important in order to reduce the cost of batteries and electric cars. The dominant lithium sources commonly used for mining are lithium brines due to the low cost associated with Li extraction from these brine sources. However, the ever-increasing demand for LIBs makes it necessary to explore other lithium sources.
Tesla summarizes its own new method in the patent application's abstract:
Processes for extracting lithium from a clay mineral and compositions thereof are described. The extraction process includes providing a clay mineral comprising lithium, mixing a cation source with the clay mineral, performing a high-energy mill of the clay mineral, and performing a liquid leach to obtain a lithium rich leach solution.
So it's a little more complicated than just adding table salt, but the main cation source described by Tesla in the patent application is indeed NaCl, sodium chloride (aka table salt).
Tesla describes the effect of adding NaCl to the milling step of the process:
The results of the chemical analysis from adding NaCl:
Obviously, there's a lot more to the new extraction process, and if you want to get into the nitty-gritty, here's the full patent application from Tesla:
What's also exciting is that Tesla plans to use this new process itself on its own new lithium claim deposit in Nevada that apparently consists of over 10,000 acres.
FTC: We use income earning auto affiliate links. More.
Fred is the Editor in Chief and Main Writer at Electrek.
You can send tips on Twitter (DMs open) or via email: fred@9to5mac.com
Through Zalkon.com, you can check out Fred's portfolio and get monthly green stock investment ideas.
Tesla launches cheaper RWD Model Y in China
I just bought my first Tesla. Here's what happened
Harley-Davidson unveils LiveWire ONE electric motorcycl...
South Florida Sun Sentinel 10 July, 2021 - 09:10am
Look, we're not luddites here at the Sun Sentinel Editorial Board. A few years ago, when there was talk of a space-age hyperloop that could connect South Florida to Central Florida in less time than a plane flight, we were all for the idea.
"Hyperloop's design is the next best thing to the impossible: instantaneous transport. Its innovation and potential to spin off related technology fits Florida's tradition of high speed and performance," we opined back in 2017, though we also cautioned, "The state should not be blinded by the radiance of high technology or the reverence for Elon Musk's other futuristic successes. If hyperloop progresses in Florida, the state should examine developments with care and objectivity."
But a funny thing about the proposed Hyperloop One, based on one of Musk's many transportation proposals: Where is it now? The state is now considering another hyperloop proposal. And it will no doubt study that one very carefully before it too goes nowhere.
We have also been supportive of Mayor Dean Trantalis' initial tunnel idea as a solution to the problem of commuter trains along the Florida East Coast Railway blocking maritime traffic on the New River.
A tunnel under the New River makes sense. It has been done before, and successfully, as anyone who has driven the Henry E. Kinney Tunnel will tell you.
But … a more-than-two-mile tunnel from downtown to the beach under the Intracoastal and the canal-lined streets of Las Olas Isles? This is not what we cheered on when Trantalis headed to Vegas to meet with officials from Musk's Boring Co. And in an area that stands to be severely affected by climate change — conservative estimates say our seas will rise two feet by 2060 — it appears to be the wrong solution to the wrong problem at the wrong time.
East-west traffic is a nightmare, but the real issue is not tourists making the trip from downtown to the beach, it's the commute from the western bedroom communities into downtown.
And even if we decided to build tunnels — hey, maybe tunnels with a hyperloop! — connecting Pines and Weston to downtown, we're still talking about tunneling through porous limestone that will, in the future, be eroded by saltwater intrusion. (And besides, such an idea would involve county and multiple city governments, so it's unfair to slag Fort Lauderdale over it.)
That's not as big as some of the climate-change-related issues the current tunnel proposal faces. What are the Boring Co.'s solutions to issues like flooding due to sea-level rise, saltwater intrusion, etc.? Well, we don't know exactly, because state law prohibits city officials from discussing or releasing the specifics of the unsolicited bid until after other companies have had a chance to offer competitive bids, and that window won't close until Aug. 20.
We do have a few scant details from Fort Lauderdale City Commissioner Ben Sorensen, though, who at least confirmed that the Fort Lauderdale proposal will be similar to the existent Boring Co. loop in Las Vegas, meaning you will not actually drive your car through the tunnel. Instead, you will buy a ticket and step into a Tesla that runs on a platform through the tunnel. More Teslas can be added or taken away from the tunnel depending on traffic needs.
"This design uses EVs owned by the Boring Company. Owners of individual cars are not allowed. Any member of the public would buy a ticket and ride in an EV to their destination," Sorensen tweeted. "Zero emission, public transportation."
We are certain tourists will get a real kick out of this beach-travel solution. In the meantime, commuters need improved mass transit that meets their needs, and the whole reason the city got involved with the Boring Co. in the first place — preventing blockage of the New River once commuter rail gets going on the Florida East Coast Railway — seems to have fallen by the wayside.
Let's get back to the projects that matter for the residents of Broward County.
The Sun Sentinel Editorial Board consists of Deputy Editorial Page Editor Dan Sweeney, Steve Bousquet and Editor-in-Chief Julie Anderson. Editorials are the opinion of the Board and written by one of its members or a designee. To contact us, email at letters@sun-sentinel.com.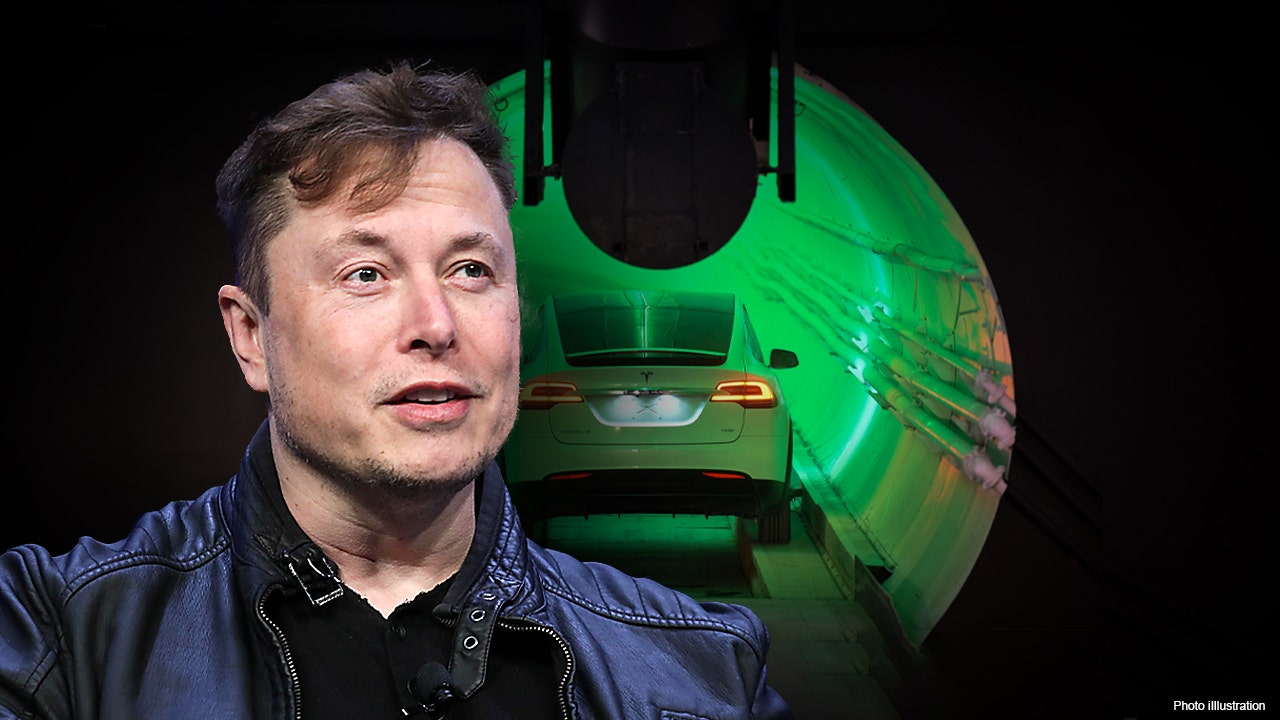 Fox Business 10 July, 2021 - 09:10am
Quotes displayed in real-time or delayed by at least 15 minutes. Market data provided by Factset. Powered and implemented by FactSet Digital Solutions.  Legal Statement. Mutual Fund and ETF data provided by Refinitiv Lipper.
This material may not be published, broadcast, rewritten, or redistributed. ©2021 FOX News Network, LLC. All rights reserved. FAQ - New Privacy Policy
Fort Lauderdale Mayor Dean J. Trantalis says the proposed underground beach tunnel will be an 'experience in itself.'
The City of Fort Lauderdale in Florida has accepted Elon Musk's plan for an underground beach tunnel that will take travelers east to west in just four minutes. Mayor Dean J. Trantalis described the tunnel's construction plan on FOX Business' "Varney & Co." Friday, saying it will be an "experience in and of itself."
Fort Lauderdale Mayor Dean J. Trantalis discusses details of the underground beach tunnel that Elon Musk will build.
This material may not be published, broadcast, rewritten, or redistributed. ©2021 FOX News Network, LLC. All rights reserved. FAQ - New Privacy Policy
Inverse 10 July, 2021 - 09:10am
The firm's Mars-bound rocket could play a key role in solving a big space travel issue.
CEO Elon Musk recently claimed via Twitter that the firm's under-development rocket will play a role in clearing up Earth's orbit. Starship, which is primarily designed to launch crew and cargo into space for SpaceX, could use the fairing door that protects cargo to also collect up debris.
"Yes, we can fly Starship around space & chomp up debris with the moving fairing door," Musk wrote on July 3.
It's a feature that could solve one of the biggest concerns around humanity's future in space: what do we do with all that debris floating around? (You can read more about the growing issue of space debris in the latest issue of Musk Reads+, Inverse's premium newsletter on all things Elon Musk.)
Details on Musk's proposal are thin, but it would seem to involve using the protective fairing at the top of the Starship.
First unveiled in 2017 under the name "BFR," the ship is a fully reusable rocket designed to send around 100 people to space at a time. It's designed to take over satellite launches from existing rockets like the Falcon 9 and Falcon Heavy, while also enabling more ambitious missions like a crewed trip to Mars.
During the CEO's 2017 presentation, Musk showed that the payload area would have a pressurized volume of 825 cubic meters in its crew configuration, larger than an Airbus A380 aircraft.
The Starship user guide shows how, in its cargo configuration, the fairing flips open to deploy its payload:
The guide also outlines the ship's ability to capture objects in space and bring them to Earth:
In short, capturing debris is something Starship may be able to do. According to Musk, you could think of the ship as a giant Pac-Man flying around in space and eating up satellites, instead of cherries and ghosts.
But whether it makes sense to use the giant ship for this is another question. In 2019, Musk claimed on Twitter that one of the much smaller Starlink satellites could also be used as a debris collector.
SpaceX is not the first to suggest a removal system for cleaning up space. Astroscale launched a demonstration of its space debris removal system in March 2021, designed to capture satellites and de-orbit together:
SpaceX has gradually improved its Starship prototypes, sending the SN15 model to a height of 32,800 feet in May 2021. The ship's first flight to orbit is expected later this year.
Assuming it all goes to plan, SpaceX has big plans with its new rocket. A crewed flight around the moon with Japanese billionaire Yusaku Maezawa is scheduled for 2023, while Musk is aiming to establish a full-blown city on Mars by 2050.
It's not the first time that SpaceX has suggested using the Starship to clean up space. In an October 2020 interview with Time, company president Gwynne Shotwell said that it's "quite possible that we could leverage Starship to go to some of some of these dead rocket bodies... other people's rockets, of course... basically, go pick up some of this junk in outer space."
"It's not easy, it's not going to be easy, but I do believe that Starship offers the possibility of going and doing that," Shotwell said.
When it comes to ambitious plans, Musk and Shotwell are very much in sync. In April 2018, discussing the firm's goal to reach Mars and start a city, Shotwell described Mars as "fine" but added that it's the first step toward reaching even more planets.
Teslarati 10 July, 2021 - 03:26am
Check out FSD Beta V9 running in a Tesla Model 3 in the video below.
First drive @Tesla #FSDBeta9 visualization is super smooth. No more dots except for the driving path. Solid lines instead. pic.twitter.com/cHjMAbrx5V
— Sofiaan Fraval (@Sofiaan) July 10, 2021
— Tesla Raj (@tesla_raj) July 10, 2021
And here's Tesla FSD Beta V9 running in a "Raven" Tesla Model S Performance.
The second quarter of 2021 was not an easy one for Tesla (NASDAQ:TSLA), with...
Over the weekend, Rivian CEO RJ Scaringe showed off a fleet of Amazon all-electric...
Deutsche Bank firmly maintained its $900 price target on Tesla and gave TSLA stock...
Vygruppen (Vy), a state-owned transport group in Norway, has launched a novel new service...
Tesla Giga Berlin is still waiting for final environmental approval from Brandenburg's State Office...
Copyright © TESLARATI. All rights reserved.
KVUE.com 09 July, 2021 - 11:09am
BASTROP, Texas — Elon Musk's The Boring Company is purchasing more land in the Austin area for the tunneling startup.
Gapped Bass LLC purchased 73 acres of land in northwest Bastrop in May, according to a report from the Austin Business Journal. The entity is tied to top executives at The Boring Company and the address listed in multiple state filings for its Pflugerville warehouse.
The Boring Company is Musk's tunnel construction business that "creates safe, fast-to-dig, and low-cost transportation, utility and freight tunnels," according to the company's website.
The 73-acre Bastrop site is located near State Highway 71 and Farm Road 1209.
The company announced last month that is hiring for 20 positions in the Austin area, including director of finance and field engineer for a Bastrop site. This was the first time the company publicly recognized it had a location in the Austin area, according to the Austin Business Journal.
Some of those job descriptions outlined plans to build an autonomous tunnel boring machine.
In December 2020, The Boring Company filed for the renovation and alteration of a building in Pflugerville. The land in that filing to the Texas Department of Licensing and Regulation is 40,000 square feet at 15709 Impact Way, the same address listed on Gapped Bass LLC's Bastrop purchase.
Musk already has quite a presence in Central Texas. Tesla is building a "Gigafactory" in Austin. Musk's company Neuralink posted five job openings in Austin in April. The second-richest man in the world also lives in a $50,000 tiny home near SpaceX's development in Boca Chica, Texas.
Notifications can be turned off anytime in the browser settings.
The Federalist 09 July, 2021 - 08:30am
Last week, on the Communist Party's 100th anniversary, Chinese state media Xinhua News posted a tweet featuring a quote from Chinese leader Xi Jinping's, including his claim that China had eliminated poverty and "we are now marching in confident strides toward the second centenary goal of building China into a modern socialist country in all aspects."
Many international users responded with sarcasm, questioning the CCP's human rights record. Yet Elon Musk, CEO of Tesla and SpaceX, responded with a tweet, showering the CCP with over-the-top praise: "The economic prosperity that China has achieved is truly amazing, especially in infrastructure! I encourage people to visit and see for themselves."
Musk's bootlicking tweet surprised and disappointed many. Rebeccah Heinrich of the Hudson Instituted reminded Musk on Twitter: "You owe it to your country not to be this way." So why did Musk, who has built a rebellious bad boy public persona, embarrass himself by sucking up to the CCP so openly?
Bloomberg reports that Tesla China is trouble. So Musk is clearly trying to get back on the CCP's good side to save his company.
Not so long ago, the CCP rolled out a red carpet for Musk. To entice Tesla to China, the Chinese government agreed to let Tesla become the first non-Chinese auto company with a solely owned subsidiary in China.
In contrast, all other foreign carmakers, including Ford and GM, had to take on local Chinese partners and establish joint ventures to do the same. Tesla opened its factory in Shanghai in 2018. The Chinese government further sweetened the pot by offering tax breaks and cheap loans, and making Tesla cars eligible for generous made-in-China subsidies.
During last year's COVID-19 outbreak, while most parts of China were under government-mandated lockdowns, the Chinese government allowed Tesla China to quickly reopen in February and provided the factory generous support.
According to Bloomberg, Tesla's Chinese employees were "brought in on government-provided buses from dormitories secured by officials to keep them from mingling with the community. The workers had plenty of N95 masks: Unlike many businesses, Tesla had been allocated ample shipments by the bureaucrats who'd assumed control of protective gear supplies. The factory was being cleaned with a disinfectant that required a regulator's license to purchase, too."
All this took place when other foreign automakers in China, from BMW to Ford, were not yet allowed to reopen their factories in the country. In Tesla's 2020 earnings report, its China subsidiary accounted for 20 percent of its worldwide revenue and helped make Musk the richest man in the world.
But the CCP's love affair seems to have come to an abrupt end this year. Bloomberg reported that Chinese regulators summoned Tesla executives in February to express concerns about quality and safety issues in Tesla vehicles. After the meeting, Tesla issued a humiliating apology, said it "sincerely accepted the guidance of government departments" and "deeply reflected on shortcomings."
Then the Chinese government banned Tesla vehicles from military compounds and housing units, claiming the vehicle's onboard cameras causing data security concerns. Musk promised government officials that all data collected by Tesla China would be stored in China.
In April, a Chinese Tesla owner's video claiming "Tesla brakes fail" went viral in China and was viewed more than 200 million times. It is essential to know that sometimes the Chinese government pushes for or encourages such online outcries to achieve its political goals.
Even though there was no credible data to support the owner's claim, Tesla offered another humiliating public apology amid growing online outrage. Still, Xinhua, a Chinese state-owned media company, criticized Tesla's apology as "insincere." The persistent online backlash has cost Tesla sales. According to research firm JL Warren Capital, new orders have dropped 50 percent since the viral video.
To prevent sales from falling further, Tesla China did something unthinkable in the United States. According to Bloomberg, Tesla "complained to the [Chinese] government over what it sees as unwarranted attacks on social media, and asked Beijing to use its censorship powers to block some of the posts." The fact that an American company would seek an authoritarian regime's help to censor speech marked a new low for Tesla and its leader.
In June, the Chinese government dealt the most significant blow to Tesla China by ordering the company to recall almost all vehicles it had sold in China (more than 285,000) to fix a so-called software issue. While Tesla is working on the recall, other Chinese electric carmakers such as Nio are outselling Tesla with cheaper alternatives and chic designs.
Tesla's changing fortune in China is a classic example of the CCP's "bait and switch" strategy. Cai Xia, a former CCP insider, explained how this strategy works: "They will use enticing language to lure multinational companies into China. But then these companies will soon find that they have fallen into a trap: they must transfer their technologies or face shutdown. After acquiring the foreign technology, China often figures out ways to force these companies to leave the Chinese market."
The Chinese government brought Tesla to China with particular goals in mind: helping stimulate and grow China's own EV industry. Beijing identified EV as one of 10 strategic technology and manufacturing sectors China should lead in its "Made-in-China 2025" industrial plan. Although China has the world's largest EV market, its EV technology and designs were far behind those of international competitors before Tesla opened its factory in China.
Tesla China is more than a factory. It has hired and trained local talent to do cutting-edge research and development work. It is not a coincidence that Chinese EV carmakers' technology and designs have dramatically improved since Tesla China opened.
There are two possible explanations of the Chinese government's changing attitude toward Tesla. First, based on Xia's description of the "bait and switch" strategy, the Chinese government probably has obtained what it wanted from Tesla, such as EV-related intellectual properties (IPs). Thus, the government, harvesting the country's rising nationalism and anti-American sentiment, launched a campaign to undermine Tesla's image and push Chinese consumers to buy from domestic EV carmakers supported by the government.
Second, Musk also owns SpaceX, an American aerospace manufacturer that is working closely with the U.S. government to send rockets, spacecraft, and astronauts into space. China has never shied from expressing its own ambitions in space.
Last week, three Chinese astronauts took a spacewalk outside of China's new space station, for the second time in the nation's history. It is reasonable to assume that by squeezing Tesla China, the Chinese government compels Musk to share SpaceX technology. None of this bodes well for Musk's companies and America's national security.
What happened to Tesla China should serve as a warning for other American businesses addicted to the size and potential of the Chinese market. The Chinese government tends to make up laws and regulations as it sees fit, and to apply them arbitrarily at will. An American company's fortune in China is not guaranteed and can change quickly.
The Chinese government only tolerates foreign businesses long enough to grow domestic industries. Once the government gets what it wants, foreign businesses will find the market conditions suddenly become unbearable. Their local rivals start using the same technology to deliver products and services cheaper and faster. Government regulators will make foreign businesses' lives a living hell, and their long-term survival is at risk.
In addition, investing in China is no longer a solely commercial decision. It is a political choice as well. Every CEO of every American company has to realize that by investing in China, he or she is empowering an authoritarian regime that has committed gross human rights violations against its own people and remains hostile to global freedom and democracy. Participating in that is a grave disservice to their company and their country.
Copyright © 2021 The Federalist, a wholly independent division of FDRLST Media, All Rights Reserved.
Copyright © 2021 The Federalist, a wholly independent division of FDRLST Media, All Rights Reserved.