What is Tesla FSD?
With Full Self-Driving (FSD) capability, you will get access to a suite of more advanced driver assistance features, designed to provide more active guidance and assisted driving under your active supervision. ... tesla.comFull Self-Driving Capability Subscriptions
The Verge 27 September, 2021 - 02:20am
This marks the first time Tesla has allowed customers to request an upgrade to its FSD beta software.
The company had been under mounting pressure to release a final version of FSD, for which customers have forked out $10,000 upfront for the promise that it would eventually enable the cars to drive themselves.
But the FSD beta is still an unfinished upgrade, as none of Tesla's driver-assistance systems make the cars fully autonomous.
In March, Musk tweeted that the download button for the feature would give users access to the FSD beta as soon as their car connected to Wi-Fi. But that approach has seemingly changed, as Tesla now has a calculator that determines whether a user's driving behavior can allow them to use the software.
Tesla issued a "safety score" guide which details the specific criteria under which drivers are graded. It says drivers will be scored between 0 to 100, with most receiving 80 or above.
Drivers will be graded based on five factors — forward-collision warnings per 1,000 miles, hard braking, aggressive turning, unsafe following, and forced autopilot disengagement, according to the guide.
"These are combined to estimate the likelihood that your driving could result in a future collision," Tesla said. To get a safety score, vehicles must be connected to a Wi-Fi network and users should have downloaded software update 2021.32.22.
Only those users that have a "safe" driving record for an entire week will be granted access to the FSD Beta software.
The software update allows drivers access to an "autosteer on city streets" feature, which isn't yet flawless, and lets them navigate roads alongside other vehicles, cyclists, and people without moving the steering wheel on their own.
Still, drivers are cautioned to remain attentive and prepared to take over driving when prompted.
Tesla's FSD software has been subject to heavy criticism by safety advocates and the top US safety regulator.
Jennifer Homendy, the new head of the National Transportation Safety Board, told The Wall Street Journal ahead of the beta release that the EV-maker's use of the term self-driving is "misleading and irresponsible."
"Basic safety issues have to be addressed before they're then expanding it to other city streets and other areas," Homendy told the Journal.
That claim, and Tesla's Autopilot feature, has been criticized by regulators and lawmakers who said the names make drivers think the cars are autonomous when they aren't.
"It has clearly misled numerous people to misuse and abuse technology," Homendy added.
Last month, Musk said FSD's software before the latest update was "actually not great" and drivers should be "paranoid" when driving with it.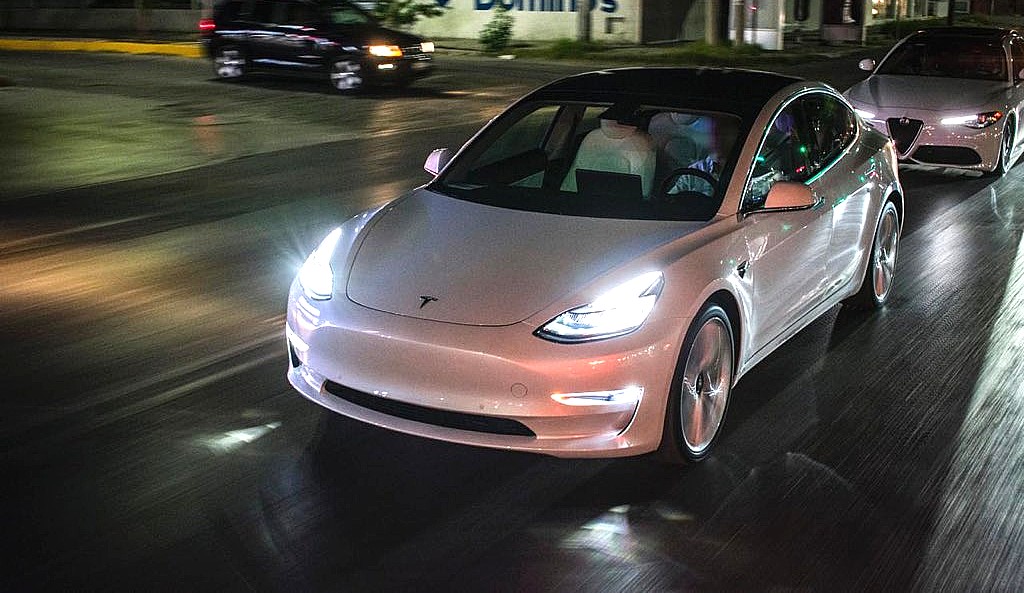 Teslarati 26 September, 2021 - 04:00am
Earlier this month, Tesla rolled out software update 2021.24.12, which included a new Autopilot and Autosteer feature that responds to the presence of stationary emergency vehicles on the road. With the new feature in place, Teslas would now slow down when they detect emergency vehicles such as ambulances and firetrucks, provided that features like Autopilot or Autosteer are engaged.
Tesla was quite understated with its new Autopilot and Autosteer feature, with the company only discussing the function on the 2021.24.12 Owner's Manual for the Model 3 and Model Y. According to the company, Teslas should automatically slow down when an emergency vehicle is detected, and a message on the touchscreen informing drivers of the slowdown should also be engaged. A chime and a reminder stating that drivers should keep their hands on the wheel should also be enabled.
An example of this new feature in action has now been shared online. As posted by u/pengellyb on the r/TeslaMotors subreddit, Autopilot does indeed slow down as soon as it detects a stationary emergency vehicle. A notification that read "Autopilot speed limited for emergency lights" appeared on the screen, as well as a reminder that drivers could tap the accelerator pedal to cancel the feature.
Interestingly enough, the actual stationary emergency vehicle, a police SUV with emergency lights engaged, did not show up on the Model 3's driving visualizations. It was evident that the police cruiser was detected since the automatic slowdown feature was engaged, but the emergency vehicle itself was absent on the Model 3's display. Renders of stationary emergency vehicles on the road will likely be displayed in later updates, especially as Tesla rolls out its FSD Beta visualizations to more of its fleet.
While some may criticize Tesla for only rolling out its automatic slowdown feature now, the fact is that the company's vehicles only account for a very small fraction of accidents involving stationary emergency vehicles. As per the Government Accountability Office (GAO) report, about 8,000 injuries were reported involving a stationary emergency vehicle in one year. Tesla only accounted for nine crash injuries with first responder vehicles in the past 12 months.
Hopefully, Tesla could develop its automatic emergency vehicle slowdown feature further. While slowing down and actively alerting drivers is already quite impressive, Tesla could perhaps also enable its vehicles to move over to another lane to optimize safety even further. This should effectively highlight the notion that Teslas truly are among the safest cars on the road today, bar none.
Lucid Group (NASDAQ: LCID) is already getting a boost in its price target from...
When untoward incidents happen on the road, a few seconds could effectively draw the...
Tesla's Model 3 sedan has a ground clearance that is too low for Indian...
SpaceX CEO Elon Musk noted on Saturday night that he would be donating $50...
Tesla Gigafactory Berlin is quietly moving towards its start of operations. While the facility's...
Copyright © TESLARATI. All rights reserved.