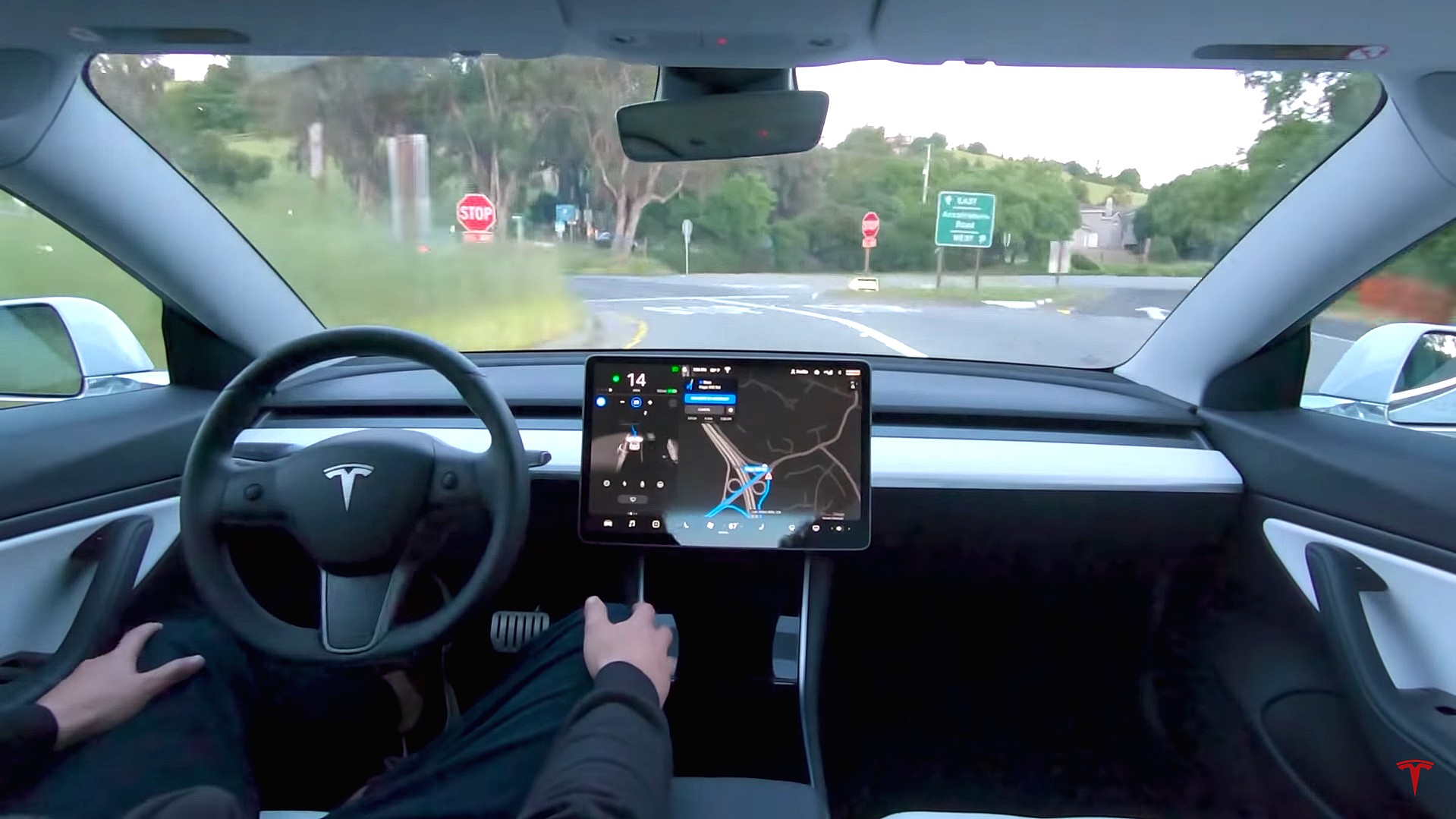 The release of Tesla's Full Self-Driving Beta Version 9 has been delayed another week, CEO Elon Musk told Twitter followers early today. The FSD Suite has been primed for a new release for several months, and Musk has hinted toward an imminent rollout of the semi-autonomous driving functionality. However, unexpected delays have occurred on several occasions, and FSD V9's expected Q2 release is becoming more far-fetched as the quarter comes to a close.
Musk's Twitter feed is a common place for Tesla owners to receive news from the company's CEO, first-hand. However, even Musk, who has held the CEO role at Tesla since 2008, can be spotty with his predictions, especially as the automaker continues to navigate through the difficult, and evidently unexpected, bottlenecks that can spring up at what seems like the drop of a hat.
Musk said early this morning that "we [Tesla] need to fix some obvious issues before releasing beta 9, hopefully next week." This has been a repetitive tone of the Tesla CEO, who says that he's currently utilizing FSD "Alpha 9" in his personal vehicle.
I'm driving "alpha" 9, but we need to fix some obvious issues before releasing beta 9, hopefully next week. FSD subscription capability should be turning on via the Tesla app.
— Elon Musk (@elonmusk) June 25, 2021
Tesla has had some issues narrowing down an exact timeframe for FSD v9's release, and it comes with the territory. The company has long worked to release a "feature complete" version of its FSD suite, and through the years, the capability has gotten more complex and accurate with its performance. Tesla has also switched up its approach to self-driving, as it recently scrapped radar in its vehicles in favor of a camera-only approach. Known as "Tesla Vision," the removal of radar, in Musk's eyes, was the scrapping of a "crutch."
Musk said during the Q1 2021 Earnings Call:
The most recent update to the FSD Beta V9 came on June 6th, when Musk updated Tesla owners with details on what was expected to be V9's long-awaited release. "One more production release of pure vision this week, then FSD Beta 9 a week or two later. V9.0 FSD is also pure vision. Foundational improvements are immense," he said.
This would have slotted V9 to be rolled out to customers on June 20th, at the latest. But the update never came, and Tesla owners received their most clarified suggestion from Musk last night, where he said it needed "to fix some obvious issues."
There could be some bottlenecks with the FSD suite now that the Model 3 and Model Y are operating without radar. While the camera-based approach has been on Tesla's agenda for some time, there is no indication of whether the transition is causing problems for Tesla's Autopilot team. Many owners of radar-less Tesla vehicles have indicated that the performance has actually improved, but there is no indication of what exactly is causing the delays once again.
This is a preview from our weekly newsletter. Each week I go 'Beyond the...
There are very few times where one can justify traveling 136 mph while driving...
Recently, Morgan Stanley (MS) released a note on Tesla's future capacity expansion. The note...
SpaceX's latest launch webcast offered exceptionally clear views of the company's 88th successful Falcon...
In response to a Teslarati report on Starship SN16's apparent transport to what amounts...
Copyright © TESLARATI. All rights reserved.
Read full article at Teslarati
NDTV 26 June, 2021 - 07:57pm
Billionaire entrepreneur Elon Musk has decided to have a go at Bitcoin and its supporters – again. His previous interest to push the developers of the world's largest cryptocurrency to make it more energy-efficient ended in washing out its gains and attracted massive criticism from Bitcoin investors. On Friday, Mr Musk directed his wit to Bitcoin "maxis", or maximalists, who support the crypto above all other digital currencies, like Dogecoin, a favourite with the Tesla CEO. He again raised the widely held concerns over the energy consumption in trading and mining Bitcoin.
"How many Bitcoin maxis does it take to screw in a lightbulb?" Mr Musk asked. And shortly later, he himself came up with a reply, "That's not funny! – Bitcoin maxis."
"That's not funny!" – Bitcoin maxis
The "Bitcoin maxis" tweet drew the attention of MicroStrategy CEO Michael Saylor, one of the most vocal Bitcoin proponents.
If you give us 10 minutes, maybe we can hash out the answer...
Peter McCormack, the host of one of the most famous cryptocurrency podcasts globally, also responded to Mr Musk, but he was more direct in taking him down. In a second tweet, Mr McCormack posted a link to El Salvador President Nayib Bukele's address to the nation. The central America country has announced that Bitcoin will become a legal tender in the country on September 7 this year.
How many obnoxious Bitcoiners does it take for you to stop being a dick?
The SpaceX CEO and the podcast host have a history of disagreement on Bitcoin.
Obnoxious threads like this make me want to go all in on Doge
But there were many who supported Mr Musk. One user replied to Mr Musk's question and tweeted a dig, wrapped in a metaphor. The user said two Bitcoin maxis could screw in a lightbulb. "Edgy", said Mr Musk.
Two, One to screw in the light bulb and one to stare in horror at roko's blockchain as it consumes the earth and all who stood in its way.
Others just had some fun seeing Mr Musk returning to tweet on Bitcoin.
All eyes are now waiting to see the impact of Mr Musk's tweets on the crypto market, which is trying to recover from the two recent crashes – one in May (partly blamed on the tech tycoon's tweets) and the other last week due to widening Chinese crackdown on cryptocurrencies.
Track Latest News Live on NDTV.com and get news updates from India and around the world.
Track Latest News Live on NDTV.com and get news updates from India and around the world. Follow our special coverage of Assembly Elections 2021 and get fastest results on ndtv.com/elections.
New York Post 26 June, 2021 - 02:51pm
June 26, 2021 | 3:51pm | Updated June 26, 2021 | 5:23pm
Rocket fuel is not the only thing powering the space race that pits billionaires Elon Musk, Jeff Bezos and Richard Branson against each other.
"There are big egos at play here," Brad Stone, author of "Amazon Unbound: Jeff ­Bezos and the Invention of a Global Empire," told The Post. "They are three of the most iconic entrepreneurs and all used to winning. Jeff is not used to being second or third. Elon is a gambler. He's risked it all a number of times."
The competition revved up June 10, after Bezos, 57, announced that he — along with an anonymous billionaire who paid $28 million for a seat on the Amazon founder's New Shepard rocket — will fly to the brink of space and back on July 20, the 52nd anniversary of the Apollo 11 moon landing.
On June 11, reports surfaced that Branson, 70, would steal Bezos' thunder by going up in his Virgin Galactic VSS Unity over the Fourth of July weekend. ("We have not determined the date of our next flight," a Virgin Galactic spokesperson told The Post.)
"It would be disappointing for Bezos to work on something for 20 years and then finish second to Branson," Eric Berger, author of "Liftoff: Elon Musk and the Desperate Early Days That Launched SpaceX," told The Post. "I think he looks at Branson as somebody who probably wants to make money off of space to extend his Virgin empire" — rather than furthering humanity, like himself and Musk.
And while Musk, who turns 50 on June 28, has publicly expressed his skepticism of ­Bezos — he once wrote, "We are likelier to discover unicorns dancing in the flame duct" than for a ­Bezos Blue Origin ship to "dock with the Space Station" — privately, insiders say, his feelings are more competitive.
"The biggest tension is between Elon and Jeff," Ashlee Vance, author of "Elon Musk: Tesla, SpaceX, and the Quest for a Fantastic Future," told The Post.
Jabs from Bezos have been subtle — like when he tweeted "Welcome to the club" at Musk after the latter finally landed a rocket vertically in 2015. The comment was needling, making the point that Bezos was first.
Always one to get the last word, Musk responded with a tweet of his own: "It is, however, important to clear up the difference between 'space' and 'orbit' " — making it clear that his rockets went into orbit while Blue ­Origin's merely went into space.
"They do not care for each other," Vance added. "Elon dislikes Bezos. I think he finds Jeff boring."
And now Branson — who has always loved a spectacle — is creating a distraction.
Since the early 2000s, Branson, Musk and Bezos have collectively spent billions chasing their space dreams.
Musk, the South Africa-born CEO of Tesla, wants to colonize Mars with his ­SpaceX rockets, even claiming that he would like to die on the Red Planet.
He founded SpaceX in 2002. The company's first manned flight launched last year and was the first non-government vessel to dock a crew at the International Space Station. A second went up in April. Meanwhile, prototypes to get to Mars are being tested.
Musk is known for his eccentric sense of humor — hosting "Saturday Night Live" and sending a spacesuit-clad mannequin "driving" a Tesla into space for a test mission of his Falcon Heavy rocket.
But his offhanded tweets have also sent stock and cryptocurrency prices into a tailspin and gotten him in trouble with the Securities and Exchange Commission.
"Elon has been great at whipping people into a frenzy of fandom," said Stone. "Bezos has to be jealous of that . . . He does not have the kind of personality for going on 'SNL.' Elon can be so jubilantly reckless and it works out for him."
Right now, Musk is the second richest man in America — worth, as of April 30, $172 billion to ­Bezos' $202 billion. The two share a desire to establish space colonies; for Bezos, it's about floating habitats, where humans will live and work, that orbit Earth.
His short-term goal, however, is taking people to the edge of outer space — for a few minutes of weightlessness and a view of Earth — via his Blue Origin vessels.
After it was announced that Bezos would go himself, someone started a Change.org petition demanding he not return to Earth. More than 100,000 people have signed it.
"Bezos has a branding problem," Mark R. Whittington, author of "Why is America ­Going Back to the Moon," told The Post. "A lot of people don't like him . . . He's been compared to a Bond villain."
Branson, meanwhile. has been in the space game since 2004. His company, Virgin Galactic, has a waiting list of 650 — including, reportedly, Leonardo DiCaprio, Rihanna, Katy Perry and Kate Winslet. Each will pay $250,000 for a two-hour flight with about five minutes in sub-orbital space.
"Branson does not view space as the answer to humanity's future," said Berger of the Virgin Airlines magnate, worth $5 billion. "He is basically interested in space tourism."
For Branson, going to space next month isn't just about showing up Bezos. It's also a way to make a big impression with consumers.
"Virgin Galactic has been for years saying they are the world's first space line," Douglas Messier, who broke the story about Branson besting Bezos for Parabolic­Arc.com, told The Post. ­"Bezos going up first with an actual customer paying $28 million will ­negate that." (On Friday, US authorities gave Virgin Galactic permission to take paying customers to space, only accelerating the billionaire space race.)
Branson prides himself on his adventurer spirit — and making a splash. If Bezos is seen as a Bond villain, Branson aspires to live like Bond.
He once drove an amphibious car across the English Channel while wearing a tuxedo. When Virgin Galactic's hangar opened in New Mexico, Branson rappelled the building — while drinking Champagne. He launched his ill-fated Virgin Cola by driving a tank through Times Square.
Not all of his stunts have worked out. Branson's big dream in the '90s was to set a world record by circling the globe in a hot-air balloon, but he never pulled it off. There was also the time, in 2007, that he celebrated the debut of his now-shuttered Virgin America airline by bungee-jumping off the roof of the Palms Casino in Vegas — only to bang into the building and rip his pants.
Because Virgin Galactic's VSS Unity can rise only 55 miles — 7 short of outer-space's borderline, by international standards — Messier predicts that Bezos will offer faint praise if Branson manages the July flight.
"Bezos' attitude will be, 'Congratulations on the flight, but you have not actually been to space,' " Messier said.
It reportedly drives the three men crazy when one of their rivals publicly succeeds.
"Bezos is quite jealous of all the federal contracts that Elon Musk and SpaceX have gotten," Berger said of lucrative deals in which SpaceX builds satellites and rocket-ship parts. "Internally, he gets upset."
Bezos sent an e-mail to key employees in 2017 after Musk received a $1.3 billion tax break from the state of Nevada for locating his battery factory there: "Why does Elon Musk have this superpower of getting big government incentives and we don't?"
Likewise, "Musk gets mad when he loses," said a Musk source. "SpaceX lost out on ­development money from the US Air Force. I heard he took it out on his government- affairs people."
Musk is said to look down on the other men because he doesn't see their endeavors as being as serious as his.
When Berger interviewed Musk on the CEO's private jet, the author mentioned that it had taken Bezos' team seven years to build a rocket engine. "I asked Elon why it took [Bezos] so long," Berger said. Musk responded: "Bezos is not great at engineering, to be frank."
Branson, meanwhile, "is literally not a rocket scientist," said Rand Simberg, an industry analyst who has had dealings with all three companies. "He is a brander."
In 2011, Branson tried to purchase rocket engines and batteries from SpaceX. Branson treated Musk to dinner and thought he had a deal. But Musk, according to the book "Test Gods: Virgin Galactic and the Making of a Modern Astronaut," pretty much ignored further entreaties. In 2015, Musk squeezed Branson out of a satellite-internet-service deal with Google executives.
And while a Bezos insider told The Post that "Jeff will be thrilled to beat Elon as first billionaire in space," it turns out that's not such a big feat.
"Elon has better things to do," an ex-Musk employee told The Post. "Going into space for him is risky and a waste of time."
Berger agreed. "Elon values engineers more than he values astronauts," the author said. "For him it's much more about the engineering challenge than it is about taking a quick ride into space."
Rob Meyerson, former president of Blue Origin and currently an operating partner at the C5 Capital investment firm, believes the competition makes them all better.
"Highly successful people are competitive — and they drive each other," he told The Post. "SpaceX has a culture of us-against-the-world; that puts a chip on [Musk's] shoulders while driving them forward. And they set the pace" for Bezos and Branson.
And it's contagious, especially when the public has three personalities to root for (or against): Musk the provocateur, Bezos the Bond villain and Branson the showman.
"Having three individuals has made things entertaining and interesting," Meyerson said. "It has been a long time since we have had this much interest and accelerated progress in the space industry."
Forbes 26 June, 2021 - 05:30am
he stock market recovered from a brief mid-June dip to rise to new record highs this week as the White House reached a deal with a bipartisan group of senators on an infrastructure bill. Tesla's Elon Musk was the rally's biggest beneficiary.
Musk, the world's third richest person, saw his fortune grow by $9.9 billion, finishing the week at $165.9 billion. Tesla stock rose by 9% on Wednesday and Thursday and was up 7.8% for the week. Tesla handily outpaced the main stock indices: The S&P 500 index gained 2.7% this week, and the Dow Jones Industrial Average increased by 3.4%.
The Biden administration's proposed $1.2 trillion infrastructure bill, announced Thursday, includes $15 billion in spending for a national network of 500,000 electric vehicle charging stations and electrifying school buses and transit buses in the U.S., according to a White House fact sheet. The proposal does not include rebates for electric car buyers, which were part of the ambitious spending plan Biden rolled out in March, but the compromise still helped lift the stocks of Tesla and other fledgling EV companies like Fisker and Lordstown Motors.
Tesla's second-quarter delivery numbers, set to be released in the first week of July, will shed more light on the company's growth. Its 185,000 deliveries in the first quarter were more than double what it reported in 2020. Despite this week's surge, Tesla stock is still 24% below its January records—which briefly made Musk the world's richest person. At a current No. 3, Musk trails Amazon CEO Jeff Bezos and French luxury goods tycoon Bernard Arnault.
The second-biggest winner of the week was Nike founder Phil Knight, whose fortune grew by $6.4 billion in one day on Friday. On Thursday afternoon Nike reported blockbuster earnings for its quarter and fiscal year ending May 31, 2021. Its revenue of $12.3 billion for the quarter nearly doubled last year's number from the early days of the pandemic, and the stock soared 15.5% to a record high on Friday. Knight, who retired from Nike's board in 2016, now has a net worth of $56.4 billion, per Forbes estimates.
Townhall 25 June, 2021 - 11:01pm
The government has handed Elon Musk the keys to the city once again.
The Federal Communications Commission recently awarded a nearly $1 billion subsidy to Elon Musk's SpaceX, and the company is now ready to use it to litter the sky with thousands of the company's new Starlink satellites.
With these new satellites, Starlink hopes to bring internet to thousands of places across the world. But some are concerned that this government subsidy could lead to a slippery slope of a space monopoly.
Because of the number of lower-Earth orbit satellites that Musk wants to launch, the sky could quickly become crowded — so crowded that it becomes dangerous for competitors or anyone else seeking access to space.
While monopolies are often synonymous with inefficiency, some have accused Musk's satellite internet project of being too potentially hazardous even at this early stage. The Wall Street Journal reported that, "The critics' main argument is that Mr. Musk's launch-first, upgrade-later principle, which made his Tesla Inc. electric car company a pioneer, gives priority to speed over quality, filling Earth's already crowded orbit with satellites that may need fixing after they launch."
This isn't the first time that the public has called SpaceX's safety into question. In typical "move fast and break things" Silicon Valley fashion, the company seems to always prioritize speed over efficiency and responsibility.
For example, in December, the Federal Aviation Administration repeatedly tried to ground one of its launches over concerns that weather conditions made it more likely that nearby homes would be endangered in the event of an explosion. The company ignored the FAA's warnings, and its rocket then exploded. Perhaps only the fact that the explosion happened upon landing, instead of mid-flight, prevented a real disaster.
What will it mean for safety and innovation if the government effectively allows this company to become the only space satellite game in town?
Competition is what drives productivity, low costs, and innovation. Each of those items is particularly important in the governmental realm, where budgetary concerns always run rampant and quality control is supposed to be of paramount concern. Essentially granting a space monopoly to a company whose satellite program has already faced criticism for being too risky is something that only Washington, D.C. could get away with.
Musk knows this. He has always been wary of monopolies, even once accusing the government of creating one on military launches, so he should understand why the Starlink project has drummed up so much concern over the future of competition in space.
In the past, Musk has also argued that the American government is the greatest monopoly of all. He seems to believe that the government prevents companies from achieving their goals and ability to move forward. So do I; however, his companies are doing just fine largely thanks to the government's help. Starlink is just the latest example of this.
As the space race moves forward, it will be interesting to hear how Mr. Musk feels about monopolies should regulators and federal officials ever decide to prioritize competition instead of handing out subsidies without concern for the consequences.
JUST IN: Biden Claims It Was 'Not My Intent' to Imply Veto of Infrastructure Bill, So What the Heck Was the Intent?
SJWs Tie James Corden's 'Spill Your Guts or Fill Your Guts' Segment to Cultural Insensitivity, Anti-Asian Hate
Barron's 25 June, 2021 - 07:25pm
This copy is for your personal, non-commercial use only. To order presentation-ready copies for distribution to your colleagues, clients or customers visit http://www.djreprints.com.
In the past year, Elon Musk has declared himself Technoking of Tesla and Imperator of Mars. Under his guidance, Tesla has bought and sold Bitcoin. It also began accepting Bitcoin as payment, and then stopped doing so. Tesla's CEO has run into more trouble with the SEC over his tweeting habits, too.
Tesla stock, however, is up more than 200% in the past 12 months, making the company the world's most valuable auto maker. What's more, Musk's space-exploration and technology company, SpaceX, is now the fifth most valuable aerospace and defense franchise in the world. SpaceX's value has increased as the company delivers more astronauts to the International Space Station and more of its Starlink satellites into low Earth orbit. SpaceX plans to offer space-based high-speed internet across the globe.
Tesla and Musk, 50, have their critics. More than 25% of analysts covering the stock rate it Sell. The average Sell ratio in the S&P 500 index is about 7%. Still, the average analyst price target for Tesla stock is up about 360% over the past year. Even the bears seem willing to admit that Tesla is disrupting the auto industry and is worth hundreds of billions of dollars. Musk is the main reason for that.
Write to Al Root at allen.root@dowjones.com
In the past year, Elon Musk has declared himself Technoking of Tesla and Imperator of Mars.
An error has occurred, please try again later.
This article has been sent to
Copyright ©2021 Dow Jones & Company, Inc. All Rights Reserved
This copy is for your personal, non-commercial use only. Distribution and use of this material are governed by our Subscriber Agreement and by copyright law. For non-personal use or to order multiple copies, please contact Dow Jones Reprints at 1-800-843-0008 or visit www.djreprints.com.
Live Bitcoin News 25 June, 2021 - 04:00pm
Bitcoin has been crashing as of late, and for many people, the main reason has to do with Elon Musk. Last month, the South African entrepreneur announced that he was rescinding a decision that his electric car company Tesla was going to accept bitcoin-based payments for goods and services.
This was a hard blow for many traders given that this would have sent bitcoin spinning into a wild price frenzy. In addition, it would have likely taken it closer to mainstream territory given that bitcoin was closer to its initial goal of being utilized as a payment currency.
This is what bitcoin was built for when it first emerged in 2009. While the currency has been a great speculative tool in the past and has even been deemed a solid hedge for one's portfolio since the coronavirus pandemic took hold, bitcoin was always designed to push fiat and credit cards to the side.
Sadly, it has never fully enjoyed this position given it is one of the most volatile assets in the history of trading and investing. We have seen a solid example of this only recently when the currency rose to its new all-time high of approximately $64,000 per unit only to fall to about $29,500 just a few days ago. In about two months, the world's number one digital currency lost more than half its value.
The reason Elon Musk decided to end Tesla bitcoin payments was because he had concerns about the mining process. He claimed that there were too many environmental hazards at stake, and miners were utilizing too much of the world's electricity, which could leave behind a heavy carbon footprint.
While he has since said he is willing to consider BTC payments in the future should emissions go down and clean energy be put to greater use, there is still a major question that needs to be asked… What the heck was Elon Musk thinking?
Okay, maybe there was legitimate concern in the entrepreneur's mind about how the bitcoin mining space could hurt the planet, but seriously… His company purchases $1.5 billion worth of the asset and then it almost feels like he was on some sort of mission to ensure that the investment went sour.
No doubt that everyone lost something due to the recent volatility, and this includes Musk. Other than MicroStrategy, Tesla purchased more BTC than any other institution, so naturally, there was a lot of money to be lost through these little word games Musk appears to have been playing.
Thus far, the company is sitting on a major loss of nearly $100 million, and that is if bitcoin manages to recover, and considering Musk claims he has only sold about ten percent of the firm's stash, he has likely lost quite a bit more in comparison to average traders.
Bitcoin is poised to revolutionize the way individuals and companies do business online. Make sure you don't get left behind by learning the basics of bitcoin in our bitcoin education center.
We use cookies to give you the best online experience. By agreeing you accept the use of cookies in accordance with our cookie policy.
Electrek 25 June, 2021 - 10:14am
Elon Musk is again updating the timeline for Tesla's new Full Self-Driving v9 beta update, which is apparently now slipping to next week.
Tesla's new FSD subscription model should follow at the same time.
Tesla is currently testing the "feature complete" version of its Full Self-Driving (FSD) package in beta with a few thousand customers and employees through its early access program.
It's not considered autonomous driving yet because the driver is still responsible for the vehicle and needs to be ready to take control at all times, but Tesla's system performs all other driving tasks autonomously, including driving through intersections.
Tesla hopes that it can keep improving on the system with customer feedback until it can gather enough data to show that it's safer than human driving.
Over the last few months, CEO Elon Musk has been talking about Tesla moving to a new generation (v9) of its FSD software that will remove reliance on radar readings and instead have everything done through computer vision based on cameras.
Tesla already pushed its first version of the software without radar support, but the first big iteration has been dubbed FSD v9.
The update has been pushed a few times. Most recently, Musk said that it should be coming "no later than June."
Last month, the CEO did say that Tesla would release a "first step" toward that update first.
At the end of May, Tesla started moving all North American Model 3 and Model Y vehicles to a camera-only computer vision system.
At the time, Musk said that Tesla FSD v9 would be coming in "about 3 weeks."
A month later, the update is still not here, and Musk is now saying that it will "hopefully" be launching next week:
I'm driving "alpha" 9, but we need to fix some obvious issues before releasing beta 9, hopefully next week.
It will most likely mean that the update will slip into July.
Again, this is the software update that Musk has been hyping up as "mind-blowing" and an important step toward Tesla achieving true full self-driving capabilities.
Last year, we reported on indications that Tesla is working on a pay-as-you-go subscription for its Full Self-Driving (FSD) package.
Later, CEO Elon Musk confirmed that Tesla planned to release such an option "toward the end of 2020." That never happened, and the release was later pushed by the CEO to "early 2021."
In March, Musk said that it will "for sure" happen during the second quarter of 2021.
In April, the CEO said that the subscription is a "sure thing" for May, but that also didn't happen, and now Musk has attached the release of the subscription option to the release of v9, which has also been delayed, as discussed above.
With the new timeline of "hopefully next week," Musk said that the subscription model will be made available through the Tesla app:
FSD subscription capability should be turning on via the Tesla app.
The FSD subscription is expected to give access to the FSD features to a lot more people, since it's going to be an alternative to paying $10,000 for the FSD package, which is currently the only option.
But it will not be a cheap monthly fee.
Tesla has made it clear that outright buying the package is going to be better financially, which means that the monthly cost of the subscription is likely going to be over $100 per month.
FTC: We use income earning auto affiliate links. More.
Fred is the Editor in Chief and Main Writer at Electrek.
You can send tips on Twitter (DMs open) or via email: fred@9to5mac.com
Through Zalkon.com, you can check out Fred's portfolio and get monthly green stock investment ideas.
Panasonic sells its TSLA stake for an insane profit
EV infrastructure gets $15B in US bipartisan proposal
Ducati's latest is a $477 e-scooter
2022 Volvo XC90 will come with Lidar
Yahoo Sports 25 June, 2021 - 09:00am
Dan Wetzel, Pat Forde, Pete Thamel
Cloudbet, primarily an Internet sportsbook with a license in Montenegro, says this year's price rally in cryptocurrencies has led to a surge in sports betting, with total betting value in December and January up 75% compared to a year earlier (the company didn't provide dollar amounts). The sportsbook, which has been in operation since 2013, says the rise mirrored how betting activity perked up during Bitcoin's 2017 rally to a then-record price of $19,000 per piece. Bitcoin opened 2021 at $29,000 a piece and rallied to $59,000 at the start of April. Sports betting volume tracked the prices as HODLers felt wealthier, according to a company spokesperson.
Predictably, then, the decline in Bitcoin price from its peak of $63,000 in mid-April to $37,000 at the end of May led to betting volumes dropping, although Cloudbet says crypto bet volumes are still 3.5-times higher than last year and is seeing strong action on the NBA Playoffs.
Some of the volatility in cryptocurrency is attributed to Tesla billionaire Elon Musk, who has whipsawed the market by stating at various times this year that Tesla would and wouldn't accept Bitcoin. The so-called Elon Effect is seen most clearly in Dogecoin, a cryptocurrency originally created as a satire of crypto mania. Musk has referred to Dogecoin repeatedly on Twitter in the past year. When he tweeted a simple missive saying "The Dogefather" at the end of April, many thought it augured bullishness on the billionaire's part.
As a result, Cloudbet says Dogecoin holders are now among its most active customers, accounting for almost a tenth of players each week (half of the sportsbook's bets remain in Bitcoin). The operator launched a Dogecoin casino at the start of May. "We ran a customer survey a couple months ago, and the most requested coin was Dogecoin," said Camilla Wright, spokesperson for Cloudbet.
As invented money without the benefit of traditional economics like interest rates and trade flows to gauge value against other currencies, cryptocurrencies are often driven by speculative behavior and the emotional whims of traders. Of late, Dogecoin has been falling—after Musk didn't hype the coin on SNL, China cracked down on cryptocurrency, and traders supposedly sold it when the Dogecoin-sponsored NASCAR vehicle crashed in Nashville last Saturday.
The speculative nature of cryptocurrency, on the other hand, may also be what powers its use in sports betting.
"There's a lot of overlap between crypto traders and sports bettors, so it's not terribly surprising that you see more betting when crypto traders have larger balances to play with," Eilers & Krejcik gambling analyst Chris Grove wrote in an email. "While there may be a positive correlation, it's not necessarily going to look the same for every sportsbook, and there are probably a dozen or so other factors that exert more influence over betting volumes in the short run."
And while Cloudbet offers bets in a dozen cryptocurrencies, to large sportsbooks, crypto remains a curiosity, largely forbidden from use by regulators, although Wyoming approved crypto gambling in April. There is no reliable data on how much sports gambling takes place in crypto worldwide.
"We have to wait and see how crypto goes and how it evolves," said Super Group CEO Neal Menashe in an interview on his firm's going public merger earlier this month. "Crypto's just another currency. It's all about, 'Will the bankers allow you to use it?'"
Bitcoin's jump coincides with announcements made by El Salvador's president on Thursday evening.
In this series of articles, BeinCrypto explores the state of various cryptocurrency ETFs in the United States. This particular article will focus on the Kryptoin bitcoin ETF, which was first introduced in 2019.
Bitcoin's short-term downtrend is slowing, although upside appears to be limited heading into the weekend.
During the Second Annual Global DeFi Summit, Rivet Founder and CXO Greg Lang, moderated a session about Ethereum 2.0 where speakers discussed the expected updates, and the benefits and risks they pose.
Draft regulation also requires businesses offering crypto services in the EU to have a base in the bloc, Cinco Dias reports.
Bitcoin tried to settle above $35,000 but faced resistance near the 20 EMA and pulled back.
No matter what type of investor you are, Bitcoin (CRYPTO: BTC) has probably caught your attention, thanks to its rapid ascent to over $60,000 a coin in just a few years. Two things need to happen before you can make a fortune off Bitcoin or any other cryptocurrency. Let's start with the obvious: You're never going to make any money off of Bitcoin if you don't own any tokens.
BitGo, Coinbase, Gemini, Kraken and Fidelity are putting an anti-money laundering solution up for consideration.
The "Zoey 101" star is being slammed for her silence and presumed involvement in sister Britney Spears' conservatorship problems.
Citigroup's (C) wealthy clients will be able to access investment vehicles in bitcoin and other digital assets, with the bank launching a separate digital asset unit as part of its wealth management division.
Tanzania's central bank is looking to reverse its decision to ban cryptocurrencies in the country following President Samia Suluhu Hassan's directive.
Today's on-chain analysis highlights the declining hashrate of the Bitcoin network, which correlates with the bearish trend of the BTC price. However, it turns out that there are still more new users taking advantage of the bottom to join the crypto market.
Imagine owning a rental property that generates a constant stream of passive income because it's in so much demand with tourists. This can become your reality if you decide to buy property in a town...
Facing resistance from the World Bank, IMF and opposition parties to his move to make bitcoin legal tender in El Salvador, President Nayib Bukele has promised $30 for each citizen who adopts the cryptocurrency.
Or, at the very least, I hope you sidestepped the huge drubbing most of them -- including the biggies like Bitcoin (CRYPTO: BTC) and Ethereum (CRYPTO: ETH) -- have suffered since May's highs. Perhaps you're plowing into some new cryptocurrency positions following the recent sell-off, confident that digital currencies not regulated by governments are the future. Sure, I've seen how cryptos like Bitcoin and Dogecoin (CRYPTO: DOGE) meet (more or less) the six critical traits of a successful currency.
The reported next Blazers head coach has received some backlash from the Portland faithful.
World champion Noah Lyles cruised into the 200m semi-finals at the US Olympic track and field trials in Eugene on Friday but was upstaged by 17-year-old prodigy Erriyon Knighton during opening heats.
Three men allegedly threatened KCP with guns in his own driveway.
America is too afraid to send an all-black basketball team to the Olympics, according to an ESPN analyst who lamented the addition of the team's lone white member.
Larissa Pacheco continues to shine during the 2021 PFL season.
CNBC 25 June, 2021 - 07:51am
Tech billionaires Elon Musk and Jack Dorsey have agreed to discuss bitcoin with each other at an event in July.
In a bizarre Twitter thread, Musk responded to a tweet from Dorsey promoting an event called "The B Word," which aims to encourage companies and institutional investors to adopt bitcoin.
"Bicurious?" the Tesla CEO said, seemingly referring to the "B" word in question.
In response, Twitter's Dorsey said: "Bizarre! Let's you and I have a conversation at the event. You can share all your curiosities..."
Musk agreed. "For the Bitcurious? Very well then, let's do it," he said, to which Dorsey later replied: "Done! Will set up."
The event is scheduled to take place July 21, according to its website, "offering a live experience and a library of content to the investor community, enabling a more informed discussion about the role Bitcoin can serve for institutions across the globe."
Comments from Musk have taken bitcoin investors on a wild ride lately. The eccentric Tesla boss initially supported bitcoin, briefly adding the hashtag #bitcoin to his Twitter bio in January.
Tesla then announced in February that it had bought $1.5 billion worth of bitcoin and would start accepting it as a method of payment.
At the same time, Musk has made a number of tweets supporting dogecoin, which led to a stunning — but short-lived — rally for the joke cryptocurrency.
More recently, Musk appears to have rowed back on his views about bitcoin. Last month, he said Tesla would stop accepting bitcoin for car purchases, citing environmental concerns around the "insane" amount of energy required to mine the digital currency.
He also posted a meme suggesting he's fallen out of love with bitcoin.
But earlier this month, Musk said Tesla would accept the cryptocurrency when at least half of bitcoin mining is confirmed to be powered by clean energy.
Bitcoin fell below the key $30,000 mark on Tuesday, briefly erasing all its 2021 gains. The digital asset has since risen back above $33,000 but is still down almost 50% of its all-time high of nearly $65,000 which it reached in April.
Got a confidential news tip? We want to hear from you.
Sign up for free newsletters and get more CNBC delivered to your inbox
Get this delivered to your inbox, and more info about our products and services. 
Data is a real-time snapshot *Data is delayed at least 15 minutes. Global Business and Financial News, Stock Quotes, and Market Data and Analysis.