Mohamed A. El-Erian
elerianm
While I don't own a @Tesla or have ever come close to doing so, I'm intrigued by the ways it's is disrupting the auto industry…including the long-standing concept of a dealership. Per this photo, @Lexus has followed Tesla is opening a store like dealership in a shopping mall. pic.twitter.com/eucr2ophHG
Lora Kolodny
lorakolodny
Tesla fans, not professional drivers, testing out FSD beta level 2 driver assistance features on Lombard St. in SF. www.youtube.com/watch?v=3ltLwRPz6p4 In the video's intro a disclaimer says the car isn't autonomous, but then the narrator-driver says "The car is driving itself by the way!"
Ryan Randazzo
utilityreporter
Got some pics from a reader showing hours-long line for #Tesla chargers in El Centro, Calif. on July 5 as Arizonans headed home after the holiday. If you were caught in this or a similar backup, my DMs are open. @Tesla @Teslacharging @Teslaroadtrip pic.twitter.com/IGuwSVSvyn
Mark Poloncarz
markpoloncarz
Thursday, July 22 at 5:30PM: @Tesla is hosting an info session at Jericho Road Community Center on positions available at the Tesla Gigafactory in #Buffalo. RSVP at: bit.ly/3wFz8bW Learn more about the Data Annotation Role here: tesla.avature.net/Careers/Jobdetail?jobId=94530 pic.twitter.com/onsrifHXKT
July 20 (Reuters) - Tesla Inc (TSLA.O) plans to open its network of superchargers to other electric vehicles later this year, Chief Executive Officer Elon Musk said on Twitter.
The electric-car maker's fast charging network, with over 25,000 superchargers globally, has given it a competitive edge. Meanwhile, other carmakers have formed alliances or invested in startups for networks as they rush new electric vehicle entrants to market.
"We're making our Supercharger network open to other EVs later this year," Musk said on Tuesday, adding that over time Tesla's charging network will be opened to other electric vehicles in all countries. (https://bit.ly/3xVK1rt)
Germany's transport minister said last month he was trying to convince Tesla to open its charging network to other carmakers to make it easier for drivers of electric vehicles to charge. (https://reut.rs/3Bn8wA0)
In the United States, President Joe Biden's administration late last month embraced a bipartisan Senate deal to spend $1.2 trillion on infrastructure projects, including $7.5 billion on electric vehicle infrastructure, including charging stations. (https://reut.rs/3roxfiH)
Charging companies such as Blink Charging Co (BLNK.O), EVgo Inc (EVGO.O), ChargePoint Holdings Inc (CHPT.N) and Volkswagen's (VOWG_p.DE) Electrify America are also building out charging networks across the United States.
Improvement in charging infrastructure across U.S. could encourage more Americans to buy electric vehicles, giving General Motors (GM.N) and Ford Motor (F.N) much-needed fuel in the battle against Tesla.
Our Standards: The Thomson Reuters Trust Principles.
The most comprehensive solution to manage all your complex and ever-expanding tax and compliance needs.
The industry leader for online information for tax, accounting and finance professionals.
Information, analytics and exclusive news on financial markets - delivered in an intuitive desktop and mobile interface.
Access to real-time, reference, and non-real time data in the cloud to power your enterprise.
Screen for heightened risk individual and entities globally to help uncover hidden risks in business relationships and human networks.
All quotes delayed a minimum of 15 minutes. See here for a complete list of exchanges and delays.
© 2021 Reuters. All rights reserved
Read full article at Reuters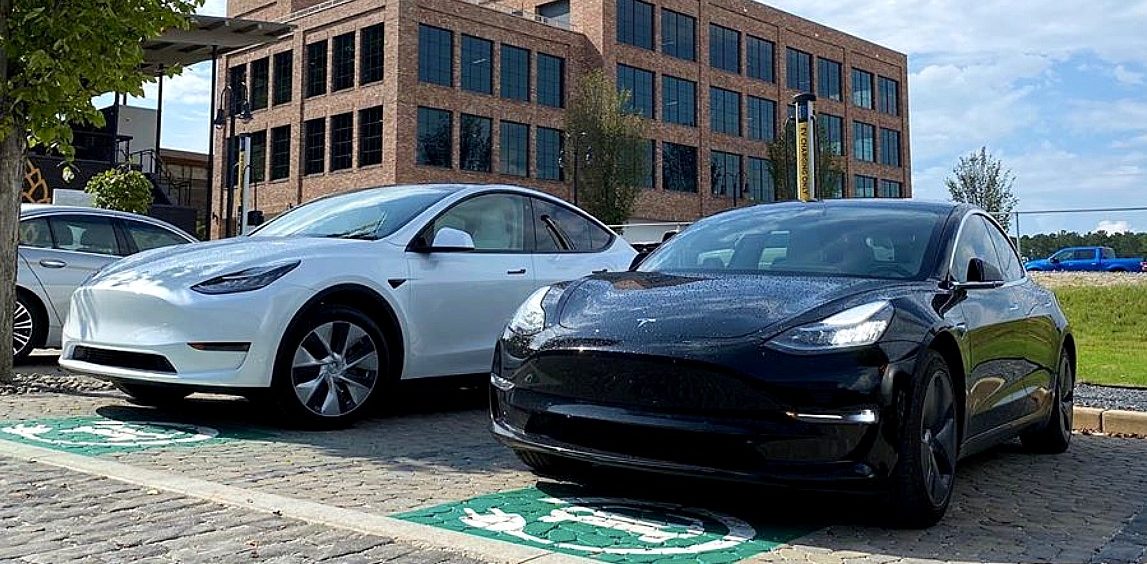 Teslarati 20 July, 2021 - 03:59pm
Tesla's Model Y and Model 3 combined for the ideal one-two punch in the global EV sales charts through 2021 so far. A new list of the top 12 electric cars in the world was released earlier this week, and it shows Tesla's lead in the sector is still as evident and as dominant as it ever was.
The list, put together by Car and Driver, shows that the Model Y has undoubtedly become Tesla's star child with 76,429 units sold through the first half of 2021. Despite only being in Tesla's lineup for a little over a year, the all-electric crossover has established itself as the most popular electric vehicle in the world today, surpassing its sibling Model 3, which really brought Tesla into the conversation of mass-market, affordable vehicles. The Model Y starts at $52,990 and is available in two different configurations: Long Range and Performance. Both builds of the vehicle pack Tesla's Dual Motor All-Wheel-Drive powertrain, one of the most robust and advanced in the entire automotive sector today based on quality and performance metrics.
The disruption the Model Y has caused to competing automakers is relevant and recognizable. More people bought Model Ys in the first half of the year than all other non-Tesla-produced electric cars combined. (This fact discounts the automakers, like Kia and Polestar, who do not report their sales figures to the public.)
The Model Y is also getting ready to break into the global automotive market's best-seller list as well. According to the report, "the Y was incredibly close to unseating the Honda Pilot as the 25th-best-selling vehicle on the market as a whole." In the coming years, as price parity battles begin to ween in favor of electric vehicle makers, the Model Y could break into the ranks of the global vehicle sales charts, displacing some of the most popular cars that have ever graced the market.
The Model Y wasn't Tesla's only contributor on the list, however. The Model 3, which has become a mainstay on EV sales charts since initial deliveries in Summer 2017, was the second-most sought-after vehicle in the global EV market. With 51,510 units sold, the Model 3 has kept its reputation as one of the best-selling EVs in the world through numerous competitors and so-called "Tesla Killers" who have failed to live up to their name. The Model 3 has been subjected to numerous price increases this year, just like its sibling Model Y, but still remains the automaker's most affordable vehicle. The impressive combination of speed, range, and functionality has made the Model 3 one of the most intricate and important vehicles in the past few decades of American automobiles. Not only did the vehicle help Tesla become a household name, but it also solidified itself as one of the catalysts for more widespread EV adoption across the world.
Notables on the list include the Chevy Bolt EV and EUV in third with 20,288 units sold and the Ford Mustang Mach-E in fourth with 12,975 units.
It's encouraging to see a list of vehicles that continues to expand and become more competitive through the years. With more automakers inevitably deciding to try their hand at producing an effective electric powertrain for consumers to buy, the market will only become more competitive, meaning the technology will continue to improve, and consumers will only benefit.
Italian tire maker Pirelli is launching its new "high load" tire specific for Hybrid...
Tesla (NASDAQ:TSLA) has announced that it would be posting its financial results for Q2...
Tesla is closing its first-ever Supercharger to the public. The Supercharger is located at...
Tesla's Standard Range Model Y has finally been approved for sales and production in...
Since the Tesla Model S Plaid deliveries began, there has been much discussion about...
Copyright © TESLARATI. All rights reserved.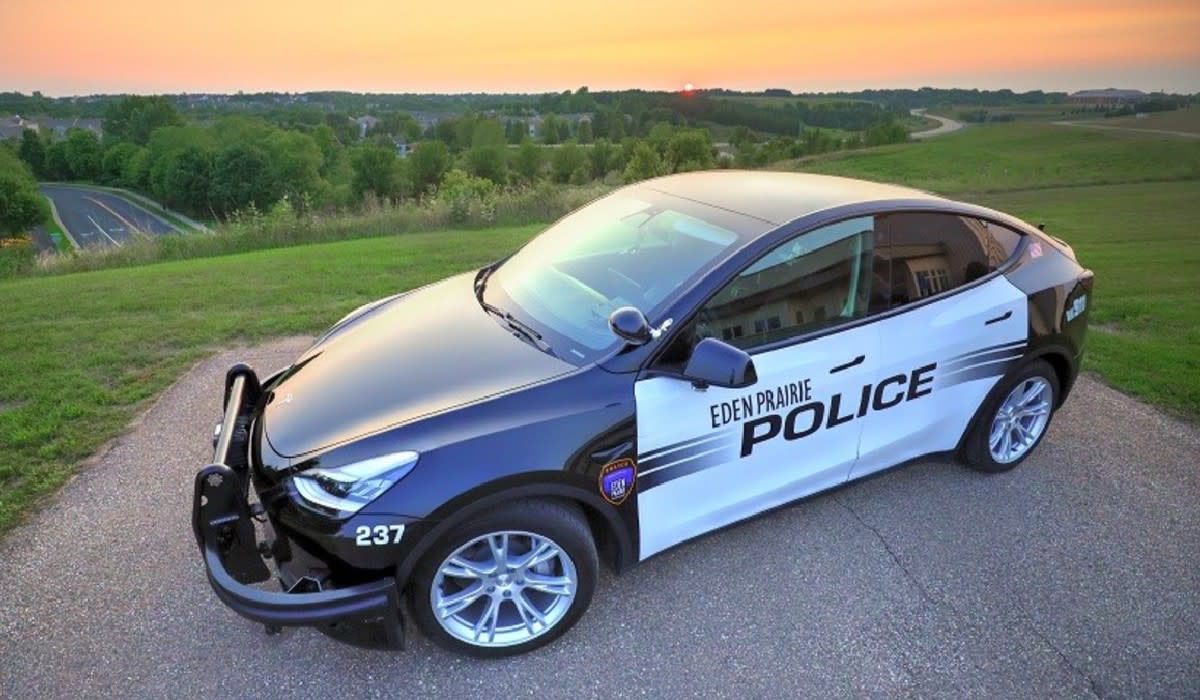 Bring Me The News 20 July, 2021 - 01:38pm
The Eden Prairie Police Department has added a fully electrical vehicle to its patrol fleet. 
The police department is piloting a 2021 Tesla Model Y, testing it for 100,000 miles and it will continually evaluate it for overall performance, a news release says. It marks the city's first fully electric vehicle. 
"The EPPD is excited to deploy our first fully electric patrol car this week, which will be used for traffic enforcement and various other patrol functions. Based on our research, as well as anecdotes from police departments across the country that have started using them, we anticipate a high level of performance and low maintenance costs from our Tesla Model Y," EPPD Chief Matt Sackett said in a statement. 
The 2021 Tesla Model Y has a starting MSRP of $39,990, Cars.com says.
This is the latest upgrade as the City of Eden Prairie moves toward carbon neutrality by 2050. The City began converting to hybrid vehicles more than a decade ago — it has 129 light-duty vehicles and of them, two are plug-in hybrid and 10 are hybrids. 
The city notes that police patrol vehicles are one of the most "heavily used vehicles" in a city fleet and are one of the least likely to be considered when switching fleets to electric. 
"With Eden Prairie's Climate Action Plan goal in mind, an internal work group researched the potential use of an electric vehicle as a patrol car, which resulted in the purchase of the Model Y," the release said.
Fully electric vehicles are often more expensive to buy but have lower operating costs throughout the life of the vehicle when compared to internal combustion engines, the city said. That's because they don't use fuel and often have fewer mechanical parts for repair and maintenance.
The city found in an analysis that compared the Model Y to the city's standard Dodge Charge patrol vehicle showed a "slight lifecycle cost savings" and a "significant reduction" in greenhouse gas emissions. 
The Tesla will inform Eden Prairie's future decisions about using fully electric fleet vehicles and serve as a model for other cities, the release said. The city also hopes it inspires residents to choose electric vehicles. 
A 2019 Eden Prairie News story says the city leads the state of Minnesota in electric vehicle adoption. 
The city's sustainability website is here. 
You Can Get BMTN Special Offers!
InsideEVs 20 July, 2021 - 12:24pm
Moreover, the Toyota is a hybrid, which makes it pricier than a gas-only car, but also potentially less expensive to own. Meanwhile, the Model 3 is the most efficient vehicle you can buy, and electric cars not only save you lots of money on fuel, but also require less maintenance than gas cars and hybrids.
If we asked you what is the most popular topic on our site, what would you guess? We bet you'd say anything related to Tesla. More specifically, common answers include simple content, such as Tesla drag races, TeslaCam footage, and anything Tesla- or EV-negative.
With that said, you might be surprised to learn that vehicle cost of ownership content performs better than almost anything else we publish. Of course, this is especially true if one of the cars is a Tesla, but even if not, people still tend to flock to these articles. Why are we sharing this, and what does it suggest?
We're excited to say that this is extremely promising for the segment. If people are out there in masses searching for cost of ownership coverage about electric cars, this arguably means people are considering buying an EV, and they're doing their homework. If people are reading these articles and watching the videos, they're learning how much cheaper it is to own an EV over a gas car, which is fantastic!
The video above comes to us from Tesla Tom's Ludicrous Feed. It's important to note that it's coming out of Australia, so pricing and such is not on par with what we see on our shores. However, it doesn't change the point. Tom breaks down the video into the following topics:
You can probably guess that the Model 3 costs less to own than the Camry Hybrid over five years. It's also important to note that if you own a Model 3, it's likely you can sell it for more than you paid for it, which is something many people don't understand or believe since cars depreciate rapidly and almost never appreciate. However, there are plenty of other important details in the video. Give it a watch and leave us a comment.
See These Related Tesla Model 3 Stories: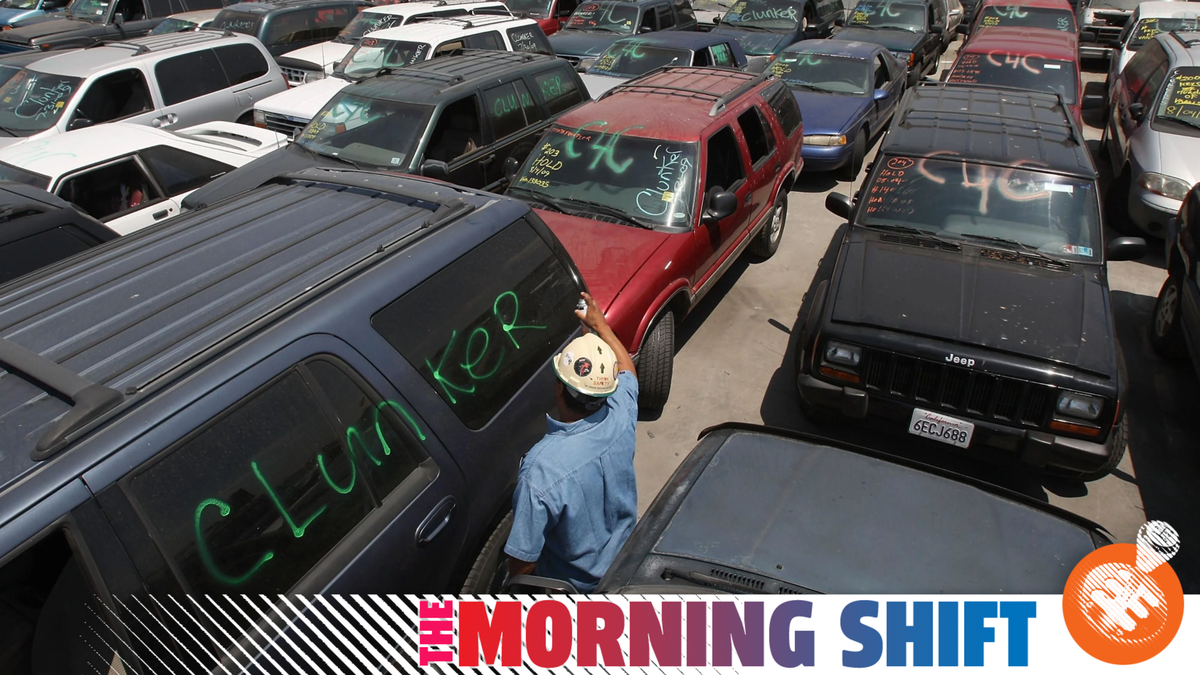 Jalopnik 20 July, 2021 - 10:10am
The Wall Street Journal looks at this in terms of insurance company profitability, because The Wall Street Journal is written for stock-market investors.
The stage will be set Tuesday by Travelers TRV -3.28% Cos., one of the first of the big property-casualty insurers to report earnings for the quarter. It is a leading issuer of policies protecting small and midsize U.S. businesses, and is a top-10 seller of car insurance to individuals as measured by premium volume.
Accidents are on the rise from last year. Last week Progressive Corp. PGR -1.67% reported a 47% year-over-year second-quarter increase in accident volume as well as an 8% surge in claims costs.
"Our expectation is for accident frequency to increase throughout 2021, as vehicle miles driven increase," said James Shanahan, an analyst with Edward Jones. As a result, key profitability metrics are expected to be weaker, and significantly so, on a year-over-year basis, he said.
And yet the more interesting stuff is how driving behavior has changed.
Car insurers have grappled since last year with higher claim severity, the average cost of a claim. Some of the higher average cost has been a result of less-serious fender-benders being taken out of the equation, industry executives and analysts said.
Policyholders are driving more in off hours, and many are driving faster. Higher-speed accidents result in more serious vehicle damage and injuries, analysts said.
Repair costs are up, and the big spike in used-car prices—tied to supply-chain bottlenecks in car manufacturing—figures into the cost of claims on totaled vehicles.
It is, to put it mildly, a pretty complicated time to be a car owner, if you need a car, the market is squeezed; if your car needs fixing, shops are slammed and some parts scarce; the price of gas is also going up. Not that it was ever simple or inexpensive to be a car owner but nowadays the hits keep on coming.
That is despite some recent headwinds in the country, most of which were own goals. This is, basically, Tesla's story in miniature, which is growth and success despite its bungling.
From Bloomberg:
Registrations of Model 3 sedans and Model Y crossovers made at Tesla's Shanghai factory totaled 28,508 units in June, a 29 percent increase from May and more than double the figure in April, data from China Automotive Information Net show. Model 3 registrations rebounded to 16,995, while Model Y's hit 11,513, a 10 percent drop from May.
The strong showing for Model 3 sedans can partly be attributed to Tesla promotions that included preferential loans and discounts for full upfront payments, local media reported. The carmaker started delivering Model 3s from its Shanghai factory to the public in early 2020, with Model Y production coming later.
It is also interesting that, in China, Telsa operates completely differently than it does in the U.S., offering discounts and incentives to goose sales. Of course, Tesla doesn't do that in the US, presumably because it hasn't really needed to— production capacity was a more pressing concern until fairly recently. We'll see what it looks like in a year or more when Tesla has a bunch of Model 3s it's looking to move, and quick.
That is because of a rise in covid cases in the area. The plant in Wentzville, Missouri, makes GMC Canyons and Savanas, and Chevy Colorados and Expresses.
From the Detroit Free Press:
Nearly 4,000 workers at a General Motors plant near St. Louis must resume wearing face masks and social distancing starting late Monday because of an increase in COVID-19 cases in the area.
In an alert sent to workers and obtained by the Free Press, the union told plant employees of the change Monday afternoon.
The alert read, "We have been informed by the company and UAW International that based on the severe upward trend of COVID cases in the surrounding areas all GM Wentzville Assembly Center employees will be once again required to wear masks upon entering the plant starting tonight with third shift employees."
Less than half of adult Missourians are fully vaccinated, which, at this point says more about the unvaccinated than it does public health officials.
This is in large part because of strong EV demand in Europe, where strict emissions regulations are in force and where there are a lot of incentives to go electric.
From Reuters:
In the first six months of the year, deliveries of BEVs climbed to 170,939.
"Our global electric offensive continues to make good progress and customer demand is high," said Christian Dahlheim, Volkswagen's head of group sales.
"This year, we plan to deliver around one million electrified vehicles for the first time, and are confident that we will meet the fleet targets for CO2 emissions in Europe."
The 1 million target refers to both BEVs as well as plug in hybrid electric vehicles (PHEVs). Volkswagen has not provided an annual target just for BEVs.
The new and used retailer expects the market to stay more or less the same into 2022, which is a grim forecast for consumers. I think that is a little too pessimistic (or optimistic, from AutoNation's perspective), given that the housing market, once as overheated as the car market, has been showing signs of slowing in recent days. But the thing about the pandemic is that things have proven impossible to predict.
From Reuters:
The company said on Monday sales of new and used vehicles surged 42% and 37%, respectively, in the second quarter.
"Consumers are buying vehicles before they even arrive at our stores. We expect the current environment of demand exceeding supply to continue into 2022," Chief Executive Officer Mike Jackson said in a statement.
Fort Lauderdale, Florida-based AutoNation's gross profit per new vehicle jumped 89% to $4,157 in the quarter ended June 30, while the gross profit per used vehicle rose 24% to $2,240.
The company had 14 days of supply for new vehicles in the quarter, compared with 49 a year earlier.
Adjusted net income from continuing operations came in at a record $4.83 per share, easily beating a Refinitiv IBES estimate of $2.81. Record revenue of $6.98 billion was also higher than expectations.
I wouldn't have guessed it back then, but I'll remember the 2010s as a calm, boring decade.
On July 20, 1969, President Richard Nixon, along with millions of others, watches as two American…
Jeff Bezos's Blue Origin launched today, intentionally tied to this anniversary. I have a simple proposal, which is that we launch every billionaire into space and leave them there.
GEICO raised my car insurance premium by $50 for my next six-month bill, making it close to $700. It is not clear why, exactly, since they haven't sent me the full bill yet, but that was still enough for me to get mad and get a quote from a different insurance company. The one I chose was the highest-rated auto insurance company (via Consumer Reports) that offers car insurance in New York City, which is something called Amica. Well, I jumped through all the hoops and their quote for a policy similar to what I get from GEICO was almost double the premium. GEICO it is, then, as I don't have any complaints about the coverage itself. It is impossible when buying car insurance to not feel that you are being had.
CleanTechnica 20 July, 2021 - 09:40am
Hi, what are you looking for?
U.S. Energy Department Awards Over $5 Million To Small Solar Businesses
Solar & Wind = 99.9% of New US Power Capacity in April, 93.9% In May
India × Cleantech — July 2021
Report: 30 Million Solar Homes Would Create 1.77 Million Jobs, $69 Billion in Energy Savings
How We're Getting More Solar on Rooftops Across the Country
Solar & Wind = 99.9% of New US Power Capacity in April, 93.9% In May
India × Cleantech — July 2021
This Industrialized Offshore Floating Wind Turbine Foundation Demonstration Project Is A World's First
2025 Target For Australian Grid To Be Able To Handle 100% Renewable Energy
San Diego International Airport Goes 100% Renewable Electricity
Earth To Senator Joe Manchin: Geothermal Energy. That's It. That's The Message.
California Public Utilities Commission's Clean Energy Order: Necessary, Timely, & Ambitious
Are Hybrid Systems Truly the Future of the Grid? NREL's Magic 8-Ball Says: "Concentrate and Ask Again."
The Challenge of the Last Few Percent: Quantifying the Costs & Emissions Benefits of a 100% Renewable U.S. Electricity System
Interview With Dandelion (Geothermal) Co-Founder Kathy Hannun
Toyota & Panasonic Joint Venture Plans To Cut Battery Costs By 50%
Tesla Patent Application = Process To Extract Lithium From Clay Minerals
Tesla Is Inviting Its Energy Customers In California To Join Its Virtual Power Plant
Tesla Launches Megapack Order Page & Pricing
Nissan Announces £1 Billion EV Hub — EV36Zero
11 Energy-Related Inventions From Pacific Northwest National Laboratory (PNNL) Get More Funding
Power Outages in New Mexico: Why Now & How to Stay Safe
Technology Commercialization Fund Awards NREL $5 Million To Bring More Tech To Market
Town in Australia Is 100% Solar Powered
Manufactured Home Efficiency Standards To Get A Boost
Strategic Tax Credits to Decarbonize Buildings
11 Energy-Related Inventions From Pacific Northwest National Laboratory (PNNL) Get More Funding
Can We Trust Our Power Plants to Keep Us Cool During Dangerous Heat?
How to Electrify a Home in Any Climate
Charging Infrastructure Analysis Leverages NREL Data Science Expertise
Police Departments Invest In Teslas To Save Fuel $$
Chinese Brands Could Soon Take Over From Japanese Brands As The Most Popular Vehicles In Africa — Here's Why
Why Evangelical Christians Should Be Supporting EVs
Help Me Develop Ideas For An Electric Or Hybrid RV
The RadRover Family Gets Upgraded From The Headtube To The Taillight
Electrify Any Bike With A Swytch E-Bike Kit — CleanTechnica Review
The Fiido D11 Folding Electric Bike — CleanTechnica Review
The e-JOE ONYX Electric Bike — CleanTechnica Review
The Juiced RipCurrent S Step-Through Electric Bike — CleanTechnica Review
The RadRover Family Gets Upgraded From The Headtube To The Taillight
Solar & Wind = 99.9% of New US Power Capacity in April, 93.9% In May
500,000 EV Chargers Under Joe Biden: How, When, and Where
Tesla Model 3 Is #1 Electric Car In Germany In June, VW e-Up Remains 2021 Leader
17.7% of Porsche USA Sales Electric, 4.8% of Volkswagen USA Sales Electric — Crushing BMW, Ford, Nissan, & Chevrolet Figures
Solar & Wind = 99.9% of New US Power Capacity in April, 93.9% In May
Tesla Model 3 Is #1 Electric Car In Germany In June, VW e-Up Remains 2021 Leader
17.7% of Porsche USA Sales Electric, 4.8% of Volkswagen USA Sales Electric — Crushing BMW, Ford, Nissan, & Chevrolet Figures
Record Month For Electric Vehicles In France! Tesla Model 3 Firmly At #1
US Auto Sales: Tesla Had Highest % Increase from Q2 2019 to Q2 2021, 5th Highest Volume Increase
The RadRover Family Gets Upgraded From The Headtube To The Taillight
Electrify Any Bike With A Swytch E-Bike Kit — CleanTechnica Review
The Fiido D11 Folding Electric Bike — CleanTechnica Review
The e-JOE ONYX Electric Bike — CleanTechnica Review
The Juiced RipCurrent S Step-Through Electric Bike — CleanTechnica Review
The Ford F-150 Lightning Is A BIG Win — 3 Core Questions Remain
Ford F-150 Lightning — One Big Shocker!
The Changing US EV Market — Podcast
Rivian, Tesla, Auto Dealers, and Backwards State Laws — Part 1
Talking With ChargePoint & Rivian About US EV Market — Early Access Videos
The recent Stellantis EV Day event stirred up a lot of discussion on social media, which was probably one of their goals. While there was a lot to talk about, one of the things I kept seeing was people giving them crap about the following slide, from about a minute into this video:
The most common one I kept seeing: "Tesla already sells American Muscle." Tesla owners and fans think Dodge is being silly, because Tesla already owns "American eMuscle," and has owned that space for years. After all, Tesla's cars are American (often more American than other American brands), have scads of power, and have tons of low-end torque. Many of the brand's cars have no problem roasting more traditional muscle cars on the track or at the traffic light.
While this video obviously wasn't made to impress the stereotypical Tesla fan, I think it's important that Tesla fandom, as part of the wider automotive enthusiast community, learn more about this topic so we can all better relate to that wider community and not be seen as out of touch.
Before anyone says I'm trashing the community, I want to assert again that they're not necessarily wrong on this. Everyone just isn't on the same page. By some definitions, Tesla fans are correct in this assertion, but we often aren't speaking the same language as the rest of car culture on this one. To even get what Dodge and Stellantis are talking about, one must learn a little history and then put Dodge's video into historical perspective.
Much of the disconnect and misunderstanding about this comes from this question. If "muscle car" means a medium-sized car with a lot of torque, then yes, Tesla owns the hell out of that space and has for years. If it means something else, then Tesla does not.
Historically, bargeloads of torque weren't all it took to meet the definition of a muscle car. To understand what else a car must be to meet the historical definition, we have to look at the car that is widely considered to be the first muscle car: the Oldsmobile Rocket 88. Prior to that time, the best engines were always reserved for a brand's top luxury car, and this was usually the largest vehicle the company had to offer. That way, the rich could pay for the new engine technology along with the other bells and whistles, and later the engine tech would trickle down to the average buyer and later the economy car.
Tesla followed this same formula. It first introduced electric vehicles at the top of the luxury segment where people could afford them, and only after years of battery cell price drops offered anything remotely close to affordable for the average person in the form of the Model 3.
In 1949, Oldsmobile decided to shake this all up. The company took its highest performing V8 engine, the 303 cubic inch Rocket V8, and put it in a basic version of Oldsmobile's smaller vehicle. This vehicle, called the 88, wasn't a luxury car or particularly high priced, and only spent extra where it really mattered to performance enthusiasts.
This is the essence of what many people consider to be a muscle car: a basic smaller vehicle without a bunch of luxury features that focuses only on having the most badass engine the manufacturer can stuff in it. Other automakers followed this same formula, and came out with the iconic cars we all consider to be muscle cars today.
The fact of the matter is that Tesla's vehicles are fast, sometimes damned scary fast, but they're still luxury cars, and that alone excludes them from the traditional definition of a muscle car. The good news? Tesla could build an old-school muscle car, and it would probably be a major hit. I'd definitely buy one.
What they'd need to do first is take the Model 3 platform and start "adding lightness" in any way possible. Do away with the big screen in the middle, and instead put in a small cheap gauge-cluster screen in front of the driver (no, a self-driving car can't be a muscle car, sorry nerds). Maybe keep a small center display for infotainment and settings. Delete the FSD computer. Delete the cameras. Delete the ultrasonic sensors, ADAS features, and Autopilot. Put in manual door handles (no buttons), and put in a proper (and cheap) floor shifter on the center console with P-R-N-D-L. [Editor's note: I'd just like to note here that, as much as Jennifer is having fun dreaming about this, it is never going to happen. 😀 This is not the Tesla way — tech and ADAS/FSD are the core of Tesla. Nevertheless, let's proceed. …]
Rip out the leather seats and replace them with four lightweight racing seats. Get rid of the heavy panoramic roof, and replace it with light sheet metal. Put on cheaper 15–17″ wheels, perhaps steelies, and mount some performance tires. And, for the gods' sakes, get rid of all the soundproofing!
In short, everything that drives up cost has to go, with the possible exception of power windows, power door locks, and air conditioning. Offer a version without those things if a buyer requests it.
Next, take the drive units from the Model S Plaid and rework them with lower gears. Do whatever it is that Saleen did with the driveline gearing to get that awesome RC car-like sound that it got. Hell, work with Saleen to make it happen.
Then, do whatever you need to do to make sure the new stripped-down Model 3's battery pack can supply electrons fast enough. Will the range on this vehicle meet Tesla's usual standards? Probably not, but who gives a shit? The whole point of the Tesla Model 3M would be raw power and performance at a relatively low price point. A 150–200 mile highway range is fine for such a car.
Chances this ever happens? Basically zero. The good news is, if you work at Tesla and are looking for a quick way to get on unemployment, suggest this to the boss man. Security will escort you out while the EMS crews come in to transport Elon to the hospital for the aneurysm this is sure to give him.
Somebody is going to build a car like this, though, and it'll sell like hotcakes.
When will your local law enforcement agency add a Tesla to its automotive fleet?
In the book Elon Musk: Tesla, SpaceX, and the Quest for a Fantastic Future, author Ashlee Vance writes, "He's the possessed genius on the grandest quest anyone...
The patent is related to the acid-free saline lithium extraction process, which Elon Musk talked about during Battery Day in September, 2020.
Originally published on EVANNEX. Many observers are forecasting that the world's transition to electric cars will take place much sooner than expected. Now, BBC is...
Copyright © 2021 CleanTechnica. The content produced by this site is for entertainment purposes only. Opinions and comments published on this site may not be sanctioned by and do not necessarily represent the views of CleanTechnica, its owners, sponsors, affiliates, or subsidiaries.
Electrek 20 July, 2021 - 05:14am
After years of delays, Tesla is finally about to start production of Tesla Semi, its all-electric semi-truck.
The whole truck industry is watching.
While there are already a few electric trucks on the road, none of them have the specs enabling longer range hauling in a class 8 semi-truck, like the Tesla Semi is promising.
When launching Tesla Semi in 2017, the automaker said that the electric truck's production versions, a class 8 truck with an 80,000-lb capacity, will have 300-mile and 500-mile range options for $150,000 and $180,000, respectively.
It would also have the lowest cost of operation of any semi-truck, making it extremely disruptive in an industry where every cent counts.
However, the electric vehicle has seen many delays that cost it its momentum.
When unveiled in 2017, Tesla said that it would come to market in 2019, and it started taking reservations from many companies looking to electrify their fleets.
Tesla couldn't deliver the truck in 2019. So it was delayed in 2020, which became 2021, but now things are really starting to move.
In March, Electrek exclusively reported that Tesla was building a production line for the Tesla Semi at a new building near Gigafactory Nevada to produce five Tesla Semi electric trucks per week by the end of the year.
Now sources familiar with the matter told Electrek that the drive axle production line is ready and the general assembly line is going through its final debugging before starting production.
It is one of the last steps before starting production of the all-electric truck.
Last summer, CEO Elon Musk told employees in an email obtained by Electrek that "it's time to bring Tesla Semi to volume production" without updating the timeline.
More recently, Tesla has indicated that the electric truck would enter production this year with some deliveries to customers, but the company didn't release any details about the planned production.
Tesla has revealed that it plans to use the first few Tesla Semi trucks for its own operations, but some long-time reservation holders are also expected to take delivery this year.
We reported on Tesla hiring service technicians for Tesla Semi in California and Ontario, Canada, which would indicate that the first deliveries are likely to happen in those regions.
PepsiCo, one of Tesla's biggest Tesla Semi reservation holders, has recently stated that they expect to take delivery of 15 Tesla Semi trucks for their Frito-Lay facility in Modesto, California.
If Tesla sticks to its specs and price point for the Tesla Semi, it's hard to overstate the impact that it could have on the trucking industry.
Electrifying the trucking industry would have a massive impact on emissions, but in a highly competitive industry where every cent per mile is crucial, the decisions are often made with a spreadsheet.
That's where Tesla Semi comes in with a capacity capable of covering most US trucking routes while delivering a lower cost of operations thanks to fuel and maintenance savings.
They already attracted the attention of major fleet owners, like Walmart, Pepsico, and trucking companies.
Now if it can finally deliver those electric trucks to those customers with the promised capabilities and pricing, it will likely start a massive shift in the trucking industry.
FTC: We use income earning auto affiliate links. More.
Fred is the Editor in Chief and Main Writer at Electrek.
You can send tips on Twitter (DMs open) or via email: fred@9to5mac.com
Through Zalkon.com, you can check out Fred's portfolio and get monthly green stock investment ideas.
Tesla launches Full Self-Driving package for $199/mo
Tesla charges $1,500 for hardware owners already bought
XPeng shares footage of its X2 electric flying car
The US must mine more minerals to meet EV demands