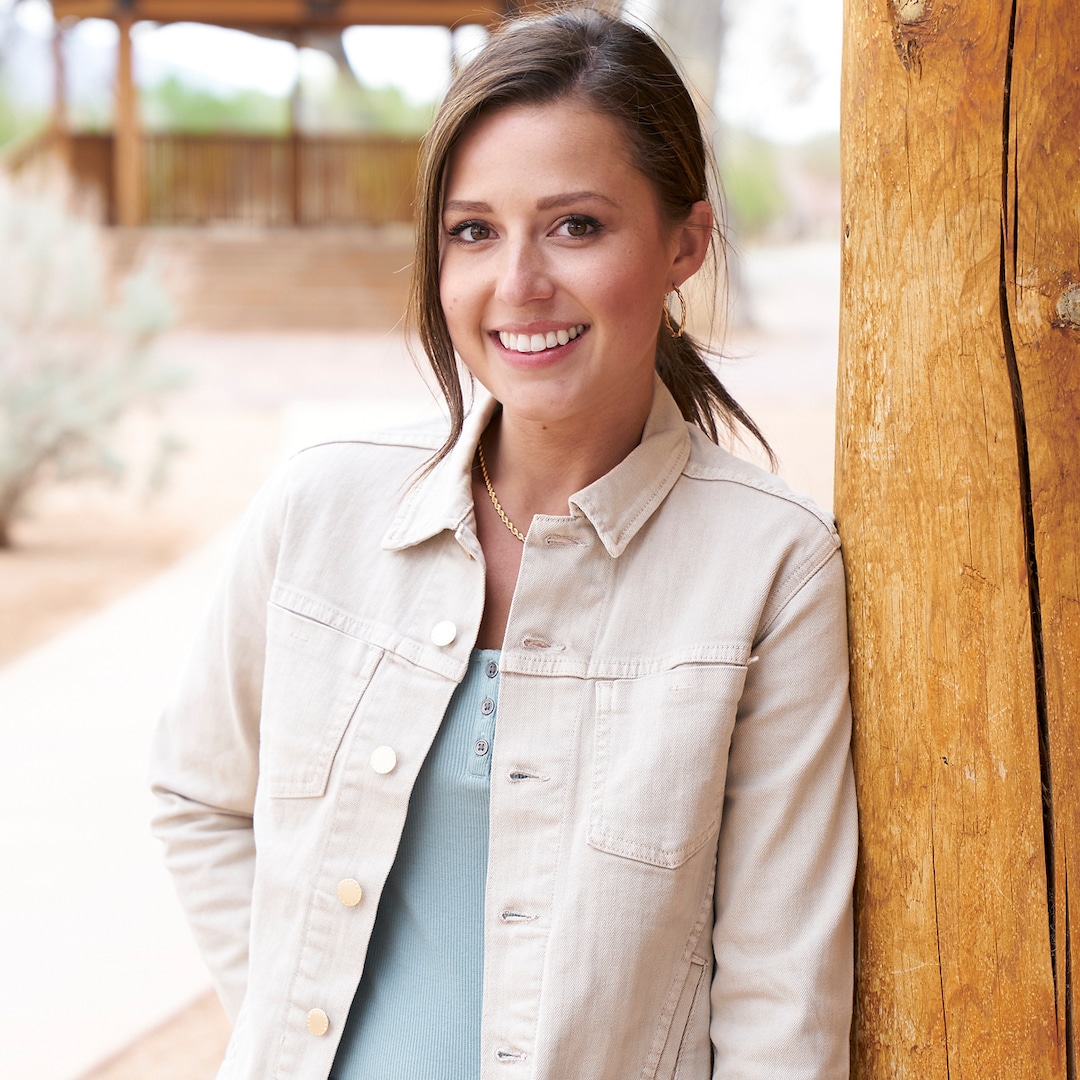 People 02 August, 2021 - 09:02pm
Season 17 of The Bachelorette is heading into the home stretch. Katie Thurston is down to her final three suitors, Greg Grippo, Blake Moynes, and Justin Glaze. However, instead of bringing Katie to their hometowns, the guys brought their hometowns to Katie at the Hyatt Regency Tamaya Resort and Spa in New Mexico, due to pandemic-related precautions. Of course, the truly interesting part of these pseudo-hometown dates are the contestants' family members. What will they share about the men? How will they feel about Katie? There's a lot at stake.
And let's not forget that this is all going down at the same resort, which means that it is very easy for the guys to catch glimpses of Katie's dates with the remaining men. How awkward. There's a lot of drama and heartbreak at this point in the season, but that doesn't mean we forgot about the clothes. Katie and The Bachelorette co-hosts Tayshia Adams and Kaitlyn Bristowe have been serving up rose-worthy looks all season. How many ensembles will they grace our TV screens with this week? As per usual, we will look for all the fashions from the episode and update this list as we find out more about the looks from Belk, Free People, Nordstrom, Revolve, Intermix, Zappos, Amazon, TeePublic, Farfetch, Walmart, Bloomingdales, Saks Fifth Avenue, Express, Sorel, Reiss, Frye, Shopbop, and ASOS.
Katie continues to serve up girl-next-door realness with outfits that the rest of us can actually wear in real life, away from the reality TV film crew. Sequin gowns are amazing and all, but it's great to see outfits that we can all wear. For her one-on-one with Blake, Katie showed up wearing a red denim over a white top. She rounded out the look with a pair of blue jeans and white knit sneakers, which she wore in a peach color a few episodes ago during a group date.
This red denim jacket brought a fun pop of color to the episode. This is such a wearable jacket that works for most seasons of the year.
If you want to add a red denim jacket to your wardrobe, but you're looking for a lower price point than the one from from the episode, check out this Lee Indigo one on Amazon. It also comes in a bunch of other colors if you want more options.
You just can't beat a fresh pair of white sneakers, especially these knit running shoes from APL. They extremely lightweight, flexible, and supportive. And, of course, they're available in other colors, but the white pair is just so classic.
As glorious as those APL sneakers are, you can always go for a cheaper alternative like these BOBS by Skechers shoes. They're comfortable, supportive, flexible, and if you really love them, you can get buy one than one color.
If you've been holding out for that look for less, head on over to Amazon. These are very reminiscent of the APL pair at an unbelievable price point. And, yes, once again, there are so many tempting colors to choose from.
Since Kate couldn't go to Canada with Blake, he brought some patriotic shirts with the Canadian Maple Leaf for them to wear for their one-on-one time. She's pulling off this look, eh? Lame jokes aside, they both look adorable in these red, long sleeve shirts.
We aren't positive exactly which shirts the burgeoning couple wore during the episode, but this one from TeePublic looks just like the ones that they had on. And if you like this shirt, but red isn't your favorite color, there are a few others to choose from.
Katie parted with her Canadian Maple Leaf shirt to wear a black and white floral mini dress when she met Blake's family later that night. She topped off the look with a short-sleeve, pink, cropped cardigan sweater.
Unfortunately, this Versace cardigan another piece from the episode that's in low stock. But, thankfully, we found some alternatives for anyone who wants to achieve that same look.
This $24 cropped cardigan is in stock in a bunch of colors and sizes, including a pink that would be a perfect substitute for that Versace button-up.
Here's another cropped pink sweater that's a perfect look for less.
Sometimes things just work out perfectly. This dress from the episode is 40% off. This French Connection dress looked adorable with the pink cardigan, but this black and white number easily coordinates with any jacket you already have in your closet. Or you can just wear it solo.
Katie and Justin's outfit hues complemented each other perfectly during their date. Once again, Katie wore a jacket that I imagine myself wearing all the time. She paired that jacket and jeans with some lace-up tan booties.
Of course, the jacket from the episode is from Revolve. The L'AGENCE Janelle Slim Jacket has some light fading and distressed detailing.
The Free People Rumors Denim Jacket in Ecru is a more polished version of the L'AGENCE jacket since it doesn't have the raw hem and distressed details. This is just a classic wardrobe staple. If you don't have a jacket like this, now is the time. And, there are so many cute colors to choose from.
Yeah, this jacket looks pretty reminiscent of the other two, but click her to check out the unique button detailing at the back. This is definitely an immediate "add to cart."
This is such a perfect look for less if you adore that L'AGENCE jacket. This Express denim jacket that same raw hem and distressed details throughout and this $26 price tag is just too great to pass up.
These lace-up booties are great because they are waterproof, comfortable, and cute.
Katie kept things casual during her quality time with Greg. She looked cool in her soft suede jacket, light jeans, and crisp white sneakers.
Ugh, sorry E! Shoppers. The Reiss jacket from the episode is almost sold out. At this moment, it's only available in one size. But, there's no need to worry because we found some backup options.
The BlankNYC Suede Moto Jacket is the perfect swap for the Reiss jacket from that one-on-one date.
This is a great dupe for that $595 jacket. This soft suede moto jacket is also available in 13 other stunning colors. And, by the way, this jacket is just $46.
The Bachelorette loves her white sneakers. This pair from Frye really does go with everything. They're tough to resist, aren't they? Just cross your fingers that you don't get caught in the rain like she did. Then again, that seemed like it was worth it.
Yes, those Frye sneakers are amazing and all, but this $26 pair from ASOS is definitely worth checking out. And if you get caught in the rain making out on a basketball court in these, $26 isn't the biggest loss.
In case you missed it, check out the fashion details from this season's Men Tell All episode.
Your source for entertainment news, celebrities, celeb news, and ​celebrity gossip. Check out the hottest fashion, photos, movies and TV shows!