Read full article at Wimbledon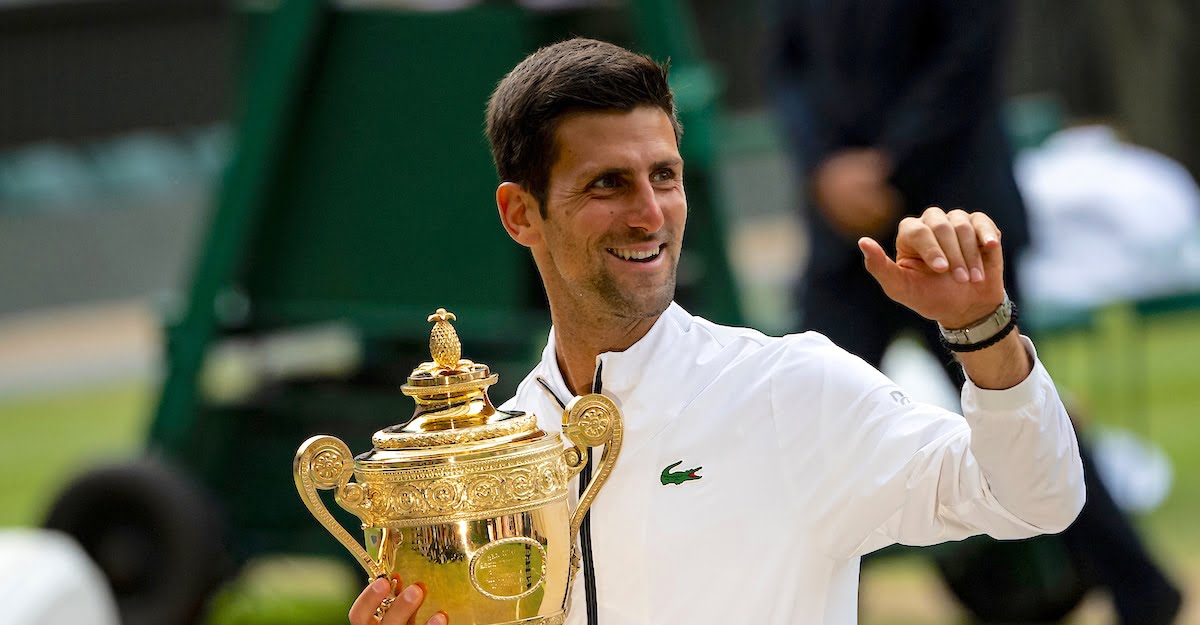 Tennishead 24 June, 2021 - 10:10am
Annabel Croft, former British No.1 and now a key part of the BBC Wimbledon commentary team says,
"Think of the great Wimbledon men's champions of the open era and the first players who come to most people's minds will be Roger Federer, Pete Sampras and Bjorn Borg. I find it curious that many people do not automatically put Novak Djokovic in the same category. Not only does Djokovic have five Wimbledon titles to his name, which equals Borg's tally, but he has also won them while competing in an era alongside Federer and Rafael Nadal, the only two men in history who can better his own total of 18 Grand Slam singles titles.
"There are probably two reasons why Djokovic does not get the credit he deserves at Wimbledon. Firstly, there's no escaping the fact that Federer has dominated the All England Club landscape for most of the last two decades. Secondly, Djokovic's own remarkable successes on hard courts probably make us think of him primarily as a hard-court player, as his triumphs in Melbourne in particular have surpassed even what he has achieved on grass."
Croft was writing in her latest exclusive column for Tennishead magazine and you can read her full article and much more incredible tennis content in the Wimbledon special bumper issue
Tennishead.net is now the world's most visited tennis news website, Tennishead magazine is the world's favourite tennis publication and the Tennishead CLUB is our ground breaking virtual tennis community.
Because TENNIS IS EVERYTHING!
Tennishead.net is owned by Advantage Publishing (UK) Ltd. Company No: 05734573
Wimbledon 24 June, 2021 - 10:10am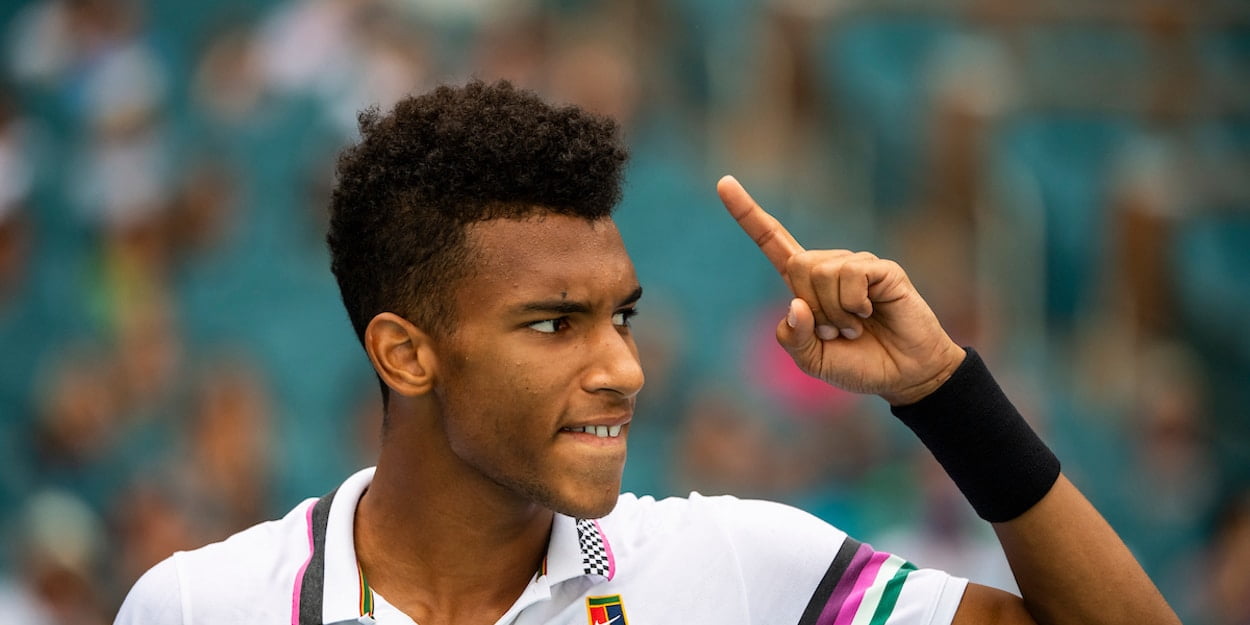 Tennishead 24 June, 2021 - 10:10am
Felix Auger-Aliassime has been working with Rafael Nadal's uncle and former coach for two months now and enjoyed one of his best moments since beginning their collaboration when he beat Roger Federer in Halle this week.
"I don't think my expectations are any higher since I've been working with Toni," the world No 21 said. "All my life I've had very high expectations for myself. I don't think Toni adds to that. I'm trying to get into the world's top 10 and eventually win Grand Slams. There's nothing higher than that. I think adding somebody who has done it before just brings more calmness and confidence rather than pressure. I don't see it bringing higher expectations."
Auger-Aliassime's results in this year's clay-court season were modest. In six tournaments he suffered four first-round defeats, including a four-sets loss to Andreas Seppi at the French Open. On grass, however, he reached the final in Stuttgart last week before losing to Marin Cilic and then moving on to Halle.
"I think Toni can help me reach my potential," Auger-Aliassime said. "That's what we're working on every day, though my preparations before tournaments or before Grand Slams aren't really any different to what I'm used to doing. Of course we try to work with very high intensity, commitment and focus. That's what I try to do. I try to do a little bit better every day."
Auger-Aliassime is still coached by Frederic Fontang but thinks that Nadal is adding something to his set-up. "I like the way he looks at the game," the Canadian said. "It's a simple mindset and in the end I hope I can get from him more consistency, more precision in what I do and just build on that. Of course I need to put in the work, but it's good to have him by my side. His energy and his personality are great."
Tennishead.net is now the world's most visited tennis news website, Tennishead magazine is the world's favourite tennis publication and the Tennishead CLUB is our ground breaking virtual tennis community.
Because TENNIS IS EVERYTHING!
Tennishead.net is owned by Advantage Publishing (UK) Ltd. Company No: 05734573
Tennis365 24 June, 2021 - 10:10am
The tennis tournament at this year's Games has had some high-profile withdrawals in recent days with 20-time Grand Slam winner Rafael Nadal as well as up and coming Canadian Denis Shapovalov announcing they won't participate.
Djokovic, though, won't follow suit as his country's tennis association has all but confirmed he will be part of the Tokyo Olympics squad.
"Novak has confirmed his desire to participate in the Olympic Games and we have already sent a list with his name on it to the Olympic Committee of Serbia. It will be forwarded from there," the tennis federation told Sportski Zurnal.
Djokovic, who won his 19th Grand Slam at the French Open a fortnight ago, admitted in May that although he was eager to compete in Tokyo he would reconsider his decision if no spectators are allowed due to the coronavirus pandemic.
"If there's not going to be any crowd, then I'll consider if I want to go or not. Right now I am planning to go, and I'm very excited about that," he said.
The Tokyo organising committee had announced earlier this week that Japanese spectators will be allowed to attend events, but they will be capped at up to 50% of a venue's capacity or a maximum of 10,000 people
Yahoo Sport Australia 23 June, 2021 - 03:48pm
Federer's wife Mirka and their four children have been regulars at his matches over the years, particularly at his favourite grand slam Wimbledon.
'REALLY SAD': Tennis fans in disbelief over Dominic Thiem drama
MAJOR: Huge Serena Williams twist in Naomi Osaka's Wimbledon withdrawal
However the 20-time grand slam champion has been forced to leave them at home in Switzerland this year due to the tricky Covid-19 situation.
"For me, it's not a problem to come to Paris and do [the bubble] for two weeks, going from hotel to club," Federer said at the French Open.
"You can go for an hour's walk, but I'm not really taking advantage of it.
"But having four kids in a bubble isn't really going to work out for me, so we have this situation here and we'll have it again at Wimbledon, and maybe also at the Olympics."
Federer said he and Mirka had decided to see how things pan out at Wimbledon before making a call on the Tokyo Olympics.
"My first thought with Mirka is to get through Wimbledon, see how that feels and how that goes, and we'll go from there," he said.
"Our initial goal was to get in shape for the grass-court season, and for Wimbledon in particular, but so far, so good, everything is ok at home from everything I hear with Mirka.
"She's got things under control and the kids are not completely misbehaved yet and I'm not worried here."
Novak Djokovic is targeting a record-equalling 20th major and sixth Wimbledon title from next week, edging him closer to becoming only the third man to complete a calendar Grand Slam.
The World No.1 has already won a ninth Australian Open and second French Open this season.
That has put him halfway to emulating Don Budge (1937) and Rod Laver (1962 and 1969) in sweeping all four majors in the same year.
It is a feat that even his closest rivals Federer and Rafael Nadal have never managed and will probably never achieve.
"Everything is possible," said 34-year-old Djokovic after winning the French Open earlier this month when asked if the Golden Slam of all four majors and Olympic Games gold was a realistic target.
"I've achieved some things that a lot of people thought it would be not possible for me to achieve."
Djokovic memorably captured a fifth Wimbledon in 2019, saving two championship points to defeat Federer in the longest ever final at the All England Club at four hours and 57 minutes.
He was deprived of defending his title in 2020 when Wimbledon was cancelled due to the pandemic.
Djokovic has won seven of the last 11 Slams as he ramps up his assault on the record of 20 majors held jointly by Federer and Nadal.
Nadal, the Wimbledon champion in 2008 and 2010, has already withdrawn from this year's tournament, still scarred by the bruising loss to the Serb in the French Open semi-finals.
Meanwhile, eight-time winner Federer will be 40 in August and won just one match on grass at Halle in the build-up to Wimbledon.
Federer, who underwent two knee surgeries in 2020, won the last of his eight Wimbledons in 2017 and the most recent of his 20 majors in Australia in 2018.
The Swiss star has lost three finals to Djokovic at the All England Club in 2014, 2015 and the epic 2019 clash.
"It's a huge challenge for me," said Federer of his comeback. "Things don't come simple, they don't come easy."
Click here to sign up to our newsletter for all the latest and breaking stories from Australia and around the world.
Aussie cricket legend Shane Warne has weighed-in on the selection controversy ahead of the T20 World Cup. Find out what he said here.
Trae Young starred as the Atlanta Hawks came back to stun the Milwaukee Bucks. Watch the highlights here.
The boxer's promoter has defended his fighter after seeing his Olympic dream left in tatters. Read more here.
His teammates might not want him at the 76ers, but there's said to be plenty of interest in Ben Simmons from rival teams. Read more here.
Ben Zobrist claims his former minister had a sexual relationship with his wife and defrauded his charity foundation. Read more here.
France's final group game against Portugal at Euro 2020 was mired in controversy. Check out the reaction here.
Rafa Nadal risked it all during the French Open and the toll may have cost him a Wimbledon and Olympic run. Find out more here.
PETA has called on the top dairy company to remove Novak Djokovic from its ads. Read all the details here.
The Portuguese star's historic feat has left the football world gobsmacked. Read on for more.
Indy de Vroome fell foul of Wimbledon's all-white dress code. Read all the details here.
ESPN 23 June, 2021 - 11:31am
Top-ranked Ashleigh Barty is seeded first on the women's side. The Australian hasn't played since retiring from her second-round match at the French Open because of the flare-up of an upper-leg injury.
The draw is Friday and the tournament begins Monday.
Eighth-ranked Federer has the seventh seed because third-ranked Rafael Nadal is sitting out Wimbledon to rest and recover after his loss to Djokovic in the French Open semifinal.
Daniil Medvedev is the second seed, followed by Stefanos Tsitsipas and Dominic Thiem, although the Austrian retired from a match in Mallorca on Tuesday because of wrist pain.
Defending champion Simona Halep is seeded second, ahead of Aryna Sabalenka and Elina Svitolina. Second-ranked Naomi Osaka is not playing.
At Roland Garros, Djokovic earned his 19th Grand Slam title to leave him one short of the record co-held by Federer and Nadal.
Federer, 39, a record eight-time champion at the All England Club, said earlier this year that he would build up to Wimbledon as he returned from two surgeries on his knee.
But he hasn't been in top form, pulling out of the French Open after a grueling third-round match and failing last week to reach the Halle Open quarterfinals for the first time.
Federer was tantalizingly close to a ninth Wimbledon title in the 2019 final, holding two championship points before eventually losing to Djokovic in a fifth-set tiebreaker. It was Djokovic's fifth Wimbledon title.
The 39-year-old Williams' latest bid for a record-tying 24th Grand Slam title ended in a fourth-round loss at the French Open. Her most recent major title came in early 2017.
Wimbledon was canceled last year for the first time since 1945 because of the coronavirus pandemic.
Eurosport COM 23 June, 2021 - 04:50am
Nicki Swift 22 June, 2021 - 11:41am
While the Serbian star has been incredibly successful in his tennis career, life wasn't always easy for him. His own tough upbringing caused him to open up his own charity foundation, and he told the BBC he wanted to help young children who have also struggled with poverty as a result. "Growing up in a war-torn country is not easy on anyone, most of all the children," he told the outlet, noting that he personally felt the same effects and made a vow to help.
And that's not the only time he's spoken about his childhood. "[I learned] to be aware that I'm not the only person in the world, so that everything isn't done just for me or in my personal self-interest," he told the press (via Sportskeeda). "When you see poverty, and you yourself are part of it, that sort of experience simply makes you want to look at everything in life from different angles."
Keep scrolling to see Djokovic's net worth.
Like many of his counterparts, Djokovic spends a lot of his fortune on real estate. The Olive Press shares that the Serbian tennis star shelled out €10 million — equaling nearly $12 million — on an incredible mansion in Marbella, Spain. The pad comes complete with a tennis court and some pretty sweet ocean views. In 2021, the Los Angeles Times reported that Djokovic sold his Miami penthouse for $6 million after purchasing it for $5.77 million in 2019. The beautiful condo boasts 2,400 square feet of living space and a 1,715-square-foot terrace that wraps around the condo. It includes a spa, a private library, and a pretty nice pool with cabanas. In 2017, Architectural Digest reported that Djokovic dropped $10 million on two properties in the Big Apple. Must be nice!