"If Raimi and Argento Had a Love Child": 'Willy's Wonderland' Director Sets Up Next Movie 'The Accursed'
'Behemoth': Hollywood Visual Effects Artist's Directorial Debut Will Be Packed With Monsters & Demons! [Trailer]
'Mogul Mowgli' Director Bassam Tariq in Talks to Direct 'Blade' for the Marvel Cinematic Universe
Stay Home, Watch Horror: 5 Road Trip Horror Movies to Stream This Week
'Escape Room: Tournament of Champions' Scares Up $8.8 Million at Opening Weekend Box Office
'The Final Girl Support Group' Getting an HBO Max Series from Producers Andy Muschietti & Charlize Theron
'Fear Street' Filmmaker Leigh Janiak Heading Down "The Staircase" for HBO Max
"Clarice" and "The Stand" Coming Home in October; "The Stand" 2-Pack Will Include Both Adaptations
"Brand New Cherry Flavor": Netflix Series from "Channel Zero" Creator Premiering on Friday the 13th [Trailer]
Rick and Jerry Summon Cenobites for "Guys' Night" in 'Hellraiser'-Themed Episode of "Rick and Morty" [Video]
[Review] King Woman Venture Into Rebellious Doom on Emotionally Crushing 'Celestial Blues'
[Review] 'Fear Street Part 3: 1666' Closes Out the Netflix Trilogy With a Whimper
[Review] 'Escape Room: Tournament of Champions' Struggles to Create a Game Worth Playing
[Review] "American Horror Stories" Struggles for Fresh Air in Lackluster Series Premiere
[Review] 'Gunpowder Milkshake' Serves Up Stylish, Empty Calorie Action
Stay Home, Watch Horror: 5 Road Trip Horror Movies to Stream This Week
Celebrating 'The Frighteners' at 25 and Peter Jackson's Magical World of Miniatures
"Barbarella": Mickey Fisher Recalls the Space Opera Television Series That Almost Took Flight [Phantom Limbs]
Feelings Change: Anger, Fear, and 'Possession' in Andrzej Zulawksi's Nightmare Divorce
Haunted by Guilt in Kiyoshi Kurosawa's 'Retribution' [Horrors Elsewhere]
Rick and Jerry Summon Cenobites for "Guys' Night" in 'Hellraiser'-Themed Episode of "Rick and Morty" [Video]
Fresh Clips from M. Night Shyamalan's 'Old' Stranded and Trapped [Video]
'Snake Eyes': Final Trailer for the G.I. Joe Origin Story Turns a Man into a Legend [Video]
'Fear Street': Sadie Sink Uncovers the Easter Eggs You Might've Missed in Netflix's Trilogy [Video]
"Chucky": Check Out the First Image and First Footage from Don Mancini's 'Child's Play' TV Series! [Video]
[Trailer] Take Horrific Justice Into Your Own Hands in 'Serial Hunter' Next Year
[Trailer] Exorcize a House From Ghosts in New Psychological Horror Title 'Obsideo'
[Trailer] 'Doom'-Inspired Roguelike 'Jupiter Hell' Comes Out of Early Access Next Month
[Trailer] Dark Fantasy Wild West Shooter 'Weird West' Comes to PC, Consoles This Fall
[Trailer] Overhead Zombie Shooter 'The Last Stand: Aftermath' Heads to PS5, Xbox Series, PS4, Xbox One And PC Later This Year
One of the more ambitious horror projects to come along in recent years, Netflix's three Fear Street movies were shot back-to-back by director Leigh Janiak, who played with different tones, styles, time periods, and subgenres throughout the trilogy. The story wrapped up in Fear Street Part 3: 1666, but there's endless potential for the future of Fear Street. After all, there are countless teen horror novels from the R.L. Stine archives to pull from, and multiple different ways the already established storyline could be expanded upon by the creative team.
Is it possible that Netflix has a much larger franchise on their hands with Fear Street, beyond the trilogy? Leigh Janiak is hoping that's the case, she explains to IndieWire.
"One of the exciting things about Fear Street is the fact that the universe is big and allows for a lot of space," Janiak explains to IndieWire. "One of the things that I talked about before I was hired was that we have a potential here to create a horror Marvel [Cinematic Universe], where you can have slasher killers from lots of different eras. You have the canon of our main mythology that's built around the fact that the devil lives in Shadyside, so there's also room for everything else."
Janiak continues, "I think that my hope is that audiences like it enough that we can start building out [more]. We can think about what another trilogy would be, what stand-alones would be, what TV would be. I don't even think about it like TV or movies exactly anymore. That's the great thing about Netflix and about what Fear Street is, which is kind of a hybrid new thing. I'm excited about the possibility of what else can happen."
"I really started getting excited about a '50s slasher movie, which I haven't really seen, and what that means," Janiak adds "It's just cool to think about the different eras and what's possible as a horror fan."
Janiak's Fear Street trilogy ends with the suggestion that someone new has come into possession of the book that first unleashed Hell upon Shadyside back in the 1600s, teasing that the nightmare isn't quite over just yet. And if the trilogy proves to be a smash hit success with Netflix's subscribers, well, there's a good chance we'll be back in town before long.
Writer in the horror community since 2008. Owns Eli Roth's prop corpse from Piranha 3D. Has three awesome cats. Still plays with toys.
'We Have a Ghost': 'Happy Death Day' Filmmaker Christopher Landon Directing New Movie for Netflix
"Brand New Cherry Flavor": Netflix Series from "Channel Zero" Creator Premiering on Friday the 13th [Trailer]
All Three 'Fear Street' Soundtracks Getting Vinyl Release With Cover Art Inspired by the Original Books!
Fresh off this year's fun horror-comedy Willy's Wonderland, Variety reports that Kevin Lewis is next directing a horror project titled The Accursed, with Mena Suvari starring.
The film is being pitched as follows…
"Sam Raimi and Dario Argento had a love child… and James Wan was its uncle."
Sarah Grey (Netflix's "The Order"), Alexis Knapp (Pitch Perfect franchise), Meg Foster (The Lords of Salem) and Sarah Dumont (Scouts Guide to the Zombie Apocalypse) also star.
The lengthy plot synopsis details, "When her estranged mother dies by suicide, Elly (Grey) is forced to return home from volunteering as a nurse abroad. Determined to sell the family home and get her life back on track, she finds herself haunted by terrifying visions of her mother. Consumed by guilt and eager for a quick escape, Elly accepts the offer from Alma (Suvari) as a temporary caregiver to look after the comatose Ms. Ambrose (Foster) in her isolated cabin. But Alma has nefarious plans for Elly and she soon is confronted with Mary Lynn (Knapp), a witch hunter who is hellbent on lifting the demonic curse that has plagued her family for generations. Elly discovers that Ms. Ambrose has a history in the black arts, as well as a mysterious connection to Elly's mother. As she tries to unlock the truth with her friend Beth (Dumont), it becomes all too clear that Elly was lured to the cabin under false pretenses."
Rob Kennedy (Midnight Man) wrote The Accursed.
Copyright © 2021 Bloody Disgusting, LLC
Read full article at Bloody Disgusting
YouTube 19 July, 2021 - 11:11pm
Entertainment Weekly 19 July, 2021 - 11:11pm
Netflix Film Club 19 July, 2021 - 11:11pm
CinemaBlend 19 July, 2021 - 06:22pm
It's hard to believe that the Fear Street Trilogy has concluded, as the past three weeks have been a continuous cycle of surprise, reaction and examination. With the full story now in the open, Leigh Janiak's three film cycle can be seen in its entirety as one singular epic. However, if you thought this past weekend's Fear Street: Part 3 - 1666 was the end of the story, you're absolutely wrong. As Janiak had pitched the project as a gateway to 'the Marvel Universe of Horror,' there's a lot of potential for sequels to be put into the works.
During the press tour for Netflix's Fear Street films, I was lucky enough to speak with co-writer/director Leigh Janiak on two separate occasions. Both instances were amazing opportunity to pick the brain of a fellow fan of the YA horror-thrillers that made a tremendous impact on that particular realm of literature. Cherishing her memories of the Fear Street books like any proper fan would, Janiak told me that early on, she was interested in turning what could have been a simple cinematic adaptation of a nostalgic property into something more:
One of the first things I said to the producers and then the studio when I first was hired to come aboard was like what we have with Fear Street is the potential to create the "Marvel Universe" of horror. So there have been tons of discussions throughout the process, and now about what does it mean to have standalone films that maybe show the backstories of these other killers that we've hinted at. Or ones that we haven't yet known about, or frankly, just other supernatural things in the universe of Fear Street.
Anyone who's read the Fear Street books knows that it isn't just ghosts and witches that make the town of Shadyside, Ohio a dangerous place to live in. Romantic jealousy, personal grudges and all sorts of pitfalls inspire the various characters of the world to do the evil that people do. But just as Leigh Janiak did with her trilogy of films spanning from 1994 to 1666, an underlying evil has always been hinted at, which has plagued the town for generations.
So how does this turn Fear Street into the Marvel Cinematic Universe style property it was pitched as? Going back to the original R.L. Stine books, you can see that for the most part, Fear Street is a bunch of one-shot stories, with all sorts of nefarious plots being told throughout. However, there were also special events, like Super Chillers and various multi-book arcs, that popped up every now and then. No matter what you were reading or which characters you were following, the overall world of Shadyside was always the center of the action; and you could pick up on clues to events that had already happened.
With that in mind, Fear Street: Part 3 - 1666 is the culmination of what amounts to the cinematic equivalent of a trilogy event like The Fear Street Saga or The Cataluna Chronicles. Kicking off Leigh Janiak's vision that started as a Fox event trilogy, but eventually migrated to Netflix when producer Peter Chernin's exclusivity deal with the studio ran out, these three films are the foundation for what can happen down the road. And if you've already seen the film, you know exactly what I'm talking about.
At the end of Fear Street: Part 3 - 1666, we learn that the Goode family, a bloodline that's been in power ever since the original colony of Union split into Shadyside and Sunnyvale, has been behind the curse that's long since been attributed to Sarah Fier. Though the heroes of our trilogy seemed to have broken said curse and doomed the Goode family to tragic deaths, the film ends with the spellbook that started this all being snatched by an unknown force. Acting as the huge door opener for the rest of the potential Fear Street universe to walk through, Leigh Janiak described her intentions even further with this explanation:
And then, with the book, it was very much a decision of like, 'Oh shit! The Book's being taken!' For me, it was this idea that evil still exists, and that is exactly right. The question is what are the humans of Shadyside and Sunnyvale going to do with that evil, and what does that mean. Obviously, the deal the Goode family made with The Devil is over, but The Devil is still around.
Indeed, The Devil hasn't been vanquished, but merely transferred to a new, unknown partner. Which means that Sunnyvale and Shadyside might not be safe for too much longer. Though the party that now possesses the book is unknown, there is the possibility that a Shadysider with inside knowledge to what's actually going on may have taken it for themselves. Should that be the case, the future of Fear Street could be even more unpredictable.
But then again, that's the best part about the Fear Street world existing as a MCU-style entity. If Leigh Janiak doesn't want to jump back into the story of Deena, Sam, Josh and the other survivors of this bloodletting, she can always venture into a story of star crossed lovers haunted by someone who was long believed to be dead. Maybe a prank can start out as good fun and end in murder? The possibilities are endless, and as the reaction to the Fear Street Trilogy has been rather promising, it would be a hell of a shame if audiences weren't given a chance to return to Shadyside for another round of scares.
For fans old and new, the Fear Street Trilogy can now be seen in its entirety on Netflix, whenever audiences choose to do so. Fear Street: Part 3 - 1666 closes things out on a high note, and you can either binge the entire trilogy or spread the fear throughout as many nights or weeks as you like. If you're not into the whole bloody teens in peril thing, then feel free to head off and see what the 2021 Netflix movie schedule can provide in the name of entertainment.
CinemaBlend's James Bond (expert). Also versed in Large Scale Aggressors, time travel, and Guillermo del Toro. He fights for The User.
Yahoo Entertainment 19 July, 2021 - 05:44pm
From the opening moments of the trailer, we see a scene bathed in an exceedingly ominous shade of red. A slow-motion close-up of a deer, mounted on a wall. Incongruously cheery music plays in the background. A heavy door swings open, and a slow-walking figure dragging what looks like a heavy hammer of some kind across the flurry shuffles in.
Now there's a close-up of a whimpering, gagged woman, lying on the floor. Staring in the direction of this new arrival.
As if all that wasn't bad enough, the new arrivals find that this is the home "of an unmentionable cult."
Sound intriguing? Well, the best part for fans of the genre is that there's plenty more to choose from on the streamer once you've given this one a try. A Classic Horror Story, as we noted above, is also part of a growing crop of buzzy horror movies on Netflix at the moment. Others include the Fear Street trilogy, based on a book series by R.L. Stine. As well as the Guy Pearce-led Seventh Day. It tells the story of an inexperienced priest who "teams up with a hardened exorcist to stop the demonic possession of a young boy. But darkness lies where they least expect it."
As far as the Fear Street movies, the third and final installment in the trilogy was just added to the streamer a few days ago. That title — Fear Street Part Three: 1666 — concludes the narrative centered around the town of Shadyside. In it, the origins of Sarah Fier's curse on the town are finally revealed.
"In 1994," per Netflix's overview of the flick, "a group of teenagers discover the terrifying events that have haunted their town for generations may all be connected — and they may be the next targets. Based on R.L. Stine's best-selling horror series, Fear Street follows Shadyside's sinister history through a nightmare 300 years in the making."
See the original version of this article on BGR.com
After three weekly installations full of terrifying twists and turns, the long-anticipated Fear Street event has come to a spooky and satisfying end - but is it really the end? With every wildly successful Netflix project, we find ourselves asking, will there be a sequel?
Dwayne Johnson is joining the DC superhero universe with his latest role
Trump Jr. tweeted that the Utah senator is "a member of the resistance" after Romney voted to convict President Trump in his first impeachment trial.
Four people died at a three-day country musical festival near Brooklyn, Michigan, including three from suspected carbon monoxide poisoning.
"In real life, I don't think I ever did that, sex with a bra — or very, very rarely," Woodley says when talking about filming intimate scenes.
For Daniel Craig, 2015's "Spectre" was the last time he thought he'd be playing the iconic James Bond. "I thought I probably was physically not capable of doing another," Craig, who suffered a torn meniscus during filming, told Total Film. For Craig's last film, the pandemic-delayed "No Time To Die," the theme takes a turn.
Dee Wallace's husband Christopher Stone died while she was shooting "The Frighteners" in New Zealand, but director Peter Jackson took care of her.
Here's something you don't see every day. A job description, specifically crafted around the kind of zombie-like state that many of us go into when we sit down for a Netflix binge. The kind of state where we barely pause to blink as the credits finish up and the auto-play feature automatically serves up another … The post These guys will pay you $1,000 to just watch Netflix and Amazon for a month appeared first on BGR.
Michael Wolff, the author best known for the tell-all "Fire & Fury: Inside The Trump White House," appeared on "Reliable Sources" this weekend to promote his newest book — but also took the opportunity to air some of his grievances with host Brian Stelter. What started as a general complaint about all media and Wolff defending comments he's made in the past quickly turned into the veteran writer tearing into Stelter directly. "I think you yourself, you know, while you're a nice guy, you're full
Expats are moving to some of the world's most remote places. Many don't stick around long enough to reckon with the long-term effects of their lifestyle.
TV personality revealed why she occasionally 'slurs' words
Is this what we think it is?!!
The Loki finale premiered last Wednesday, delivering the big villain surprise we've been waiting for. Episode 6 provides a great ending to an exciting season full of Lokis. It also gave us an even more exciting cliffhanger. We can't wait to see what happens next in the MCU, as everything that we've witnessed will impact … The post Marvel might have just answered our biggest question about 'Loki' appeared first on BGR.
The superstar rapper joins tennis champ Naomi Osaka and model and actress Leyna Bloom for three separate SI Swim 2021 issue covers
(Warning: This post, which was first published July 16, contains spoilers for the series premiere of FX on Hulu's "American Horror Stories.") Paris Jackson was told she'd be playing a bully when she landed her role as Maya on the series premiere of Ryan Murphy and Brad Falchuk's "American Horror Story" spinoff anthology, "American Horror Stories." But the actress tells TheWrap she was unaware just how big a bully her teen queen would be until she read the massive twist in the script for "Rubber
Jungle Cruise is in theaters and on Disney+ Premiere Access on July 30
I love these two so much.
While Tucker Carlson has described proof of vaccination measures as "medical Jim Crow," the network's parent corporation is rolling out their own.
This article discusses some of the surprise cameos of Space Jam: A New Legacy.
BuzzFeed 19 July, 2021 - 02:23pm
If we were ranking by character rather than evil, Sarah Fier could occupy the number one spot on this list just because we get such a rich look at her in Part Three: 1666. But really, she's literally not a villain or a witch, even though the early Shadysiders pegged everything on her. 
Camp Nightwing's Nurse Lane and her 1666 counterpart Widow Mary both bear the brunt of a misled society. While everyone suspects that she's up to no good, Nurse Lane is just trying to crack the Shadyside case, and her journal (though misinformed about the witch) actually helps Cindy and Alice escape the underground lair. That said, we do have to take into consideration that she attacks Thomas Slater, a literal high school kid.   
Samantha Fraser also isn't really a villain here. She's a bit icy to Deena at the beginning of Part One: 1994, but mostly she just wants to mind her own business and start fresh in Sunnyvale. The reason Sam ranks a little higher on the list is that she straight-up stabs Deena in the gut, albeit while possessed by a 300-year-old curse. Other than that, she and Deena actually make for a really cute couple, and we wish them the best in the new-and-improved Shadyside!     
Basically, we learn from Josh's news clipping that the murderer operated around 1935 and left body parts behind for people to find. Pretty creepy, but this M.O. doesn't quite deliver the same horrifying panache that some of the other villains bring to the table.
The Grifter isn't super prominent, but we do see a repeated clip of the villain trying to drown someone. And according to a news article, the Grifter also guts women. It's terrifying stuff, even with the character's very limited screen time.   
There's nothing sadder or creepier than a cursed child. After falling prey to the Goode curse in 1922, Billy Barker uses a baseball bat to bash his brothers. Again, his presence is fleeting, but his onscreen time really packs a violent punch. 
It's not that Caleb's under any curse or has evil powers. Harassing Hannah at the bonfire, he's a dime-a-dozen creepy pervert with no respect for boundaries. He's also super keen to hype up the crowd to blame Sarah too. Sometimes the most commonplace creeps are the worst of all!   
Basically, Ruby Lane's deal is that she ends up killing a bunch of her friends before killing herself. This isn't necessarily the most unusual murder origin story, but we also gotta give Ruby props for her flair. Between donning a vintage fit, waving around a blade, and singing "You Always Hurt the One You Love," Ruby is definitely one of the more memorable Shadyside killers. Plus, you just never know when she's going to strike with her blade. 
Skull Mask doesn't pop up too much after the start of Part One: 1994, but he makes his time count. We have to give Skull Mask, or a cursed Ryan Torres, credit for giving us that ~bone-chilling~ opening sequence at the beginning of the trilogy! Poor Heather didn't stand a chance.   
The Milkman's crimes are scary as hell. A '50s milkman targeting housewives? Yeah, that's creepy horror shenanigans that feels way too similar to actual stuff you'd find in the true crime realm. In Fear Street Part Two: 1978, we also see him in action as he brutally attacks Ziggy at Camp Nightwing.  
We know that Cyrus Miller isn't evil by his own accord, but that doesn't make his sordid murder spree any less sickening. Just when you think Fear Street can't get any gorier, you have a church full of dead kids with gouged-out eyes!  
As we later learn, clueless Tommy Slater falls victim to Nick Goode's curse. We don't know too much about Tommy other than the fact that he likes Cindy, but he is absolutely horrifying as a villain. Putting aside the fact that he kills a bunch of little kids and his high school sweetheart, remember when he straight-up axes Arnie's face in half?! Oof.  
Solomon Goode is not so good after all, is he? Part Three: 1966 reveals that Sarah Fier, the witch who allegedly brought a 300-year-old curse onto Shadyside, isn't a witch at all. While pretending to be Sarah Fier's friend, Solomon actually leaves her to die after she discovers his dealings with the occult. It's pretty gross how he pretends to be Sarah's friend, and his character just goes to show how many of society's systemic ailments can be traced back to *checks notes* power-hungry men.  
What makes Nick Goode the most evil villain here is just how insidiously he works his harm. In some ways, Nick feels even more twisted than Solomon because he just seems like an incompetent cop at first. But toward the end, we find out that he's been deceiving Ziggy and the kids, pretending to be on their side when he's evil as hell. Plus, he continually pins the blame on innocent teenagers after doing his dirty deeds. He's sick!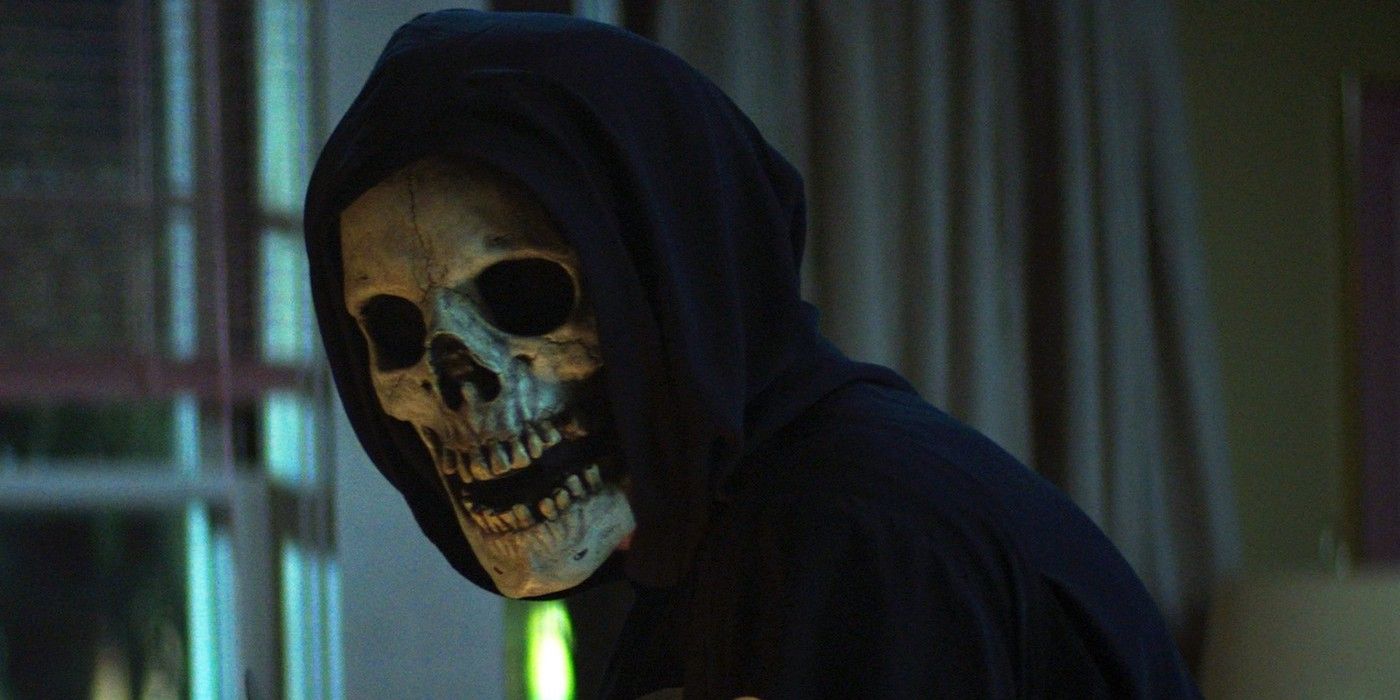 Collider 19 July, 2021 - 01:29pm
The Fear Street trilogy in itself was a hugely ambitious undertaking, with Janiak filming three movies across a single six-month shoot that featured much of the same cast and crew in a variety of different roles. Not only that, but each installment was set in a distinctly different time period spanning almost 300 years, and they rolled out on consecutive Fridays beginning July 2nd.
The films have all proven to be hugely popular on Netflix, and with seventeen books in the literary series authored by R.L. Stine comprising of over 150 stories, it isn't like Janiak is short of source material to draw on for inspiration. The filmmaker revealed that hopefully, she's just getting started.
"One of the exciting things about Fear Street is the fact that the universe is big and allows for a lot of space. One of the things that I talked about before I was hired was that we have a potential here to create a horror Marvel [Cinematic Universe], where you can have slasher killers from lots of different eras. You have the canon of our main mythology that's built around the fact that the devil lives in Shadyside, so there's also room for everything else.
I think that my hope is that audiences like it enough that we can start building out [more], we can think about what another trilogy would be, what stand-alones would be, what TV would be. I don't even think about it like TV or movies exactly anymore. That's the great thing about Netflix and about what Fear Street is, which is kind of a hybrid new thing. I'm excited about the possibility of what else can happen. I really started getting excited about a '50s slasher movie, which I haven't really seen and what that means. It's just cool to think about the different eras and what's possible as a horror fan."
Nothing is set in stone yet, but Netflix are on a relentless quest to amass as many viable in-house franchises as possible, and history has shown that horror never goes out of fashion. Until any plans for the Fear Street Cinematic Universe are firmed up, though, the entire trilogy is now available to stream.
Scott was a chef for many years, but he swapped the kitchen for the keyboard and hasn't looked back. He doesn't use social media, so feel free to like and follow him in person as long as you don't get too close. Don't snap him, though, because he'll definitely break.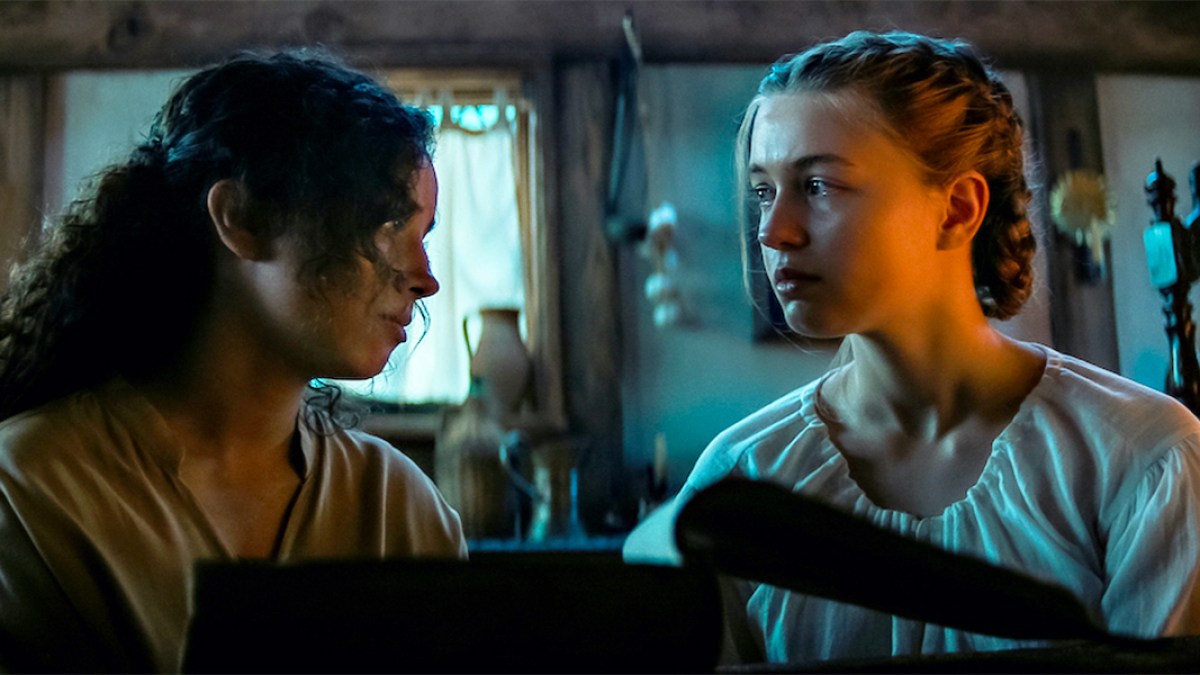 Autostraddle 19 July, 2021 - 10:39am
The Fear Street trilogy comes to a close with Fear Street: 1666. Part origin story, part conclusion, the final film smashes together its timelines and serves up two distinct films at once that, despite their aesthetic and tonal differences, are inextricably bound. Every timeline touches. The past and the present inform each other.
The first hour of the movie takes us back to Union, the 17th-century colony where the curse of Shadyside first festered. Deena has been transported back in the body of Sarah Fier, a young queer woman with a knack for delivering pig babies. She is, in fact, not a witch, but we'll get into that. Fear Street: 1666 switches from the slasher gears of the first two movies into a period horror that's visually and tonally disparate from the others. The neons of the nineties are replaced with grays. The nostalgic needledrops are replaced with an orchestral score that moves between somber and tense. The horror-camp of both 1994 and 1978 gets replaced with a humorless, grisly period piece that's more of a slow-burn gothic full of macabre images than a jumpscare-ridden, slash-em-up flick. It's subdued, and it lets director Leigh Janiak play around with a different set of horror tools entirely.
In addition to Kiana Madeira stepping in as the storied Sarah Fier, we see lots of familiar faces in Union. Blurring the lines between past and present, characters we've already met have Union counterparts. Olivia Scott Welch, who plays Sam in 1994 appears here as Hannah Miller, daughter of pastor Cyrus Miller. In a direct parallel with the future, Sarah and Hannah are secret lovers. While 1666 is a mostly drab and dreary affair, their love provides genuine warmth and light. They sneak off into the woods for a steamy scene that feels wonderfully indulgent given the gloomy tone of this origin story. Fear Street: 1666 doesn't make their romance chaste or restrained; they get to be as lustful and loving as Deena and Sam in 1994.
But, this is 1666. Their love isn't only forbidden but directly associated with witchcraft. When blight plagues all of Union, Sarah and Hannah become easy scapegoats. Sarah's father confronts her and suggests her queerness is a moral failing because she doesn't have a mother to raise her. Hannah's mother violently forbids her from seeing Sarah. The images in 1666 then get progressively more unsettling the more the town starts to turn on Sarah and Hannah. A dead dog poisons the town's well. A mother pig consumes her babies. Cyrus Miller begins muttering incoherently, culminating with one of the most disturbing images across all three films. We already know from the previous movies that Cyrus Miller will become the first Shadyside serial killer, gouging out the eyes of a bunch of local children. But Fear Street: 1666 still manages to shock and craft a truly terrifying sequence despite that dramatic irony. A pile of bodiless eyes, dead children propped upright in church pews, and a ranting pastor make for quite the horror spectacle.
With the exception of that scene, much of 1666's horror is less supernatural and more, well, natural. It deals with the insidious nature of hate and power. The town itself is poisoned. A ranting alcoholic with the on-the-nose nickname Mad Thomas fearmongers in the town square, asking who has brought the devil to Union. A boy seizes the opportunity to exact revenge on Hannah for rejecting him and Sarah for mocking him by pointing the finger at them. That's all it takes for the whole town to decide these young women must be extinguished. In a haunting scene, man after man declares they've seen Sarah and Hannah laying with the devil. In Fear Street: 1666, the evils of humanity are exposed as the true source of the curse.
In fact, the movie recasts everything we think we know about Sarah Fier, the curse, and Shadyside's cycle of violence. Sarah isn't the maker of the curse; she's one of its earliest victims. After Hannah is caught by a mob, Sarah vows to find a way out of their fate, deciding to visit the widow in the woods who has a connection to witchcraft and the devil. Sarah says if the town has already decided she's a witch, then she'll become one. But her plan is thwarted when she arrives to find the widow's throat slashed and the spellbook missing. She seeks out her friend Solomon Goode (Ashley Zuckerman), one of the only people in her life who did not condemn her for being gay. But Solomon is not the good man she thinks he is. In fact, the detail that they were true friends and that he supported her in a time of need is interesting in the context of his eventual betrayal. Solomon represents a specific iteration of toxic masculinity. He's a supposed "nice guy," but at the end of the day, he still chooses power. He chooses a curse that causes centuries of pain and oppression.
Once the gears of this twist are set in motion, it's easy to see where things are going, but the reveal that Solomon and the Goode family line are responsible for the Shadyside curse is very satisfying. In exposing the true source of the curse and clearing Sarah's name, Fear Street continues to avoid making queerness a source of horror and instead demonizes the people with the most societal power. Sarah and Hannah's story is obviously a tragic one, and folks who enjoyed the fact that the first film in the trilogy let its queer women live might struggle with watching Fear Street: 1666, in which there's an implied sexual assault of Hannah and Sarah ends up hung for "being a witch" which really means for "being gay." They endure violence and trauma as a direct result of being gay. Homophobia is the horror here. Patriarchy and colonialism are horrors. Solomon sees the sacrifices of this deal with the devil as worth it. He gets power. The colony gets prosperity. The ripple effects of one man's selfish, corrupt choice echo for decades. It's easy to see a line between the power-hungry, violent colonialism of Union in 1666 and the class issues that stratify Shadyside and Sunnyvale in the other timelines. Solomon and his descendants, including Sheriff Goode, must name a new killer to keep the cycle going, and Solomon thinks this is justified. He's evil in a way that feels deeply human.
In the end, Sarah doesn't bargain with the devil at all but rather bargains her own life in exchange for Hannah's. With Sarah gone, Solomon and his lineage get to control the narrative, much like oppressors get to write the history books. They've demonized Sarah and absolved themselves, preserving the status quo for generations. Sarah doesn't curse Shadyside. Instead, she actually promises to haunt the Goode men, which is why touching her bones makes people see the truth. But knowing the truth is also dangerous: Any time someone gets closer to exposing the Goodes, they become a mark for all the Shadyside killers. In going back to the beginning, 1666 recolors some of the previous films' scenes, like when a young Nick Goode lamented to Ziggy in 1978 that he's responsible for too much hurt.
After Sarah Fier is hung, we jump back into 1994, which means also stylistically returning to the first film, its neons and needledrops all the brighter and bouncier when smashed up against the aesthetics of 1666. The mashing together is actually quite fun, and in general, the interplay between the three movies is very satisfying now that we have all the pieces of the puzzle. It's a rapidfire race to the finish line then, and Fear Street becomes a slasher romp again to great success. Deena, Josh, C. Berman, and Martin all team up at the Shadyside Mall to take out Goode and end the curse for good. There's a lot of good horror-action here, like when they get creative with the mall shop security gates (in a fun callback, the B. Dalton gate malfunctions). The use of black lights and squirt guns full of Deena's blood turn their mission into a high-stakes, real-life arcade game. Goode, as our resident Big Bad does thwart their initial plans, but watching Josh, C, and Martin improvise is an electric ride. In one of the most thrilling sequences, Josh realizes they can squirt blood on all the killers to get them to actually attack each other. Now that's what I call entertainment!
Deena and Goode have a final showdown in the depths of Solomon's cave, returning to where it all began. Things get especially chaotic when possessed Sam breaks free and joins them there, and in an admittedly corny but gratifying moment, it's implied Sam only hesitates when strangling Deena because the connection between them is still faintly there, buried beneath the effects of the curse. You know what? I'll take it! Let gayness save the day! Also, Deena's killshot is such a classically great slasher climax.
The final 40 minutes of Fear Street: 1666 do feel a little rushed, but they're invigorating and urgent. That first hour of the movie is disturbing and provides a solid origin story, but it lacks much of the fun team-up dynamics of 1994 and 1978. Fear Street is at its best when its characters are working together to fight back and survive. Until we get to those final forty minutes, 1666 indeed feels a little isolating, but that's also an important part of the story, which hinges so much on individuals versus a community. Sarah and Hannah are alone in their pain. At the end of the movie, we once again see the strength and significance of people coming together in their fear and hurt. C. Berman and Martin rise to the occasion when Josh takes on Ruby Lane on his own.
With Goode dead, the killers quite literally blow up. Sam returns to herself. She and Deena crawl out of the caves and into Goode's home, a pristine symbol for what the Goode's received in exchange for the curse. Here sits this gorgeous, massive house on top of the caves where Solomon betrayed Sarah Fier and set in motion an awful curse that only punished the most powerless parts of a community. Watching Deena and Sam, bloodied and wearied, emerge in this Sunnyvale mansion is cathartic and vindicating. The reign of Sunnyvale comes to a close, Goode finally exposed as the evil he claimed to be fighting against. Ultimately, the stakes of Solomon's deal with the devil are almost comically imbalanced. He caused a brutal cycle of violence…and for what? Municipal-level power? A suburb of mansions? But that makes his motives seem all the more human. The Goode men don't want world domination or endless wealth. They want power and prominence as defined by the virulent "American dream."
The tragedy of Sarah and Hannah gives even more weight to Deena and Sam's romantic arc. They have a chance not only to avenge and exonerate Sarah's legacy but also rewrite Sarah and Hannah's love story—this time with a happy ending. They get their perfect date—burgers and the Pixies—fittingly spent in the final resting place of Sarah Fier. Fear Street: 1666 provides a wild balancing act between gloom and doom period horror, slasher camp, and romance. The disparate tone and style between its first hour and its final act are strangely effective. And its overall message about good vs. evil might not be super deep, but it does make for a compelling story, especially in how it casts people in power as the demons. The Goode guys are bad. The queer women get to be the heroes across all timelines.
Even though I was yelling at my TV for Sam and Deena to not leave the devil's spellbook behind, Fear Street of course has to end with a final dun-dun-dunnnnnn to signal that all might be well for now but no curse is ever truly over. It's a horror tradition after all, and Fear Street shines in its tributes.
Kayla Kumari Upadhyaya is a lesbian writer of essays, short stories, and pop culture criticism living in Miami. She is currently a fiction editor at TriQuarterly. Her short stories appear or are forthcoming in McSweeney's Quarterly Concern, Catapult, and The Offing. Some of her pop culture writing can be found at The A.V. Club, Vulture, The Cut, and others. You can follow her on Twitter or Instagram and learn more about her work on her website.
Kayla has written 288 articles for us.
The first half was a little boring but was totally redeemed by the whole movie ending with a long gay kiss! Overall really fun trilogy and it didn't flop the ending.
I was a bit confused about the reanimated serial killers – how did Goode get clean away from them all? Was it just that Deena was closer, cus that seems like a big flaw in their plan!
Also did Ziggy escape further retribution cus Goode liked her? That seems like a lot of control for him to have over the machinations of the devil. Do the Goode's get to choose the murder victims too? Otherwise how are Shadysiders specifically targeted?
Also on a non-movie note, it's quite jarring to read 'hung' instead of 'hanged' – what's the reason for shifting the tense, or has it always been 'hung' in the US?
i was so glad that it wasn't a 'redeeming cop' story as i had feared it to be, and it felt very cathartic! i had to look away from my screen at some points in the first half (the piglet scene in particular) and i loved how it all tied together so well, i'll definitely be watching them all again soon! thanks for the reviews, they've been great to read!
Yeah I too would have like to see more Sunnyvalers having misfortunes.
I'm confused why Sheriff Goode selected a killer twice though. If his first one was in 1978 (Tommy) and then were there two in 94 (Ryan and Sam)? Sam was both the target and her name was on the wall— what was Nick wishing for each of those times if the first was getting the sheriff title?
I don't think that it's one per person. Ruby Lane was in 1974, and Tommy Slater was just four years later. The lore isn't fleshed out enough to say why and when a killer is chosen. Also, Sam was targeted (both times) because she saw Sarah's message. She had to die to keep the secret.
Hannah/Sam's assault in this movie is especially disturbing when juxtaposed with her relationship with what's-his-face-jerk in 1994. The creepy paranoid village vibes were spot on, and served a good contrast to 1994. Agree with literally everything in this review! I don't usually watch horror but this series was amazing! Wlw main couple that fights evil, big plot twist, and scathing commentary about power and patriarchy!
I found it so satisfying to see all these badass amazing queer and POC characters taking down this curse brought on by the decedents of this evil straight cis white male cop and then killing said cop.
Yo I was screaming to not leave the book behind. and I rewound the hanging scene several times and although I was like "whew trauma" I was happy that whoever at Netflix made the decision to not show a Black body (when sarah was Deena) hanging. I rewound a few times to check and make sure.
This is such a great roundup and you did an excellent job covering the whole series!
Does anyone have theories as to why Sam lived and didn't "poof" with the Shadyshide killers at the end? Wondering if I missed something, or if it's a typical slasher movie plot hole.
Maybe it's because she hadn't died yet. All the other killers were reanimated.
Yay! You've decided to leave a comment. That's fantastic. Please keep in mind that comments are moderated by the guidelines laid out in our comment policy. Let's have a personal and meaningful conversation and thanks for stopping by!
The Smitten Kitten has a world class selection of sex toys, lubricants and gear, and a staff of professional sex nerds who love answering questions and providing friendly customer service.
ComicBook.com 02 July, 2021 - 02:00am
To the surprise of many, Netflix's Fear Street trilogy took an ambitious approach to the adaptation of the R.L. Stine book series, opting to instead craft an entirely original three-film narrative that honored the spirit of the source material instead of lifting specific narrative elements from any particular entry. While it might not have featured overt references to the original book series, eagle-eyed Fear Street fans surely picked up on some of the more obscure references, with the films also featuring a number of references and nods to iconic and beloved horror properties, with star Sadie Sink pointing out some of the Easter eggs you might have missed in the above video. All three Fear Street films are currently streaming on Netflix.
Netflix describes the video, "The spooky fun starts with Part 1: 1994, starring Stranger Things' Maya Hawke, before jumping back to Part 2: 1978, starring Sadie Sink, also of Stranger Things fame. The trilogy wraps up with Part 3: 1666, which explores the origins of the Shadyside curse. Can't get enough of these throwback teen slasher flicks? Here's Sadie Sink herself with some Easter eggs you probably missed in the Fear Street trilogy."
With all three films coming from filmmaker Leigh Janiak, this allowed the trilogy to find common elements while also allowing each installment to honor the time period in which it was set. Janiak previously broke down the films that had the biggest influence on her.
"As a filmmaker making Fear Street, but also just as a movie lover, I was so excited to pay homage to some of the great eras of horror movies," Janiak shared in a statement. "For 1994, Scream stood above all rest -- it's peak '90s horror and, I think, one of the most brilliant movies ever made, period. Then for 1978, I got to look at the heyday of slasher films — Friday the 13th, Halloween, Nightmare on Elm Street. For 1666...I found the best inspiration for me lay in the beautiful world made rotten of Terence Malick's The New World."
Netflix describes the films as follows:
All three Fear Street movies are out now on Netflix.
Did you catch all of these Easter eggs? Let us know in the comments below or contact Patrick Cavanaugh directly on Twitter to talk all things Star Wars and horror!
Copyright 2020 ComicBook.com. All rights reserved.