David Cogen
theunlockr
Bought the @madebygoogle Pixel Buds A and planning to do a real-world test on them. I always liked the original Pixel Buds and am very curious how the lower-cost versions will hold up. Let me know if there is anything specific you want me to test/cover! 🙏 pic.twitter.com/3p4mR4MZmS
Mark Linsangan
HeyMarkL
Just got back from vacation, and look what I just got in the mail! The NEW Pixel Buds A-Series from @madebygoogle — I'm pumped to check these out! $99 is an insane price for a truly wireless earbuds in 2021 👏🏽 #TeamPixel #giftfromgoogle pic.twitter.com/nWIFO6li6R
Max Weinbach
MaxWinebach
Thanks @madebygoogle. Excited to use the Pixel Buds A #TeamPixel #giftfromgoogle pic.twitter.com/4UvoZ9XalX

Joshua Vergara
jvtechtea
thank you, @madebygoogle WHERE YOU AT, SIRI? ALEXA? pic.twitter.com/VFgdmqobiC
We may earn a commission for purchases using our links. Learn more.
As far as we know, Google is still planning to launch the Pixel 5a this year, although it seems that the timeline continues to shift. The latest rumor comes from Mark Gurman with Bloomberg, claiming that the Pixel 5a will be unveiled and released in August.
Google Pixel fans, this summer is for you. Expect the Pixel 5a, the company's next-generation, lower-cost handset, to be announced and released in August.
The Pixel 5a storyline has been a mixed bag of confusing rumors and leaks ever since this particular train left the station. Renders appeared showing off the supposed device all the way back in February, confirming that it will follow in the same design footsteps as the Pixel 4a 5G.
Since then, we've learned a bit more about specs and features, but there's really not too much to be excited about. Then came a flurry of incorrect reports from different sources that claimed the Pixel 5a had actually been canceled entirely by Google. Google then responded with an official comment, not only confirming that the Pixel 5a 5G was in the works, but that it would be arriving in the U.S. and Japan.
Some rumors suggested that we could see the Pixel 5a announced at Google I/O 2021 ahead of a June release. But those reports were unfounded, and we're now almost into July with no sight of a Pixel 5a.
What makes this release so curious is how close it will be to the release of Android 12 and the rumored Google Pixel 6 lineup. According to the Android 12 release schedule, we can expect to see the finished version sometime in September. Meanwhile, the latest roundup of Pixel 6 rumors put the device to be released sometime in October. The Pixel 5a coming before everything else would mean a rather busy Fall for the Google team, but the Pixel 5a could end up getting lost in the mix.
There's also one other recent revelation throwing a wrench into this rumor, and it's to do with the Pixel 4a 5G. One of the best cheap Android phones of the year (so far) is currently unavailable from major retailers like Best Buy or B&H Photo. Even trying to purchase it from Amazon results in a third-party vendor and not from Amazon or Google directly. While the 4a 5G is still available from Google directly, stocking levels have been fluctuating, and at the time of this writing, the unlocked version is out of stock.
Get the best Pixel, for now
The Pixel 5 is simply the best that you can get if you want a stock Android experience. It performs great in day-to-day tasks, has an unrivaled camera system, and will be one of the first devices to get Android 12.
We may earn a commission for purchases using our links. Learn more.
Samsung's next Galaxy Watch will be the first smartwatch to feature the new Wear OS update with faster performance and better battery life.
Samsung's new One UI Watch platform was unveiled at MWC 2021, showcasing an experience that's closely tied to its popular Galaxy smartphones. The platform is build off Wear OS, which is being designed alongside Google.
Samsung is ready to unveil the next big thing in wearables, and it's using MWC 2021 to do it.
The best cases for the Galaxy S9 are available for less than ever, including Samsung blowing out its stylish Hyperknit cases!
Sign up now to get the latest news, deals & more from Android Central!
I would like to receive news and offers from other Future brands.
I would like to receive mail from Future partners.
No spam, we promise. You can unsubscribe at any time and we'll never share your details without your permission.
Read full article at Android Central
Wccftech 29 June, 2021 - 01:04am
Google is taking its sweet time with the Pixel 5a launch, but it may just take a couple of months for the mid-ranger to be officially available, according to the latest report. Unfortunately, availability might be limited to a few regions, which is disappointing hear.
Earlier, it was rumored that the Pixel 5a was canceled, likely due to the ongoing chip shortage. Luckily, it did not take long for Google to respond, stating that the mid-ranger launch was more than alive, but availability will be limited to just two regions, the U.S. and Japan, for some reason. While it is not clear if Google will open up the availability of the Pixel 5a to different regions, seeing as how that would be the right move to start pushing more shipments, the chip shortage might have put a halt to such lofty ambitions.
According to a new report from Bloomberg, Mark Gurman says that the Pixel 5a would be announced in August and released in the same month, but he has not shared pricing details. In terms of specifications, the upcoming mid-ranger is expected to impress consumers that are on a limited budget, as it will likely sport the same Snapdragon 765G as last year's Pixel 5 and Pixel 4a 5G.
Aside from this, Google has plans to target the flagship market, too, with the unveiling of the Pixel 6 and Pixel 6 Pro. Both premium smartphones' renders have leaked previously, showing a design that Google has never employed before, with both models expected to feature the company's first custom silicon codenamed Whitechapel. While it would have been exciting to see the Pixel 5a getting treated to a custom solution, too, it looks like we might have to wait until next year.
Are you excited about the upcoming Pixel 5a launch? Share your thoughts down in the comments.
News Source: Bloomberg
For latest tech news in your inbox, once a day!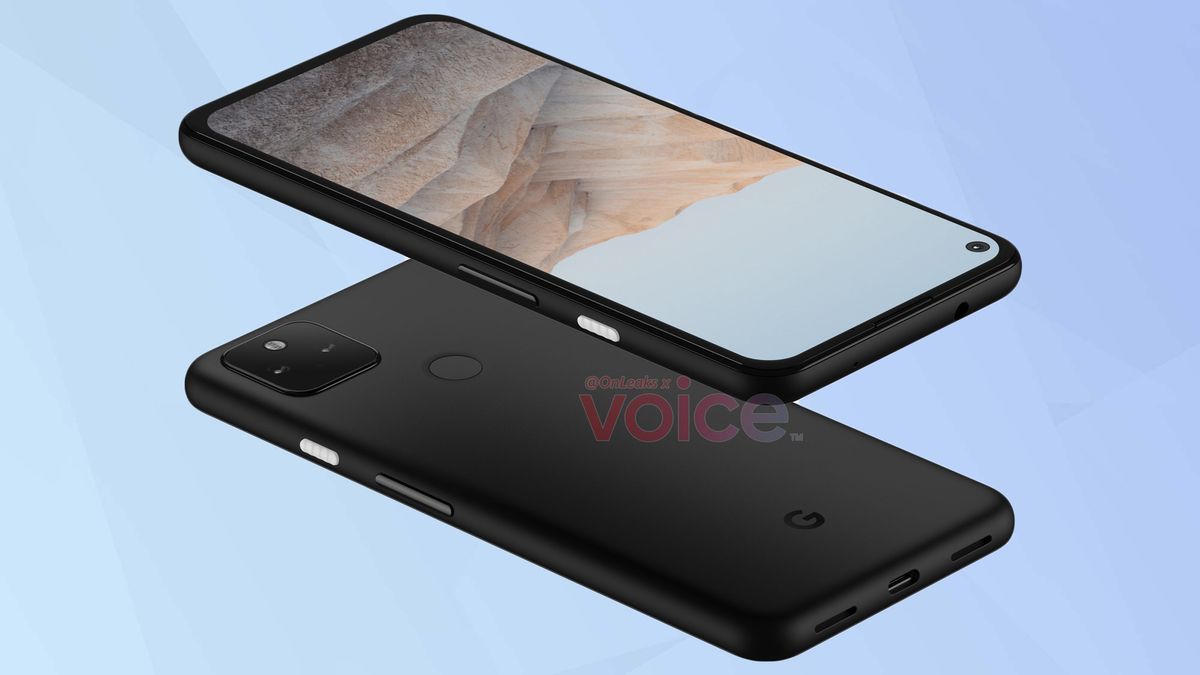 Tom's Guide 29 June, 2021 - 12:01am
Google's cheap Pixel 5a with 5G could finally be coming soon
This is according to Marc Gurman, who reports in his Power On newsletter for Bloomberg that the Pixel 5a will be "announced and released in August." Gurman doesn't go into any more detail, but we already know a lot about what to expect from this handset based on previous leaks. 
The Pixel 5a is rumored to look quite similar to the Pixel 4a but with a larger display, growing from 5.8 inches to 6.2 inches. This would be the same size as the Pixel 4a 5G. In addition, based on Pixel 5a renders you should expect a punch hole camera in the front and a fingerprint sensor on the back. The leaked dimensions of 6.1 x 2.9 x 0.3 inches point to a compact design. 
The Pixel 5a is also expected to add an ultra-wide camera to the mix, just like the Pixel 4a 5G, and Google is said to be adding phase detection auto focus for crisper shots. Plus, Google itself leaked that HDR+ enhancements are coming to photos on the Pixel 5a. 
As for price, we have not heard anything definitive for the Pixel 5a, but given that the Pixel 4a started at $349 we would hope that the Pixel 5a starts at the same price or $399 max. The Pixel 4a 5G costs $499, but as the cost of 5G handsets continues to plummet —  the OnePlus Nord N200 5G costs under $300 — we don't think Google can afford to go much higher this time around. 
Then again, Google's cameras are much better than what OnePlus, TCL or any other Android phone maker can muster under $400. And that's why the Pixel 5a should be worth the wait. So if you're in the market for one of the best Android phones and you're on a budget, we would hold out until August. 
Thank you for signing up to Tom's Guide. You will receive a verification email shortly.
There was a problem. Please refresh the page and try again.
© Future US, Inc. 11 West 42nd Street, 15th Floor, New York, NY 10036.
PhoneArena 28 June, 2021 - 09:19pm
$40 Unlimited data plan with a new phone
$40 Unlimited data plan with a new phone
menshealth.com 28 June, 2021 - 04:03pm
These buds quickly became my go-to audio option.
That means I'm constantly using headphones, and since I review gear as part of my job, I have plenty of options to choose between. I usually cycle through my various sets of buds and over-ear cans depending on what I'm doing. The headphones I use during workouts in my backyard have different demands than my go-to commuter buds, for example—but lately, I've been grabbing one specific set no matter what I have planned: Google's new Pixel Buds A-Series.
The headphones, a streamlined step away from the more spec-heavy main Pixel Buds line, gives me everything I need for an everyday carry earbud and more. As solid as they are, the Pixel Buds A-Series most attractive feature might just be the $99 price tag.
The audio quality is impressive, especially given the size. You won't get the same depth of sound with the A-Series as with a quality pair of on- or over-ear cans, but there's no tinny feedback or sound leakage that sometimes plagues compact buds. I'm also able to totally focus on the narration of audiobooks without being pulled into the outside world. Google's Adaptive Sound feature, which automatically adjusts the volume to suit your surroundings, works almost imperceptibly and is a godsend for the times I walk my dog along a busy street. Phone calls are seamless, and the buds have specialized beamforming mics to pick up your voice.
I tested the A-Series using an iPhone. The pairing experience was largely painless and I had no connectivity issues even as I swapped between multiple Bluetooth audio options on the same device. Android users will have an even easier time, according to Google, with a quick single-tap process. There are also some cool Google Assistant features available for Android users, like real-time translation.
But the A-Series gives you almost all of the same specs and all-day audio without a major investment at the more accessible $99 price point. That's $80 cheaper than the standard Pixel Buds—and importantly, $50 less expensive than Apple's most basic AirPods model (and $150 less than the AirPods Pro). In fact, unless you're looking at discounted models of older generation tech, you won't find a better price for a set of buds with these specs and sound quality. Convenient personal audio doesn't get any better than this.
Android Police 28 June, 2021 - 03:48pm
It seems like we're just a little bit more sure about when the clock is about to strike on another budget territory Pixel phone. If you were left guessing about when you can buy your Pixel 5a, we'd like to provide some guidance.
That guidance comes from Bloomberg's seasoned tech insider, Mark Gurman, and his Power On newsletter. He expects the 5a to land in August — complete from announcement to sales. This falls in line with the Pixel 4a's launch timeframe last year, though the Pixel 4a 5G followed at the end of September.
In response to rumors about its cancellation, Google revealed in April that the 5a would be available in the U.S. and Japan later this year. The specifications picture is still quite murky with not much in the way of leaks thus far.
We're not sure if that realm has officially expanded since then, but there's always hope — Gurman's fairly steady with his intel, so we've got the whole of July to wait through at the very least.
What? That's not a "few" weeks to you?
Droid Life 28 June, 2021 - 03:22pm
Right on time, the Pixel 5a from Google is now scheduled to launch this upcoming August, according to the latest from Bloomberg. That timeframe puts it right on track, as last year's Pixel 4a also arrived in August. Meanwhile, Google pretty much confirmed all of this back in April when they tried to convince the world that the phone itself wasn't completely canned.
This is by no means confirmation from Google or even a quote from industry sources, but it's something. The last we heard about the Pixel 5a was about its rear-facing camera, as Google actually showcased a sample shot from the device. Spoiler alert: It looks like a Pixel camera sample.
We'll of course keep you posted on any new Pixel rumblings we hear or see. These are exciting times ahead of us. Pixel 5a. Pixel 6. And everything else we expect Google and company to announce for later this year.
// Bloomberg
9to5Google 28 June, 2021 - 02:32pm
According to the latest rumor, Google's next mid-range phone, the Pixel 5a, is set to release sometime in August.
The Google Pixel 5a has had something of a beleaguered pre-launch history. Since its first leak, we've been under the impression that the Pixel 5a will not be much different from the Pixel 4a 5G, in terms of size, shape, and design. Beyond that, we've even found evidence that the Pixel 5a will use the same Snapdragon 765 processor as the Pixel 4a 5G and Pixel 5.
Before Google could announce the phone and confirm these details, the tech community's eyes were turned to the Pixel 6 generation with its Google-made Whitechapel chip. Worse, it was briefly rumored that the Pixel 5a had been canceled altogether, a point that Google chose to directly dispute.
In doing so, Google confirmed the Pixel 5a exists and that it will release "in line with when last year's a-series phone was introduced." Considering there were two a-series phones released in 2020, there were two distinct windows for what this comment meant. Either the Pixel 5a would release in August, lining up with the Pixel 4a, or in October, matching the Pixel 4a 5G.
Today, Bloomberg's Mark Gurman has settled the debate, sharing that the Pixel 5a should be announced in August 2021, and released that same month. That said, as Google previously confirmed, the Pixel 5a will only see release in the US and Japan, and it's unknown if this limitation will be temporary or permanent for the phone.
FTC: We use income earning auto affiliate links. More.
Kyle is an author and researcher for 9to5Google, with special interests in Made by Google products, Fuchsia, and Stadia.
Got a tip or want to chat? Twitter or Email. Kyle@9to5mac.com
This is Samsung's version of Wear OS [Video]
Shield TV owners furious over homescreen ads, are you?
What readers think the Pixel 6 series should be named
Drive adopts Android 12 animated splash screen
Android Police 28 June, 2021 - 12:59pm
When the wireless charging Pixel Stand was released back in 2018, people were excited about the Pixel 3's new wireless charging capability, and the way the stand turned Pixel phones into tiny digital photo frames. What people weren't so thrilled about was the price: at eighty bucks, it was several times more expensive than a standard Qi charging pad. Woot is selling the Stand for just $38, a match for the lowest price we've ever seen, and maybe even worth actually buying.
The Pixel Stand packs in a standard Qi charging coil, so it'll charge any compatible phone at 7.5 watts. But if you slap a Pixel 3, 4, or 5 on there (the A series doesn't get wireless charging), it'll go at 10 watts, and start always-on active listening for Google Assistant. It can perform a few other tricks, too, like automatically starting photo frame mode or playing the news.
The Pixel Stand even uses some neato tech to recognize different phones, so you can have it perform different actions when you or someone else place your respective phones on the stand. Or you can buy multiple Pixel Stands and have them do different things when you set your phone down, at your desk or your nightstand, for example. Again, that only works with Pixel hardware.
The Woot deal is a limited time offer, good for one more day. While Woot does have a tendency to repeat sales, get an order in today if you want to make absolutely sure.
This deal from last month is back! The sale has "a day left," according to Woot, but supplies could run out earlier. Use the link above to grab one.
XDA Developers 28 June, 2021 - 12:00pm
Sign in to the XDA Developers Forums
Add swipe gestures to any Android, no root
Make your phone easier to use with one hand, no root
The best way to access XDA on your phone
A sweet, feature-filled launcher with a beautiful UX.
XDA's official marketplace for buying and selling tech
The future of the Google Pixel 5a was thought to be up in the air for a while, prompting an unprecedented response from Google confirming its existence. There were rumors that Google I/O was going to be where the Pixel 5a would be officially unveiled, though that never came to be. Now we may finally have an expected launch window — August 2021.
This matches up with a previous statement from Google who said it will launch "in line with when last year's a-series phone was introduced." Last year's Pixel 4a was announced in August of last year, though the Pixel 4a 5G launched in October later on in the year, causing some confusion as to which a-series phone Google was referring to. Google has only specified that the Pixel 5a 5G will launch in the US and Japan, though that doesn't exclude the possibility of it launching in other countries. If its availability is indeed limited, it could be thanks to the global chip shortage.
We haven't seen many leaks of the Pixel 5a, but thanks to OnLeaks, aka Steve Hemmerstoffer, we know a lot about the device already. The leaker revealed that the Pixel 5a 5G is set to use the same camera setup as the Pixel 4a 5G and the Pixel 5, and that it recycles the design of the Pixel 4a 5G. The device is even expected to utilize the same Snapdragon 765G chipset found in the Pixel 4a 5G and Pixel 5.
There was one leak that confirmed a minor detail, though, and it interestingly came from Google themselves. A camera sample from the Pixel 5a inadvertently leaked from a Google blog post pretty recently. EXIF data revealed one of the images in the blog post was captured by the 12MP ultrawide-angle camera on the Google Pixel 5a. As we get closer to the rumored August launch date, we may see more leaks of this nature that confirm what we already suspect: Google is saving the big guns for the Pixel 6 launch.
Receive the freshest Android & development news right in your inbox!
XDA Developers was founded by developers, for developers. It is now a valuable resource for people who want to make the most of their mobile devices, from customizing the look and feel to adding new functionality.