Alex Caruso wanted to stay with the Lakers, all things being equal. The team instead let him walk to the Bulls in free agency.
If you buy something from an SB Nation link, Vox Media may earn a commission. See our ethics statement.
Caruso was the first two-way player the Lakers signed, inking him to their first contract of that type after a couple of strong showings in Las Vegas Summer League. And after a few impressive games down the stretch of the regular season during his two seasons as a two-way player, the team signed him to the first guaranteed NBA contract of his career. By the end of his first season as a full-time NBA player, head coach Frank Vogel chose starting him as his go-to move in a closeout game of the NBA Finals. The Lakers won going away, earning their 17th banner. That victory was mostly a product of LeBron James and Anthony Davis, but Caruso also showed his worth at thriving in and increasing the advantages stars like those two create. By his second full season, he was getting votes for All-Defense teams.
In between, plenty of memories were made while Caruso proved he wasn't just a meme, or the guy a Lakers coach once thought was a UPS delivery man who had stolen a summer league uniform, but a real NBA player. He dunked on Kevin Durant, did an unforgettable Manscaped ad, became so effective at playing alongside stars that he was dubbed "The LeBron of playing with LeBron" by the Wall Street Journal, and even got even LeBron James to nickname him "GOAT." He was not only perhaps the greatest player development story the Lakers have ever had when considering where he started from, but also a gigantic win for the front office's ability to find talent on the fringes of the league.
So why did the team that saw what he could do closer than anyone seemingly not value it? Why did they let one of the best perimeter defenders in the league walk on an affordable, four-year, $37 million deal, leaving to join the Chicago Bulls just hours into free agency with the Lakers getting nothing in return?
Why did the Lakers not want a valuable player who so clearly wanted to stay?
If that sounds hyperbolic or unrealistic to you, it's not. According to Sam Amick of The Athletic, that's exactly what happened:
The Lakers did a very puzzling thing today, and only time will tell if they pay a price for it in their pursuit of an 18th championship. When faced with the prospect of losing Alex Caruso, the 27-year-old guard whose Bird rights they carried and could thus pay whatever they wanted, they didn't put up any free-agency fight en route to him agreeing to a four-year, $37 million deal with Chicago. According to a source with knowledge of the situation, Caruso's camp went back to the Lakers after the Bulls made their offer and were told that there would be no counter.
Will never forget my time in LA and the #lakeshow fans.. y'all loved me before it was cool genuine love for all of y'all
Whatever one thinks of Caruso or his game, this is almost indefensible asset management. Caruso reportedly had multiple teams willing to pay him the midlevel exception, making this an eminently moveable contract, even if the Lakers wanted to trade him later. They have no way to sign another player as good as Caruso in free agency, and no way to sign a free agent to a contract this large until 2023, when Russell Westbrook and LeBron James' contracts expire. Even if they think they can sign a player who can do some of the same things Caruso can do for cheaper — and they almost assuredly can't — there is no reason to let a key member of the team's closing lineup walk for no reason beyond cheaping out.
Would it have been expensive to dip into luxury tax territory to retain Caruso? Absolutely. But Lakers governor Jeanie Buss committed to going into the tax earlier this season if that's what it took to win.
"The luxury tax is for teams that have championship aspirations, and certainly that is something where we want to keep the Lakers at the top of the conversation," Buss said back in March. "When you have a player like LeBron James on your team, you've got to go for it. You've got to use that opportunity to win."
It's hard not to view this refusal to even negotiate with Caruso as a dereliction of that commitment. The Lakers are certainly going to compete. Losing Caruso isn't going to change that, they'll still be very good, and maybe even great next season.
But if they want to win? No one can argue with a straight face that Caruso couldn't make a difference there. The Lakers are capped out, so the only thing he would have cost them is more money. Now look, it's not my money to spend. Buss can do that as she pleases. But let's call a spade a spade and refer to this as what it really is: A cost-cutting move. There is just no other basketball or cap-sheet benefit to not keeping Caruso at that price, regardless of what they do next.
This bad decision doesn't break the team's offseason. The Lakers could still have something up their sleeve, maybe even a resuscitation of their trade for Buddy Hield now that Dennis Schröder's market seems to have fallen out from under him, and he could take part in some sort of revised deal to sign-and-trade him somewhere. But keeping Caruso wouldn't have precluded the Lakers from doing that. It wouldn't have stopped them from retaining restricted free agent Talen Horton-Tucker, either. Only a lack of willingness to spend would have done that.
In a sad bit of irony, Caruso's time as a Laker was defined by his skill at maximizing small edges, the tiny inflection points that can be the difference in winning or losing a game. While his departure isn't a death knell to the team, it's the kind of small mistake Caruso excelled at capitalizing on during his playing time, throwing his body haphazardly into a gap others were afraid to shoot, sacrificing his body to win a small battle that could make a difference in the longer war. Everyone who roots for this team will just have to hope that the money an organization worth $4.6 billion didn't just saved themselves is worth losing on exactly the kind of small margins that Caruso always capitalized on.
Caruso deserved his money. There are just no on or off-court reasons the Lakers shouldn't have been the ones to give it to him.
Read full article at Silver Screen and Roll
Lakers Nation 03 August, 2021 - 02:20am
ClutchPoints 03 August, 2021 - 02:20am
hoopsrumors.com 03 August, 2021 - 02:20am
The Bulls have agreed to a four-year, $37MM deal with free agent guard Alex Caruso agent Greg Lawrence tells Adrian Wojnarowski of ESPN (Twitter link). Based on the terms of the agreement, it sounds like the team will use most of its mid-level exception on Caruso.
The unrestricted Lakers free agent will provide a defensive presence in Chicago's restructured backcourt. The Bulls agreed to a sign-and-trade with the Pelicans to acquire starting point guard Lonzo Ball and Caruso will likely be the primary backup, though he could also get some minutes at shooting guard. He's made 37.7% of his 3-point attempts during his career.
Caruso has been a rotation player for much of the last two seasons. He averaged 6.4 PPG, 2.9 RPG, 2.8 APG and 1.1 SPG in 21.0 MPG this past season.
Largely overrated player. The guy became a meme because of the bald head and outperformed expectations. Shit can't shoot well and not a great ball handler. His calling card is playing defense which isn't worth 8/9 million a season. Goodluck to Caruso
The bulls are desperate for guards who can play defense, so while I'm surprised we signed him, all he does is take less money than felicio and arcidiacono to be a better player for the team, it's literally impossible to be less impactful nba players than felicio and arch
lakers thing they got their alex replacement in mcclung, not this year but in a couple maybe?
Congratulations Alex!!!! Always be loved out here, best wishes
Your getting a good 25 mins a night Chi
Good for Alex already got his ring and now taking care of himself and family.
Spurs collecting injured player anyway so why not
Lakers are going to miss him a lot. He always played above his talent level with high energy. I am surprised they didn't match the contract.
They can't if he just normal free agent and not RFA
Yes RFA so would have to be a Sign and Trade.
Not as much as you think, can't score and isn't a good ball handler. Lakers want shooters something alex is not
Dude is an above average 3PT shooter lol
These guys are rediculas, he shot the 3 at 40% this past season. The whole website is liked to basketball stats on these guys, how can y'all be this lazy to not look up the stats before spewing out your bad takes.
Coby White is really a 2 guard
9 mil/yr for Alex Caruso? I guess someone had to be the new bad Felicio contract
Slow unathletic limited will be exposed on a poor team when given minutes. Overpaid
You apparently judge a player's athleticism by their skin color. Caruso is not a really skilled player but he is not unathletic. Ask any Laker fan about that.
Calling Caruso unathletic means you clearly are being racist and don't watch basketball..
Love this signing for the Bulls, maybe it is a bit high, but I love his ability in transition, defense, and ability to be another ball-handler..
He can be somewhat of a streaky shooter, but slashes well to the basket, so I trust Donovan to use him, Ball, White, and LaVine correctly
@bravesfan88 he's not a good ball handler. Watched enough games to know, way to turnover prone. He's good at 1 thing and that is defense.
He shoots the 3 at 40% last season, that's elite in the NBA… HE'S GOOD AT ONE THANG.. He is a solid slasher, high level defensive player, good 3 point shooter
6-3 or 6-4 and that putback slam dunk in traffic a year or two ago when LeBron went nuts.., yeah pretty athletic. I'm 6-3 and couldn't dream of doing that…
You know what that means…Matthew Dellavedova to the Lakers
Nice for Alex. I'll never hate on players getting paid. He's a solid rotation guy. He's better than you think and always comes to play. He's good for Bulls.
Dang you have an actual good take. Or you just trying to justify the Knicks paying 10 mil a year for Burks? I am confused.
I guess the Bulls never watched tape of Matthew Dellavadova playing with LeBron and Cleveland vs. Dellavadova making $11 million per year without LeBron in Milwaukee. The Alex Caruso signing is the same deal. Like LeBron said after Milwaukee signed Delly. "I am happy for him and his family" …. LeBron knew he just got a dude paid big who probably shouldn't have even been in the league.
The mid level exception isn't exactly big money. He shoots the 3 and plays D it's really not a bad value.
Overpay in my Bulls fan opinion, but as long as LeBron doesn't win and gets hammered by opponents I'll be happy. I wish he had to play the early 90's Pistons to whip his cry baby @55!
They made a concerted effort to upgrade defensively at the guard spot, and retain spacing losing Satoransky. They need a backup big that can defend pick and roll and protect the rim, and probably one more defensive guy on the wing. Hopefully Troy Brown can provide defense there for them, and Denzel Valentine finds a little more of what he somewhat lost on that end at times, and I think they could be much improved with the full season of Vucevic there, and those things can all mitigate the minuses of Lavine
Their bench was really strong last year at times, mostly before the trade. Will be interested to see how that rotation looks together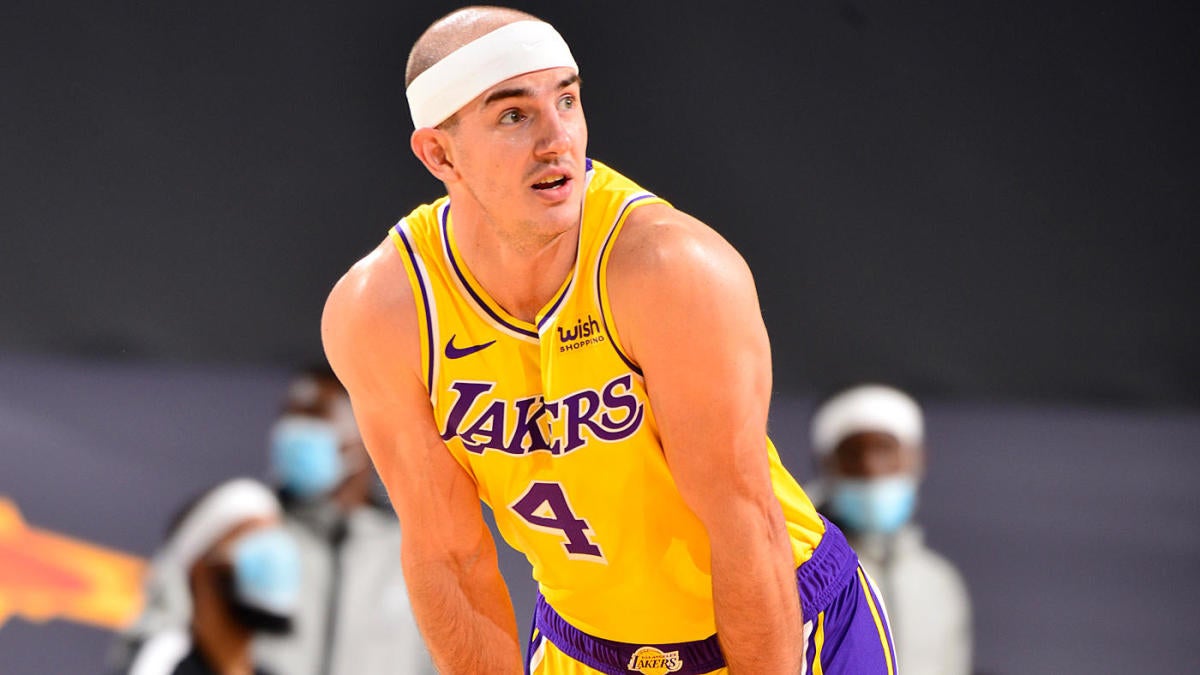 CBS Sports 03 August, 2021 - 02:20am
Alex Caruso is signing a four-year, $37 million deal with the Chicago Bulls, according to ESPN's Adrian Wojnarowski. Caruso was one of the key role players on the 2020 Lakers championship team but had been underpaid throughout his tenure with the franchise. He spent the 2017-18 and 2018-19 seasons on two-way deals before signing a two-year, $5.5 million deal to stay in Los Angeles in the 2019 offseason. Caruso indicated after the season that he wanted to stay with the Lakers and continue contending with LeBron James and Anthony Davis.
"Any time you're playing with those two you have a chance to win a championship," he said in June. "And I know a lot of people around the league they think they do and going into the season everybody talks about what their goals are and stuff like that. But that's a realistic, attainable goal with those two guys on your team. So that's always in the back of your mind."
Instead, Caruso will join the Bulls, who have had a big day by signing both Caruso and Lonzo Ball. The two are very similar players in that they aren't traditional, ball-handling point guards, but bring shooting and defense to the table. Ball is a strong help defender but doesn't do as well at the point of attack as Caruso, making them strong complements for one another as well as Zach LaVine, who struggles defensively. Caruso shot a career-high 40.1 percent from behind the arc last season, and the Bulls will hope that he repeats that performance.
The Lakers could have paid Caruso anything up to his max in order to retain him. They had full Bird Rights, but their roster got prohibitively expensive once they acquired Russell Westbrook. With Talen Horton-Tucker a free agent as well and rumors of a possible Dennis Schroder sign-and-trade swirling, the Lakers likely allowed Caruso to walk for fear of racking up an enormous luxury tax bill.
That could come back to haunt them during the season. The Lakers had the NBA's best defense last season, but that relied in part on excellent play by their guards. Those guards are all gone now, and the Lakers will have to reconstruct their defense around their new players. Their loss is Chicago's gain. The Bulls landed one of the best bench players in basketball with this deal, and he should fit in very well with the new backcourt they've built.
© 2004-2021 CBS Interactive. All Rights Reserved.
CBS Sports is a registered trademark of CBS Broadcasting Inc. Commissioner.com is a registered trademark of CBS Interactive Inc.
Images by Getty Images and US Presswire
These cookies are essential for the proper functioning of our Services. Essential cookies cannot be switched off in our systems. You can set your device to block or alert you about these cookies, but some parts of the Service will not work.
These Cookies allow us to collect information about how visitors use our properties. Some examples include counting visits and traffic sources, so we can measure and improve the performance of our services. If you do not allow these Cookies we will not know when users have visited our properties and will not be able to monitor performance.
These Cookies enable the services to provide enhanced functionality and personalization. They may be set by us or by third party providers whose services we have added to our services. If you do not allow these Cookies then some or all of these services may not function properly.
These Cookies may be set by us or through our services by our advertising partners. They may be used by those companies to build a profile of your interests and show you relevant advertising on this and on other properties. If you do not allow these Cookies, you will still see ads, but you will experience less relevant advertising.
These Cookies are set by a range of social media services that we have added to the services to enable you to share our content with your friends and networks. They are capable of tracking your browser across other sites, building up a profile of your interests to show you relevant content and advertisements on the relevant social networks. If you do not allow these Cookies you may not be able to use or see these sharing tools.
bleachernation.com 02 August, 2021 - 07:43pm
Arutras Karnisovas knows how to keep things close to the vest, and he reminded us of this a couple of hours into free agency.
The Chicago Bulls have signed Lakers guard Alex Caruso to a four-year deal with $37 million.
Free agent guard Alex Caruso has agreed to a four-year, $37M deal with the Chicago Bulls, his agent Greg Lawrence of @Wasserman tells ESPN.
— Adrian Wojnarowski (@wojespn) August 3, 2021
Can confirm the Alex Caruso signing that @wojespn first reported, which is the majority of the full MLE over 4 years.
Bulls still have BAE and minimums to round out roster up front.
— K.C. Johnson (@KCJHoop) August 3, 2021
Uh, yeah, to say I did not see this coming would be an understatement … but that does not mean I don't like it!
While I know this deal may feel a bit offputting at first, let's look at more on an annual basis. Caruso will be playing on a $9.25 million AAV, which is practically the entire mid-level exception, which the Bulls opened by working as an over-the-cap team. Paying Caruso that much per year, in my opinion, feels pretty damn palatable. After all, The Athletic's John Hollinger puts Caruso's value for next season at roughly $12 million.
Caruso is a fierce on-ball defender whose scrappiness certainly helped the Los Angeles Lakers finish near the top of the defensive ranking over the past couple of seasons. Additionally, he hits the 3-ball at a very efficient clip (40.1 percent in 2020-21), gets to the rim when he needs to (33 percent of takes come at the cup, which ranks in the 82nd percentile), and limits his turnovers. But the Bulls clearly seem to prioritize defensive and offensive versatility in their free agency period thus far. Caruso and Ball are two players who can slot in at the wing or point guard position.
Losing Alex Caruso is a tough blow for the Lakers' defense. He's one of the best defensive guards in the league, and was probably the second-most impactful defender on the No. 1 defense in the regular season. There's no replacing him with what's available to LA in free agency.
— Jovan Buha (@jovanbuha) August 3, 2021
We will have more on this soon.
Elias Schuster is a writer for Bleacher Nation and a human being. You can follow him on Twitter @Schuster_Elias.
Bleacher Nation Privacy Policy and Terms of Use. Bleacher Nation is a private media site, and it is not affiliated in any way with Major League Baseball, the National Football League, the National Basketball Association, the National Hockey League, the Chicago Cubs, the Chicago Bears, the Chicago Bulls, the Chicago White Sox, or the Chicago Blackhawks. None of MLB, the NFL, the NBA, the NHL, the Cubs, the Bears, the Bulls, the White Sox, or the Blackhawks have endorsed, supported, directed, or participated in the creation of the content at this site, or in the creation of the site itself. It's just a media site that happens to cover MLB, the NFL, the NBA, the NHL, the Chicago Cubs, the Chicago Bears, the Chicago Bulls, the Chicago White Sox, and the Chicago Blackhawks.
Bleacher Nation is a participant in the Amazon Services LLC Associates Program, an affiliate advertising program designed to provide a means for sites to earn advertising fees by advertising and linking to Amazon.com.
Bleacher Nation is supported in part by affiliate advertising programs, which you can learn more about here.