By Abbey White
In a new interview with The New York Times, the Suicide Squad director said that it was Marvel Studios president Kevin Feige who ultimately delivered the news that Gunn had been let go, and shared both his and Feige's shock around the decision.
Gunn was overwhelmed after hearing the news and felt his entire career was over. "It was unbelievable. And for a day, it seemed like everything was gone. Everything was gone," Gunn continued. "I was going to have to sell my house. I was never going to be able to work again. That's what it felt like."
Gunn was fired as director of Guardians of the Galaxy Vol. 3 in 2018 after a number of conservative personalities resurfaced old tweets in which the filmmaker made jokes about pedophilia and rape.
In a statement released the day of his firing, Gunn said that, "I understand and accept the business decisions taken today," but that he "regretted" the words in those tweets, "because they don't reflect the person I am today or have been for some time."
Following the news of his firing, the Guardian's cast was among many who came out in support of Gunn, even penning a letter advocating for his reinstatement. "I felt really fulfilled and loved in a way that I had never felt in my entire life," the filmmaker said.
When asked whether he felt he was a victim of cancel culture, Gunn shared that he views it as painful, but also a system of accountability.
During the wide-ranging interview, Gunn also spoke about being only the second director to helm both a DC and a Marvel film — and the first "to receive a directing credit on the Marvel and DC movies." (Joss Whedon went uncredited after taking over duties on Zack Snyder's Justice League.) The filmmaker said he does see differences in Marvel's and DC's approaches to their franchises, "but not as many as people probably think."
"There's no doubt Kevin Feige is way more involved with editing than people are at Warner Bros. He gives more notes. You don't have to take them and I don't always take them," Gunn said of his work with Marvel.
As for DC, Gunn thinks it's "great" that the studio can do R-rated and family films, and said it works because "the folks over at Warner Bros. are really interested in building out a world and creating something that's unique to the filmmakers."
"That is the one of the ways in which DC can distinguish itself from Marvel," Gunn said. "What I do is very different from what [the Ant-Man director] Peyton Reed does, it's very different from what [Iron Man director Jon] Favreau did, it's different from Taika [Waititi, the director of Thor: Ragnarok]. But not as different as Shazam! and Suicide Squad, however.
"The fact that they did Joker, which is a totally different type of movie, that to me is cool. I'm very excited about Matt [Reeves]'s movie [The Batman]. They're getting some really good filmmakers involved. They're always going to be hit or miss — I just don't want them to get boring," he later said.
As for whether he has plans to work with either studio in the future, the filmmaker says it's up in the air. "I have no clue what I'm going to do. For me, Guardians 3 is probably the last one. I don't know about doing it again. I do find, because of the ability to do different stuff in the DC multiverse, it's fun," he said.
Sign up for THR news straight to your inbox every day
Sign up for THR news straight to your inbox every day
Read full article at /FILM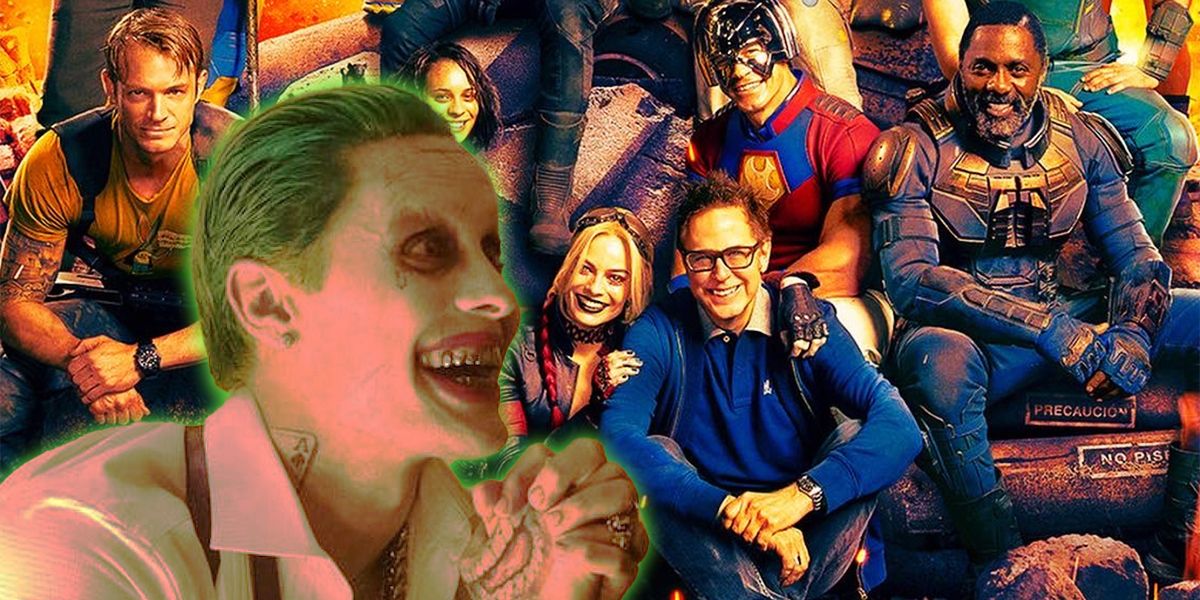 CBR - Comic Book Resources 14 July, 2021 - 10:03pm
"I just don't know why Joker would be in the Suicide Squad," Gunn told New York Times. "He wouldn't be helpful in that type of war situation." Given the character's chaotic and street-level nature, and inability to play well with others, it's not surprising why Gunn would want to avoid the Joker. His larger-than-life personality would also pull away from the many other villains featured in the film, something Gunn spoke more about.
Without Will Smith's Deadshot in the film due to scheduling conflicts, new protagonists had to step up, including Harley Quinn and Ratcatcher 2. But ultimately, Gunn said Idris Elba's Bloodsport is the focal point.
"I really wanted to work with Idris," Gunn said. "It is a multi-protagonist film. We go off for a while with Margot, and Daniela [Melchior, who plays Ratcatcher 2] is the heart of the film in a lot of ways. But if there's one protagonist, it's Idris. And I wanted somebody who had that gruff, Unforgiven-type feeling about him. This guy who had been reduced from being a bigshot supervillain — he took Superman out of the sky — who is now scraping gum off the floor at the beginning of the movie. He absolutely doesn't want any part of it — he just has accepted this is his life. And I just think that character is Idris Elba."
While Leto's time as Joker seems to have come to an end -- unless Zack Snyder is allowed to make his subsequent Justice League films -- the door appears to still be open for Smith's return as Deadshot. Which new characters will have a future on the big and small screen, however, is up in the air, as Gunn and the marketing for the film have repeatedly stressed that any DC villain from the new film can die.
Written and directed by James Gunn, The Suicide Squad stars a sprawling cast as some of DC's most obscure villains. Idris Elba, Margot Robbie and more lead the war-themed film, which arrives in theaters and on HBO Max Aug. 6.
Source: New York Times
PEOPLE 14 July, 2021 - 10:03pm
Speaking with Entertainment Weekly for a recent interview, the 31-year-old actress spoke candidly about her role as Harley Quinn and how she is ready to take a "break" from portraying the fictional psychiatrist-turned-vigilante.
Admitting that she has no plans to reprise her DC Extended Universe character in the near future, Robbie told the outlet, "I was like, 'Oof, I need a break from Harley, because she's exhausting.' I don't know when we're next going to see her."
The I, Tonya star has portrayed Harley Quinn three times over the past five years, starting with her role in 2016's Suicide Squad.
Robbie later went on to play the antiheroic comic-book character in 2020's Birds of Prey, and will be seen once more in the forthcoming film, The Suicide Squad.
Looking ahead, however, Robbie has other planned film roles to keep her busy, including her live-action adaptation of Barbie.
The actress previously announced she would be portraying the iconic doll in January 2019, saying in a press release, "Playing with Barbie promotes confidence, curiosity and communication throughout a child's journey to self-discovery."
"Over the brand's almost 60 years, Barbie has empowered kids to imagine themselves in aspirational roles from a princess to president," she continued. "I'm so honored to take on this role and produce a film that I believe will have a tremendously positive impact on children and audiences worldwide."
Speaking to The Hollywood Reporter this past December, the two-time Academy Award nominee explained why she took on the role and how the comedy will surprise people.
"Something like Barbie where the [intellectual property], the name itself, people immediately have an idea of, 'Oh, Margot is playing Barbie, I know what that is,' but our goal is to be like, 'Whatever you're thinking, we're going to give you something totally different — the thing you didn't know you wanted,' " Robbie said.
Greta Gerwig — who was previously revealed to be co-writing the script — is also set to direct the soon-to-be-released feature.
The Suicide Squad lands on HBO Max and in theaters Aug. 6.