Yahoo Entertainment 23 August, 2021 - 08:50pm
ET Canada 23 August, 2021 - 08:50pm
ComicBook.com 23 August, 2021 - 05:59pm
Negan nearly pushes Maggie too far in the talked about scene from The Walking Dead Season 11 Episode 1. Spoiler warning for the season premiere, "Acheron: Part 1." Tension between the two enemies comes to a head in subway tunnels beneath D.C., where Negan guides Alexandrians through the city on a crucial supplies mission to Meridian. But Negan suspects Maggie has ulterior motives, wanting to lure him to his final destination so she can at long last avenge the husband that Negan murdered years earlier. In this extended clip from "Acheron: Part 1," watch what happens when Negan accuses Maggie of leading him on a death march.
"She brought me here to die. If we get through this, I'm not coming back," Negan tells the scavenging survivors when excusing himself from the dead-end undertaking. "She'll find a way, she'll find a reason. She'll do it herself, away from the prying eyes of Alexandria. Here in the jungle."
A glaring Daryl and accusations of paranoia do nothing to deter him: Maggie can't lead these people. "Her head isn't even in the game because I'm in her head, living rent-free," he snarls, poking and pressing to get it over with right here and right now. "Because I am not gonna let you drag me through the mud, filth, and slime to put me down like a dog. Like Glenn was."
"I fought it! That's the one line that I immediately called [showrunner Angela Kang] and I was like, 'I can't say it. I can't f---ing bring up Glenn's name here,'" Morgan told Entertainment Weekly about the going-too-far reference to Glenn's death at the end of Negan's baseball bat. "And I was like, 'Any goodwill that Negan has gotten on his side is going to go out the window the minute I say Glenn.' I tried to nix the line completely."
Morgan argued the line was unnecessary and experimented with different takes, replacing "Glenn" with "your husband" and other substitutions to keep the name out of Negan's mouth.
"But ultimately, it was like, 'Well, let's just try the f---ing Glenn line.' And then, of course, when I saw the cut, I was like, 'Oh, f---ers!' [Laughs] They had to put it in," Morgan said. "But look, I get it. I know why it was there, to elicit the reaction exactly that you and I felt in seeing it."
Here's how Walking Dead viewers reacted to the jaw-dropping exchange:
"To put me down like a dog…like Glenn was."
YOU CROSSED A LINE, NEGAN.#TheWalkingDead pic.twitter.com/SbUA7m69jj
Okay Negan bringing up Glenn like that crossed the line #TheWalkingDead pic.twitter.com/OwV9n8WRg5
I felt our whole fandom stand up and say pic.twitter.com/C6bDJozUK1
Why did you say glenn's name negan? #TheWalkingDead . pic.twitter.com/Zq9OvV3kkA
Everyone in #TWD fandom when Negan said Glenn's name: pic.twitter.com/ompwvW2sr0
My face when negan said Glenn's name: pic.twitter.com/bXHc2GCxaY
I can't believe Negan had the nerve to even say Glenn's name. I'm glad Daryl hit him
Negan throwing Glenn's name into it
Me: #TWD pic.twitter.com/xLxvS2PVJ9
Keep Glenn's name out of your mouth Negan! #TheWalkingDead #twd #TWDWatchParty pic.twitter.com/z62GyC02Rn
negan was making some valid points until he mentioned glenn… the audacity
Negan you did NOT have to mention Glenn though that crossed a major line! #TheWalkingDead #TWDWatchParty
you see i didn't have a big problem with anything negan said until he brought up glenn 😐
Me about to cry: pic.twitter.com/NFNSGVxS7W
Copyright 2021 ComicBook.com. All rights reserved.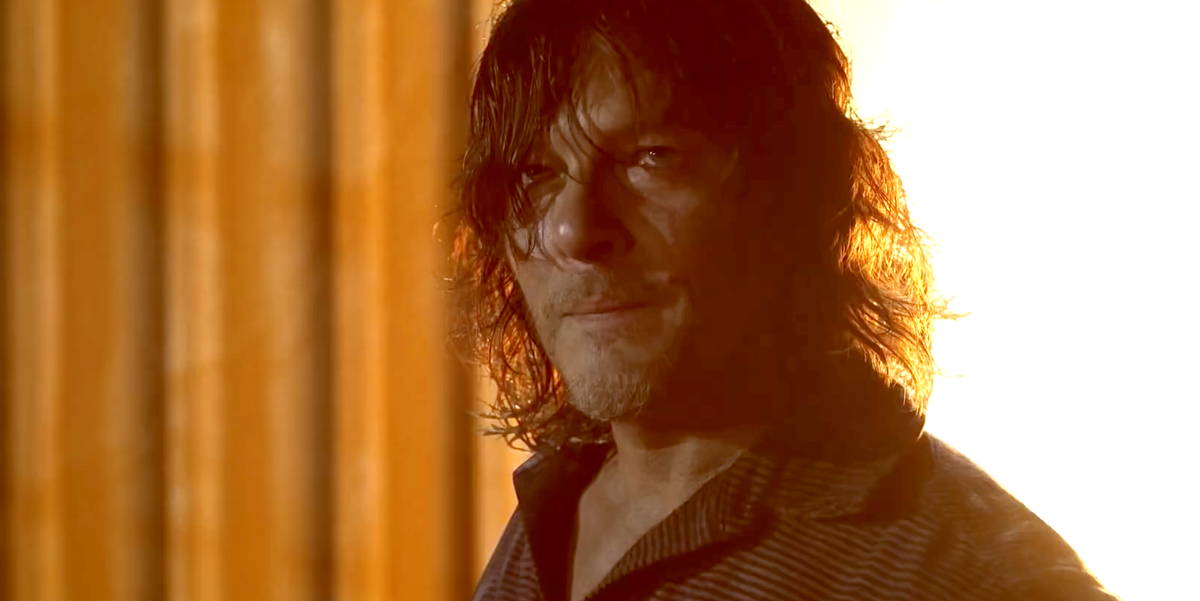 Digital Spy 23 August, 2021 - 04:17am
Not a crossover we'd expect to see.
The Walking Dead and Love Island seem like polar opposites, one is a drama series with a moody, desaturated colour palette where people constantly die and the survivors wonder if this zombie apocalypse world is worth trying to save, while the other is a garishly bright reality show in which people declare they want to spend the rest of their life with someone they met a week ago while a slow cover of 'Boom Boom Pow' plays in the background.
But maybe it's their focus on people and their relationships in isolated scenarios, or the Walking Dead actors needing something light after a hard day filming gritty drama, but Norman Reedus thinks that the two have more in common than we think.
"Don't tell anybody," he said (via TVLine). "I've been watching a lot of Love Island recently. [The show is] sort of a case study in human nature and interaction, and I keep ending up screaming at the TV like, 'He deserves better than her!' and vice versa.
"I think that people sort of look at Daryl and Connie's relationship like that. They think they're good together. It works."
Delving a little deeper into the nature of Daryl and Connie, Reedus said: "There are qualities to her that he genuinely admired. She can take care of herself, and she's unafraid.
"He would go off and do something, and she would be like, 'I'm coming with you,' he'd say, 'No, you're not!' and she'd just say, 'Try and stop me!'. Daryl really liked that kind of chutzpah. So he wants to see where that friendship or whatever you want to call it might go."