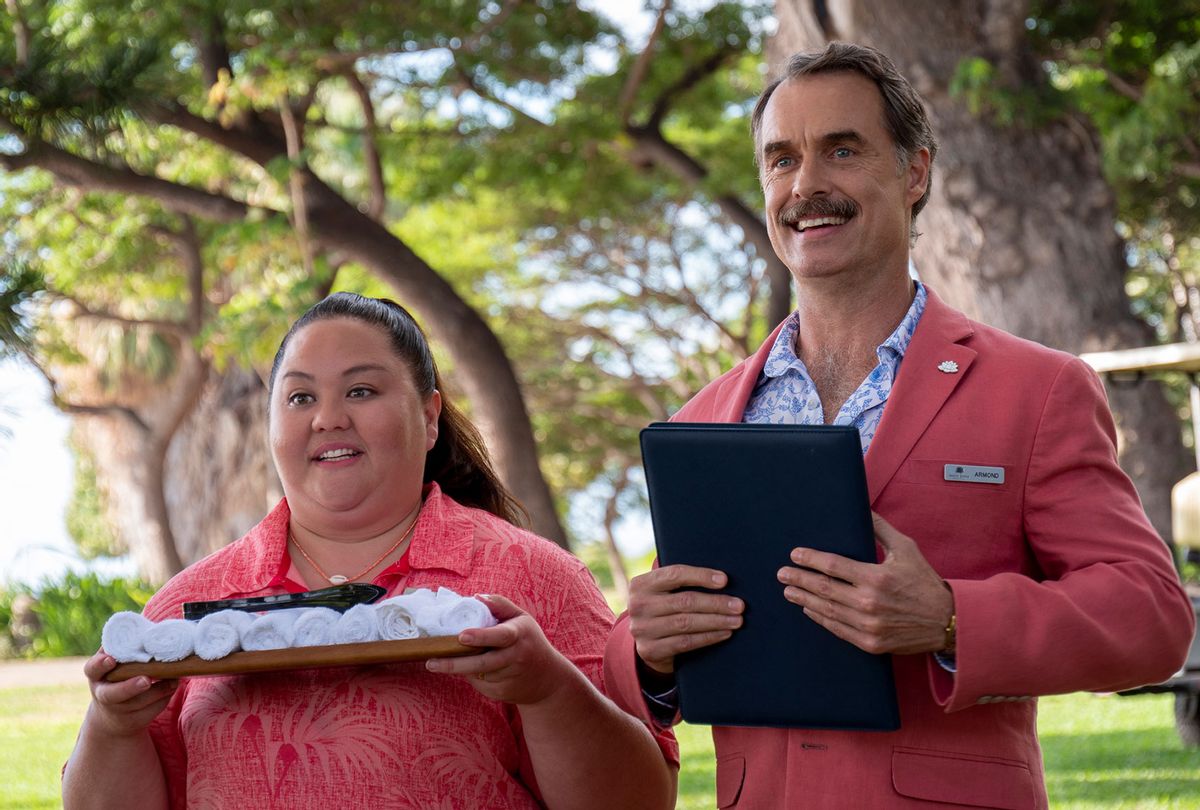 Salon 12 July, 2021 - 01:16am
Dern's character in that show is timeless, and her performance still gets social media shoutouts from time to time all these years later. "Enlightened" was underappreciated in its time, canceled after only two seasons. It's also an acquired taste. Looking back, though, Amy's clumsy, dimwitted efforts to impose her will to self-actualize upon an office that could not care less about its worker drones told us a lot about the ways we were fooling ourselves in 2011.
She was convinced that her life had potential that it didn't, and back then we fooled ourselves into believing the world was better than it actually was.
No such illusions blur our vision in 2021, which informs the entertainingly cruel streak in White's new six-episode HBO limited series "The White Lotus."  This time White trades the joy-deficient corporate world for a tropical Shangri-La where the entitled rich swim with sea turtles and work the last nerves of resort workers whose lot it is to cater to their every whim. Nearly everyone in this series is some version of odious, and the ones who aren't are some version of trapped. That's life on an island for everyone, visitors and residents alike.
The visitors get to leave, which the eponymous Hawaiian resort's manager Armond (Murray Bartlett), takes advantage of by surreptitiously torturing them. But they give as good as they get, which is the larger point. White understands the nuances of class struggle and how manicured paradises have a way of relaxing the unsuspecting into dropping their masks.
He also gets the way that travel and luxury can bring out the worst in people, especially powerful people with time on their hands.  "The White Lotus" derives its tension from reminding us at every turn that nobody is entirely innocent. Certainly not the rich-boy Shane Patton (Jake Lacy) and his meagerly earning journalist wife, Rachel (Alexandra Daddario), honeymooners who almost immediately find reasons to be unhappy and make Armond miserable.
The spat between Bartlett's Armond and Lacy's Shane is a bit more typical in the way it makes the most of Bartlett's prickliness and Lacy's aptitude for portraying frat-bro snobbery. Still, it's extraordinary to witness the actors and White convincingly extend Shane's nitpicky dissatisfaction with his fine suite through most of the series, to the point that he calls in his cheerily affectless mother (a brilliant Molly Shannon) to assist him with flogging the help.
They have that in common with hyper-successful businesswoman Nicole Mossbacher (Connie Britton), a woman who can't cede control of any situation, including the furnishing arrangements in her hotel suite. Nicole's husband Mark (Steve Zahn) despises her slightly less than he fears her, and neither is entirely respected by their children.
But that doesn't make them special, since their awkward, moody teenaged son Quinn (Fred Hechinger) exists at the mercy of their daughter, Olivia (Sydney Sweeney) and her best friend Paula (Brittany O'Grady), a pair of college-age cynics newly indoctrinated into the teachers of Nietzsche and academic analysis of gender relations. They inflict their newfound sense of intellectual superiority on the adults around them, and each other, never letting anyone get the better of them.
Discomfort is the core commodity of "The White Lotus," in case you can't tell; braiding wealth, power and plenty creates a heady narcotic, and the plot is drunk with it. It's almost a relief knowing that somebody is going to die, one of the first reveals in a premiere that drops us in near the end the story before yanking us back to the beginning like the day's fresh catch.
Examining the transactional patterns between guests and staff, and guests of richer guests, allows White to dig into class inequities more effectively than racial dynamics or issues of cultural advantage. This works best in the purchased friendship between spa manager Belinda (Natasha Rothwell) and the lonely, depressed Tanya McQuoid (Jennifer Coolidge), a clingy woman mourning the loss of her mother and grabbing at Belinda as if she were a life preserver.
Belinda is the exception among the staff and other islanders who work at the hotel and call Hawaii home in that we get a sense of her desires of a life beyond serving people who see her worth as proportionate to what they need in any given moment. Beyond her and Desmond we don't learn much about The White Lotus staff, which could have added a bit more humanity to an overall chemistry that can feel hamstrung by its studied view of human behavior.
The Mossbacher mealtime conversations are blasé right-wing blurt fests about cancel culture and other conservative talking points presented as a Darwinian defense of their privilege. The callow meanness of these speeches is the point, but they're also draining.
Regardless of that, White has a talent for gifting each of his characters with some true humanity, even the emotionally cannibalistic ones. Nicole is absolutely awful, but there are times when she peels back the armor to show us where the damage is, why she carries it and how it is necrotizing her marriage, and Britton is one of the rare performers who can nail such vulnerability with dead-eyed accuracy.
Coolidge makes Tanya a wonderful tide of sadness with a dangerous undertow, but she and Belinda are such a marvelously "bad for each other" pair of convenience that it's tough to look away. That's a true accomplishment in an era of HBO defined by shows about horrible rich people.
But next to "The Undoing" and "Big Little Lies," and the crazy, operatic substance of "Succession,"  "The White Lotus" is a destination event, a safe, controlled daytrip into disquiet. Some will love the airy cringe that White purveys here, which intensifies as this series goes deeper into its run. Even if the agita gets to be too much to handle, you can still take relief knowing that like all good vacations, it comes to an end exactly how it should, and when it should.
Melanie McFarland is Salon's TV critic. Follow her on Twitter: @McTelevision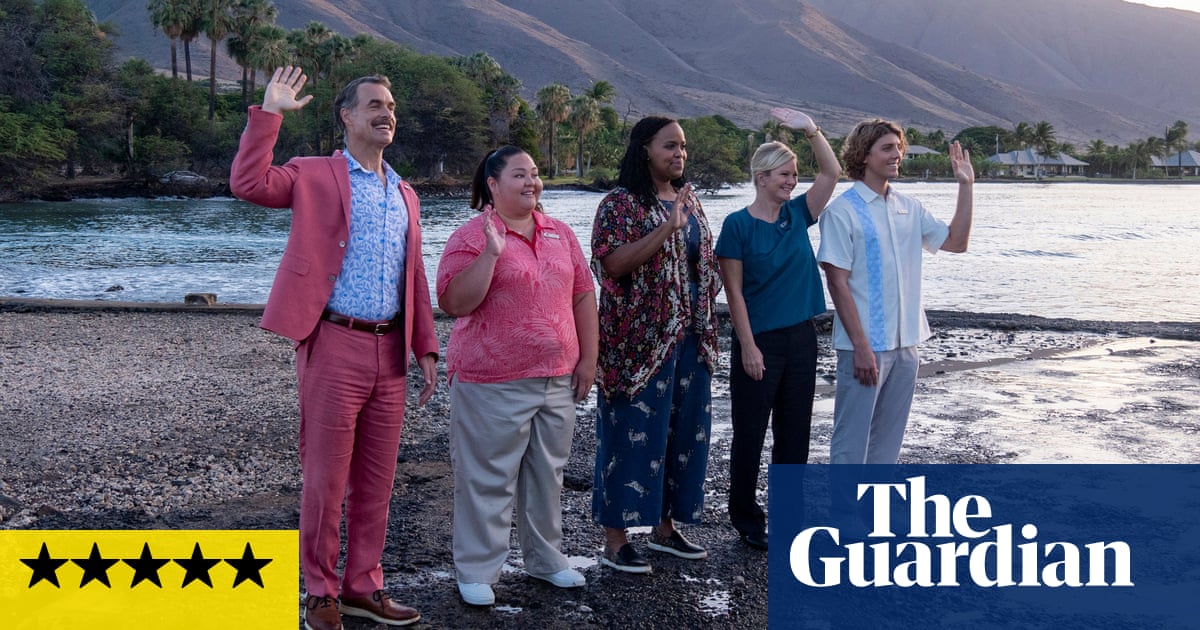 The Guardian 12 July, 2021 - 01:16am
It's a natural companion piece to White's devastating 2017 comedy Beatriz at Dinner, dubbed the first real movie of the Trump era (despite being made before he came to power), which saw Salma Hayek's holistic healer endure a dinner party of obnoxious bourgeois extremity with John Lithgow playing an embodiment of everything that's wrong with moneyed white America. It was a jolt of a movie, especially shocking in its hopeless finale, and White has taken ideas raised there and expanded them for what might well be his magnum opus. His writing has always been uncomfortably incisive but here, his cuts are sharper and deeper than ever before, tackling the impossible – how does one even try to cover Where We're At Right Now in fiction – with remarkable ease, not a foot put wrong, an exceptional achievement arriving at an opportune time.
The season starts with a death or at least the awareness that death is coming. Someone has been killed at The White Lotus resort in Hawaii. We don't know who or why or how but the action then jumps back to the start of the week as we try to figure out the specifics. We join the hotel staff, headed up by perma-grinned Australian Armond (Looking's Murray Bartlett), as they greet the latest guests. Each episode is then an Upstairs Downstairs day in the life, contrasting those waiting tables and rubbing backs with those enjoying such luxuries. There's newlyweds Rachel (Alexandra Daddario), a struggling puff piece journalist, and Shane (Jake Lacy), her Waspy husband, whose honeymoon quickly becomes a fraught discussion about how the gender dynamics of their future will work. There's a well-to-do family headed up by ambitious CEO Nicole Mossbacher (Connie Britton) and her neurotic, less successful husband, Mark (Steve Zahn). They experience division with ultra-woke daughter Olivia (Euphoria's Sydney Sweeney) and her disinterested friend Paula (Brittany O'Grady), both of whom target younger brother Quinn (Fred Hechinger), who's too busy buried in a multitude of screens to care. Then finally there's fragile, lonely Tanya (Jennifer Coolidge), alone on a trip to scatter her mother's ashes, who takes a liking to masseuse Belinda (Natasha Rothwell), who becomes a fast friend and one-sided confidante.
The glaring socio-economic disparity between those who work at a luxury resort and those who can afford to stay provides the set-up with an unavoidable tension and one that no amount of pleasantries can fully disguise. There's a brattish entitlement that many people feel on vacation (Armond refers to the guests as demanding children), especially when so much money is involved, and so a cartoonish sense of us and them takes hold, as if the characters are cosplaying a game of servant and master. The staff are told to embrace vagueness, to not exert any real personality, to be as generic as possible, allowing the guests to use them as and when, guilt-free. But lines are crossed, especially for Tanya, a self-described "alcoholic lunatic" who drives men away. She transforms Belinda from support staff to emotional support animal, something that becomes more troubling because Tanya is white and Belinda is black, speaking to the toxic, age-old Magical Negro trope (everyone is a supporting character to these one-percenters without their own dreams, ambitions and emotions). The guests are accustomed to a self-centered lifestyle where demands are met and real conflict is minimal (the problems they create over the week are embarrassingly minor compared with those experienced by the people serving them) and the vacation brings out their very worst excesses.
It's a genuinely flawless ensemble with surprises (Daddario showing hitherto unseen depths), opportunities (Rothwell, so brash and hysterically funny in Insecure is equally effective dialled down, especially in a gut-punch of a final scene), revelations (Coolidge who is so often given a one-note buffoon to play excels with a more layered character) and subversions (Britton's brand of supportive TV mom is excellently turned into something far darker). There's a finely tuned social choreography among the ensemble, so many scenes slowly, brilliantly playing out for maximum discomfort (a poolside chat between Britton and Daddario is the most remarkably unpleasant thing I've seen all year), each player on their absolute A-game.
The White Lotus isn't insisting itself as a state of the nation satire but White's deft and unforgiving writing manages what so many others have tried and failed to do in the last five years. He's created a deeply funny and bracingly topical piece of art that prods and provokes without preaching. His show says more about class, sex and race because it's not directly about those issues, remembering, vitally, that to send a message, one has to package it well.
It might not be a relaxing vacation but it won't be one you'll forget any time soon.
The White Lotus starts on HBO on 11 July with a UK date to be announced
PRIMETIMER 12 July, 2021 - 01:16am
Any doubt that The White Lotus, the new HBO series from creator Mike White, might lack White's signature sharp edges gets dispelled right away in the series's first scene. Shane Patton (Jake Lacy, using every bit of his varsity quarterback aesthetics to his advantage) is sitting miserably in an airport terminal, waiting to board his flight home from Hawaii and very obviously trying to brush off the "how was your honeymoon?" small talk from the couple across from him, when talk turns to a death at the resort Shane had stayed at... and we see the cardboard box of human remains being loaded on the plane, bound for the mainland. Is there a reason why Shane is looking so unsettled? And where is his wife anyway?
The White Lotus isn't a whodunnit, even if those dark clouds from the opening scene linger in the back of viewers' minds throughout the series. That scene is just an early, tone-setting reminder that the tropical locale and luxurious resort we're about to visit is meant to be off-putting. This comes as no surprise if you're at all familiar with White, the writer and director behind such films as Chuck & Buck, Year of the Dog, and Beatriz at Dinner, as well as the quietly stunning HBO comedy series Enlightened.
Enlightened, which only lasted two perfect seasons, starred Laura Dern as a former corporate ladder-climber who gets fired, has her life fall apart, and is subsequently revived by a philosophical awakening in rehab. Upon her return, Dern's Amy Jellicoe is inspired by her own newfound sense of centeredness, even as the calming mantras she speaks in her inner monologue don't always match the bull-in-a-china-shop nature of her outward behavior. One of the things that made Enlightened so good was that White never gave too much credence to the jargon-y world of self-improvement while at the same time allowing Amy to benefit and grow from the ways it let her visualize her best self, even if that best self was constantly being sabotaged by her actual self.
While self-improvement isn't exactly the goal for many of the characters in The White Lotus, it takes place within the ephemeral gauze of privileged wellness, where a week-long trip to a Hawaiian resort isn't so much a vacation as it is an occasion for replenishment or even just the rewards for being … well, able to afford it. The handful of well-off white people who gather at the White Lotus hotel are all there for different reasons, but they're also there to enjoy their money and the idyllic experiences it affords them.
There are married parents Nicole and Mark Mossbacher (Connie Britton and Steve Zahn), she a girlboss CEO of a social media platform, he currently very concerned that his recently swollen testicles are cancerous. They're traveling with their sullen, screen-obsessed teenage son (Fred Hechinger, recently of The Woman in the Window), their older teenage daughter Olivia (Sydney Sweeney), and her friend Paula (Brittany O'Grady), the two meanest and most (emotionally) scary teenage girls seen on TV screens in quite some time.
There's also the aforementioned Shane, honeymooning with his new wife Rachel (Alexandra Daddario), who married into his family money — his mother is bankrolling this entire honeymoon, something we're frequently reminded of as Shane tries to strongarm the hotel into the upgrades he feels he's owed — and she is increasingly finding her voice (as any career ambitions she might have) shouted down by his assholish nature.
And then there's Tanya, who's traveling solo with the ashes of her recently departed mother, and who's played by Jennifer Coolidge giving the performance of her life as, essentially, Sonja Morgan from The Real Housewives of NYC. Tanya is sad and clearly longing to connect with somebody, which leads her to latch onto the in-house massage therapist, Belinda, played by Insecure's Natasha Rothwell, in ways that are benevolent while also also acutely aware of the power imbalance between them.
Not every staff member's interactions with the guests is quite as complementary. Looking's Murray Bartlett plays Armond, the hospitality manager at the hotel and thus the person bearing the brunt of Shane's bullying attempts to upgrade, not to mention the intrigue that hits when a knapsack full of Olivia and Paula's drugs (prescription and otherwise) turns up lost. Armond frequently finds himself betwixt and between the classes of people at the White Lotus, trying to walk the line between subservience to the resort's wealthy clientele and demanding boss to the rest of the hotel's staff. "You have to treat these people like sensitive children," he says to one employee. "They want to be treated like the only child."
Indeed, the pampered, cloistered existence of the guests is a big part of what makes their interactions with each other and the staff so frequently funny. Nicole is the show's avatar of white feminism, admonishing her daughter not to speak ill of Hillary Clinton in one breath, then later snapping at Rachel when she finds out she wrote an insufficiently fawning profile of her. Mark's cancer scare has him trying to forge a closer relationship with his son, while turning up some surprising revelations about his own family history.
Rachel, the one character who doesn't come from money, is naturally the one most conscious of its effects on her marriage. But it's Coolidge's Tanya who shines the brightest as the show's comedic highlight. She's an actress who has perfected the art of oblivious absurdity in films like Best in Show and Legally Blonde, and The White Lotus gives her the kind of room she's rarely afforded to make a character both screamingly ludicrous while at the same time achingly human.
That's part of Mike White's gift, too. His ability to find both contemptible weakness and deep reserves of humanity in unlikely characters and situations comes up again and again in his work. Enlightened feels like a good touchstone for The White Lotus's tricky mix of dramatic and comedic tones, as does Beatriz at Dinner, his film in which Salma Hayek played a massage therapist who gets stuck at a dinner party thrown by one of her wealthy white clients, ultimately leading to social discomfort that, more than anything, touches on the toxicity of wealthy white people. Connie Britton played Hayek's employer in that film, making her a kind of white-lady avatar for White.
If you're a fan of Mike White's brand of well-observed, interpersonally prickly study of characters who are both tough to love and yet impossible to easily brush aside, you'll slide right into the rhythms of The White Lotus. It's tough to predict how people unfamiliar with Mike White's work will respond. The fact that there is ostensibly a murder mystery element might spur some kind of fervent chatter over who, in fact, dunnit, but if Mare of Easttown was a kind of sugar-coated pill that allowed audiences to play couch sleuths to a crime serial while HBO secretly fed them a richly drawn character drama, The White Lotus is even less concerned with the mystery it teases at its outset. For many that will be just fine, perfectly satisfied as they are in luxuriating in these obliviously disastrous creatures on holiday. For everyone else, maybe take this as your opportunity to catch a vibe and let it lead your spirit down a path through some films and TV you've missed along the way.
People are talking about The White Lotus in our forums. Join the conversation.
TOPICS: The White Lotus, HBO, Alexandra Daddario, Connie Britton, Jake Lacy, Jennifer Coolidge, Mike White, Murray Bartlett, Steve Zahn
Copyright © 2021 Snugglefish Media. All rights reserved.
UPROXX 12 July, 2021 - 01:16am
"Surreal" is one way to describe HBO's The White Lotus, the new limited series created, written, and directed by Mike White (Enlightenment, School of Rock), which happens to organize itself around the lavish getaways of the One Percent while the hotel staffers serve their every whim. That means that this brand of clientele is fairly insufferable and incredibly spoiled and, somehow, mostly miserable, whether they acknowledge it to themselves, or not; and they're not psyched (as I was) to order French toast from the wonderful brunch waiter whose name popped up in almost every online review of their hotel. Instead, these people often have a (ridiculous) ax to grind while the action almost exclusively goes down at an eponymous, impossibly posh Hawaiian resort. Oh boy, does Mike White enjoys positioning them over a slow-burning flame while they cannot escape themselves while descending into inexplicable misery. This may not sound like fun to watch, but White's assembled vacationers are brutally awful in many ways.
The series (quite delightfully) skewers the ultra-wealthy in what turns out to be a riveting satire (both sprawling in its breadth and self-contained in its brevity) on how obscene wealth rots everything that it touches. The approach is one that Succession fans will surely enjoy, and while the setup feels like The Love Boat or Fantasy Island had a lovechild with Agatha Christie (there is a murder), rest assured that these absurdly wealthy subjects nail themselves into their own virtual coffins. In The White Lotus, it's as if the surreal surroundings, the escape from reality, is what exposes these guests' real selves. It's like a refined Lord of the Flies meets Mean Girls, if the meanest of girls was a tantrum-y Jake Lacy as Shane, who we meet at the beginning of the series. He's an overgrown, trust-fund brat and a honeymooner whose wife clearly did not think this marriage through. Rest assured, you will enjoy plenty of Alexandra Daddario as Rachel throughout the season, but Shane? He's a piece of work.
Right from the start with Shane, we realize that something's not right, which leads to the tee-up of the murder-mystery subplot. Yet White pulls the rug out from under his audience (as he's known to do) because murder's not actually the main course in this series, although it sure feels delicious to speculate on who met their early demise (and whodunnit) during this week-in-the-life season. We receive a tapestry of interwoven stories of these well-to-doers, which include not only Shane but also the Massbacher family, which includes Mark (Steve Zahn), who's clearly nursing an inferiority complex in the face of his wife, Nicole (Connie Britton), who's all business, even with her family. Their college-aged daughter, Olivia (Sydney Sweeney) has a tagalong friend, Paula (Brittany O'Brady), and they're a real hoot of a pair, judging the adults with little mercy, even as they don't seem to have a problem participating in the monetary debauchery.
Recurring appearances by Lukas Gage and Molly Shannon do draw focus, but there are two real stars here:
1. Murray Bartlett: He portrays Armond, the resort manager/presiding master of ceremonies, who sees and hears and knows and observes everything. He is the soul of the show, and I'm here to tell you that this is one conflicted and questionable soul. Bartlett easily straddles a wide spectrum to embrace this role, that of a wheeler and dealer, and a person of marginalized status, who must grit his inner teeth and serve the ultrarich despite hating their behavior as much as anyone else. He's the person who inherently, for better or worse, understands those who visit the White Lotus, much more than they understand themselves. You'll root for Murray while, quite possibly, strongly disliking him at times. Long and rambling pieces could one day be written about this character and his intimate knowledge of how power and money corrupt.
2. Jennifer Coolidge: She effortlessly steps into the role of Tanya, and goddamn, I'm not sure why she hasn't received more recognition for being a great character actress whose list of credits does not stop. I've adored her since Legally Blonde, and despite entering the series as a boozy, utter mess, we soon learn that she's attempting to gain closure from a tragedy. Coolidge gives a deeply funny performance that's also heartbreaking at times. In short, she's the woman who one you'd never want to be trapped with on a boat, yet her performance is nothing short of magnetic.
That, in a nutshell, is also how I feel about The White Lotus. It's full of characters that one would never choose to spend time with, yet as a whole, the story presents a fascinating spectacle. The series is deeply funny and occasionally disturbing while managing to simultaneously repel and enrapture viewers. It's also possible, strangely enough, to both love and hate this show at the same time and during different moments, but once you're through the second episode or so, the show's quite difficult to cease watching. You'll be glad to have checked into this weird-ass series. It's a trip.