roger bennett
rogbennett
Huge love for Jason Sudeikis's sweatshirt at tonight's Ted Lasso Season 2 Premier. Shows that like his character, he truly understands that football in his heart, is all about human goodness 🙌 pic.twitter.com/Ye2Tl30WW8

Marcus Rashford MBE
MarcusRashford
Planet Fútbol
si_soccer
Jason Sudeikis at the @TedLasso Season 2 premiere shows some love for @England's Jadon Sancho, Marcus Rashford and Bukayo Saka—the three players targeted with racial abuse after missing PKs in the Euro final ❤️ pic.twitter.com/oTzzEH8D35
Mike Ryan
mikeryan
A few years ago after my dad died I was in a pretty bad place. Out of nowhere Jason Sudeikis sent me an email I REALLY needed . I've never shared it before (he said it was okay to do) but I just want people to know he did this. He really is Ted Lasso bit.ly/3icrhxf
Temple revealed to Entertainment Tonight that Sudeikis' girlfriend had been the muse for aspects of Keeley Jones: "She is a [friend] of Jason's that inspired some of Keeley's character..She was an inspiration for the part."
This could all, of course, be absolutely nothing and Sudeikis has simply always found Hazell to be a highly inspiring person about whom he might like to write a TV show character. Or perhaps the Ted Lasso writers room is full of Hazell's exes and we don't know it. Either way, we'll certainly be looking at Temple's character differently in season 2 now that we know how it came about.
Launch Gallery: These Celebrity Couples Famously Broke Up & Got Back Together
"This song has taken me through so many roads and it has taken me on an adventure," Shakira said of her new single
After Jake Paul previously said he will be sending his $100,000 'Sleepy McGregor' chain to Dustin Poirier at the promotional press conference for his boxing match with Tyron Woodley, 'The Diamond' officially received the gift. While Paul did not get his wish of Poirier actually wearing it, he still posted a picture with it and announced the proceeds of the auction for the piece of jewelry will be going towards his charity, The Good Fight Foundation. Got the sleepy mac chain today from @jakepaul
The planets say it absolutely wouldn't be a surprise.
A woman on Twitter opened up a conversation after sharing how Fenty X Savage had hired a model with limb differences.
"She's one of the most extraordinary women I have ever encountered in my life," Juno Temple said of her costar Hannah Waddingham
"Irina is so upset at the lies about her and Kanye [cooling off]," a source tells PEOPLE about the couple
If you've been through — or are going through — in vitro fertilization (IVF), you know the egg retrieval process can be a long and rough road. It's not generally thought of as the point at which you want to throw on a bikini and walk a Sports Illustrated runway, but that's exactly what Katrina Scott […]
Pence debuted the line at a speech in New Hampshire to a standing ovation, repeating it again in Iowa Thursday night. Both are key primary states.
Saundra Kiczenski, 56, from Michigan, told WSJ reporter Michael Bender that she was "confident" that Trump won the 2020 election.
Nearly a quarter of Asian Americans accepted to elite colleges would no longer qualify if their acceptances were based on tests alone, according to a new report from the Georgetown University Center on Education and the Workforce (CEW). Key findings: The study, which ran statistical simulations of admissions decisions, found "no strong evidence" of discrimination against Asian Americans in 91 of the country's most selective colleges and universities. While Asian American enrollment in these institutions has remained stagnant over the past decade, the proportion of Asian American students who received high test scores has also remained "remarkably consistent."
"I certainly was NOT the one who said Tony would have been cool with that," Ottavia Busia said of the film director's statements.
We spoke to LeBron James on the red carpet at the "Space Jam: A New Legacy" premiere, where he opened up about his love for his wife Savannah and how all Black women have his support!
A jury awarded Marlo Spaeth, a former Walmart employee with Down syndrome, $125 million after Walmart fired her after scheduling issues.
Though he made progress, Jusuf Nurkic said a law in the United States stopped him from actually sending vaccines out of the country.
"Have someone I would love you to meet," Ant Anstead wrote, appearing to reference Zellweger, whom he began dating in June
Biz Markie, a hip-hop staple known for his beatboxing prowess, turntable mastery and the 1989 classic "Just a Friend," has died. Markie's representative, Jenni Izumi, said the rapper-DJ died peacefully Friday evening with his wife by his side. Markie, who birth name was Marcel Theo Hall, became known within the rap genre realm as the self-proclaimed "Clown Prince of Hip-Hop" for lighthearted lyrics and a humorous nature.
The 39-year-old model and mom of three encouraged body positivity in a heartfelt message to fans
NBA star Kevin Love has withdrawn from the U.S. men's Olympic basketball team, saying he's not at his "absolute peak performance" following a calf injury, ESPN reported Friday. Why it matters: It's the latest blow to USA Basketball, which announced Thursday that Bradley Beal will miss the Tokyo Games after being placed under coronavirus health and safety protocols. Stay on top of the latest market trends and economic insights with Axios Markets. Subscribe for freeJerami Grant has also been put u
A California film producer was arrested on Thursday on charges that he used his production company, PaperChase Films, as a front for an international prostitution ring. Dillon Jordan, who produced "Skin" and "The Kindergarten Teacher," was indicted last month on prostitution and money laundering charges. The indictment was unsealed on Thursday. The charges allege that […]
Read full article at SheKnows
Access 16 July, 2021 - 08:10pm
WXYZ-TV Detroit | Channel 7 16 July, 2021 - 08:10pm
extratv 16 July, 2021 - 08:10pm
People 16 July, 2021 - 08:10pm
Apple TV 16 July, 2021 - 08:10pm
E! Online 16 July, 2021 - 08:10pm
Your source for entertainment news, celebrities, celeb news, and ​celebrity gossip. Check out the hottest fashion, photos, movies and TV shows!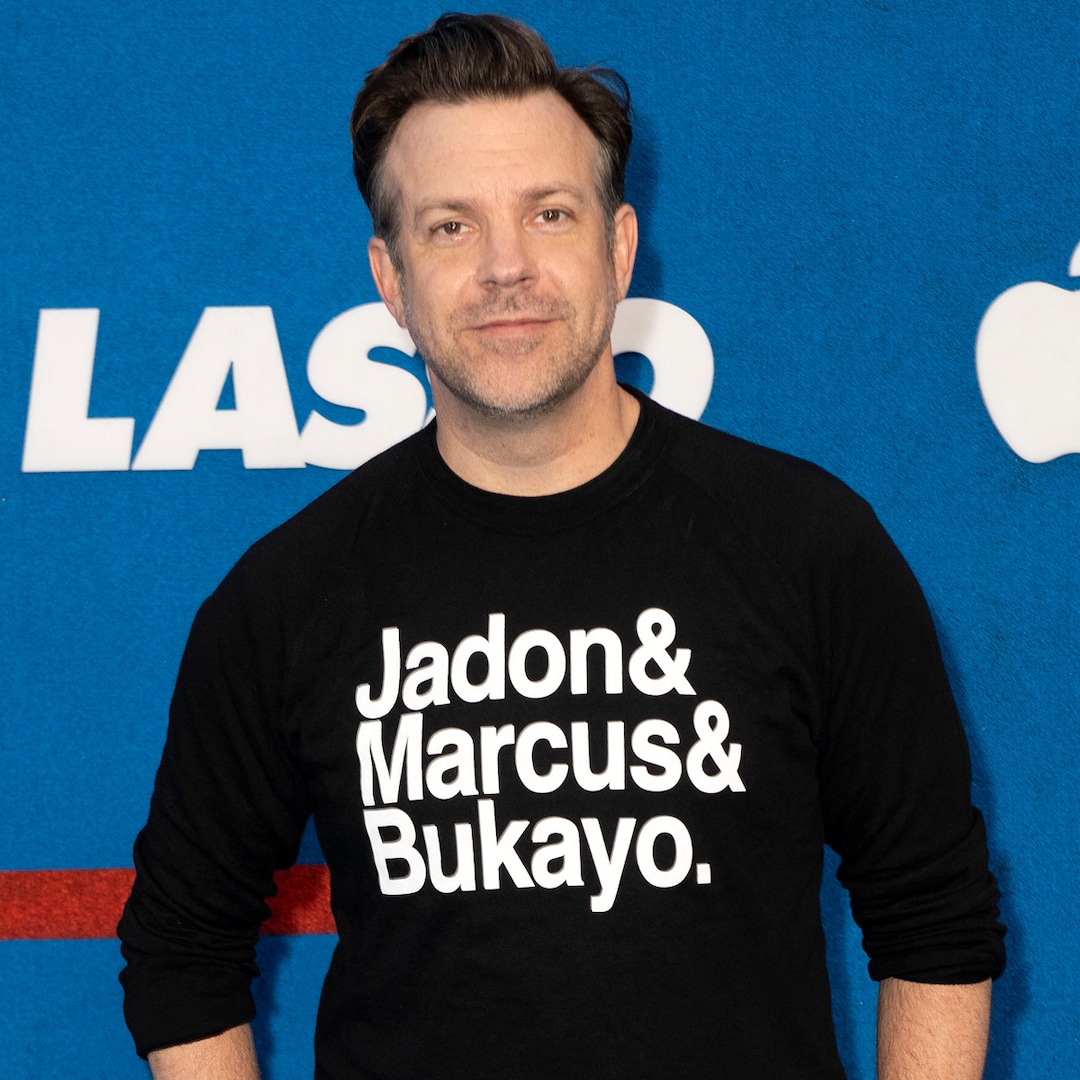 E! Online 16 July, 2021 - 02:12pm
The Ted Lasso star's mother Kathryn Sudeikis stole the show at the season two premiere on July 16 by spilling a bit of tea about her son. E! News' Daily Pop co-host Justin Sylvester bonded with the Kansas native on the red carpet while celebrating the return of the hit AppleTV+ series that landed an impressive 20 Emmy nominations. 
"People ask all the time if he was the class clown," Kathryn joked. "No, no, no, he was Ferris Bueller. He got out of everything. He's got a book of excuses that he passed down to his son now." 
Seems like his wily ways have paid off! But the award-winning star still doesn't think he really quite fits into Hollywood. "I'm not that good of an actor to be like Meryl [Streep]," he quipped on the red carpet to E! in response to his many nominations.
In fact, Sudeikis claimed he's not even the most famous celebrity Jason, listing off Jason Bateman, Jason Segal and Jason Statham. "All of us fall in second and further place from Jason from the Friday the 13th movies," Sudeikis deadpanned. "That man evokes fear. We assume he's a man behind that mask. He's the number one Jason."
Sudeikis' first name really is Daniel, after his father, so is he even in the official battle of the Jasons anyway? 
All of the Sudeikis family Daniels reunited for a massive family reunion in 2021. And yes, that's where the iconic tie dye hoodie that Sudeikis wore to the virtual 2021 Golden Globes came from. "The hoodie was a gift to all 74 of our immediate relatives for the family reunion as a present," Kathryn explained. "It had a big meaning to it. It says on the back, 'especially created for Nana-palooza 2021.'" 
For Sudeikis, wearing the sweatshirt to an awards show was a no-brainer...literally. "It was 2:30, 3:30 in the morning where I was," he revealed. "It was more comfortable. Believe it or not, I don't put a tremendous amount of pre-thought into it." 
Watch the adorable interview above to hear more about Sudeikis' headline-making style choices!
Your source for entertainment news, celebrities, celeb news, and ​celebrity gossip. Check out the hottest fashion, photos, movies and TV shows!
The A.V. Club 16 July, 2021 - 10:08am
No, we're not crying, you are.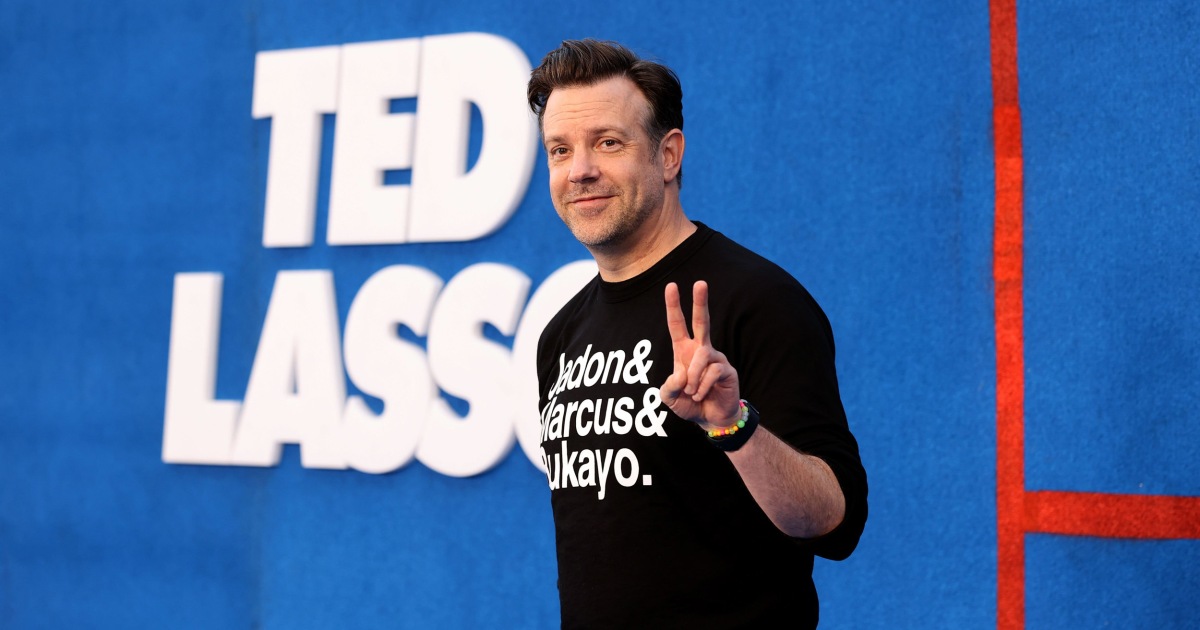 NBC News 16 July, 2021 - 09:04am
The three players — Bukayo Saka, Marcus Rashford and Jadon Sancho — were hit by a wave of racist harassment after they missed their penalty kicks for England in the Euro 2020 soccer final on Sunday. The flood of offensive comments drew international attention.
Sudeikis, posing for photos Thursday at an event celebrating the upcoming second season of "Ted Lasso," wore a sweatshirt that said "Saka & Sancho & Rashford" in bold white lettering.
"It's just in support of the three fellas from the English team in the Euro final. They've caught a lot of unnecessary guff from unnecessary people," Sudeikis told the Associated Press. "I'm just giving them a holler, letting them know that even over here in the States we have our own issues with what they're going through and let them know that they're not alone."
Roger Bennett, co-host of the NBC show and podcast "Men in Blazers," expressed his admiration for Sudeikis in a tweet.
"Huge love for Jason Sudeikis's sweatshirt at tonight's Ted Lasso Season 2 Premier," Bennett tweeted. "Shows that like his character, he truly understands that football in his heart, is all about human goodness."
Saka, Rashford and Sancho have received an outpouring of support from fellow players, sports fans and English schoolchildren in recent days. In the city of Manchester, a mural of Rashford was defaced but then quickly covered in paper hearts and affectionate letters to the player.
In a message on Twitter, Rashford apologized for missing his penalty kick, but insisted he "will never apologize for who I am and where I come from."
Sudeikis, who co-created "Ted Lasso," stars on the Apple TV+ comedy as a happy-go-lucky American football coach recruited to coach an English Premier League soccer team. The actor earned an Emmy nomination for his performance this week — one of 20 nods for the show.
The first season of the series, a sleeper hit during the Covid-19 pandemic, follows the title character as he wins over the team's players and owner with his relentlessly upbeat attitude.
The second season debuts July 23.