From a drafting standpoint, the Seattle Kraken selections were relatively weak. Some analysts are gassing the Kraken as they enter their first NHL season, feeding the idea that they could be a playoff team.
As it stands before trades, that's not happening. You ought to have more faith in the Philadelphia Flyers making the playoffs. All the Flyers did was trade for Ryan Ellis, which puts them in a better position considering they didn't sacrifice scoring.
Philadelphia is sitting in the cheap seats, underwhelmed by Seattle's plan to draft Carsen Twarynski.
Chuck Fletcher exposed heavy contracts in an attempt to create cap space at the expense of the Kraken. Not a bad strategy before the 2021 NHL Expansion Draft. By design, Fletcher has had a successful offseason in the early stages. Unfortunately, Ron Francis used the Flyers as a pit stop for a prospect. The Flyers have ~$9.3mil in cap space before extending Travis Sanheim, Carter Hart, and signing a backup goaltender.
Oh, and that Vladimir Tarasenko deal didn't take place. Fletcher will likely find a way to move Jakub Voracek this offseason, but it won't be on the day of the 2021 NHL Expansion Draft. If he does, then the salary cap is wide open. If he doesn't, Philadelphia shouldn't panic ahead of 2021-2022.
Carsen Twarynski is a physical fourth-line player when a typical starter scratches from the lineup. He's never been a routine bottom-six winger with the Philadelphia Flyers. It was anti-climatic when he was the selection because he's a cusp AHL player. James van Riemsdyk, an elite powerplay scorer last season, was available but passed by Ron Francis.
Is there a fascination for Twarynski? The Seattle Kraken wanted to play tight to the salary cap minimum, but they sacrificed many notable exposed players. Even the Vegas Golden Knights took Pierre-Edouard Bellemare, who fit as a legitimate bottom-six in 2017.
Dave Hakstol loves to develop young players, but the Kraken should also show urgency to compete out of the gate. It sure looks like the abundance of defensemen Seattle poached could be assets to attract forwards from other franchises.
Maybe Chuck Fletcher could dangle Jakub Voracek or James van Riemsdyk in a package for a second-pair defenseman. Hakstol certainly likes Voracek. He played well under Hakstol during his time with the Flyers. It hasn't changed that van Riemsdyk was the most valuable option for the Kraken. There are negotiations to be made.
Twarynski never played under Hakstol, so there's an indication he may not be the final answer for Seattle concerning Philadelphia.
With ~$9.3mil available, they're not in an awful position. Of course, the Philadelphia Flyers would have appreciated the cap space alleviation of accepting a loss on James van Riemsdyk or Jakub Voracek. Now, those two who tied the team lead in scoring last season are still with the Flyers following the addition of Ryan Ellis.
The team didn't lose firepower, and the defense received an upgrade.
Around ~$3.3mil should be available after extensions to Travis Sanheim and Carter Hart. Brian Elliott could return for another season on a cheap contract.
If Chuck Fletcher wants to spend the remaining budget on a backup goaltender, there are options available. Alleviating cap space via trade still sounds like a plan. Could the Buffalo Sabres turn into a trade partner for Linus Ullmark? That's one goaltender Philadelphia can afford to tandem with Hart.
Maybe Fletcher stays within the system to fulfill that need. In a direct comparison between the Seattle Kraken and the Flyers, one team looks like they're on the path to the postseason. Unfortunately, the Kraken doesn't seem to have the luster the Vegas Golden Knights did upon arrival. That could change. Until it does, Philadelphia will be fine without Carsen Twarynski.
Read full article at Broad Street Hockey
The Philadelphia Inquirer 22 July, 2021 - 12:01pm
Now he will get a chance to be a regular with Seattle, the newest NHL team.
The Kraken surprisingly took the hard-nosed left winger in Wednesday night's expansion draft.
Earlier in the day, Twarynski, 23, a restricted free agent, was asked about reports that Seattle was going to select him.
"Nothing is official until tonight," he said.
It became official at 8:45 p.m.
The Flyers can afford to lose Twarynski, an Alberta native who has played briefly with the NHL team in each of the last two seasons; they did not want to lose right-handed defenseman Justin Braun, a veteran who is expected to stabilize the third pairing, which could also include Shayne Gostisbehere or Cam York.
They were hoping to lose a player with an expensive cap hit.
Seattle, which had 30 selections overall, one from each team except Vegas, bypassed three talented Flyers with high cap hits: Gostisbehere ($4.5 million annually for the next two years), right winger Jake Voracek ($8.25 million annually for the next three years), and left winger James van Riemsdyk, who has an annual cap hit of $7 million for the next two years.
Voracek, van Riemsdyk, and Claude Giroux led the Flyers with 43 points apiece last season.
Twarynski, selected by the Flyers in the third round of the 2016 draft, was pointless in seven games with the club last season. He has played 22 career games with the Flyers, notching a goal, no assists, and a minus-5 rating.
In 107 career games with the AHL's Phantoms, Twarynski had 18 goals.
Dave Hakstol's Kraken bypassed a chance to take several marquee players, including goalie Carey Price from Montreal, centers Matt Duchene or Ryan Johansen from Nashville, and left winger Vladimir Tarasenko from St. Louis. All have huge contracts.
There had been rumors that the Kraken would take Tarasenko, who has had three shoulder surgeries over the last three years, and deal him to the Flyers for Voracek and a high draft pick.
The Kraken took right-handed defenseman Adam Larsson from Edmonton and signed the unrestricted free agent to a four-year deal with an annual cap hit of $4 million.
Larsson would have been a perfect fit on the Flyers' second pairing, alongside Travis Sanheim.
Seattle's defense will also include Mark Giordano (Calgary); Jamie Oleksiak (Dallas); Vince Dunn (St. Louis); Carson Soucy (Minnesota); Haydn Fleury (Anaheim); Jeremy Lauzon (Boston); William Borgen (Buffalo); Gavin Bayreuther (Columbus); Kurtis MacDermid (Los Angeles); Cale Fleury (Montreal; Haydn's brother); and Dennis Cholowski (Detroit)..
Among the forwards headed to Seattle are Tampa Bay's Yanni Gourde (17 goals last season for the champs); the Islanders' Jordan Eberle (16 goals last season); Arizona's Tyler Pitlick, a former Flyer; Carolina's Morgan Geekie; Chicago's John Quenneville; Colorado's Joonas Donskoi; New Jersey's Nathan Bastian; Nashville's Calle Jarnkrok; San Jose's Alexander True; Toronto's Jared McCann; Vancouver's Kole Lind; the New York Rangers' Colin Blackwell; and Winnipeg's Mason Appleton.
It appears the Kraken did much better on the defensive side than up front. They also look solid with goaltenders Chris Driedger (2.09 GAA, .929 save percentage in 38 career games) of Florida and Washington's Vitek Vanecek (2.69, .908 in 38 games).
The Flyers protected 11 players and, surprisingly, exposed the high-scoring van Riemsdyk instead of fourth-liner Nic-Aube Kubel. They believed the potential of losing van Riemsdyk's cap hit was more valuable than his scoring.
The Flyers are not in a good cap situation, and, in a way, wanted van Riemsdyk, Voracek or Gostisbehere to be selected by the Kraken. Assuming York, Wade Allison and Morgan Frost make the team, the Flyers have $74.8 million of their $81.5 million (maximum) committed to 20 players. That leaves them with just $6.7 million in cap space, and they still must sign restricted free agents Carter Hart, Sanheim, and a backup goalie.
Yes, things are going to get tight unless general manager Chuck Fletcher makes some creative moves.
In the 2017 expansion draft, Vegas took Pierre-Edouard Bellemare from the Flyers, and the fourth-line center and penalty killer helped the Golden Knights stun the hockey world by reaching the Stanley Cup Final in their first season. Vegas lost to Washington, four games to one, in the 2018 Final.
After Wednesday's expansion draft, the Flyers and the rest of the NHL will turn their attention toward the draft, which will be held Friday (Round 1) and Saturday (Rounds 2-7).
The Flyers have seven picks in the draft, including the 13th overall selection Friday. Fletcher has been dangling the pick in trade talks with other teams.
Broad Street Hockey 22 July, 2021 - 12:01pm
The picks are leaking and Philadelphia is losing a depth dude instead of a big man.
With the official list of the picks submitted at 10:00 a.m. ET, the Kraken's selections have been slowly oozing out into the public minute by minute. And according to Frank Seravelli of Daily Faceoff, the Flyers selection is weird.
Instead of selecting the unprotected options such as Jakub Voracek, James van Riemsdyk, or Shayne Gostisbehere, Seattle is opting for the younger, cheaper option and avoiding any sizeable contract whatsoever.
Compared to the multi-million dollar cap hits of that exposed trio, Twarynski is currently a restricted free agent and will need a new deal (that is projected to be extremely cheap). Whether or not Seattle really likes what the 23-year-old can bring to their lineup is questionable, but with head coach Dave Hakstol at the reins, you can expect some reunions happening.
The Athletic 22 July, 2021 - 12:01pm
Flyers miss out on a chance to clear crucial cap space as Kraken select Carsen Twarynski in expansion draft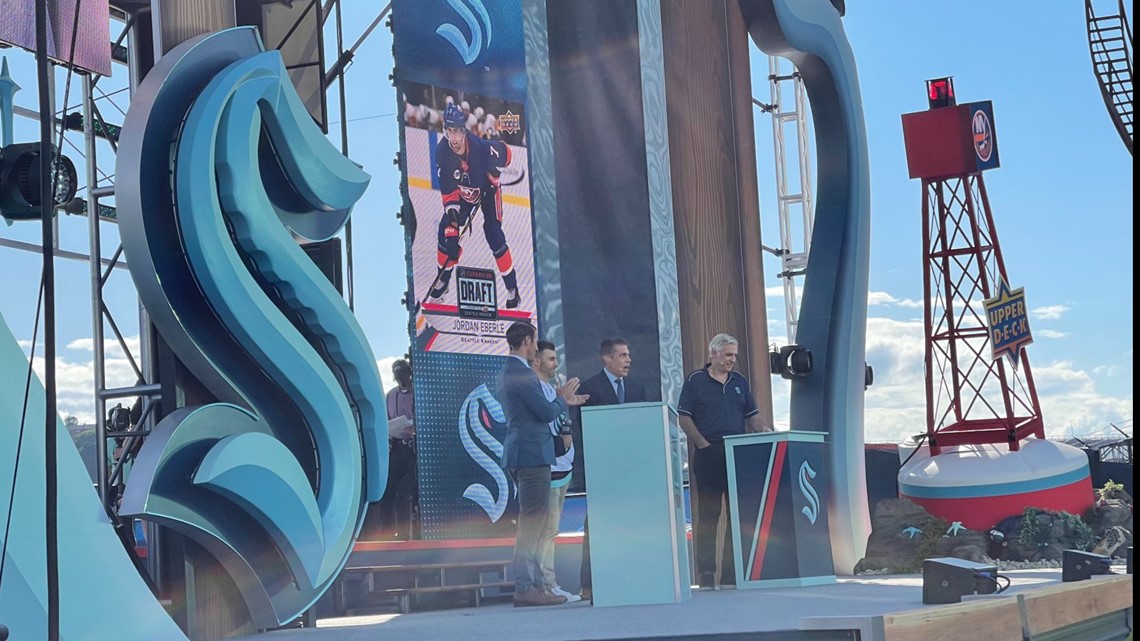 FOX43.com 22 July, 2021 - 12:01pm
SEATTLE — The Seattle Kraken have selected players from the Philadelphia Flyers and Pittsburgh Penguins as apart of the 2021 NHL Expansion Draft.
Seattle selected forward Carsen Twarynski from the Philadelphia Flyers.
Twarynski, 23, was drafted with the 82nd overall pick in the 2016 Draft by Philadelphia.
He has suited up in 22 NHL games, only recording a single point.
From the Pittsburgh Penguins, the Kraken selected forward Brandon Tanev.
In 2019, Tanev, now 29, signed a six-year deal with Pittsburgh, and has suited up in 100 games with the club.
He recorded 18 goals and 23 assists in his time with the team, and can now be controlled by the Kraken through the 2024-2025 season.
The newly formed Kraken selected one player from the unprotected list of each NHL team to form their roster.
You can check out their full list of picks here.
Notifications can be turned off anytime in the browser settings.
The Athletic 22 July, 2021 - 11:00am
Flyers draft guide: Trade strategy, 10 targets at No. 14, and how to best fill holes in the prospect pipeline
NHL.com 22 July, 2021 - 08:15am
The Philadelphia Flyers have lost 23-year-old left wing Carsen Twarynski to the Seattle Kraken in the 2021 National Hockey League Expansion Draft. Selected by the Flyers in the third round (82nd overall) of the 2016 NHL Entry Draft, Twarynski played 16 NHL games for the Flyers in 2019-20 and 2020-21, along with 107 American Hockey League matches with the Lehigh Valley Phantoms.
Philadelphiaflyers.com is the official Web site of the Philadelphia Flyers. Philadelphia Flyers and philadelphiaflyers.com are trademarks of Philadelphia Flyers, L.P. NHL, the NHL Shield, the word mark and image of the Stanley Cup and NHL Conference logos are registered trademarks of the National Hockey League. All NHL logos and marks and NHL team logos and marks as well as all other proprietary materials depicted herein are the property of the NHL and the respective NHL teams and may not be reproduced without the prior written consent of NHL Enterprises, L.P. Copyright © 1999-2020 Philadelphia Flyers, L.P. and the National Hockey League. All Rights Reserved.