Sean Fennessey
SeanFennessey
It's harder than ever to compel someone to go to a movie theater for a new release, especially a documentary that is also available to see on a streaming service, but Todd Haynes' THE VELVET UNDERGROUND doc is gorgeous, dynamic, and worthy of the big screen. pic.twitter.com/xC00m97sWj
Matthew Zeitlin
MattZeitlin
the virgin the beatles get back directed by peter jackson vs the chad the velvet underground directed by todd haynes
Çetin Cem Yılmaz
cetincem
One more sleep before Todd Haynes' Velvet Underground documentary but I don't see enough excitement here pic.twitter.com/JhOvp69e0Q
John Cale
therealjohncale
Todd Haynes' new film takes us deep into The Velvet Underground www.npr.org/2021/10/14/1045716558/todd-haynes-new-film-takes-us-deep-into-the-velvet-underground?utm_campaign=storyshare&utm_source=twitter.com&utm_medium=social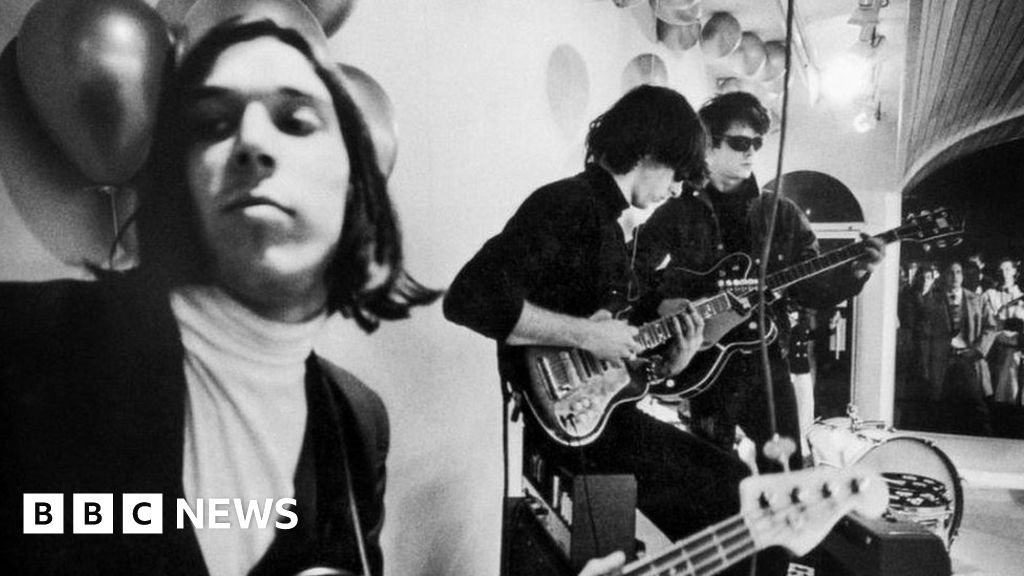 The saying summarises the profound influence of The Velvet Underground, which included songwriter Lou Reed, guitarist Sterling Morrison, Welsh musician John Cale and drummer Moe Tucker. Along with German singer Nico, they are credited with inspiring generations of other artists, from David Bowie to Nirvana, Arctic Monkeys and U2.
Now Todd Haynes, the director of Oscar-nominated films including Carol and I'm Not There (about the life of Bob Dylan) has made a documentary about the music of the 1960s New York-based group.
Often shown in split screen, the film focuses heavily on the band's sound - their musical experimentation, their provocative lyrics - and how they were influenced by avant-garde cinema and contemporary art.
But although pop artist Andy Warhol was their manager and patron, Haynes agrees the band didn't win commercial success or critical acclaim at the time.
"They didn't sell records then," he agrees.
"I think we've learned though to re-evaluate the value of art outside of market success. Often the thing that was lost in the shadows has the most endurance, and the thing that shone brightest and made the most money loses its meaning over time. I don't think you'll get a stronger example of that in rock 'n' roll than The Velvet Underground."
The Velvet Underground isn't the only recent film made by an influential director about a band, or bands, from that era. Earlier in 2021, British film-maker Edgar Wright released The Sparks Brothers, looking at the musical legacy of Sparks, formed by two brothers, Ron and Russell Mael, at the start of the 1970s.
Summer of Soul, directed by musician Questlove, showcases an extraordinary 1969 concert in Harlem, New York, featuring black superstars including Stevie Wonder, Sly and the Family Stone and Nina Simone, and was released by streamer Disney+.
Oscar-winner Peter Jackson is poised to release a three-part documentary about The Beatles, titled Get Back, on the same platform, based on the making of their 1970 album, Let It Be. In addition, Becoming Led Zeppelin, which focuses on the musical history and influences that led the group to form in 1968, premiered at the Venice Film Festival last month.
The eagerness of these celebrated directors to document the music of that time might be partly explained by their age - they were born in the 60s or early 70s.
"There's no question that the 60s was a decade with such an intense vitality and energy to challenge conventions and feel new possibilities in the air," says Haynes.
"I was a child in the 1960s but even I felt something in the air, you just felt like you should go and make something. It was an incredibly rich period and to rekindle any of that feeling is just something that can inspire us again today."
But it's streaming services that are the major factor in making these documentaries possible, according to Variety magazine's music critic Chris Willman.
While Asif Kapadia's 2015 Oscar-winning documentary Amy, about Amy Winehouse, made $24m (£17m) at the box office, that was rare for a music documentary. But cinema is no longer the obvious route for films of this genre.
"I think if all these films were only being released in cinemas at first we'd be calling it a glut, and asking why there are so many, because the market wouldn't be able to stand it," Willman says.
"With streaming, the market can stand anything, it's not like these films have to be in competition with each other to be in the one or two music films audiences would traditionally go and see in a year.
"Audiences are thinking, 'The more the merrier - I don't have to go out to go and see this.' So, music films are now a genre that I'd expect to see as much of as action or suspense or comedy nowadays."
They can also be profitable: Summer of Soul was sold for $12m (£8m) after it first premiered to critical acclaim in January 2021. And Willman agrees that a streaming service like Disney+ should benefit, even temporarily, from a new demographic of subscribers because of the series on The Beatles.
"Many people signed on to Disney+ to see the musical Hamilton, who otherwise would have little interest in viewing other content, and it could be twice that for The Beatles, I wouldn't be surprised," he says.
There's also the prospect of increased music, or ticket, sales after fans have been inspired by a documentary, or a band being "re-discovered" - or even "discovered" in the case of Edgar Wright's documentary on Sparks. It was released in cinemas in the US this summer and notched up $500,000 (£366,000) in one weekend during a limited release.
At its premiere, Wright told the BBC's film show Talking Movies, "I would show it to people who didn't know Sparks at all, and they would be dumbfounded, saying, 'How did I miss this entire chapter of music history?'"
'It's just heartening to think that a documentary can revive interest in a band's career," adds Willman.
"For Sparks in particular, it feels like a long-winding Cinderella story, where they've struggled so long to get the recognition. They're unexpectedly selling out their tour dates and it's really gratifying to see. It wouldn't have happened without a documentary."
Haynes also hopes that a new generation will discover The Velvet Underground through his documentary. As well as their music, he hopes their attitude will inspire those living in the 2020s.
"They always maintained this outsider stance," he explains. "And it's very hard to find precise parallels to today, where corporate culture is so absorbed, and so all-consuming.
"It's this idea they had of standing outside the system, and actually being obscure, or the idea of resistance that they had. That's not something that you hear young people wanting to be very often, but it's so elemental to how I found my own attitudes when I was young.
"Ultimately their legacy was to set in motion a creative reaction in other artists to do their own thing - and I think that's more valuable than we could ever quantify."
Police say a man armed with a bow and arrows killed five people and injured two more in Kongsberg.
15 sayings from around the world
Read full article at NPR
Stereogum 14 October, 2021 - 04:20pm
If VU were a polarizing force in their day, the band's influence on music has been palpable ever since. "I knew that we had a way of doing something in rock 'n' roll that nobody else had done," violist John Cale says. Haynes — whose other ventures into the music world include the glam-rock tribute Velvet Goldmine, the experimental Bob Dylan portrait I'm Not There, and an upcoming film about Peggy Lee — sets out to demonstrate just how momentous this band was. His efforts amount to a captivating look at the Velvet Underground that leaves a lot of their legacy implied rather than spelled out.
The film follows the trajectory of the band from its inception in the mid-1960s to its eventual dissolution late in the decade. But before diving into the many characters that were part of the band and the art scene it arose from, the film details the early lives of singer-songwriter Lou Reed and Cale, dissecting their dissimilar musical influences and how their eventual pairing would give the Velvet Underground its singular sound that meshed avant-garde and rock styles into one. It uses snippets of archival footage and interviews to tell the story, leaning on blurry montages as storytelling devices — a go-to for Haynes. Band members like percussionist Moe Tucker and Cale give lengthy interviews, as does singer-songwriter Jonathan Richman and Lou Reed's sister, Merrill Reed-Weiner, to go alongside the footage.
What Haynes does best throughout the film is match the tone of the shapeshifting clips that appear on screen with the band's experimental sound and fast-paced lifestyle. He uses a split-screen to showcase the simultaneous influences that came into play in the Velvet Underground's work, highlighting both their genre-blending music and the thrill of the era. The film takes on a variety of themes, some of which are regular explorations for Haynes — eroticism and sexuality, the band's and Reed's eternal search for identity — but the most prominent is the Velvet Underground's relationship with the New York art scene of the 1960s. It shows how Warhol's The Factory became their regular haunt, how they met Nico and many of the talking heads in the documentary itself, how eventually leaving Nico behind changed their relationship with Warhol. Haynes doesn't linger on the question of the Velvet Underground's popularity, though. Rather, he seeks to uncover how the band came to be and why it still matters today.
In every part of the film, New York functions as an artistic mecca for the band. But nowhere is that alignment with the city more evident than when Haynes peppers the screen with nostalgic downtown New York imagery — fire escapes and red brick buildings, dingy basements and dirty streets. Eventually, that cold-colored, fast-paced footage is contrasted with the hippie surfers of California, who have flower crowns and golden light for miles. The Velvet Underground despised them. To this day, Tucker still holds a vitriolic distaste for that culture: "This love peace crap, we hated that. Get real," she says. "Everybody wants to have a peaceful world and not get shot in the head or something, but you cannot change minds by handing a flower to some bozo who wants to shoot you."
But even more than Tucker's disdain for hippies, Haynes' musical choices throughout the film showcase how New York's avant-meets-rock culture loomed large over the band. Beneath the psychedelic action on screen is a thoughtful placement of sound that highlights the variety of influences within the Velvet Underground's best-known songs, Lou Reed's distinctive speak-singing vocal tone, and the common search for identity that hums through many of the band's lyrics. It's easy to say the Velvet Underground took influence from the experimental music scene that was popping up in downtown New York at the time — a scene inspired by the indeterminate work of composer John Cage and the delicate repetition and drone music of composers like La Monte Young — but the film actually shows the interwoven threads of rock and classical in the Velvet Underground's music, linking their songs with experimental ideologies through sound and visuals.
In Cale's interviews for the documentary, he explains his interests and experiences with experimental music in New York throughout the '60s. Cale had found a home in New York's experimental music world, making music with La Monte Young and drone musician Tony Conrad. He details how he became fascinated by drone music, which explores how sound grows and changes over time. La Monte Young dissects this music, too, explaining how frequencies affect the brain. On screen, flashing lights, neon-colored soundwaves, and images of the city smash into each other in a clever depiction of New York culture, and a long-held tone wavers underneath the imagery. Later on, these drones morph into Cale's strung-out viola lines on "Venus In Furs" and "Heroin" to showcase precisely how his interests influenced the sound of the Velvet Underground and to allow the music to tell its own story.
While the film leans in to explaining the music of the Velvet Underground, it shies away from the band's controversies. Reed's electroshock therapy, and the unanswered question of his sexuality, are themes peppered throughout the film. But questions aren't necessarily answered — with Reed departed from this Earth, it's probably a good decision not to delve too deep. And Cale, who is open throughout the film, doesn't divulge too much information about his exit from the band. His voice cracks as he remembers the painful day when the band called him and told him he couldn't play with them anymore, but it's just a blip. The same goes for Nico's departure, and Warhol's departure, too. By leaving controversy to the imagination, Haynes is only able to paint one part of the picture. There's still so much left off the screen, so much we'll likely never know.
As Haynes shows the band's eventual demise and breakup, he picks the pace right back up by noting the solo albums each artist produced in their careers. It's an attempt to show their outsized impact. But for a film that devoted so much effort early on to analyzing the music, we're left with very little explanation of how the band's sound ended up shaping so many others — this despite an abundance of examples over the past half-century that could have proven how influential VU really were. It's a rushed moment, one that skirts around the band's sonic impact in an attempt to tie a neat bow on their story.
The last few minutes of the film transcend that rapid-fire penultimate act. "Heroin" rings out one last time, this time accompanied by archival concert footage. After watching turmoil and success and uncertainty unfold over two hours, its lyrics take on a new meaning: "I don't know just where I'm going / But I'm gonna try for the kingdom, if I can." The Velvet Underground couldn't have predicted how their music would be a flicker that keeps burning decades later, but they sure as hell wanted it to. We may never know their whole story, but perhaps their music says enough.
The Velvet Underground premieres 10/15 in theaters and on Apple TV+.
As an independent website, we rely on our measly advertising income to keep the lights on. Our ads are not too obtrusive, promise. Would you please disable adblock?
Associated Press 14 October, 2021 - 06:48am
The most often-repeated thing said about the Velvet Underground is Brian Eno's quip that the band didn't sell many records, but everyone who bought one started a band.
Haynes, the reliably unconventional filmmaker of "Carol," "I'm Not There" and "Far From Heaven," rejects a traditional treatment of the Velvets — fittingly, considering his uncompromising, pioneering subject. "The Velvet Underground," which debuts Friday in theaters and on Apple TV+, is, like the Velvets, boldly artful, boundless and stimulating. You sense that even Lou Reed would be pleased by how the film refuses the obvious.
"I didn't need to make a movie to tell you how great the band is," Haynes said in an interview earlier this year ahead of the film's Cannes Film Festival premiere. "There were a lot of things I was going to be like: 'OK, we know this.' Let's get right to how this happened, this music, where these people came from and how this miracle of this group of people came together."
"The Velvet Underground" plums little-seen footage and features a host of rare interviews, including founding member John Cale (who describes the band as striving for "how to be elegant and how to be brutal"), early disciple Jonathan Richman of the Modern Lovers, and Jonas Mekas, the late pioneering filmmaker who filmed the Velvet Underground's first live performance in 1964 and to whom the film is dedicated.
"The Velvet Underground" is most singular in how it resurrects the 1960s downtown New York art scene that birthed and fermented the group. Haynes patiently traces the fertile downtown landscape of Warhol's Factory, the explosion of queer New York and how Lou Reed and the Velvets were turned on by acts like the experimental drone music of La Monte Young or the subversive poetry of Delmore Schwartz. Art, avant-garde film and music collided. More than anything, the documentary is a revelatory portrait of artistic crosspollination.
"You really felt that coexistence and the creative inspiration that was being swapped from medium to medium," says Haynes, who notes such localized hotbeds now seem a victim of a digital world. "I crave that today. I don't know where that is."
"The Velvet Underground" is Haynes' first documentary. Previously, he's made knowingly artificial fictions of great musicians. His "Velvet Goldmine" was a glam-rock fantasia of David Bowie. In "I'm Not There," rather than attempt the impossible task of finding a single actor who could play Bob Dylan, he cast seven.
"When I was doing research on the Bowie of 'Velvet Goldmine' or all the Dylans of 'I'm Not Here,' you come across the real thing," says Haynes. "I always felt like if I'm going to recreate this in a fiction form, I better do something different with it. So you're not comparing it with the real thing, apples to apples. You're in a different language, putting it in a different context and the frame is visible."
Haynes never met Reed, who died in 2013. But he saw him a few times at events like the Whitney Biennial ("I was too scared," he says). Reed gave Haynes his permission to use "Satellite of Love" in "Velvet Goldmine." Laurie Anderson, Reed's widow and a filmmaker, endorsed Haynes directing the film, and other estates, like Andy Warhol's, were supportive.
Footage by Warhol, the only one to previously really document the Velvets, is laced throughout the film. In split screen, the band members' screen tests for the Factory (usually seen as still photographs) play at length, with Reed or Cale staring provocatively out at you.
"The only film on them is by one of the greatest artists of the 20th century. That's so rare and weird," says Haynes. "There is no traditional coverage of the band playing live. There's just Warhol films. We just have art within art within art to tell a story about great art."
Follow AP Film Writer Jake Coyle on Twitter at: http://twitter.com/jakecoyleAP