Saitama, Chiba, Kanagawa, and Osaka will continue their ongoing targeted preventive measures until August 22, while Hokkaido, Aichi, Kyoto, Hyogo, and Fukuoka will end them as planned on Sunday. The International Olympic Committee and the Tokyo government are deciding this evening whether to allow in-person spectators at the Olympics.
Under the new state of emergency, the government requests events to limit attendance to 50% of capacity or 5,000 people, whichever is less, and to end by 9:00 p.m. The government requests large facilities such as department stores and arcades to close by 8:00 p.m. and movie theaters to close by 9:00 p.m. — but not close completely as they did in some of the previous states of emergency. The government is offering payments in advance to dining and drinking establishments if they close by 8:00 p.m. and stop serving alcohol. (Previously, the payments came after an application process.)
Tokyo reported 896 new cases of COVID-19 on Thursday, the 19th day in a row with more new cases than a week before. 98 of the cases are confirmed to have the L452R spike protein substitution found in recent variants of the virus that causes COVID-19 — particularly the Delta variant that is 2.5 times more contagious than the original strain. As of 6:30 p.m. (5:30 a.m. EDT) on Thursday, Japan is reporting 2,246 new cases nationwide.
As of Tuesday, 26.35% of Japan's total population received the first COVID-19 vaccination shot, and 15.05% received the second. Prime Minister Yoshihide Suga said on Thursday that 27% have now received the first shot, and Japan is projecting that 40% will receive their first shot by the end of the month. The government hopes that the new state of emergency will be the last, once enough people are fully vaccinated.
Japan's first state of emergency ran from April 7 to May 6 of last year in Tokyo, Kanagawa, Saitama, Chiba, Osaka, Hyogo, and Fukuoka. The government expanded the state of emergency to other prefectures and eventually nationwide on April 16. The government then extended the state of emergency until May 31, but eventually lifted it for most prefectures and then for the entire country six days early.
Japan's second state of emergency ran from January 8 to February 7 of this year in Tokyo and the neighboring prefectures of Saitama, Kanagawa, and Chiba. The government expanded the state of emergency to seven more prefectures on January 13, and extended it until February 7. The government then extended the state of emergency further in all of these prefectures except Tochigi until March 7, and extended it again in Tokyo, Saitama, Kanagawa, and Chiba until March 21.
Japan's third state of emergency ran from April 25 to May 11 in Tokyo, Osaka, Kyoto, and Hyogo. The government extended the state of emergency until May 31 and added Aichi and Fukuoka prefectures. The government added Hokkaido, Okayama, and Hiroshima prefectures on May 16, and extended the state of emergency in nine prefectures until June 20. Okinawa has been still under this state of emergency, and seven of the prefectures have maintained "targeted preventive measures" until July 11.
Read full article at Anime News Network
Kyodo News Plus 09 July, 2021 - 10:00pm
An athlete from Lithuania who arrived in Japan this week to compete at the Tokyo Olympics is suspected of having COVID-19, the city of Hiratsuka that is hosting the delegation's pre-games camp said Friday.
The male swimmer in his 30s tested negative upon arrival at Tokyo's Haneda airport on Wednesday, but a polymerase chain reaction test he took the following day at his hotel after traveling to Hiratsuka near the capital came back positive, according to the city.
However, a test he took at a medical institution on Friday afternoon came back negative. The athlete will undergo another test on Saturday to determine whether he is infected with the virus.
With two weeks remaining until the opening of the Olympics, athletes and officials from many countries have been arriving en masse to take part in training camps. However, the border controls in place for them have come under public scrutiny amid persistent concern that the games could lead to a further surge in infections.
The Lithuanian swimmer had trained in a pool before his test result came back positive on Friday morning. The members of the delegation only traveled between their training facility and their hotel using a designated vehicle, according to the city.
Health authorities are determining who may have come into close contact with the swimmer, the city said.
Hiratsuka is set to host a total of 63 athletes, coaches and officials from Lithuania until Aug. 5.
In a related development, a member of the Israeli delegation tested positive for COVID-19 after arriving in Japan on Friday and is quarantining at a designated facility, a source familiar with the matter said.
1 hour ago | KYODO NEWS
Jul 1, 2021 | KYODO NEWS
Jul 9, 2021 | KYODO NEWS
Jul 5, 2021 | KYODO NEWS
Jul 6, 2021 | KYODO NEWS
Jul 2, 2021 | KYODO NEWS
1 hour ago | KYODO NEWS
1 hour ago | KYODO NEWS
1 hour ago | KYODO NEWS
2 hours ago | KYODO NEWS
Jul 9, 2021 | KYODO NEWS
Jul 9, 2021 | KYODO NEWS
Jul 9, 2021 | KYODO NEWS
Jul 9, 2021 | KYODO NEWS
To have the latest news and stories delivered to your inbox, subscribe here. Simply enter your email address below and an email will be sent through which to complete your subscription.
Please check your inbox for a confirmation email.
If you wish to change your message, press 'Cancel' to go back and edit.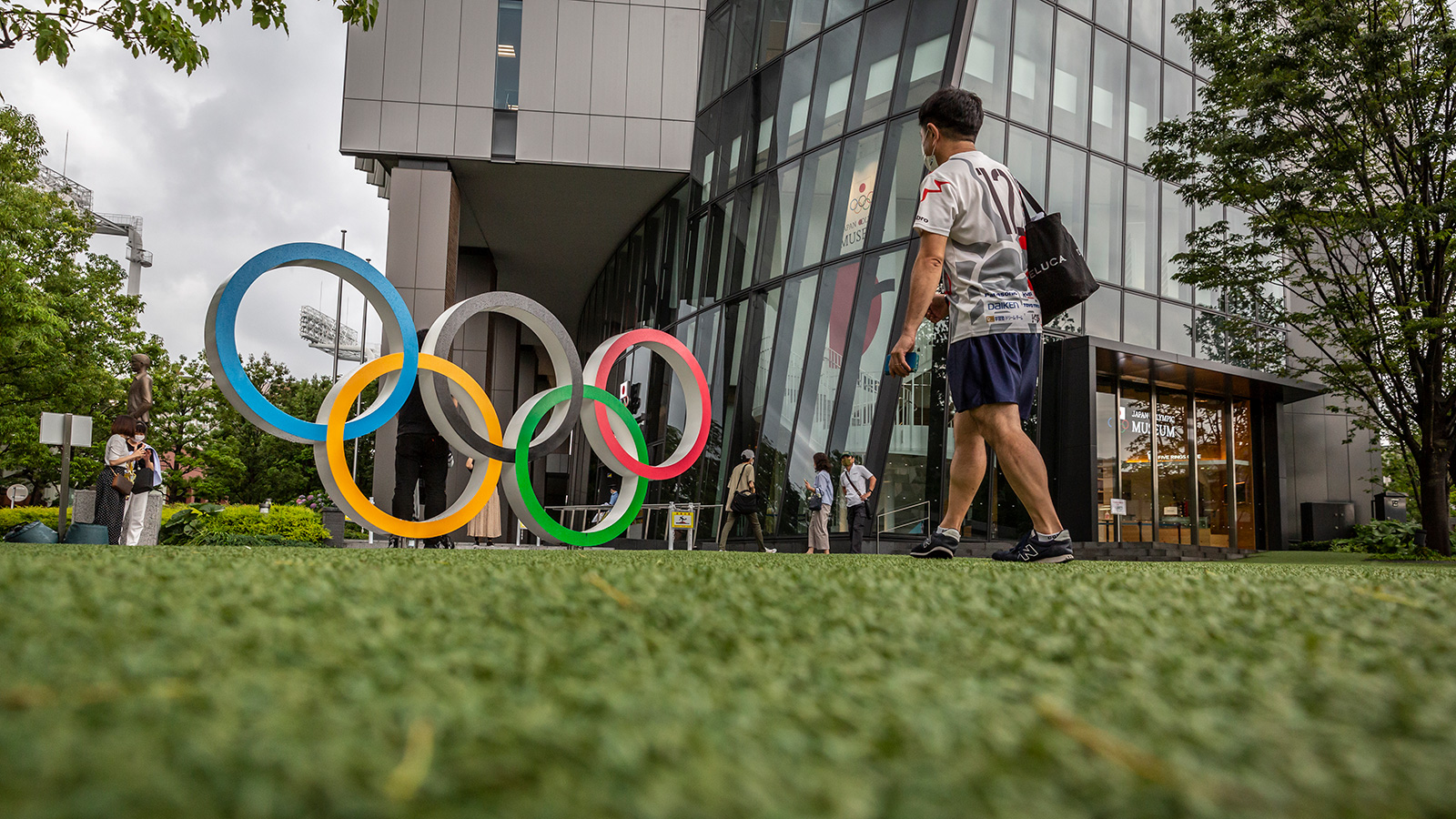 CNN 09 July, 2021 - 08:28am
Our live coverage has ended. To read more on the Summer Olympics and the spectator ban, go here.
Tokyo venues for summer Olympics will not have spectators.
Earlier today, Japanese Prime Minister Yoshide Suga confirmed the pandemic-delayed Tokyo 2020 Olympics will take place under a coronavirus state of emergency.
The announcement was made following a meeting of five Olympic and Japanese government groups responsible for the Games.
Seiko Hashimoto with the Japanese Olympic Committee said, "A very heavy judgement was made."
Hashimoto said due to the pandemic, they have "no choice but to hold the Games in a limited way."
ESPN 09 July, 2021 - 04:59am
Organizers and the International Olympic Committee on Thursday banned all fans from Olympic venues in Tokyo and three neighboring prefectures because of surging COVID-19 cases.
A smattering of Olympic venues in outlying areas of Japan will allow some fans. Fans from abroad were banned several months ago as too risky.
Organizing committee president Seiko Hashimoto, speaking at a Friday briefing, said a decision on Paralympic fans would be made after the Olympics close on Aug. 8. The Paralympics open on Aug. 24 and will involve 4,400 athletes. The Olympics involve 11,000.
A state of emergency imposed by Prime Minister Yoshihide Suga goes into effect on Monday and ends Aug. 22.
"After the Olympics Games close -- as soon as possible -- we would like to make a decision," Hashimoto said. "Because if it's postponed any further it will impact the preparations for the Paralympics."
Tokyo reported 822 new COVID infections on Friday. It was the 20th straight day that the number was higher than seven days previously. New infections on July 2 was 660.
Japan's prime minister's office said Friday that 16.8% of Japanese have been fully vaccinated.
The Olympic flame arrived on Friday in Tokyo and was unveiled at the Komazawa Olympic Park Stadium. It will not circulate around the city. The torch relay, which began in March in northeastern Japan, has been pulled from all streets in Tokyo leading up to the opening ceremony on July 23.
The relay will take place on a few Tokyo islands off the coast of the mainland.
Insider 09 July, 2021 - 12:00am
That's the case, however, for Fiji's Olympic rugby team. According to New Zealand's Stuff magazine, they'll be making the trek en poisson.
The country is currently battling a new wave of COVID infections and registering a daily average of more than 700 cases a week, according to data from Johns Hopkins University. With the pandemic far from over, commercial flights in and out of the Pacific nation are mostly grounded until the end of this month.
This has made arranging flights for athletes a "logistical challenge," said Lorraine Mar, the chief executive of the Fiji Association of Sports and National Olympic Committee, on Wednesday. The lack of transportation has forced them to look at other travel options, like cargo flights.
The flight is carrying 51 athletes and officials, mainly from Fiji's men's and women's Rugby Sevens teams but also a track and field athlete, two swimmers, a table tennis player, and a judo competitor, reported Stuff.
They are flying from Fiji's Nadi International Airport to Narita Airport in Tokyo on a scheduled freight flight with room for passengers, said Mar.
Fiji was also trying to get athletes from other south pacific nations to Tokyo by doing "a milk run around the other islands to collect everyone," said Mar, reported the South China Morning Post. But it was eventually decided that it was not "commercially viable."
The Tokyo Games has been fraught with challenges, as Japan struggles to contain the COVID-19 pandemic. On Thursday, Tokyo declared a state of emergency and said it was banning spectators from the Games.