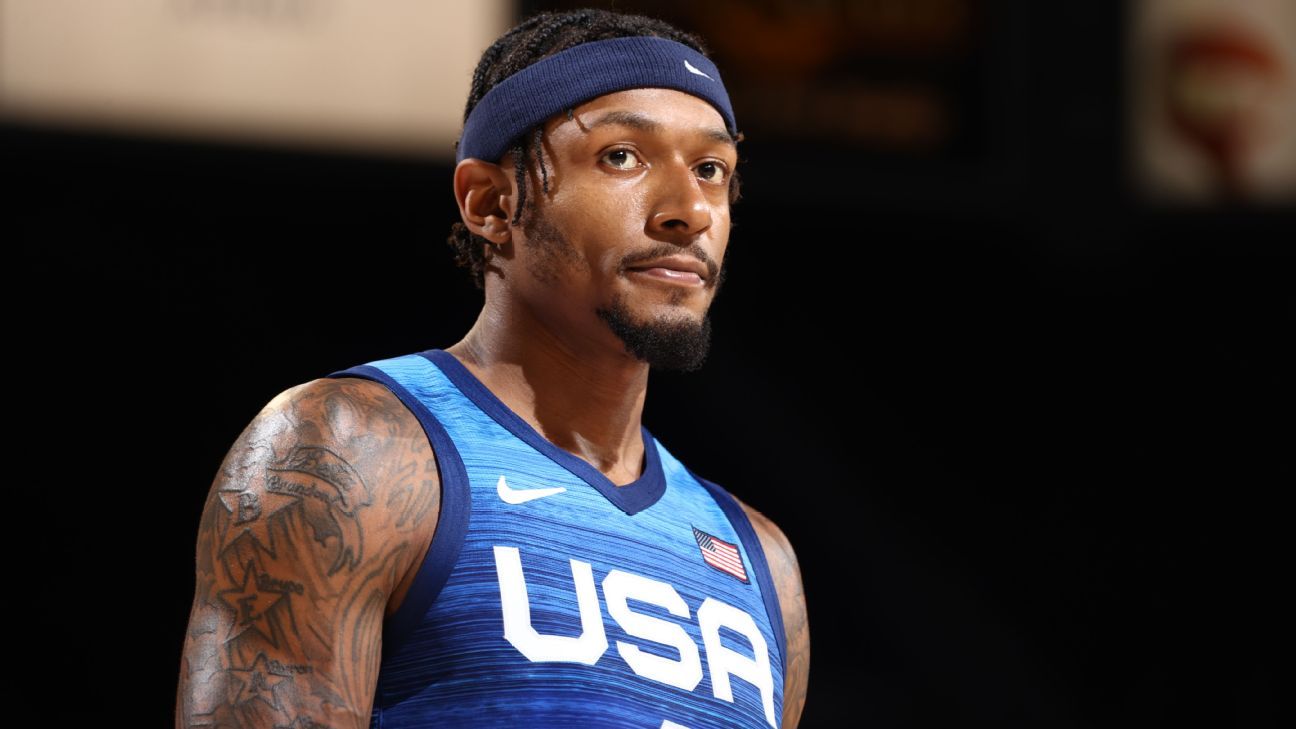 LAS VEGAS -- Team USA is fighting a challenging scenario with COVID-19 as it tries to prepare for the Tokyo Olympics
The Americans lost a player Thursday and put another in the health and safety protocol, and sources told ESPN that they are in discussions about canceling the men's basketball game Friday against Australia.
Bradley Beal, who was placed in the protocol Wednesday, was ruled out of the Olympics on Thursday. Jerami Grant was also placed into the protocol out of caution, though coach Gregg Popovich expressed optimism that the forward would be able to remain with the team.
Friday's game is scheduled for 6 p.m. ET. The Australian team is under even stricter protocols than the Americans, which could play a factor, sources said. Team USA's final exhibition game is scheduled for Sunday against Spain, with a charter to Japan set for Monday.
"Our goal overall is we're trying to get everybody safely to Tokyo," Popovich said, "and at the same time prepare a basketball team to be successful. We're trying to be vigilant about what we do, where we go."
Beal said earlier this week that playing for the Olympic team had been a dream since he was a child. Teammate Bam Adebayo said Thursday that Beal was not experiencing any symptoms. Players are being tested daily.
"I'm dying for [Beal]. We all are," Popovich said. "Since he was a little kid, this has been a dream of his, and he was playing great. ... For him and his immediate family, it's devastating. We just feel horrible about it."
There are limits to their movements, but players have been free to move around hotels and casinos. With family and friends not permitted in Tokyo, USA Basketball invited them to be in Las Vegas and put them into testing protocols.
"It's costing people opportunities of a lifetime. It sucks," forward Draymond Green said. "We all came in hoping we wouldn't be affected by it. It's just not the way it's gone."
USA Basketball officials were meeting Thursday and reaching out to potential replacements for Beal. It is possible that a player from the 57-man roster announced earlier this year could be selected.
Popovich said a consideration would be a player's conditioning level. With numerous players in their offseason, some have been on vacation or just resting and not playing. The team hoped to have a replacement lined up by the end of Thursday, sources said.
"We have to make sure somebody is in shape because we don't have time once we get there with just a couple of practices," Popovich said. "It's going to take a certain individual that we think can pick it all up quickly."
Read full article at Yahoo Sports
USA TODAY 15 July, 2021 - 10:00pm
As Team USA men's basketball fell to 0-2 in its Olympic tune-up, its gold medal coronation is starting to look more like a comeuppance.
A link has been sent to your friend's email address.
A link has been posted to your Facebook feed.
U.S. and international athletes describe what they'll miss most about not being able to have their family at the games. USA TODAY
The dominance of Team USA in men's basketball on the world stage has been so thorough, so complete, such a foregone conclusion over the last dozen years that there was little reason to consider any outcome other than the obvious.
The Americans win gold medals? Ho-hum. Anything else? It's a national disaster.
This time, though, the country needs to be mentally prepared for what might happen in Tokyo in a few weeks. Because early on in this journey, there's no sugarcoating what we've seen from this team that Gregg Popovich and Jerry Colangelo have put together. So far - and we're not overstating this whatsoever - they've absolutely stunk it up.
Team USA falling to 0-2 in exhibition play on Monday night with a 91-83 loss to Australia in Las Vegas doesn't mean its gold medal hopes are over, and it certainly doesn't mean that they're incapable of improvement when the games really count.
But is it a big deal? Of course it is, and to deny that would be to rely on a long-ago Olympic history with different players, different coaches and different competition rather than what our eyes tell us right now.
"We're not going to just come out and roll the ball out and beat these teams," Damian Lillard said.
Reputations, max NBA contracts and All-Star appearances don't win Olympic medals. We've learned this lesson before as a nation, and the fallout from an unsatisfying bronze in 2004 ultimately led to a generation of dominance and 24 straight Olympic wins under Mike Krzyzewski, most of which weren't particularly close.
Now we may have to learn it again.
Because even for all the superstars who opted out of Tokyo for various reasons, the problem with this team isn't its level of talent. When you can roll out a lineup with the likes of Lillard, Kevin Durant, Bradley Beal, Jayson Tatum and Draymond Green, nobody is going to be able to match that player-for-player.
But when you watch them try to play together, you don't see a functional unit that passes the ball around, gets defenses scrambling and generates easy buckets. Instead, it's a bunch of guys who are exceptional one-on-one scorers in the NBA trying to apply that skill all at the same time.
And it just doesn't work very well.
"The more time we spend on the floor together, the more we'll figure each other out and get the ball moving," Lillard said. "We're kind of overthinking trying to run plays and stay out of each other's way and do the right thing."
Will they really figure it out? Do they have enough time? Do they have the personnel?
It's fair to wonder whether that's really the case, given the inherent lack of passing and ability to create for others that was baked into this roster from the beginning. And counting on the addition of Jrue Holiday, Khris Middleton and Devin Booker directly after the NBA Finals to change that seems like quite a longshot given the grueling playoff run they'll have just finished.
The big question now hovering over Team USA is whether it simply needs more reps to discover something resembling a functional offense or whether this is just a foundational flaw when you don't have a LeBron James, a Kyle Lowry, a Chris Paul and instead rely almost completely on volume scorers.
The difference between the way the U.S. team relied on tough shots down the stretch against Australia and the way Patty Mills pretty much had everyone on a string in the fourth quarter was glaring.
Australia isn't as talented as Team USA, but it has enough NBA players to compete physically. Several of those guys have played together on the national team for years. They were cutting and moving for layups, while the Americans had to settle for jumpers. If that's a legitimate preview of what we'll see in Tokyo, Team USA is in real trouble.
Popovich blamed a lack of conditioning for the late fade and said he saw improvement from Saturday's shocking exhibition loss to Nigeria.
But here's the problem. Since professional players were allowed to compete in the Olympics - that's nearly 30 years ago - the U.S. had lost only twice in these pre-Olympic exhibitions. Now they've lost twice in 48 hours, and certainly there was an expectation after the embarrassment of losing to Nigeria that Team USA would want to come back and assert itself against the Australians. Instead? This is looking like a very long haul to a gold medal.
"In the first half we defended the way we wanted to defend," Popovich said. "We were more physical, we sustained the defense longer, we rebounded better, we moved the ball better and had more pace. In the second half we tired out and when that happens you get hit mentally a little bit too. So we have some guys that have to get our legs and rhythm back, but in general we need more conditioning and that's totally understandable."
History says it isn't so understandable. And if something doesn't change quickly, Team USA's trip to Tokyo will look more like a comeuppance than a coronation.
A link has been posted to your Facebook feed.
© 2021 USA TODAY, a division of Gannett Satellite Information Network, LLC.
All U Can Heat 15 July, 2021 - 10:00pm
NEW ORLEANS, LOUISIANA - MARCH 06: Duncan Robinson #55 of the Miami Heat reacts against the New Orleans Pelicans during a game at the Smoothie King Center on March 06, 2020 in New Orleans, Louisiana. NOTE TO USER: User expressly acknowledges and agrees that, by downloading and or using this Photograph, user is consenting to the terms and conditions of the Getty Images License Agreement. (Photo by Jonathan Bachman/Getty Images)
Duncan Robinson of the Miami Heat (55) handling the ball in a game vs the Charlotte Hornets (Photo by Jacob Kupferman/Getty Images)
It was recently announced that Bradley Beal will not be playing in the Tokyo Olympics due to health and safety protocols. One Miami Heat player is in conversations to replace him.
Duncan Robinson was originally part of the 57-player pool who were named as finalists for Team USA. According to Grant Afseth of Sports Illustrated, Robinson is now "among the replacement options" to replace Beal.
After dropping their first two exhibition games to Nigeria and Australia, Team USA bounced back with a big-time win over Argentina. Despite this, there are still some concerns as to how well they will perform in Tokyo.
Though their loss to Australia is somewhat understandable, the loss to Nigeria came as a complete shock. The game saw Team USA get outscored from three-point range by 30 points, led by Miami Heat player Gabe Vincent.
Adding Robinson to the roster would certainly help in that regard. He shot 40.8% from three last year and has been one of the best shooters in the NBA for the past two seasons.
Team USA is mainly made up of players who are used to having the ball in their hands at all times. Having a player who isn't a top option on their team could help round out the roster.
Robinson's skillset would help Team USA run a wider variety of plays. He's used to coming off screens and playing in primarily catch-and-shoot situations.
The one downside to playing in Tokyo for Robinson is his impending free agency. He could risk getting injured and hurting his market value by playing all summer.
At the same time, it's a once-in-a-lifetime opportunity to get to represent your country at the Olympics. He'd also get to play alongside his Miami Heat teammate Bam Adebayo.
While it's never fun to see a player lose the chance to play for Team USA, this could be a great opportunity for Robinson. He would get to play with some of the best players in the world and help his country on its quest for gold.
Nothing is official yet, but keep an eye out for who Team USA chooses to join them in Tokyo. Maybe the Miami Heat will get even more representation in the Olympics this summer.
Build your custom FanSided Daily email newsletter with news and analysis on Miami Heat and all your favorite sports teams, TV shows, and more.
Your favorite teams, topics, and players all on your favorite mobile devices.
Powered by Minute Media © 2021 All Rights Reserved.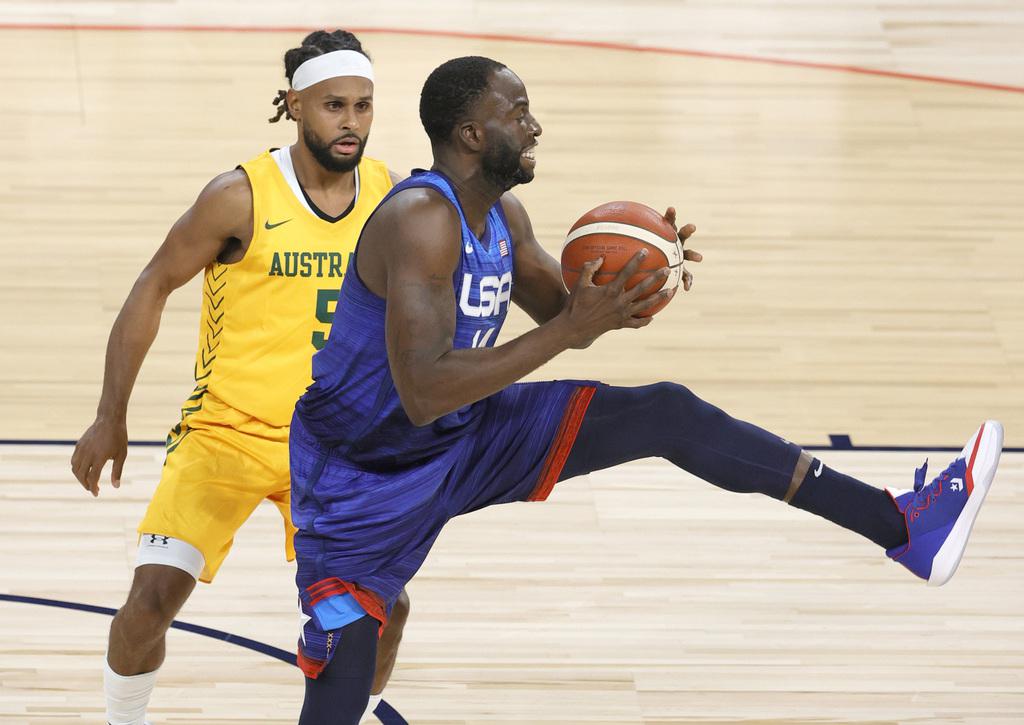 San Francisco Chronicle 15 July, 2021 - 05:55pm
Draymond Green is giving up three weeks that he could have spent with his young children to chase his second Olympic gold medal.
The Warriors' power forward is risking his health to go with Team USA to Tokyo, where a state of emergency was declared this month because of another spike of positive tests during the coronavirus pandemic.
That's how much the opportunity means to Green and why he's so devastated for Bradley Beal.
"You always hope that you can get through free and clean, but the reality is: That's just not the way it goes. It's possible, but it's no sure thing," Green said a day ahead of the United States' final tune-up exhibition before flying to Tokyo. "It sucks that 17 or 18 months later, we're still dealing with the same issues.
"We were all hoping that there was end in sight, and it doesn't seem like there is. It's still costing people opportunities of a lifetime."
Beal, a Washington Wizards guard who has been speculated as a potential trade target of the Warriors, tested positive for the coronavirus. He will not travel with Team USA to the Olympics, which begin officially July 23, according to USA Basketball officials.
Jerami Grant was also placed in health and safety protocol, but U.S. head coach Gregg Popovich said he expects the Detroit forward to fly with the team to Tokyo.
As the squad waits on guards Devin Booker, Jrue Holiday and Chris Paul, who are all still playing in the NBA Finals, Beal's absence leaves an even bigger hole in the roster.
Since this is the portion of the summer when many NBA players shut down workouts for vacation, Popovich said the team might struggle to find a player who is both in shape and also can quickly pick up the Team USA offensive and defensive principles.
Whether he ends up choosing a ball-handler, shooter or perimeter defender, finding one player who does all three as well as Beal seems almost impossible.
"I'm dying for him. We all are," Popovich said. "Since he was a little kid, this has been a dream of his. He was playing great. He was having fun. He was a big part of us coming together chemistry-wise. For him and his immediate family, it's devastating. We just feel horrible about it."
Team USA doesn't have long to feel sorry for itself.
The Americans lost their first two exhibitions before responding with a 108-80 victory over Argentina on Tuesday. They are scheduled to close their exhibition schedule at 11:30 a.m. Friday against Australia, which beat the United States 91-83 on Monday.
Green said there is still a lot of chemistry-building to do before Team USA opens its pool play games against France on July 25. Some of the usual post-practice team bonding has been cut short as players have opted to spend time with family before being away for three weeks, but Green believes the players will log more off-court time together in Tokyo.
He wouldn't miss any of it.
One of the more experienced players on the roster at 31 years old, Green is usually the one doling out the advice. This week, however, Miami center Bam Adebayo walked Green through a series of tricks he uses on fake dribble handoffs.
The next day against Argentina, Green made it appear as though he was going to hand the ball to Portland's Damian Lillard in the first half's closing seconds. Instead, Green darted to the rim for a two-handed dunk that put the United States ahead by 14 points.
"Being in a position where everybody kind of wrote me off and thought I was washed up last year, to be here, it's great," Green said. "It's been a theme, the story of my career. Just proving people wrong.
"To get back to this place and to still be able to compete at this level, it is special."
Rusty Simmons is a San Francisco Chronicle staff writer. Email: rsimmons@sfchronicle.com Twitter: @Rusty_SFChron