Paul Boyer
PaulDBoyer
Had Trump built the wall like he promised, perhaps he could've prevented the 40k #BambooBallots from being imported into Arizona 😆. And if he hadn't started an insurrection in D.C. and gotten kicked off here, I could've responded directly to him. So there's that. pic.twitter.com/elGvwIHca0

Jack Posobiec
JackPosobiec
VIDEO: Mother of Ashli Babbitt Receives STANDING OVATION at Trump's "Rally to Protect Our Elections" in Arizona www.thegatewaypundit.com/2021/07/video-mother-ashli-babbitt-receives-standing-ovation-trumps-rally-protect-elections-arizona/

Jeanine Pirro
JudgeJeanine
MY CLOSING STATEMENT: A Call To Action -@TPUSA @charliekirk11 pic.twitter.com/1IxvhIE2vq
Brahm Resnik
brahmresnik
NOW Donald Trump finishes 107-minute stemwinder. Points to AZ GOP lawmakers in front rows: "The whole country is watching."Spent much of it repeating speculation & outright falsehoods from Senate GOP election review. He was thoroughly briefed. pic.twitter.com/bDdtEPSTxv
Hobbs, a Democrat, encouraged Trump to "take your loss, accept it and move on" Friday night, a day before the former president spoke at the "Rally of Save Our Elections" event organized by Turning Point Action, a conservative group.
"Nothing that's going on here is going to change the outcome, and, really, this is nothing more than being a sore loser," she told CNN.
As the state Senate continues a months-long audit of the ballots in Maricopa County, Trump opened his speech at the rally by claiming there's "no way Democrats win elections without cheating."
"If I lost the election, I'm okay with it. Seriously," he said. "I'll start building buildings. I'll keep myself busy, but they stole it from us."
The former president continued to push his voter fraud conspiracy theory throughout the address, thanking Republicans who have indicated support for his effort to overturn the election and condemning those who have fought against it, including former Vice President Mike Pence.
Trump also repeated several specific allegations that were rejected by courts in dozens of failed lawsuits seeking to overturn President Joe Biden's win. Among them, that "74,000 mail-in ballots were counted with no clear record of them being sent"—a claim that Maricopa County election officials have dismissed as misinformation.
On January 6, a mob of pro-Trump supporters attacked the U.S. Capitol following a rally in which Trump pushed baseless voter fraud claims. Some Republicans, including Senator Minority Leader Mitch McConnell, broke from Trump following the insurrection, but others have sought to align with the former president in an effort to capture his loyal base.
Arizona GOP Representative Andy Briggs drew loud applause from the crowd earlier in the day when he suggested that Trump could be reinstated before 2024—a false claim that supporters have continued to promote online.
"In 2024, if not sooner, Donald J. Trump will be back in the presidency," he said.
Officials in Maricopa County, the most populous in the state, concluded a formal audit of the results without uncovering any discrepancies in November. But GOP state senators have pushed forward with their own review. Audits and recounts in key battleground states have only reaffirmed Biden's win, even in areas where the election was overseen by pro-Trump Republicans.
Newsweek reached out to Hobbs' office for comment.
Sign-up to our daily newsletter for more articles like this + access to 5 extra articles
Daily news headlines & detailed briefings enjoyed by half a million readers.
Read full article at Newsweek
CBS News 25 July, 2021 - 04:01am
USA TODAY 25 July, 2021 - 04:01am
Maricopa County says the claimed disparity between ballots cast and ballots sent by mail has to do with how it counts early votes.
A link has been sent to your friend's email address.
A link has been posted to your Facebook feed.
Reporter Jen Fifield gives an update on ballots moving to a new site, the counting continuing and why electronic voting machines won't be returned. Arizona Republic
More than eight months after Joe Biden won the 2020 presidential election, false claims of widespread voter fraud affecting the results continue to appear on social media. 
The latest narrative targets an ongoing election audit in Maricopa County, Arizona, home of Phoenix. The subject: mail-in ballots.
"STUNNING in a race decided by 10,457 votes ... 74,243 mail-in ballots w/ NO evidence of ever being sent," reads the text in a July 15 Facebook post.
The post, which has more than 700 shares, comes from Jovan Hutton Pulitzer – an inventor, popular among Donald Trump supporters, who has previously cast doubt on the integrity of election results. Similar posts on Facebook and Instagram have received tens of thousands of interactions, according to CrowdTangle, a social media insights tool.
Pulitzer's technology, which he claims can detect fraudulent votes, has been used in the Arizona audit. But Pulitzer told USA TODAY in an email that he hasn't released "any information regarding our particular findings on mail-in ballots."
Since it began in April, the state Senate-backed audit has been plagued by false claims of fraud – despite the fact that officials have already audited the state's election results and found no malfeasance. Biden beat Trump in the state by more than 10,000 votes.
This recent claim is the latest outgrowth of that misinformation.
While the origin of the 74,243 figure is unclear, Maricopa County says the claimed disparity between ballots cast and ballots sent by mail has to do with how it counts early votes. It is not proof of widespread voter fraud, of which there is no evidence in Arizona.
In Maricopa County, there were nearly 450,000 fewer mail-in votes than ballots sent out.
The Facebook post makes it seem like any disparity between the number of mail-in ballots sent and the number of votes cast is evidence of voter fraud. But Maricopa County officials say that's not the case.
The claim in the post traces back to a July 15 tweet from Liz Harrington, a Trump spokesperson. The numbers in the post, including the 74,243 figure, stem from an Arizona Senate briefing held the same day.
"We have 74,243 mail-in ballots where there is no clear record of them being sent," Doug Logan, CEO of Cyber Ninjas, said during the briefing.
The Republican-dominated Arizona Senate hired Cyber Ninjas, a Florida-based technology company, to lead the election audit even though the company has no experience with such audits. Logan has previously promoted election fraud conspiracy theories on social media.
The exact origin of Logan's 74,243 figure is unclear.
"Without knowing exactly what data the Senate contractors are using and how they're interpreting it, we can't know for sure where they came up with 74,000," Jason Berry, a communications manager for Maricopa County, told USA TODAY in an email.
However, Logan – as well as the social media posts parroting his claims – appear to have erroneously conflated mail-in ballots with all early votes, which in Maricopa County include ballots cast by mail and in person. Of course, early votes cast in person wouldn't involve anything being mailed.
In response to Logan's remarks during the briefing, Maricopa County published a Twitter thread addressing his claim about mail-in ballots.
"In Maricopa County, we allow people to vote early in two ways: 1) by mail and 2) in-person at Vote Centers. These are all considered early votes," the county wrote. "The people who vote in-person use ballots provided at a Vote Center. This is not a new practice, so it's not unusual that we would have more early votes than mail-in ballots sent."
Maricopa County also said the types of files Logan cited during the briefing aren't the correct documents for determining how many early ballots were sent and received. In a follow-up tweet, the county wrote that, of 2,364,426 requests for mail-in ballots, 1,918,024 were returned.
In a statement published July 15, the Republican chair of the county's Board of Supervisors also rebuked Logan's claims.
"At today's briefing, the Senate's uncertified contractors asked a lot of open-ended questions, portraying as suspicious what is actually normal and well known to people who work in elections," Jack Sellers said in the statement. "In some cases, they dropped bombshell numbers that are simply not accurate."
USA TODAY has previously rated false claims that the Arizona audit has found evidence of widespread voter fraud affecting its election results. Other independent fact-checking organizations have reached similar conclusions.
Several hand counts, as well as a forensic audit of ballot tabulation equipment, have confirmed Maricopa County's election results. The Associated Press reported July 16 that elections officials in Arizona have found fewer than 200 cases of potential voter fraud out of more than 3 million ballots cast in the state.
USA TODAY reached out to Harrington and Logan for comment.
We rate FALSE the claim that more than 70,000 mail-in ballots counted in Maricopa County were never sent. The claim erroneously conflates all early votes, including in-person votes, with mail-in ballots. Maricopa County officials have said there were fewer mail-in ballots returned than requested. There is no evidence of widespread voter fraud affecting Arizona's 2020 election results.
A link has been posted to your Facebook feed.
© 2021 USA TODAY, a division of Gannett Satellite Information Network, LLC.
CNN 25 July, 2021 - 04:01am
USA TODAY 25 July, 2021 - 04:01am
There is no constitutional way for Donald Trump to return to the White House before President Joe Biden's term is over.
A link has been sent to your friend's email address.
A link has been posted to your Facebook feed.
President Trump and President George W. Bush won the electoral vote during the election, but not the popular vote. How does the electoral college work? USA TODAY
Supporters of Donald Trump are promoting a conspiracy theory on social media suggesting the former president will return to the White House in August, even though he lost the 2020 election eight months ago. 
The theory gained traction after MyPillow CEO and founder Mike Lindell and Trump's former attorney Sidney Powell baselessly claimed in conservative media appearances that the Supreme Court would find evidence of voter fraud and a new inauguration date would be set. (Lindell denied to USA TODAY that he ever said Trump would be reinstated specifically on Aug. 13.)
Now, the claim has made its way to social media. 
"TRUMP REINSTATED!" reads text over a fake newspaper cover that was shared to Facebook on July 18. The image includes other debunked claims about arrests, election fraud and more. 
The user captioned the image: "SOON VERY SOON 08-05 2021."
The post has more than 500 reactions and more than 300 shares. Similarly, some users on YouTube have asserted Trump will be back in office by Aug. 13. 
Trump himself has reportedly told allies that he thinks he will be reinstated in August, according to New York Times reporter Maggie Haberman. A Politico/Morning Consult poll found 29% of Republican voters believe Trump will return to the White House this year. 
Lindell claimed evidence of election fraud would be revealed at a "cyber symposium" event in August and the Supreme Court will overthrow the results of the 2020 election by a 9-0 vote, which would lead to Trump returning to office. 
But the narrative that Trump will be reinstated as president is based on debunked conspiracy theories – not facts. Previous predictions about Trump returning to office proved wrong. There is no constitutional way for Trump to return to the White House before President Joe Biden's term is over.
USA TODAY reached out to Powell and the Facebook user who shared the post for comment. 
Experts say there is no constitutional provision that would allow for Trump's reinstatement. There is also no legal way to overturn election results after Congress has certified Electoral College votes. The election audits promoted by Trump and his allies provide no mechanism for Biden to be removed from office. 
The United States Constitution provides that the candidate with the most votes from the Electoral College shall be president. A candidate must receive 270 electoral votes to win.
New emails show former president Donald Trump and his allies pressured the Justice Department to investigate unsubstantiated claims of voter fraud in the 2020 election in the last few weeks in office. (June 15) AP Domestic
Biden won 81 million votes to Trump's 74 million, giving him 306 electoral votes. Those results were certified by Congress on Jan. 6, after a pro-Trump mob stormed the U.S. Capitol. Biden took the oath of office at noon on Jan. 20.
The 20th Amendment says the "terms of the President and the Vice President shall end at noon on the 20th day of January ... and the terms of their successors shall then begin." That means Biden's term will last until January 2025.
Persistent, baseless allegations of voter fraud will not change that fact.
The Cybersecurity and Infrastructure Security Agency said in November that the 2020 election was "the most secure in American history." Additionally, then-Attorney General William Barr said the Department of Justice found no evidence of widespread voter fraud that could change the outcome of the 2020 presidential election results. 
Claims that Trump will be reinstated gained popularity among followers of the baseless QAnon conspiracy theory, which says Trump is secretly fighting a cabal of powerful politicians and celebrities that participate in an international child sex trafficking ring. QAnon adherents falsely claimed Trump would be reinstated on Jan. 20 and March 4, neither of which proved correct. 
Trump supporters are holding on to the results of ongoing election audits to support the reinstatement theory. However, those recounts have found no evidence of widespread fraud in the 2020 election. 
Three separate audits of election results in Georgia, where Biden beat Trump by more than 10,000 votes, found no evidence of wrongdoing affecting the state's results. An ongoing audit in Maricopa County, Arizona, also hasn't surfaced any evidence of widespread voter fraud. A number of manual hand recounts across the country have affirmed Biden's victory. 
Top county officials in Phoenix, Arizona, almost all of them Republicans, on Monday blasted the GOP state Senate president and the auditors she hired to run an unprecedented, partisan recount of the 2020 election in the county. (May 17) AP Domestic
At least 61 lawsuits from the Trump campaign alleging election fraud have failed. Courts in battleground states have denied hearing Trump's appeals to overturn election results. 
Business Insider reported that even if Lindell uncovered widespread election fraud, Congress could only remove Biden through impeachment. If Biden were removed from office, Vice President Kamala Harris would become president, not Trump. 
The only path for Trump to return to the presidency would be to win the 2024 presidential election race. 
The claim that Trump will be reinstated as president in August is FALSE, based on our research. The theory is based on debunked falsehoods about the 2020 election and has been promoted by QAnon supporters. There is no constitutional way for Trump to return to the White House unless he were to win the 2024 presidential race. There is no evidence of widespread voter fraud affecting the 2020 election results, and a number of hand recounts have affirmed Biden's victory.
A link has been posted to your Facebook feed.
© 2021 USA TODAY, a division of Gannett Satellite Information Network, LLC.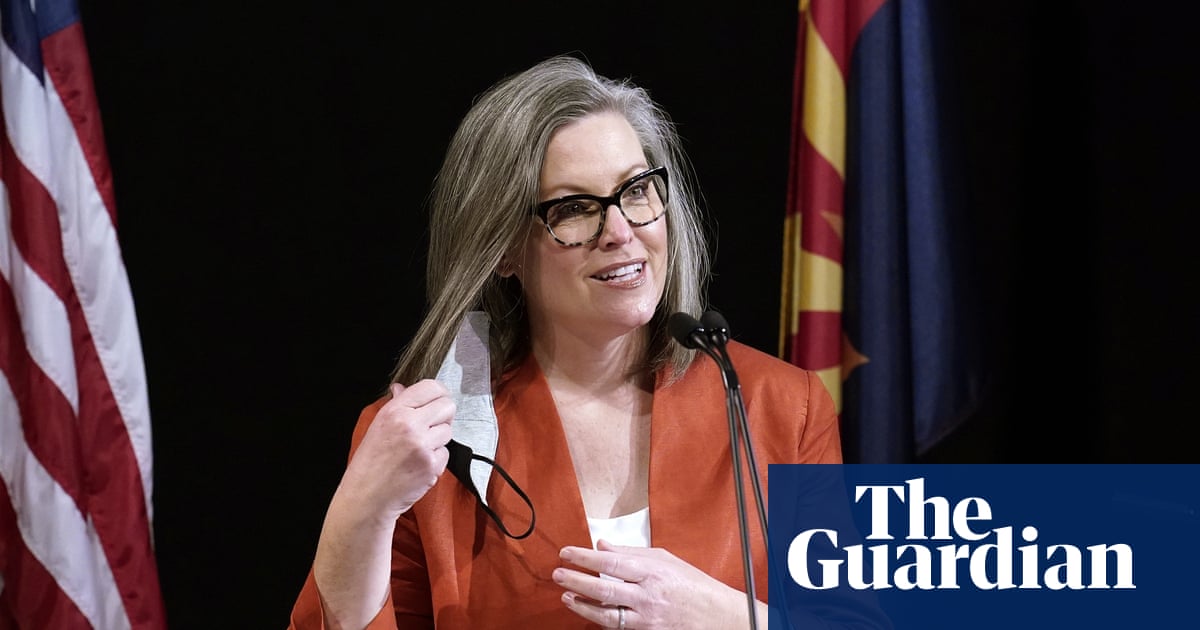 The Guardian 25 July, 2021 - 04:01am
Trump was set to speak at an event organised by Turning Point Action, a conservative group, and called the "Rally to Save Our Elections!"
Republicans in the most populous county in Arizona continue to pursue a controversial audit of ballots in an attempt to prove Trump's claim that his loss to Joe Biden in the state, and nationally, was caused by widespread voter fraud. It was not.
Katie Hobbs, a Democrat, spoke to CNN on Friday. Asked what she wanted to tell Trump, she said: "Well, I mean, like most grownups, take your loss and accept it and move on … Nothing that's going on here is going to change the outcome, and, really, this is nothing more than being a sore loser."
Hobbs also said Trump's appearance – like support for his lies from local Republican officials, office holders and congressional hopefuls lining up to speak at Saturday's event – was dangerous.
"The bottom line is it doesn't matter what he says or does," she said. "Nothing is going to change the outcome of the 2020 election. But it also doesn't change how dangerous this is."
Trump's lie about electoral fraud stoked the deadly attack on the US Capitol in Washington on 6 January this year. He retains power in the Republican party, which has swung behind him in seeking to obstruct investigations of the assault.
"The bottom line is that Arizonians are tired of being led by conspiracy theorists," Hobbs said. "They don't support this fake audit, and they're ready for leaders who are going to put those partisan games aside and deal with real issues."
Hobbs is hoping to become governor of Arizona. Midterm elections will also see a key Arizona Senate seat up for grabs again. Mark Kelly, a former astronaut and a prominent campaigner for gun control reform, won the seat on Biden's coattails last year. But that was to complete a term and he must run again to secure a full six years in the seat.
On Friday, the former president blasted "Rinos", or "Republicans in Name Only" whom he regards as insufficiently loyal. One GOP Arizona state senator offered a pithy reply.
"If he hadn't started an insurrection in DC and gotten kicked off here," Paul Boyer wrote on Twitter, "I could've responded directly to him. So there's that."
Trump said his remarks would be broadcast by networks including Newsmax and One America News, upstart rightwing operations which have sought to challenge Fox News on the right of the political spectrum.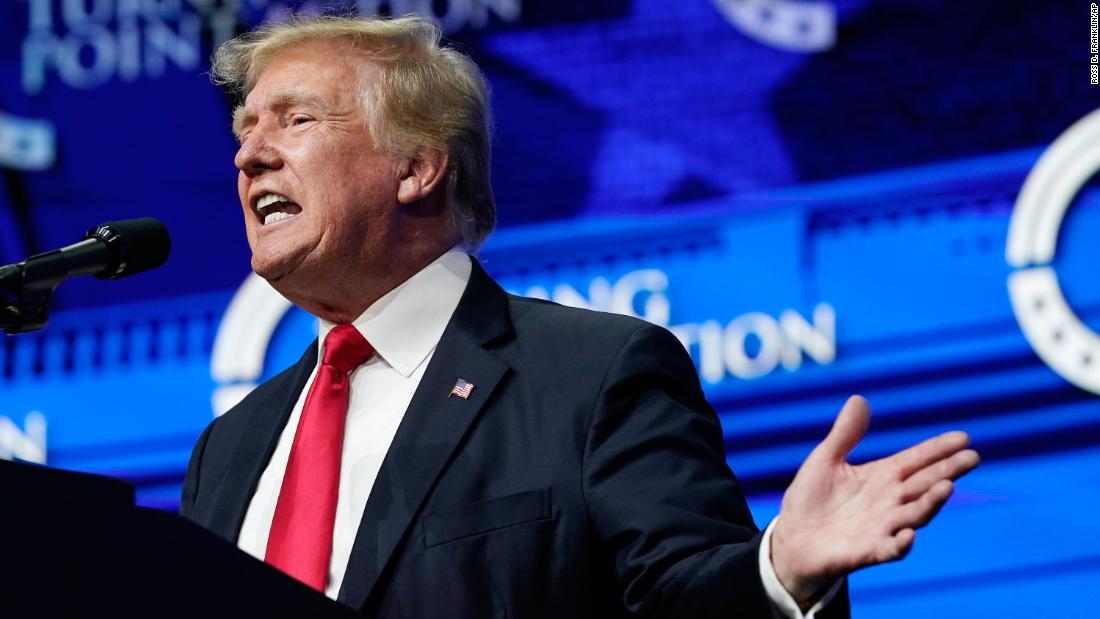 CNN 25 July, 2021 - 04:01am
Updated 12:07 AM ET, Sun July 25, 2021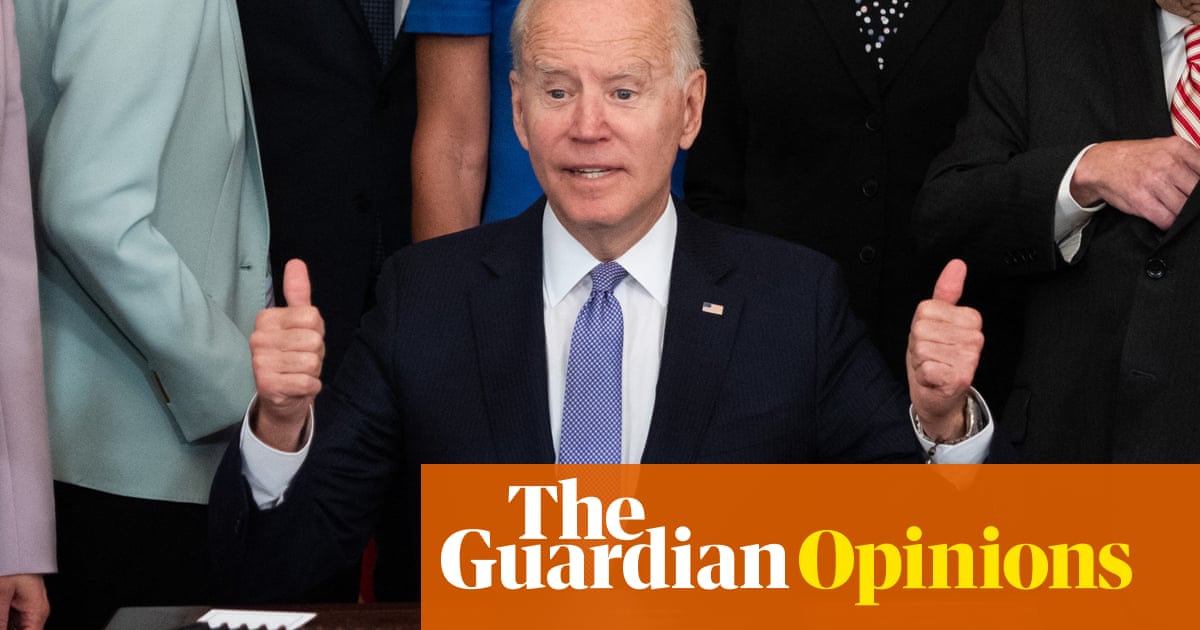 The Guardian 25 July, 2021 - 12:00am
So far this year, the Republican party has passed roughly 30 laws in states across the country that will make voting harder, especially in Black and Latino communities. With Trump's baseless claim that the 2020 election was stolen, Republicans are stoking white people's fears that a growing non-white population is usurping their dominance.
Yet while Biden and Democratic leaders are openly negotiating with holdout senators for Biden's stimulus and infrastructure proposals, they aren't exerting similar pressure when it comes to voting rights and elections. In fact, Biden now says he won't take on the filibuster, which stands firmly in the way.
What gives? Part of the explanation, I think, lies with an outside group that has almost as much influence on the Democratic party as on the Republican, and which isn't particularly enthusiastic about election reform: the moneyed interests bankrolling both parties.
A more robust democracy would make it harder for the wealthy to keep their taxes low and profits high. So at the same time white supremacists have been whipping up white fears about non-whites usurping their dominance, America's wealthy have been spending vast sums on campaign donations and lobbyists to prevent a majority from usurping their money.
They're now whipping up resistance among congressional Democrats to Biden's plan to tax capital gains at 39.6% – up from 20% – for those earning more than $1m, and they're on the way to restoring the federal tax deduction for state and local taxes, of which they're the biggest beneficiaries.
In recent years these wealth supremacists, as they might be called, have quietly joined white supremacists to become a powerful anti-democracy coalition. Some have backed white supremacist's efforts to divide poor and working-class whites from poor and working-class Black and brown people, so they don't look upward and see where most of the economic gains have been going and don't join together to demand a fair share of those gains.
Similarly, white supremacists have quietly depended on wealth supremacists to donate to lawmakers who limit voting rights, so people of color continue to be second-class citizens. It's no accident that six months after the insurrection, dozens of giant corporations that promised not to fund members of Congress who refused to certify Biden as president are now back funding them and their anti-voting rights agenda.
Donald Trump was put into office by this anti-democracy coalition. According to Forbes, 9% of America's billionaires, together worth a combined $210bn, pitched in to cover the costs of Trump's 2020 campaign. During his presidency Trump gave both parts of the coalition what they wanted most: tax cuts and regulatory rollbacks for the wealth supremacists; legitimacy for the white supremacists.
The coalition is now the core of the Republican party, which stands for little more than voter suppression based on Trump's big lie that the 2020 election was stolen, and tax cuts for the wealthy and their corporations.
Meanwhile, as wealth supremacists have accumulated a larger share of the nation's income and wealth than at any time in more than a century, they've used a portion of that wealth to bribe lawmakers not to raise their taxes. It was recently reported that several American billionaires have paid only minimal or no federal income tax at all.
Tragically, the supreme court is supporting both the white supremacists and wealth supremacists. Since Chief Justice John Roberts and Justice Samuel Alito joined in 2005 and 2006, respectively, the court has been whittling away voting rights while enlarging the rights of the wealthy to shower money on lawmakers. The conservative majority has been literally making it easier to buy elections and harder to vote in them.
The Democrats' proposed For the People Act admirably takes on both parts of the coalition. It sets minimum national standards for voting, and it seeks to get big money out of politics through public financing of election campaigns.
Yet this comprehensiveness may explain why the Act is now stalled in the Senate. Biden and Democratic leaders are firmly against white supremacists but are not impervious to the wishes of wealth supremacists. After all, to win elections they need likely Democrats to vote but also need big money to finance their campaigns.
Some progressives have suggested a carve-out to the filibuster solely for voting rights. This might constrain the white supremacists but would do nothing to protect American democracy from the wealth supremacists.
If democracy is to be preserved, both parts of the anti-democracy coalition must be stopped.
The Hill 24 July, 2021 - 02:57pm
In a statement, Pelosi said she had spoken with McCarthy "about the objections raised about Representatives Jim Banks and Jim Jordan and the impact their appointments may have on the integrity of the investigation."
Instead, McCarthy yanked all five of his picks and said in a statement, "This represents an egregious abuse of power and will irreparably damage this institution." 
ABC's "This Week" — Pelosi, Portman 
NBC's "Meet the Press" — Preempted by coverage of the Tokyo Olympics.
The Hill 1625 K Street, NW Suite 900 Washington DC 20006 | 202-628-8500 tel | 202-628-8503 fax
The contents of this site are ©2021 Capitol Hill Publishing Corp., a subsidiary of News Communications, Inc.
The Washington Post 24 July, 2021 - 09:55am
In today's climate, however, nothing is easy, and the path ahead for the infrastructure bill remains uncertain. There are philosophical differences of long-standing about how to pay for what's needed, but they are not insurmountable if politicians are truly intent on getting something done. There are funding issues still to be resolved. There is fine print to be worked out. An attempt to start debate failed last week, though that is not indicative of the bill's fate.
Still, as Amy Walter of the Cook Political Report recently noted, if the infrastructure package does reach Biden's desk for signature sometime later this year, it is likely to be the last such major initiative enacted with bipartisan support to do so. Success on the package would not foreshadow a shift back to an earlier era, one with which Biden is familiar and wishes to try to re-create, even in small ways, but would simply be one moment of cross-party good will, a temporary truce in a raging war.
Everything else about the current state of politics points in the other direction, despite Biden's professed desire to re-create the kind of climate in Congress that he remembers from his many years in the Senate. From voting rights to the president's ambitious domestic initiatives to the hyper-charged issue of the riot at the Capitol on Jan. 6, the split between the two parties remains unbridgeable.
Nothing speaks more directly to this condition than the ongoing dispute over investigating what happened when the Capitol was overrun on Jan. 6. And nothing underscores the problem more than how House Minority Leader Kevin McCarthy (R-Calif.), his eyes clearly fixed on becoming speaker after the 2022 midterms and his loyalties highlighted by his continuing courtship of former president Donald Trump, has approached proposals to create a body to investigate fully what happened on Jan. 6 and the days and weeks ahead of it, including Trump's role.
The normal approach for a catastrophic event like Jan. 6 would be an independent commission patterned after the body that investigated the 9/11 terrorist attacks. Hopes that Congress would create an independent commission crashed in the Senate when Republicans balked and denied supporters the 60 votes needed to make it a reality. Republicans blocked it even though the broad terms of its makeup and mandate had been negotiated by members of both parties.
The vote in the Senate was a sign that Republicans wanted nothing to do with an extended probe into what happened when a mob stormed the Capitol with the goal of preventing the certification of Biden's electoral college victory. Republicans especially do not want an investigation that includes examining the role Trump played in helping to cause the Capitol to be overrun by his supporters. And they certainly do not want the issue of Jan. 6 clouding the debate ahead of next year's midterm elections.
With an independent commission blocked, House Speaker Nancy Pelosi (D-Calif.) decided to go ahead with a select committee composed of House members of both parties, though she retained the power to pick a majority of the members. Among her picks was Rep. Liz Cheney (Wyo.), the Republican most outspokenly critical of Trump's role on Jan. 6 (she later voted to impeach him) and who is now a pariah to many in the GOP.
McCarthy had the authority to appoint five members. He decided to blow up the process with the selection of Reps. Jim Jordan of Ohio and Jim Banks of Indiana, both of whom on the day the Capitol was attacked voted against certifying Biden's election. They would have joined the committee as disrupters rather than contributors. McCarthy and Pelosi both knew that instinctively.
Pelosi then took the extraordinary step of rejecting Jordan and Banks. Perhaps that was precisely what McCarthy had hoped. The minority leader reacted by adopting an all-or-nothing posture: Take all the Republican members he had proposed or Republicans would refuse to participate in the select committee's work. "We will run our own investigation," he said.
The outcome is predictable: parallel investigations that inevitably will go in different directions, reach different conclusions and speak to different parts of the electorate — the same fracturing of message and information that encompasses so much of current politics.
The committee named by Pelosi will seek to understand not only the security problems that made it possible for the Capitol to be overrun but also Trump's role in ways that are still not fully understood, including his conversation with McCarthy on that afternoon. The Republican investigation, if the rhetoric of GOP lawmakers about what a Jan. 6 probe should encompass is any indication, will go in other directions that will dilute the Jan. 6 focus.
Republicans complain about the lack of a bipartisan investigation after having scotched the one proposal that might have produced something close to it. That is a reminder that whatever partisanship existed in the years after 9/11, and there was a considerable amount of it as the 2002 midterm elections demonstrated, conditions today are significantly worse. They are worse in large part because the Republican Party of Ronald Reagan and George H.W. Bush and George W. Bush has devolved into a cult-of-Trump political organization, held hostage by the former president and the grievances he continues to foster.
That's the atmosphere in which the senators from both parties are operating as they try to show that bipartisanship isn't dead. Their work continues through this weekend, aimed at reaching agreement by early next week, if possible.
They are trying to resolve the remaining issues as they try to turn concepts into legislative language. Some of the issues are large (how much money for transit, for example). Others are smaller, though not necessarily easily resolved. Staff experts have the task of working through them.
The incentive for the group of senators — and Biden — to reach agreement, beyond the practical reasons of finally funding badly needed infrastructure projects, is to show that bipartisanship can still happen, even if it is the exception rather than the rule. Failure would only add to the forces that now drive politics.