Bridget Bowman
bridgetbhc
Trump is returning to Arizona tomorrow for Turning Point Action's "Rally to Protect Our Elections." Three GOP Senate candidates are also expected to speak at the event: www.rollcall.com/2021/07/22/senate-candidates-walk-trump-tightrope-as-he-returns-to-arizona/ #AZSEN

Laurie Roberts
LaurieRoberts
Was that a Senate hearing on Arizona's election audit or a Trump infomercial? www.azcentral.com/story/opinion/op-ed/laurieroberts/2021/07/15/arizona-senate-election-audit-hearing-sounded-like-trump-infomerical/7985985002/ via @azcentral
Lauren Peikoff
laurenpeikoff
AP: Few Arizona voter fraud cases undercut Trump's claims "… county election officials have identified fewer than 200 cases of potential voter fraud out of more than 3 million ballots cast in last year's presidential election…" apnews.com/e6158cd1b0c6442716064e6791b4c6fc
Courtney Norris
courtneyknorris
PHOENIX (AP) — Arizona county election officials have identified fewer than 200 cases of potential voter fraud out of more than 3 million ballots cast in last year's presidential election, undercutting Trump's claims of a stolen election apnews.com/article/business-government-and-politics-arizona-election-2020-e6158cd1b0c6442716064e6791b4c6fc?utm_source=Twitter&utm_campaign=SocialFlow&utm_medium=AP
The Arizona Republic 23 July, 2021 - 09:02am
Finchem is now selling T-shirts that say #ProveIt.
For the meager sum of $35 to $45, you, too, can tell the world that no longer is it up to the Arizona Senate's auditor to prove that Arizona's election was stolen.
Now it's up to those of us who don't buy into the cockamamie conspiracy theories to prove that they aren't true.
"We've already shown evidence of fraud – now it's time for them to prove it wasn't," Finchem tweeted on Tuesday. "So I want them to #ProveIt – prove that there was no fraud in the election. Prove that the machines can't access the internet. Prove that the ballots are all there.
"Prove that the votes weren't changed. Prove that the 3 am November 4th vote dump was legitimate. Prove that sharpies weren't given to Trump voters on election day. Prove that our elections weren't hacked. Prove it!"
And, of course, there was this:
"If you agree that the #FakeNews and the liberal officials need to PROVE IT – you can proudly show your stance by buying one of my Prove it T-Shirts now. You will be among the first to wear one as I literally just got back from the print shop myself."
ORDER YOUR #ProveIt SHIRT TODAY:https://t.co/nknvTLTYaY pic.twitter.com/vOdfR75Oaf
Proceeds from the T-shirt sales will go not to prove anything other than the self-evident fact that Finchem will do and say just about anything to get himself elected secretary of state.
Not because county officials have to prove anything, but because they need to at least try to repair the damage done by Finchem and Fann and all the Republican leaders who have whipped people into a frenzy -- not because they have evidence of a stolen election but because they have dreams of upward political mobility.
Chief among them: his claim that 74,243 more early ballots were cast in Maricopa County than were mailed out to voters. Logan acknowledged that could have been a clerical error but the likes of gubernatorial candidate Kari Lake, Sens. Wendy Rogers and Sonny "I might get whacked" Borrelli and, of course, Finchem immediately pounced on it as proof positive that the election was stolen.
More likely, it's proof positive that the Senate's ninja auditor doesn't know what he is talking about.
If he did, he would know that not all early ballots are mailed out to voters. Some are cast at early voting centers and thus don't show up on the county's list of ballots mailed to voters.
But hey, never let the facts get in the way of a good conspiracy theory.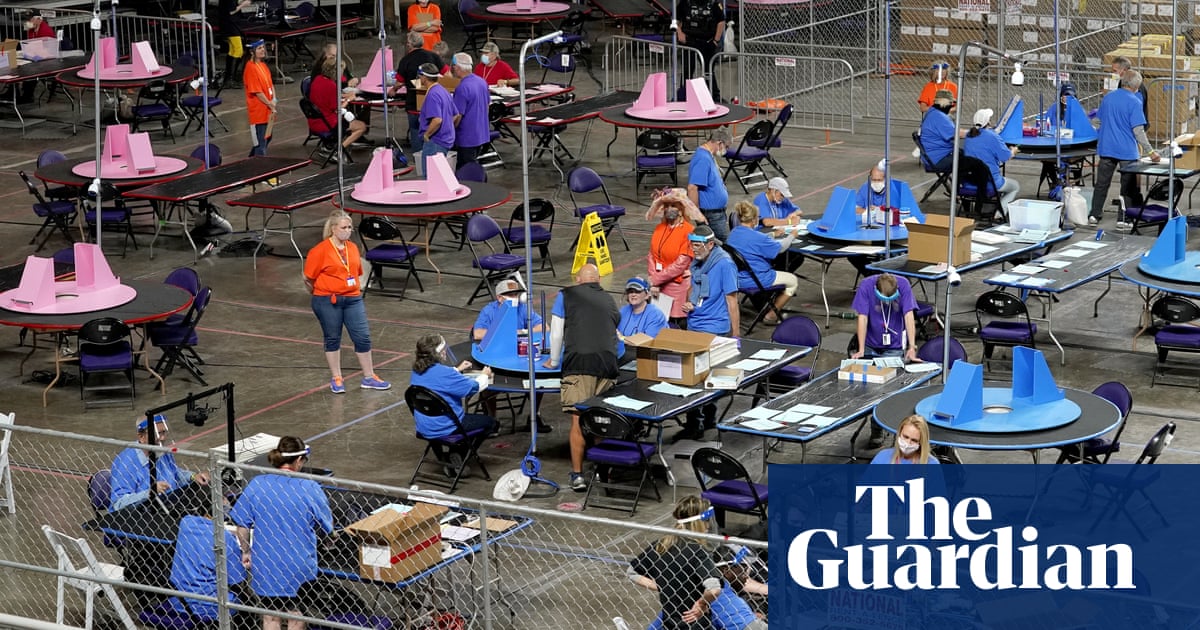 The Guardian 23 July, 2021 - 09:02am
By all accounts, the election "audit" in Arizona is a failure – months past its initial deadline, potentially in violation of federal law and riddled with mistakes.
Therefore, it's unsurprising that the auditors are fighting to shield their operation from public records requests and to hide their donors. Still, somehow, the review has inspired copycats around the country.
A Republican legislator in Pennsylvania recently threatened three counties with a subpoena if they don't turn over their voting machines, computer system logs and voters' personal information, a move that reportedly has the support of senior party officials.
Meanwhile, Republicans in Texas are attempting to pass a bill that would force an audit of the November 2020 election, beginning 1 November 2021 and continuing into 2022.
These legislators are clearly hoping to earn political capital from pushing a popular myth among Republicans – but will these sham audits ultimately backfire on them?
On one hand, this is an easy way to continue stoking hysteria about the 2020 election, especially as all but the most loyal Trump supporters eventually lose interest and move on.
And when it comes to disinformation, these reviews offer a nearly bottomless well. For example, an auditor in Arizona recently claimed to have found "74,243 mail-in ballots where there is no clear record of them being sent [out to voters]".
In reality, the team had failed to account for in-person early voting, which one expert called a "glaring omission from the analysis" that was either "grossly negligent" or "deliberately misleading". However, as political theatre, the move was a success, generating viral tweets and a written statement from the former president.
Still, this strategy is fraught. In Arizona, the Republican-controlled board of supervisors did nearly everything possible to resist the review, and it's easy to see why. After weathering a pandemic and facing down hostile mobs, these officials were then being accused of incompetence at best and complicity in a vast conspiracy at worst.
Already, the two Pennsylvania counties controlled by Republicans have said they won't comply voluntarily with the request, and though election administrators don't have the same platform as grandstanding politicians, it isn't great optics to bully fellow Republicans to conduct an audit that will almost certainly reveal no fraud, as was the case recently in Michigan.
On some level, it's clear politicians know this. In February, the Arizona senate tried to arrest the ​​Maricopa county board of supervisors but failed after a Republican defected.
In addition, Maricopa county announced last month that it wouldn't use many of the machines used in the review, which the Arizona secretary of tate had already threatened to decertify because of potential security risks – demonstrating again that actions have consequences.
So, will Republicans outside Arizona move past political posturing and actually conduct more sham reviews? Perhaps, and at their peril.
A federal appeals court has blocked an Indiana law that would have made it easier to remove voters from the rolls, which was a revised version of a 2017 law that was also struck down.
You've probably heard about the gubernatorial recall in California – but another one in Alaska, initiated in 2019, was just greenlit by the state'ssupreme court.
After originally stating that he wouldn't allow any additional voting ID requirements, Pennsylvania's governor now says that he's open to the possibility, specifically for absentee voting.
Yahoo News 23 July, 2021 - 09:02am
A message issued through Trump's Save America PAC on Thursday singled out state Sen. Paul Boyer, calling him a "RINO," which stands for Republican in Name Only, and offering praise to his primary challenger.
"Republican Arizona State Senator Paul Boyer, a RINO if there ever was one, is doing everything in his power to hold up the damning Forensic Audit of Maricopa County which has been taking place over the last 90 days. The people of Arizona are demanding it," Trump said. "Boyer has been nothing but trouble, and nobody knows why. All we demand is Voter Integrity! He is being primaried by a strong and highly respected challenger, former Arizona State Representative Anthony Kern."
Kern, a candidate for the 2022 midterm elections, thanked Trump on Twitter for the statement.
Boyer also responded with a snarky tweet, alluding to the southern border, reports the auditors were looking for bamboo fibers from China in ballots, and the Jan. 6 Capitol riot.
"Had Trump built the wall like he promised, perhaps he could've prevented the 40k #BambooBallots from being imported into Arizona," he said in a tweet, inserting a laughing emoji. "And if he hadn't started an insurrection in D.C. and gotten kicked off here, I could've responded directly to him. So there's that."
After courts rejected several lawsuits challenging the 2020 results in Arizona and other states Trump lost, the former president and his allies have turned their attention to the GOP-led Arizona Senate audit in Maricopa County, touting it as an inspection that could support their claims of widespread fraud or irregularities.
President Joe Biden won Arizona and its 11 electoral votes by more than 10,000 votes out of the 3.3 million across the state. His lead of roughly 2 percentage points was due partly to his advantage in Maricopa County, where the Democrat scored nearly 45,000 more votes than Trump among roughly 2.1 million ballots cast.
Biden was the first Democratic presidential candidate to win the Southwestern state since President Bill Clinton captured it in 1996.
Maricopa County officials, who have said the auditors are incompetent and refuse to cooperate fully with the review, previously authorized two election machine audits that found no irregularities in the county's 2020 election. There was also a hand recount of a statistical sample of ballots that did not turn up any problems.
Boyer, a Republican from the Phoenix suburbs, was quoted in a New York Times report in May lamenting the audit had become the focus of a political maelstrom, as critics panned the contracted auditors and processes of the partisan review.
"It makes us look like idiots," Boyer said. "Looking back, I didn't think it would be this ridiculous. It's embarrassing to be a state senator at this point."
Maricopa County officials announced last month voting machines subpoenaed for the audit would be removed from service after Arizona's Democratic secretary of state, Katie Hobbs, threatened to decertify the equipment, citing concerns with the methods of Cyber Ninjas, a Florida-based firm hired to lead the review.
The U.S. Justice Department has also signaled it may take action against the audit.
Arizona Senate President Karen Fann says the audit is not about overturning the election but rather finding problems that could be addressed in election-focused legislation. Still, some in her caucus, including state Sen. Wendy Rogers, have called for recalling the state's electors even before the audit is completed and its final findings are released.
State Senate Majority Whip Sonny Borrelli floated the possibility of introducing a resolution to "reclaim electors" if the audit's findings put Biden's 2020 election victory in doubt. Although audit officials predicted the audit would conclude by the end of the summer, testimony last week before the Arizona Senate indicated it could be drawn out if their request for more materials and information leads to subpoenas.
Tags: News, 2020 Elections, Election Fraud, Arizona, Arizona Senate, Donald Trump
Original Author: Daniel Chaitin
Original Location: Trump slams Arizona Senate Republican who said Maricopa audit 'makes us look like idiots'
It's all speaking to a national vaccine controversy that is making its way into NFL locker rooms. It's something Elliott said he understands, despite his choice to get the shot.
Nearly three years after Justice Brett Kavanaugh's tumultuous confirmation to the Supreme Court, the FBI has disclosed more details about its efforts to review the justice's background, leading a group of Senate Democrats to question the thoroughness of the vetting and conclude that it was shaped largely by the Trump White House. In a letter dated June 30 to two Democratic senators, Sheldon Whitehouse of Rhode Island and Chris Coons of Delaware, an FBI assistant director, Jill C. Tyson, said tha
Exhausted parents everywhere can relate to this woman's hilarious makeup mishap.
"I recognize that transitioning is beautiful. Why not let the world see what that looks like?" said Tommy Dorfman.
The former first lady is viewed as one of Donald Trump's most influential advisors, rivaled only by the influence of Ivanka and son-in-law Jared Kushner.
Yuliya Gishteyn received a minor consequence for spitting on activist Keren Prescott.
Biden told CNN: "You're saying: 'Don't come in for breakfast. We can get our own breakfast,' because I like to walk out in my robe."
A teen athlete claims the U.S. Olympic Committee is trying to stop her from representing Haiti for the Tokyo Olympics. Taking a dream away: Taekwondo athlete Aliyah Shipman, who has been fighting and winning medals for the Haitian Taekwondo Federation for the last two years, said that U.S. Olympic officials are now questioning her eligibility and background, reported WRLN. Born to a Haitian father and an Indian mother, the 18-year-old welterweight fighter qualified to represent Haiti last March, after winning the Pan American Olympic Qualifier.
A woman felt like she was being harassed by a man after he stood in front of her holding a sign on modesty.
Early data from an NYC pilot program shows more people experiencing mental health emergencies accepted assistance from non-police response teams.
Mike Lindell baselessly claims that Trump won the 2020 presidential election. He's offering $5 million to anyone who can prove he's wrong.
Mississippi's attorney general on Thursday urged the U.S. Supreme Court to overturn Roe v. Wade, which set a precedent for the constitutional right to abortion, and uphold a state law that bans the procedure after 15 weeks of pregnancy. Why it matters: This fall's hearings on the Mississippi ban could have widespread implications for healthcare, and gives the Supreme Court's "newly expanded conservative majority a chance to confront what may be the most divisive issue in American law: whether th
Vaccination rates are lagging among young people as the Delta variant spreads
Guinea was set to send five athletes to Tokyo.
She's also auctioning off other "sentimental" items from their relationship.
It's the biggest travel question of the summer, and maybe of the year: When will travel go back to normal? We're not there yet. Travel restrictions remain in place. Prices are unpredictable. And people are nervous. Subscribe to The Post Most newsletter for the most important and interesting stories from The Washington Post. "I would not call this normal," says Sertan Kabadayi, a marketing professor at Fordham University. "I think 'somewhat normal' would be a better descriptor. Even though we can
Trump weighed in on the January 6 insurrectionists and revealed why he believes the Supreme Court refused to hear election challenges.
Kate Beckinsale revealed she doesn't really "date" anyone — she just marries them or "gets pregnant."
It is hard for Christina Paruag to believe how much she has missed out on because of endometriosis. Paruag, 26, was diagnosed with the chronic disease when she was 18, but she reported having persistent lower abdominal pain since the age of 8. At 11, her condition was misdiagnosed as a hairline fracture on her hip, she said.Subscribe to The Post Most newsletter for the most important and interesting stories from The Washington Post. Then, at 12, she started menstruating. The pain was excruciatin
Yes, the summer cold and cough season really is worse than usual. "I've had bad colds, but I've never experienced a virus like this," said Holly Riddel, 55, an entrepreneur in Redondo Beach, California, who has been suffering from congestion, clogged ears and a raspy throat for about two weeks. "I want this gone. I haven't been able to work out. I'm just not feeling like myself." Months of pandemic restrictions aimed at COVID-19 had the unintended but welcome effect of stopping flu, cold and oth
msnNOW 23 July, 2021 - 09:02am
A PAC formed by former President Donald Trump to fund his attempt to challenge last year's presidential election result has not spent any money on audits or other election review measures, The Washington Post reported.
The Save America leadership PAC was founded last year as Trump pushed his "big lie" that last year's election was stolen from him as a result of an elaborate plot by Democrats. The PAC, which has few legal limits on how it can spend its money, raised $75 million.
Sources familiar with the PAC's finances told the Post that barely any of the money has been spent, apart from a small portion that has been used for some of Trump's travel and legal expenses, and to pay staff.
According to the sources, none of the money has been channeled into concrete attempts to challenge last year's election result, such as the ballot audit being conducted in Arizona's Maricopa county.
While Trump has issued statements in support of the ballot audit in Arizona, and attempts by other GOP legislatures to cast doubt on the integrity of last year's election, none of the money from his PAC war chest has been used to support the reviews, the Post reports.
Australian states squabble as NSW seeks vaccine priority
Brianna Keilar pushes back on city leader: That's anti-science
Protesters in Tokyo call for Games to be cancelled
UK climate activists urge action ahead of COP26
Justice Department to launch gun strike forces to five major cities
New Jersey hospital to mandate workers have coronavirus vaccine
Adorable animal takes 'extraordinary' 600-mile trip
Watch volunteers rescuing stray dogs at flooded shelter
Speaker Pelosi considers adding GOP members to select committee
Who is Justice Brett Kavanaugh? 5 things you should know.
Officer testifying about riot faces griping
Alabama governor says 'unvaccinated folks' letting the state down
The woman helping reunite volcano families
Thousands descend on UK music festival
Afghanistan: 'Taliban gains are not irreversible'
Tragic death of translator highlights plight of allies left behind in Afghanistan
The deadline for the PAC to make its public financial statements in compliance with federal laws is July 31.
Insider has contacted a Trump spokesperson for comment, but is yet to receive a response.
Arizona's audit - which has been characterized as a shambolic partisan stunt by county election officials - is being partly funded by Arizona taxpayers and partly by private donations. A lawsuit seeking to launch a similar election review in Fulton County, Georgia, is also being funded by private donations.
The PAC has continued to fundraise mainly by appealing to donors to fund the campaign to ensure election integrity.
Trump's election fraud claims were defeated, or thrown out, in a series of court cases last year and twice refused a hearing in the US Supreme Court.
He has continued to push them, however, despite the conspiracy theory inciting supporters to attack the Capitol on January 6, amid he rumours he is gearing up for another presidential bid in 2024.
Like us on Facebook to see similar stories
Please give an overall site rating:
The Washington Post 22 July, 2021 - 05:13pm
If you've never heard of these people, that's okay. If this is the first you've heard of the March for M4A, that's understandable, too; coverage of these events has been largely confined to left-wing YouTube channels and podcasts. Six months into Joe Biden's presidency, six months into Sen. Bernie Sanders's (I-Vt.) term atop the Senate Budget Committee, the movement to replace American health care with a cheaper single-payer system has vanished from daily political debate.
Sanders, who denounced "incremental" change as a presidential candidate, is now selling the Democrats' proposed budget package as "the most consequential piece of legislation for working families since the 1930s." Not everyone who backed Sanders for president has come along. The March for M4A's organizers include Green Party affiliates and other groups that advocate for a break from the "corporate" Democrats; they don't include some of the best-known advocates for the policy, like Sanders himself.
"I agree that incremental change is insufficient," said Rep. Pramila Jayapal (D-Wash.), the lead author of the House's Medicare-for-all bill, who recorded a message for the Saturday rally in Seattle. "I feel that urgency they feel. Part of the challenge here is that, as amazingly progressive as Biden has been in office on many issues, he's said he doesn't believe in Medicare-for-all. It's difficult to move on any issue if the president says he doesn't agree with it."
Medicare-for-all campaigners don't agree on one strategy for passing Jayapal's bill. They generally agree that Plan A was electing Sanders to the presidency, and that the 2020 primary was their last chance at doing so. (Sanders, who turns 80 in September, has said that he probably won't run again.)
"Honestly, the conversation took a step back in 2020," said Ricky Dunlop, a 35-year old writer and activist who helped conceive of the March for M4A rallies, which began as a single march in Washington. "Medicare-for-all was very popular in 2016. Bernie Sanders kicked off the conversation. Now, I think some people are deflated. People are saying to us: Hey, maybe it's not as popular as you think. Look who's president now."
The 2016 Sanders campaign inarguably pushed single-payer health care into the Democratic Party mainstream. Four years ago, when he released a legislative version of the plan, most of the senators who would run for president in 2020 endorsed it. To the exhaustion of other candidates — and of the non-Sanders candidates who released their own, altered versions of Medicare-for-all — the idea of replacing the country's combination of private and public health insurance with one universal program dominated months of primary debates. None was as compelling to liberal voters as Sanders's proposal, to put the full power of the White House behind a filibuster-proof single-payer plan.
After the primaries, Sanders adjusted, putting Medicare-for-all advocates like Jayapal on a special committee that helped brainstorm policies for the 2020 Democratic platform. Sanders has endorsed Jayapal's legislation, though not reintroduced his own bill in the Senate. They and other liberals in the party have worked to expand existing government health-care programs in the upcoming budget — lowering the Medicare eligibility age to 60, as well as adding dental, hearing and vision insurance to the Great Society-era government plan.
But many on the left liked the first plan — single payer or bust. At the start of 2021, left-wing media voices like "Bad Faith" podcast host Briahna Joy Gray and YouTube commentator Jimmy Dore argued that left-wing House Democrats needed to "force the vote" on Medicare-for-all, and refuse to back House Speaker Nancy Pelosi for a new term without it. When that didn't happen, Democrats like Rep. Alexandria Ocasio-Cortez (D-N.Y.) got friendly fire, denounced as "sellouts" who were abandoning the great liberal cause of their era.
This weekend's march grew out of that disappointment. The run-up has revealed how difficult it is to organize around an idea this big without the driving force of a presidential campaign. Some of the highest-profile Medicare-for-all advocates on the left, like National Nurses United, never got involved. The rally's announced headliners are frequently obscure, or worse, as organizers learned when a white nationalist named Matthew Heimbach was submitted as a speaker in Indiana under the name "Matthew Bach." That event was canceled, and Dunlop explained that the submitter had taken advantage of an overworked graphics team, which mistakenly created an image confirming "Bach's" appearance.
A majority of House Democrats have co-sponsored Jayapal's bill, but none are slated to speak in person at the weekend rallies. Tara Reade, a former staffer for Biden's Senate office who accused him last year of sexual assault, will be speaking in Los Angeles; according to Dunlop, "she's not allowed to talk about Biden" and will focus on the health-care needs of sexual assault survivors. (Biden denied Reade's allegations, which were not corroborated after reporters dug into them.) While some speakers are health-care experts, like Michigan Democrat and physician Abdul El-Sayed, many are insurgent candidates who argue that the Democratic Party is abandoning a winning issue.
"Even the co-sponsors aren't putting it on the floor," said Terrell Anderson, 31, a Democrat running for Congress in Alabama's deep-red 2nd Congressional District. "I feel like a lot of people co-sponsoring the bill are signaling that they're on our side, but they're not serious about it."
Other Democrats have ignored the rallies, to organizers' dismay. Ohio congressional candidate Nina Turner, the co-chair of Sanders's 2020 campaign, will be campaigning alongside Ocasio-Cortez on Saturday; she will not be attending the closest rally, in Columbus, a two-hour drive from the district in which she is running. While Turner is running on Medicare-for-all, she said in an interview last week that voters were more interested in what the government could deliver on than on projects that might not have the votes to pass right now.
"I'm hoping that we don't have too many moments where we've just got to play games," Turner said. "What I hear from people is, 'My life has not changed. Politicians have just lied to us to get our votes.' So we do need Democrats to deliver."
Michael Lighty, a longtime single-payer activist and 2020 Sanders campaigner, argued that the long-term strategy for passing Medicare-for-all had changed after the primaries, but not every organizer had changed with it.
"As long as there was a prospect of a real Medicare-for-all president, incrementalism undermined that demand," Lighty explained. "When you've got a real chance to get it all, that's the wrong time to talk about settling for less."
This weekend's rallies, said Lighty, represented one faction of a broader movement. To grow, and to win, he saw promise in building alliances with racial justice movements. Rallies for Medicare-for-all that didn't attract the same mass organizing were less promising. But after 2020, no one was quite sure what to try.
"Our movement has a hard time acting strategically, and we've got to get much more serious about that," Lighty said. "We also know that the establishment still views Medicare-for-all as a threat. That is telling."
"Bipartisan House probe of Jan. 6 insurrection falls apart after Pelosi blocks two GOP members," by Marianna Sotomayor, Jacqueline Alemany and Karoun Demirjian
Why Republicans pulled back their committee picks.
"Gerrymandering potency raises the stakes for the 2020s," by Kyle Kondik
A comprehensive look at the new (and somewhat census-delayed) mapping process.
"Democrat McAuliffe reports raising twice as much money as GOP rival Youngkin during June in Virginia governor's race," by Gregory S. Schneider
The longtime fundraisers vs. the first-time (partial) self-funder.
"'A little wiggle room': GOP candidate winks at base as he tries to win Dems," by Matt Friedman and Katherine Landergan
How a New Jersey Republican pitches voters who don't like his party.
"Trump's PAC collected $75 million this year, but so far the group has not put money into pushing for the 2020 ballot reviews he touts," by Josh Dawsey and Rosalind S. Helderman
Not every campaign text message to donors is telling the truth.
The conservative push for more audits of the 2020 election isn't over, though the messaging has begun to change.
On Saturday, Donald Trump will join the conservative youth group Turning Point USA for a "protect our elections" rally in Phoenix, pegged to the state's Republican-backed election law changes and to the ongoing, but nearly finished, audit of Maricopa County's 2020 vote. He'll be joined by most of the state's House GOP delegation (three of the four Republicans, minus Scottsdale-area Rep. David Schweikert), the GOP candidates for governor and all of the candidates for secretary of state. Like Trump, and like TPUSA's president Charlie Kirk, most of the listed attendees have suggested that the 2020 election was stolen, and that the audit will expose this.
"House Democrats are now saying, 'We've got to audit the audit in Arizona,'" Kirk told listeners of his radio show last week. "You know why? Because they're now very nervous that what is coming to light in Arizona and Georgia exposes what could be systemic interference in our election system."
Kirk was referring to the latest in a series of analytical errors by audit backers; Doug Logan, whose Cyber Ninjas firm was contracted to run the audit, suggested that tens of thousands of ballots cast in person were actually "mail-in ballots where there is no clear record of them being sent." At the same time, audit supporters have begun suggesting that critics of the process, rather than criticizing it, should prove a negative: that substantial fraud did not occur last year. Mark Finchem, one of the GOP secretary of state candidates, began selling #ProveIt merchandise this week. In an email to donors, Finchem rattled off a series of allegations that had been debunked, some as long ago as late last year, and insisted that the fact that anyone still asked about them showed that the election's defenders needed to prove him wrong.
"Mike will reveal the cyber data and the packet captures from the November 2020 election," reads ad copy for the Aug. 10-12 summit. "A $5,000,000 prize will be offered to any attendee who can prove that this cyber data is not valid data from the November 2020 election."
On Wednesday, Paxton appeared on One America News, suggesting that critics of an audit idea might have something to hide.
"Look, I think it's a great idea. We should never be afraid of the truth. We can find out what actually happened, even in Texas, and find out if our elections have some issues," Paxton said. "We should do the audit and find out what the actual results were." Trump carried Texas, albeit by the smallest margin of any Republican candidate since 1996, while dramatically improving on recent GOP nominees in the majority-Latino counties that border Mexico.
Nina Turner for Us, "Self Serving." The last stretch of the Democratic primary in Ohio's 11th Congressional District has been bitter, with Turner running her first negative ads after a barrage of PAC spots against her from Democratic Majority for Israel (DMFI). First came Turner, on camera, responding to attacks. This is the second volley, 30 seconds of graft accusations against Democrat Shontel Brown, who's become her strongest rival in the Aug. 3 election. Wads of cash pile up on-screen as Brown's accused of steering money to her friends, family and romantic partner. "A slap in the face to working people," mutters a narrator.
Democratic Action PAC, "Lying." After DMFI moved into northeast Ohio to help Brown, two liberal groups organized to help Turner. The Working Families Party threw six figures into some last-minute organizing and canvassing, while other Turner allies formed this PAC, which comes out hot here, saying that Brown's allies are "straight-up attacking a Black woman who's only ever helped working people." Both candidates are Black women, and Turner, too, has said that there appears to be a racialized and gendered component to the attacks on her and her political style.
Club for Growth Action, "Unsolved." As we wrote on Tuesday, the D.C.-based Club has effectively acted as Susan Wright's air cover, running ad after ad against Texas state Rep. Jake Ellzey, while Wright's campaign has been able to save its resources. (Ellzey has raised nearly three times as much money as Wright, despite her endorsement by former president Trump.) Ellzey just got to Austin in January, and the ad hits him for that, shaming him for votes he missed while campaigning, then ending with the Club's current standby: Loyalty to the most recent president. "Wrong about Trump, wrong for Congress."
Ken Welch for Mayor, "Safe for Everyone." St. Petersburg, Fla. has not seen the crime surge of cities like Minneapolis or Portland, but its mayoral election this year is also turning on public safety. Welch, one of the Democrats in the technically nonpartisan race, spends this entire spot talking about the threat of higher crime and how it could undo the city's progress. "I won't be afraid to address the violence that especially affects the Black community," says Welch, who is Black.
You are reading The Trailer, the newsletter that brings the campaign trail to your inbox.
The semantic debate over what to call the events of Jan. 6 began before the Capitol was cleared. For President Biden, it was "the worst attack on our democracy since the Civil War." For some Republicans, it was an act of "peaceful protest," even though it led to five deaths. (There's some irony implied, with conservatives accusing the media of double standards in how it covered last summer's civil rights protests and riots.) CBS News asked adults about a few ways to describe the insurrection, and this was the most divisive, with most Republicans, and a slight majority of White voters without college degrees, rejecting it. Calling it an "insurrection" is nearly as divisive, though a majority of all White voters (with and without advanced degrees) are comfortable with it.
What descriptions are more unifying? Seventy-one percent of adults say the insurrectionists were not "patriotic," including a bare 51 percent majority of Republicans. Sixty-seven percent of adults say that the storming of the Capitol was an attempt to "overturn the election," though 60 percent of Republicans now disagree. Seventy-six percent say the insurrection was a "protest that went too far," while just 31 percent say the rioters were there "defending freedom."
Freshman Sen. Maggie Hassan is the only Democrat up for reelection next year who's trailed a potential opponent in public polls, albeit not by a statistically significant gap. (No Democratic senator on the 2022 ballot represents a state carried by Donald Trump.) The GOP's strategy in New Hampshire is heavily dependent on Sununu, who won his first statewide race the same day that Hassan got elected to the Senate, but who's been far more popular than the Democrat, thanks in part to voter satisfaction with his handling of the pandemic. Hassan's favorable rating is slightly underwater, but she's tied with Sununu and leads against other candidates, at the same time that other UNH polling has found a bare majority of voters approving of Biden.
California. Two more candidates were added to the Sept. 14 recall ballot, with conservative commentator Larry Elder convincing a judge that the state's tax disclosure requirement for candidates shouldn't apply to the election to remove Gov. Gavin Newsom. Elder, who currently hosts a Web series published by the Epoch Times, called it "a victory for the people of California," posting a photo of himself giving a Trump-style thumb's-up with both hands.
Elder's entry surprised California Republicans, though the 69-year old "sage of South Central" is better known among conservative voters than the experienced politicians already in the recall. On Wednesday, as he prevailed in court, Elder welcomed an Emerson/Nextar poll that had him ahead of former San Diego Mayor Kevin Faulconer, 2018 gubernatorial nominee John Cox, state Assemblyman Kevin Kiley and Caitlyn Jenner. (The poll does not meet some industry standards, and Emerson has showed lower opposition to the recall than California-based pollsters.)
Elder, who announced his candidacy on the July 16 filing deadline, has not laid out many policy specifics yet. He's continued to publish segments of the Epoch Times show, devoting some of Wednesday's episode to the story of hearing a man say "you want a banana" as he filled his car at a gas station. The man, he explained, was offering the fruit to a homeless man; "I was about to accuse you of systemic racism!" Elder told him.
The candidate denounces the "systemic racism concept" again on his campaign's website, which hosts an essay about his decision to run, and a promise to lay out policies in the coming days. He labels Newsom a "complete disaster," and attacks the stimulus programs the governor has approved since the start of the year. "If California were a corporation, the Securities and Exchange Commission would go after Newsom for fraud."
Faulconer was dealt a setback in court, and won't appear on the ballot as the "retired San Diego mayor," as he hoped. (The state's statute prevents people who've left elected office to run with their former title.) Kevin Paffrath, an investment advice YouTuber who has the largest social media following of any Democrat on the recall ballot, lost his bid to get "Meet Kevin," his online nickname, to appear on the ballot.
"Branding is not outlawed. The law does not say, you cannot have a brand in here," Paffrath said in a seven-minute video critiquing the decision with a four-letter epithet. "A big warning shot to all influencers out there."
Ohio. As we wrote on Tuesday, Nina Turner will welcome both Alexandria Ocasio-Cortez and Bernie Sanders to Ohio's 11th Congressional District before the Aug. 3 election. We have more details now: Ocasio-Cortez will make four stops with Turner on Saturday, while Sanders will head to the district on July 31, one of the final days of early voting, to personally walk voters to the polls. Turner's chief opponent, Shontel Brown, got the endorsement of New York Rep. Gregory Meeks on Thursday, as critics of the left inside the Congressional Black Caucus mobilize to oppose Turner.
Michigan. Former Detroit sheriff James Craig released a video on Wednesday to promote a potential campaign for governor.
Iowa. Former Rep. Abby Finkenauer, a Democrat who narrowly lost reelection last year, will run for the U.S. Senate seat currently held by Sen. Chuck Grassley. The Republican, who turns 89 before next year's election, has not said whether he'll run again.
Members of Congress have returned to holding in-person town hall meetings, but the raucousness that defined those events in 2009 and 2017 hasn't really re-emerged yet. In the two weeks between July 4 and Congress's return, just a few House Democrats faced loud opposition. That's notable, as conservative activists have mobilized in school board meetings, and around school board elections, to challenge what they say are academic theories that stoke racism by teaching about systemic racism and privilege.
Rep. Sean Maloney (D-N.Y.), the chairman of the Democrats' campaign committee, faced one critic in Dutchess County last week, entirely on the topic of "critical race theory." A video of the exchange published by a Republican campaign committee shows Maloney going back and forth with a critic largely by saying that he's getting wrong, divisive information from conservative media.
"I think what's happening in our country right now is that there's an effort for political reasons to get you mad about these things," Maloney said.
Rep. Tim Ryan (D-Ohio), who's leaving an increasingly red district to run for Senate, was also questioned about CRT at a meeting with Democrats on Friday. According to recording of the exchange, provided by Ryan's campaign, the questioner was not personally angry about CRT, but worried about how Republicans were running against it.