Christina Newland
christinalefou
I wish I had words for this but I really do not pic.twitter.com/xJVzOJJCeh
Kimberly Nicole Foster
KimberlyNFoster
Now wait. Oscar Isaac and Jessica Chastain are married to other people???
Jessica Chastain
jes_chastain
Channeling my inner Stevie Nicks for episodes 3, 4 & 5 ✨ see you tonight 😘 #ScenesFromAMarriage pic.twitter.com/hHe80UJP5C
Chris Evangelista
cevangelista413
Wow more hot red carpet looks from Oscar Isaac and Jessica Chastain just dropped pic.twitter.com/icFZ536RGu
Playing their parts. Scenes from a Marriage stars Jessica Chastain and Oscar Isaac had all eyes on them as they made their way down the red carpet at the Venice Film Festival premiere.
The two, who play a couple in HBO's Scenes From a Marriage, were playful as they posed for the cameras in Italy on Saturday, September 4, ahead of the premiere of their new miniseries. Chastain, 44, wore a strapless red gown and an eye-catching diamond necklace while Isaac, 42, kept it classic with a black tux.
The two cozied up to each other in several photos with Isaac wrapping his arms around her waist and Chastain leaning into her leading man. The Star Wars actor kissed the actress' hand and arm, and he even pretended to propose to Chastain at one point, the Daily Mail reports.
A viral video of Isaac turning his attention to his colleague and kissing her arm had fans flustered on social media. It surpassed 50,000 likes on Twitter within just a few hours.
"I want Oscar Isaac to look at me this way," one fan wrote via Twitter.
Another added, "Oscar Isaac is making my blood pressure go up i need to get a grip."
One viewer commented, "Oscar Isaac really does do things to me. He really do be the only man in Hollywood who hits different."
A different fan summed it up: "This man exudes so much sex appeal WITHOUT EVEN TRYING."
Chastain and Isaac's public display of affection is just for fun. Isaac's wife, Elvira Lind, is in Italy with him. The pair, who married in February 2017, a month before they welcomed son Eugene, now 4. They are also parents to a second child, who was born in October 2019.
Meanwhile, the Eyes of Tammy Faye actress married fashion executive Gian Luca Passi de Preposulo in 2017. They also share two children, daughter Giulietta, 3, and a second child, who was born in 2020.
As for the playful PDA, chalk that up to Chastain and Isaac's long friendship. They met more than 20 years ago when they attended to Juilliard together and have been friends ever since. They also costarred in 2014's A Most Violent Year.
Their history made filming Scenes From a Marriage, which debuts September 12 on HBO, a little different than it would have been if they had no real-life connection.
"We would joke that [the friendship] is a blessing and a curse," Chastain said at a Venice Film Festival press conference via Deadline. "It's a blessing because there's immediate trust. You don't have to be worried about offending. You can be very honest. The difficult thing is that at times we were reading each other's minds. It was like, 'Get out of my head'. So, I felt on this job there was no quiet time."
Isaac agreed, adding, "That's well said. Professionally, it's great when you know someone so well because you don't have to worry about a lot of stuff you usually worry about. However, on something this intense you care about the person so much, because it's like working with family. If you didn't know someone so well, getting your own space isn't so hard."
Scroll down to see the actors' affectionate trip down the red carpet:
Chastain and Isaac went for classic silhouettes as they hammed it up for the cameras.
Isaac caught plenty of fans' attention when he softly kissed his leading lady's arm.
The costars stayed close in front of the cameras at their big premiere.
The pair were promoting Scenes From a Marriage, a five-part HBO miniseries based on Ingmar Bergman's 1973 Swedish miniseries.
The actors seemed very happy to debut their project, which is expected to be a heavy, emotional drama.
The duo met in college and have been friends ever since.
The Juilliard alums showed plenty of affection during their playful strut down the press line.
Like us on Facebook to see similar stories
Please give an overall site rating:
Read full article at BuzzFeed
Hollywood Reporter 05 September, 2021 - 10:00pm
Hagai Levi, writer and director of HBO's five-episode remake of Scenes From a Marriage, already owed the original series a debt of gratitude for its influence on the two-handed dramatics of BeTipul (and its American version, In Treatment) and the tortured infidelities and reconciliations of The Affair.
Airdate: Sunday, Sept. 12
Cast: Jessica Chastain, Oscar Isaac
Creator and director: Hagai Levy, from the series by Ingmar Bergman
Saying that HBO's Scenes From a Marriage feels derivative and insufficiently reflective could mean that it takes too few leaps from the source material or that it too much resembles countless subsequent properties that aspired to the label Bergmanesque. The high-emotion sparring between stars Oscar Isaac and Jessica Chastain is spectacular and provides some reason for viewers to invest in this stressful series. But that isn't the same as understanding what Levi thought he had to add to such a revered framework.
You surely don't need to have watched Scenes From a Marriage in its original television format or the edited cinematic incarnation — the latter is now available on HBO Max — but familiarity with the Bergman version enables you to see how small and superficial most of Levi's changes are.
Isaac and Chastain play Jonathan and Mira, on the outside a perfect Boston-area couple. He's a professor in the philosophy department at Tufts. She's a tech bigwig of some sort. They have an adorable daughter and a ramshackle house with great bones, if they can only bring themselves to do the work to renovate it.
See, the house is a metaphor for life, or at least for marriage, because Jonathan and Mira are beset with insecurities as individuals and as a couple and their lives are about to be torn apart by sexual hang-ups, professional disparities, egos and feelings of inferiority, and by vestigial connections to religion, individualism and contemporary capitalism. Like the characters played by Liv Ullmann and Erland Josephson in the original, they're white, heteronormative and bourgeois to a fault (or many faults). And, in extended snapshots over several years, everything is going to crumble.
The strangest thing is that Levi seems to be completely aware that he's remaking this property in the least interesting way possible. An early scene finds Jonathan and Mira being interviewed by a graduate student about "how evolving gender norms affect monogamous marriages." In the next scene, they're at dinner with another couple, played by Nicole Beharie and Corey Stoll, and Stoll's character expresses confusion about why the student would be talking to Jonathan and Mira.
"There are so many other relationship models! It's a new era," he says. Accurately.
Levi has reversed most of the gender-based choices and personality traits from the original, not that "Men are the new women and women are the new men" has been a perceptive observation since the '80s (or, more likely, the '40s). He has also added a surface coat of Jewishness. Hollywood has decided that Isaac is Jewish, and I guess that if your kink is "Oscar Isaac saying 'Purim,' " then Scenes From a Marriage delivers.
Otherwise, though, the fact that Jonathan was once Orthodox is treated as an empty series of data points — a challah on a table in one scene, a kippah attached to his hair with bobby pins in another. At no point did that minor embellishment make me think, "Well, now, this is a tale for 2021" in the way that changes to the economic circumstances, race or, particularly, sexuality might have done. Six years after the legalization of same-sex marriage would have been a perfect time for a same-sex Scenes From a Marriage, though I guess that's what season three of Master of None was.
Another thing that Levi appears to be aware of: For all the intended naturalism of the performances and conversations, meant to give the impression of endlessly uncomfortable glimpses into the most uncomfortably intimate of human interactions, Scenes is an artificial conceit. Episodes begin with a Brechtian distancing device, following one star or the other through the backstage chaos on a television set, watching them settle into position and await the call of "Action."
It's a series that's difficult to watch, all frayed nerve endings and the psychological torture that comes from loving and then hating somebody too much, and that framing device has the odd and presumably intentional effect of making Scenes From a Marriage feel almost like an escape. It reminds you that this isn't just a TV series, but it's a series based on a previous show, that it's a fictional world in which nobody has to wear masks to ward off COVID, and that when they aren't trying to eviscerate each other with words, our protagonists are "Oscar" and "Jessica."
It's an odd choice. Five hours is a lot to invest in a doomed marriage, especially one in which we spend only one hour with the characters before everything goes askew (Levi jumps the estrangement's inciting event forward by an hour) without being reminded that it's all theater. (Stage productions are another way the property has been adapted over the years.)
Still, it's a reasonable choice for the series Levi has made, which isn't going to blow anybody away with its insights into relationships or the modern condition, but absolutely and justifiably could blow people away with its two central performances. If this series results in Emmy nominations for Isaac and Chastain and leads people to seek out their combustible work in the criminally underrated 2014 feature A Most Violent Year, that would be worthwhile.
Chastain and Isaac are falling back — to the smallest measure, at least — on some of the dynamics from A Most Violent Year. Regardless of my skepticism toward Levi's reasons for undertaking this remake, he is a tremendous performance-driven director, and he captures the animosity and desire between his two leads in a way that builds momentum from what is otherwise two people talking in a couple of rooms for five hours.
Chastain isn't going full Lady Macbeth as she did in A Most Violent Year, but, in this five-hour dance, she's leading. In a five-round fight, she's the aggressor. She exposes Mira's cruelty and combativeness and shows us how the assets that have helped her get ahead in business — masculine-coded several generations in the past — are the things she feels she has to repress in order to have an egalitarian marriage. Chastain was a late replacement for Michelle Williams, and in addition to sparing the production even more Blue Valentine comparisons, it's hard not to feel like Chastain, who starred under Ullmann's direction in the Strindberg adaptation Miss Julie (I'm assuming there was osmosis of some sort at work), wasn't ultimately a better choice.
Isaac gets to be erudite and sensitive and spiritual, traits that are coded here as feminine. This is Isaac in one of my favorite of his modes: namely, a guy who comes across as cold and distant, but with an intensity you know will cause trouble eventually.
Together, they evoke arousal and very uncomfortable tension. And together they're reason to watch Scenes From a Marriage, however uninspired its intellectual perspective happens to be.
Sign up for THR news straight to your inbox every day
Subscribe for full access to The Hollywood Reporter
These cookies may be set through our site by our advertising partners. They may be used by those companies to build a profile of your interests and show you relevant adverts on other sites. They do not store directly personal information, but are based on uniquely identifying your browser and internet device. If you do not allow these cookies, you will experience less targeted advertising.
These cookies are necessary for the website to function and cannot be switched off in our systems. They are usually only set in response to actions made by you which amount to a request for services, such as setting your privacy preferences, logging in or filling in forms. You can set your browser to block or alert you about these cookies, but some parts of the site will not then work. These cookies do not store any personally identifiable information.
These cookies enable the website to provide enhanced functionality and personalisation. They may be set by us or by third party providers whose services we have added to our pages. If you do not allow these cookies then some or all of these services may not function properly.
ET Canada 05 September, 2021 - 10:00pm
Yahoo Entertainment 05 September, 2021 - 10:00pm
We don't have an exact date yet for Apple's next event, but we guess it will be sometime this September.
The next Apple event could be just around the corner. There hasn't been any official word yet, but we speculate the iPhone 13, AirPods 3 and Apple Watch 7 could be on the way sometime this month for the company's fall event. We could also see the iPad Mini 6 and a ninth-generation iPad later this year.
It was previously thought that the event could be partially in-person, but Bloomberg's Mark Gurman says that with Apple's rumored decision to delay its return to in-person work, the next event will probably be completely virtual like last year's.
Apple has had two events in 2021 so far. The first event was in April, where we got a glimpse of new iPad upgrades, colorful iMacs, AirTags trackers, a purple iPhone 12 and more. (Here's everything Apple announced in the spring.) Then, two months later, it held the annualWWDC, developers event, where we saw a first look at iOS 15, MacOS Monterey (also known as MacOS 12), WatchOS 8 and iPadOS 15.
If you're curious about more Apple-related dates, check out CNET's guess for the iPhone 13 release date. You can also take a look at our iPhone 13 wish list.
Apple typically hosts three to four events in a year with a spring event, a summer developer conference and one or two more events in the fall. The fall events are usually scheduled in September and October. The September event tends to feature new iPhone and Apple Watch upgrades, while the October event typically features Macs and iPads.
Although Apple has announced its latest iPhone during a September event every year since the iPhone 5 in 2012, Apple saw a change in that pattern in 2020 due to production delays during the pandemic. Last year's September Apple event unveiled the Apple Watch 6, Apple Watch SE and updated iPad models -- but no new iPhone. The company later revealed the iPhone 12 in October. Last year's fall Apple event was online-only due to the pandemic. A livestream was available as usual through the company's website.
Stay up-to-date on the latest news, reviews and advice on iPhones, iPads, Macs, services and software.
This year, Apple is expected to return to its usual schedule. CNET took a deep dive into Apple's event timeline back in 2018 and emerged with a compelling Labor Day hypothesis that you can read more about here. Taking a look at the 2021 calendar, the Labor Day rule would mark Sept. 8 as the next Apple event, but we won't know for sure until we get the invite from Apple. We do know, however, that the company likes to hold its fall event on a Tuesday or Wednesday.
Although the timeline may return to normal, Apple's next event could be fully virtual again. In his Power On newsletter, Gurman said that the event, said to be focused on Apple's latest iPhone, will be completely virtual because of the tech giant's reported decision to delay its return to in-person work due to rising COVID-19 cases.
Apple originally said that all employees would be required to come into the office three days a week starting in September. Gurman says that if Apple stuck with the September time frame, an in-person iPhone 13 event would have been "plausible." Now, he expects another online-only event.
Here's a render of the iPhone 13. We're also expecting the Apple Watch 7, AirPods 3 and new iPad Mini.
Apple already unveiled a slew of hardware and software upgrades during its previous 2021 events, but there are still a few things we expect the tech giant to announce in the fall. This includes the iPhone 13, Apple Watch 7, AirPods 3, iPad Mini 6, a larger iMac powered by Apple's M1 chip, a more affordable Apple Display, a new MacBook Pro and Mac Pro with a rumored update to Apple's M1 chip. We're also on the lookout for an Apple competitor to Amazon Echo Show, a soundbar with built-in Apple TV and an Apple AR/VR headset.
The iPhone 13 is rumored to feature four phones -- the iPhone 13, iPhone 13 Mini, iPhone 13 Pro and iPhone 13 Max -- according to analyst Ming-Chi Kuo. Although there hasn't been any official word on the iPhone 13's release date, we speculate Apple's new iPhone could be coming in September with a new design, upgraded cameras, battery and specs.
Apple's next-generation wearable could include some new key features like a sleek, flat-edged redesign, improvements in battery life and a possible blood glucose monitoring sensor. The Apple Watch 7 will come with WatchOS 8, which was unveiled at WWDC.
Apple's new AirPods 3 could look similar to this concept design by Michael Rieplhuber.
Apple's AirPods could be getting an update sometime this year, according to an earlier report from Bloomberg. Rumors suggest the AirPods 3 will have similar features to the AirPods Pro like spatial audio support, a shorter stem, interchangeable tips and a smaller charging case.
Other Apple tablets, including the iPad, iPad Air and iPad Pro have already seen updates this year, so that just leaves the iPad Mini. According to Gurman, a redesign for the iPad Mini "should be a go" for fall 2021.
We could see an upgrade to Apple's iPad this fall with a new ninth-generation model. According to Gurman, the tech giant's next tablet could feature a slimmer design and an improved processor.
Last year, Apple announced that it would be producing its own chip, known as the M1, to power its Mac. Since then, there has been speculation that Apple may soon announce a new version of its processor for the new MacBook Pro or Mac Pro.
Apple also previously announced a new iMac powered by the M1 processor, but it was only the smaller 24-inch model. Bloomberg has reported that Apple is working on processor updates for both the Mac Mini and 27-inch iMac.
Apple may also be working on a more affordable version of its Pro Display XDR that was originally released in 2019. Bloomberg reported in January that Apple was in "early development" of a cheaper monitor.
We could see some brand-new devices from Apple this year. This includes the possibility of an Apple competitor to the Amazon Echo Show that would fuse an entry-level iPad with a speaker, a soundbar equipped with built-in Apple TV similar to Roku's soundbar, and an Apple augmented- or virtual-reality headset.
Until Apple sends its official fall event invitations, all we can do is speculate. But we'll update this story as new hints and rumors come to light. In the meantime, here's how the iPhone 13 could compare to the iPhone 12, whether it's still worth it to buy an iPhone 12 or iPhone 11, and everything coming in iOS 15. Plus, why isn't iPhone SE 3 on this list?
Vanity Fair 05 September, 2021 - 10:00pm
So what exactly is happening in this slowed-down 52-second clip, this Zapruder film of Eros, which has been viewed over five million times as of Sunday morning? Let's get our bearings.
Chastain and Isaac were arriving at the premiere of Scenes From A Marriage, which isn't a movie but a television series debuting on HBO on September 12. The Venice Film Festival screened all five episodes (just shy of five hours), so anyone willing to sit for that long in a theater is certainly deserving of a special pre-show spectacle like this.
If Scenes From A Marriage sounds familiar, that's because it's based on a provocative television series from 1974 written and directed by Swedish auteur Ingmar Bergman. It was later abridged and released theatrically and became something of an art house success in the United States. (The abridged cut, at a measly two hours and forty-nine minutes, is currently available to stream on HBO Max. If you want the original, the mighty Criterion Channel has all six 50-ish minute episodes of complex matrimonial distress for you to sink your teeth into.)
This new Isaac-Chastain version is adapted by Hagai Levi, an Israeli writer, director, and producer who is best known for creating the series In Treatment. As Levi told me in a soon-to-run interview here on V.F., Isaac and Chastain, who have been good friends since their days at Juilliard, kept it light on set with "their own private jokes" during the pandemic-era shoot on a soundstage in Mount Vernon, New York. This comfort with one another is evident in other images from the Scenes red carpet.
But it's the first video that has made the biggest impact, and some film scholars pointed out that we've seen Chastain hold Isaac's face before, in the 2014 J.C. Chandor film A Most Violent Year. (The image on the right is a different angle from the red carpet.)
As far as that arm kiss, well, keep in mind that Isaac did record the voice of Gomez in an animated Addams Family project.
There were other amusing comments concerning the two actors who, we should emphasize, have been good chums since the early aughts, are both happily married with two children each, and are actors.
This one is my personal favorite, because it suggests that Jamie Lee Curtis left Isaac's wife Elvira Lind a private message in the public sphere or does not care who knows her business.
In addition to Scenes From A Marriage, Isaac was also repping Dune at this year's Venice fest. Earlier in the week, Timothée Chalamet posted this image to his Instagram stories, suggesting that Chastain's knees must be made of galvanized steel to resist buckling on the red carpet.
By signing up you agree to our User Agreement and Privacy Policy & Cookie Statement.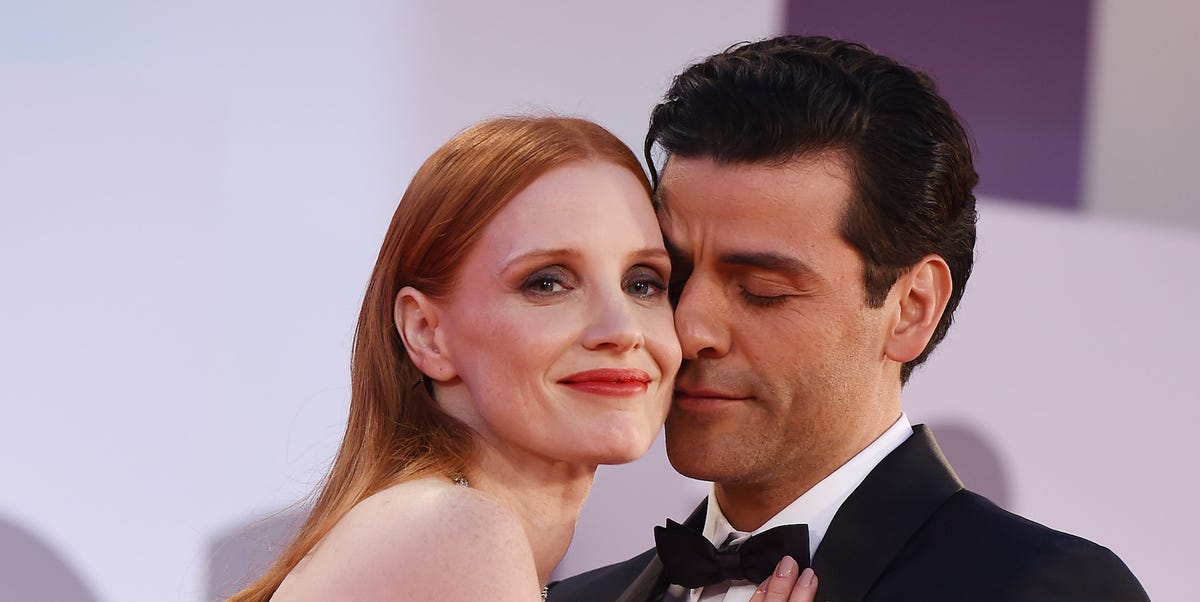 CinemaBlend 05 September, 2021 - 10:22am
A clip of the actor kissing his co-star Jessica Chastain's arm has Twitter flustered.
Oscar Issac has us swooning through our phone screens.
The Ex Machina actor has made waves with a sensual red carpet clip from this year's Venice Film Festival. In the video, Issac poses for the cameras with his frequent collaborator and Scenes from a Marriage co-star, Jessica Chastain. As she rests her hand on his shoulder, he admires her bicep and kisses it. After Chastain pushes him away, looking as flustered as we all felt while watching the moment, Issac does a chef's kiss gesture.
Chastain wears a strapless red Atelier Versace gown with a diamond necklace, while Issac sports a classic black tuxedo and bow tie by Prada.
I wish I had words for this but I really do not pic.twitter.com/xJVzOJJCeh
The Dune actor is famous for bringing the sexual tension on screen, and for being flirtatious with his male and female co-stars while promoting his films. His latest display at the premiere of Competencia Oficial has many Twitter users clutching their pearls.
Oh my sweet lord.💃👀 https://t.co/eW0XDbNywv
what's my own name i forgot https://t.co/PNM8vaMUuF
If a man ain't looking at me like I'm edible -- https://t.co/t1u3WQXiWc
I have many theories about why this is so sexy, but one is the sudden onset of laser-focused attention in the middle of a chaotic environment. https://t.co/uVq23S5BP2
Though Chastain and Issac look very close in the clip, it's the closeness of a longtime friendship. The duo met over 20 years ago as Julliard classmates and have stayed friends since, per Deadline. They also starred together in the 2014 crime drama A Most Violent Year.
As for romantic relationships, both of the actors are spoken for. The Star Wars actor met his wife, Danish film director Elvira Lind, in 2012. They couple married in 2017 and they share two children. The Molly's Game actor also married her husband, fashion executive Gian Luca Passi de Preposulo, in 2017, and they welcomed their second child last year.
Chastain and Issac play a troubled couple in the HBO remake of the 1973 miniseries Scenes from a Marriage, which premiered at Venice last night. The actors told Deadline that their friendship created a unique challenge during filming.
Isaac added, "Professionally, it's great when you know someone so well because you don't have to worry about a lot of stuff you usually worry about. However, on something this intense you care about the person so much, because it's like working with family. If you didn't know someone so well, getting your own space isn't so hard."